Bored with your classic margarita recipe? Then upgrade your next margarita night with one of these 70+ flavored margarita recipes!
For even more cocktail ideas, check out our lists of summer sangria recipes, apple cider fall cocktails and festive cranberry holiday cocktails.
Disclosure:  This roundup of margaritas that put unique spins on the classic lime margarita recipe contains affiliate links. I may earn a commission if you click on and make a purchase from one of these partner links. 
---
70+ Unique Flavored Margaritas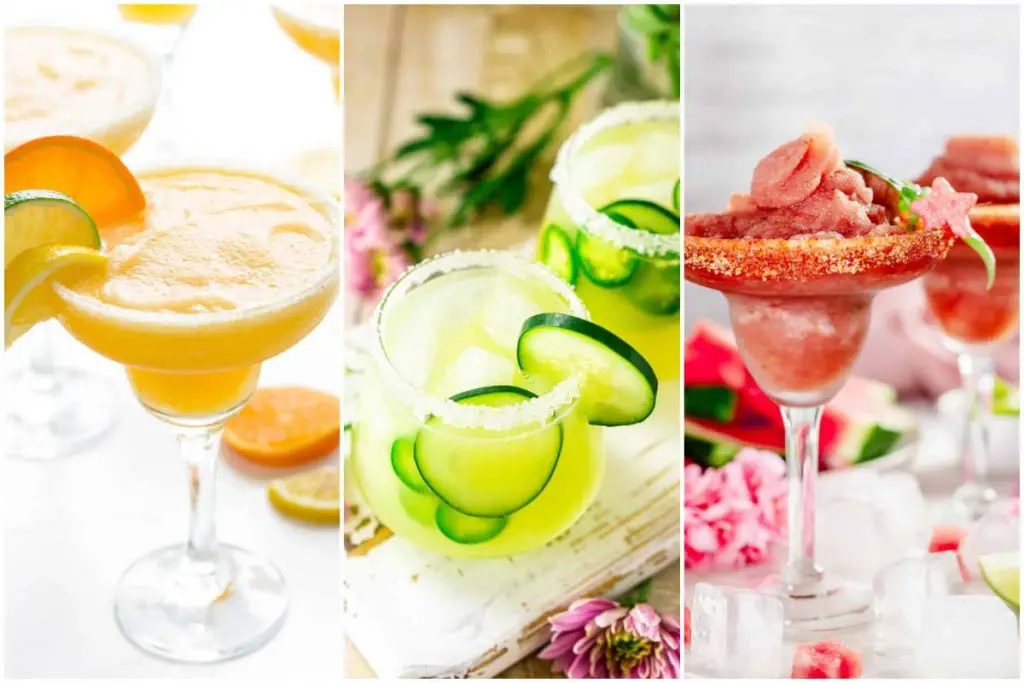 Are you looking for a new margarita to try at home after mastering the classic 3-2-1 recipe? Or, perhaps you love tequila cocktails, but you aren't a huge fan of lime. Maybe you love a frothy frozen margarita or a kick of spice in your margarita on the rocks.
I asked my fellow recipe developers to share their most unique margaritas without replacing the key ingredient — tequila! The following 74 margaritas feature exotic fruits, spices, and herbs to put flavorful twists on this most-beloved tequila cocktail.
If you are a tequila drinker, I'm sure you'll find a new cocktail recipe to try among these uniquely flavored margaritas. Why not try one to celebrate National Margarita Day on Feb. 22 or to complement your next Taco Tuesday dinner?
Apple Cider Margarita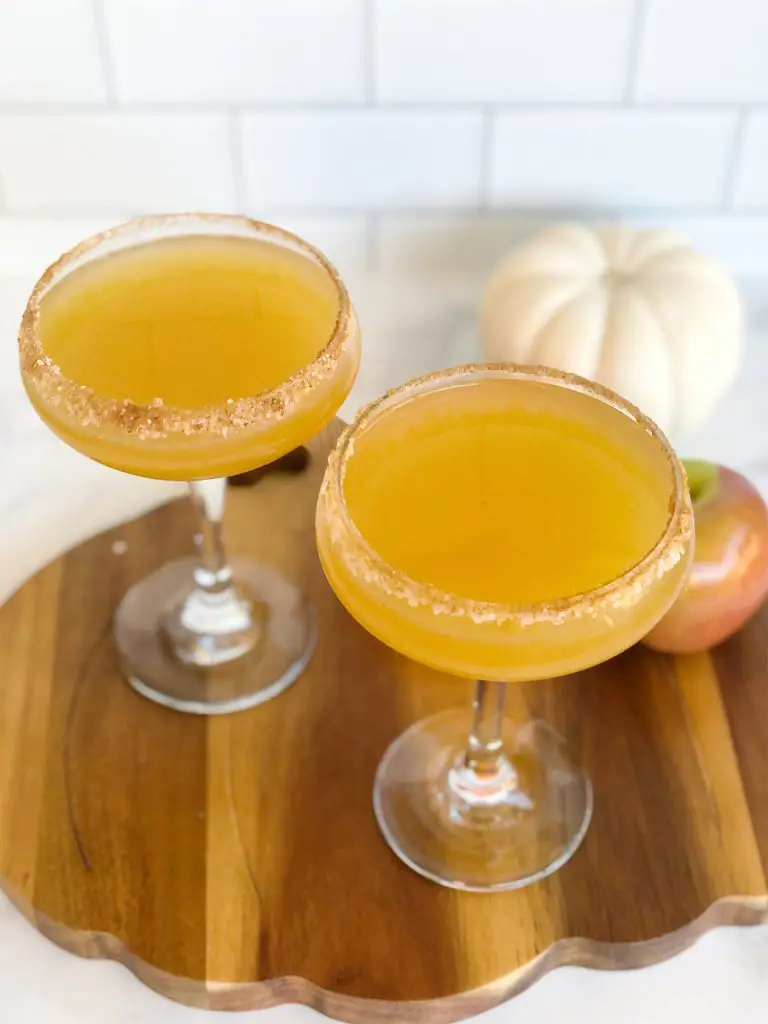 This three-ingredient apple cider margarita cocktail recipe comes together with apple cider, lime juice, and tequila.
Like apple cider? Try our Michigan Apple Cider Sangria recipe!
Beer Margarita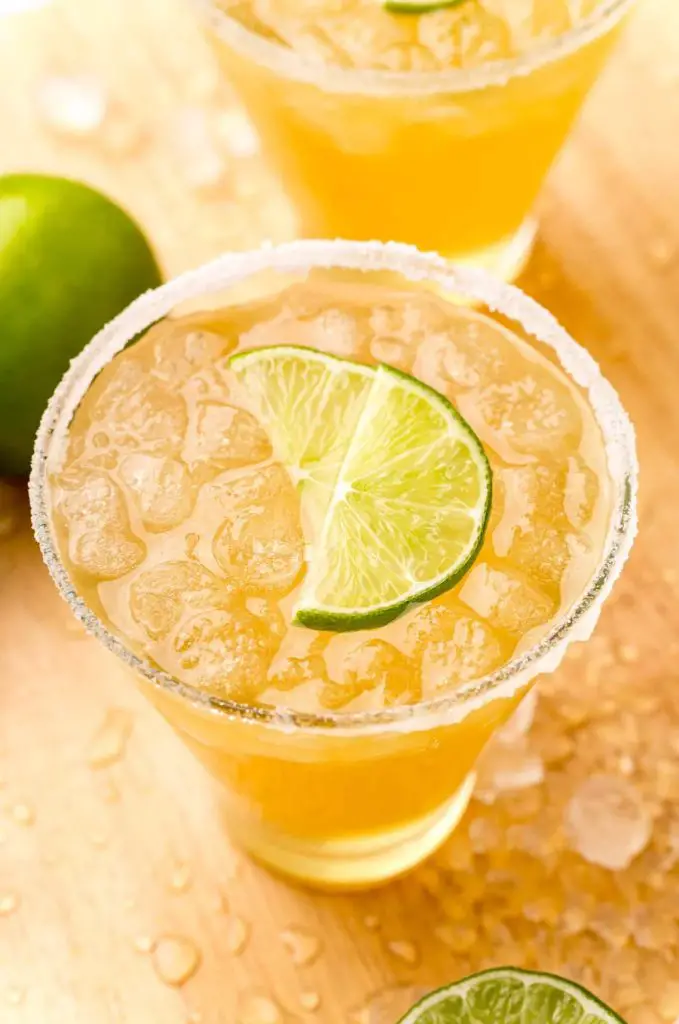 This beer margarita recipe is made with Corona, tequila, triple sec, lime juice, and agave! It's a refreshing and easy large-batch cocktail that is perfect for sharing with friends!
Blackberry Margarita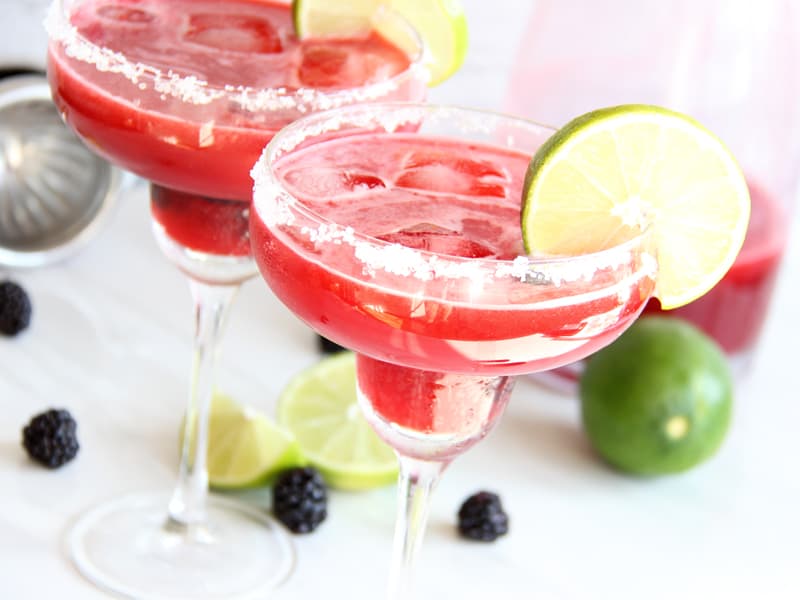 Stay entertained at home with these easy-to-make blackberry margaritas! Who said Taco Tuesday couldn't be healthy and fun?
Blackberry Lemonade Margarita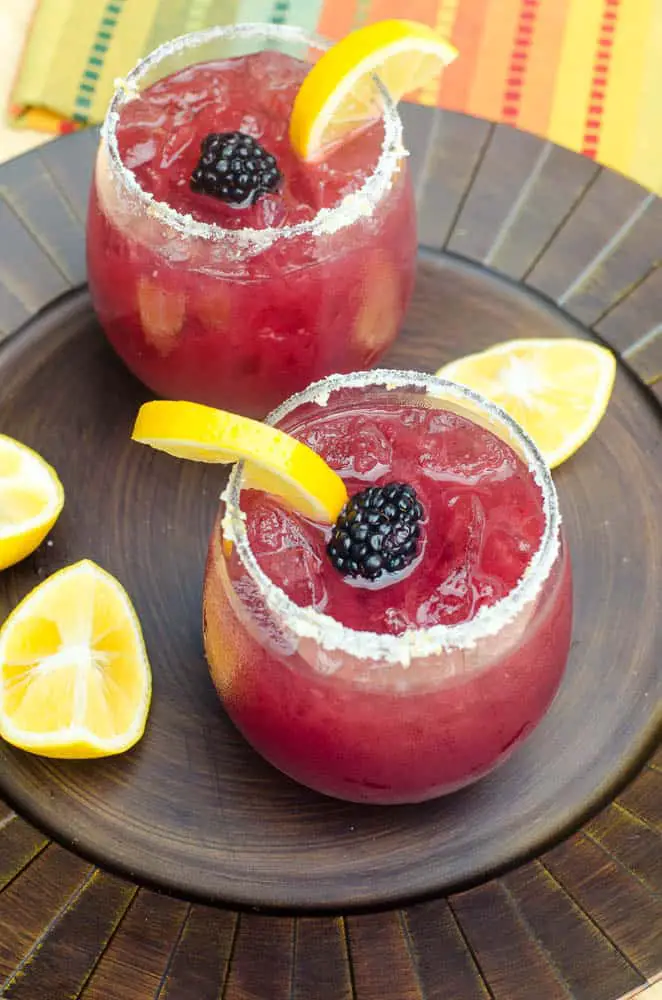 Tart, lightly sweet, and delicious! These festive, refreshing blackberry lemonade margaritas include fresh blackberry purée, lemonade, and tequila.
Blood Orange Margarita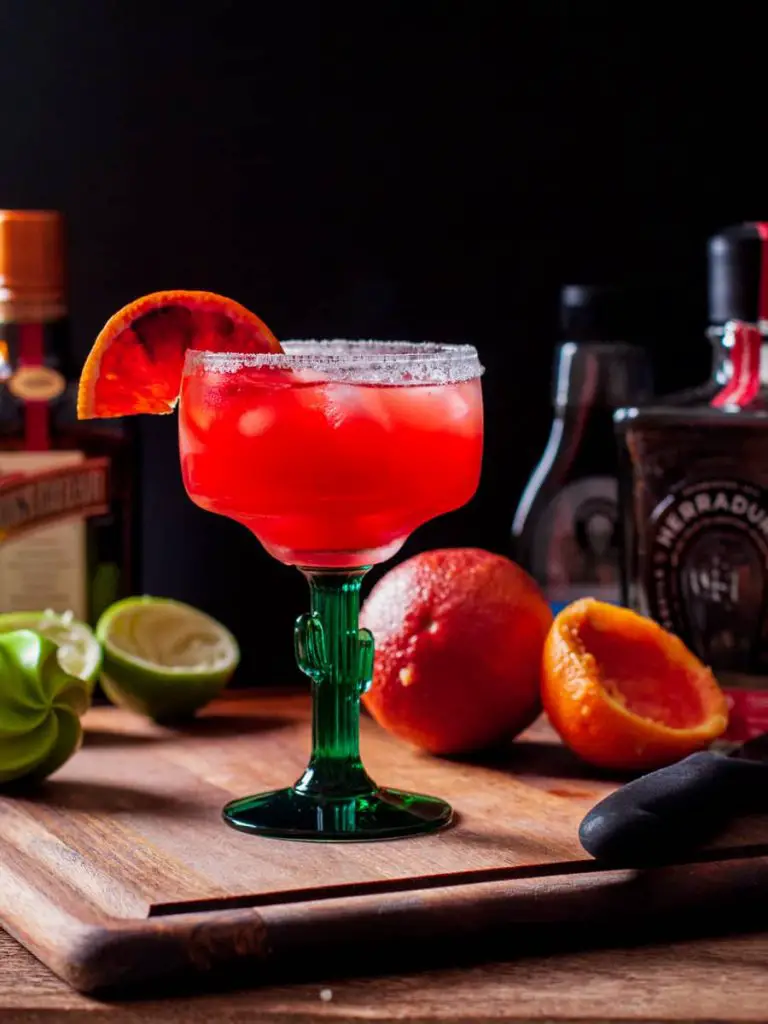 This stunning blood orange margarita is a delicious twist on a classic margarita with the addition of blood orange juice that gives it a beautiful color and great citrus flavor.
Blueberry Coconut Margarita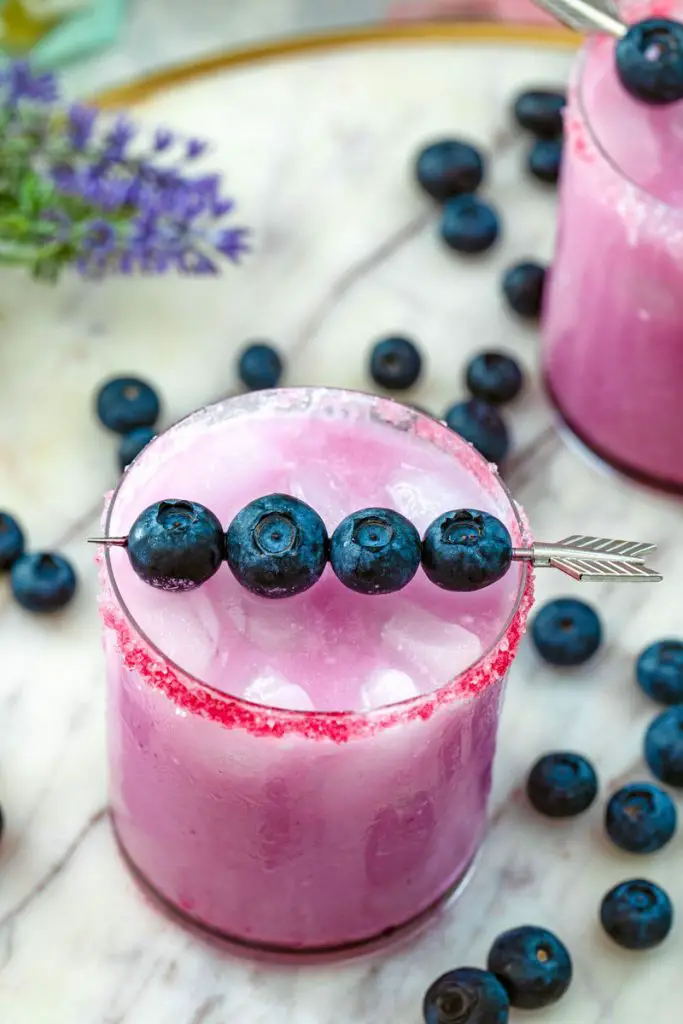 This slightly creamy and tropical blueberry coconut margarita will make you feel like you're on a beach. But, it can easily be made in your kitchen with just blueberry simple syrup, tequila, and coconut milk!
Blueberry Sriracha Margarita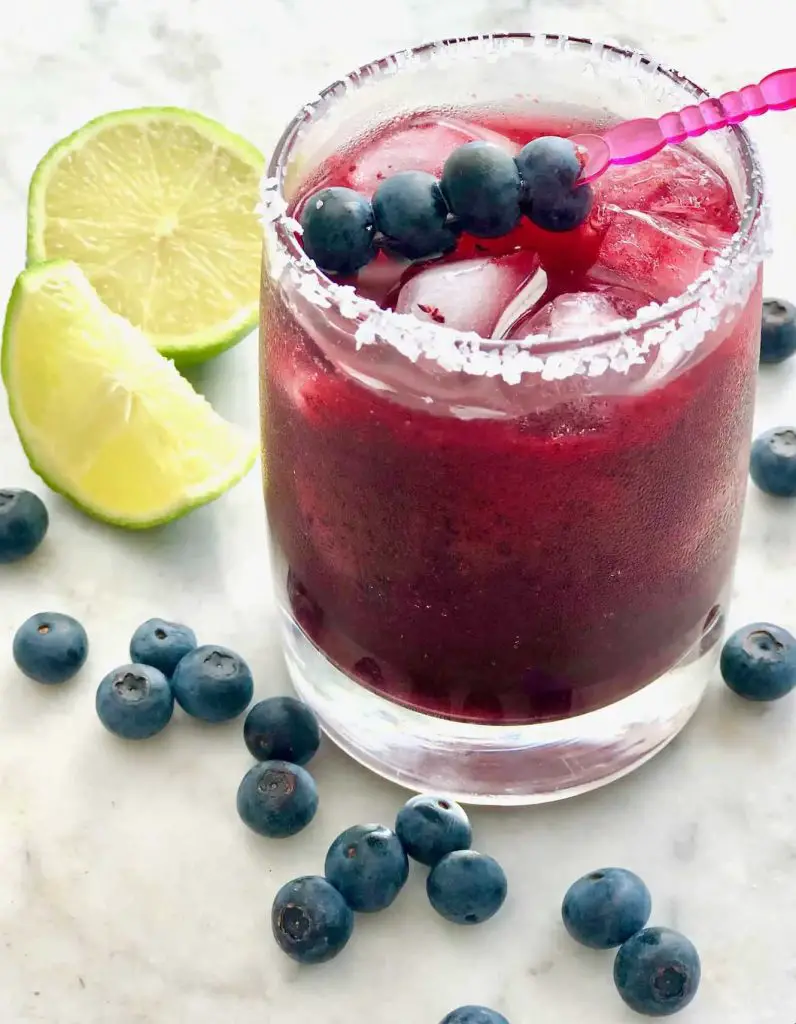 This blueberry Sriracha margarita is as refreshing as it is beautiful. Its cool-yet-sassy spice will remind you why you've always loved margaritas.
Cara Cara Orange Margarita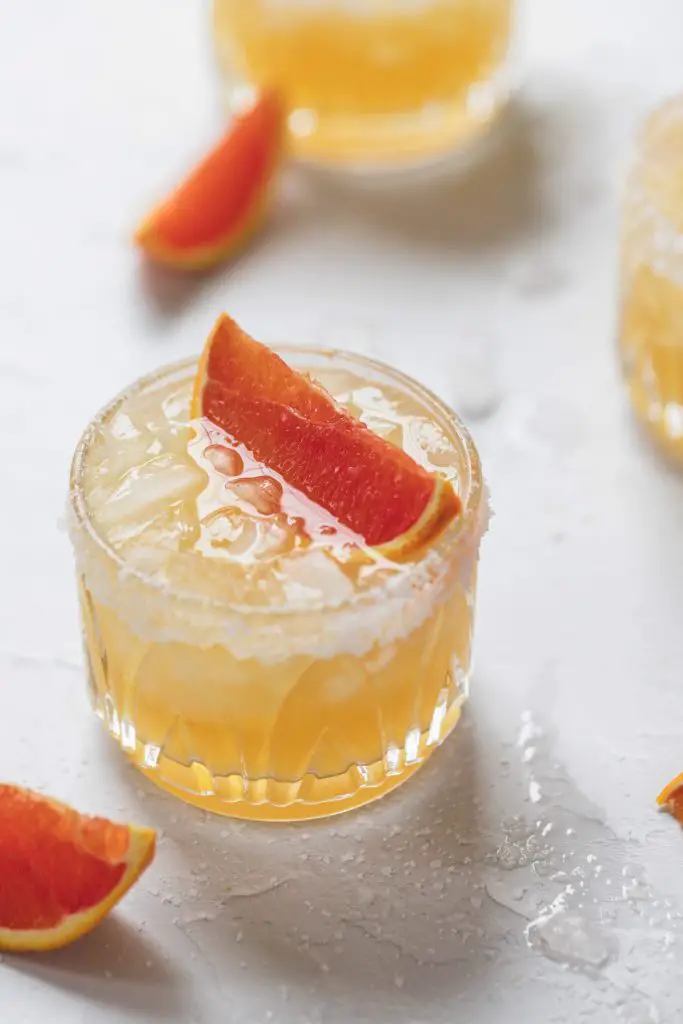 This Cara Cara orange margarita is light, refreshing, and made with fresh Cara Cara navel oranges. Slightly tangier than a classic navel orange, Cara Cara oranges also have the most beautiful, vibrant flesh.
Charred Citrus and Jalapeño Margarita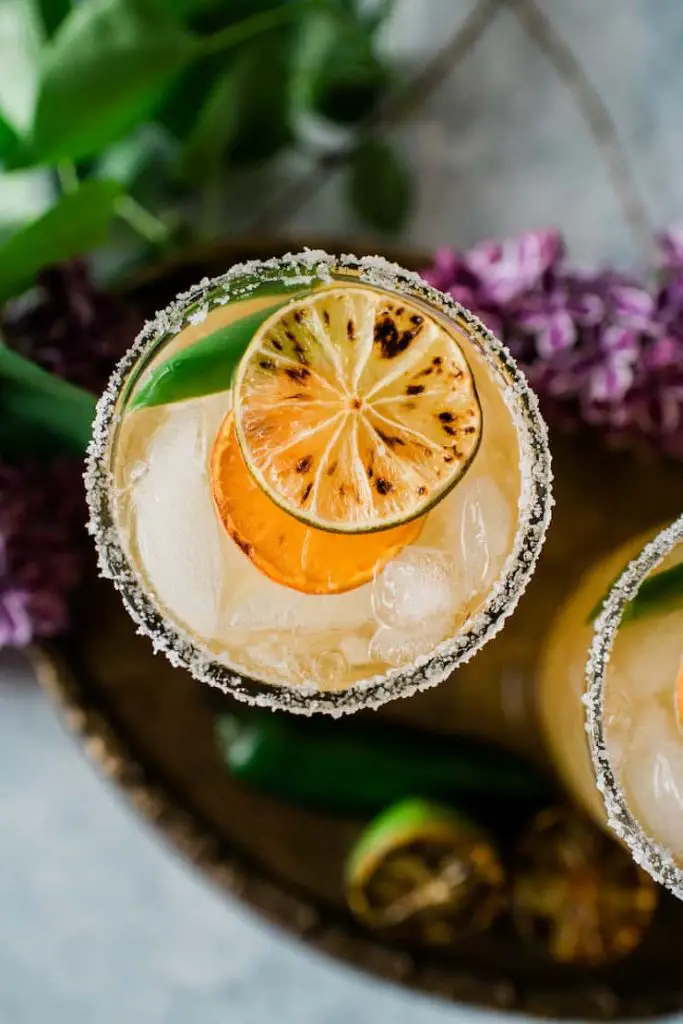 Reposado tequila and orange liqueur combine with charred lime, jalapeño, and nectarine juice in this charred citrus and jalapeño margarita. It's a match made in cocktail heaven!
Cherry Coconut Margarita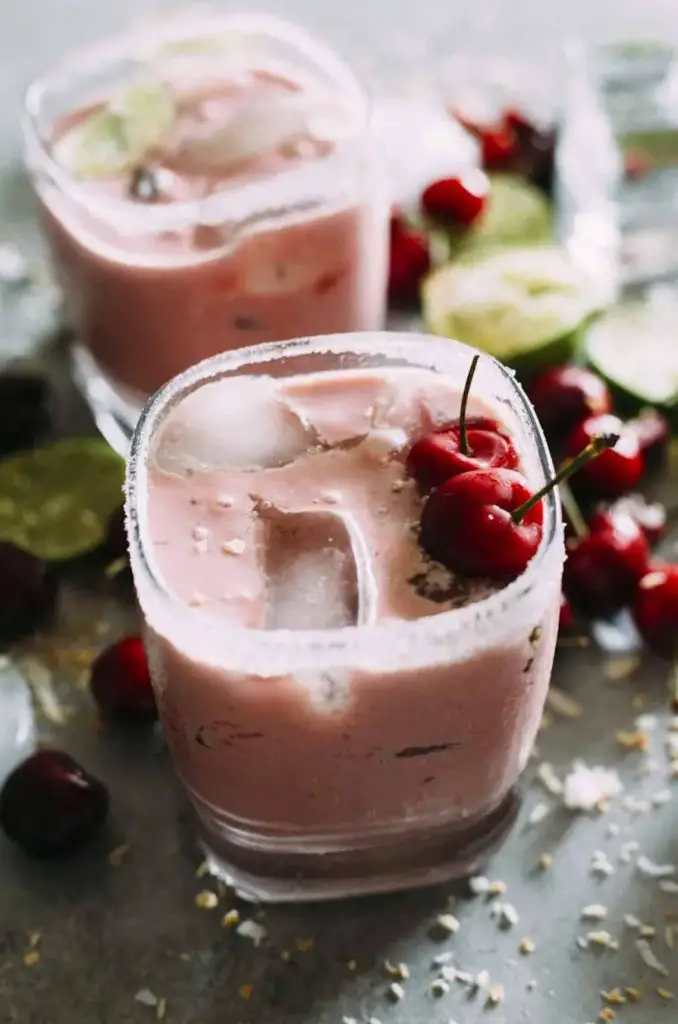 Enjoy fresh cherries in these cherry coconut margaritas! They combine with coconut milk and tequila to form a creamy and delicious summer drink.
Coconut & Lime Margarita with Makrut Lime Rim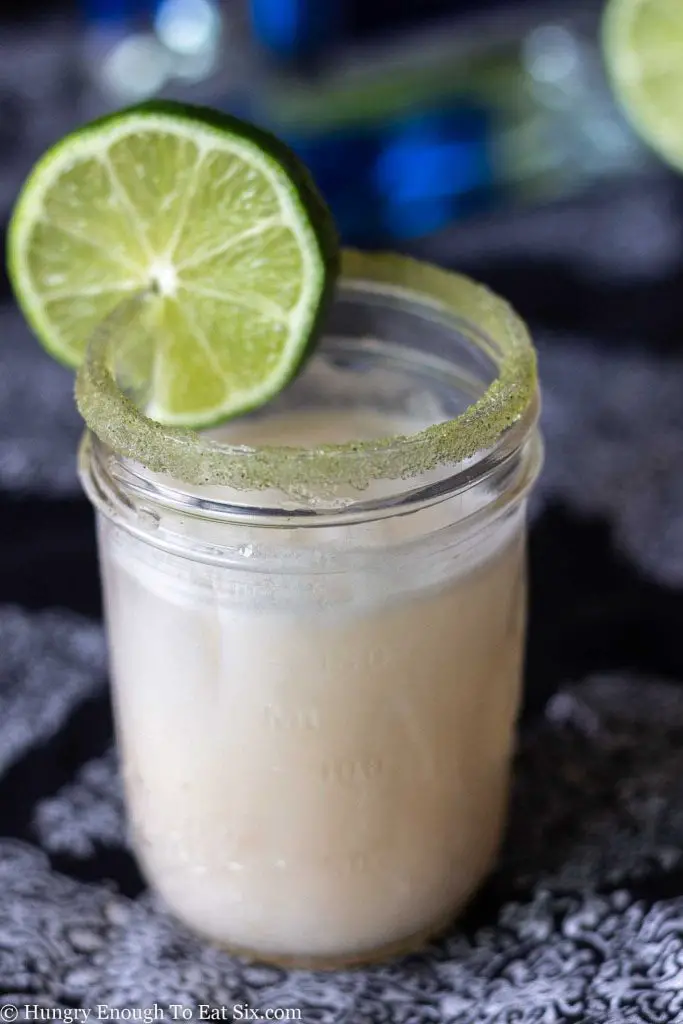 Coconut, lime, and a little heat make for a really refreshing Thai-cuisine-inspired margarita! This creamy coconut and lime margarita is both a delicious and fun take on a classic lime margarita.
Coconut Pineapple Margarita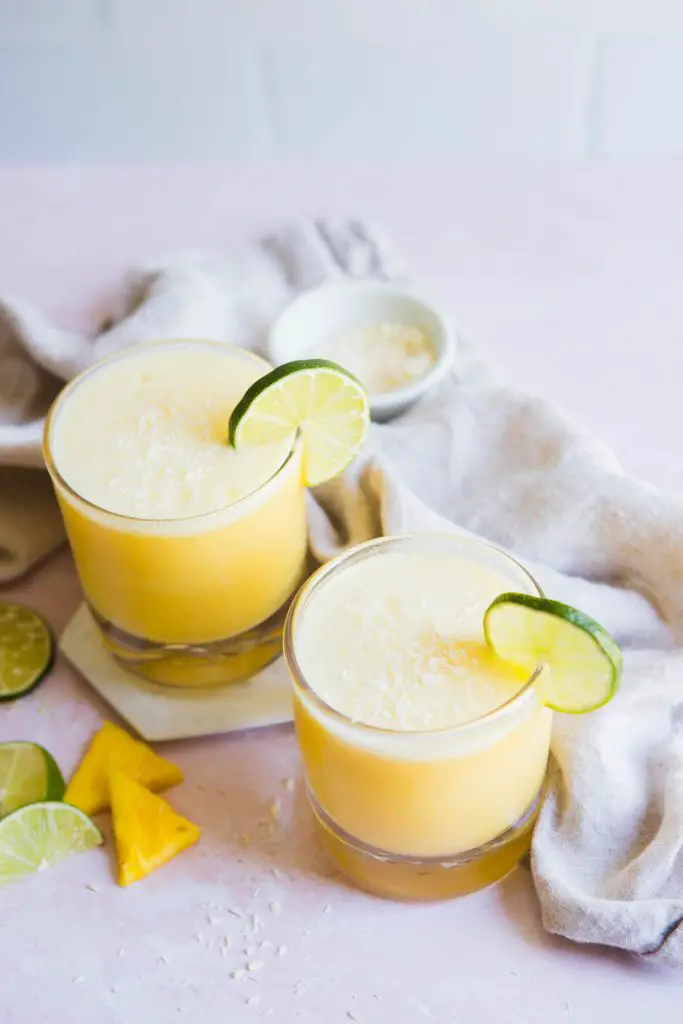 This coconut pineapple margarita is a refreshing and easy cocktail to make this summer! With just five ingredients, your friends will be begging for this pineapple margarita recipe.
For another tropical cocktail, try my Tropical Pineapple White Sangria — full of coconut and pineapple flavors!
Cranberry Orange Margarita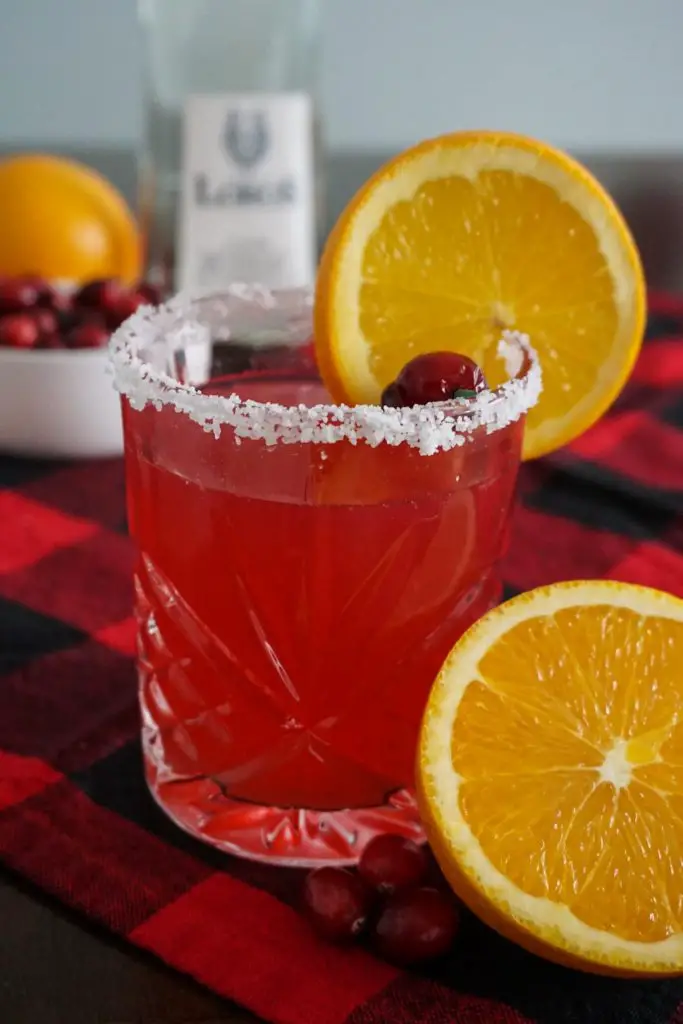 In this cranberry orange margarita, tart cranberry and bright orange citrus flavors put a seasonal spin on the classic margarita. It's a refreshing cocktail you can serve any time of year, but a fresh cranberry garnish adds a festive touch for autumn and winter holiday celebrations.
More Cranberry Cocktails: 37 Festive Cranberry Cocktails to Put You in the Holiday Spirit
Cucumber-Jalapeño Margarita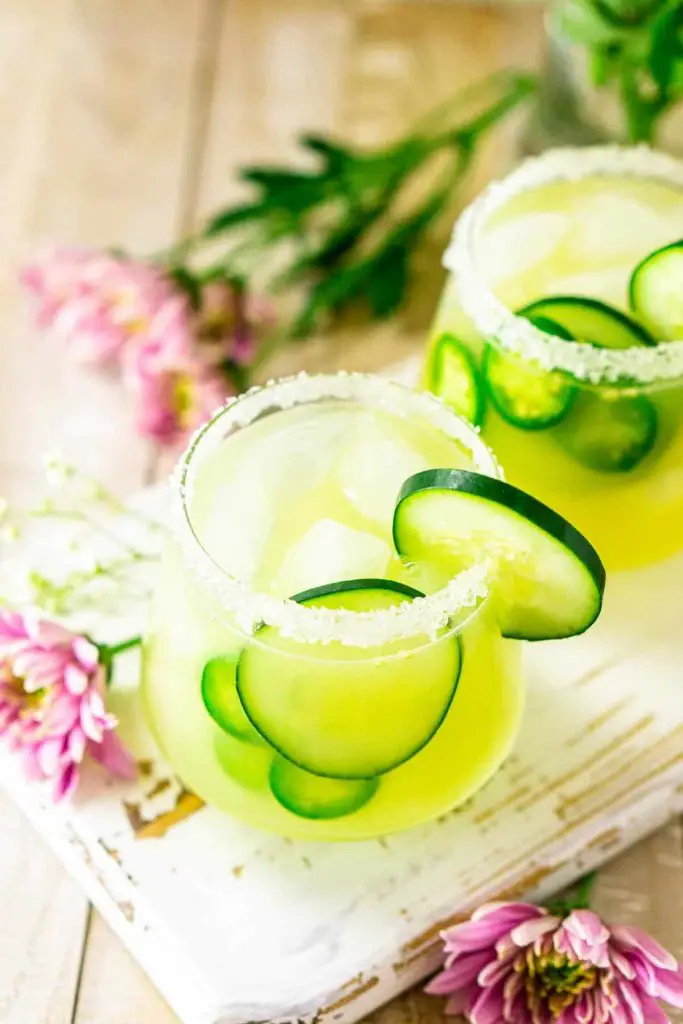 Put a spicy spin on everyone's favorite tequila cocktail with this cucumber-jalapeño margarita with a fresh ginger simple syrup. It's perfectly light and refreshing for patio sipping.
Cucumber Mint Margarita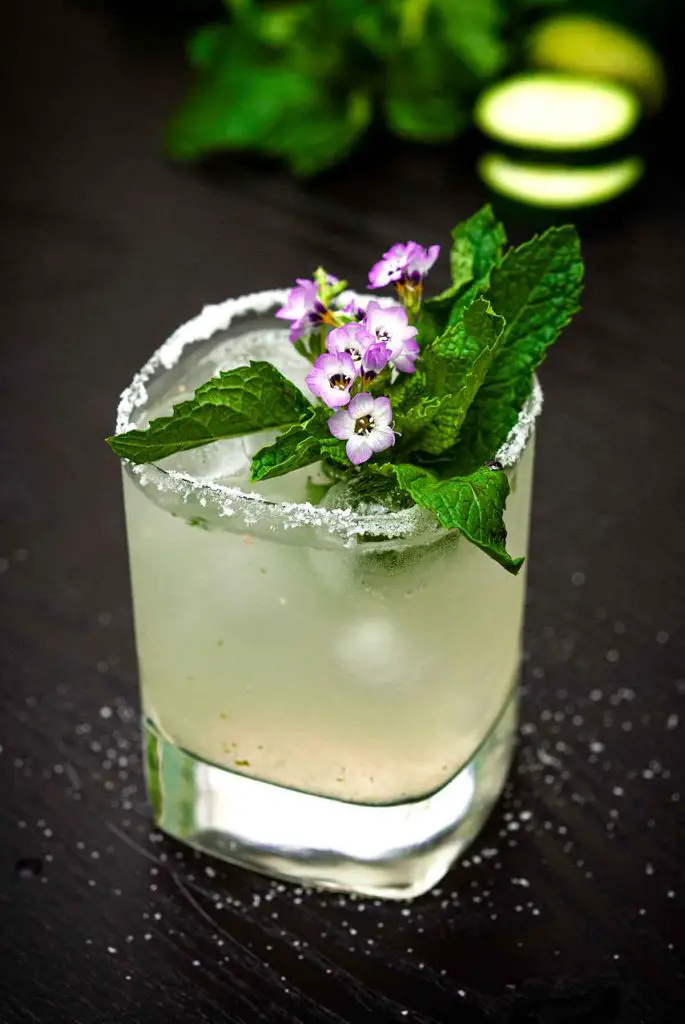 This delightfully refreshing cucumber mint margarita is a traditional recipe with a minty, cucumber twist! It's not too sweet and not too sour. It also has a delicately salted rim and is muddled to perfection. A perfect pool-party signature cocktail!
Cucumber Sunset Margarita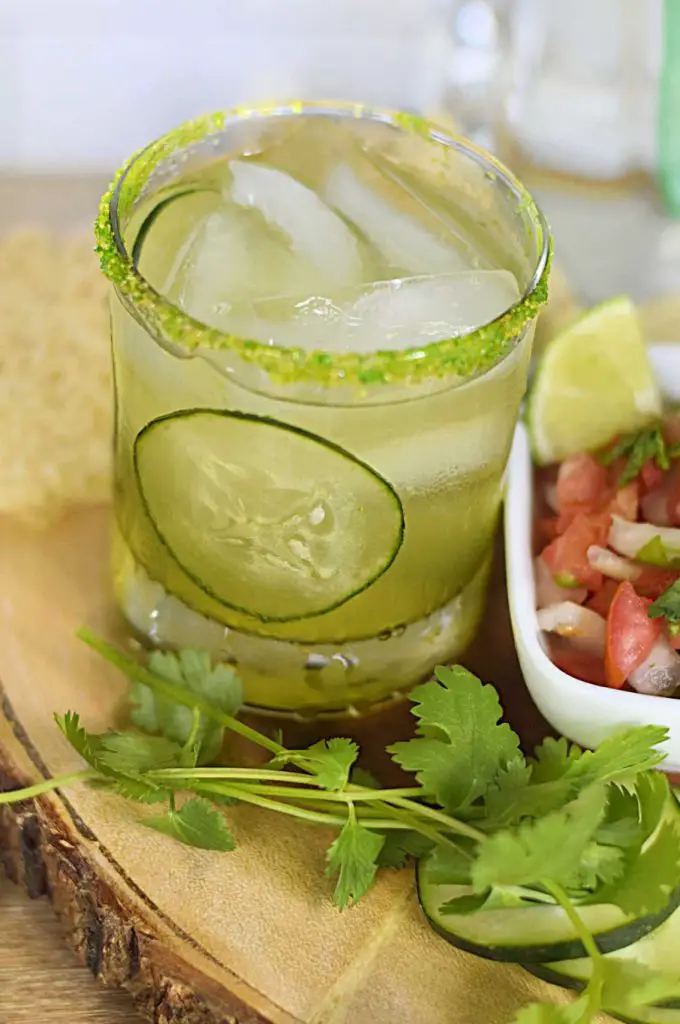 This cucumber sunset margarita is made with tequila, fresh cucumbers, cilantro, and lime with a hint of mango purée. It's a refreshing cocktail that you will make over and over again.
Dragon Fruit Frozen Margarita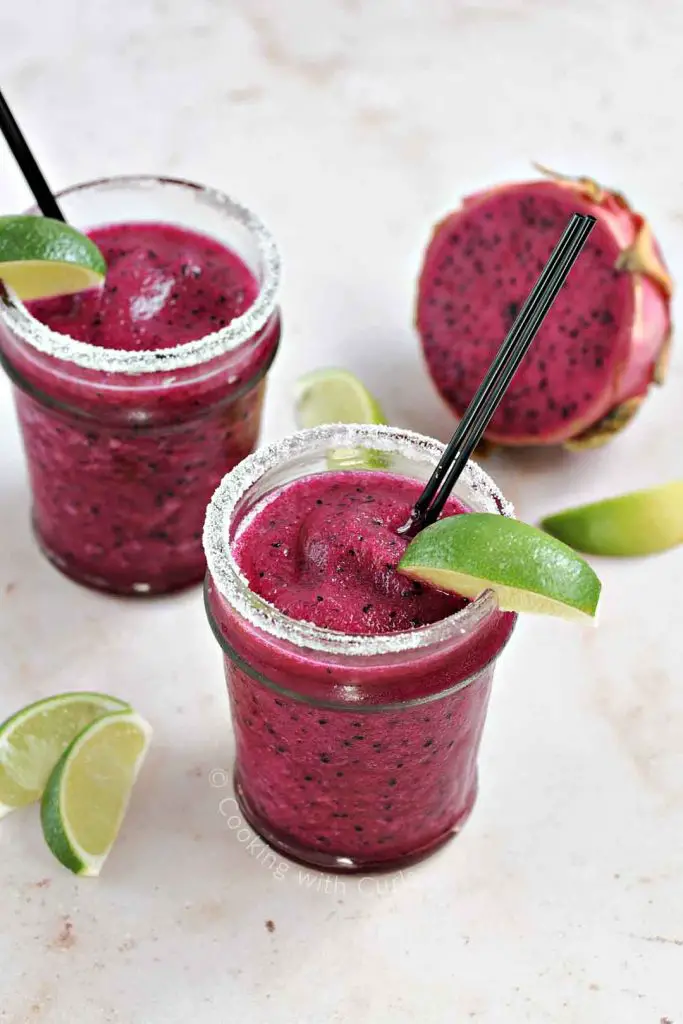 This exotic and colorful dragon fruit margarita combines tequila, orange liqueur, lime juice, and a touch of honey with frozen dragon fruit to create the perfect cocktail for those hot summer days!
Elderflower Margarita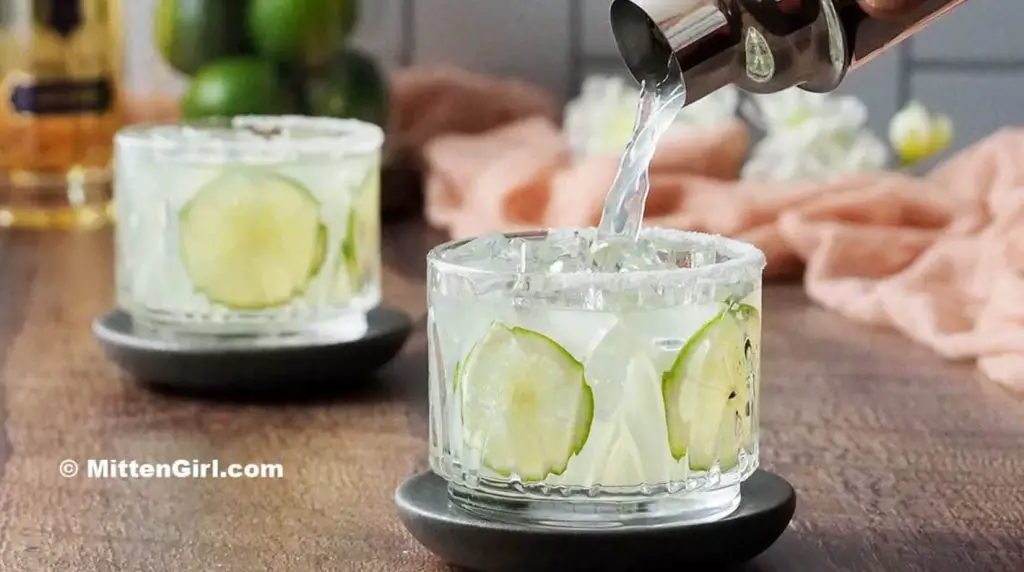 A subtle twist on a classic cocktail, this elderflower margarita will definitely level up your Taco Tuesdays. This is a great cocktail if you're unfamiliar with elderflower liqueur. The flavor enhances but doesn't overpower the lime.
Fresh Fig Margarita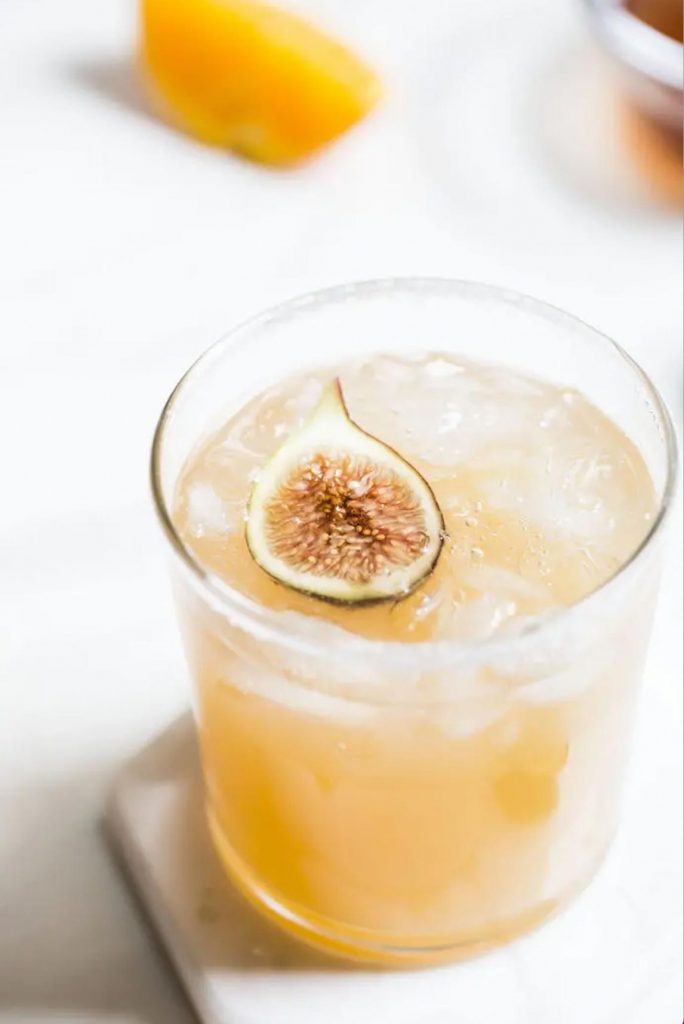 This fresh fig margarita is made with homemade fig simple syrup along with honey and a dash of orange juice for the perfect amount of sweetness.
Frozen Mango Margarita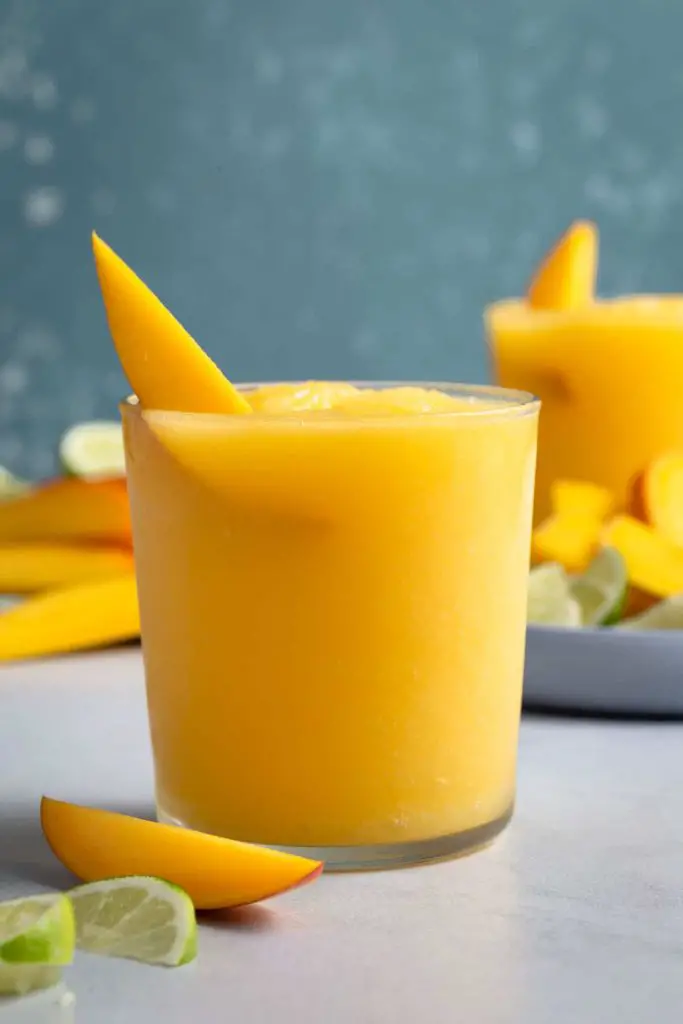 These frozen mango margaritas are naturally smooth, sweet, and refreshing. They're the best summer treat to cool you down on a hot day or when snacking on a spicy dip.
Frozen Peach Margarita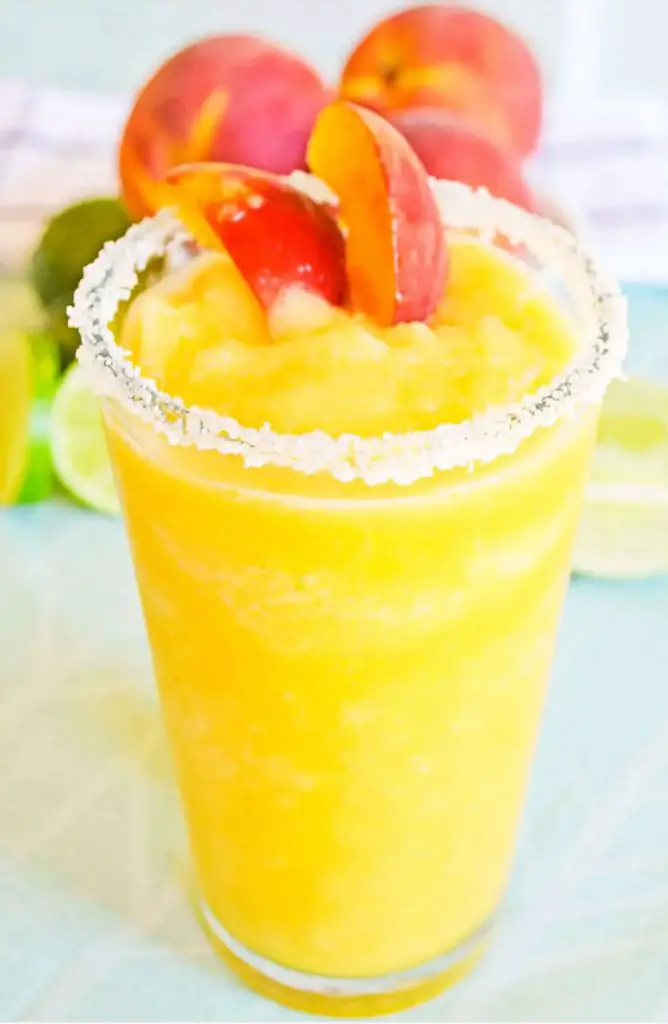 The frozen peach margarita is a sweet and refreshing twist on the classic margarita. It's also perfect for summer parties or afternoons by the pool. Plus, you will love how easy they are to make with just a few simple ingredients.
Frozen Pineapple Margarita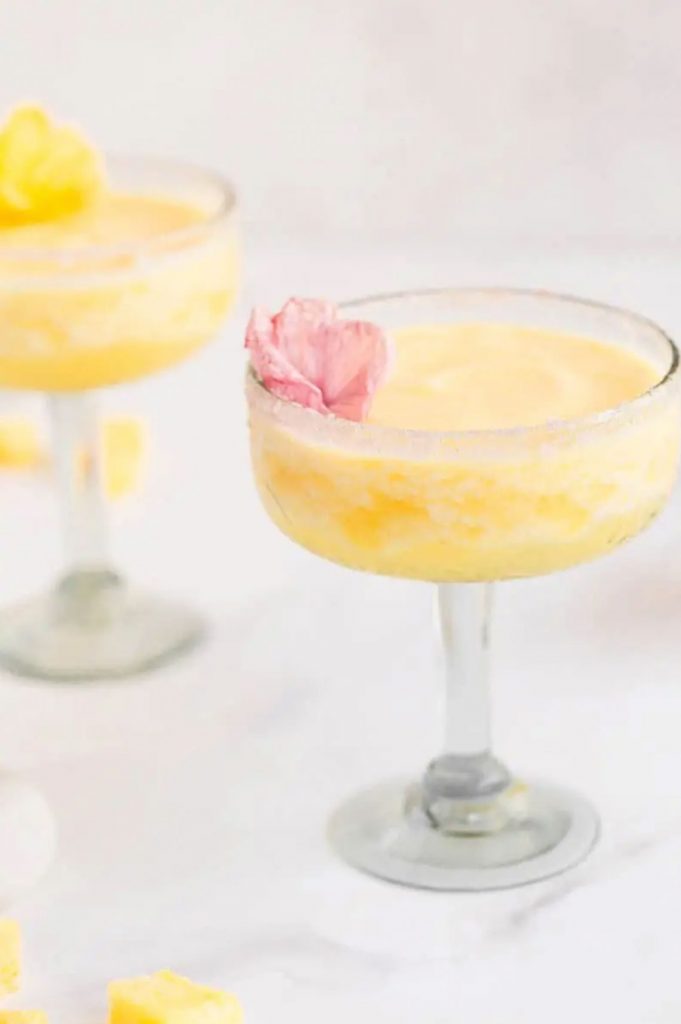 This frozen pineapple margarita tastes a bit like a Dole Whip. Add sugar, salt, or even tajin to the rim!
Frozen Pineapple Mint Margarita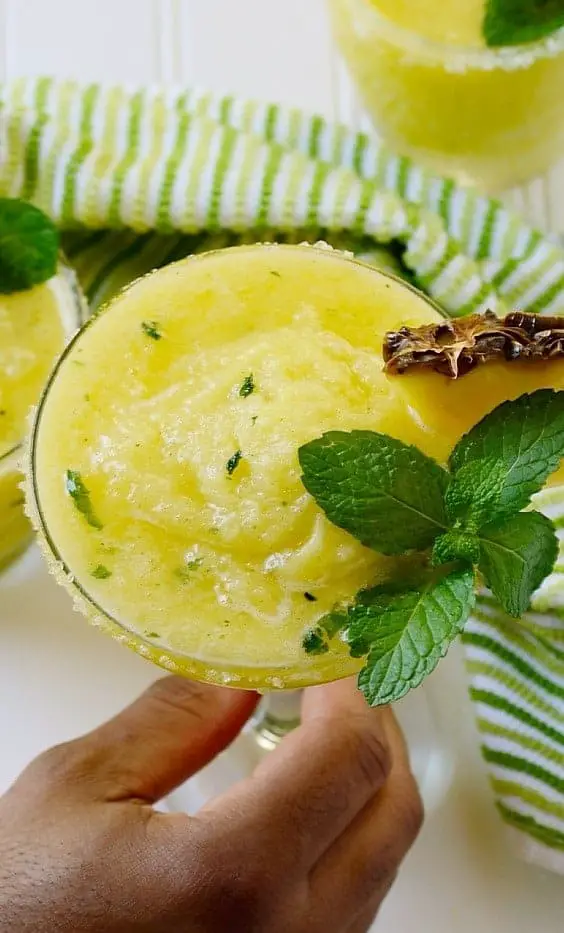 This frozen pineapple margarita is made with frozen pineapple blended with tequila and mint in the blender for a super refreshing drink that tastes like a fiesta.
Frozen Pineapple Raspberry Margarita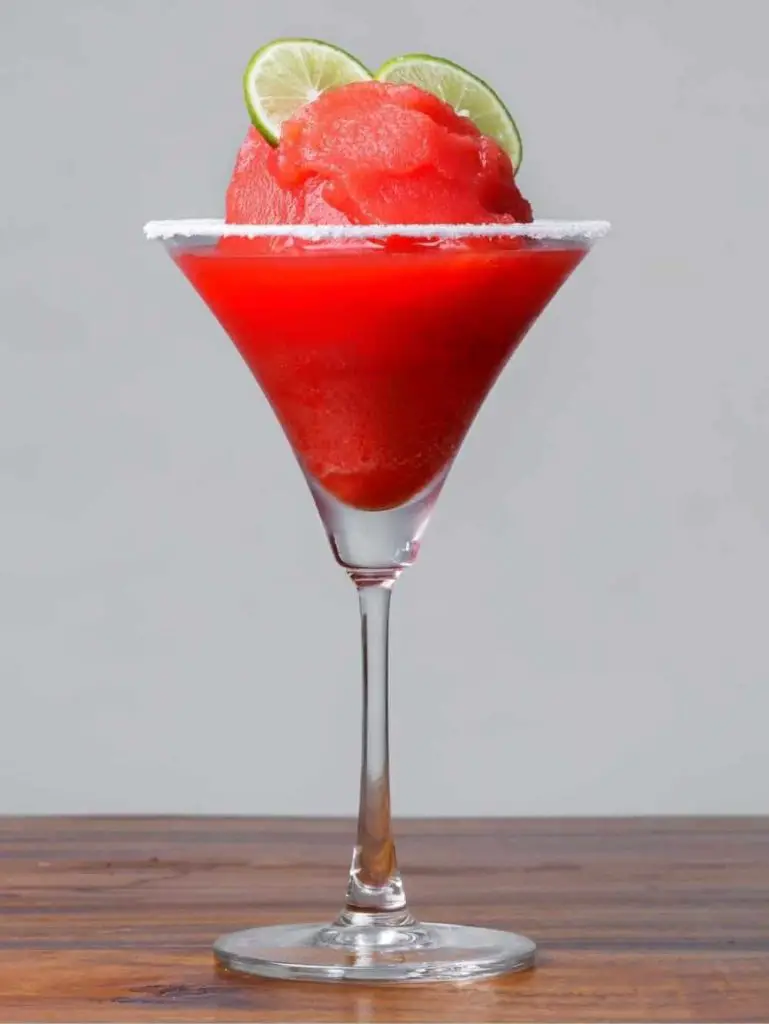 These slushy frozen pineapple raspberry margaritas have a touch of pineapple for added flavor. This summer drink is the perfect party cocktail!
Frozen Spicy Mango Margarita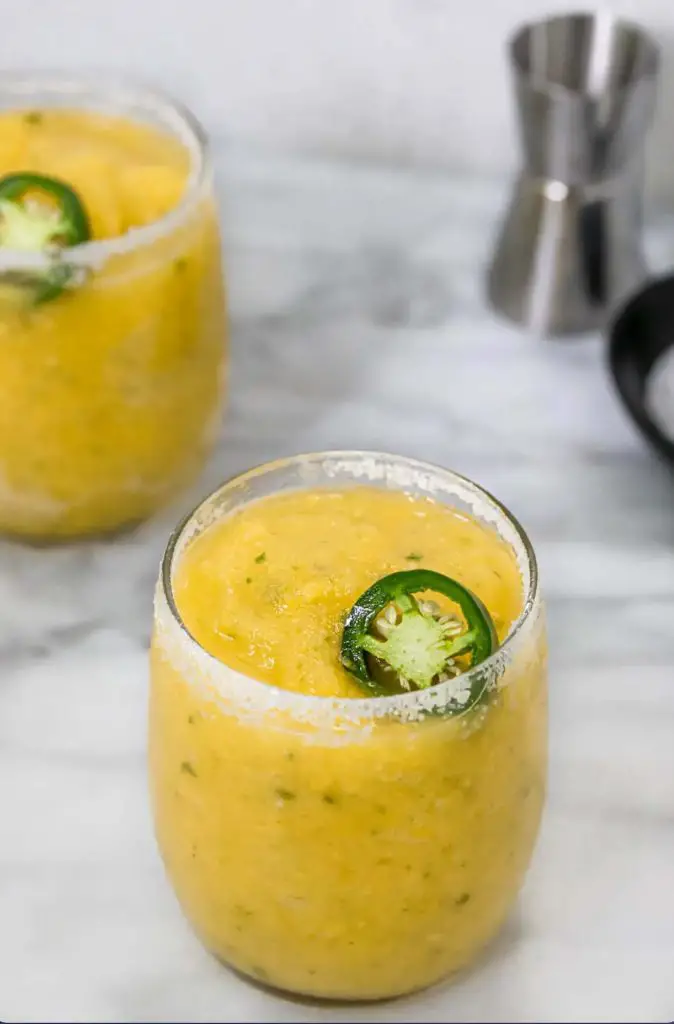 Frozen spicy mango margaritas are made with fresh lime juice, mango chunks, and jalapeño pepper. They make for a sweet yet refreshing summertime drink with a spicy kick!
Frozen Strawberry Margarita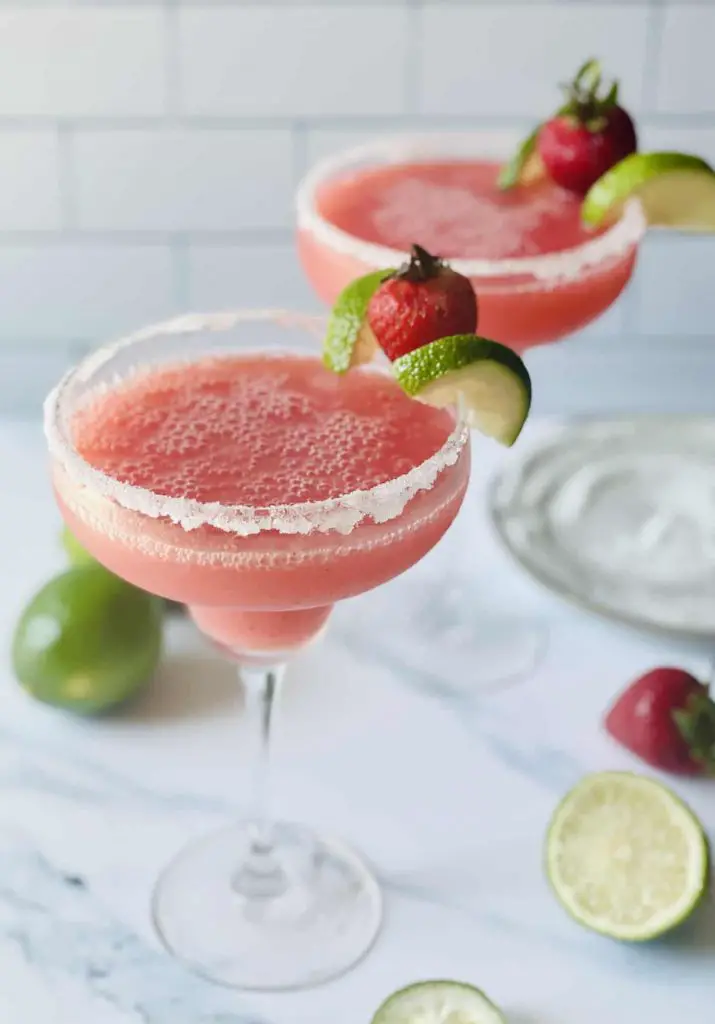 Blended frozen strawberry margaritas make delicious, refreshing frozen cocktails and a lovely twist on the classic margarita! This recipe does not use margarita mix or simple syrup. Instead, it calls for fresh strawberries, lime, and two types of liquor.
Frozen Thyme and Pear Margarita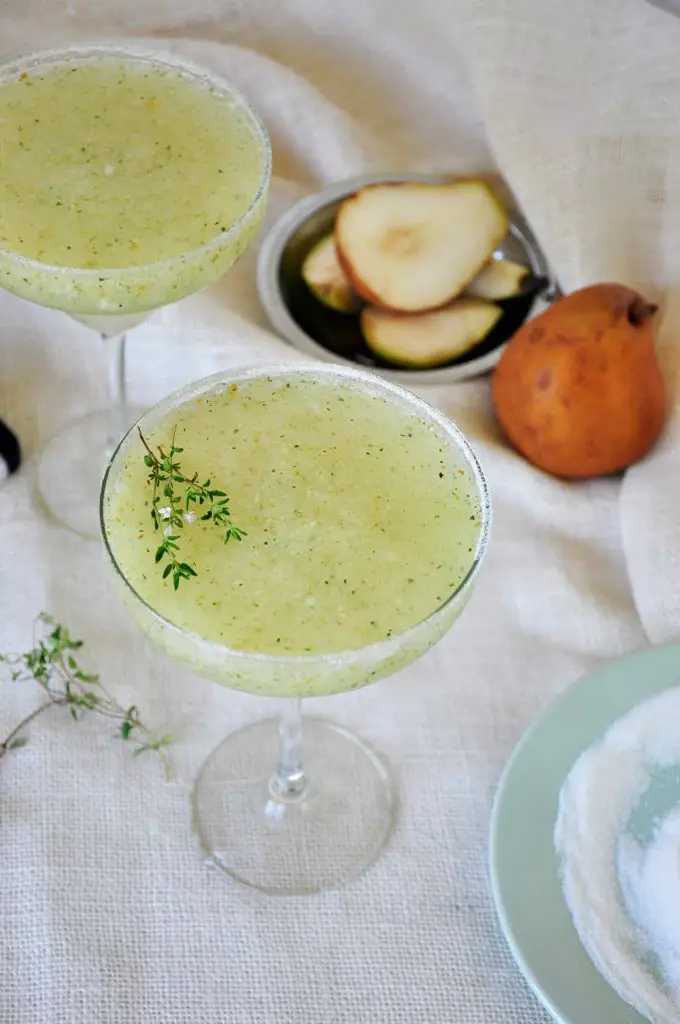 Herbaceous and flavorful, this frozen thyme and pear margarita is an elegant summer cocktail.
Ginger Lime Margarita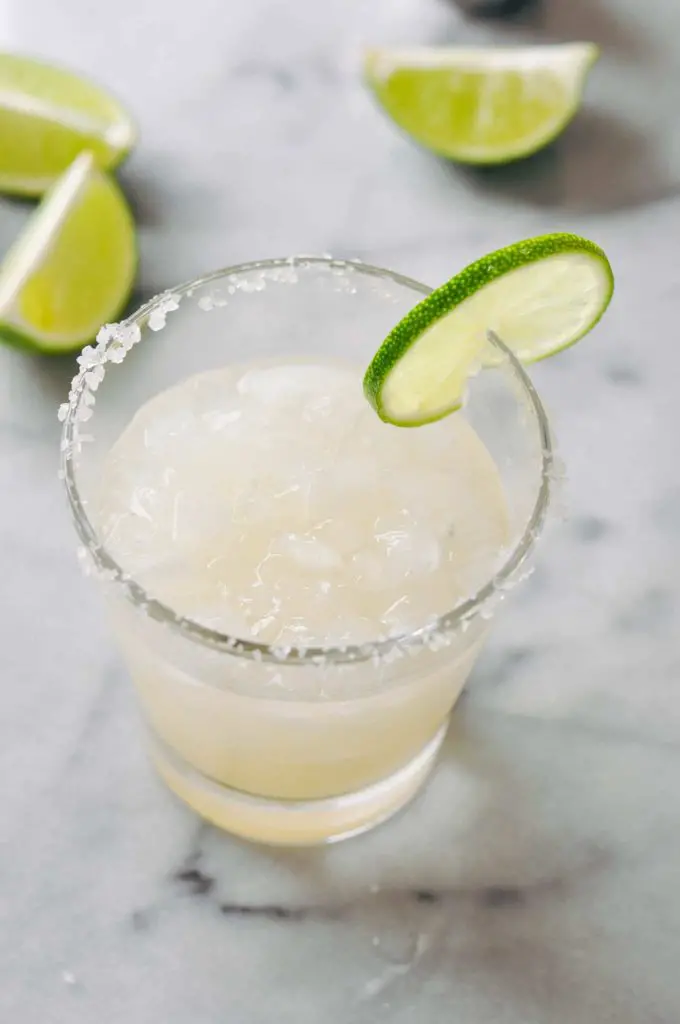 This ginger lime margarita is an absolute standout cocktail. Great on its own or with a bunch of little nibbles, it's a fabulous happy-hour drink!
Grapefruit Elderflower Margarita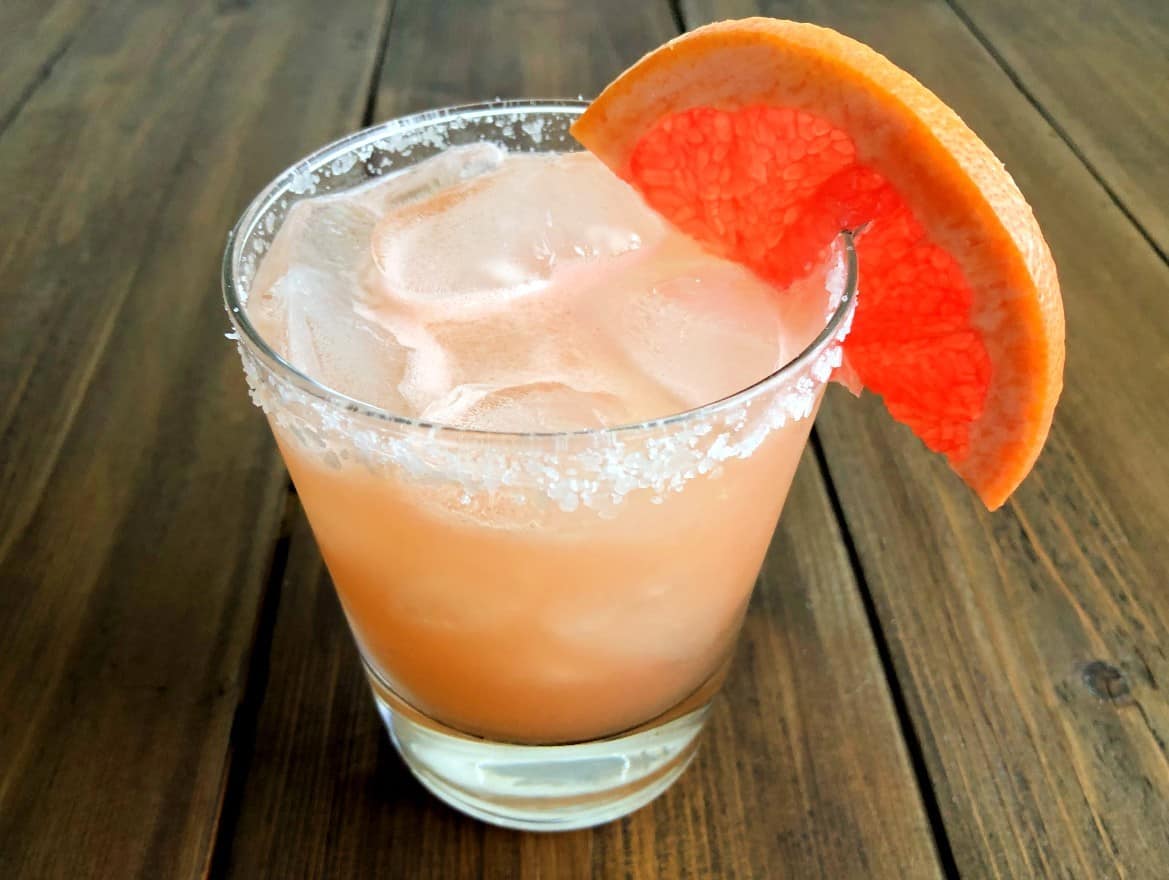 This bright and refreshing grapefruit elderflower margarita is easy to make and super delicious. Add an additional level of flavor to this cocktail with elderflower liqueur that blends perfectly with grapefruit!
Grilled Pineapple Jalapeño Margarita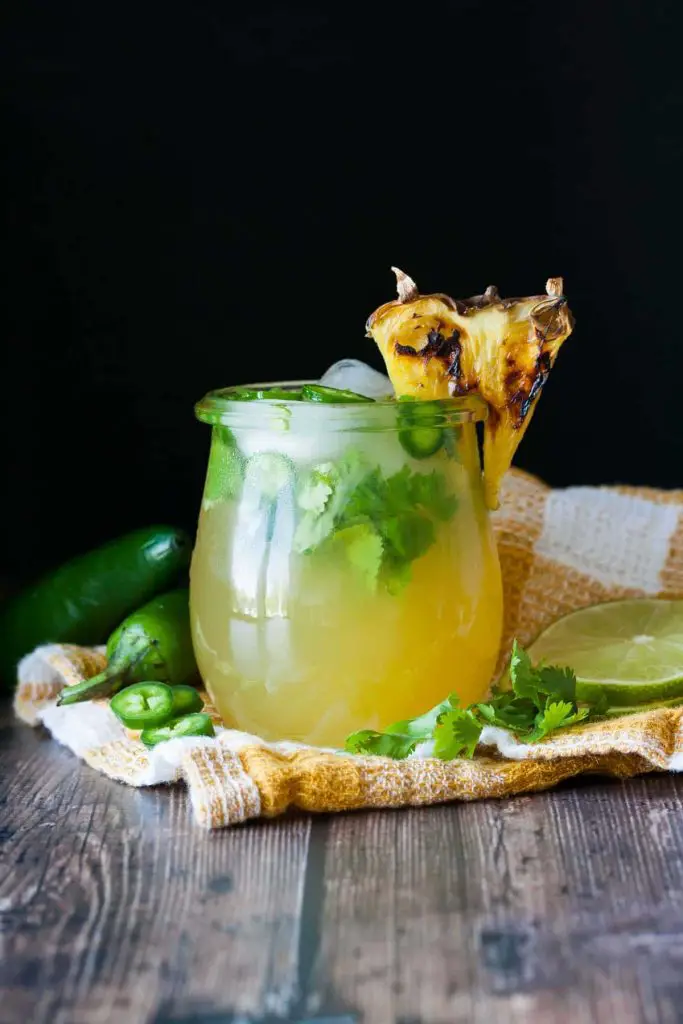 This spicy pineapple jalapeño margarita has the best combination of flavors for an incredible-tasting margarita. The trick is in the unique way to prep the pineapple!
Guava Margarita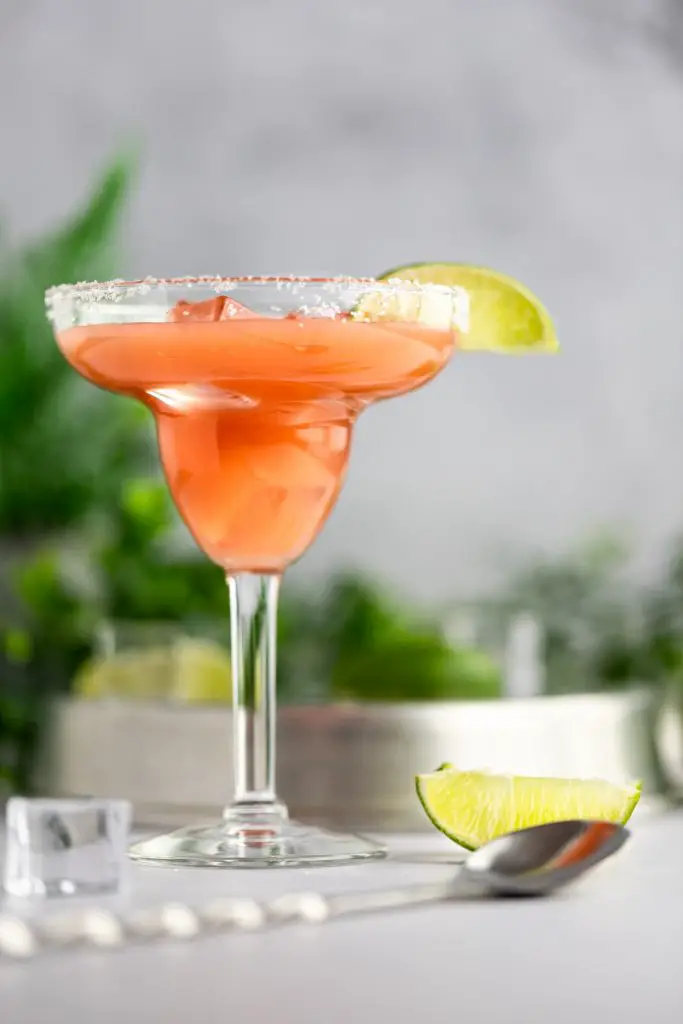 These tasty guava margaritas add a unique twist to classic margaritas. They are easy and quick to make in less than 5 minutes, making them the perfect drink for a large group. Plus, they are made with guava nectar, so you can make these drinks any time of year — even when guavas aren't in season.
Hibiscus Margarita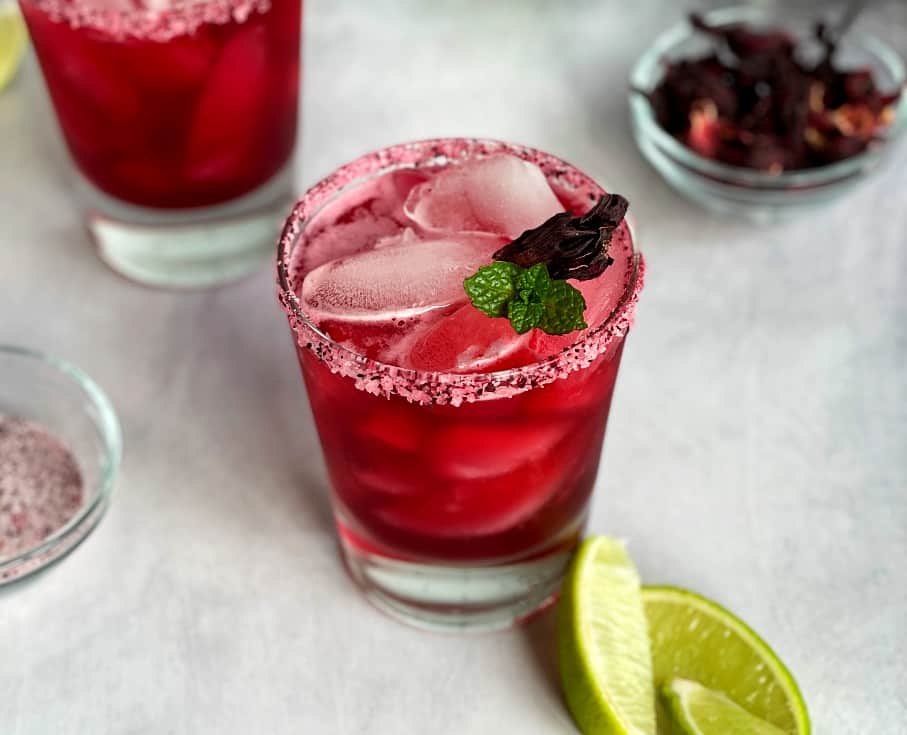 Refreshing, vibrant, and delicious hibiscus margaritas are made with homemade hibiscus syrup and garnished with a beautiful hibiscus margarita salt.
Honeydew Basil Spicy Margarita
If you want to turn up the heat with a good spicy margarita, then you have to try this honeydew basil spicy margarita! The recipe uses honeydew and fresh basil for a margarita on the rocks that is a must-make cocktail for summertime.
Hot Honey Margarita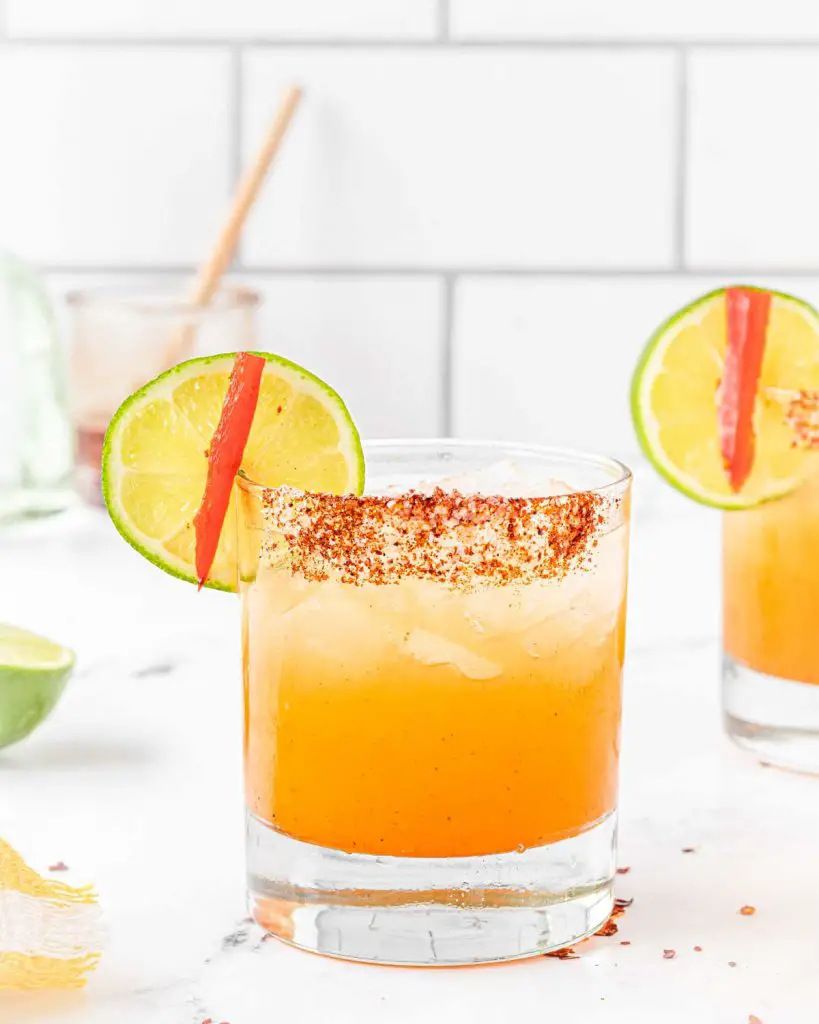 Turn up the heat with this spicy hot honey margarita! It's a smooth top-shelf margarita with a bold kick.
Jamaica Lime Margarita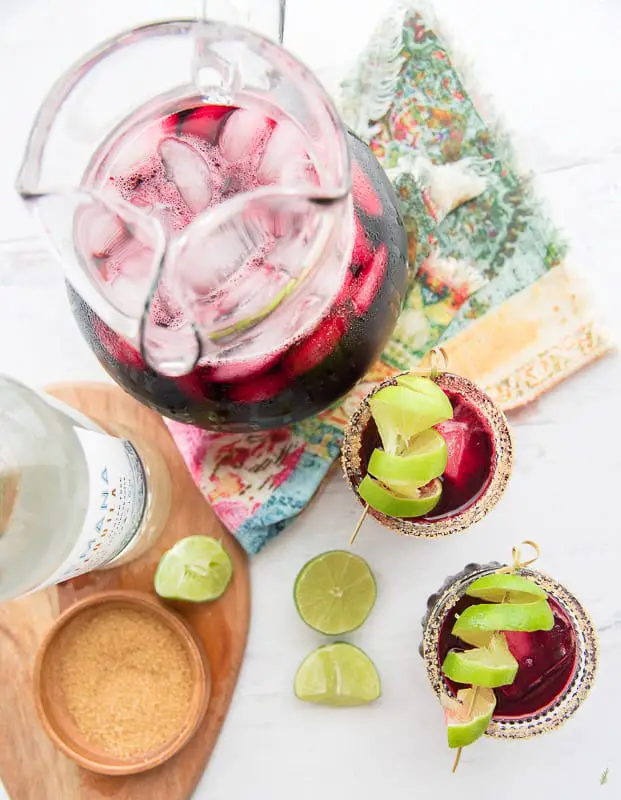 Jamaica lime margaritas take the classic margarita recipe and give it a floral spin with hibiscus iced tea. Using a high-quality tequila blanco makes the best cocktail.
Kiwi Margarita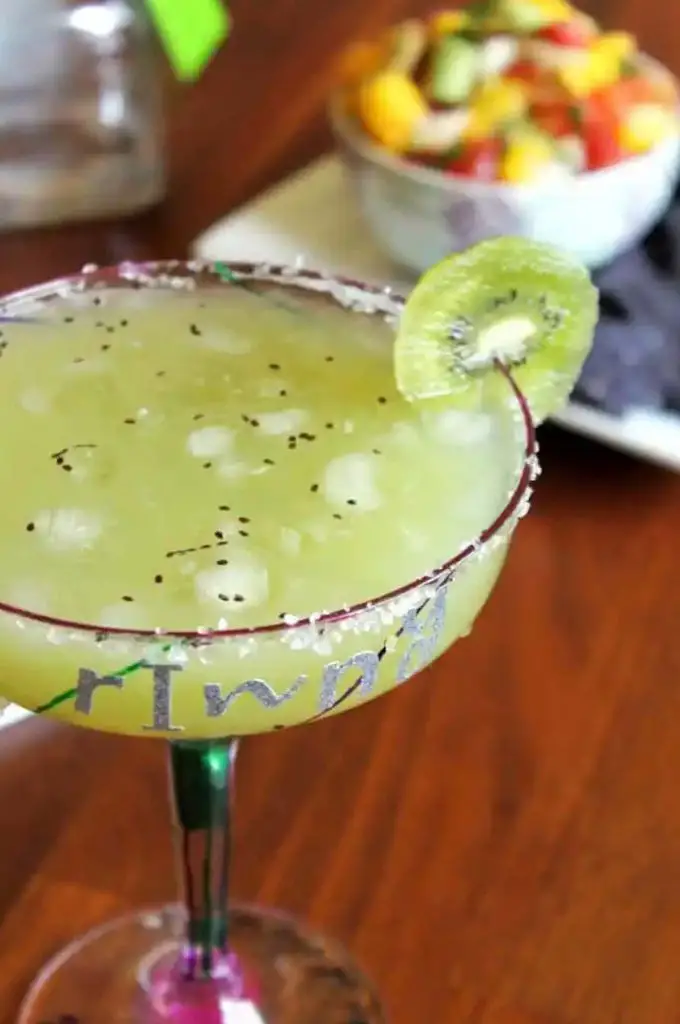 Get ready for warm weather and Cinco de Mayo with this light kiwi margarita. This cocktail is not too sweet and has just enough fruity flavor to change things up!
Lavender Margarita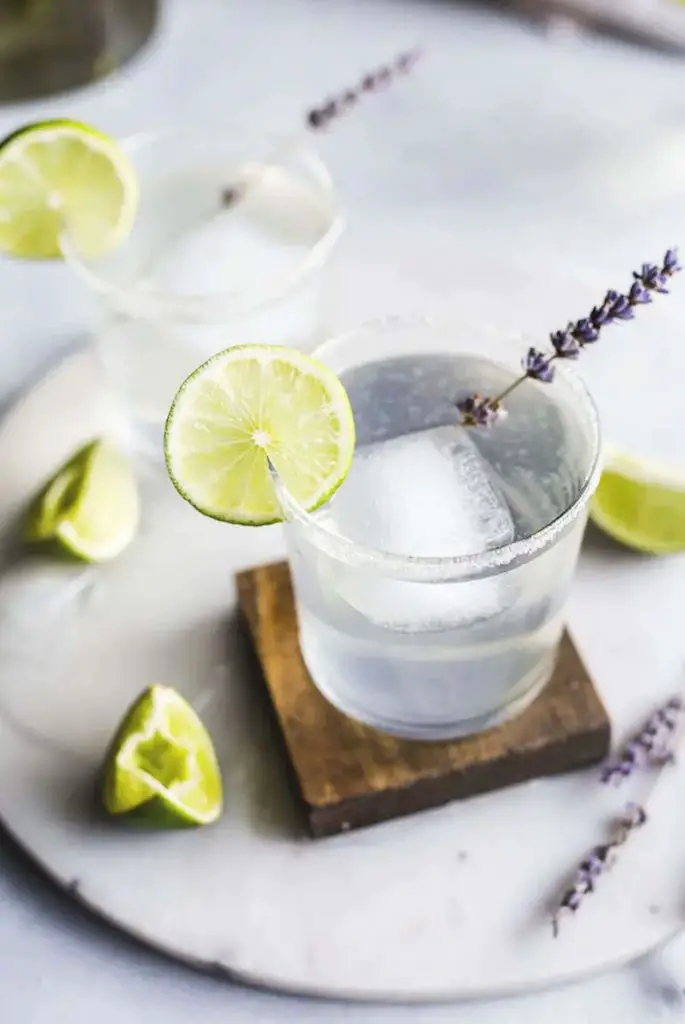 This lavender margarita is light and refreshing, and it requires minimal ingredients. If you like lavender, this is a must-try margarita!
Lemon Basil Margarita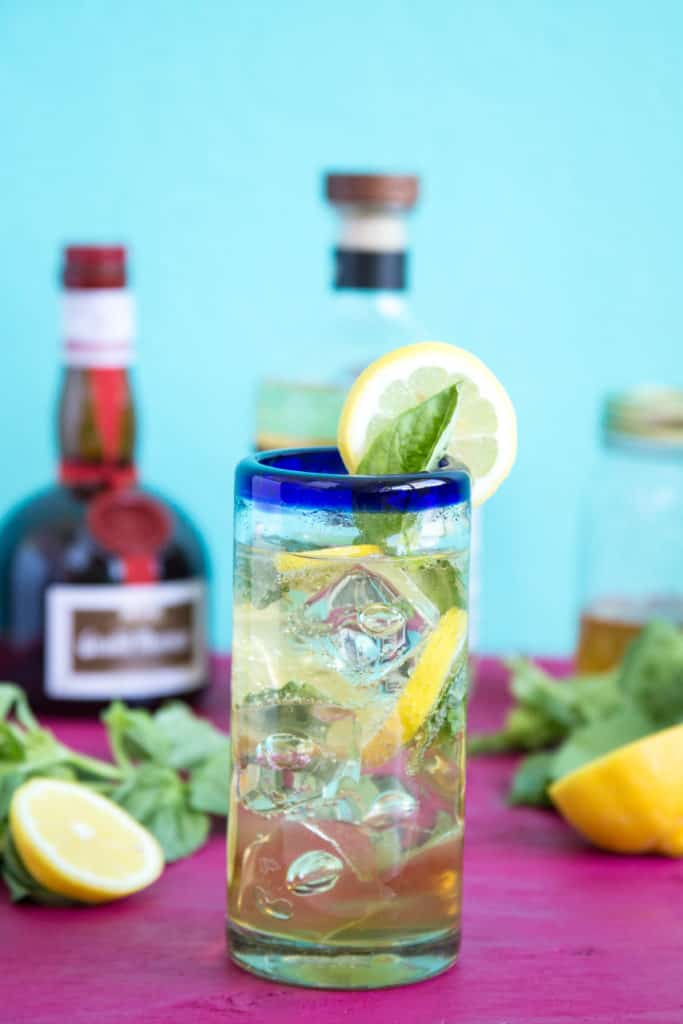 This lemon basil margarita is full of fresh flavor! The citrus and fresh herbs make it super food-friendly, too. Cheers!
Mango Margarita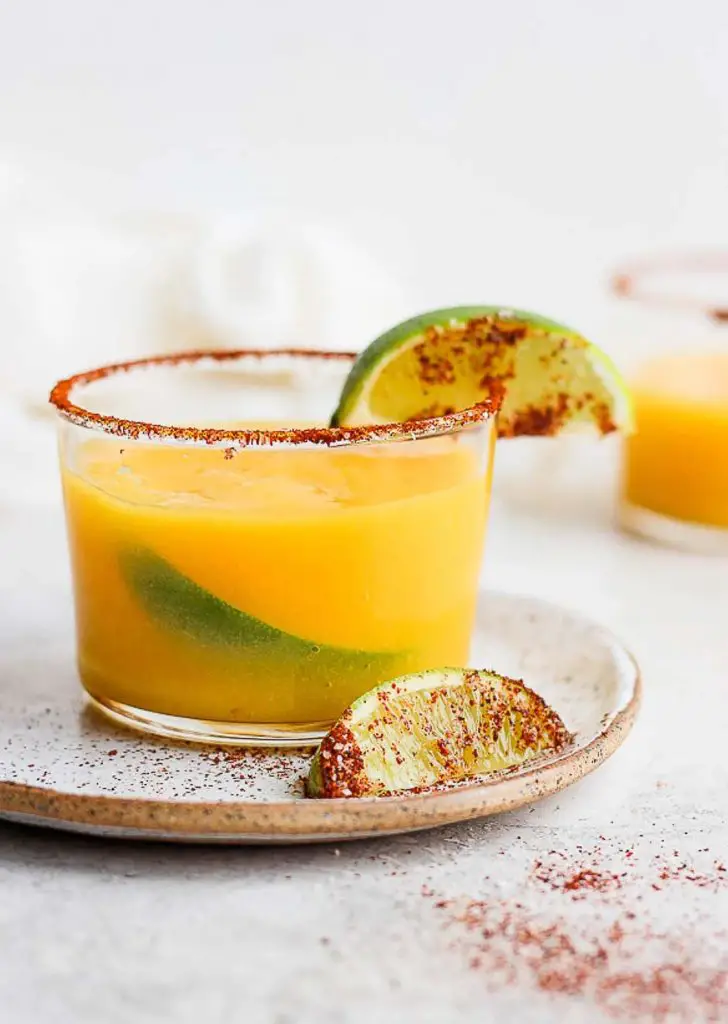 This mango margarita is light, refreshing, and just sweet enough. Easy to make and perfect for a hot summer day!
Mango Jalapeño Margarita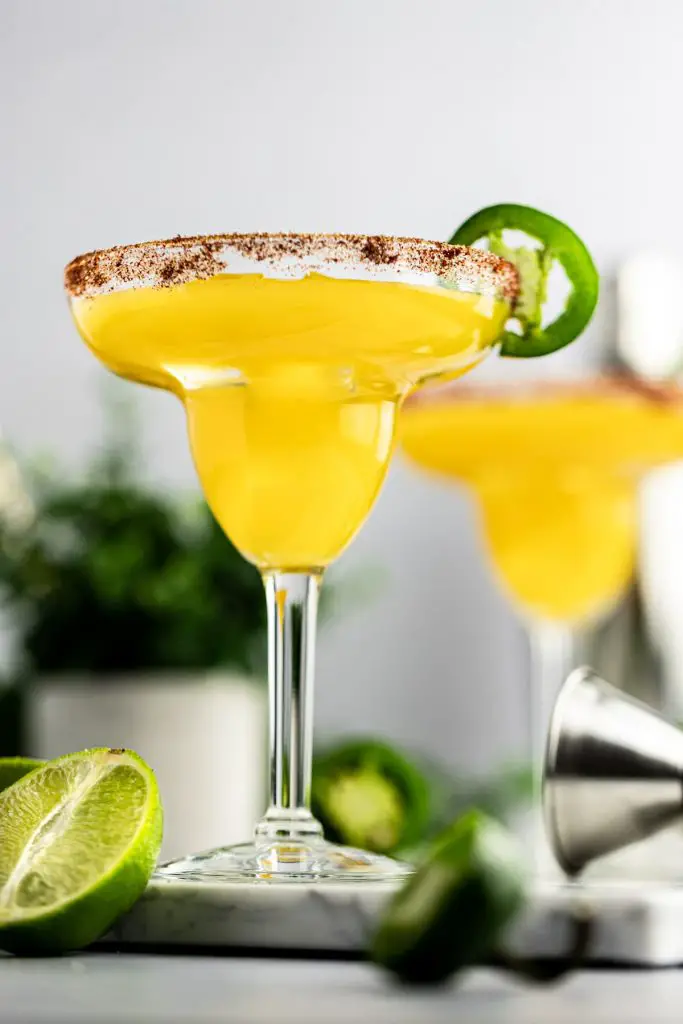 This spicy mango jalapeño margarita is the best combination of fruity, tropical mango, tequila, lime, and a spicy jalapeño kick. It's a cocktail that will complement your next Mexican dish!
Mangonada Margarita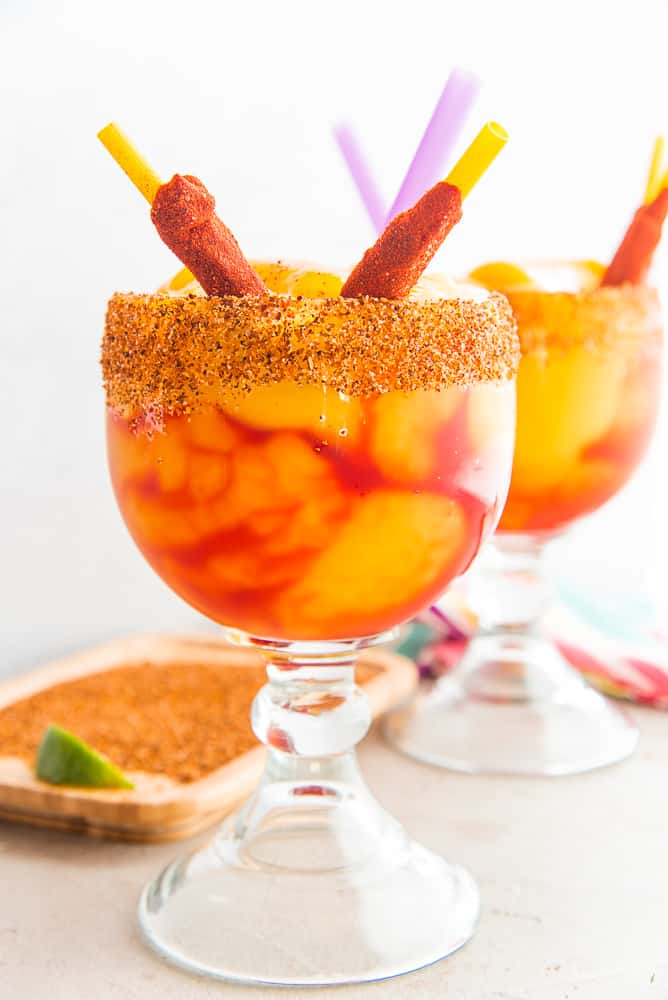 Mangonadas margaritas are made with fresh mango, tequila, and Chamoy. They'll be the star of your next fiesta or Cinco de Mayo celebrations.
Matcha Margarita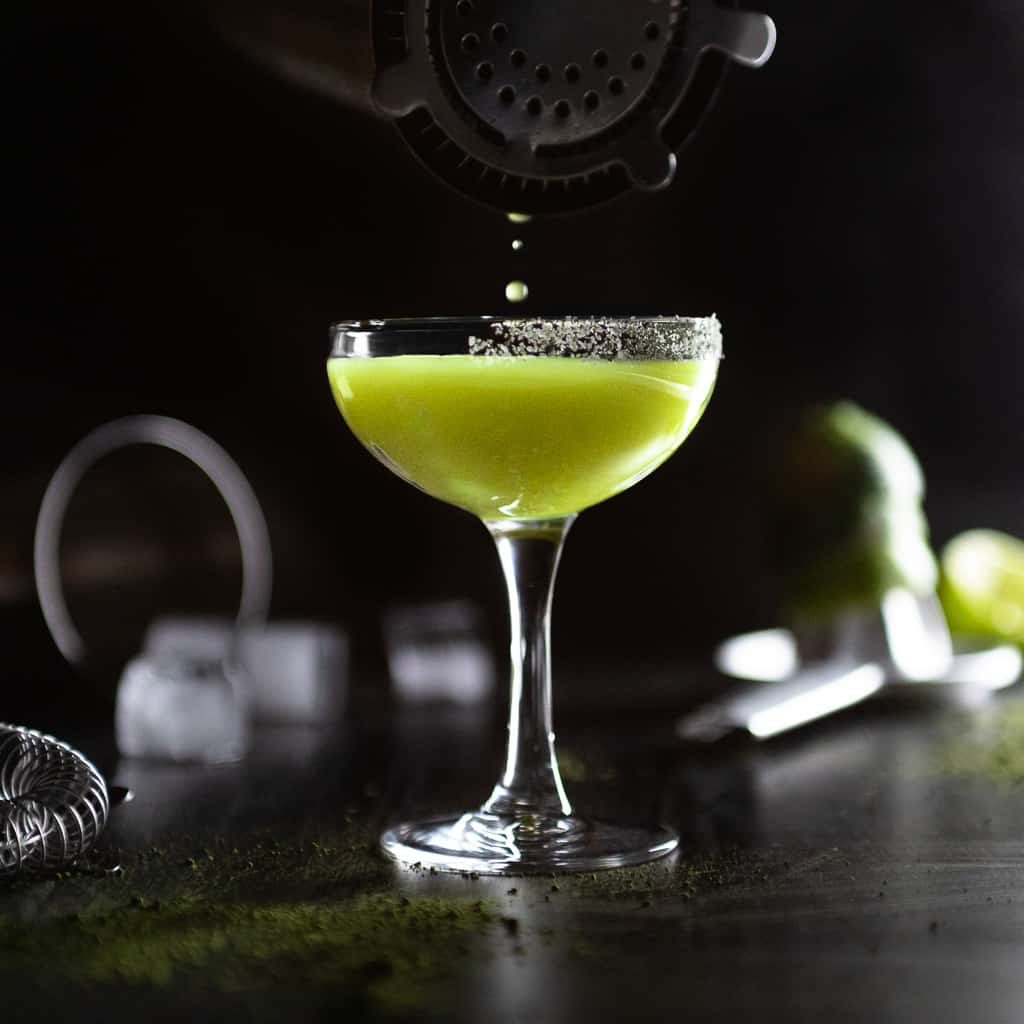 The classic margarita cocktail has been given a fresh, vibrant green glow-up with the addition of matcha powder and a matcha salted rim! This matcha margarita recipe puts a delicious, herbaceous twist that is easy to make and easier to drink!
Mint Kiwi Margarita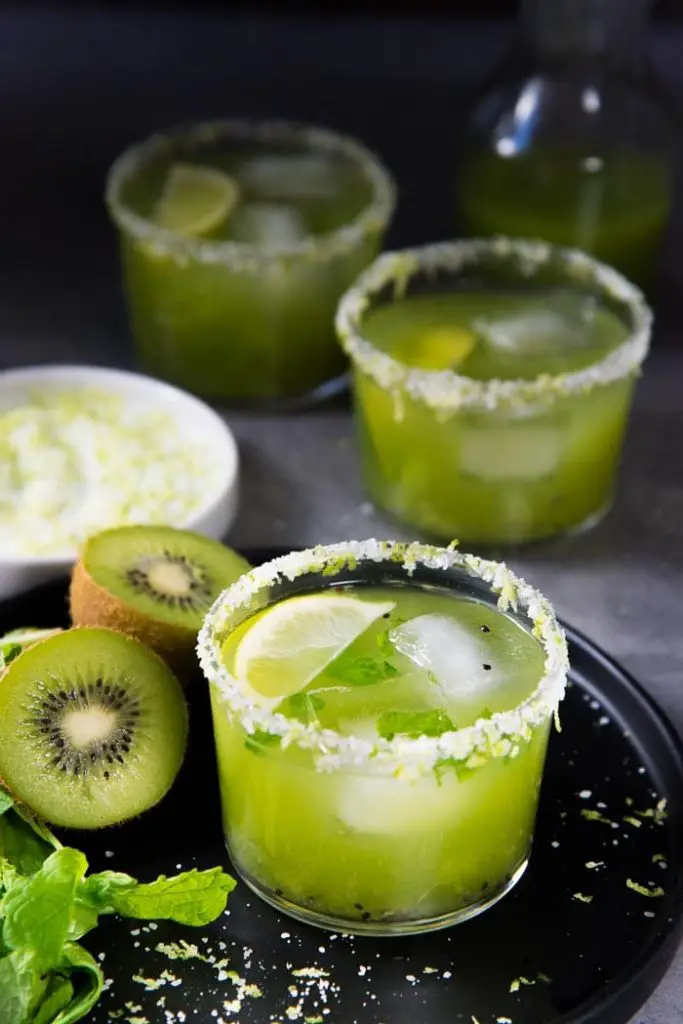 Gorgeous, refreshing, and delicious — this mint kiwi margarita uses kiwi fruit juice as the base and is flavored with mint and lime salt.
Passion Fruit Margarita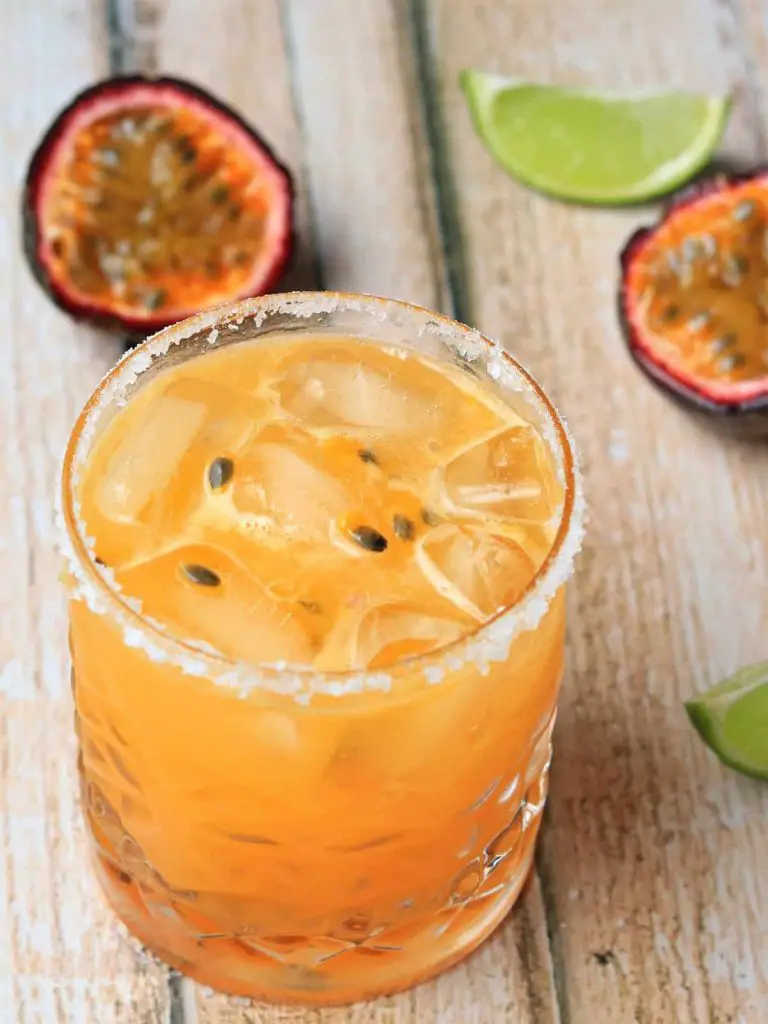 This passion fruit margarita has a delicious combination of sweet and tart, giving a hint of tropical flavor to a classic margarita. It still has all the elements you love in a classic marg, but has an edge of tropical sour hints to jazz it up a little.
Peach Margarita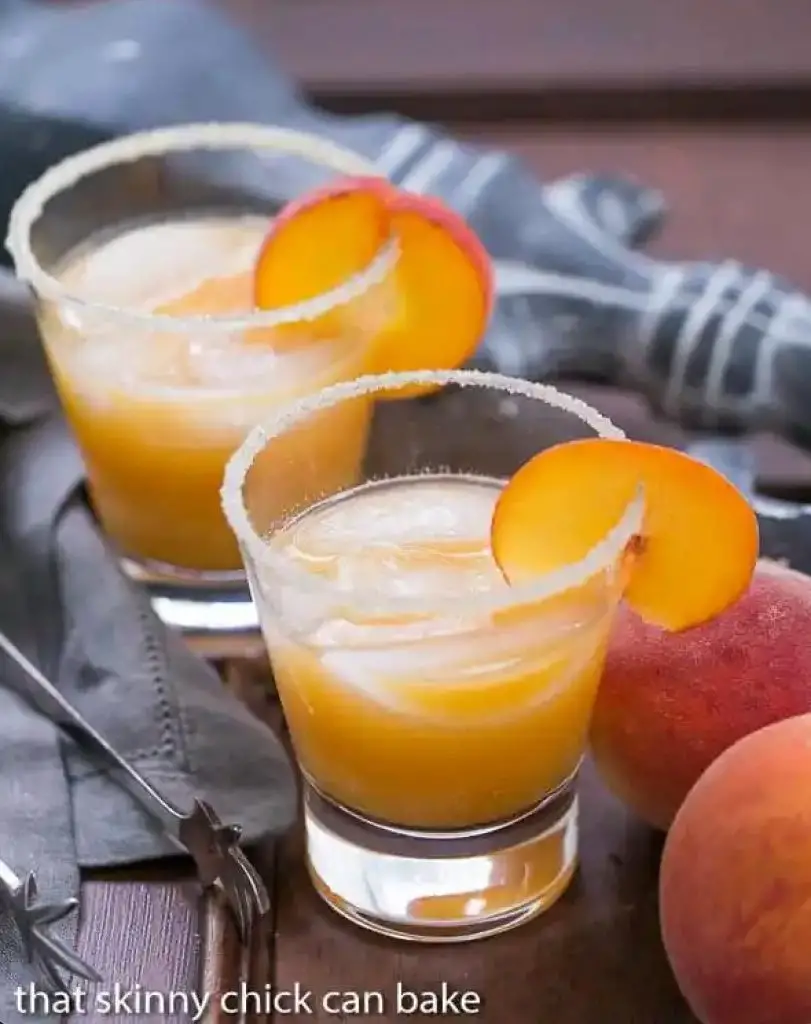 Made with fresh or frozen peaches, these peach margaritas put a taste of summer in your day any time of year. They're outrageously delicious!
Can't get enough of peach-flavored cocktails? You might find my Peach White Sangria just peachy!
Pineapple Cilantro Margarita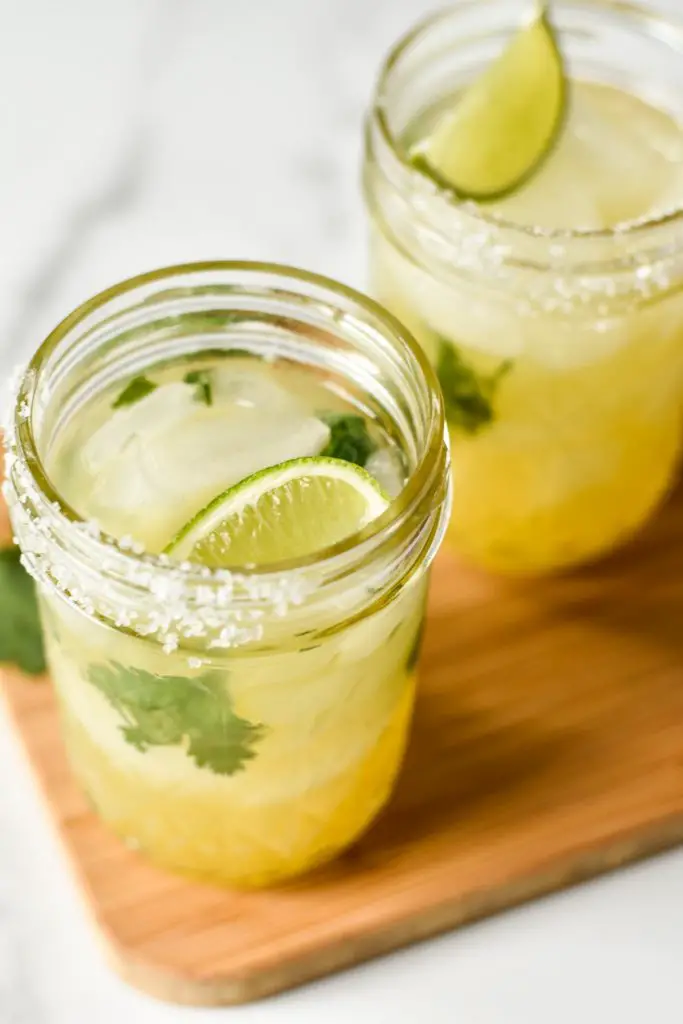 Shake up your cocktail routine with a fresh and tart pineapple cilantro margarita! This is so simple to make at home but will make your kitchen feel like your favorite restaurant.
Pineapple Habanero Margarita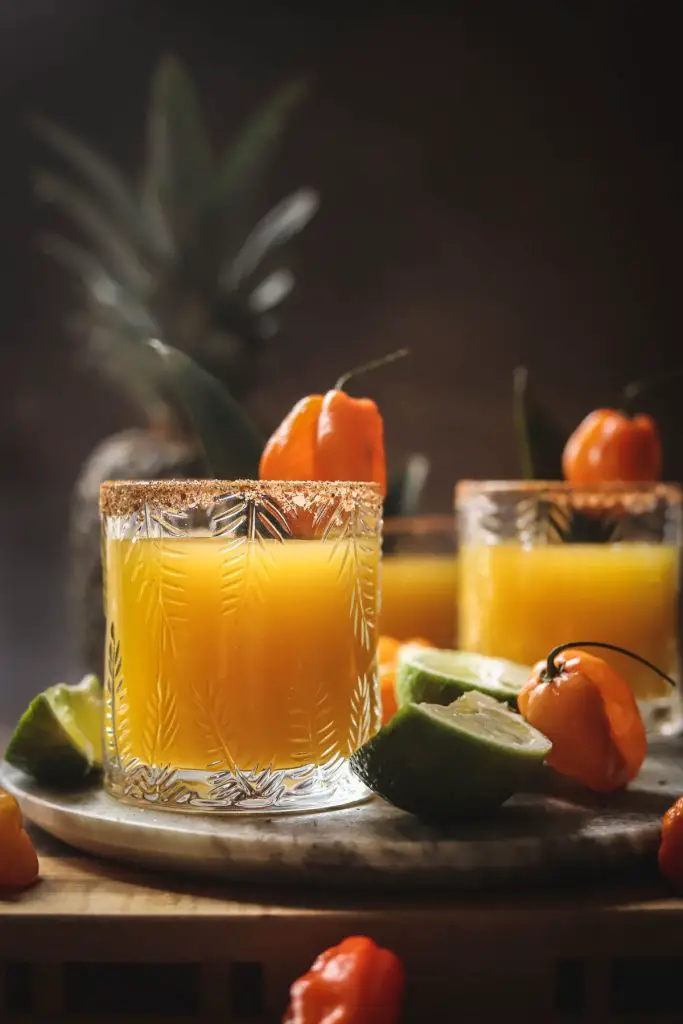 These spicy pineapple margaritas combine so many different flavor profiles into one drink. The habanero is spicy, the pineapple is sweet, the lime is sour, the salt is obviously, salty and, finally, the mezcal brings a little bit of smoke. The disparity between drinking something ice cold and having it taste spicy is just so delicious.
Pineapple Jalapeño Margarita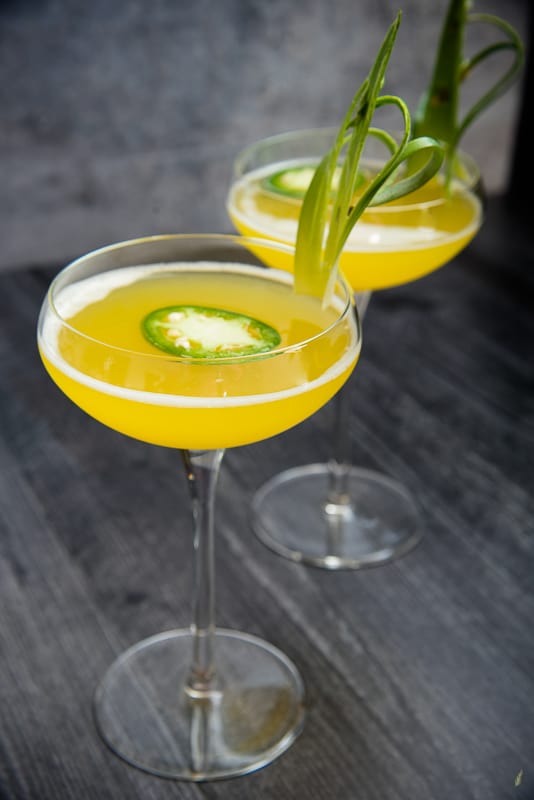 Pineapple jalapeño margaritas made with pineapple juice and sweetened with a spicy jalapeño simple syrup. These margaritas also pack in potency brought to you by tequila blanco.
Pineapple Turmeric Margarita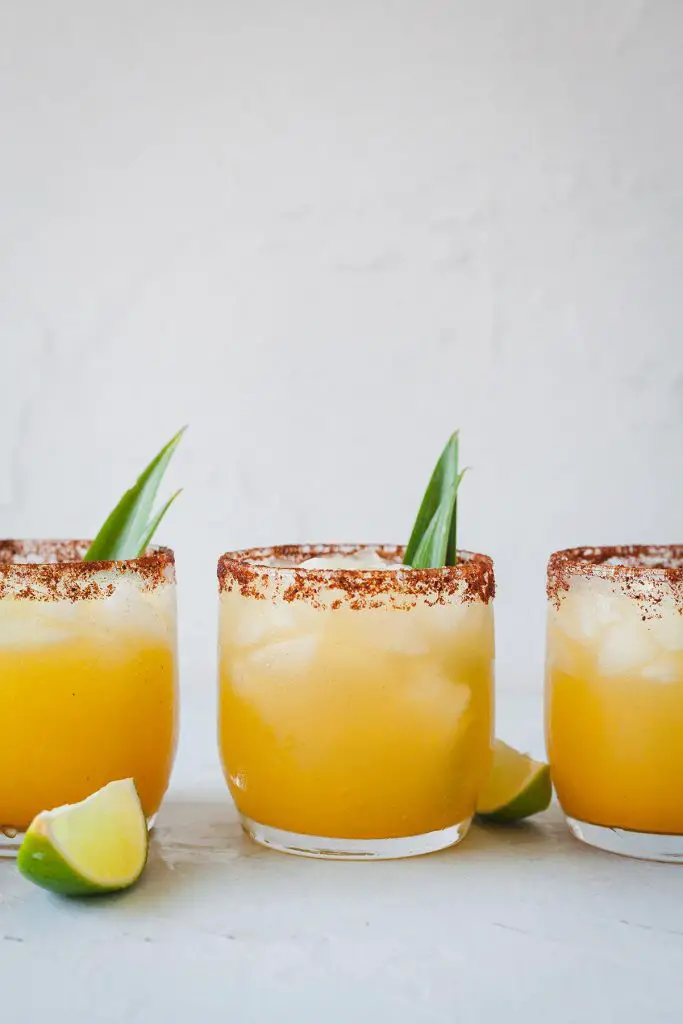 This pineapple margarita is mixed with turmeric and has a sweet and spicy rim. It's a pretty way to change up margarita night!
Pomegranate Margarita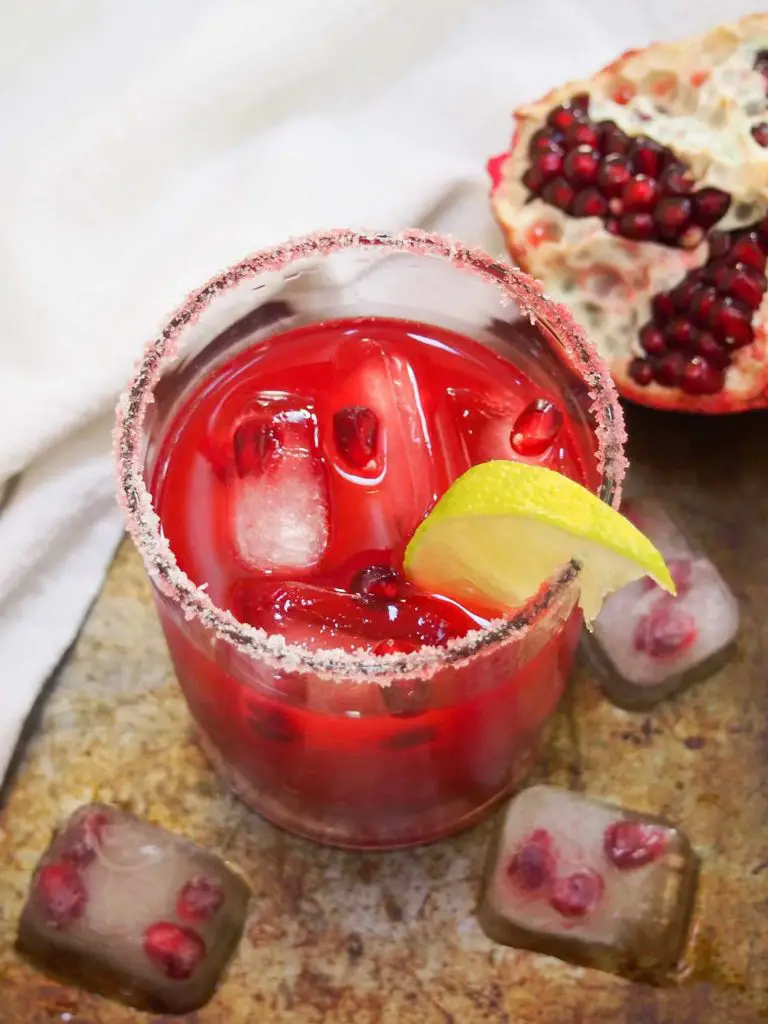 This pomegranate margarita is a bright and colorful twist on the classic cocktail. It has a wonderful balance of tart, fruity and sour flavors and is perfect for a festive occasion (or any excuse you want to make).
Pomegranate Pineapple Margarita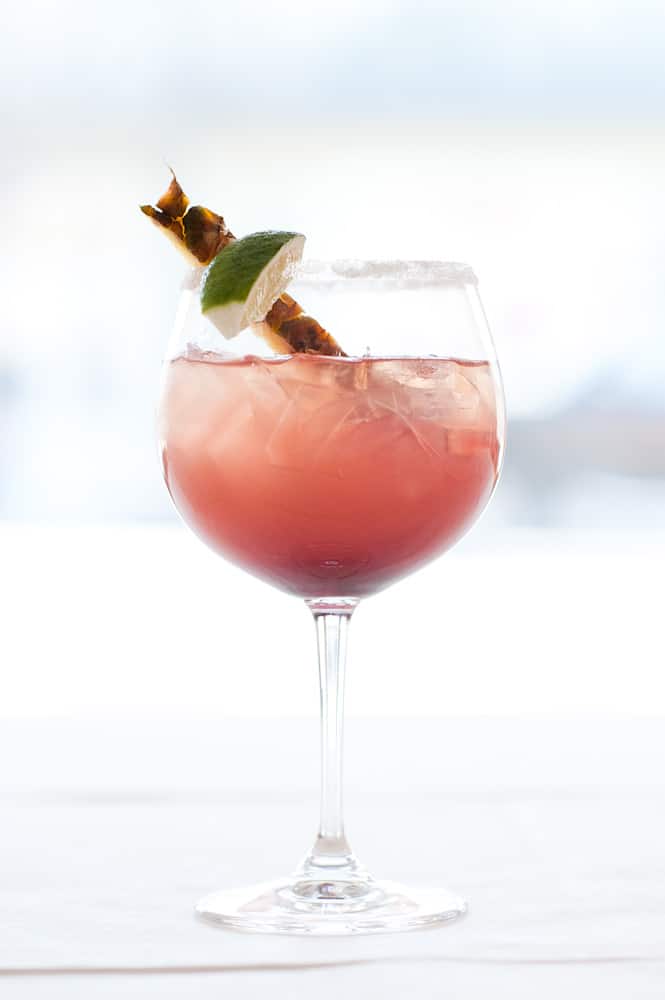 This pomegranate pineapple margarita recipe makes two cocktails – but you may not want to share! The tart-and-sweet combo is loaded with fabulous flavor — and tequila, of course!
Prickly Pear Margarita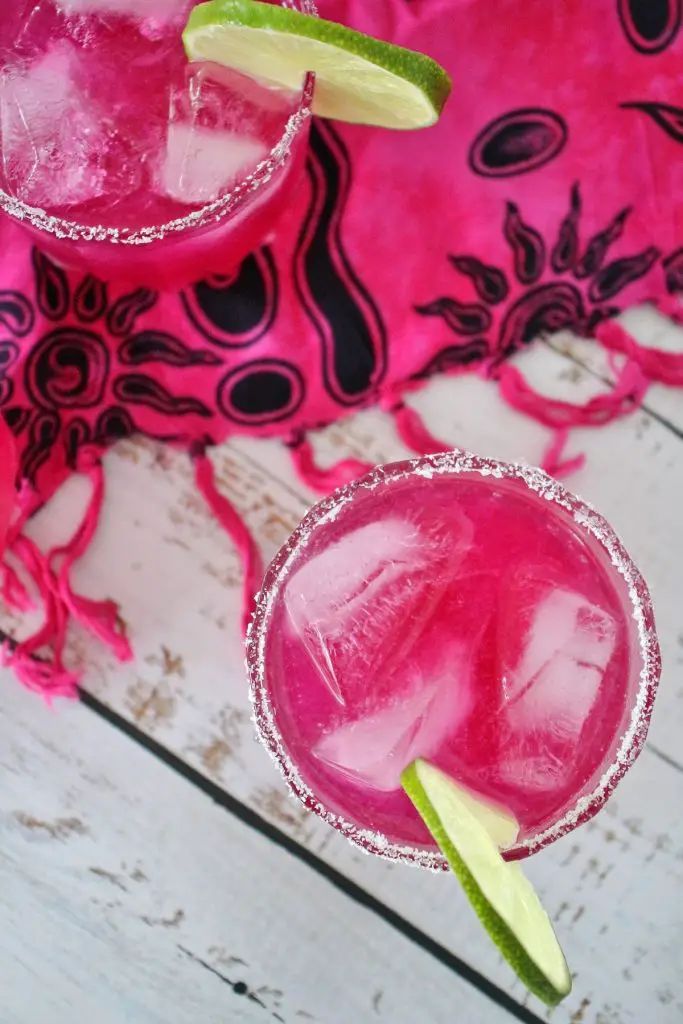 These gorgeous pink prickly pear margaritas are easy to make with store-bought prickly pear syrup. They're perfect for game day, game night, Taco Tuesday, or any time you're craving a delicious and colorful cocktail.
Red Currant Margarita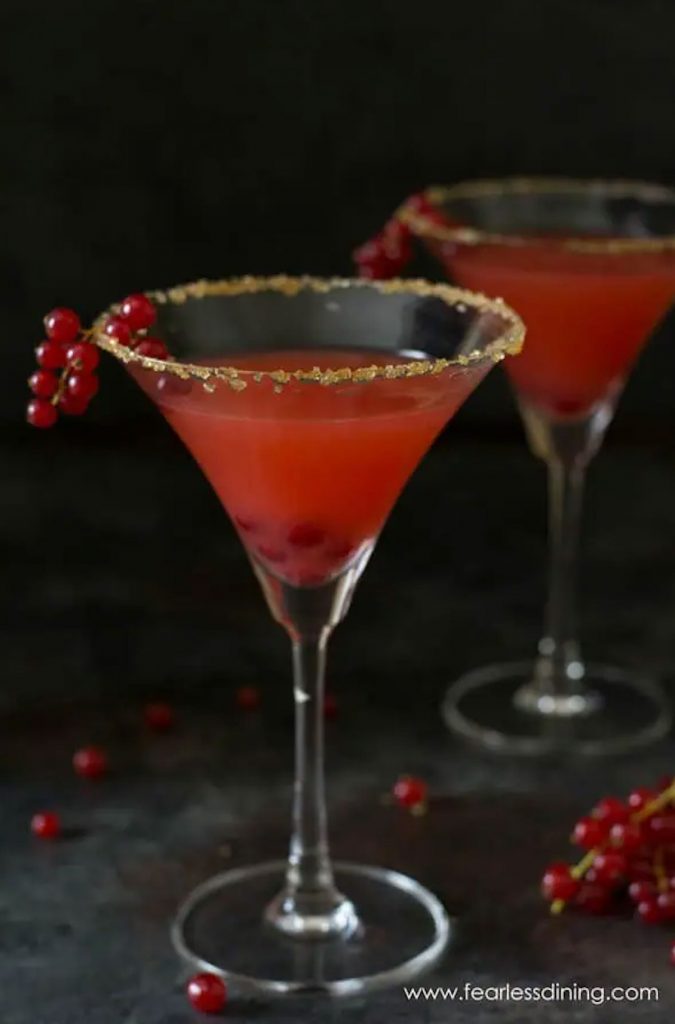 This fun red currant margarita is full of fruity flavor. Swirl the rim in ginger sugar for a delicious flavor combination!
Serrano Cucumber Margarita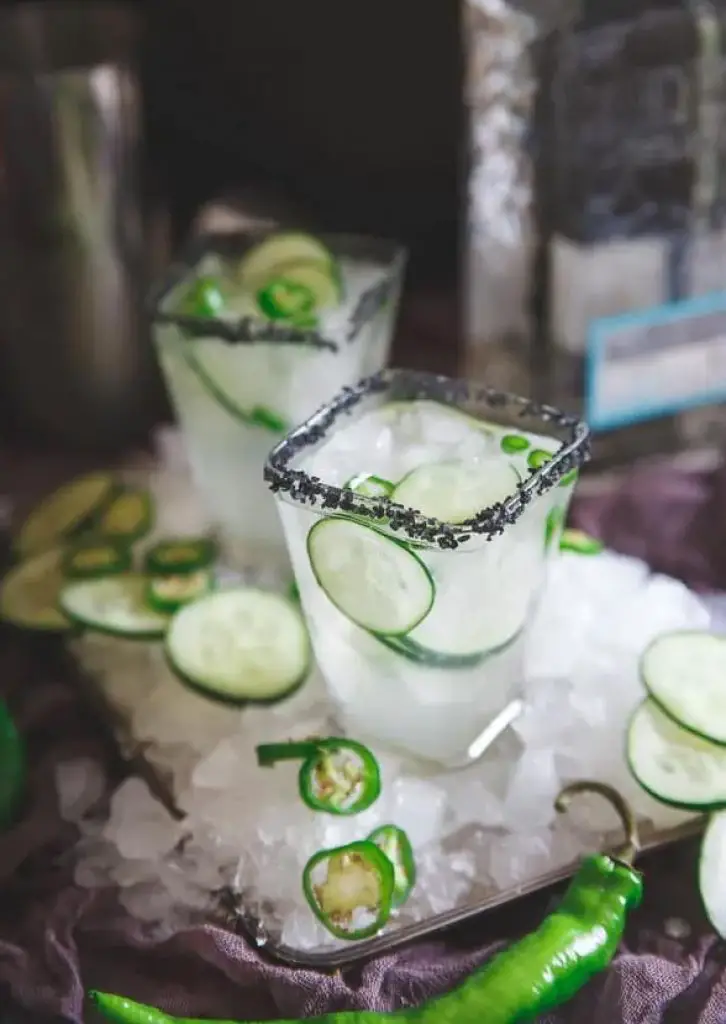 This serrano cucumber margarita is both spicy and refreshing at the same time — making for one delicious happy hour!
Skinny Orange Margarita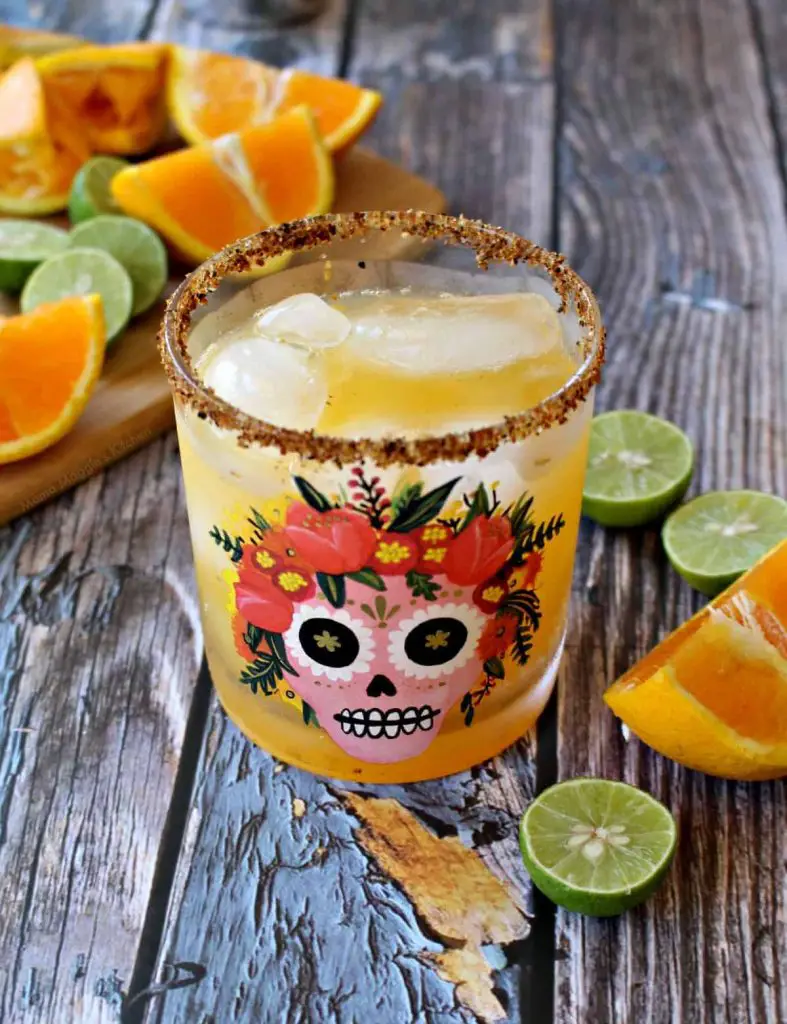 This skinny orange margarita is a refreshing and delightful drink. It puts a twist on your classic margarita, and it's so easy to enjoy!
Sour Patch Kids Margaritas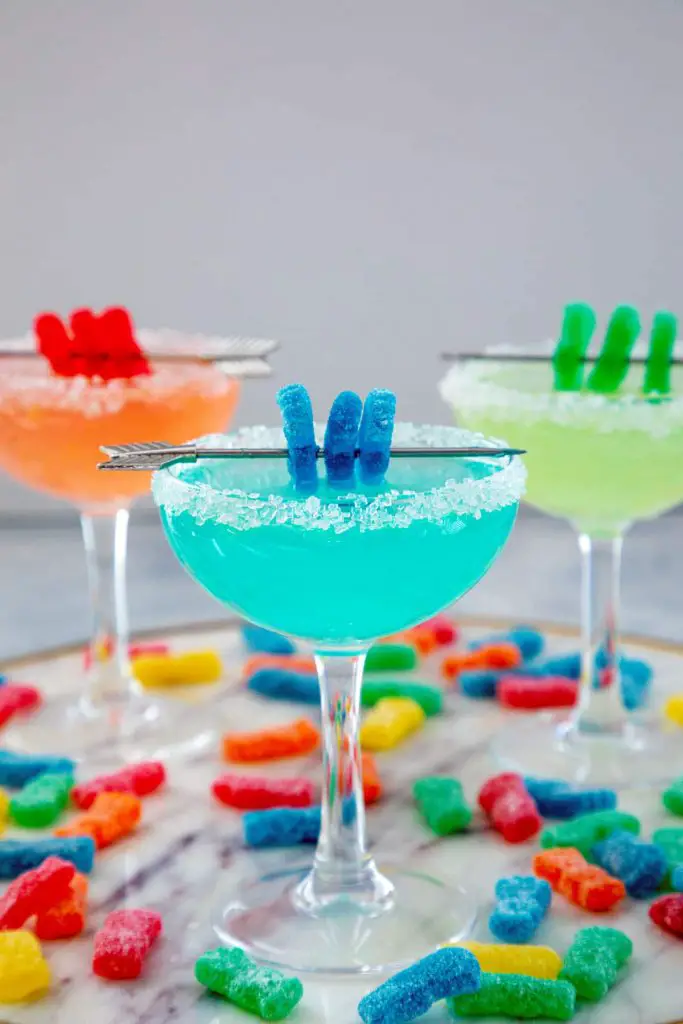 How do you turn a favorite candy into a cocktail? These Sour Patch Kids margaritas are easy to make: simply infuse tequila with Sour Patch Kids and then shake it up with lime juice, simple syrup, and ice. Enjoy this perfectly sweet with a touch of sour candy cocktail!
Sparkling Rhubarb Margarita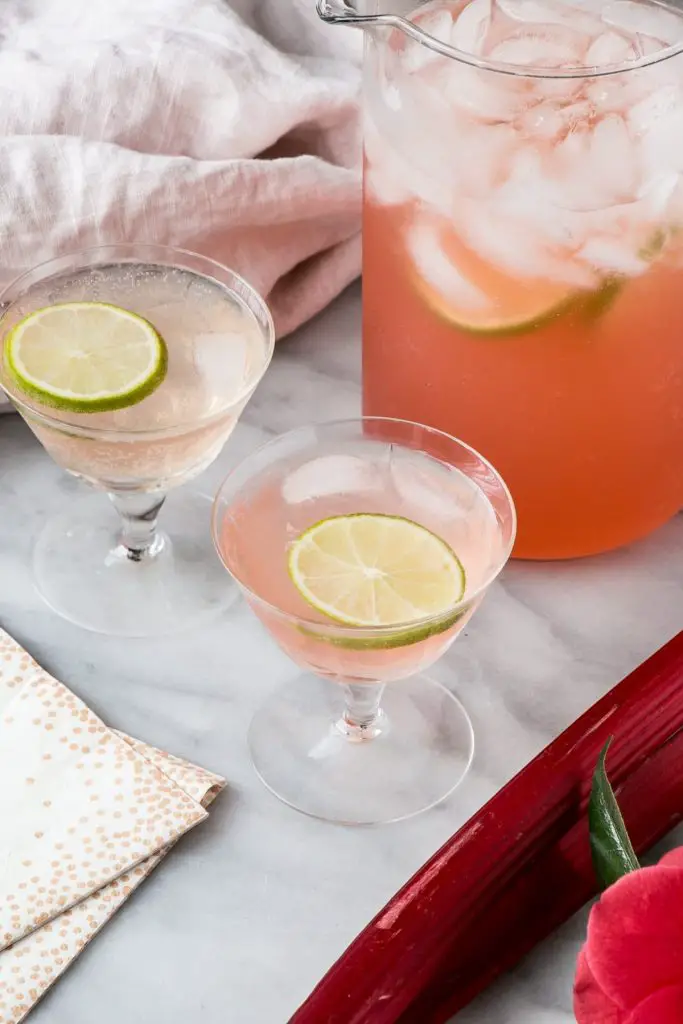 Take your marg to the next level with this sparkling rhubarb margarita recipe! This cocktail is the perfect balance of sweet, tangy, and fizzy.
Spicy Frozen Watermelon Basil Margarita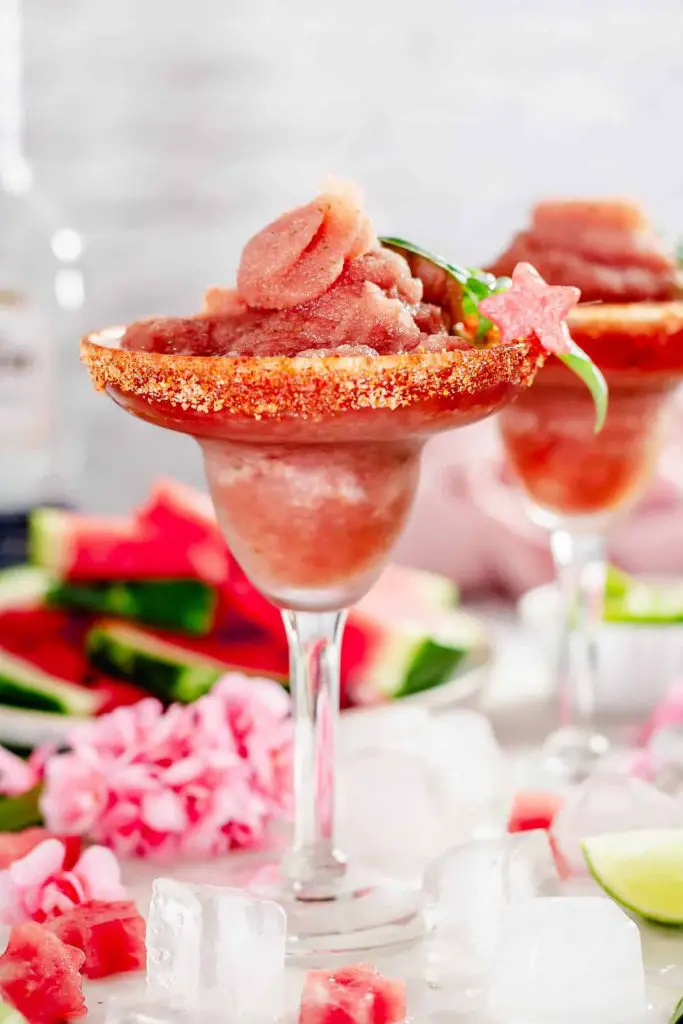 These spicy watermelon basil margaritas are sweet and refreshing with a little kick of spicy flavor that comes from homemade chili sweet syrup and the delicious salted chili rim.
Spicy Grapefruit Margarita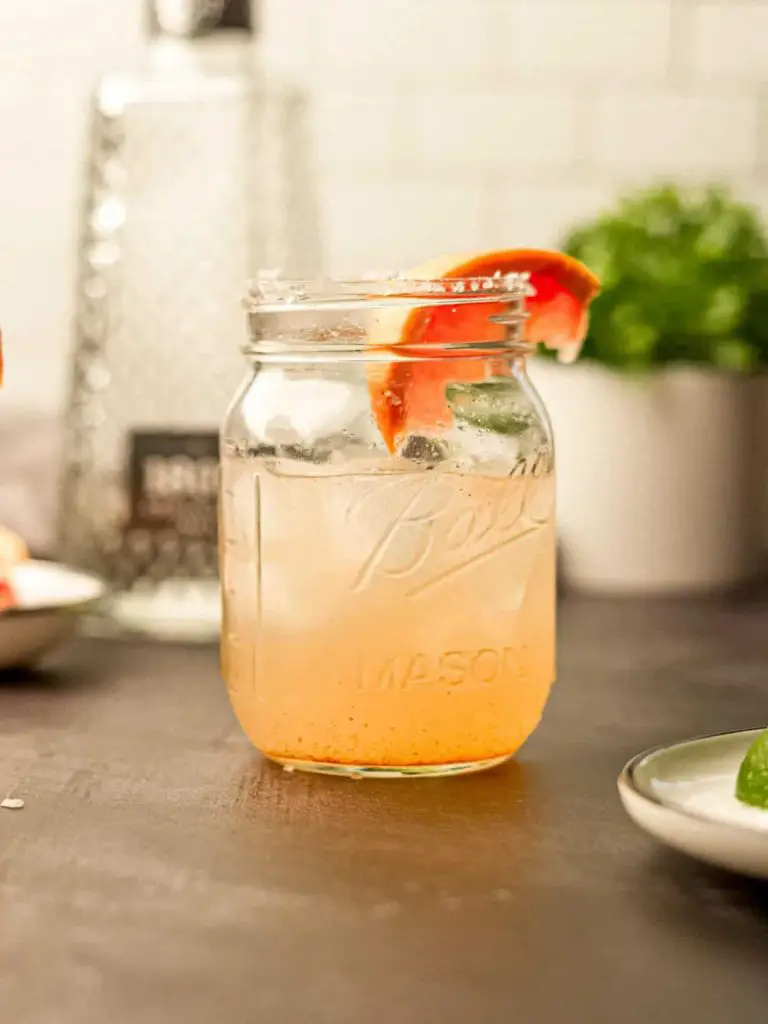 These spicy grapefruit margaritas are delicious and super refreshing. Made with fresh grapefruit juice and cayenne pepper and sweetened with a little agave, this is the perfect drink to enjoy during citrus season.
Spicy Jalapeño Margarita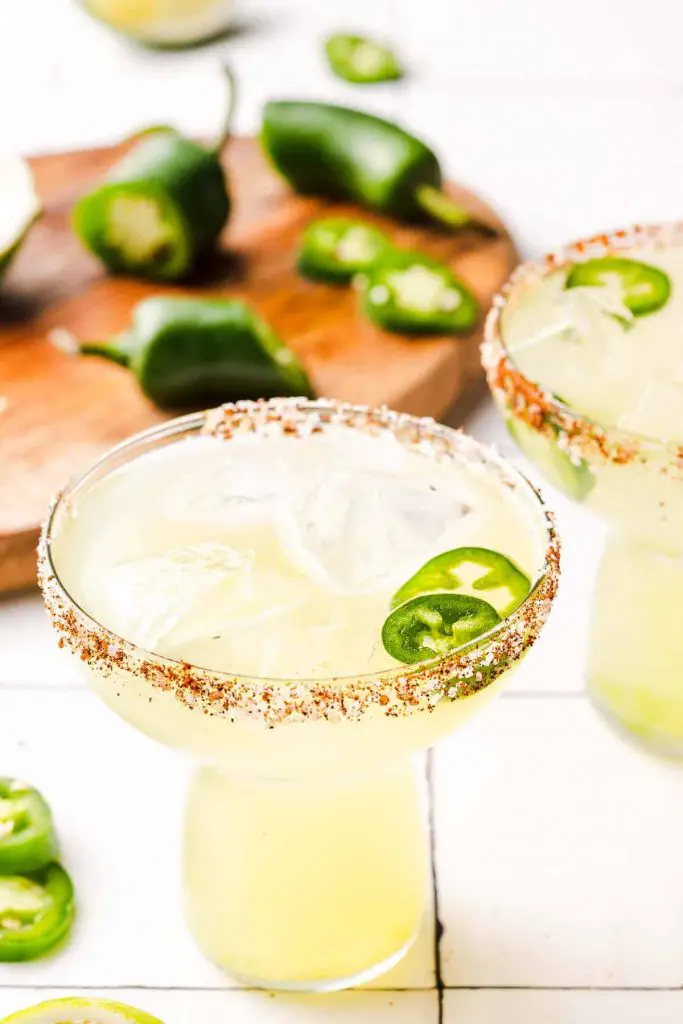 This spicy margarita gets its fiery kick from muddled jalapeños. This spicy drink has a slow-building heat that will have you feeling the burn (in a good way!).
Spicy Passion Fruit Margarita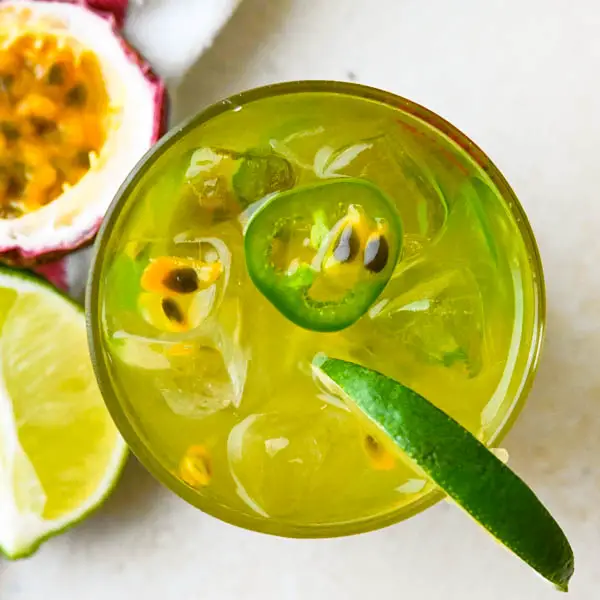 This spicy passion fruit margarita is lush and tropical with a heady tingle at the end. Sublime.
Spicy Peach Margarita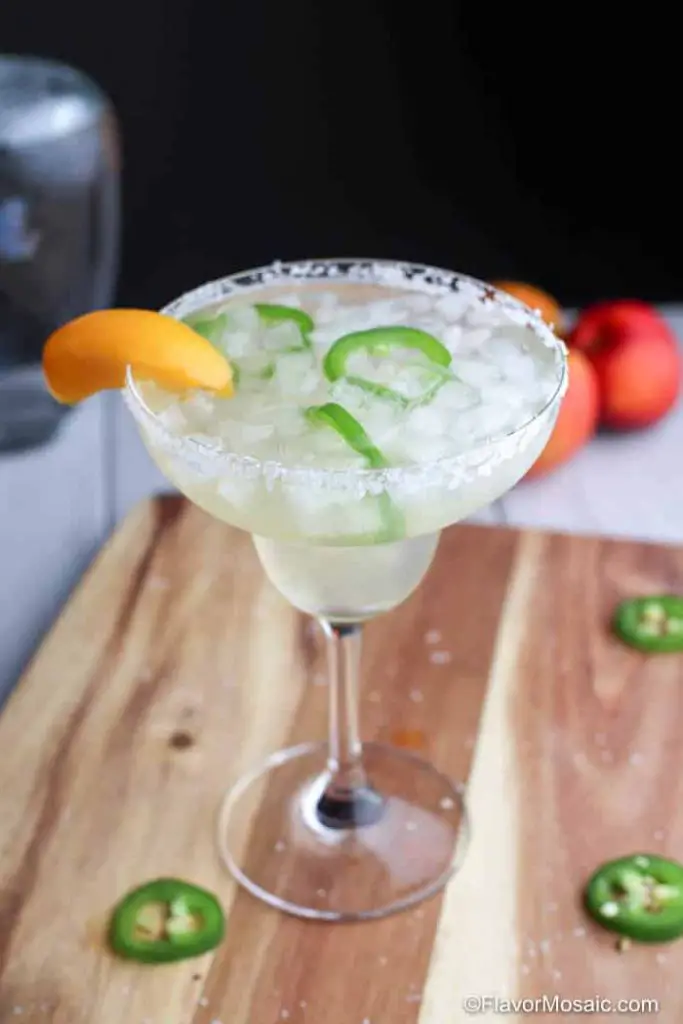 This spicy peach margarita is sweet, tart, citrusy, salty, and spicy with that delicious peach flavor. It is full of flavor yet still simple to make, and no margarita mix is required.
Spicy Orange Margarita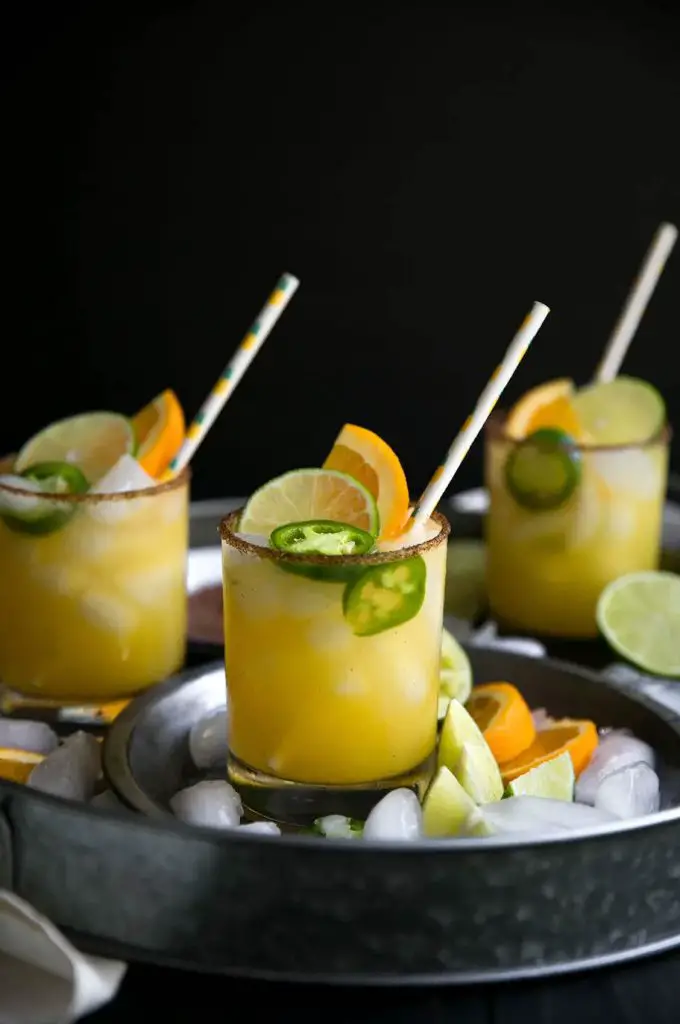 A perfect balance between salty, sweet, and spicy, these spicy orange margaritas with orange liqueur are guaranteed to impress any margarita lover!
Spicy Skinny Margarita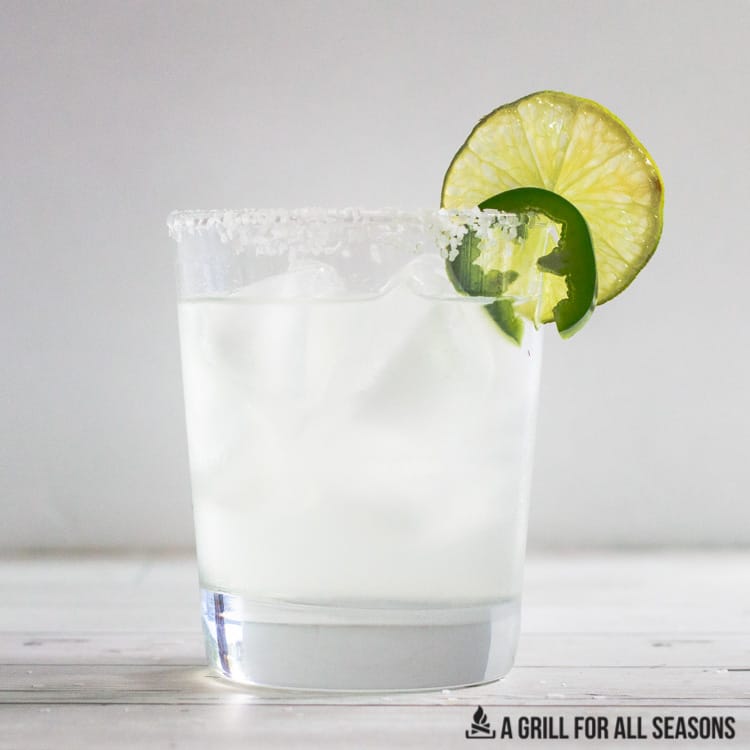 On a hot summer afternoon, there is nothing like a great-tasting spicy skinny margarita. Jalapeño simple syrup adds a spicy kick to this classic cocktail.
Spicy Sparkling Citrus Margarita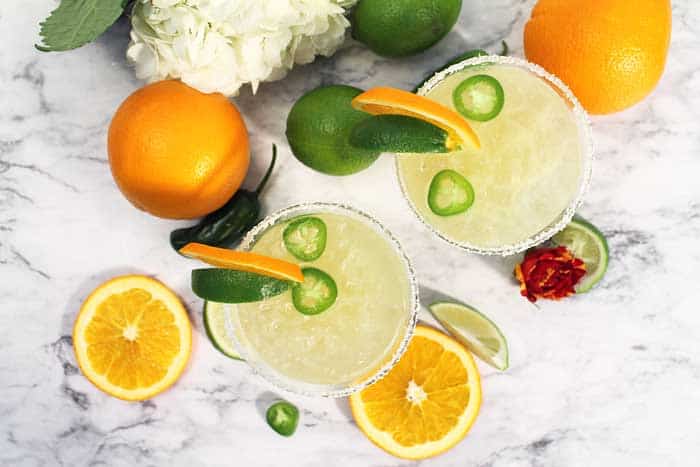 This sparkling citrus margarita adds a little heat to the lime and orange mix and loads of bubbles. It's a little-bit-tart and a little-bit-sweet cocktail with a kick from jalapeño slices.
Spicy Watermelon Margarita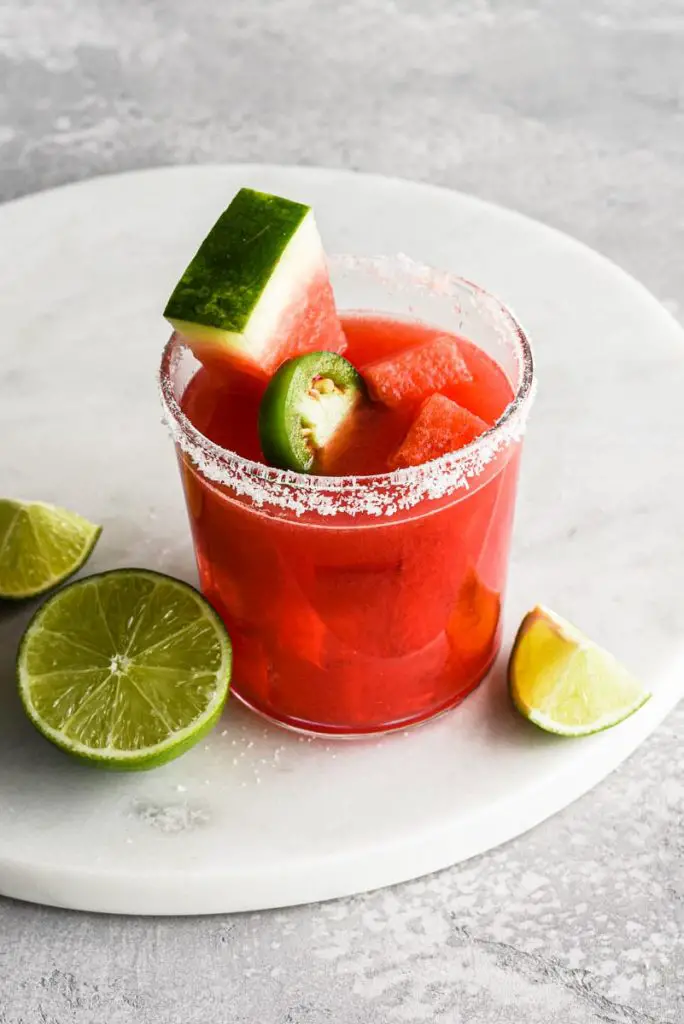 These spicy watermelon margaritas are perfect fruity cocktails — so refreshing and easy to make with just four ingredients and a few easy steps. Plus, it's a naturally sweetened cocktail, which is all the better!
Strawberry Margarita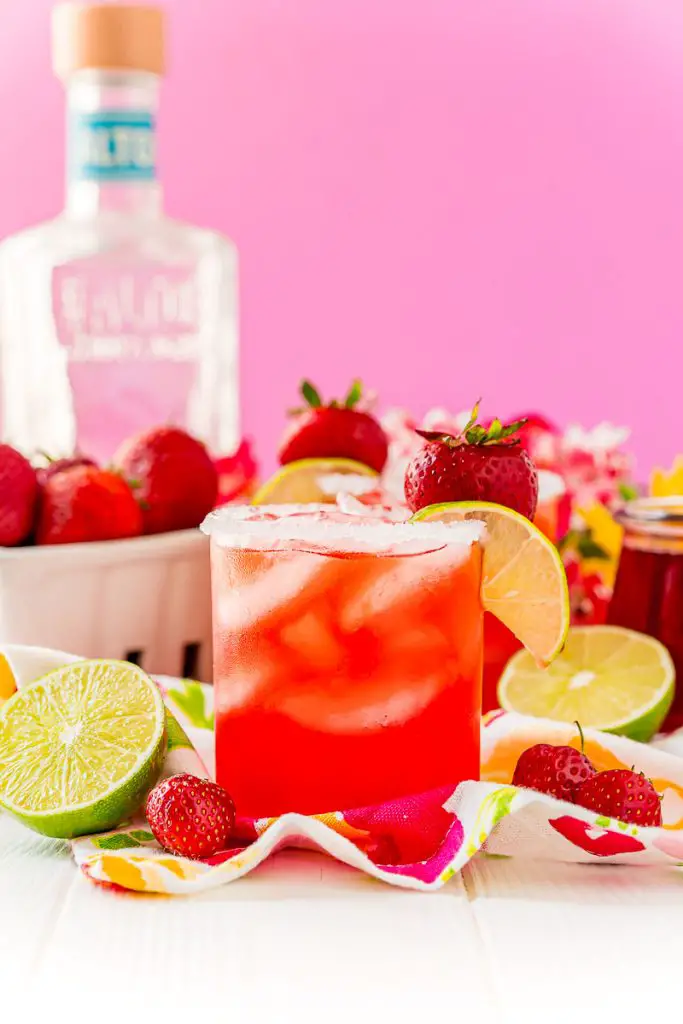 Strawberry margaritas are fruity, fresh, and perfect for summer! Made with tequila, orange liqueur, fresh lime juice, and homemade strawberry simple syrup, this cocktail can be sipped on the rocks or frozen.
Strawberry Basil Margarita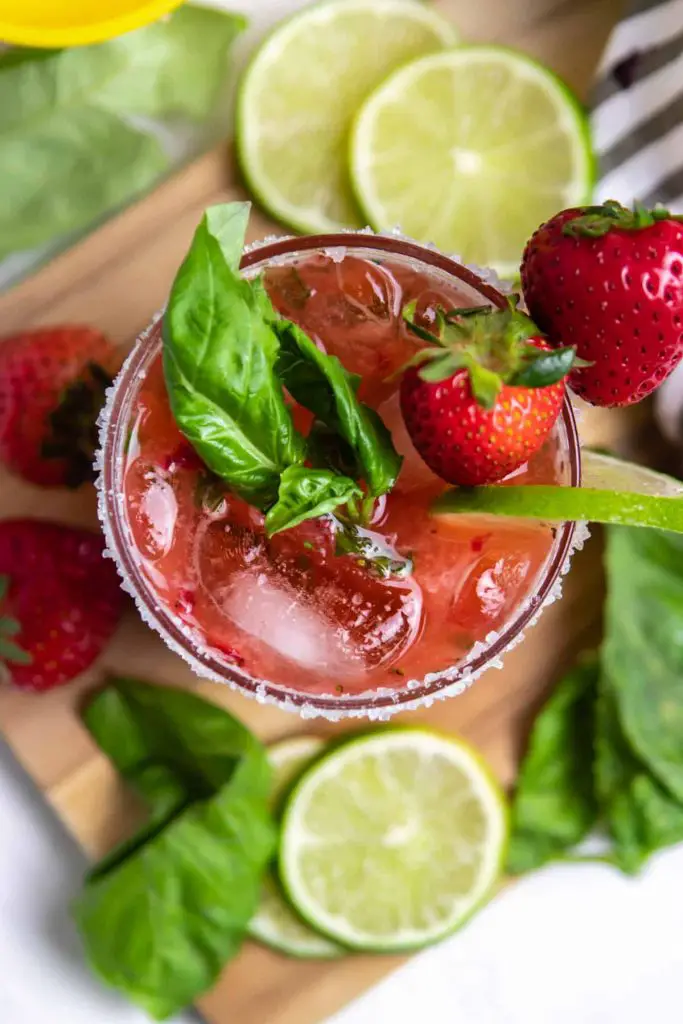 A fun twist on the classic, this strawberry basil margarita cocktail recipe is bursting with vibrant flavor. Simple to whip up for a night on the patio or a dinner party with friends, it comes together in 5 minutes and is a refreshing variation of everyone's favorite tequila drink!
Love herbaceous strawberry drinks? Try this Strawberry Mint Sangria recipe!
Strawberry Rhubarb Frozen Margarita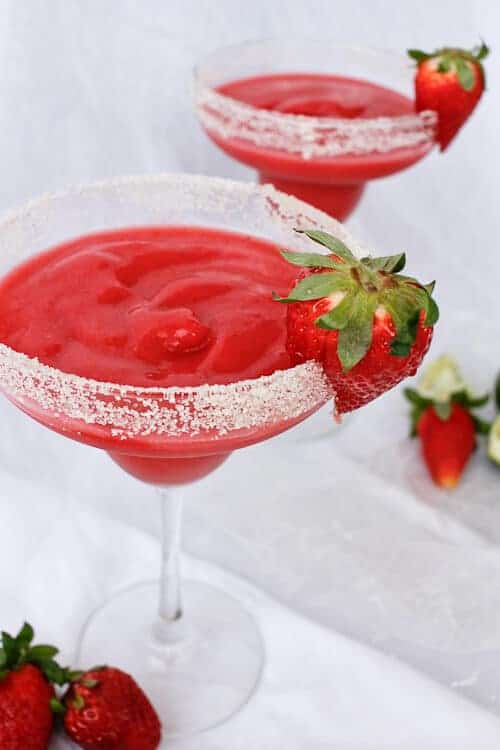 These frozen strawberry rhubarb margaritas use rhubarb simple syrup and frozen strawberries for a cold and delicious spring cocktail!
Sweet & Spicy Sparkling Rosé Watermelon Margarita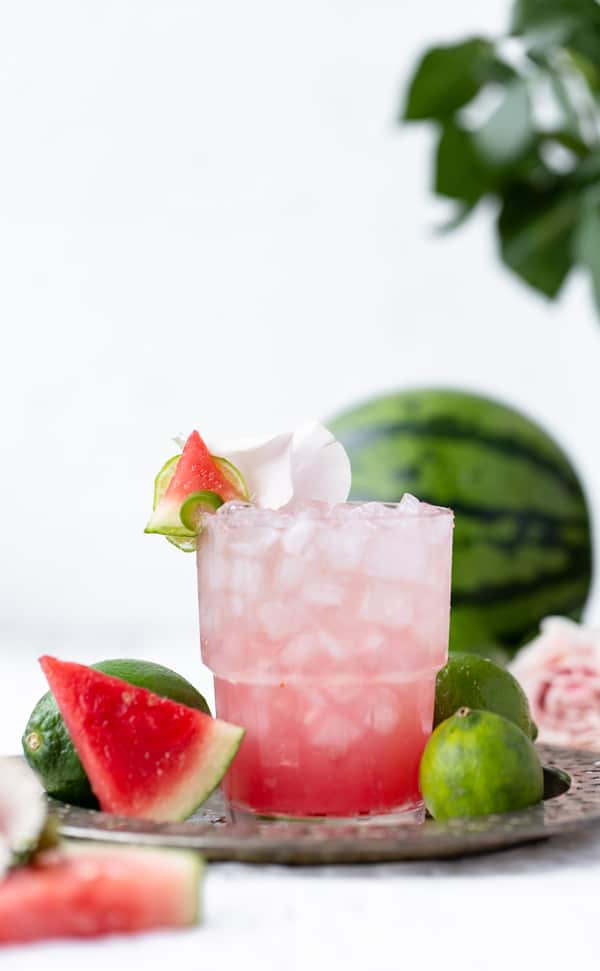 The sweet-and-spicy sparkling rosé watermelon margarita combines the fresh, sweet flavor of homemade watermelon juice with tart lime and lightly spicy jalapeño-infused tequila. It's perfect when topped off with a generous pour of sparkling rosé!
Tamarind Margarita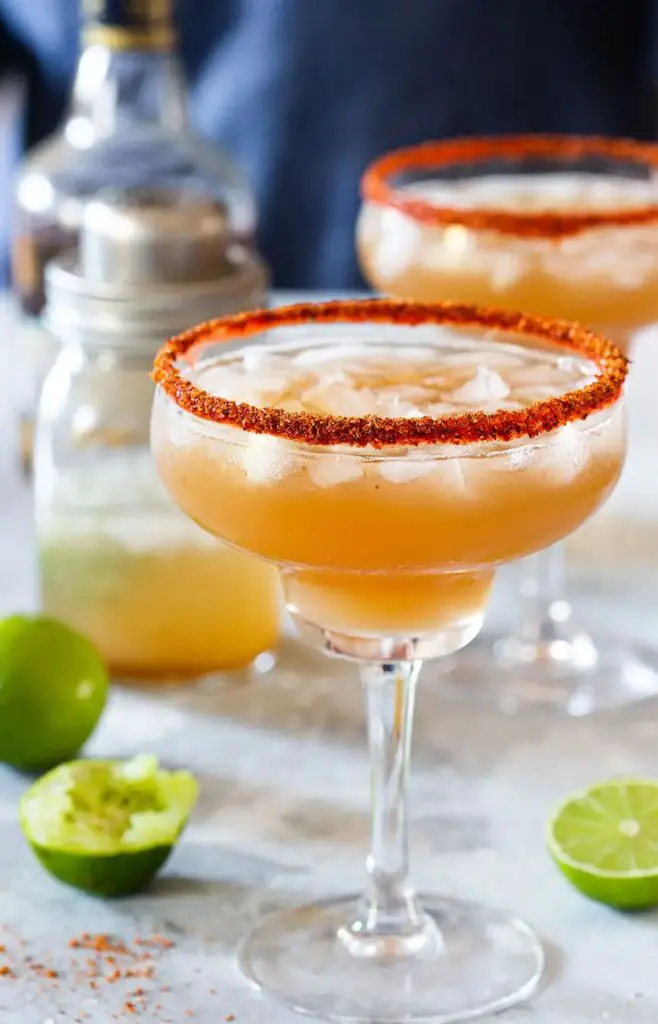 Tangy, fun, and slightly spicy! This tamarind margarita is made with tamarind extract, and it's perfect for serving at parties.
Triple Citrus Frozen Margarita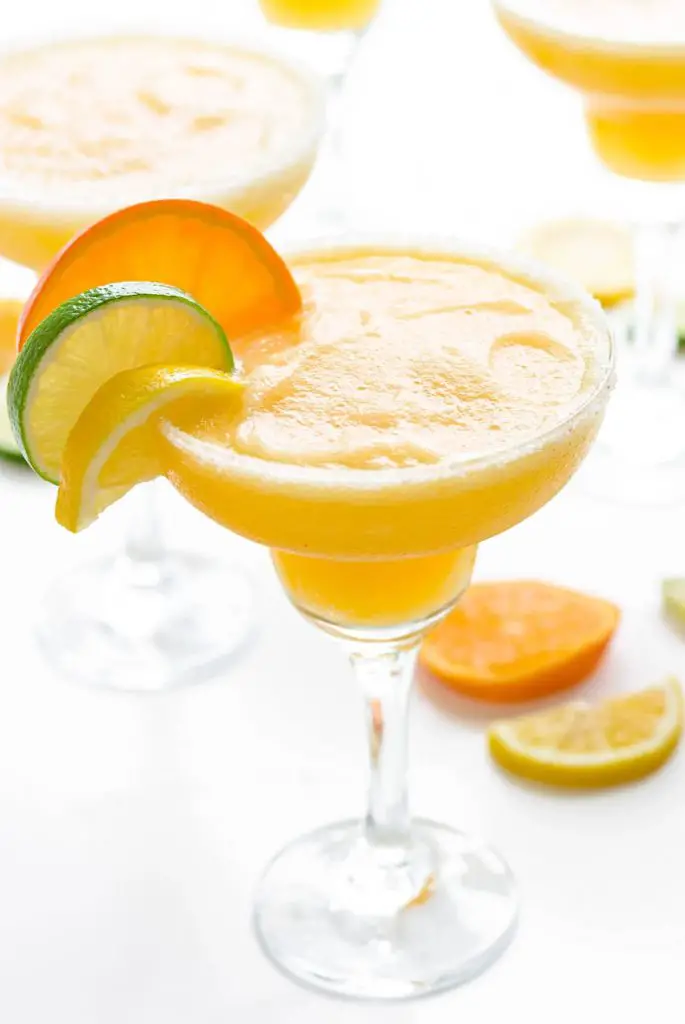 This citrus blender margarita is refreshing, delicious, and easy to make at home. It features a combination of orange, lemon, and lime and is bursting with fresh citrus flavors.
Watermelon Margarita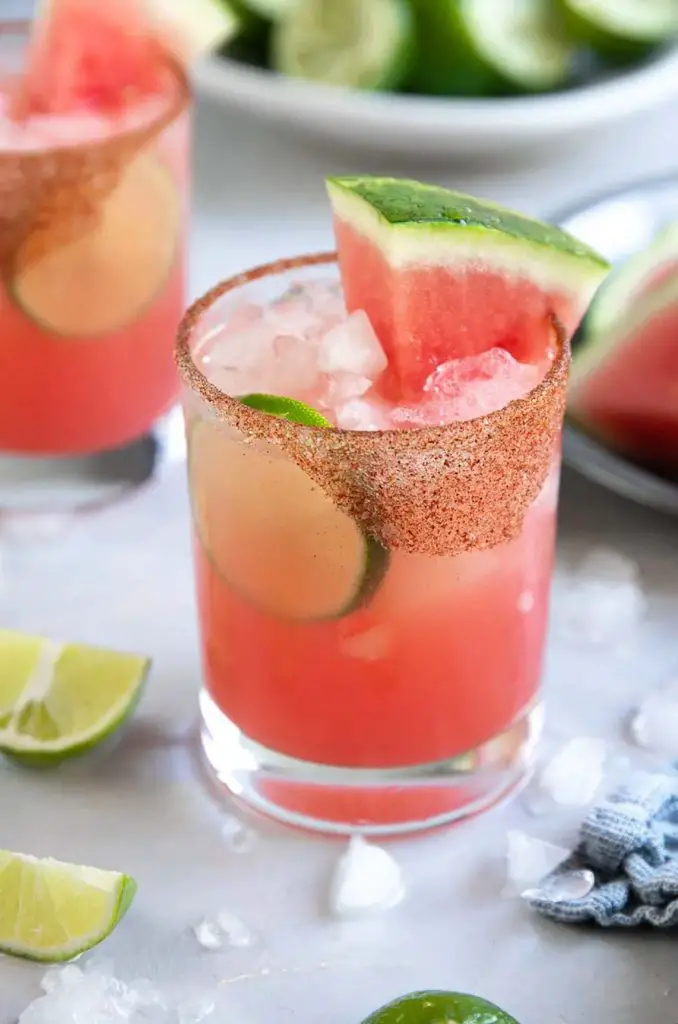 This watermelon margarita recipe is made with just three simple ingredients and no added sugars. Perfect for all your summertime gatherings, cookouts, and parties!
Watermelon Raspberry Margarita
Looking for a party drink without all the artificial ingredients? These healthy watermelon raspberry margaritas are the perfect mix of easy, tart, and tasty!
Which flavored margarita will you try?
In this roundup, my fellow food bloggers and I shared 74 flavored margarita recipes to level up your next margarita night! I'd love to hear which of these flavored margaritas you'll try for your next Taco Tuesday dinner, Cinco de Mayo fiesta, or summer pool party!
More Cocktail Recipes
Want to save these flavored margarita recipes for later? Pin the image below to your cocktail recipe board on Pinterest!