As the air turns crisp and leaves change colors, don your favorite cozy flannel and sip on an apple cider cocktail this fall. In this post, I've rounded up 37 recipes for delicious apple cider fall cocktails.
Disclosure: This post about apple cider cocktails for fall contains some affiliate links. When you click on or make a purchase via one of these partner links, I may earn a commission. Of course, this is at no extra cost to you.
---
37 Apple Cider Cocktail Recipes
From August through November, apple season brings freshly pressed apple cider for cozy autumn cocktails. The non-alcoholic, unfiltered apple juice made from pressed apples has a cloudy appearance and delightfully sweet and pure apple flavor that is absolutely delicious on its own or in the following 37 fall cocktails. So, pick up apple cider from one of the best cider mills in Michigan or in the produce section of your local market, and then mix one (or more) of these apple cider cocktails this fall!
Apple Brandy Cider Cocktail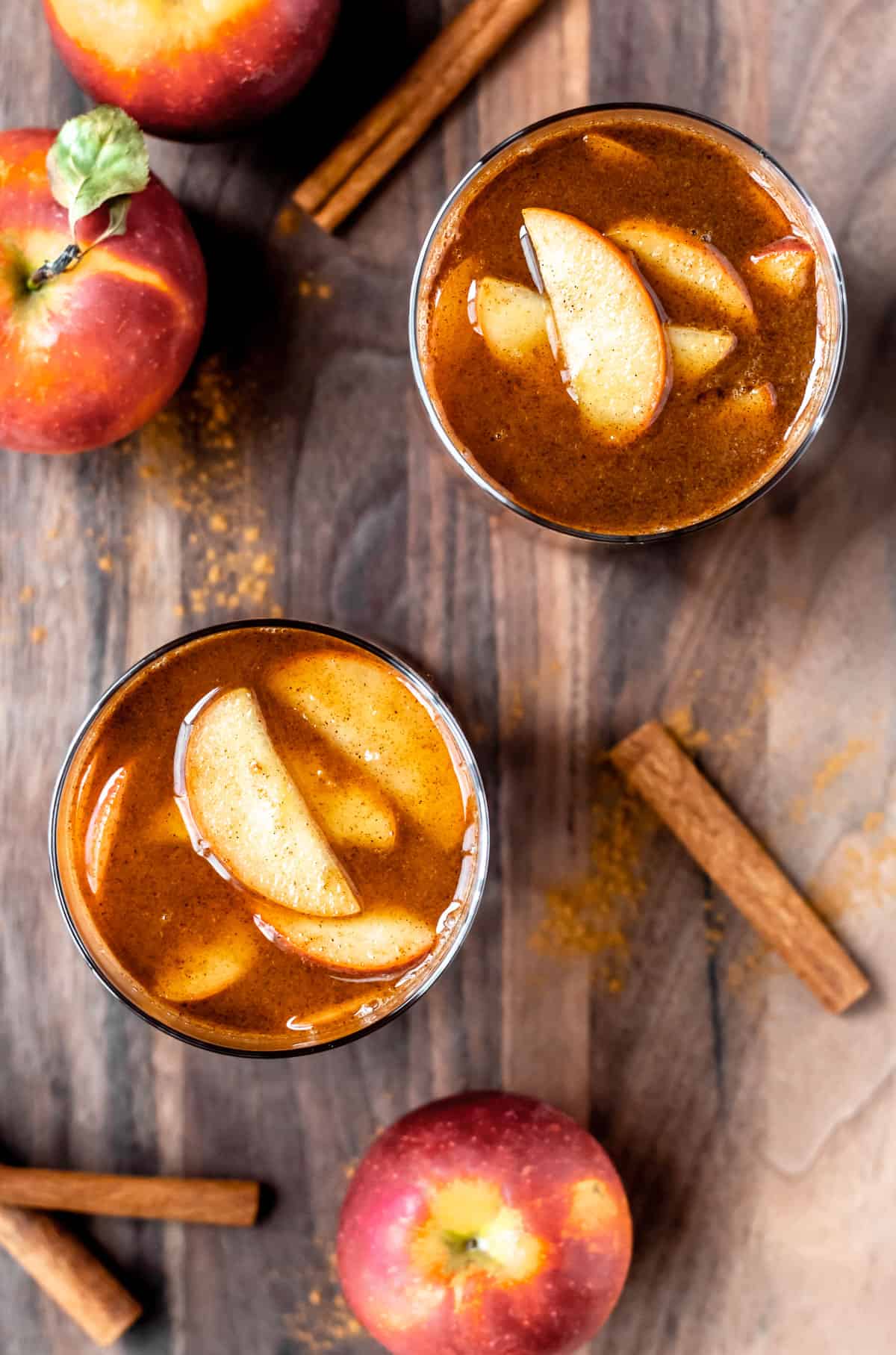 Apple brandy cider cocktails are easy to prepare and perfect for warming you up on chilly autumn evenings. This fall beverage tastes sweet, spicy, and warm thanks to cinnamon, brown sugar, butter, and brandy. The additional aromatic cooked apples and cider highlight the delicious seasonal flavor of fresh apples.
Apple Cider Aperol Spritz
The ultimate fall cocktail that will fit perfectly on your Thanksgiving table, apple cider Aperol Spritz is sweet, sparkly, and has a touch of cinnamon spice!
Apple Cider Bourbon Fizz
Perfectly sweet, so easy to make, and absolutely delicious! This fall apple cider bourbon fizz is the perfect drink to celebrate throughout the season, especially during the holidays.
Apple Cider Bourbon Slush
Apple cider, bourbon, and black tea are combined and frozen for the ultimate boozy fall drink: Apple Cider Bourbon Slush. It's the perfect treat for post-fall activities, but it can be enjoyed all season long!
Apple Cider Fall Sangria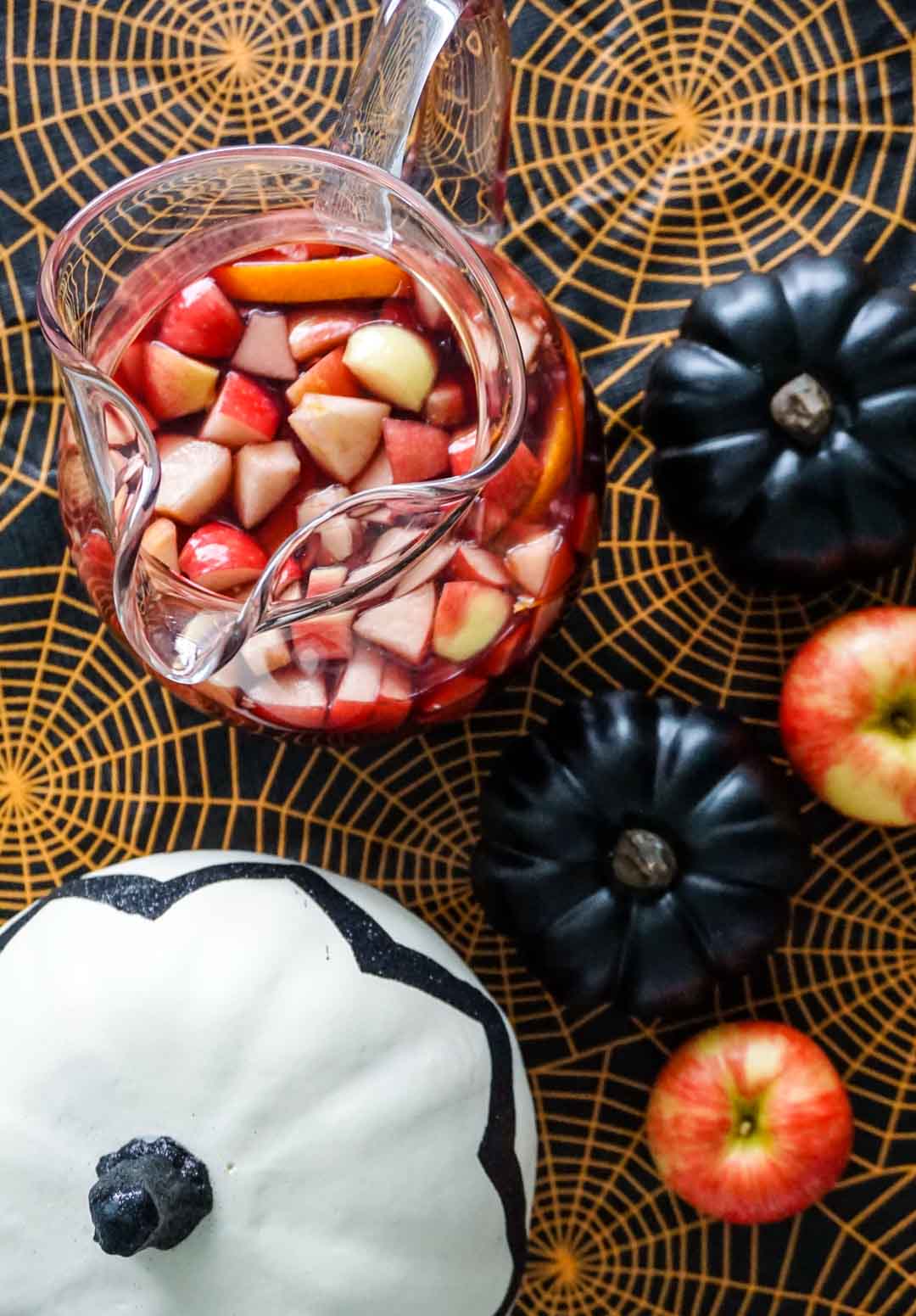 Inspired by Michigan in autumn, this apple cider sangria features spiced red wine, fresh apple cider, cinnamon, and Honeycrisp apples.
Apple Cider Margarita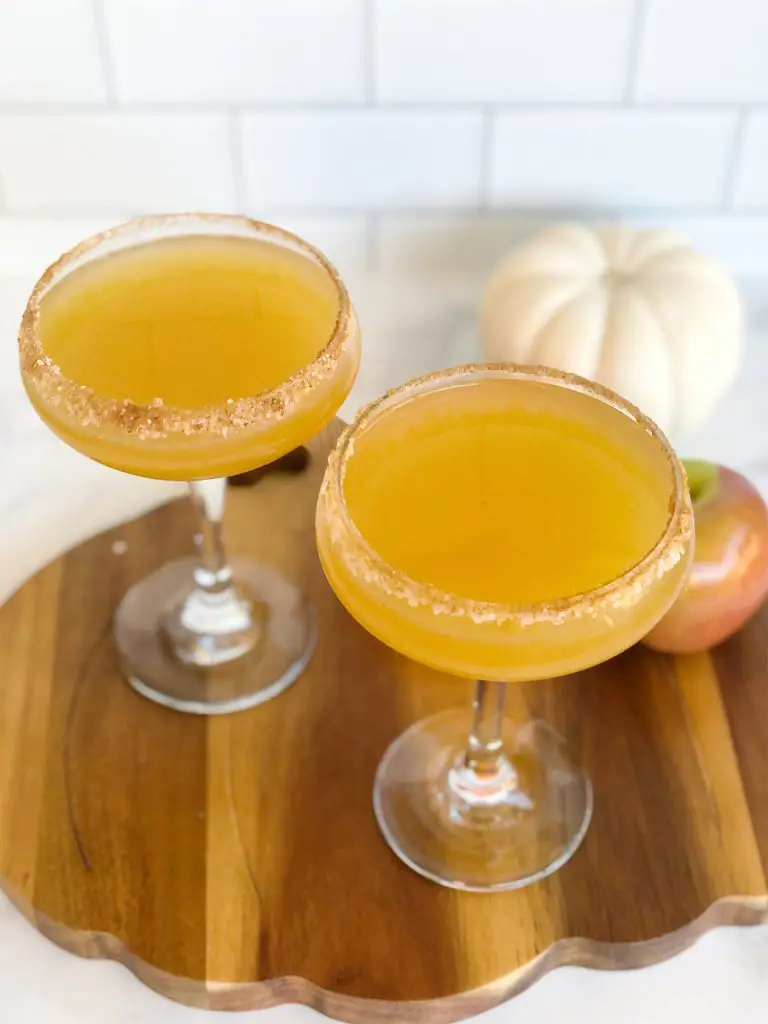 This three-ingredient apple cider margarita cocktail recipe comes together with apple cider, lime juice, and tequila. It puts a seasonal spin on a classic!
Apple Cider Martini
This apple cider martini is the perfect cocktail for apple cider lovers. It's made with vodka, ginger liqueur, and a homemade cinnamon syrup that gives this drink all the flavors of fall in one glass!
Apple Cider Mojito
This apple cider mojito may become your new favorite cocktail for fall! Spiced, vibrant, and slightly sweet, it has all the flavors of a classic rum mojito plus a hefty pour of apple cider.
Apple Cider Moscow Mule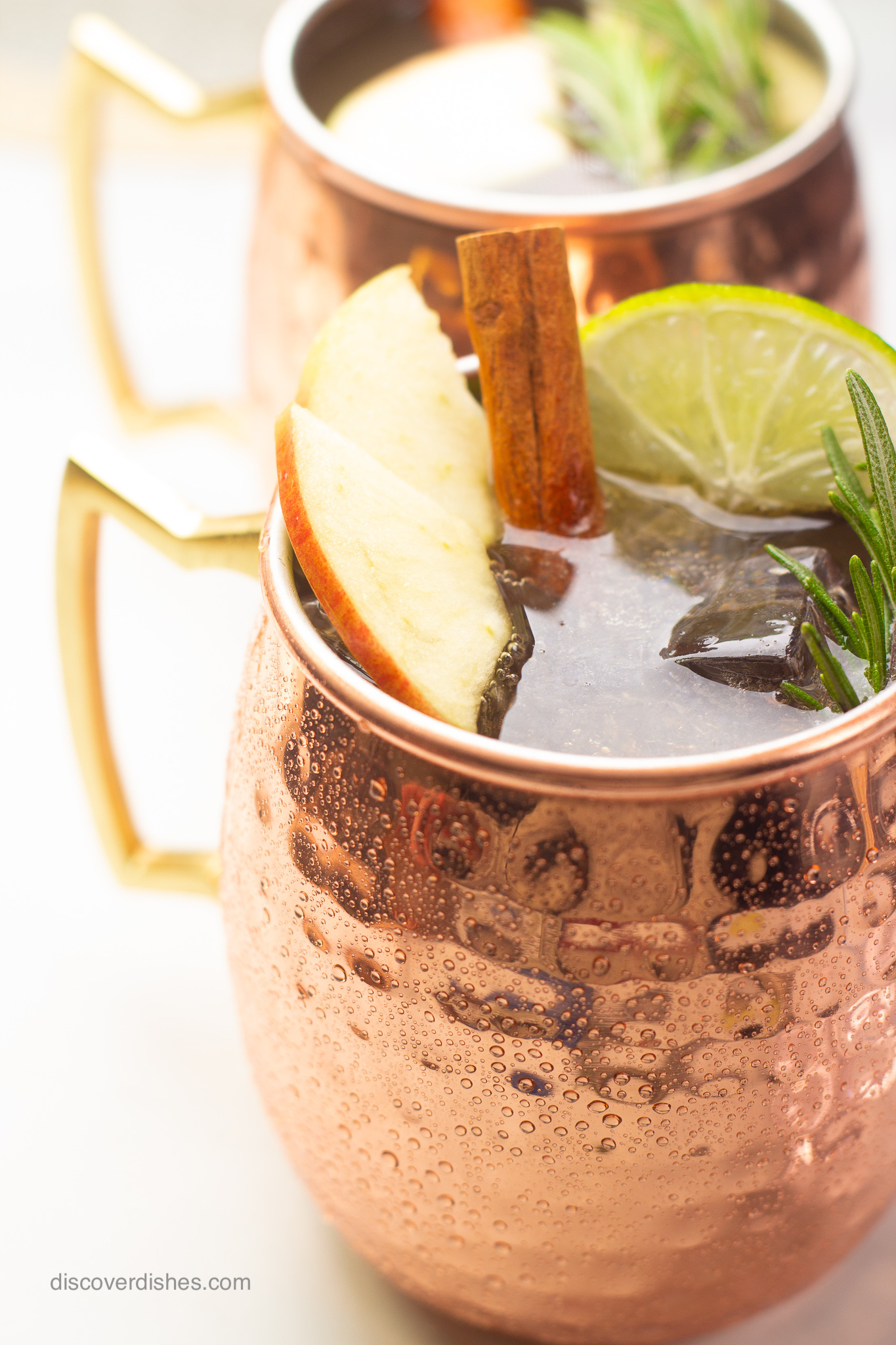 This apple cider Moscow mule is a warming and delicious autumn cocktail full of spiced apple cider, ginger beer, tart lime juice, and vodka.
Apple Cider Old Fashioned
Bourbon lovers will adore this apple cider old fashioned. It's full of warm spices and perfect for sipping by the fire!
Black Magic Halloween Sangria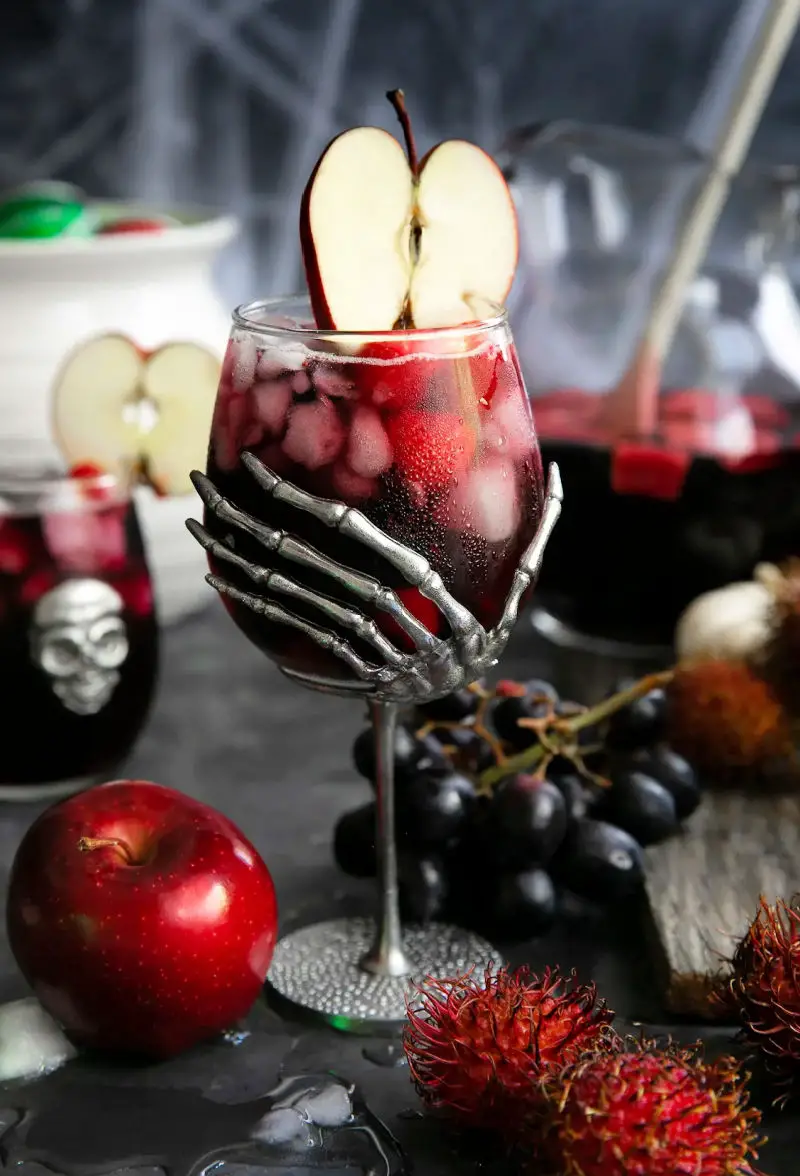 This Black Magic Halloween sangria is a fun and spooky Halloween cocktail made with red wine, vodka, raspberry liqueur, apple cider, and fresh fruit topped with bubbly soda.
Bourbon Apple Cider Cocktail
This bourbon apple cider cocktail is the flannel shirt of drinks — so cozy and perfect for fall!
Caramel Apple Cider Mimosa
Caramel apple cider mimosas combine your favorite sparkling wine with seasonal apple cider for the perfect drink to sip this fall. It's a festive beverage for fall gatherings and brunches!
Caramel Apple Cider Vodka Punch
When it's time to celebrate with a special drink, consider this caramel apple cider vodka punch. This spiked punch cocktail is a sweet, fruity, festive, and alcoholic beverage to celebrate the fall holidays. Made with L'Epicurien Salted Butter Caramel Spread, this drink is easy to prepare and can be made ahead of time. Perfect for your holiday entertaining!
Caramel Apple Cocktail
This caramel apple cocktail hits all the right fall notes with a little caramel, a bit of tartness, and a lot of apple flavor.
Caramel Apple Sangria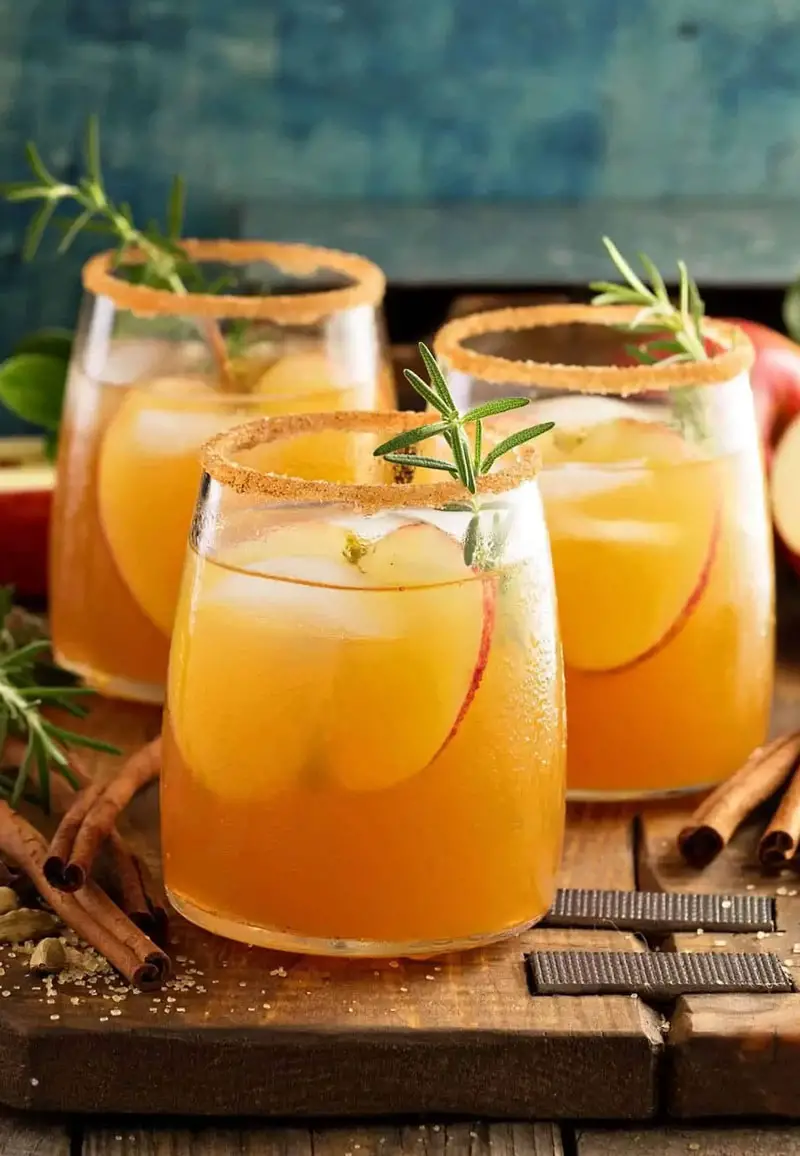 Caramel apple sangria is the perfect fall sangria! Pitcher-sized with a sugared rim, it's easier than apple pie to make, and it tastes like it, too!
Caramel Apple Vodka Slush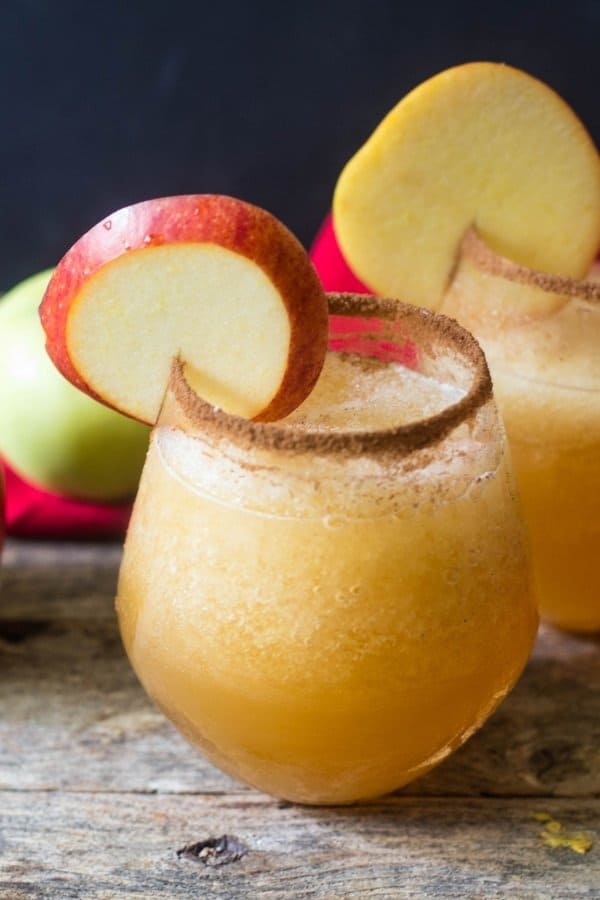 This caramel apple vodka slush is a refreshing vodka cocktail made with apple cider. So refreshing on a sunny fall day!
Cider Ginger Brandy Fizz
A delicious way to raise a glass and toast to fall is with a cider ginger fizz brandy cocktail! It's made with farm-fresh apple cider and ginger brandy topped with a splash of kombucha for a fizzy treat.
Cinnamon Apple Cider Mimosa
A sparkling wine cocktail made festive for fall with apple cider and warm spices, this cinnamon apple cider mimosa can be served warm or cold.
Cognac Apple Cider
With a delicious addition of orange, this Cognac apple cider is a cozy cold-weather cocktail. Sip this warming drink by the fire or serve it when entertaining this fall!
Creamy Caramel Apple Martini
This caramel apple martini combines all the fall flavors you adore – apples, cinnamon, and caramel – in one delicious cocktail.
Fireball & Red Hots Spiced Apple Cider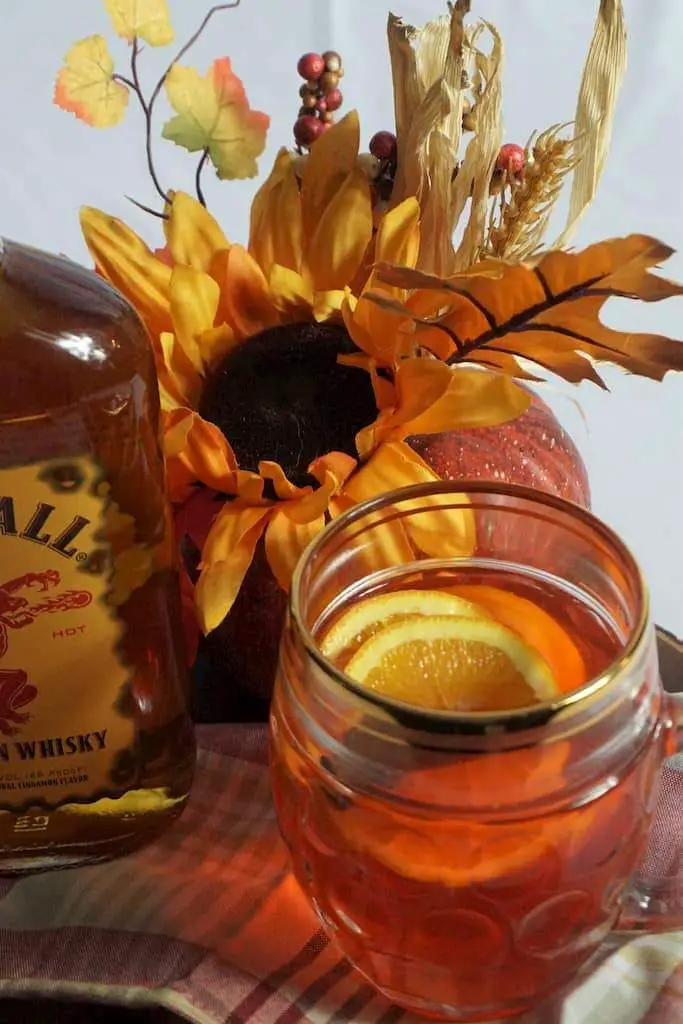 If you love warm apple cider, take your fall cocktail to the next level with this Fireball apple cider cocktail with Red Hots.
Fireball Punch
Fireball punch
"big batch cocktails" are made with orange juice, apple cider, and Fireball whisky that tastes like cinnamon red hot candies. It's just the right sweetness and tastes like fall with crisp apples, fresh oranges, and spicy cinnamon.
Ginger Cider Bourbon Smash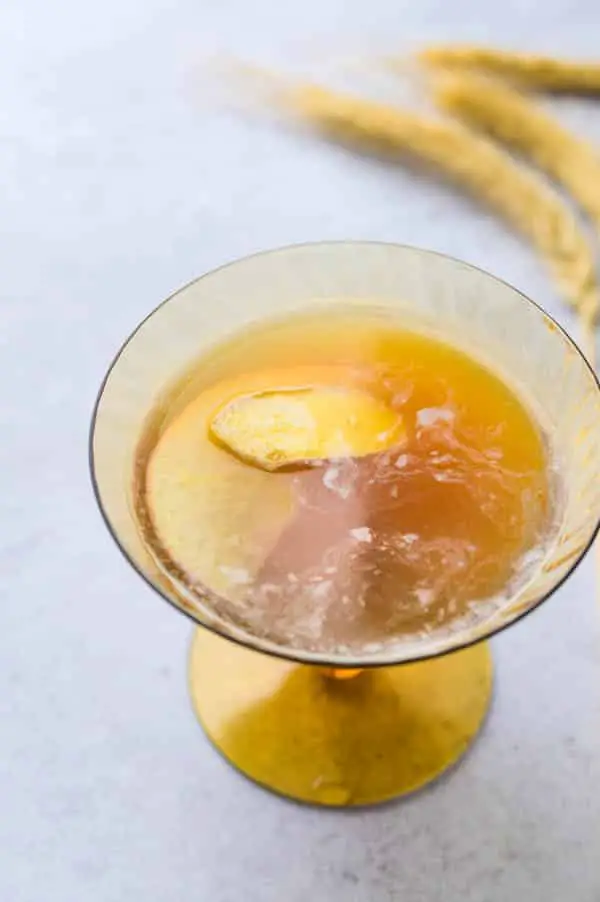 This ginger cider bourbon smash is pleasantly zingy with a punch of tingly ginger flavor mellowed by bourbon and rounded out with fresh apple brandy and apple cider.
Hot Apple Pie Cocktail
Hot apple pie is a delicious and decadent cocktail that tastes just like "hot apple pie"! Cider and apple brandy are blended with spices and butter for a delicious autumn drink.
Hot Buttered Apple Cider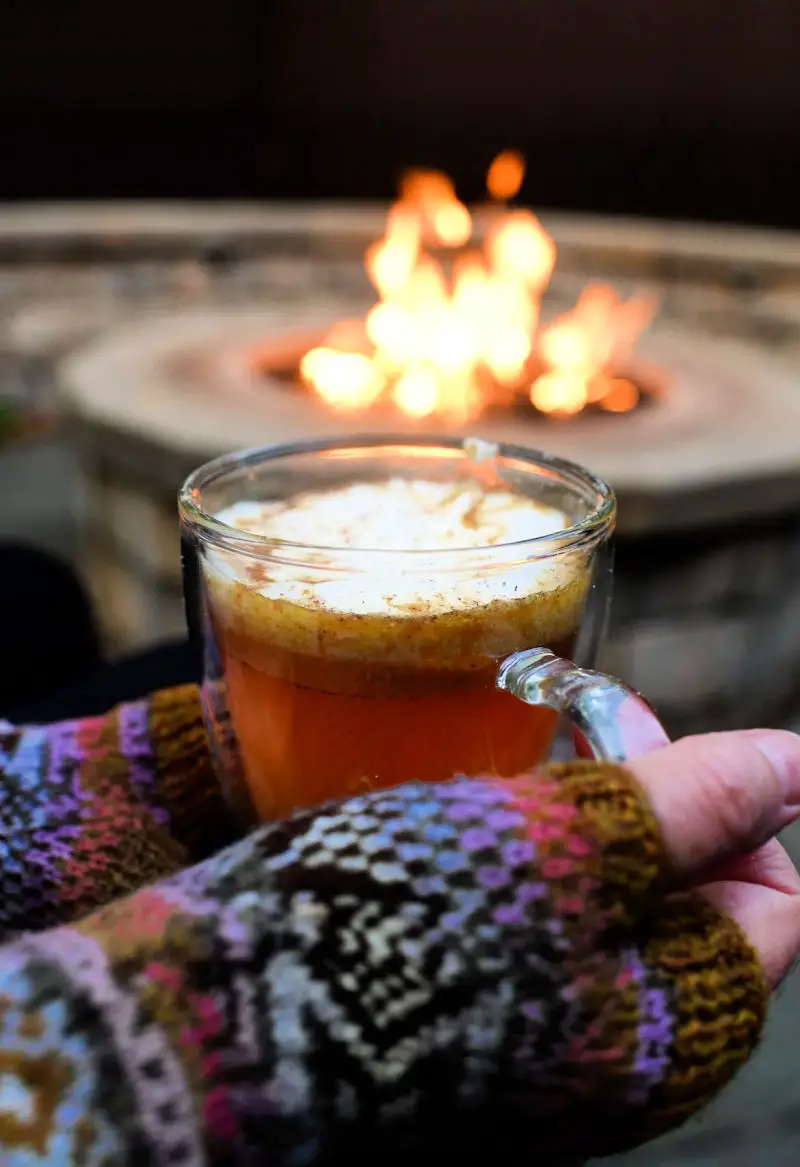 Hot buttered rum meets fresh apple cider in this hot buttered apple cider!
Hot Rum-Spiked Apple Cider
Featuring fall flavors including fresh apple, cinnamon, and clove, this hot spiked apple cider with spiced rum will keep you warm even on the coldest nights!
Mezcal Apple Cider Hot Toddy (El Cucuy)
El Cucuy is an imaginary creature of the dark, similar to the boogeyman. This cocktail features earthy apple cider flavors that compliment the smoky mezcal, creating a harmonious and frighteningly delicious balance with a haunting kick. Beware: This mezcal apple cider hot toddy is not a monster to be carelessly dealt with!
Mulled Apple Cider
Hot spiked apple cider is a tasty and seasonally spiced drink perfect for an evening spent around a fire pit or sipping while watching snowflakes fall.
Pumpkin Cider Margarita
This pumpkin cider margarita marries the two best fall flavors — pumpkin and apple — into one irresistible drink. Slightly sweet, slightly tart, and full of fall spices, you'll want it at all your parties this fall.
Rum Cider Cocktail
This deliciously easy-to-make rum cider cocktail is the perfect spiced drink to entertain your guests this fall season. It's made with apple cider, rum, orange bitters, and ginger beer.
Salted Caramel Apple Cider Martini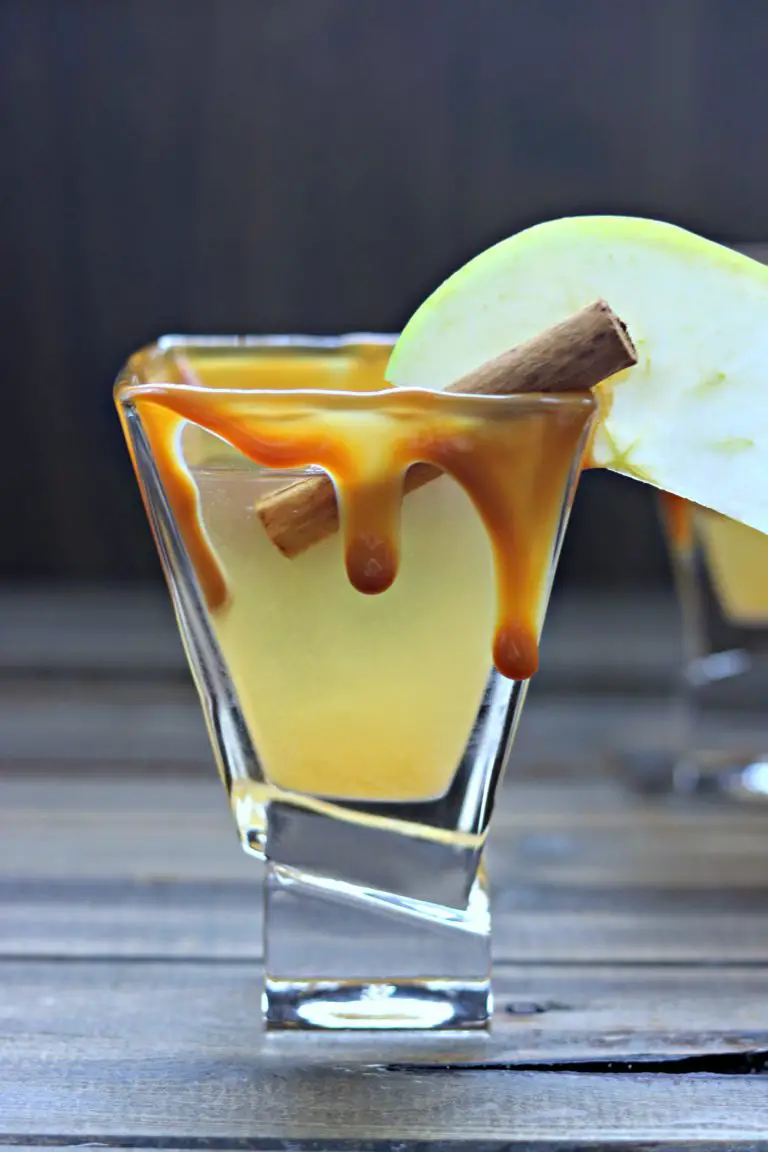 This salted caramel apple cider martini combines the caramel and apple flavors we have all loved since childhood into a seasonal drink perfect for fall get-togethers!
Sparkling Apple Cider Margarita (Manzana Paloma)
In this sparkling apple cider margarita, crystal clear añejo tequila is combined with apple cider, maple syrup, and a splash of sparkling mineral water for a delicious after-dinner drink to serve this fall.
Spiced Apple Cider Slushie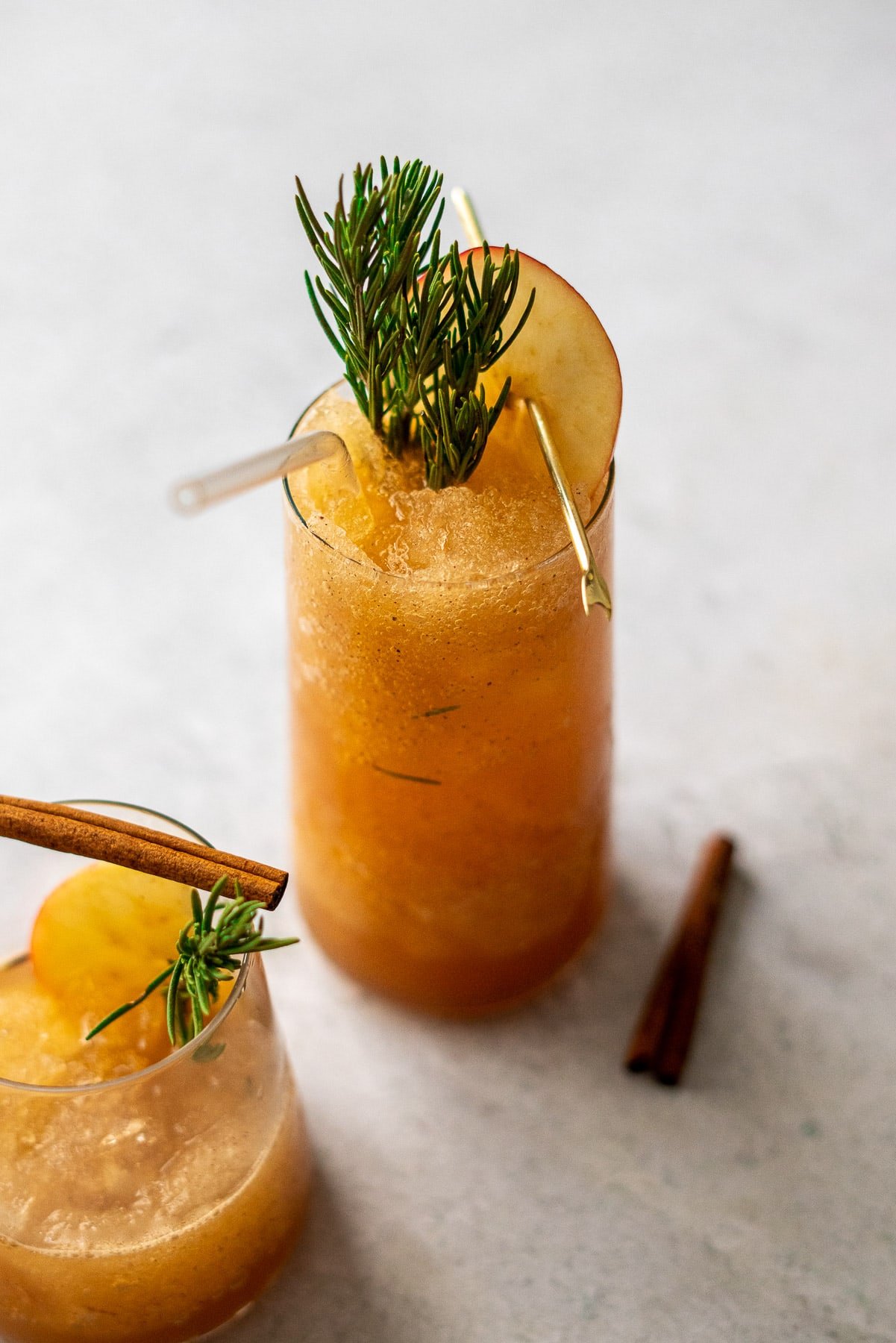 Take home the cozy memories of apple picking, cider sipping, and cider donut eating with this boozy spiced apple cider slushie that you can make in your own kitchen with only a blender!
Toffee Apple Cider Fireball Hot Toddy
In this toffee apple cider Fireball hot toddy, butterscotch liqueur and cinnamon whisky blend beautifully in this hot apple cider cocktail.
Wassail
Wassail is a mulled wine with apples that is easy to make in a slow cooker. For fall entertaining, this adult beverage comes together quickly in your slow cooker and can simmer away while you entertain your guests. It's an elevated form of apple cider sure to please a crowd!
Whiskey Cider Sour
Flavored with apple, cinnamon, and lemon for a fun autumn cocktail, this whiskey cider sour fall cocktail recipe puts a twist on the classic whiskey sour. It's the perfect fall cocktail to sip during the cold weather or to serve to your guests at Thanksgiving dinner.
Which apple cider cocktail for fall will you try?
In this roundup, my fellow bloggers and I shared 37 fall cocktail recipes featuring apple cider. If you make one of these apple cider cocktails, I'd love to hear which one(s) you've tried. Please share by leaving a comment below!
More Cocktail Recipes
Save this post to your cocktail recipe board on Pinterest!