In the Great Lakes State, visiting one of the dozens of Michigan cider mills is as quintessential to fall as tailgating before an American football game, raking leaves into a huge pile, or eating pumpkin pie.
It's no surprise considering Michigan is the third-largest apple producer in the United States. In fact, we have 11.3 million apple trees growing at our 825 family-run farms across the state!
Whether Michigan is your home or you are visiting for a scenic fall foliage tour, sipping a cup of refreshing apple cider paired with a delicious doughnut at a cider mill is a rite of passage during a Michigan fall.
In this post, I name 27 of the best cider mills in Michigan. Also, I share what to expect at three of my favorite Michigan cider mills, and I've provided an interactive map of Michigan's cider mills for you to map out your driving route.
Disclosure: This guide to Michigan's best cider mills contains some affiliate links. When you click on or make a purchase from one of these links, I may earn a commission. 
---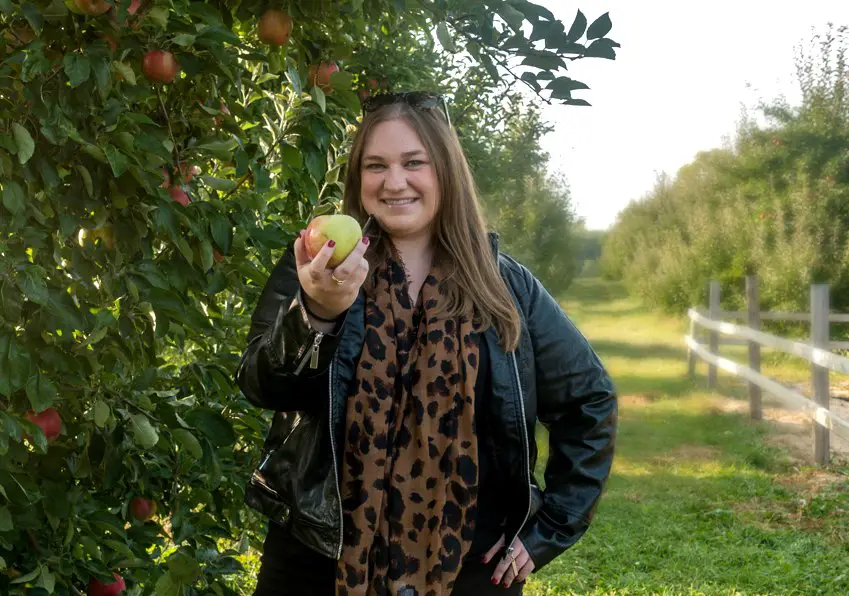 What is apple cider?
Apple cider is a seasonal, non-alcoholic beverage, typically available from late summer through early winter, made purely from fresh apples. It is often made at cider mills, where visitors can watch apples being pressed for their juice and sip a cup of fresh apple cider.
To make apple cider, apples are pressed to extract their natural juice. Unlike apple juice, apple cider doesn't undergo a filtration process to remove pulp and sediment, and neither preservatives nor sweeteners are added. Therefore, apple cider has a cloudy appearance and a delightfully sweet and pure apple flavor.
Because apple cider is not pasteurized, it must be kept refrigerated. However, you can freeze apple cider to consume at a later date.
Apple cider can be served hot or cold, and it's also delicious in fall cocktails.
At Michigan's cider mills, visitors often pair their cup of apple cider with a doughnut. Visiting a cider mill is also a popular fall activity in Vermont, New York, Washington, and other apple-growing states.
What is the difference between apple cider and hard cider?
Though apple cider and hard cider (sometimes simply called "cider") share a name, there are differences between these beverages.
The first difference is hard cider is an alcoholic drink. Secondly, it is made by fermenting the juice from fresh fruit. Hard cider made from the juice of apples is the most common, but you'll also find hard ciders made from the juices of pears, tart cherries, and other fruits. Third, hard cider can be fizzy, similar to beer or sparkling wine.
Luckily, if you are hoping to taste hard cider, you can at some of Michigan's cider mills!
Where can you find fresh apple cider in Michigan this fall?
If you type "cider mill near me" or "cider mills near me" into a Google search, you will likely find at least one nearby cider mill in Michigan. That is especially true in the southern and central portions of the Lower Peninsula, where Michigan's best cider mills are mostly concentrated from the Ann Arbor area north through Mid Michigan.
Therefore, you could visit multiple Michigan cider mills in a day! Below I've compiled a list of the best cider mills in Michigan based on online reviews and my own experiences. I also included an interactive Google map pinpointing the top-rated cider mills in Michigan.
Cider Mills in Southeast Michigan
Blake's Orchard & Cider Mill in Armada
Dexter Cider Mill in Dexter — Michigan's oldest cider mill that has been continually operating since 1886!
Diehl's Orchard & Cider Mill in Holly
Hy's Cider Mill in Bruce Township
Markillie Orchard in Howell
Parshallville Cider Mill in Fenton (Near Howell)
Rochester Cider Mill in Rochester
Spicer Orchards Farm Market, Cider Mill, Fudge, Bakery in Fenton
Three Cedars Farm in Northville
Yates Cider Mill in Rochester Hills
Franklin Cider Mill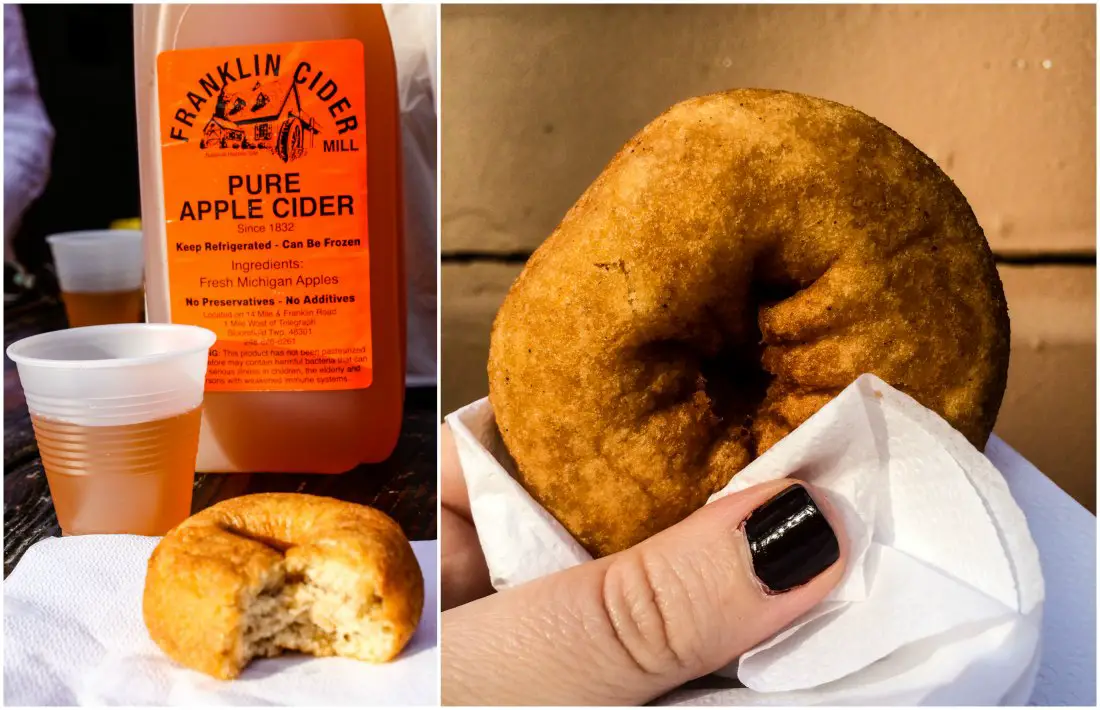 Franklin Cider Mill is as old as Michigan's statehood and was originally opened in 1837 as a gristmill. Today, this Bloomfield Hills cider mill is a popular fall destination for Metro Detroiters.
When you go, try the fresh cider, made purely from Michigan apples. I also recommend you pair your cider with one of the doughnuts made fresh each day from an old German spice recipe. Franklin Cider Mill has used that same doughnut recipe for over 80 years! However, if you'd like to try something a little different, you could opt for a Cider Dog, a hot dog marinated in apple cider.
In addition to drinking the cider, you may also watch the apple-cider-making process! Inside the cider mill's main visiting area, you can see chopped apples drop onto a pressing cloth and be pressed into apple cider during the daily presses.
Each side of Franklin Cider Mill's double press holds up to 60 bushels or 2,400 lbs of apples, and one press yields approximately 3 gallons of cider per bushel (40 lbs). That means the press can yield an average of 360 gallons of cider per press!
Of course, a trip to a Michigan cider mill isn't complete if you walk out empty-handed. In the Apple Shack, there are a variety of Michigan-grown apples for sale. Franklin Cider Mill sells 25 varieties, though not all are always available, by the half peck (6 lbs) or bushel. Over in the Franklin Tent, you can purchase items made in Michigan. Some of these goodies include homemade jams, honey, maple syrup, salsas, meats, cheeses, and charcuterie board items. You'll also find breads and pies in the main sales area with the cider and doughnuts. I recommend the caramel apples!
Lastly, along the Franklin River behind the cider mill is the Franklin Cider Mill Community Spot where live jazz music and magic acts are performed on Saturdays and Sundays.
Franklin Cider Mill's 2022 season runs from Sept. 3 through Nov. 27. The mill is open from 8 a.m. to 6 p.m. daily, but the Apple Shack and Franklin Tent close at 5:30.
Plug it into your GPS: 7450 Franklin Rd, Bloomfield Hills, MI 48301
Where to stay near Franklin Cider Mill: Hampton Inn Southfield/West Bloomfield 
Cider Mills in West Michigan
Gull Meadow Farms in Richland
Hill Bros. Orchards & Cider Mill in Grand Rapids
Klein Cider Mill & Market in Sparta
VerHage Fruit Farms & Cider Mill in Kalamazoo
Robinette's Apple Haus & Winery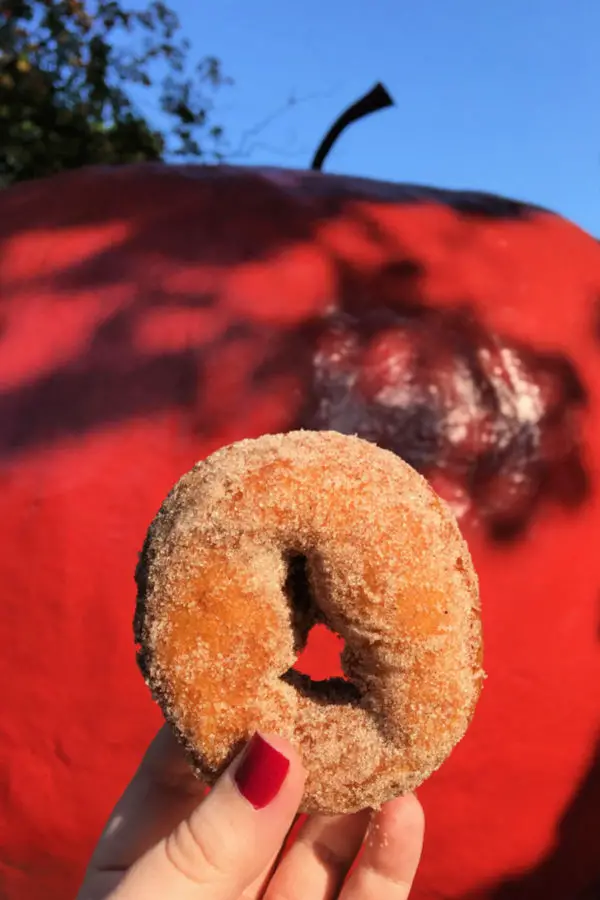 Robinette's Apple Haus & Winery, which has been making apple cider since 1971, is the place to go for a cider mill visit in Grand Rapids. Though it is open year-round, Robinette's is truly a fall destination for all ages.
Fall Activities at Robinette's Apple Haus & Winery
There are family-friendly hayrides, a jumping pillow, a 6.5-acre corn maze, apple picking in the apple orchard, and wine and hard cider tastings.
Each year, the corn maze features a new design. In fall 2022, the corn maze is open from 10 a.m. to 5 p.m. Monday through Saturday and from noon to 5 p.m. Sunday through Nov. 6. Corn maze tickets are $9 per person, but admission is free for children age 2 and younger.
Additionally, little ones can interact with mini horses, goats, lambs, and other farm animals at a free petting zoo from 1 to 5 p.m. Sundays in September and October. Pony rides for $7/ride are also available at that time.
U-Pick Apples, Apple Cider, Donuts & More!
You can also pick apples in the U-pick apple orchards usually from the second weekend of September through October (or whenever all the apples have been picked). Robinette's grows more than 40 varieties of apples!
In the Apple Haus, you can drink your cider hot or cold and pair it with a variety of doughnuts, pies, pastries, and breads. Sandwiches are also available for lunch from 11 a.m. to 3 p.m. daily.
One of the tastiest fall treats is the pumpkin spice doughnut available from Labor Day through Thanksgiving. My husband loved the apple turnover, and many visitors rave about the cheese bread and apple bread. You'll also find fresh, seasonal fruits grown in the orchards, apple butter, and caramel candies to take home.
Plug it into your GPS: 3142 4 Mile Rd NE, Grand Rapids, MI 49525
Where to stay near Robinette's: Holiday Inn Express Grand Rapids – North
Cider Mills in Mid Michigan & The Thumb
Almar Orchards in Flushing
Apple Barrel Cider Mill in Ithaca
Barkham Creek Farms in Haslett
County Mill Orchard & Cider Mill in Charlotte
The Fruitful Orchard & Cider Mill in Gladwin
Leaman's Green Applebarn in Freeland
Miller Family Orchard in Vassar
Montrose Orchards in Montrose
Mueller's Orchard in Linden
Phillips Orchard & Cider Mill – Gatehouse Market in St Johns
Uncle John's Cider Mill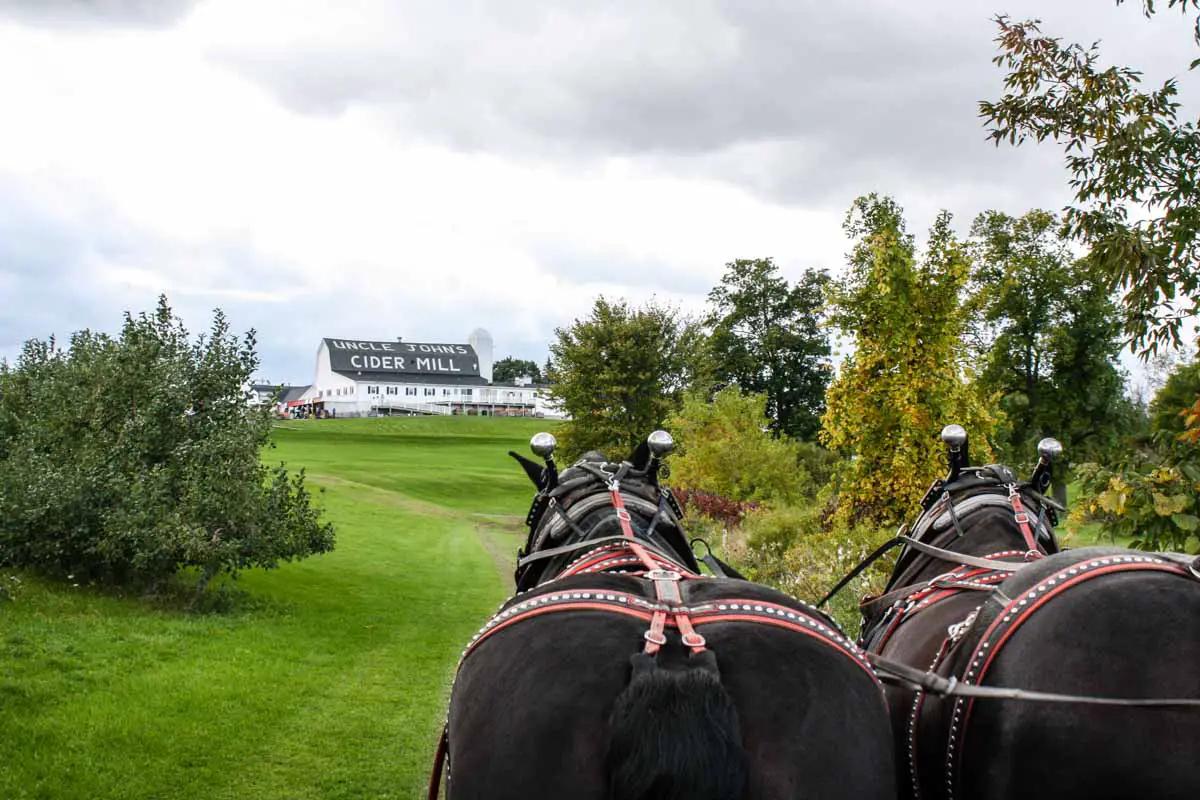 Uncle John's Cider Mill is about a 30-minute drive north of Michigan's capital. Therefore, this Mid Michigan cider mill is a fun and family-friendly destination from the Lansing area.
In 2022, Uncle John's Cider Mill celebrates its 50th anniversary. Back in the early 1970s, John and Carolyn Beck purchased John's parents' wholesale fruit farm. After struggling in a depressed wholesale market, they converted the old cattle barn into a cider mill serving apple cider and doughnuts. Since then, Uncle John's Cider Mill has become an agritainment destination now run by the couple's son, Mike.
At the cider mill, you can watch the cider-making process, eat a doughnut or caramel apple, and warm up with a cup of spiced apple cider. Then head over to the pie barn to purchase freshly baked pies and breads to bring home. Adults ages 21+ can also sip a glass of wine or sample a flight of hard ciders at the taproom.
To round out all the fantastic fall fun are a pumpkin patch, a farm trail to walk, a corn maze, horse-drawn wagon rides, train rides, a jumping pillow, gemstone mining, live music, and more shopping in the gift shop.
Uncle John's Cider Mill is open from 9 a.m. to 7 p.m. daily.
Plug it into your GPS: 8614 US-127, St Johns, MI 48879
Where to stay near Uncle John's Cider Mill: Saravilla Bed & Breakfast in Alma, Michigan
Conclusion on Visiting Cider Mills: Michigan Fall Activity
Visiting a cider mill is a beloved tradition each fall in Michigan. The state is home to dozens of cider mills, which are often family-owned with operations handed down from one generation to the next. Some of Michigan's cider mills even date back to the nineteenth century.
Michigan's 27 best cider mills are located in the southern and central regions of the Lower Peninsula. Of those 27 highly rated cider mills, I shared three of my personal favorites — Franklin Cider Mill in Metro Detroit, Robinette's Apple Haus & Winery in West Michigan, and Uncle John's Cider Mill in Mid Michigan.
During a visit to a Michigan cider mill, you may get to pick apples in a Michigan apple orchard, eat a caramel apple, take a hayride or wagon ride, wind your way through a corn maze, or shop for pumpkins, fresh apples, and baked goods. Of course, drinking apple cider and pairing it with a doughnut is a must!
As I continue to visit Michigan cider mills, I'll update this post. I also invite you to share your thoughts about your favorite cider mills in Michigan and elsewhere by leaving a comment below this post.
Fall Recipes for Your Michigan Apple Cider
If you buy a gallon of apple cider during your visit to one of the cider mills in Michigan, you may wonder how to use up the cider before it perishes. In addition to drinking your apple cider cold, hot, or spiked with whiskey, you can use it to make one of these recipes:
More Fall Activities in Michigan
There is so much to do during autumn in Michigan; it couldn't possibly be shared in just one post! You'll find more ideas of things to do around Michigan in the fall in these articles:
If you enjoyed this post, you may also like …
Save this to your Michigan board on Pinterest for later!
Which of these Michigan cider mills would you like to visit this fall?
Editor's Note: This post was first published on Sept. 21, 2016. It was most recently updated on Sept. 19, 2022.
Save
Save
Save
Save
Save
Save
Save
Save