In the Great Lakes State, visiting one of the 100+ Michigan cider mills is as quintessential to fall as tailgating an American football game, raking leaves into a huge pile, or eating pumpkin pie.
It's no surprise considering Michigan is the third-largest apple producer in the United States. In fact, we have 11.3 million apple trees growing at our 825 family-run farms across the state!
Whether the Mitten is your home or you are visiting for a scenic fall foliage tour, sipping a cup of refreshing cider paired with a delicious doughnut at a cider mill is a rite of passage during a Michigan fall.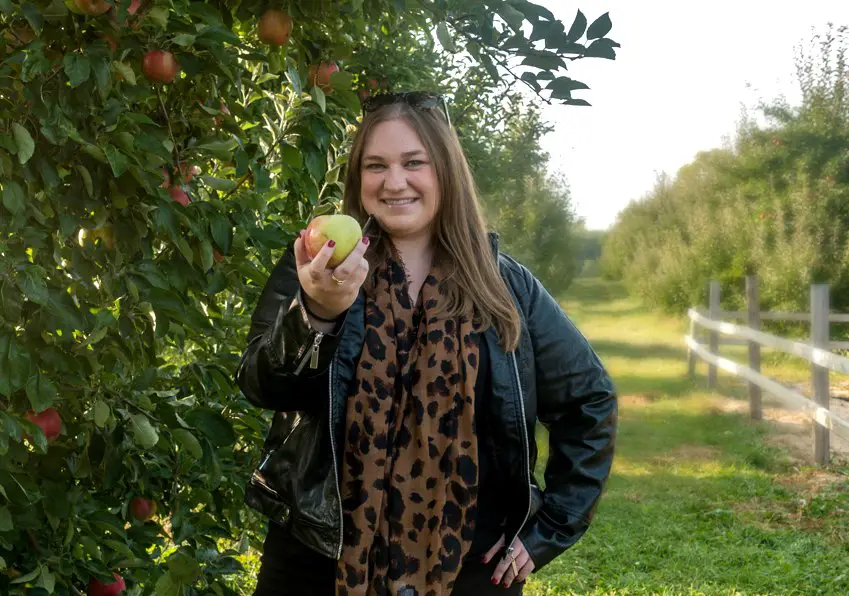 Photo by Jeni of Thyme & Love 
What is apple cider?
If you're thinking it's alcoholic, that's hard cider, and we've got plenty of that in Michigan, too. You'll even find it at some of our cider mills. What I'm talking about isn't apple juice either. Cider is made purely from fresh apples. It also doesn't go through a filtration process to remove pulp and sediment like apple juice, giving it a cloudy appearance and delightfully sweet flavor.
Where can you find fresh apple cider this fall?
Good question! I've compiled a list of three of my favorite cider mills in Michigan.
In Metro Detroit: Franklin Cider Mill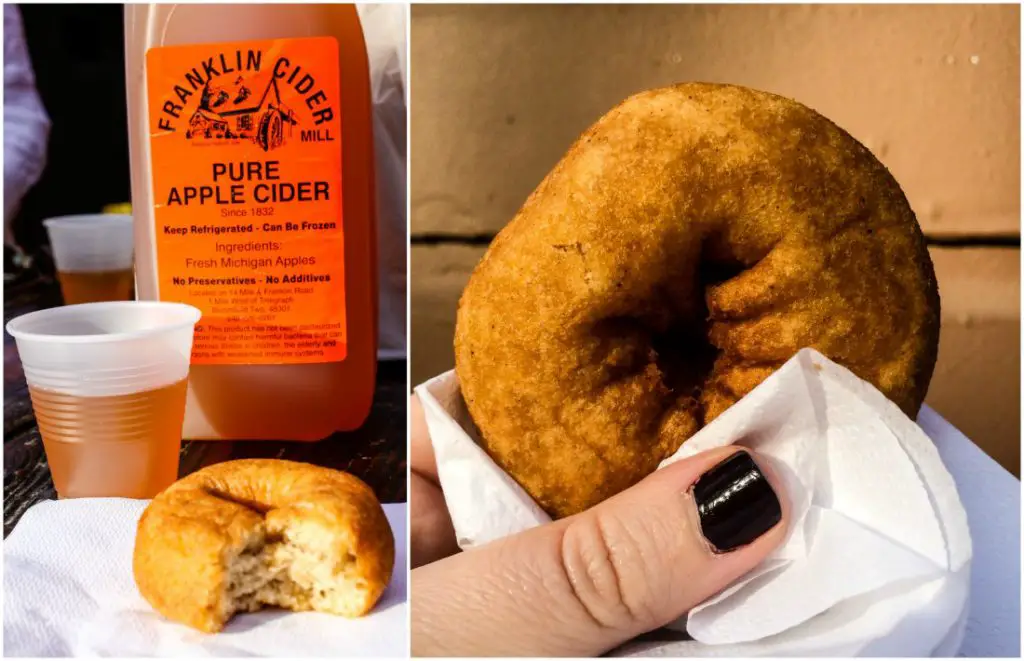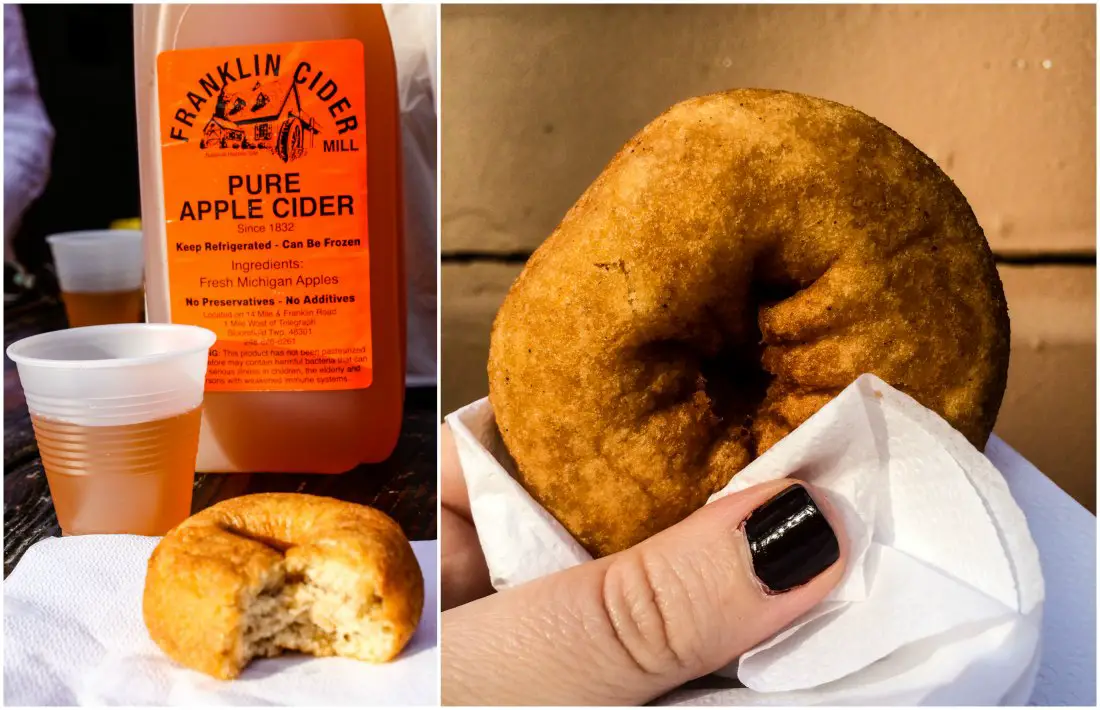 Originally opened in 1837 as a gristmill, Franklin Cider Mill is as old as Michigan's statehood. Today the mill is a popular destination for its fresh cider made purely from Michigan apples and cinnamon spice doughnuts. You'll also find a wide variety of Michigan apples, caramel and candy apples, honey, jams and butters, pumpkins, and baked goods.
Plug it into your GPS: 7450 Franklin Rd, Bloomfield Hills, MI 48301
Where to stay near Franklin Cider Mill: Home2 Suites by Hilton West Bloomfield
In Grand Rapids: Robinette's Apple Haus & Winery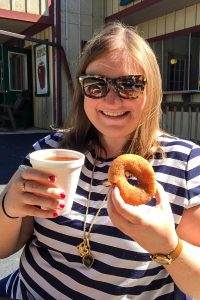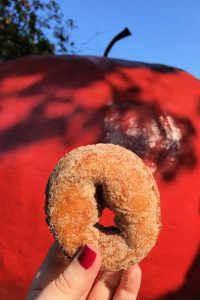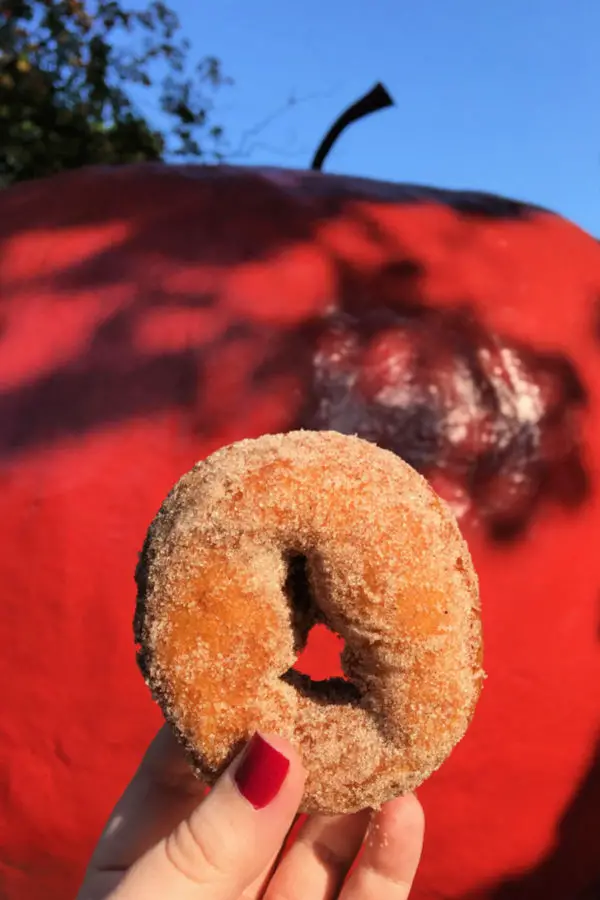 In West Michigan, this cider mill has it all. Though it is open year-round, Robinette's is truly a fall destination for all ages. There are hayrides, a kids' play area, a corn maze, apple picking, and wine tasting. In the Apple Haus, you can drink your cider hot or cold and pair it with a variety of doughnuts. You'll also find fresh fruit, apple butters, and caramel candies to take home.
Plug it into your GPS: 3142 4 Mile Rd NE, Grand Rapids, MI 49525
Where to stay near Robinette's: Holiday Inn Express Grand Rapids – North
In Central Michigan: Uncle John's Cider Mill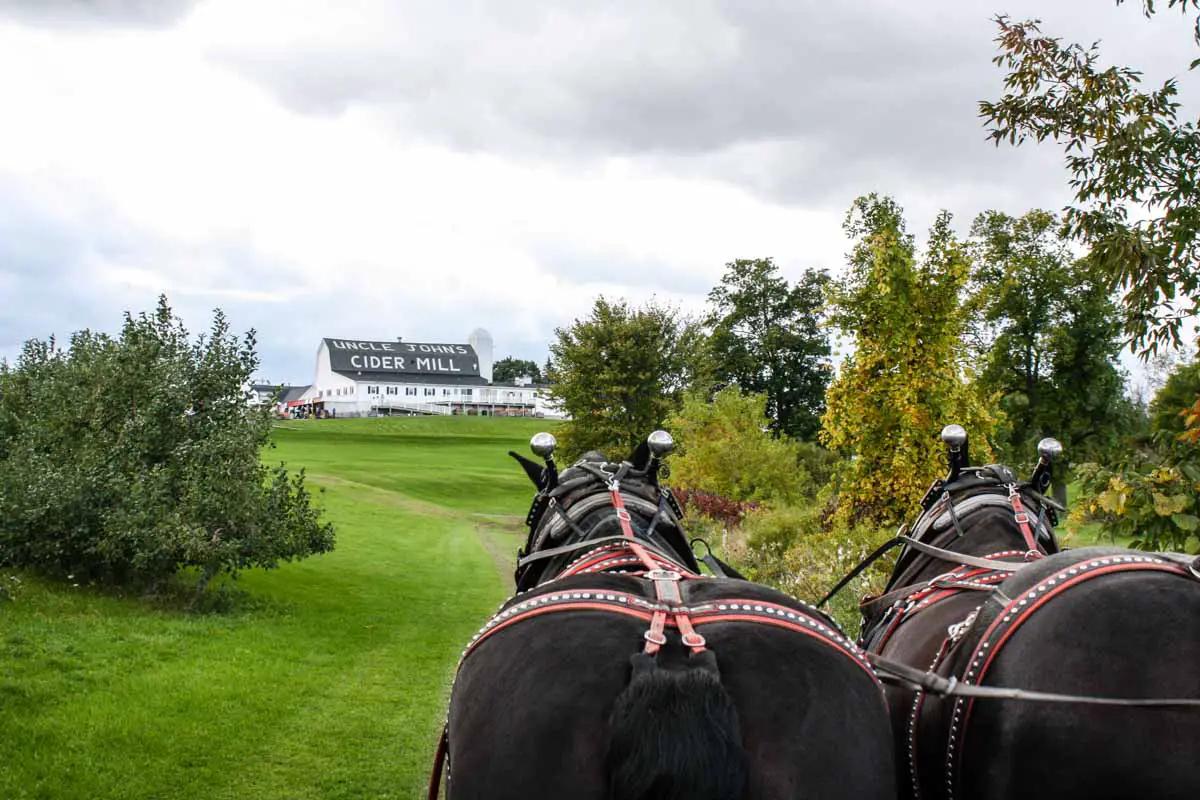 About a 30-minute drive north of Michigan's capital, Uncle John's Cider Mill is a family-friendly day-trip destination from the Lansing area. Located in an old cattle barn, the cider mill offers fresh and mulled cider, doughnuts, and caramel apples. The pie barn has all the fresh baked pies and breads you could want. To round out all the fantastic fall fun are horse-drawn wagon rides, a kids' play area, and tastings of wine, hard cider, and spirits.
Plug it into your GPS: 8614 US-127, St Johns, MI 48879
Where to stay near Uncle John's Cider Mill: Saravilla Bed & Breakfast in Alma, Michigan
Resources For Michigan Cider Mills & Other Fall Activities
There's so much to do during a Michigan fall that I couldn't possibly share it all in one post! Here are a few other ideas of things to do around the Mitten:

Michigan Bloggers' Fall Recipes To Use Those Cider-Mill Finds
In Michigan, we love our apples. Local food bloggers have shared these tasty fall recipes featuring apples, cider, and/or hard cider:
Find These Michigan Cider Mills On The Map
If you enjoyed this post, you may also like …
Save this to Pinterest for later!
Which of these Michigan cider mills would you like to visit this fall?
If you aren't from Michigan, what is a quintessential fall activity in your area?
Save
Save
Save
Save
Save
Save
Save
Save