From May tulips to August sunflowers, Michigan is abloom through spring and summer.
You know what that means? Green-thumb travelers will find lush gardens to explore, and opportunities to photograph seemingly never-ending flower fields are plentiful. Maybe you'll even pick up a gardening tip at one of Michigan's flower-centric festivals and events.
If you enjoy touring botanical and estate gardens or want to plan a trip to chase Michigan's blooms, this post was created just for you.
Disclosure: This guide to Michigan's blooms contains some affiliate links. When you click on, make a purchase from, or book your hotel stay through one of these affiliate links, I may earn a small commission. 
---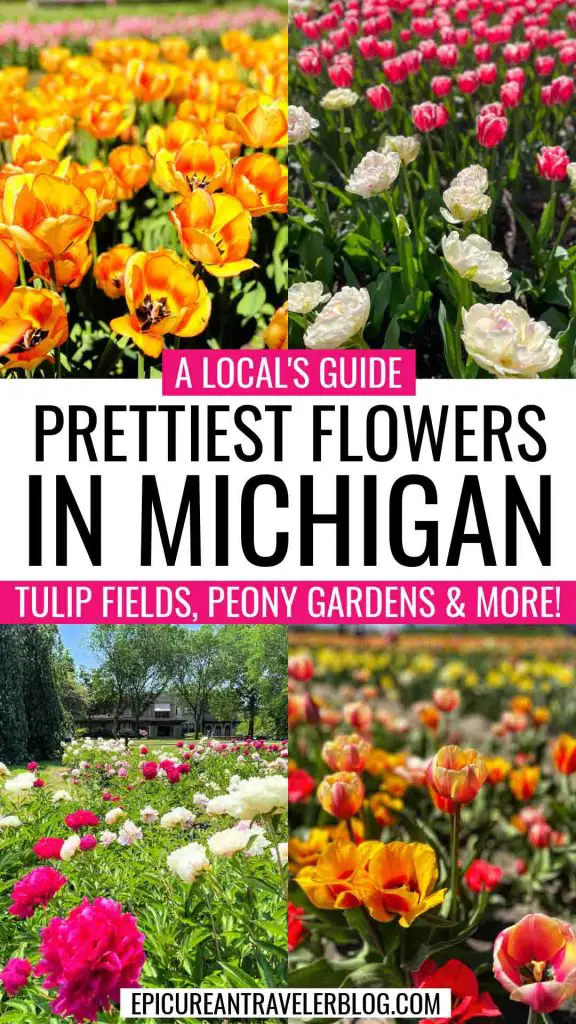 Michigan's Best Botanical Gardens & Conservatories
Usually open year-round to the public, Michigan's botanical gardens and conservatories are some of the best gardens for viewing a diverse array of flowers.
Though some gardens charge an admission fee, many of Michigan's botanical gardens are free to visit. Who doesn't love a budget-friendly attraction? I know I do!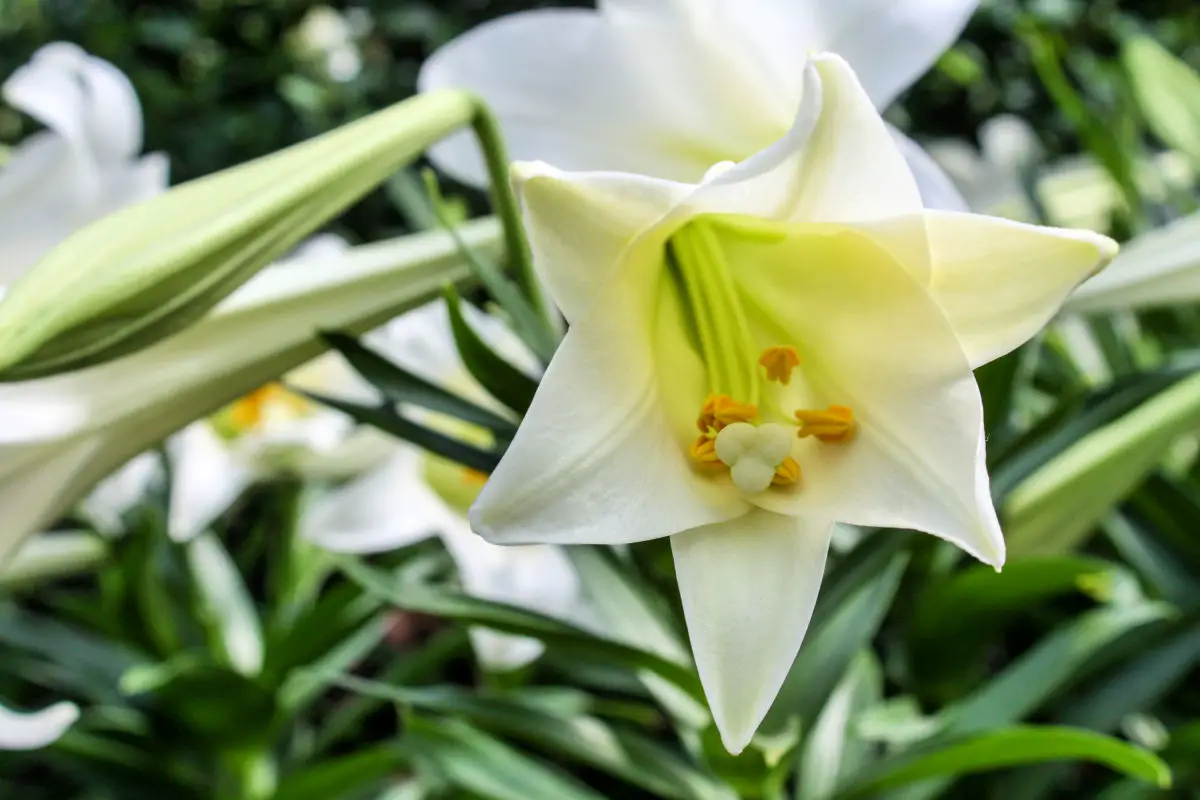 Anna Scripps Whitcomb Conservatory – Detroit
Opened in 1902 on Detroit's Belle Isle, the Anna Scripps Whitcomb Conservatory is the longest continually-running conservatory in the United States.
Its beautiful 13 acres feature formal gardens with a lily pond. As a year-round attraction, its indoor gardens showcase ferns, tropical fruit-producing plants, palm trees, succulents and cacti, and seasonal displays of flowering plants.
Address: 4 Inselruhe Ave, Detroit, MI 48207
Hours: Closed for renovations through 2024
Admission: Free*
*Though admission to Anna Scripps Whitcomb Conservatory is free, a Michigan Recreation Passport is required to enter Belle Isle.
Accessibility: Belle Isle Park is a wheelchair-accessible attraction, though there are only a few accessible bathrooms. Also, garden pathways may not be easily navigated by a wheelchair or a stroller.
Where To Stay In Detroit: Detroit Foundation Hotel | The Shinola Hotel | Trumbull and Porter Hotel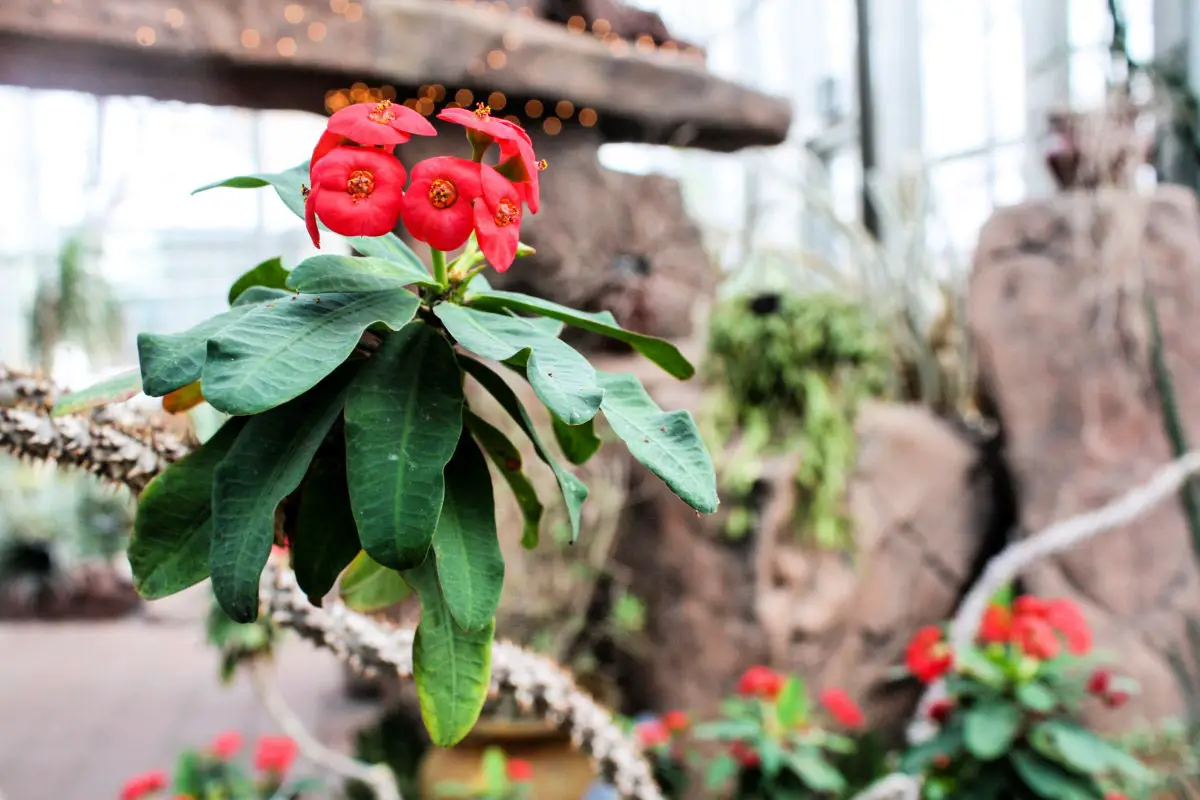 Frederik Meijer Gardens & Sculpture Park – Grand Rapids
Visiting this 158-acre botanical garden and sculpture park in Grand Rapids warrants at least a couple hours, but you could easily spend a whole day meandering through the gardens.
Ignite your senses with a stroll through the Leslie E. Tassell English Perennial & Bulb Garden in spring. Not only will you see beautiful blooms, but you'll smell them, too.
Are you a gardening enthusiast? If so, you may also want to plan your visit to Frederik Meijer Gardens & Sculpture Park around the spring and summer flower shows. This year's schedule includes the Dahlia Show on Aug. 26-27 and the Standard Flower Show on Sept. 9.
Address: 1000 E Beltline Ave NE, Grand Rapids, MI 49525
Hours: 11 a.m. – 5 p.m. Sunday, 9 a.m. – 5 p.m. Monday and Wednesday – Saturday, 9 a.m. – 9 p.m. Tuesday
Admission: $20 for Adults (14-64), $15 for Seniors (65+), $15 for Students with student ID, $10 for Children (3-13), $2 for Museum for All reduced admission for EBT/WIC-carholders, Free for children 2 and younger
Accessibility: Wheelchair and stroller accessible both indoors and outdoors with ramps and paved pathways. Wheelchairs are also available to rent.
Where To Stay In Grand Rapids: Amway Grand Plaza | CityFlats Hotel | Homewood Suites by Hilton
University of Michigan Matthaei Botanical Gardens – Ann Arbor
At Matthaei Botanical Gardens, visitors can explore 11 outdoor gardens and the conservatory.
Best viewed from June to October, the perennial garden begins blooming around Memorial Day with poppies and irises and ends with yellow mums and purple asters come fall.
Another noteworthy garden to visit here is the Helen V. Smith Woodland Wildflower Garden with 100+ native species of ferns, woody plants, and spring wildflowers. Wildflowers typically begin blooming in mid-to-late April with peak bloom in May.
Address: 1800 N Dixboro Rd, Ann Arbor, MI 48105
Hours: Closed Monday, 10 a.m. – 4:30 p.m. Tuesday, 10 a.m. – 8 p.m. Wednesday, 10 a.m. – 4:30 p.m. Thursday – Sunday
Admission: Free
Accessibility: Wheelchair-accessible restrooms, gardens, and picnic areas. Plus, handicap parking is located near the entrance, and wheelchairs are available to rent on a first-come, first-served basis.
Where To Stay In Ann Arbor: Graduate Ann Arbor | Weber's Boutique Hotel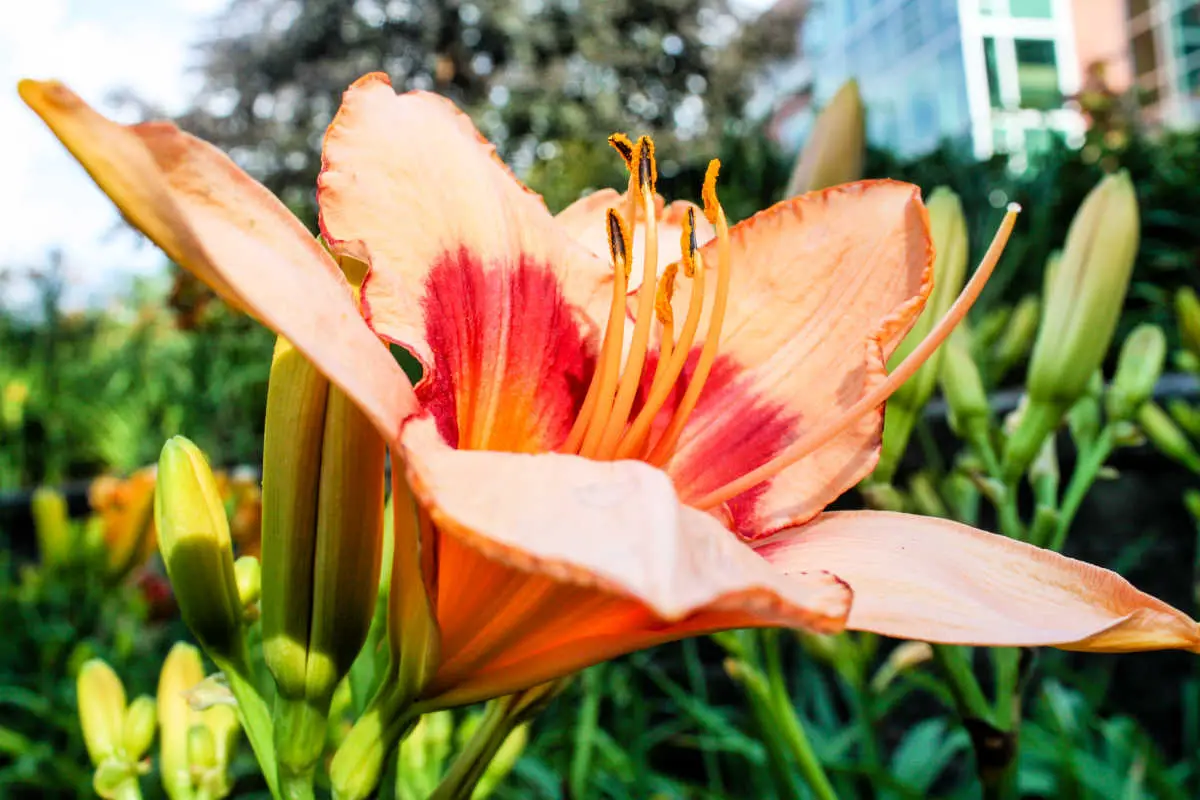 W. J. Beal Botanical Garden at Michigan State University – East Lansing
Claimed to be the oldest continually public-operated botanical garden in the United States, W. J. Beal Botanical Garden consists of 5 acres and 1,800 different flowers and plants.
This impressive amount of biodiversity is used as a laboratory for students, and each plant is labeled for easy identification.
One of the best times to visit is July-August to see colorful daylilies in full bloom.
Location: Michigan State Main Campus, W Circle Dr, East Lansing, MI 48824
Hours: Always open to the public
Admission: Free
Where To Stay Nearby In Lansing: Graduate East Lansing |  Homewood Suites by Hilton Lansing Eastwood
More Botanical Gardens in Michigan
Where to See Michigan Spring Wildflowers
In Michigan, spring is marked by the arrival of spring beauty, marsh marigold, bloodroot, wood poppies, and wild columbine. By mid-April, these wildflowers and other native species pop with colorful petals.
Are you wondering where to find wildflowers in Michigan? Certainly, one option is the University of Michigan's Matthaei Botanical Gardens, which has a whole garden dedicated to Michigan's wildflowers.
You'll also find wildflowers native to southwest Michigan at Fernwood Botanical Garden & Nature Preserve in Niles.
In Traverse City, visit the Botanic Garden at Historic Burns Park to see wildflowers and plants native to northwest Michigan.
Tulips in Holland, Michigan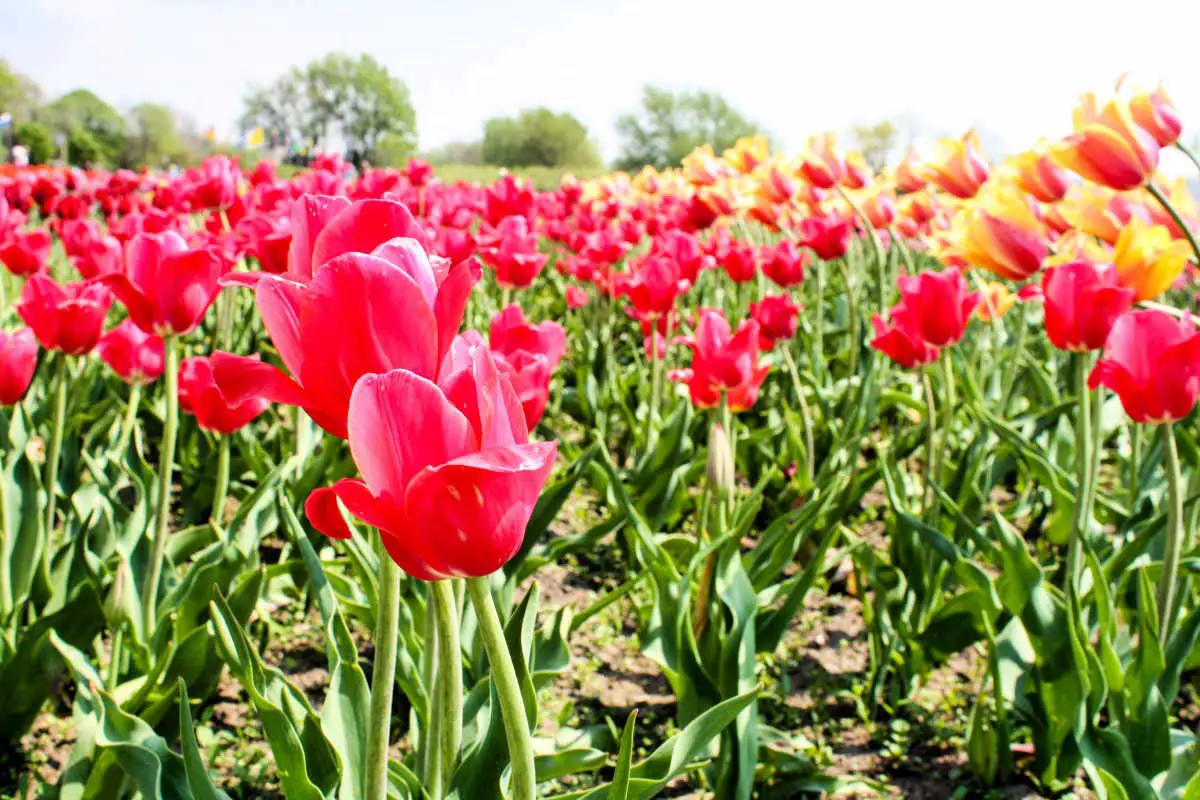 Each May, millions of tulips bloom around the lakeside city of Holland in West Michigan. This annual spring bloom is celebrated along with the city's Dutch heritage during the Tulip Time festival.
Usually coinciding with the festival, early to mid-May is the best time to see tulips in Holland, Michigan. Sometimes you can see tulips in late April, too.
To see more than 6 million tulips in colorful rows, visit Veldheers Tulip Farm. Another option for viewing tulips in Holland is Windmill Island Gardens, where the authentic Dutch windmill is a stunning backdrop.
Cherry Blossoms in Traverse City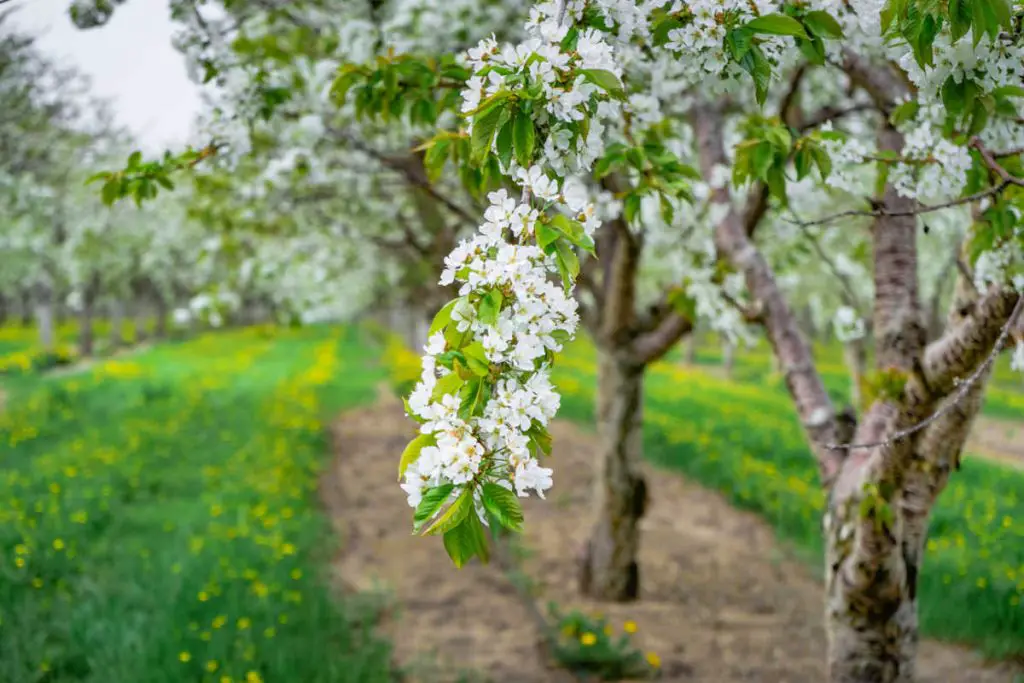 Cherry orchards on Traverse City's Old Mission Peninsula and on the neighboring Leelanau Peninsula are filled with flowering trees come mid-to-late May. Unfortunately, the light pink and white flowers don't last long!
Flower Day at Detroit's Eastern Market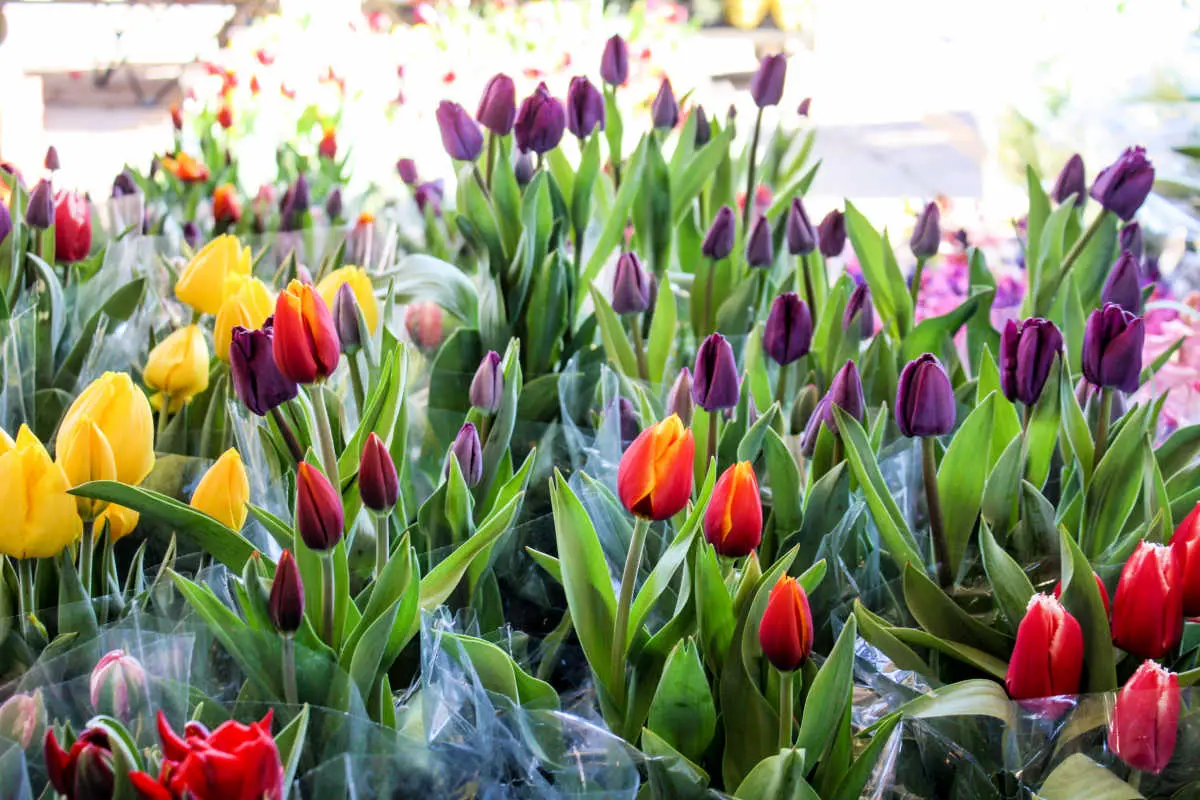 For more than 50 years, Flower Day occurs every year on the Sunday following Mother's Day at Detroit's Eastern Market. Regional growers will fill 15 acres with the heartiest varieties of flowers that thrive in the local area. If you live within driving distance, this is an opportune time to find flowers for your home garden and to ask the pros for their best green-thumb tips.
Peonies at Nichols Arboretum in Ann Arbor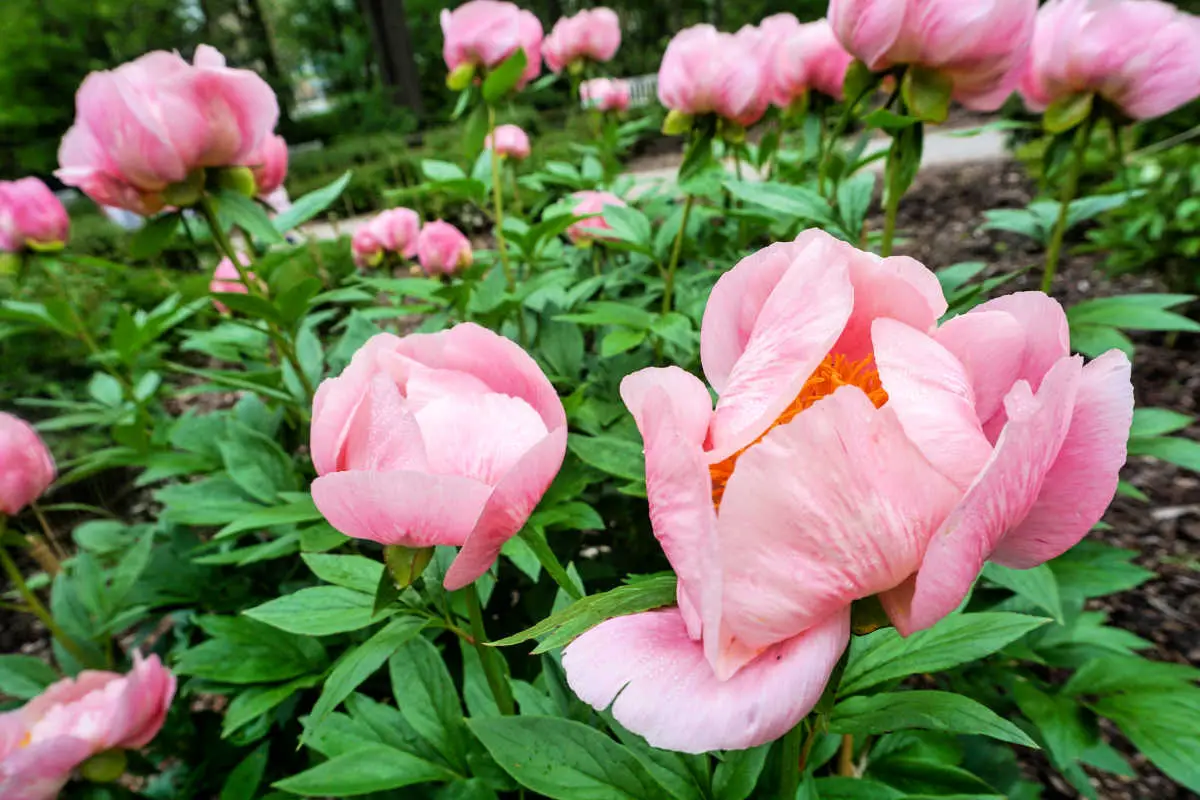 With 929 peony plants, the University of Michigan's Nichols Arboretum has the largest collection of peonies in North America.
Located in Ann Arbor, the Arb consists of 123 acres, hiking trails, a shrub collection, a prairie, and the impressive peony garden that blooms in late May through June.
Though seeing the peonies is worth a road trip to Ann Arbor, I'd plan your visit during Shakespeare in the Arb. An annual tradition each June, one of the Bard's plays is performed among the peonies as each scene moves to another location within the arboretum.
Location: 1610 Washington Heights, Ann Arbor, MI 48104
Hours: Sunrise to Sunset
Admission: Free
Where to See Lavender in Michigan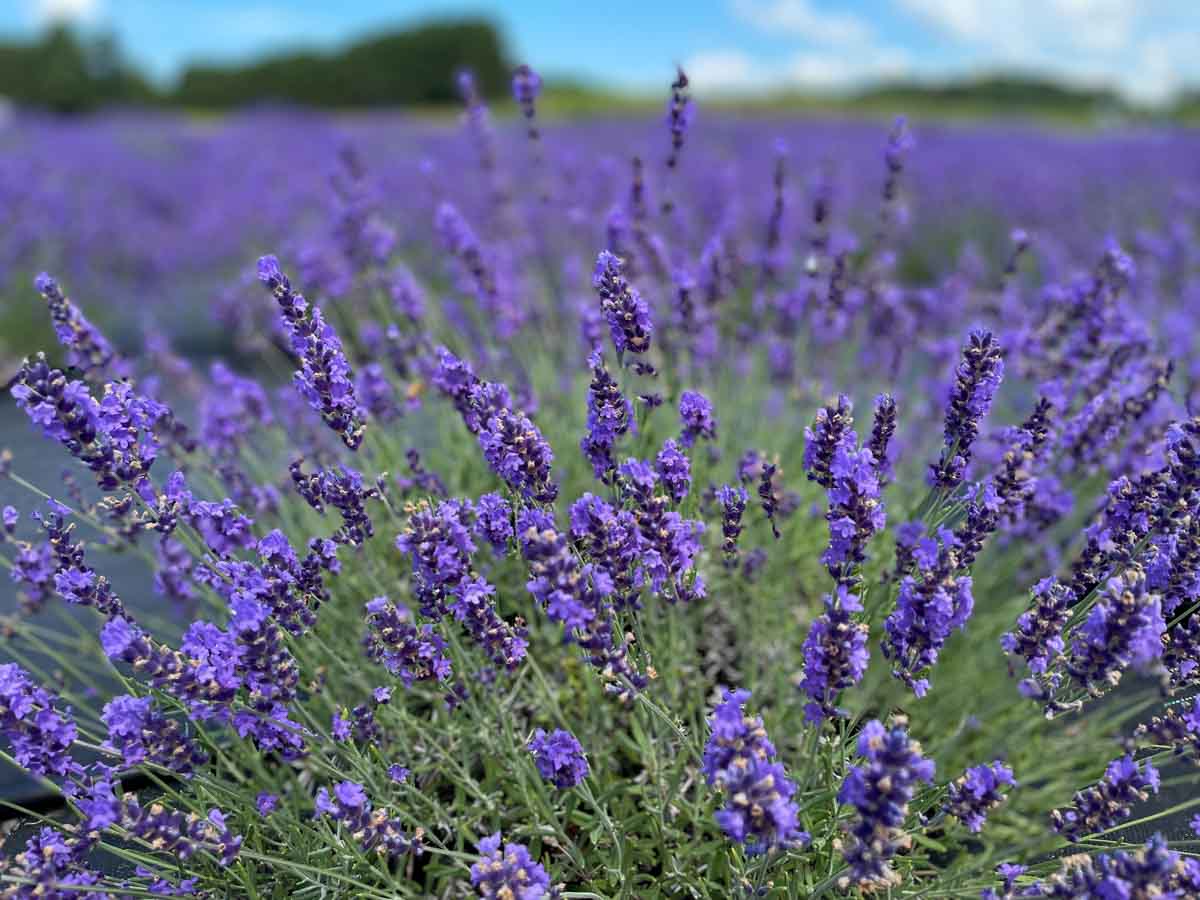 By mid-July lavender is bursting with purple petals and a delightful floral aroma at Michigan's lavender farms.
Some of the farms allow visitors to tour the grounds and pick their own lavender bouquets. Most also have gift shops filled with lavender soaps, candles, linen sprays, lotions, essential oils, and lavender-infused food and drink.
On a sunny day, a lavender lemonade fizz is quite refreshing at Lavender Hill Farm in Boyne City.
Michigan also celebrates lavender with annual lavender festivals and events such as the 21st annual Michigan Lavender Festival in June and Blake's Lavender Festival in July.
This year's Michigan Lavender Festival takes place June 23-25, 2023, at the Eastern Michigan Fairgrounds in Imlay City. Festival activities include a natural health and wellness expo, 150+ artisans and makers, lavender craft and DIY project demos and classes, motor show featuring women-owned vehicles, food trucks, and, of course, lavender and lavender products from lavender farms around Michigan.
Blake's Lavender Festival runs 10 a.m. – 5 p.m. July 14-16 at Blake's Orchard & Cider Mill, 17985 Armada Center Rd in Armada. Festivities include DIY workshops, children's activities, U-pick lavender (and fruits and veggies), classes, speakers, demonstrations, train rides to the lavender fields, art and craft fair with 200+ artisan vendors, and lavender-infused foods and drinks. Admission is free for children 10 and younger, and tickets cost $12
Dahlia Hill in Midland
In bloom from July to October, Dahlia Hill in Midland features eight terraces filled with 3,000 dahlia plants of 300 varieties. In addition to the beautiful dahlias to admire, visitors will see aluminum sculptures created by local artist Charles Breed.
Location: 2809 Orchard Dr, Midland, MI 48640
Hours: Dawn to dusk
Admission: Free
Where to See Sunflowers in Michigan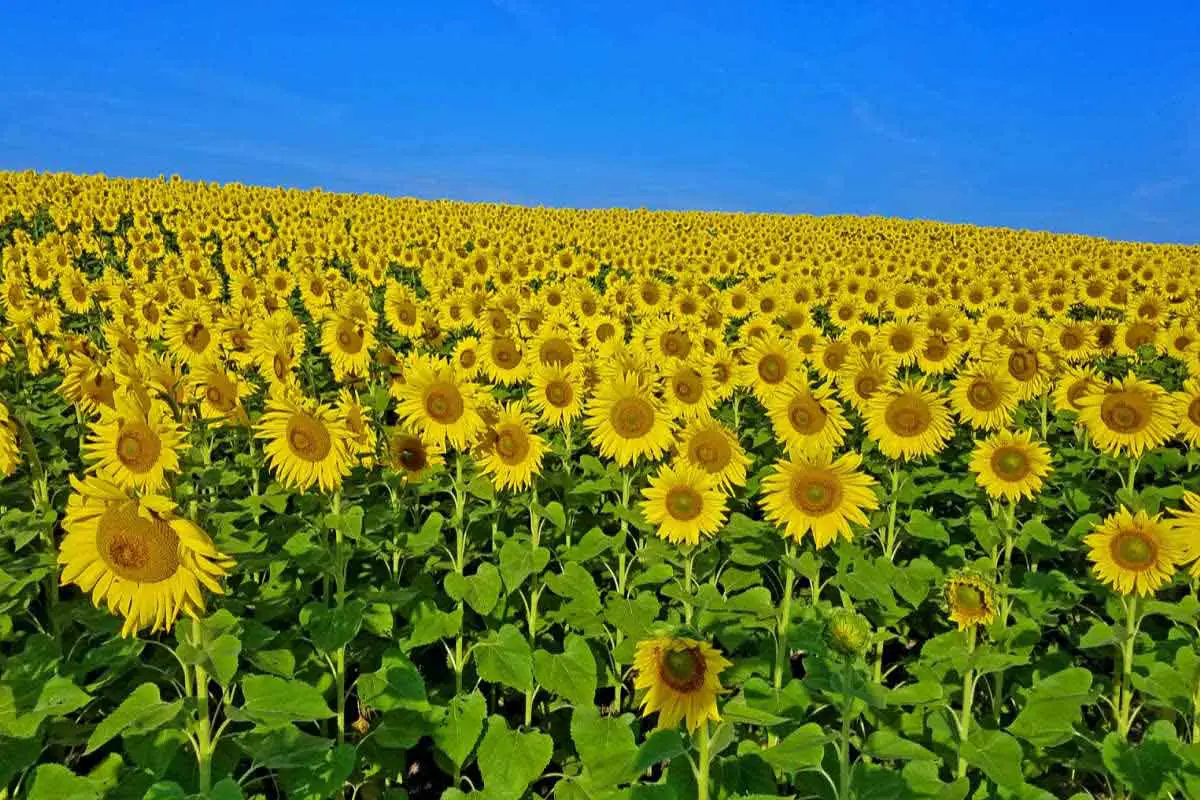 Kansas may be the Midwestern state known for sunflowers, but Michigan has beautiful sunflower fields worthy of an Instagram selfie, too.
In fact, the owners of a sunflower field in Jenison, Michigan, intend for you to do exactly that. According to GRkids.com, benches and props have been placed in the privately-owned sunflower field for visitors' photo ops.
Up north in Traverse City, the Field of a Million Sunflowers became a buzzed-about tourist attraction in 2014. At the time, more than a million sunflowers were planted across the 50 acres.
As you drive around Michigan in August, you're likely to see some sunflowers. Please note that many of Michigan's sunflower fields are privately owned. However, you'll still capture fantastic roadside photos like Aaron Cruz, of The Adventures of elATLboy, did in Whitmore Lake and Fowlerville.
In my own hometown of Dearborn, sunflowers sometimes grow in a field near the Ford Motor Company World Headquarters on Michigan Avenue at Mercury Drive.
If you'd like to get up close with sunflowers consider attending the Ukrainian Sunflower Festival. Each August, St. Josaphat Ukrainian Catholic Church of Warren hosts about 25,000 people to see hundreds of sunflowers planted by local students.
Michigan's Most Beautiful Estate Gardens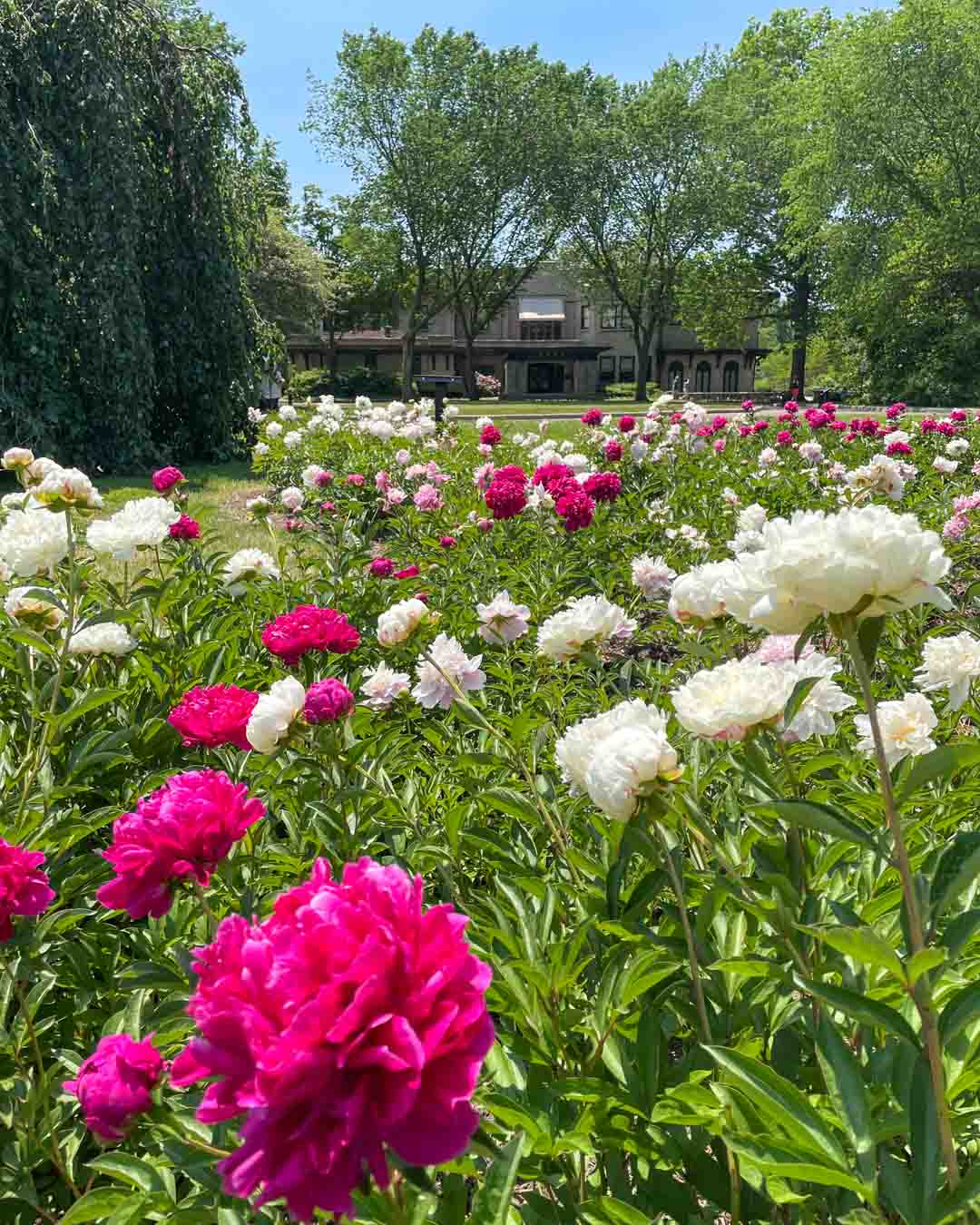 Fair Lane, Home of Clara & Henry Ford – Dearborn
Designated a National Historic Landmark, this 1,300-acre estate was the home of Clara Bryant and Henry Ford, founder of Ford Motor Company. The historic estate and its powerhouse have been closed for renovations, but the grounds and gardens remain open to the public.
Must-see gardens include the restored Early Rose Garden with pink and cream shrub roses and the Blue Garden featuring Clara Ford's favorite flowers in shades of purple/blue. You'll see irises, delphiniums, and lavender with pops of white and yellow flowers in this garden overlooking the Rogue River.
In late spring, don't miss the peony garden! From an overhead view, the garden resembles a butterfly.
Location: 1 Fair Lane Drive, Dearborn, MI 48128
Hours: 8 a.m. – 6 p.m. Daily
Admission: Free
Stay nearby: The Henry, Autograph Collection | Charming Dearborn townhouse in quiet historic neighborhood
Cranbrook House & Gardens – Bloomfield Hills
The 40 acres feature a reflection pool along with sunken, Japanese, and herb gardens.
Location: 380 Lone Pine Rd, Bloomfield Hills, MI 48304
Hours*: 7 a.m. – 7 p.m. Daily through Sept. 30
Admission: Free*
Stay nearby: The Kingsley Bloomfield Hills – a DoubleTree by Hilton | The Townsend Hotel | Daxton Hotel
* Hours and admission for gardens only. The Cranbrook house is only open to the public for special events and scheduled guided tours.
Dow Gardens – Midland
Herbert and Grace A. Dow's estate is now a 110-acre botanical garden with walking paths, a greenhouse, formal gardens with seasonal flower beds, and the longest canopy walk of 1,400 feet at 40 feet above the ground.
Location: 1809 Eastman Ave, Midland, MI 48640
Hours: 9 a.m. – 8 p.m. Tuesday – Sunday
Admission: $20 for Annual Pass, $10 for Adults, $2 for College Students (with student ID) and Children (5-17), Free for children younger than 5
Stay Nearby: Fairfield Inn & Suites Midland | The H Hotel 
Ford House – Grosse Pointe Shores
The gardens surrounding Edsel and Eleanor Ford's Tudor Revival mansion include Flower Lane, which blooms in spring with tulips, daffodils, and Virginia Bluebells followed by daylilies, delphiniums, and more.
Location: 1100 Lake Shore Rd, Grosse Pointe Shores, MI 48236
Hours: 10 a.m. – 4 p.m. Tuesday – Sunday, Members only on Monday
Admission*: $7 for Adults, $5 Children (ages 6-12), Free for children age 5 and younger
Stay Nearby: Grosse Pointe Private Accessible Ground-Level Luxury Suite
* Admission is for grounds pass only.
W. K. Kellogg Manor House – Hickory Corners
The lush garden along Gull Lake is a beautiful location for a self-guided tour.
Location: 3700 E Gull Lake Dr, Hickory Corners, MI 49060
Hours: 9 a.m. – 1 p.m. and 1:30 – 3 p.m. Monday – Thursday
Reservations: Preferred due to closures for private events. Call ahead to 269-671-2160
Admission: Donations appreciated
Stay Nearby:  The Mary Alice Hotel | Bay Pointe Inn & Restaurant
Before You Chase Michigan's Blooms
Now that you know where to find Michigan's best flower gardens, I hope you'll capture beautiful photos and memories.
For your convenience while trip planning, I've included an interactive map below of the gardens and several of the flower farms mentioned in this post.
Keep in mind that some of Michigan's flowers bloom for only a short time, but you can always find something in bloom year-round in Michigan by visiting one of our conservatories.
Read More About Gardens and Blooms
Read More About Michigan
Don't want to miss any of these beautiful blooms and Michigan gardens? Save the image below to your Michigan travel board on Pinterest now to reference this Michigan flower guide later!