Thirty lush acres of beautifully landscaped gardens make the Atlanta Botanical Garden a must-visit attraction in the heart of the Big Peach's artsy Midtown neighborhood.
Adjacent to Piedmont Park, the Garden provides stunning skyline views as you meander past pruned hedges, colorful flower beds, and whimsical living sculptures.
Though the Atlanta Botanical Garden temporarily closed this spring, it has reopened this week. Granting earliest access to its members on Monday, the Garden will be open to the public beginning Saturday, May 23. Later in this post, I'll share important information you should know before you visit.
But first, let's take a look at some of the colorful and creative botanical displays you might see at the Atlanta Botanical Garden!
Disclosure: I visited the Atlanta Botanical Garden while on an International Food, Wine & Travel Writers Association press trip hosted by Discover Atlanta. This post also contains some affiliate links. When you click on or make a purchase from one of these links, I may earn a commission. As an Amazon Associate, I also earn from qualifying purchases. Of course, this is at no extra cost to you. All opinions shared here are my own, and I only recommend products, services, and hotels I have or would use myself.
Parterre Fountain
One of the most beautiful settings at the Atlanta Botanical Garden is the Levy Parterre. Among the manicured Korean boxwoods of this formal garden, a Dale Chihuly sculpture of swirling blue-to-clear ombre glass sits atop an Italian limestone fountain.
The sculpture is one of several Chihuly works in the Garden's permanent collection. You'll see another stunning Chihuly sculpture — the Nepenthes Chandelier — in the Harden Visitor Center.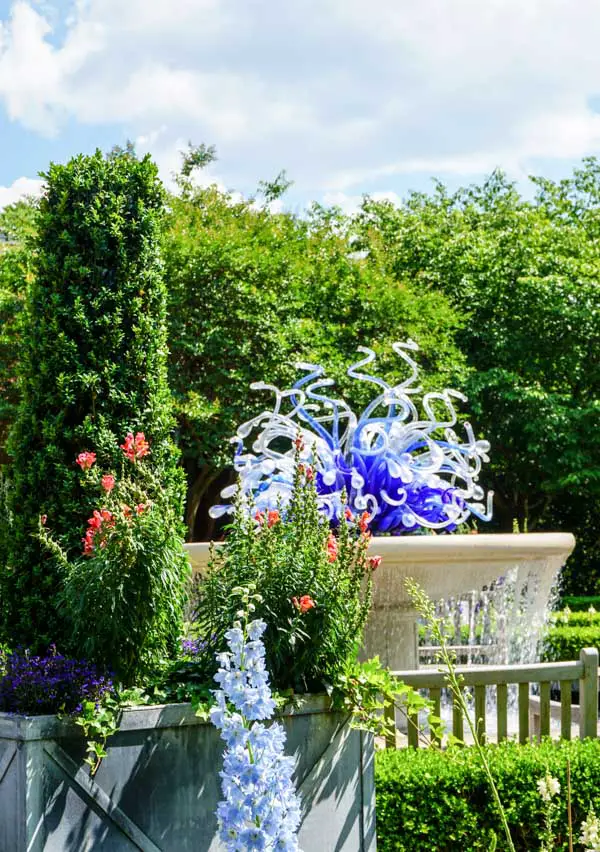 Larger-Than-Life Living Sculptures
Besides the whimsical Chihuly works, the Atlanta Botanical Garden shows off its playful side with towering creatures. Sculpted by artisan welders, the frames of these living sculptures are then plugged with real plants maintained daily by the Garden's horticulture team. Though these sculptures may change from year to year, the Shaggy Dog and Earth Goddess are always on display.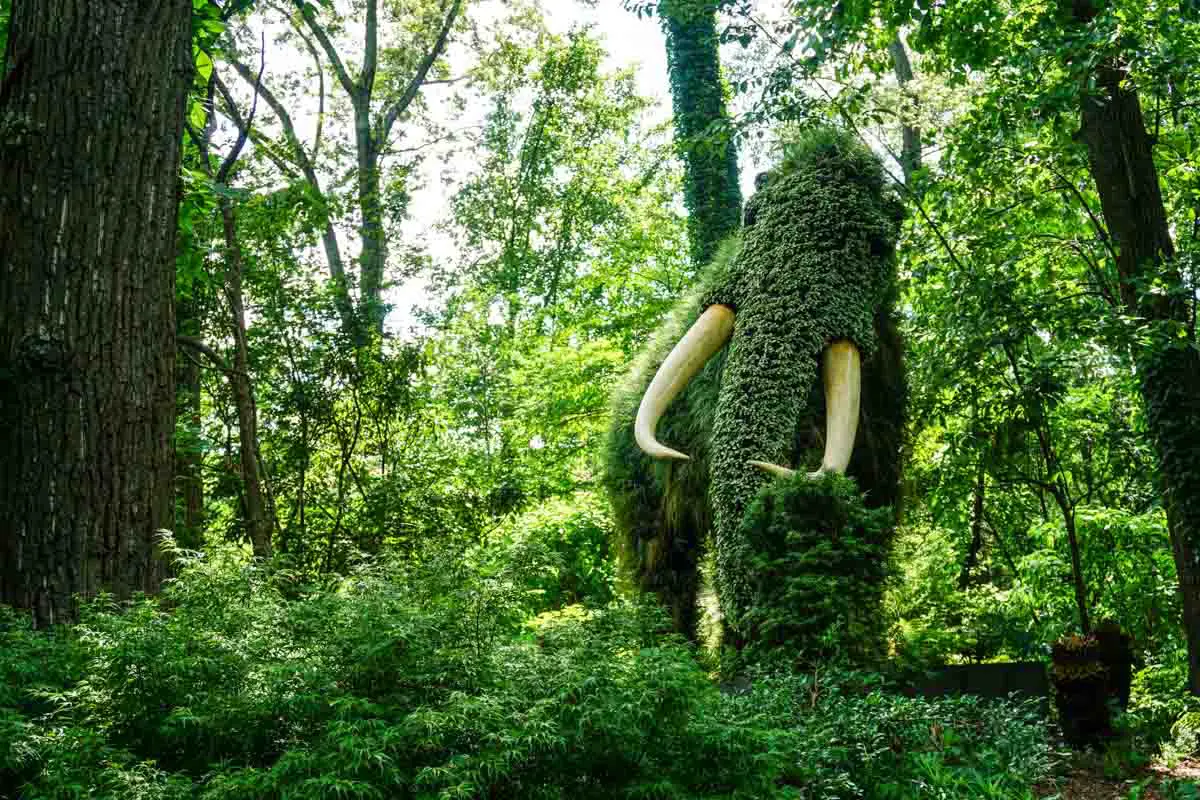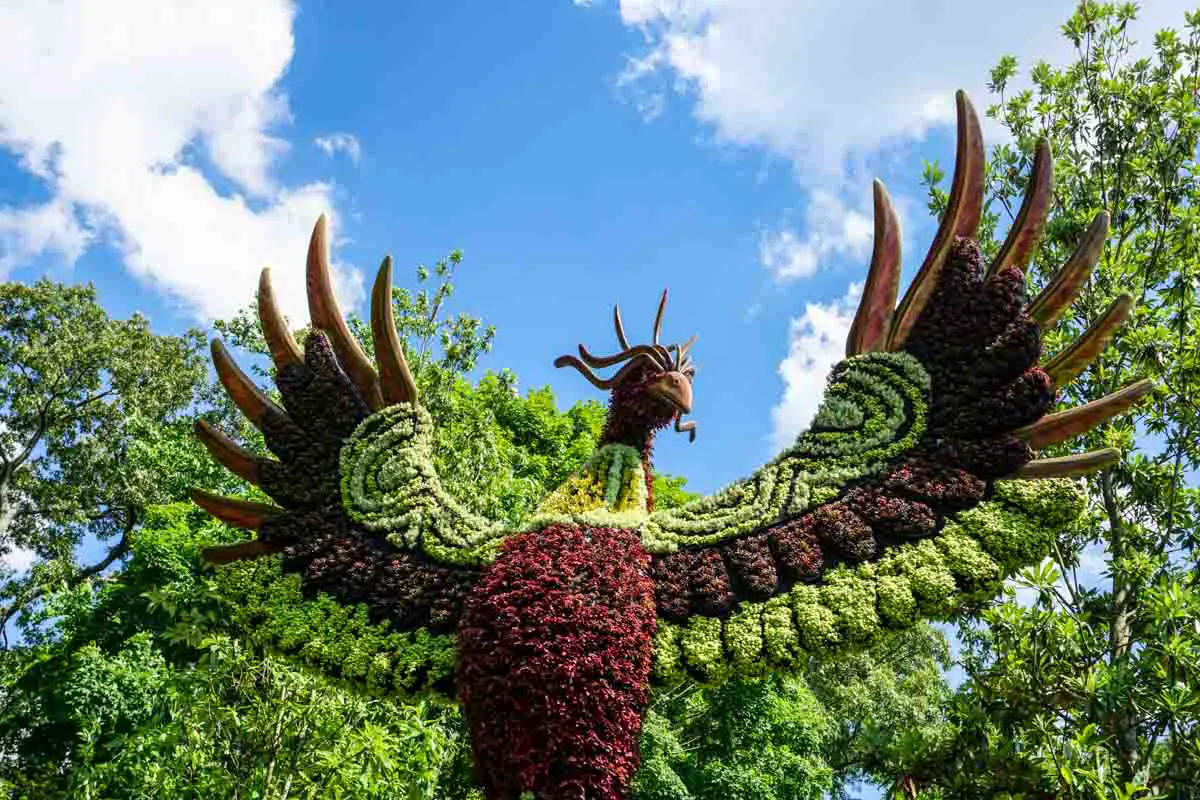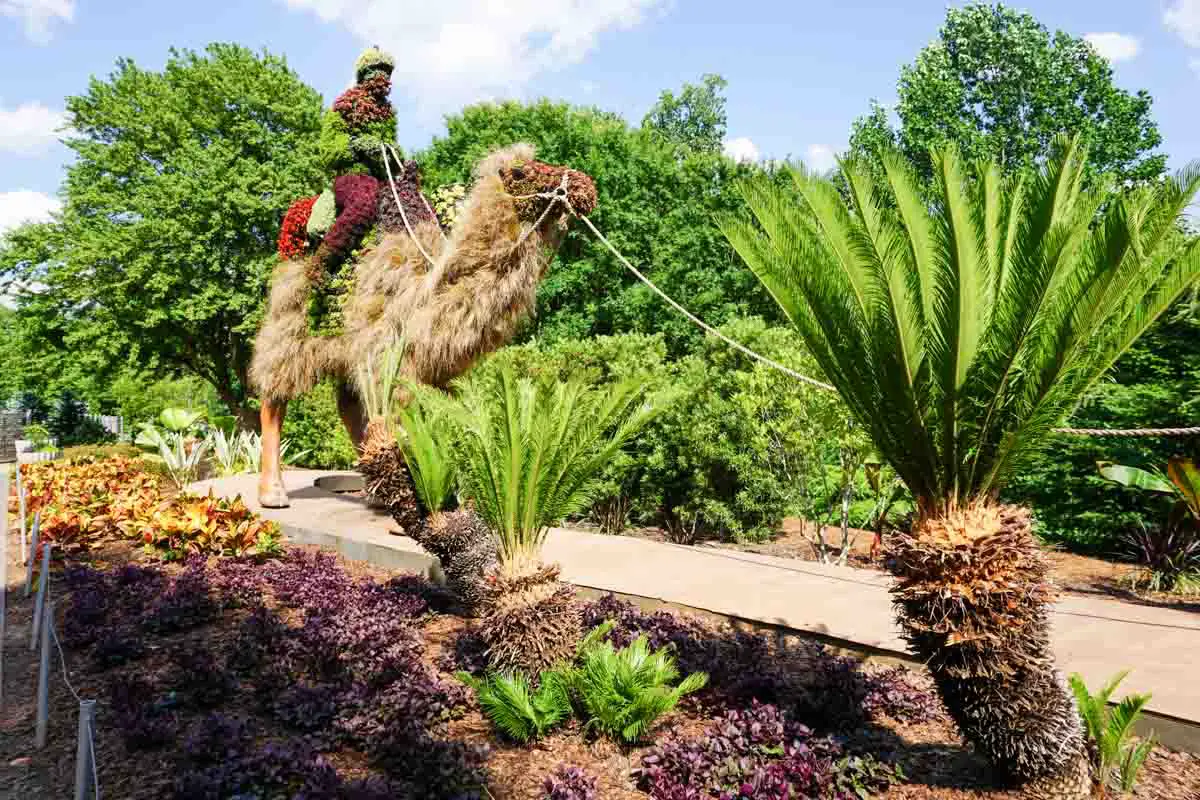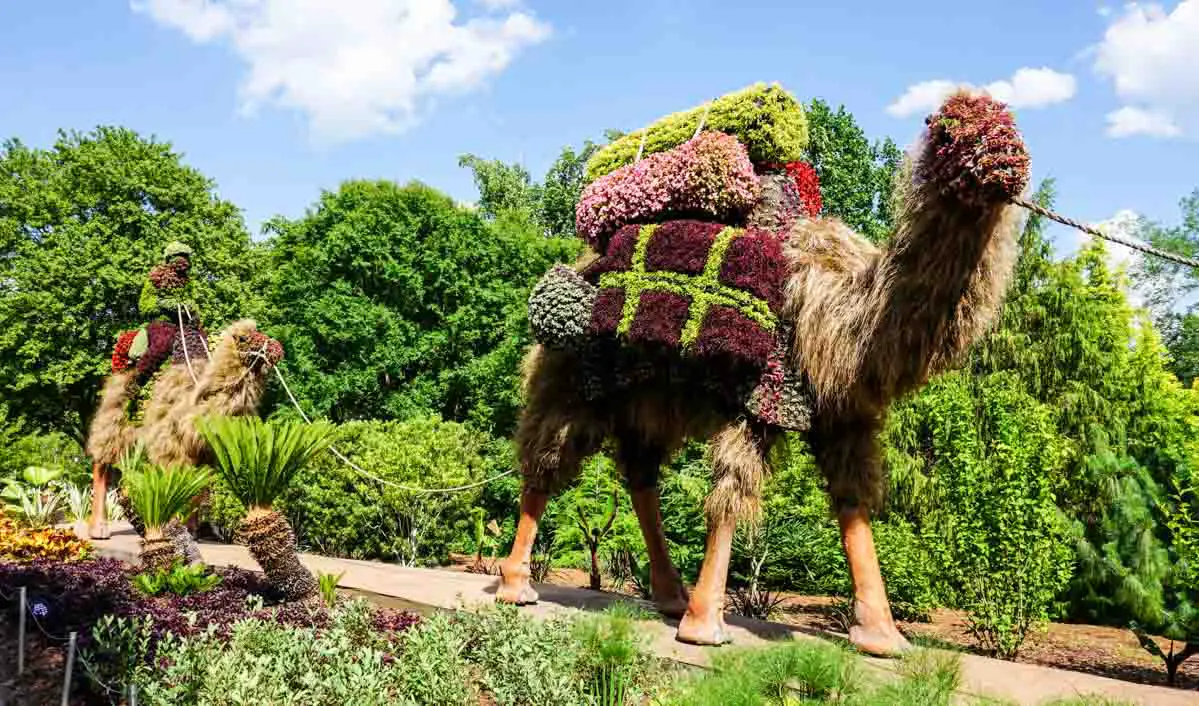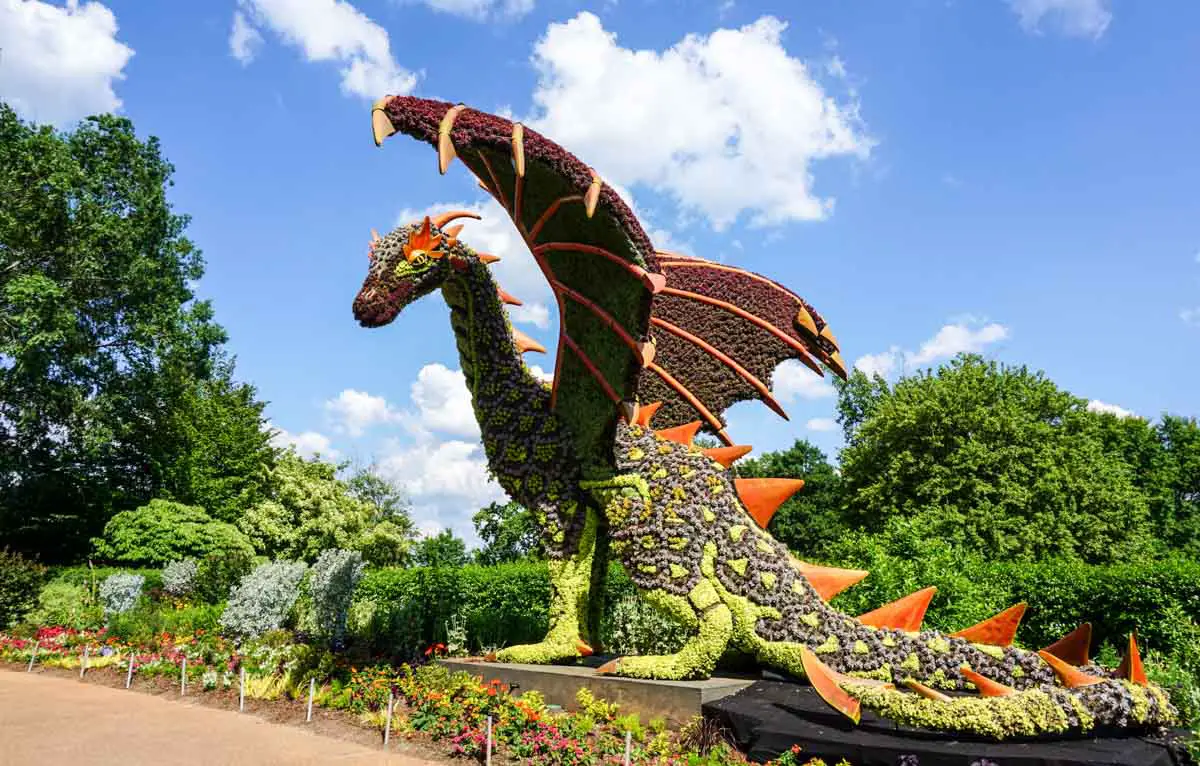 Earth Goddess: A Must-See Exhibit
The focal point of the tranquil Cascades Garden, the Earth Goddess stands 25 feet tall and is made of 18,000 live annuals. She was a highlight of the Garden's 2013-14 Imaginary Worlds exhibit and has been part of the permanent collection and an Atlanta icon ever since.
Alice In Wonderland The Garden
In 2020, you can step through the rabbit hole into the imaginary world of Alice's Wonderland until Nov. 1 at the Atlanta Botanical Garden. When I visited in 2019, Alice's Wonderland included living sculptures of the cheshire cat mischievously grinning as Alice naps in the Perennial Garden. And, in the Skyline Garden, I spied the White Rabbit and the Red Queen's army of cards. The Garden says to expect even more at the Alice's Wonderland Reimagined exhibit with a 16-foot Red Queen and a brand new 14-foot Alice rotating in the Howell Fountain.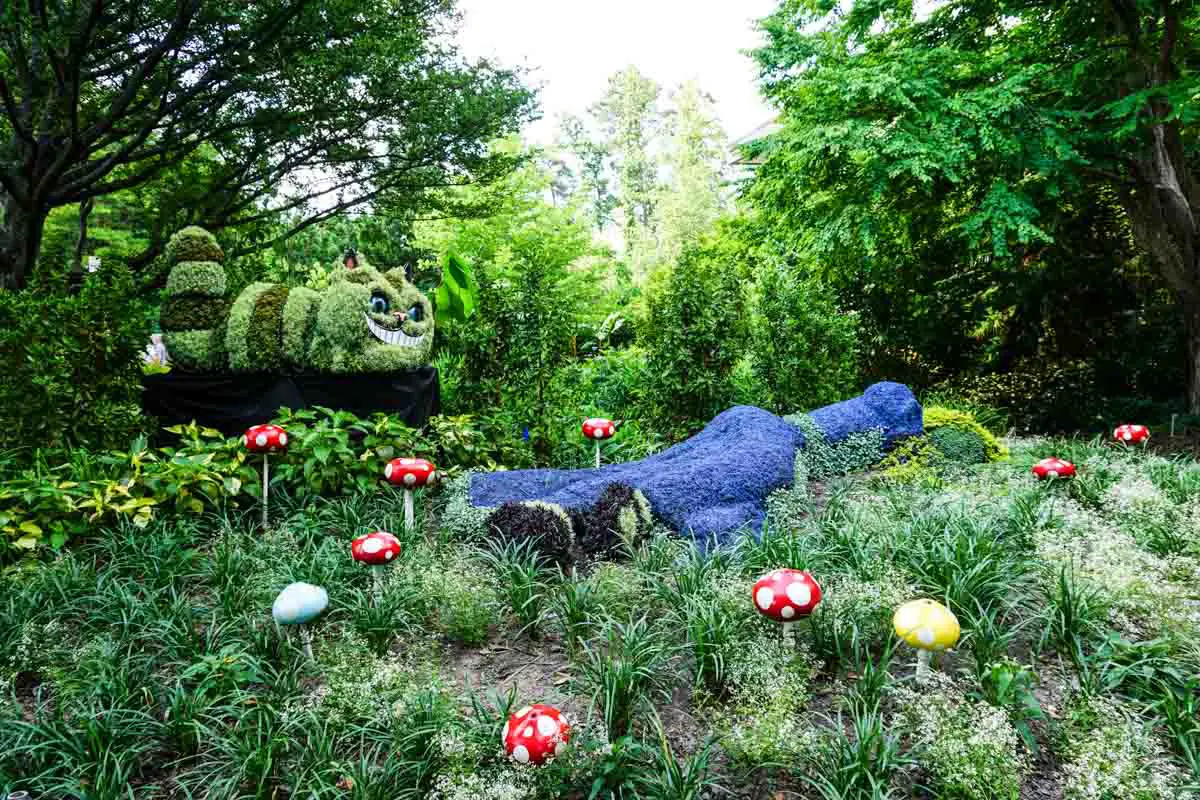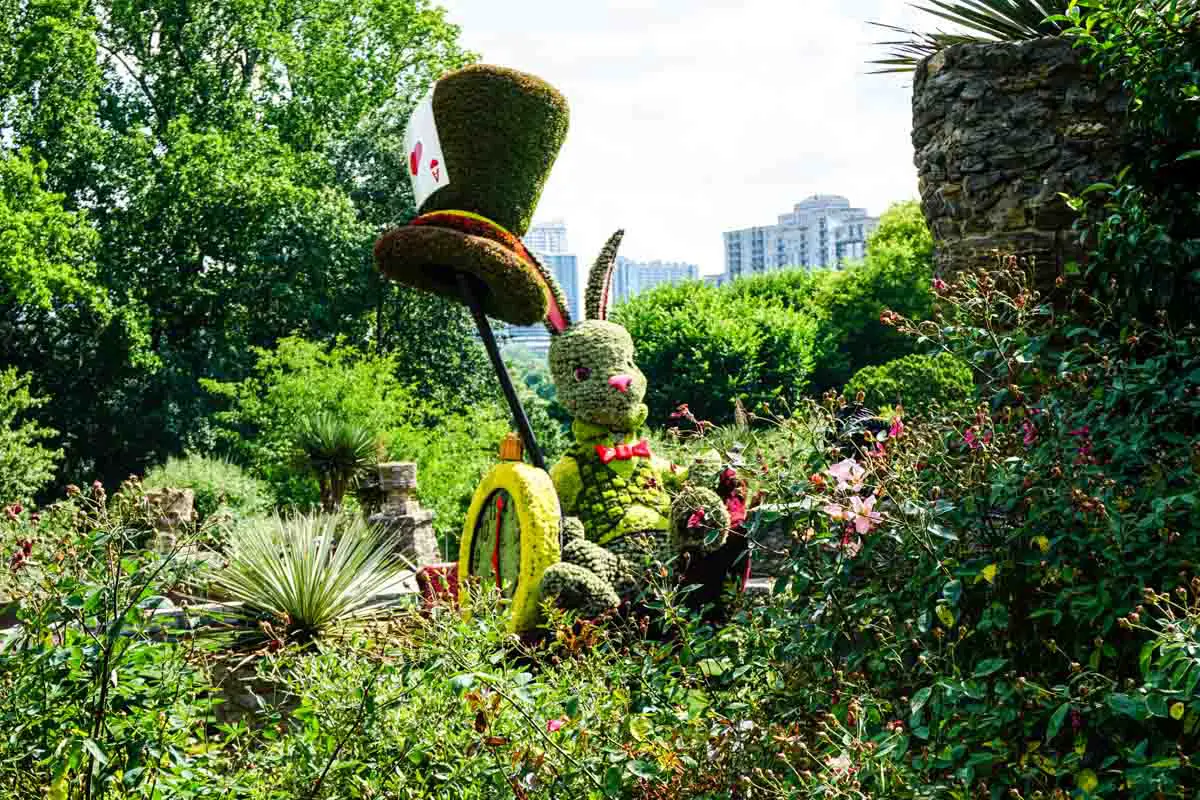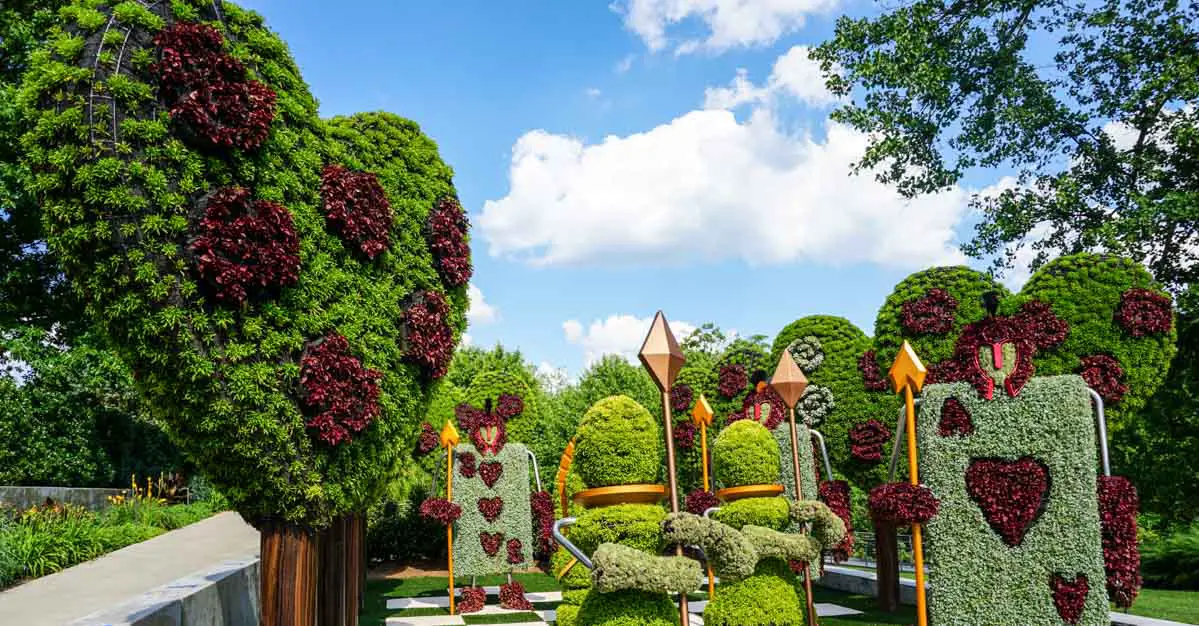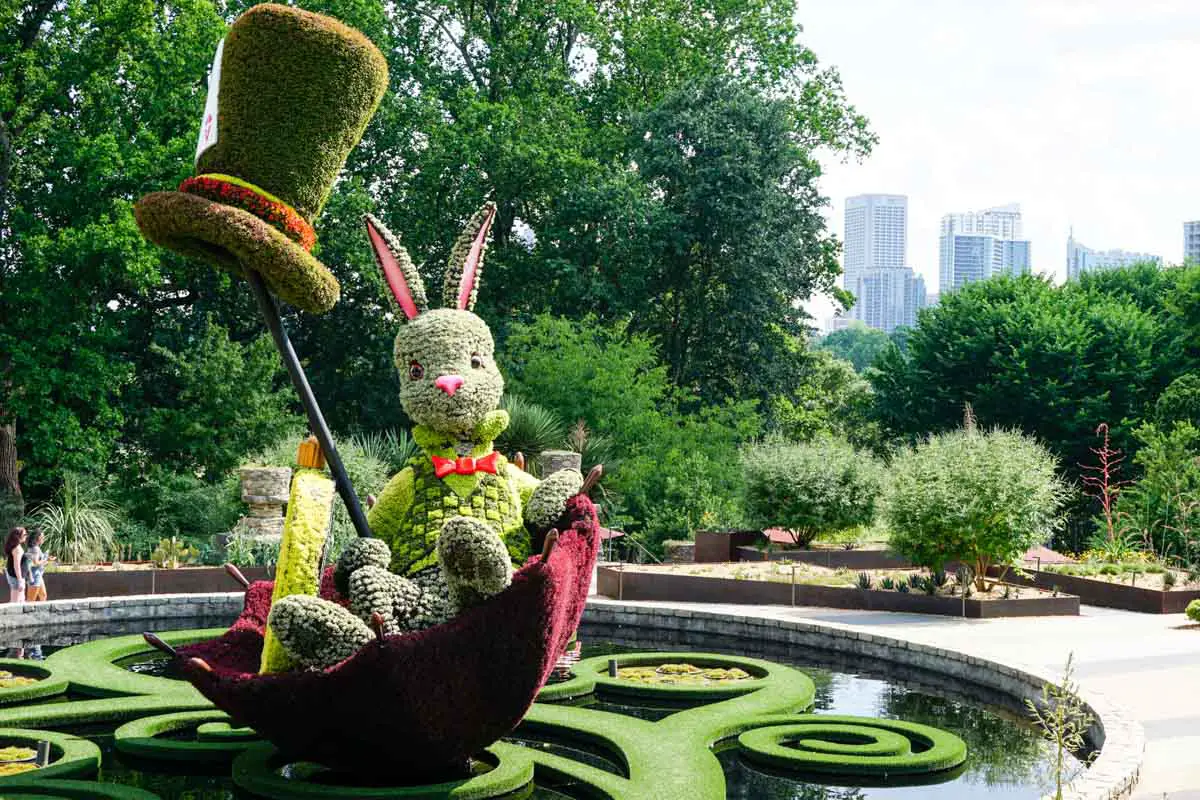 Things To Know Before Visiting Atlanta Botanical Garden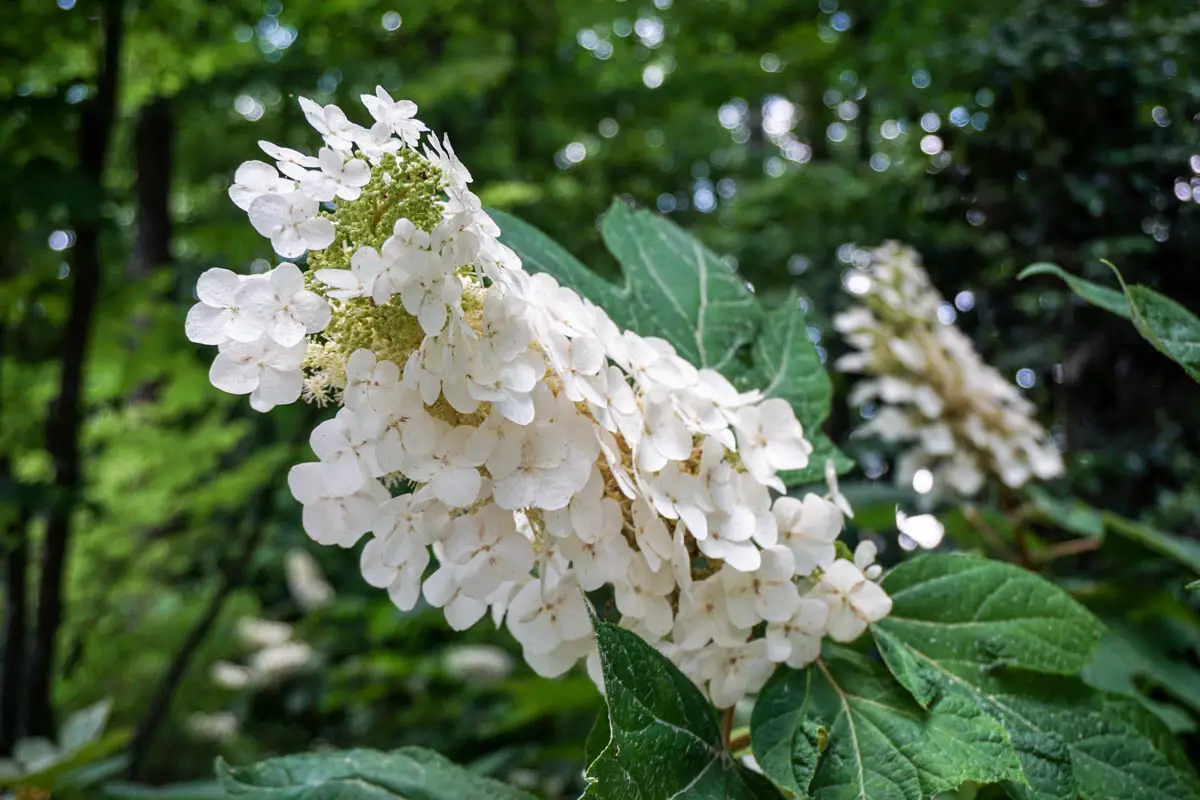 Location: 1345 Piedmont Ave NE, Atlanta, GA 30309
Public Hours: 9 a.m. – 9 p.m. Tuesday – Sunday
Members-only Hours: 8 a.m. – 9 p.m. Monday
Admission Cost: $21.95 ages 13+, $18.95 ages 3-12, free for children younger than 3 (does not include sales tax)
Accessibility: Handicap parking and elevators are available in the parking deck. When the parking garage is full, handicap drop-off is still allowed.
Parking: Parking is available on levels 4-6 of the SAGE garage accessed via the Garden's Piedmont Avenue entrance. It costs $2 for the first hour and $1 for each additional 30 minutes with a maximum daily rate of $15.
Where To Stay Nearby: Hyatt Centric Midtown Atlanta (.8 miles/1.2 km)
Safety Guidelines:
Visitors should purchase tickets online for specified time slots, as a limited number of visitors will be allowed to enter the Garden every 15 minutes. You must arrive within 15 minutes of your ticketed entrance time. Please note, the Garden may not be able to accommodate late arrivals depending on capacity. Members should also reserve their time slots online prior to visiting.
Face masks are required inside restrooms and are strongly encouraged at all times for visitors age 2 and older.  All staff and volunteers are required to wear masks.
Visitors must follow social distancing guidelines of maintaining 6-feet distance between themselves and visitors from other households.
Some pathways will be designated for one-way traffic.
Hand sanitation stations will be located around the garden.
Wheelchairs and motorized scooters will not be provided.
Visiting Atlanta?
If you plan to visit Atlanta once you feel safe to travel again, Discover Atlanta is a helpful resource for planning your trip. I've also written about 10 must-have culinary adventures in Atlanta and my experience learning to bake buttermilk biscuits during a Learning Kitchen Atlanta cooking class.
For hotels, I recommend where I stayed — the Hyatt Centric Midtown — for its convenient location near Atlanta's top cultural attractions, including the High Museum of Art, the Museum of Design Atlanta, the Margaret Mitchell House, and, of course, the Atlanta Botanical Garden.
Save this post to Pinterest for future reference!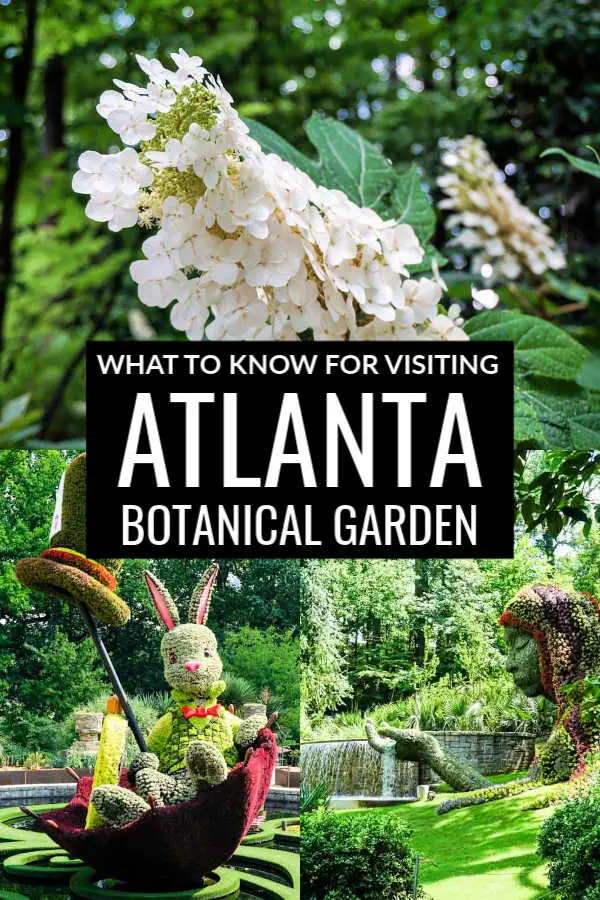 If you love visiting gardens, don't miss these posts