April showers bring May flowers, and, in one West Michigan city, those flowers are tulips. Hundreds of thousands of tulips bloom in colorful rows each May during the annual Tulip Time in Holland, Michigan.
During peak bloom, Dutch dancers perform and high school marching bands parade through the quaint downtown as part of the annual Tulip Time festival. In 2021, Tulip Time runs from May 1 through May 9 in Holland, Michigan.
Disclosure: This post contains affiliate links. When you click on one of these links and make a purchase, I may earn a small commission. Of course, this is at no extra cost to you.
Where is Holland, Michigan?
If you've gotten this far into this post without realizing the Holland I'm talking about is in the United States, let me clarify that right now. Located about 30 miles southwest of Grand Rapids, Holland is a fun day-trip destination from West Michigan's largest city.
Holland is also about 150 miles around Lake Michigan from Chicago (about a 2.5-hour drive) and 180 miles west of Detroit (about a three-hour drive) — perfect for weekend escapes from either Midwest city.
Visiting from further away? The closest major airport — Gerald R. Ford International Airport (GRR) — is about 35 miles from Holland.
Holland's Dutch Roots
As you visit Holland, Michigan, you'll notice tulips, windmills, and wooden clogs are pretty common sights. Settled in the mid-1800s by Dutch immigrants, many residents today have Dutch ancestry and are quite proud of their city's Dutch roots. That local heritage has become integral to the city's culture, attractions, and eateries.
You'll see that Dutch heritage on display at attractions such as Nelis' Dutch Village, Windmill Island Gardens, and DeKlomp Wooden Shoe & Delft Factory. Of course, it's also celebrated during the annual Tulip Time in Holland. Each May, Tulip Time features Dutch dances, music, food, traditional costumes, and a city abloom with tulips.
Unfortunately, the tulips only bloom for a short period of time. So, if you want to see the tulips, it is best to plan for a visit to Holland in early to mid-May. This will likely coincide with the annual Tulip Time festival, which includes parades, Dutch dance performances, a race, and more events.
Where Can You Find Tulips In Holland, Michigan?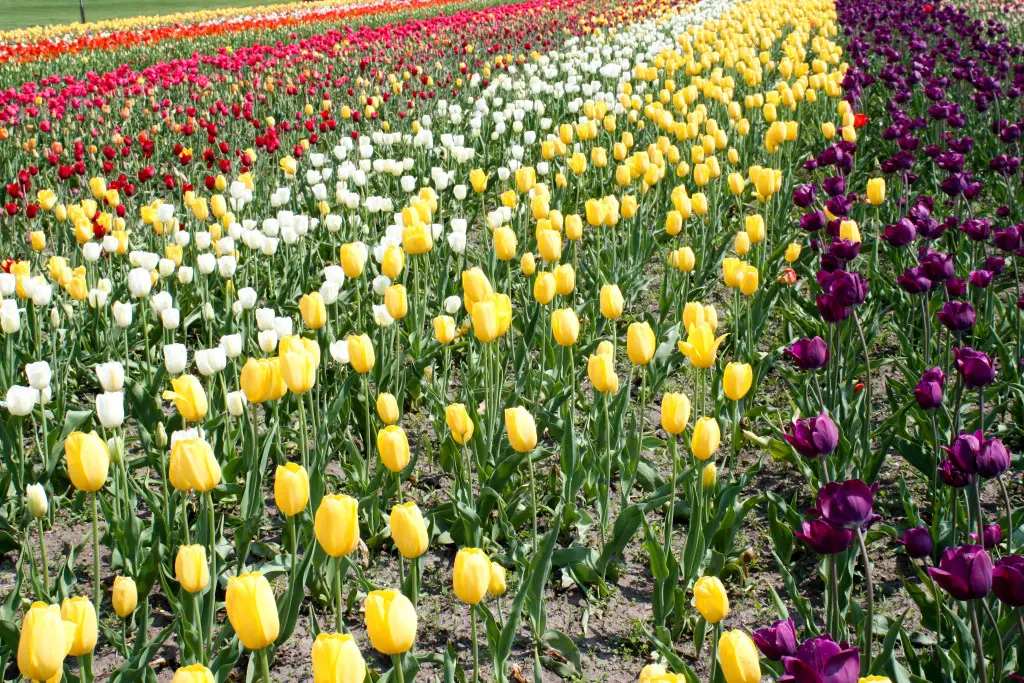 If you are reading this post, you are probably wondering where to see tulips in Holland, Michigan. For visitors going to Holland during Tulip Time for just one day, I recommend picking one or two stops to view tulips. Here are a few sites where you'll find flower beds full of tulips in bloom:
Downtown Holland — The city plants 200,000 tulips at its city parks and downtown area. Walking along 8th Street, you'll see plots of tulips among the downtown shops, restaurants, and breweries, including New Holland Brewing's Pub on 8th.
Centennial Park — Located at 10th Street and Central Avenue, this city park boasts a colorful display of tulips.
Window on the Waterfront Park — At this 30-acre park along the Macatawa River, you'll see thousands of tulips as you utilize the walking and bike paths.
Tulip Lanes — See six miles of Holland's streets lined with 200,000 tulips.
Windmill Island Gardens — This 36-acre park features an island in the Macatawa River with a 250-year-old Dutch windmill. Located at 1 Lincoln Avenue, it's one of the most popular tulip-viewing spots in Holland.
Veldheers Tulip Farm — Located at 12775 Quincy Street, this tulip farm plants five million tulips!
Explore the map to pinpoint where to find tulips in Holland, Michigan:
Pro Tip:
Once you decide upon where to view tulips, you can easily build your day's itinerary around that destination. However, first take a look at the Tulip Time Festival's schedule of activities. Parades and races affect street closures and traffic delays. Unfortunately, I'm speaking from experience. Trust me, I seriously regretted not checking this schedule so I could map a different route from my lunch destination to Windmill Island Gardens before getting stuck in a parade-induced traffic jam. FYI, there have been three parades on the festival's schedule in years past. You've officially been warned. 😉
My Day Visiting Tulip Time in Holland, Michigan
On the day I drove down from my home base in Grand Rapids to see the tulips and get in touch with my own Dutch ancestry, I made three stops in Holland. Of course, I wanted to see tulips, but I also wanted to try a local eatery known for its Dutch foods.
de Boer Bakkerij & Dutch Brothers Restaurant
My first stop in Holland was for lunch at a Dutch bakery and local breakfast favorite. If you are looking for a true Dutch meal, the de Boer Bakkerij & Dutch Brothers Restaurant's north side location on Douglas Avenue offers pea soup — a staple of the simple and rustic Dutch cuisine. You'll also find croquettes — a fast-food delicacy in the Netherlands — on the lunch menu.
After finding the casual eatery packed with a waiting list to be seated, I checked out the bakery's case of doughnuts, breads, cookies, and pastries as I kept an eye on the first-come, first-served counter. Within a few minutes, a seat was vacated, and I sat down between a local young couple and an older couple staying in town for the tulip festival. By the time I finished my meal around 1:15 p.m., the dining room was clearing out. This is truly a breakfast hot spot.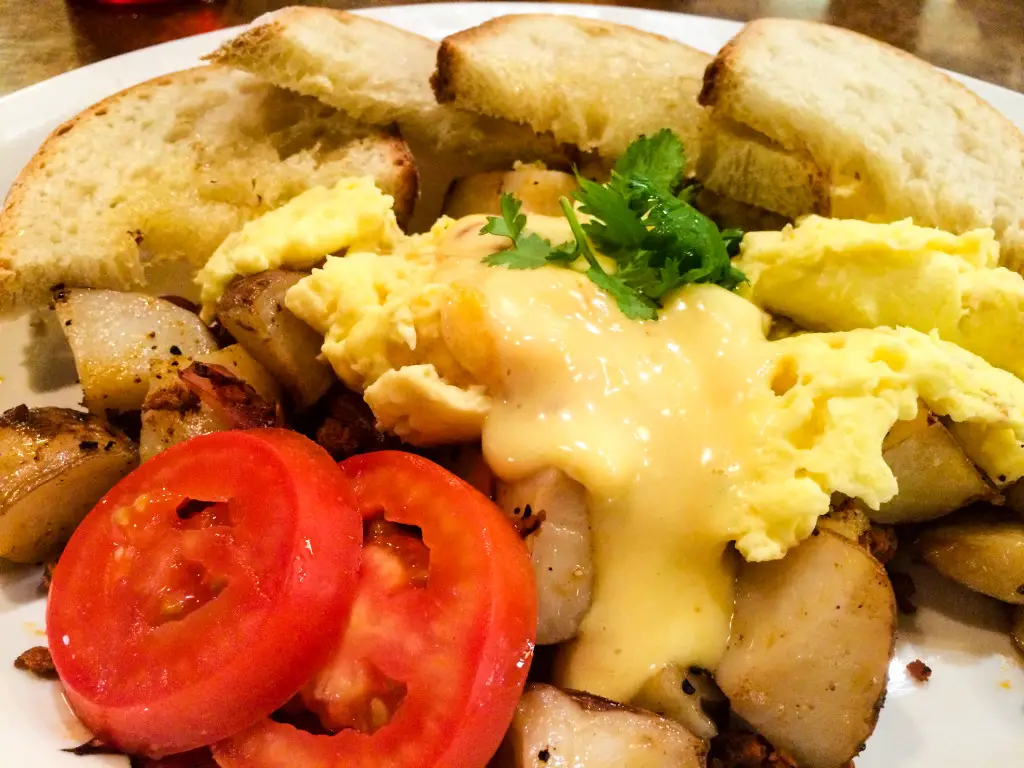 Sitting at the counter, I had quick and attentive service and a view into the bustling kitchen. I ended up ordering the Hippy Hash, a breakfast dish of Dutch potatoes fried with scrambled eggs, chorizo, and Bermuda onions. It's topped with a chipotle hollandaise and served with two fresh tomato slices and sourdough toast. It was a delicious dish. The potatoes and eggs gave the hash a lot of substance to make it a really filling meal, and the chorizo, of course, added a punch of flavor and spice. I'd definitely order this again, if I weren't so interested in trying so many of the other breakfast items on deBoer's menu, of course!
If you plan to dine here while visiting Holland, come for breakfast and prepare to wait for an open table. I'm confident you'll find your meal worth the wait. There is a considerable mix of breakfast and lunch fare including savory hash dishes, sweets off the griddle, healthy salads, and bakery treats.
de Boer Bakkerij is located at 360 Douglas Avenue. The south side location at 380 West 16th Street offers doughnuts, ice cream, and fried chicken.

Windmill Island Gardens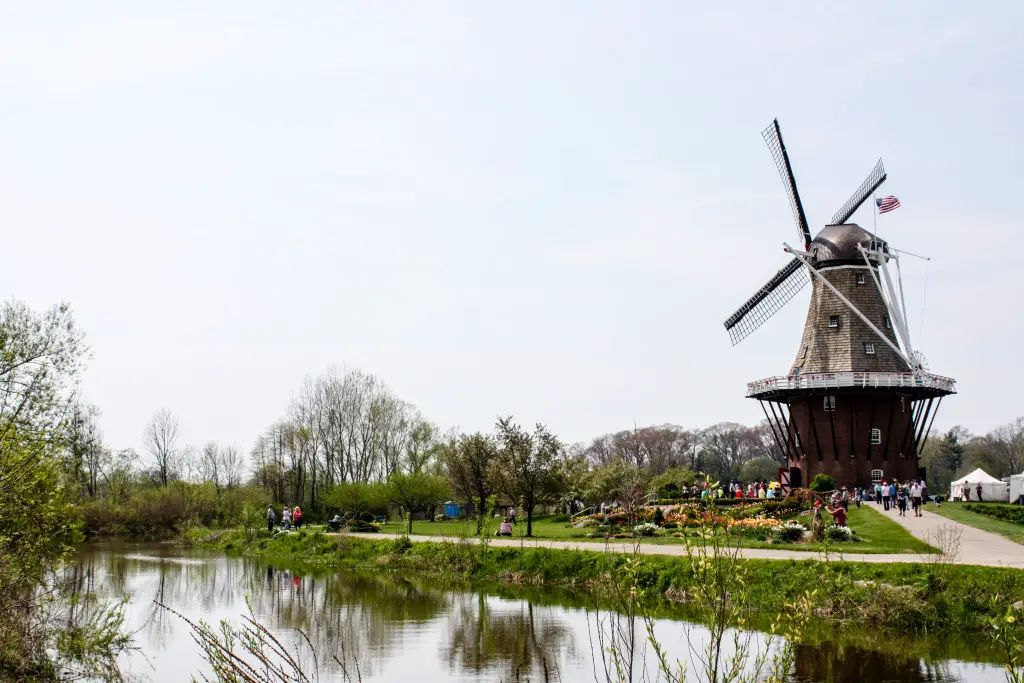 During the Tulip Time festival, there are several locations around Holland to view the colorful tulip beds. I thought Windmill Island Gardens, which plants 100,000 tulip bulbs each year, would be particularly picturesque because of its authentic Dutch windmill.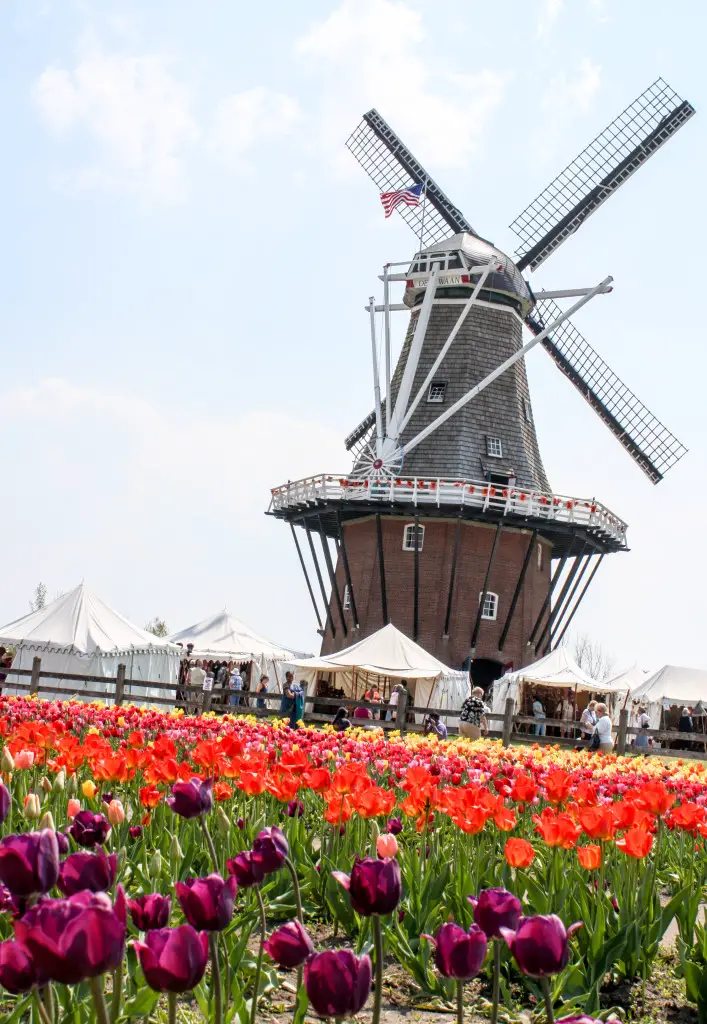 Named De Zwaan, meaning "the swan," this windmill was the last to leave the Netherlands and is the only working Dutch windmill in the United States. Perhaps having visited Holland so much as a child and having seen windmills in the Netherlands, I never fully appreciated how rare it is to see a Dutch windmill outside of Europe. However, after hearing De Zwann's history, I've realized it truly is an unique monument and quite fitting for a city named after the settlers' homeland.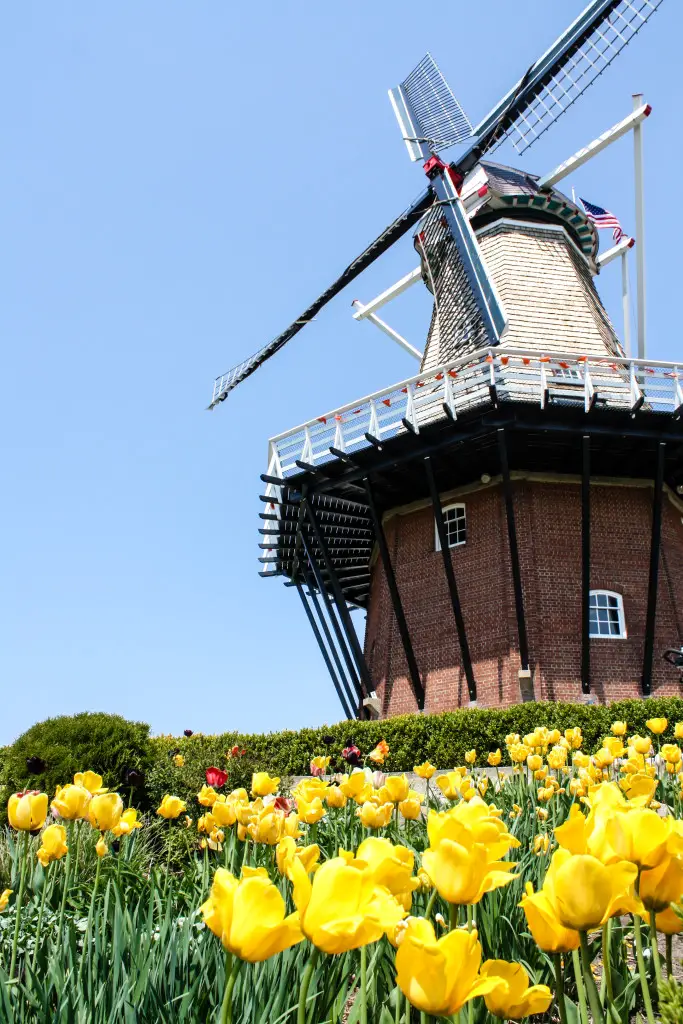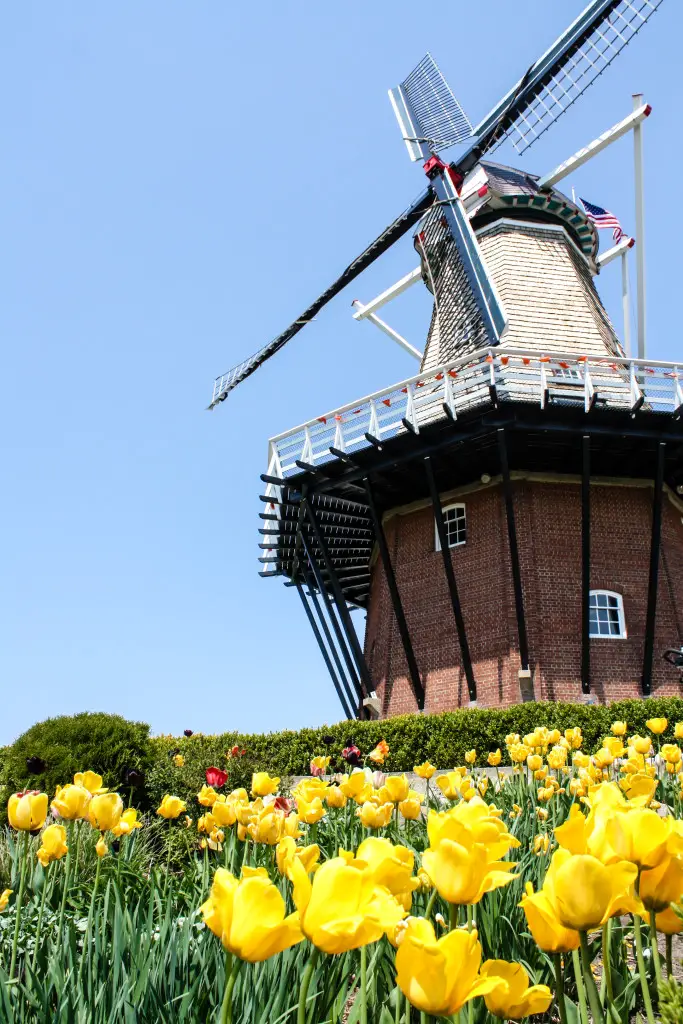 The five-story windmill has quite the tale. First erected in the 1700s, De Zwaan has been moved and reconstructed twice since then – once in the Netherlands and then in the 1960s to Holland. Before coming to the United States, the mill served as a watchtower during WWII and, by some accounts, was heavily damaged in the crossfire. The Netherlands actually banned the international sale of their windmills following WWII – with the exception of De Zwaan, of course. See what I mean by how unique it is to see a Dutch windmill without actually traveling to the Netherlands these days?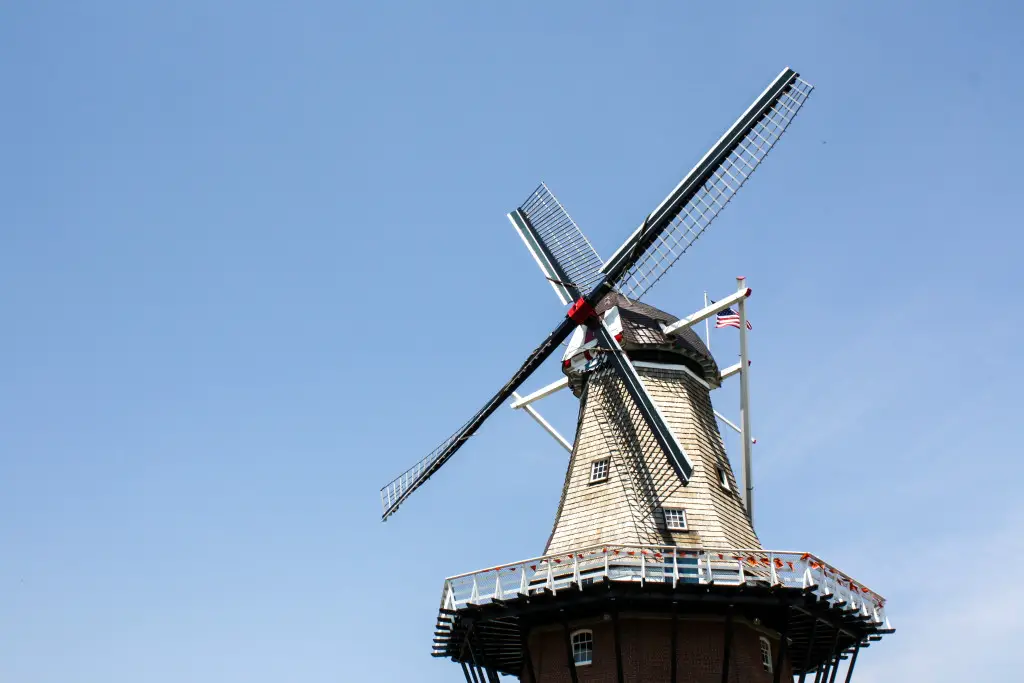 On the guided tour of De Zwaan, I learned that the miller, Alisa Crawford, is the only Dutch-certified miller in the Americas. She is a member of the professional grain millers guild of the Netherlands. My tour guide described the guild as an elite group of 50 millers — 49 Dutchmen and one American woman.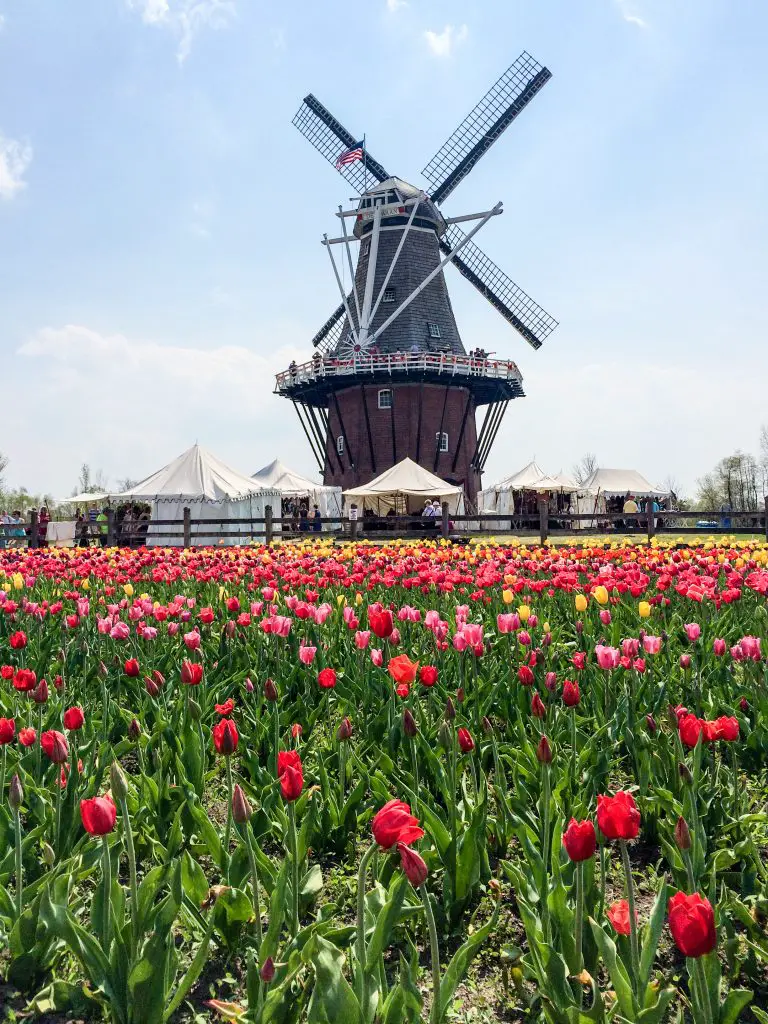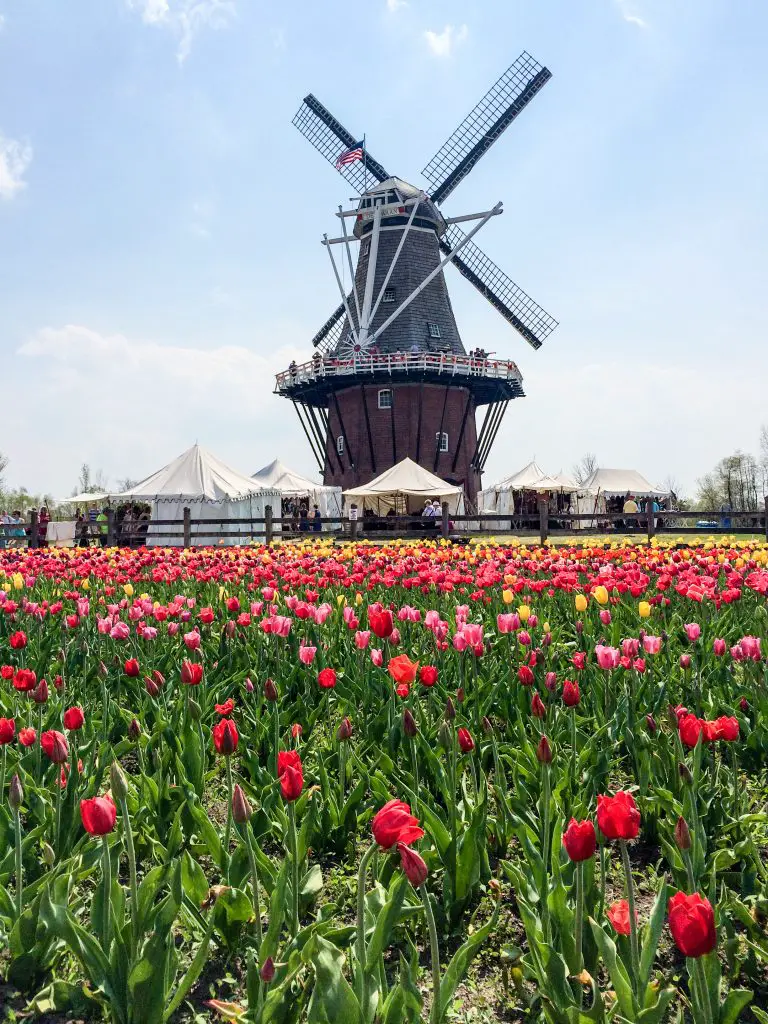 After touring the windmill, seeing the large tulip beds was next on my agenda. The tulips were planted in rows of color – red, pink, yellow, white, and purple. It was a beautiful sight.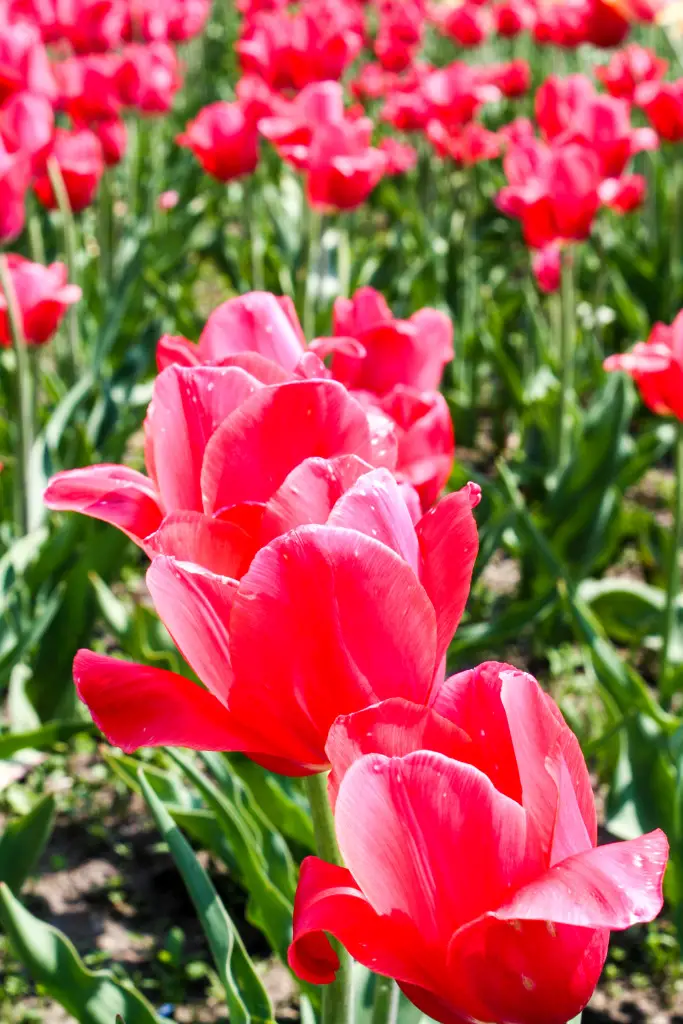 When you look at my photos of the tulips, do you imagine I took a leisurely stroll through the garden, stopping to take perfectly unfiltered Instagram-worthy photos? It was NOT like that. Do not expect viewing the tulips during Tulip Time to be a serene activity.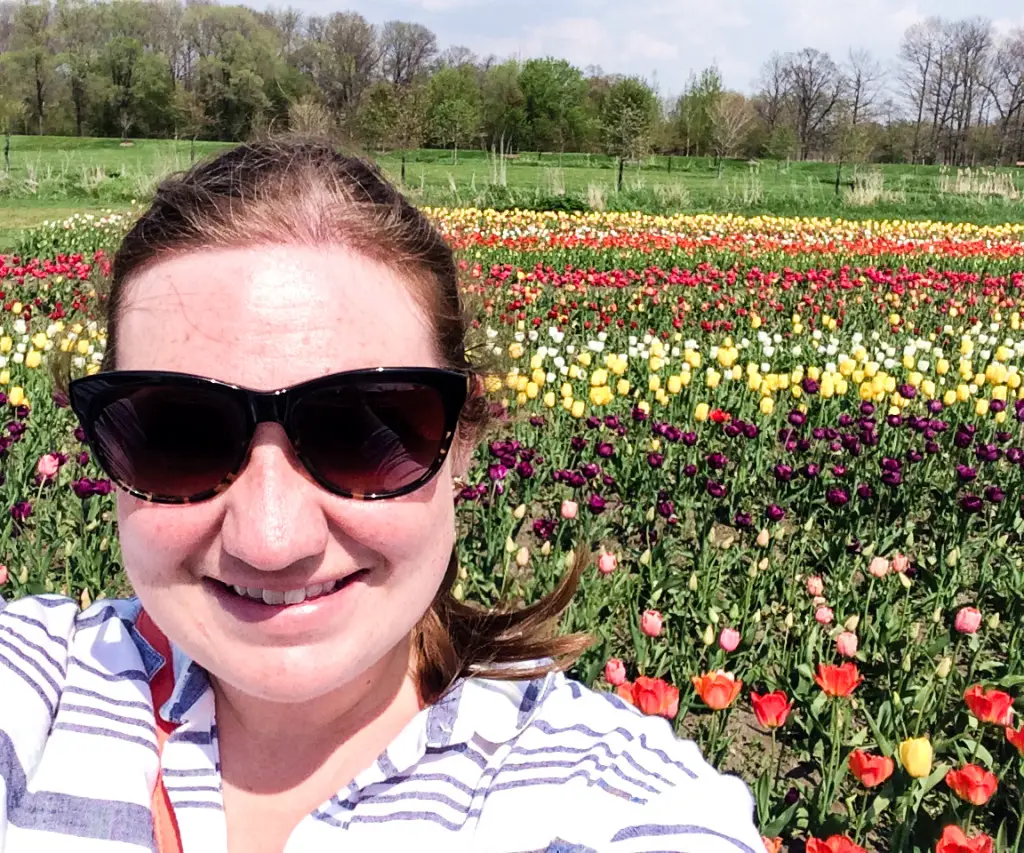 It was 85 degrees. I was pretty grossly covered in sweat. My hair was doing that high-humidity frizz thing. People were always in my shot. Seriously, I attempted this selfie five times, eventually giving up when I realized no angle could capture me, tulips and not a single other person. During the editing process, I cropped this image to delete the imposing tourist.
Note to selfie takers and Instagram fanatics: You'll still get beautiful tulip photos, but patience — a trait I often lack, especially in heat and humidity — is probably key. Despite the crowds and unusually high heat and humidity for May in Michigan, my visit was totally worth any discomfort I was feeling.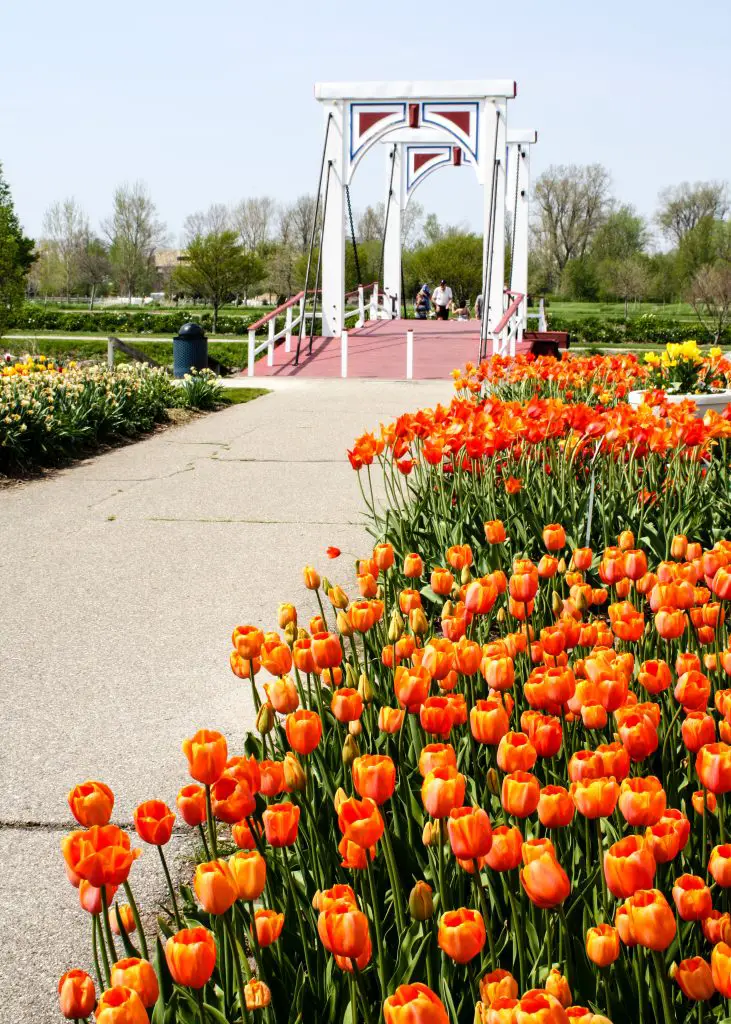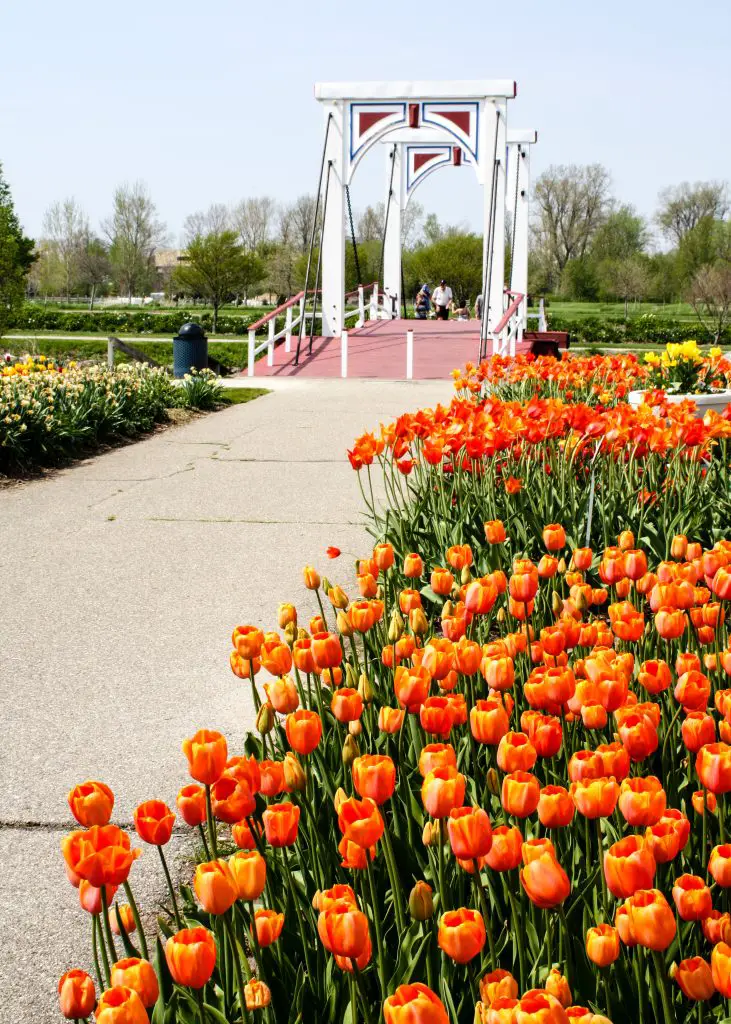 Beyond the windmill and tulips, Windmill Island Gardens is adorable. There are picturesque gardens, a children's playground, and a carousel, too.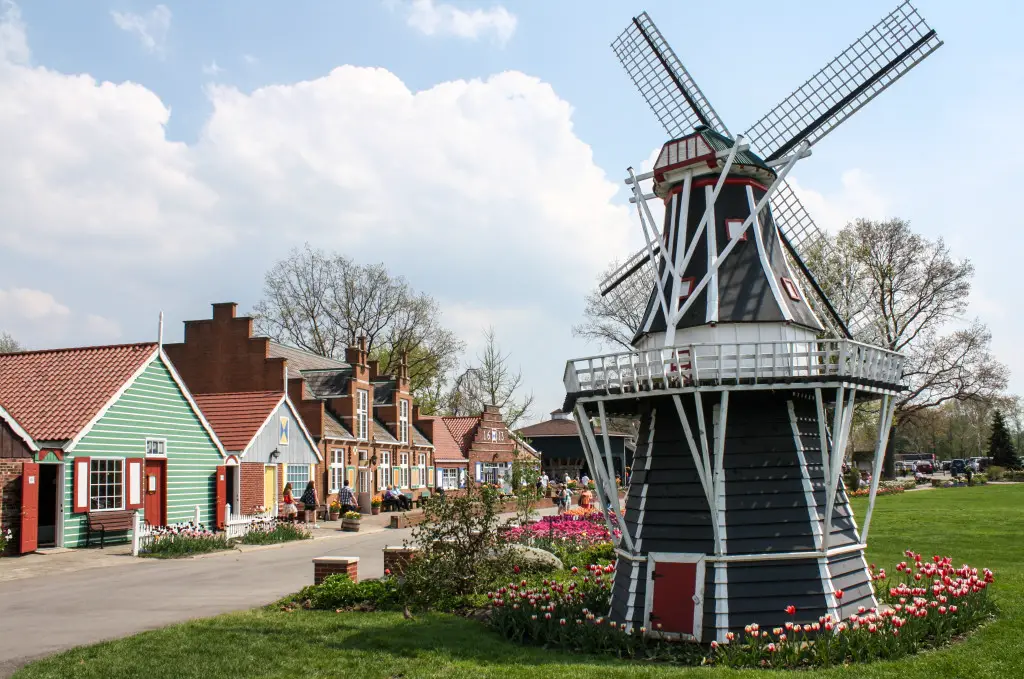 At the gift shop, you can purchase your own set of wooden clogs, Delft pottery, or whole wheat flour stone ground at De Zwaan. I purchased a Delft ornament shaped like a clog to hang on my travel-ornament adorned Christmas tree. What would you choose as your souvenir?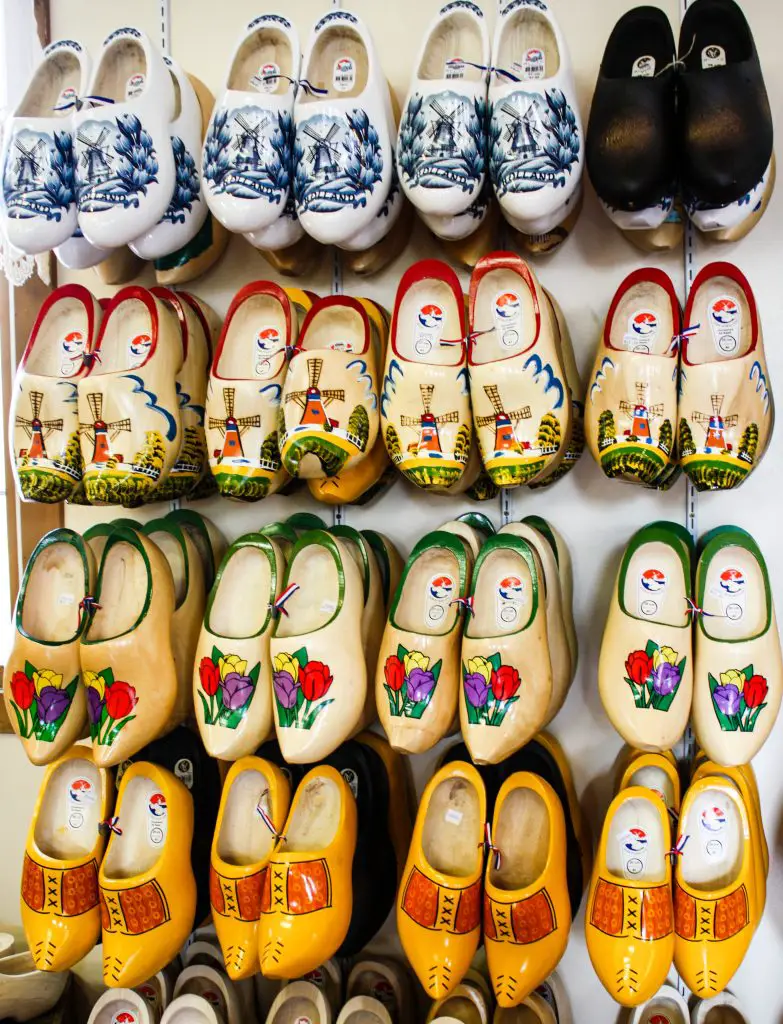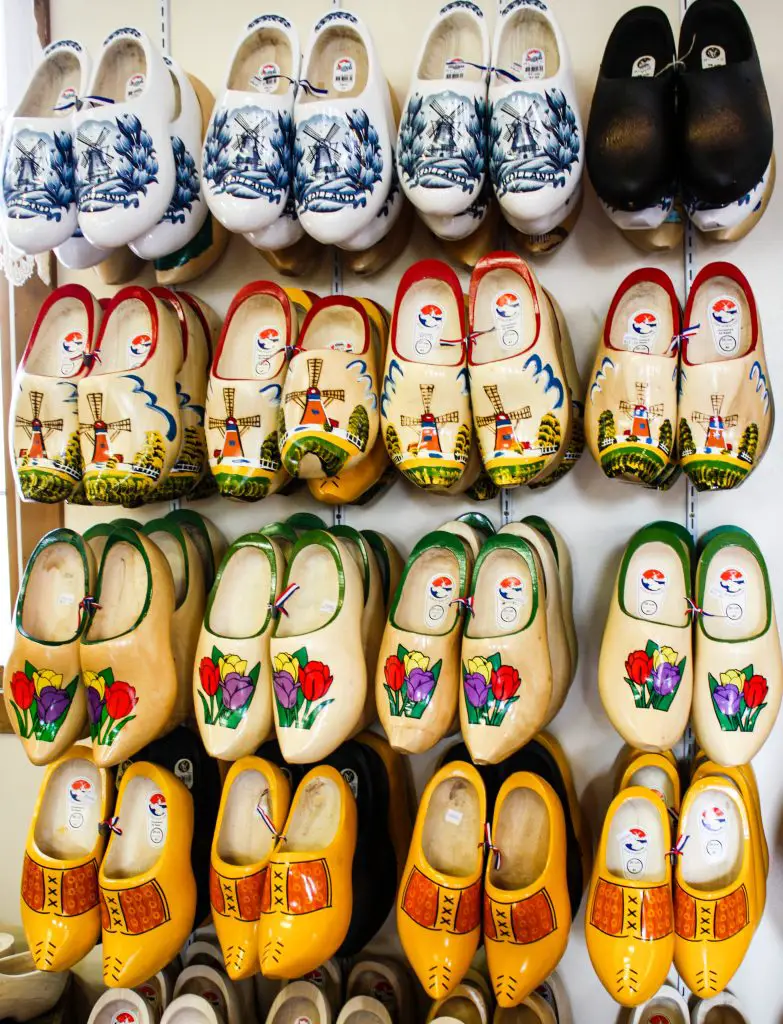 Windmill Island Gardens is located at 1 Lincoln Avenue.
Captain Sundae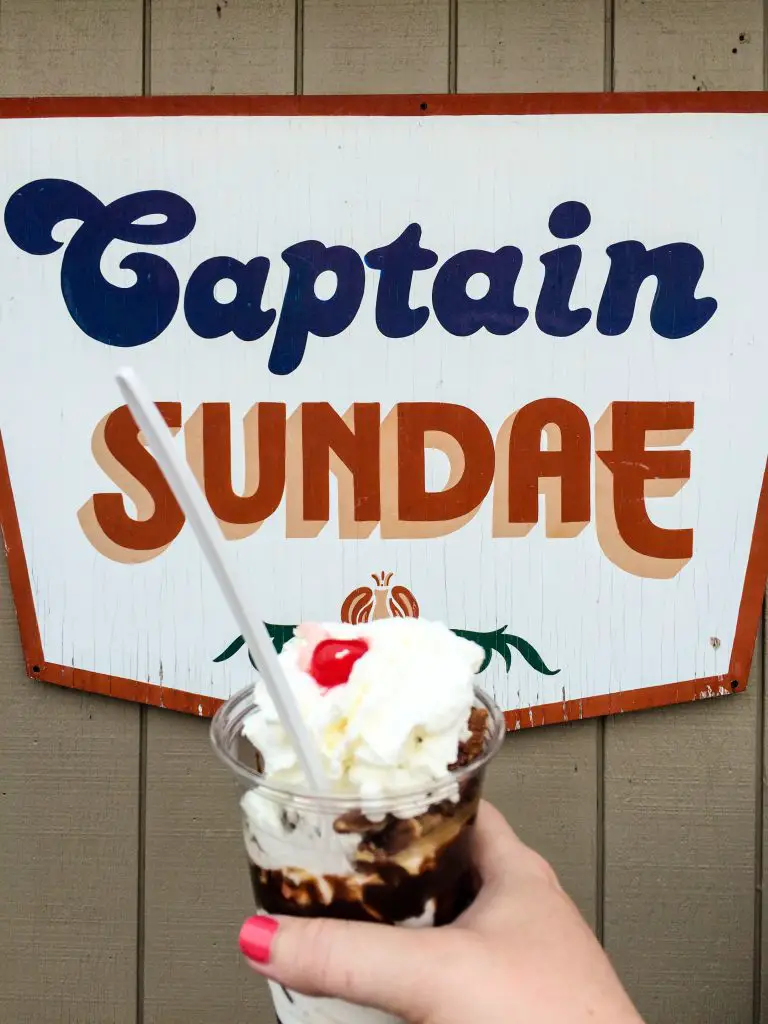 Remember when I was complaining about it being 85 degrees? Yeah, I was so over being hot, sticky, and sweaty by the time I walked out of Windmill Island Gardens, downing a whole $1.50 bottle of water in the process. It was then I decided to abandon visiting downtown Holland for Plan B: Ice cream!
Captain Sundae, located across Douglas Avenue from my lunchtime destination de Boer, is known for its "famous" Tommy Turtle. The sundae earned the presidential stamp of approval when President George W. Bush ate it in 2004.
President Bush and I may not agree on much, but we apparently have similar taste in ice cream sundaes. The Tommy Turtle is a twist on the classic hot fudge with the addition of hot caramel and buttered pecans. The buttered pecans are a game changer. This sundae combines the best of butter pecan ice cream's flavor and all the traditional hot fudge sundae ingredients we've come to love — with a generous dollop of whipped cream. It was heavenly.
On this unseasonably hot May day, Captain Sundae was a hot spot, especially among local teens and families. Kids climbed atop the ship, while parents waited in two long lines outside the shop's windows labeled "Captain" and "First Mate." Most patrons were walking away from the counters with multiple sundaes — all with unique names like the Yukky Sailor, the Beach Bum, and the Scottish Captain.
It was all so quirky and so ship-themed, I couldn't help my childlike joy as I dug into my yummy sundae. I couldn't think of a more appropriate way to end my day revisiting a day trip destination of my childhood.
Captain Sundae is located at 365 Douglas Avenue. There are two more Captain Sundae locations nearby. One is located at 247 West 40th Street in Holland, and the other is located at 537 West Main Avenue in Zeeland. 
Save this post to your Michigan travel Pinterest board for future reference!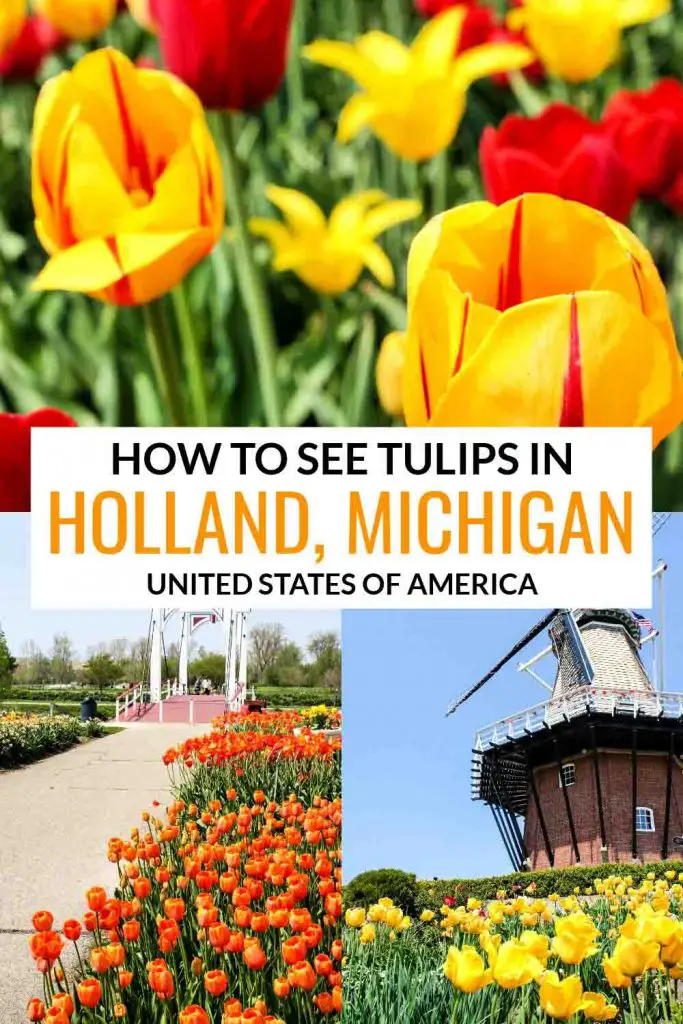 Where To Stay In Holland, Michigan
For Boutique & Unique Experiences
CityFlatsHotel Holland — This 3.5 star boutique hotel is centrally located to downtown Holland's shopping, dining, and tulips. Also, it was the first hotel in the Midwest to be LEED Gold certified and offers an on-site lounge with full breakfast, lunch, and dinner menus, including vegan and gluten-free options. CityFlatsHotel Holland is rated 4.5 out of 5 on TripAdvisor and 8.8 out of 10 on Booking.com.
Pigeon Creek Inn — This charming bed and breakfast is an adult-only oasis perfect for couples headed to Holland for a tulip-filled romantic getaway. Check availability for your travel dates and book your room at this romantic B&B with an exceptional 9.8 rating on Booking.com!
Teerman Lofts — Located on the second and third floors of Teerman's department store, the six suites offer full kitchens. The lofts have an "excellent" 5.0 out of 5 TripAdvisor rating.
On Rewards Points
Courtyard Holland Downtown — Earn or use Marriott Rewards points when you stay at this three-star hotel in downtown Holland. The Courtyard Holland Downtown is rated 4.5 out of 5 on TripAdvisor and 9.4 out of 10 on Booking.com.
Hampton Inn Holland — Recent renovations make this a great place to earn or burn Hilton Honors points when visiting Holland. The hotel is located within a mile of Nelis' Dutch Village and Veldheers Tulip Farm. The Hampton Inn Holland is rated "excellent" by TripAdvisor users.
Holiday Inn Express Holland — Have IHG points to use? Consider this family-friendly hotel with an indoor pool and hot tub. It's rated 4.5 out of 5 on TripAdvisor and 8.8 out of 10 on Booking.com.
Use the search box below to find your Tulip Time accommodations now, and remember to book early for this event!
If You Liked This Post About Holland's Tulip Time, You Might Enjoy These Related Posts
New Holland Brewing Celebrates 20 Years Of Craft Beer – When in Holland, visit the New Holland Pub on 8th for food, craft beer, and craft spirits at one of the pioneers of Michigan's booming craft beverage scene.
Saugatuck, Michigan: Four Things To Do In A Day – About 12 miles south of Holland, Saugatuck and Douglas are two charming small towns full of bed & breakfast lodging, local foodie-approved food and drink, sand dunes, art galleries, boutique shops, and beaches.
Where To Eat In Saugatuck: 7 Spots To Dine Like A Local Foodie – Wondering where to eat and drink when you stop in Saugatuck or nearby Douglas? This post gives you the inside scoop on the local foodie spots!
Mitten in Bloom Guide: When and Where to See Flowers in Michigan – In addition to Tulip Time in Holland, Michigan is known for its cherry blossoms, spring wildflowers, sunflowers, beautiful botanical gardens open all year long, and more colorful petals worthy of planning a day trip or weekend getaway to see firsthand.
Refer back to this post by saving it now to your Michigan travel board on Pinterest!