April showers bring May flowers, and, in one West Michigan city, those flowers are tulips. Millions of tulips bloom in colorful rows each May during the annual Tulip Time festival in Holland, Michigan.
During peak bloom, Dutch dancers perform and high school marching bands parade through the quaint downtown as part of the annual Tulip Time festival. Tulip Time 2023 runs from May 6 through May 14 in Holland, Michigan.
In this guide to visiting Tulip Time in Holland, Michigan, you'll learn:
Where Holland, Michigan, is located and how to get there
About Holland's Dutch roots
Where to stay in Holland during Tulip Time
Where to see tulips in Holland, Michigan
About Tulip Time's top attractions
More things to do in Holland during Tulip Time!
Disclosure: This post contains affiliate links. When you click on one of these links and make a purchase, I may earn a small commission. Of course, this is at no extra cost to you.
---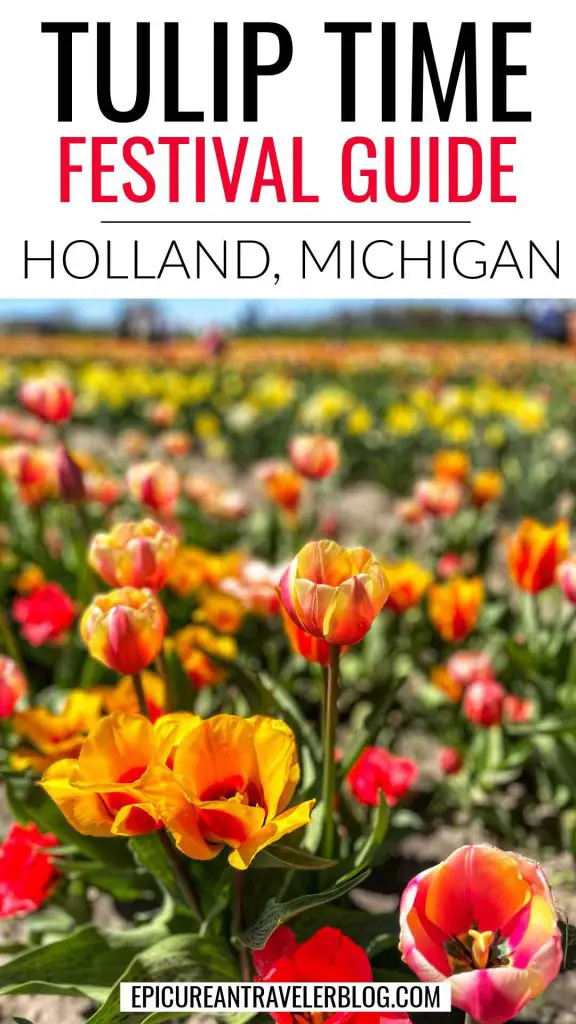 Where is Holland, Michigan?
If you've gotten this far into this post without realizing the Holland I'm talking about isn't in the Netherlands, let me clarify that right now. Though visiting Amsterdam in spring to see tulip fields is surely a bucket-list trip, tulip season in Holland, Michigan, in the United States is also worth a visit!
With its location near the Lake Michigan coast in West Michigan, Holland oozes lake-life charm in the summer months. In the spring, this Dutch-settled city attracts visitors for its abundance of beautiful blooms and Tulip Time festivities.
Holland is about 30 miles southwest of Grand Rapids, West Michigan's largest city and home to the closest international airport.
Additionally, several Midwest metro areas are only a few hours away by car. Chicago is about 150 miles around Lake Michigan from Holland, and Detroit sits about 180 miles east.
Therefore, visiting during Tulip Time in Holland can be a fun day trip from Grand Rapids, whether you are a local or visitor. It's also perfect for weekend getaways from Chicago, Detroit, Indianapolis, and Milwaukee.
You could also visit Holland for Tulip Time on a trip through West Michigan. Other destinations to consider for a springtime road trip in West Michigan include St. Joseph, Saugatuck, Grand Rapids, Muskegon, and Ludington.
Holland's Dutch Roots
As you visit Holland, Michigan, you'll notice tulips, windmills, and wooden clogs are pretty common sights.
Settled in the mid-1800s by Dutch Calvinists, many residents today have Dutch ancestry and are quite proud of their city's Dutch roots. That local heritage has become integral to the city's culture, attractions, eateries, and, of course, Tulip Time.
You'll see that Dutch heritage on display at attractions such as Nelis' Dutch Village, Windmill Island Gardens, and DeKlomp Wooden Shoe & Delft Factory.
Of course, the city's Dutch ancestry is also celebrated during the annual Tulip Time festival in Holland. Each May, about a half million visitors attend Tulip Time for the Dutch dances, music, food, traditional costumes, parades, and a city abloom with millions of tulips.
Unfortunately, the tulips in Holland only bloom for a short period of time. Therefore, if you want to see the tulips in bloom, it is best to visit Holland in early to mid-May. This will likely coincide with the annual Tulip Time festival, which includes parades, Dutch dance performances, races, and more events.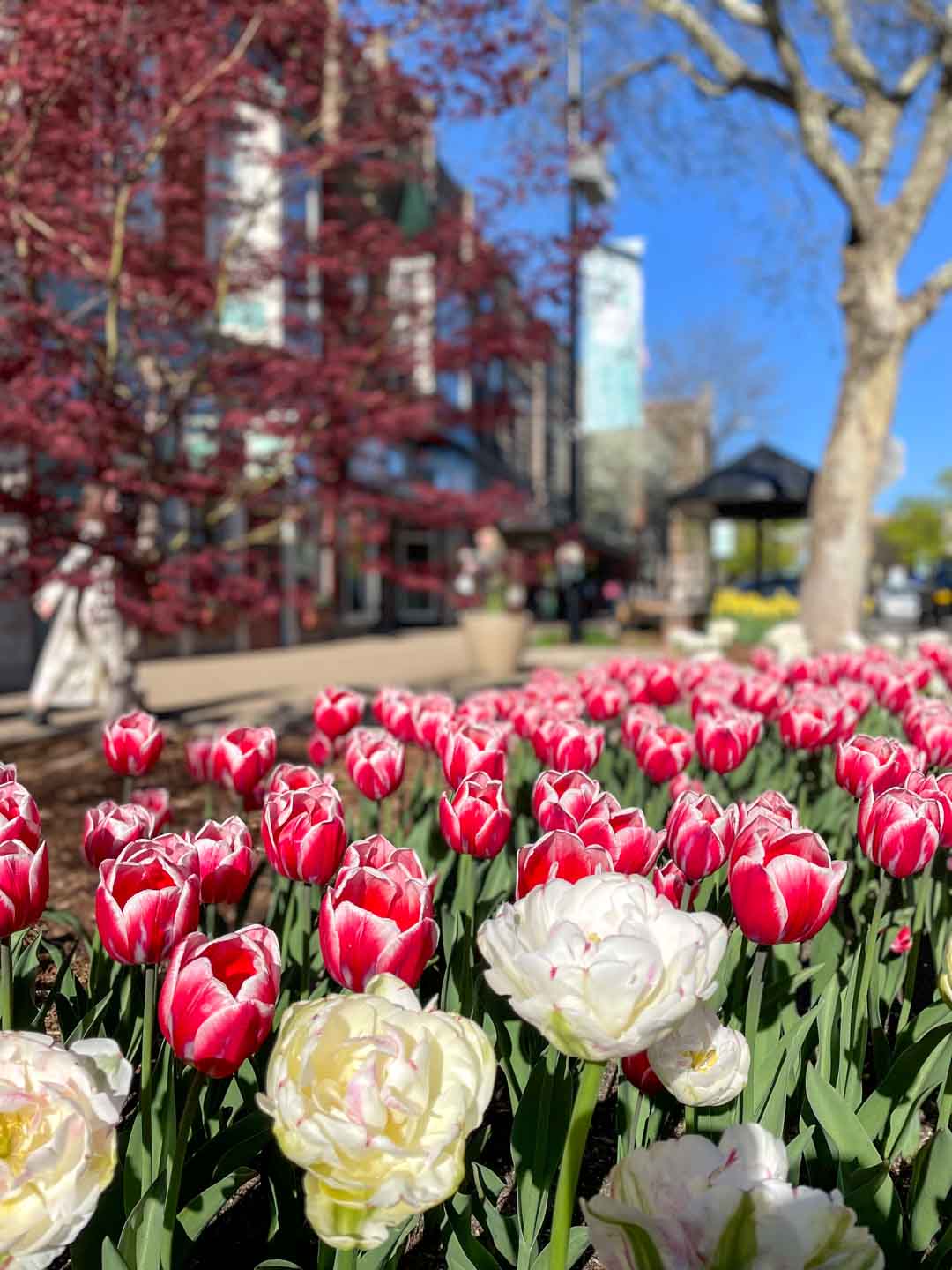 Where to Stay for the Holland Tulip Festival
Wondering where to stay in Holland during Tulip Time? Holland offers a variety of accommodations for visitors including a downtown boutique hotel with eco-friendly features, national chain hotels, cozy bed & breakfasts, and spacious vacation rentals.
I recommend staying in the heart of Holland's charming downtown, where options include the LEED Gold certified CityFlatsHotel Holland, Courtyard by Marriott Holland Downtown, and the Teerman Lofts. From any of these downtown accommodations you can walk to local restaurants, craft breweries, boutique shops, and tulip-filled parks.
However, if you plan to visit Nelis' Dutch Village or Veldheer Tulip Gardens and DeKlomp Wooden Shoe & Delft Factory, you may find the nearby Hampton Inn Holland or Holiday Inn Express to be more convenient.
This boutique hotel was the first Midwest hotel to be LEED Gold certified and is centrally located to downtown Holland's shopping, dining, and tulips.
It offers an on-site lounge with full breakfast, lunch, and dinner menus, including vegan and gluten-free options.
Additionally, you can earn or use Hilton Honors rewards here as the hotel is part of the Tapestry Collection by Hilton.
Also, CityFlatsHotel Holland offers accessible guest rooms, parking, elevators, and other amenities.
Book Now | Check Availability | Learn More
Located on the second and third floors of the longstanding, family-owned Teerman's department store, the six suites offer full kitchens with a home-away-from-home feel.
Also located in downtown Holland, Teerman Lofts is steps from shops, restaurants, and beautiful tulips.
Please note that Teerman Lofts are in a historic building that does not have an elevator. If you or your travel companions can't or have difficulty climbing stairs, there are plenty of other Holland hotels with elevators and wheelchair-accessible rooms and features.
Book Now | Check Availability | Learn More
Earn or use your Marriott Bonvoy rewards points when you stay at this modern hotel in the heart of downtown Holland.
After a day of meandering through tulip fields, relax with a dip in the indoor pool and hot tub.
The Courtyard by Marriott Holland Downtown also offers accessible guest rooms and amenities.
Book Now | Check Availability | Learn More
Recent renovations make this a great place to earn or burn your Hilton Honors points when visiting Holland.
Though the hotel is further from downtown's tulip-lined streets of shops and restaurants, the Hampton Inn Holland is located within a mile of popular Tulip Time attractions Nelis' Dutch Village and Veldheers Tulip Farm.
There are family-friendly features, such as connecting rooms, an indoor pool, a game room, and an onsite restaurant. Plus, pets are allowed, but there is a pet fee and some limitations.
Hampton Inn Holland also offers accessible guest rooms and amenities.
Book Now | Check Availability | Learn More
Have IHG points to use? You might consider the Holiday Inn Express Holland!
This family-friendly hotel is located less than a mile from Nelis' Dutch Village. Plus, it has amenities you and your kids will love including an indoor pool, indoor and outdoor hot tubs, a game room with air hockey and billiards, and a complimentary breakfast buffet.
Additionally, there are accessible features throughout the hotel and wheelchair-accessible rooms with roll-in showers.
Book Now | Check Availability | Learn More
Not quite what you are looking for? Search the map below for more lodging in Holland, Michigan!
Where Can You See Tulips in Holland, Michigan?
If you are reading this post, you are probably wondering where to see tulips in Holland, Michigan. For visitors going to Holland during Tulip Time for just one day, I recommend picking one or two stops to view tulips.
Here are a few sites where you'll find flower beds full of tulips in bloom:
Downtown Holland Tulip Beds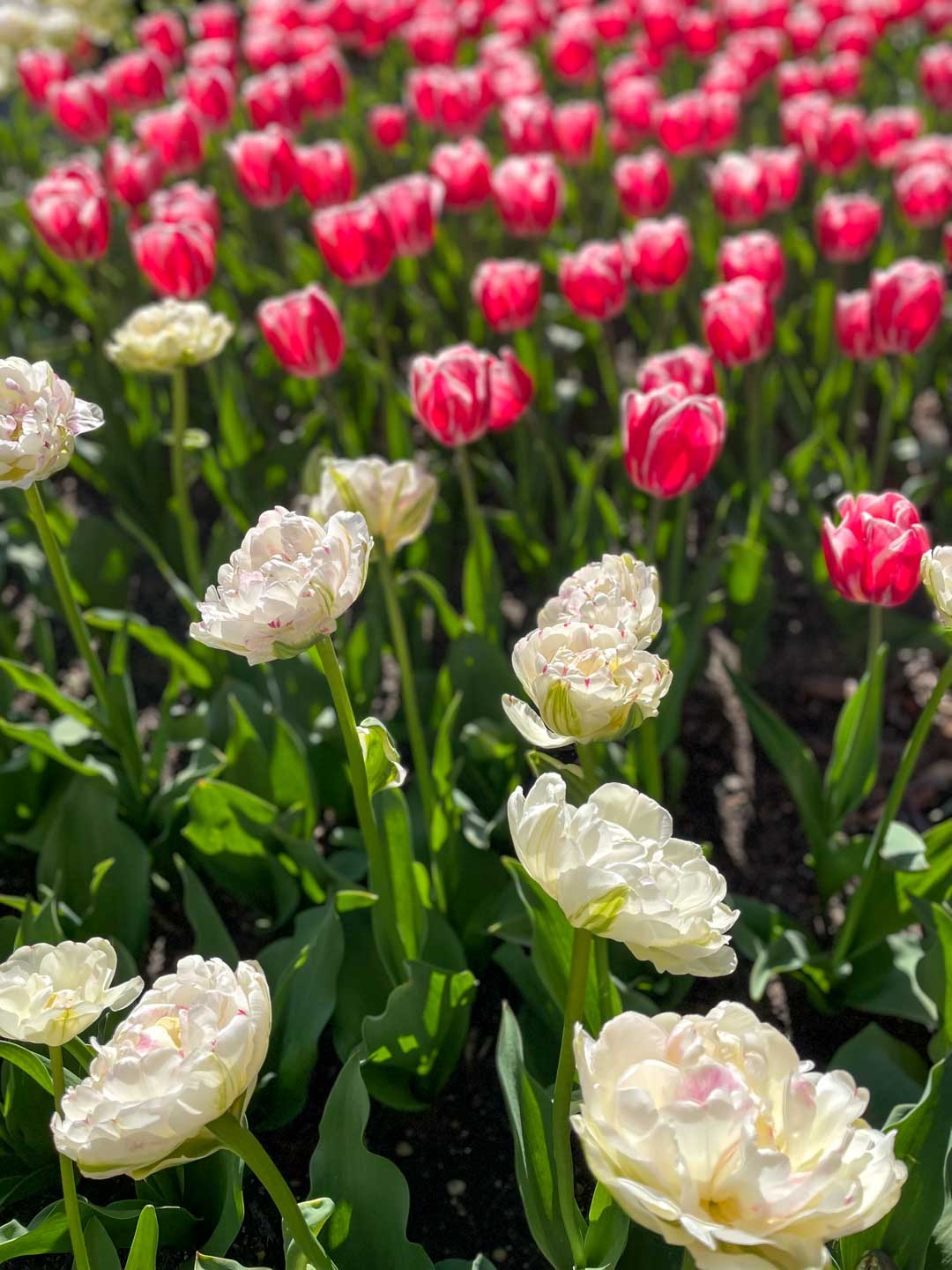 The city plants 200,000 tulips at its city parks and downtown area. Walking along 8th Street, you'll see plots of tulips among the downtown shops, restaurants, and breweries, including New Holland Brewing's Pub on 8th.
Centennial Park
Located at 10th Street and Central Avenue, this city park boasts a colorful display of tulips.
Window on the Waterfront Park
At this 30-acre park along the Macatawa River, you'll see thousands of tulips as you utilize the walking and bike paths.
Tulip Lanes
Take a scenic drive or stroll to see Tulip Lanes! Six miles of Holland's streets are lined with 250,000 tulips.
In particular, the beautiful tulips along Washington Avenue and 12th Street are must-see sights during Tulip Time.
Windmill Island Gardens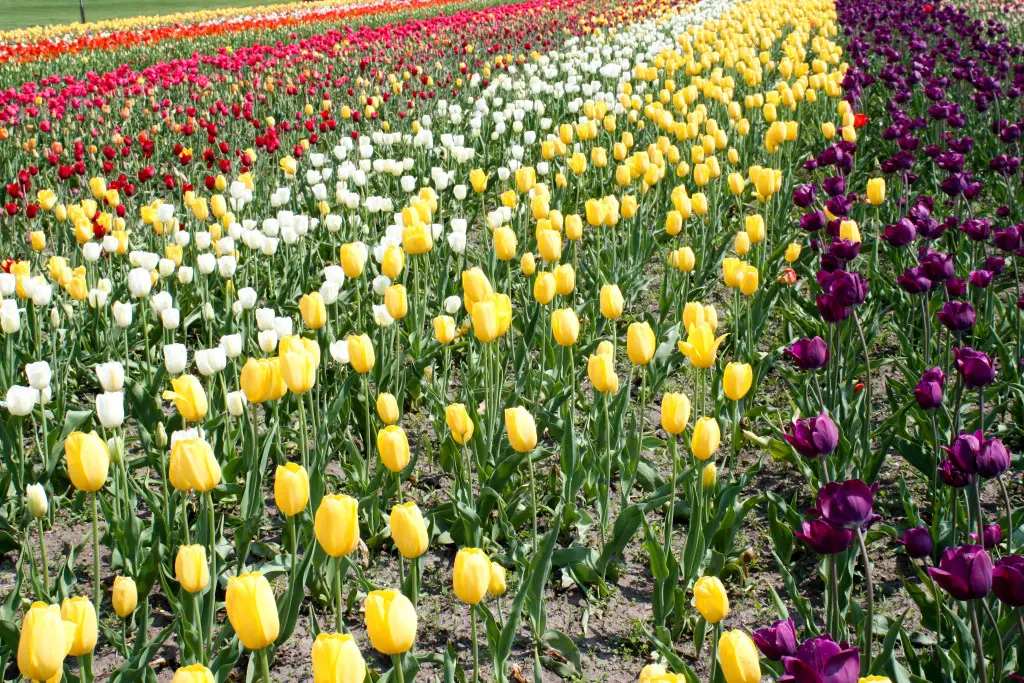 One of the most popular tulip-viewing spots in Holland is Windmill Island Gardens, which plants 150,000 tulips for Tulip Time!
Of course, the main attraction of this 36-acre park is the 250-year-old Dutch windmill De Zwaan. In fact, De Zwaan is an operating mill that grinds grains into flour that you can purchase from the gift shop. You can also tour the windmill's five floors.
Other sights worth seeing are the authentic street organ from Amsterdam, the antique carousel, the Little Netherlands display, and the gift shop for Dutch cheese and souvenirs.
Windmill Island Gardens is located at 1 Lincoln Avenue within walking distance of downtown Holland's hotels, shops, and restaurants. Admission is $12 per adult, $6 for ages 3 to 15, and free for kids younger than 3.
Tulip Immersion Garden: The Journey of the Tulip
As you meander through the three raised gardens from globally renowned Dutch horticulturist Ibo Gülsen you'll be immersed in eye-level tulip displays.
Each display shares part of the tulip's history from being cultivated in Türkiye and blossoming into a cultural trend in the Netherlands to being celebrated as part of Holland's Dutch heritage during Tulip Time.
The Tulip Immersion Garden runs for the length of the festival at Beechwood Church, 895 Ottawa Beech Road. Tickets are $15 for adults and $5 for ages 3-12. Admission is free for children age 2 and younger.
Nelis' Dutch Village
Celebrate Dutch heritage and see 30,000 tulips at this family-friendly theme park! Kids will love the giant wooden shoe slide, petting farm, and amusement rides.
There are also plenty of learning opportunities with Dutch dance lessons, Dutch cheese tastings, and wooden shoe carving demonstrations.
Nelis' Dutch Village is located at 12350 James Street (at the intersection of US-31 and James Street). Admission is $17 for ages 3 and up and free for children younger than 3.
Veldheers Tulip Gardens and DeKlomp Wooden Shoe & Delft Factory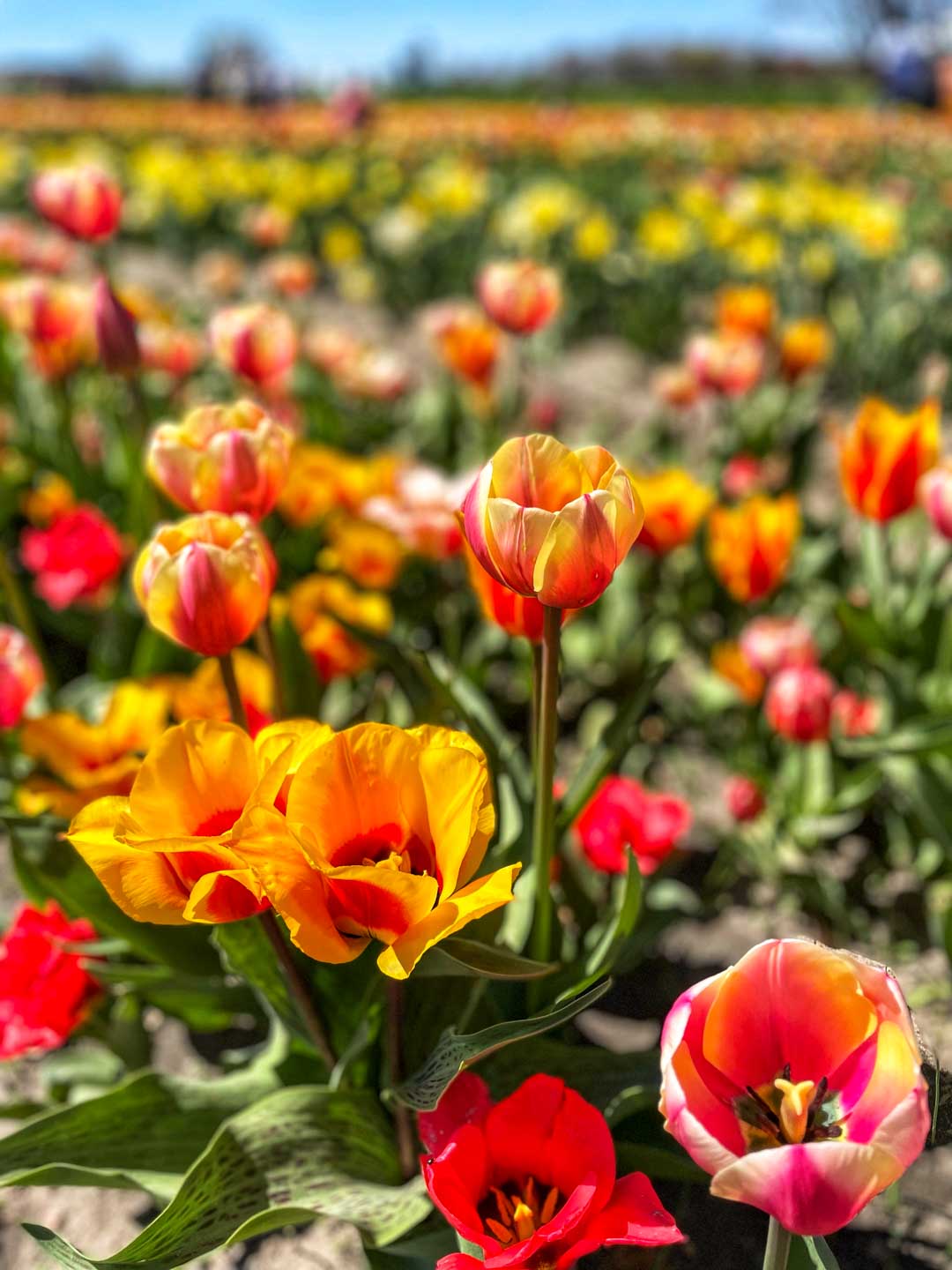 This tulip farm plants six million tulips in addition to 850 other plants. As you meander through large flower fields, you'll see tulips in a variety of colors, daffodils, hyacinths, and other beautiful flowers. Plus, you may also spy the bison herd grazing in a pasture nearby!
With a few small windmills (though none are authentically Dutch like De Zwaan at Windmill Island Gardens), you'll find plenty of photo opportunities here.
While you are here, stop into DeKlomp Wooden Shoe Factory to see traditional Dutch wooden clogs and Delftware pottery.
Veldheers Tulip Gardens is located at 12775 Quincy Street. Admission is $15 per adult, $8 for ages 3-13, and free for children younger than 3.
Explore the map to pinpoint where to find tulips in Holland, Michigan:
Pro Tip:
Once you decide where to view tulips, you can easily build your day's itinerary around that destination. However, first, take a look at the Tulip Time Festival's schedule of activities. Parades and races affect street closures and traffic delays. 
Visiting Windmill Island Gardens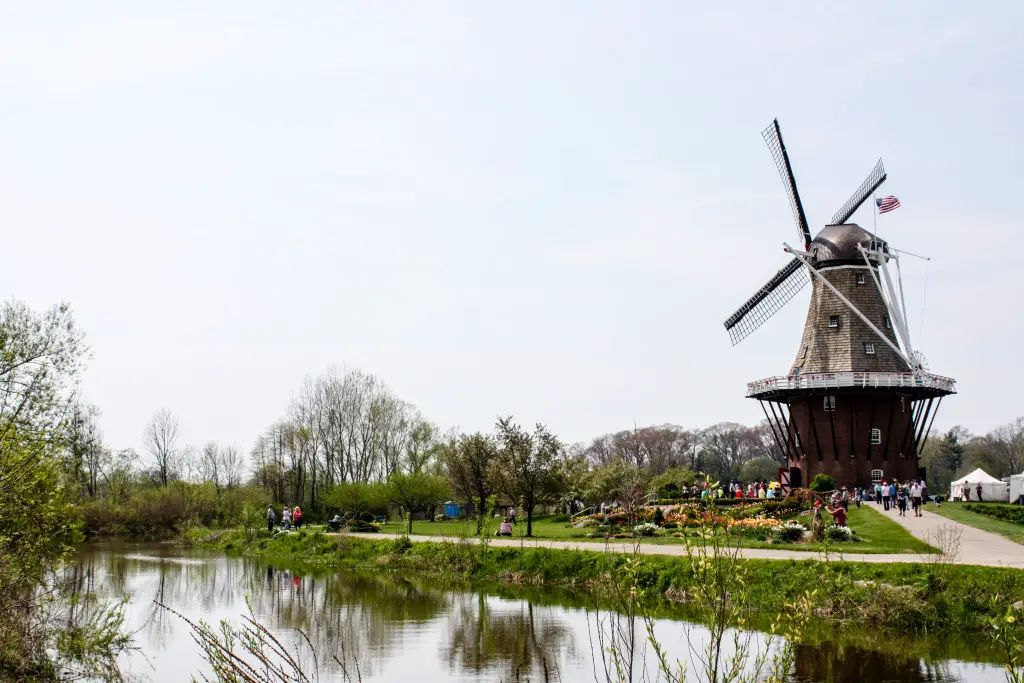 During the Tulip Time festival, there are several locations around Holland to view the colorful tulip beds. Windmill Island Gardens, which plants 100,000 tulip bulbs each year, is particularly picturesque because of its authentic Dutch windmill.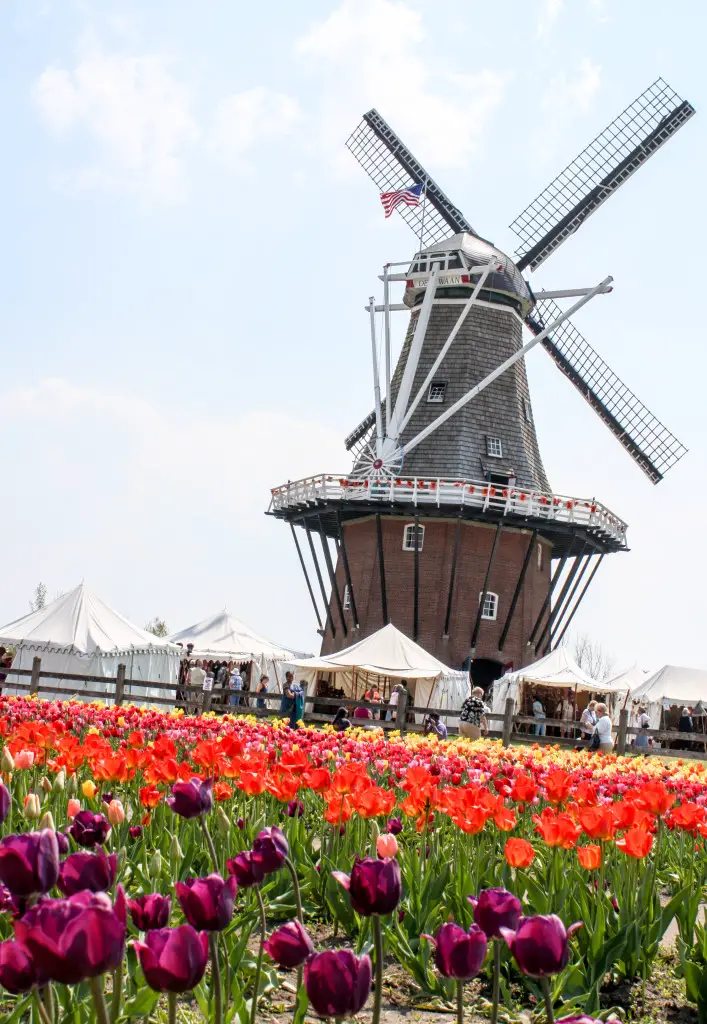 Named De Zwaan, meaning "the swan," this windmill was the last to leave the Netherlands and is the only working Dutch windmill in the United States.
Perhaps because I visited Holland, Michigan, so much as a child, I never fully appreciated how rare it is to see a Dutch windmill outside of Europe. However, after hearing De Zwann's history, I've realized it truly is a unique monument and quite fitting for a city named after the settlers' homeland.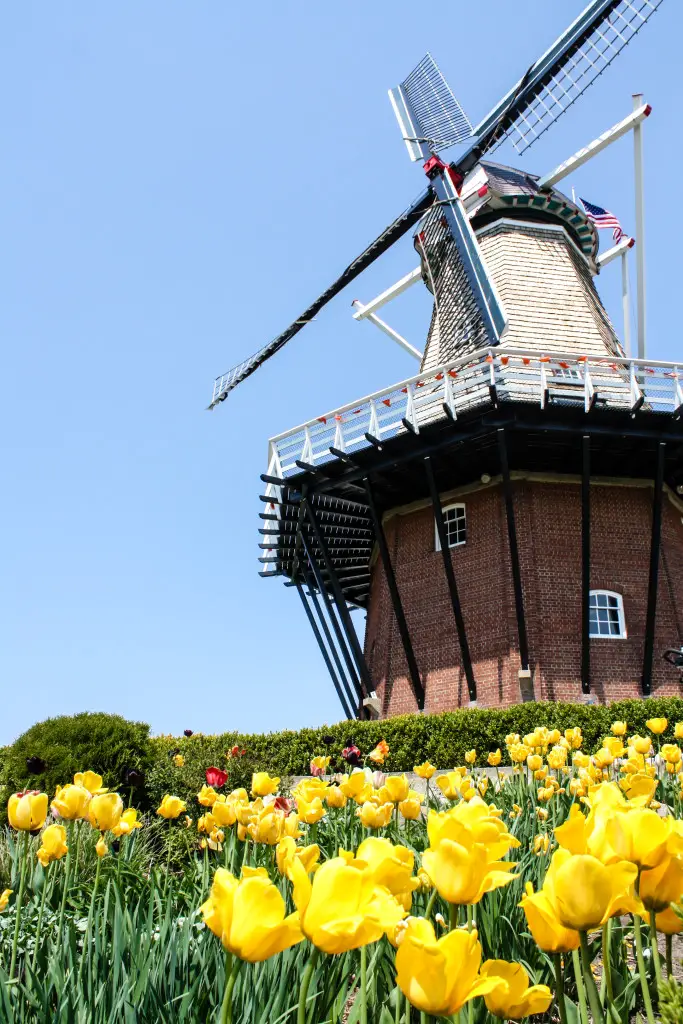 The five-story windmill has quite the tale. First erected in the 1700s, De Zwaan has been moved and reconstructed twice since then — once in the Netherlands and then in the 1960s to Holland, Michigan.
Before coming to the United States, the mill served as a watchtower during World War II and, by some accounts, was heavily damaged in the crossfire.
The Netherlands actually banned the international sale of their windmills following WWII — except for De Zwaan, of course. See what I mean by how unique it is to see a Dutch windmill without actually traveling to the Netherlands these days?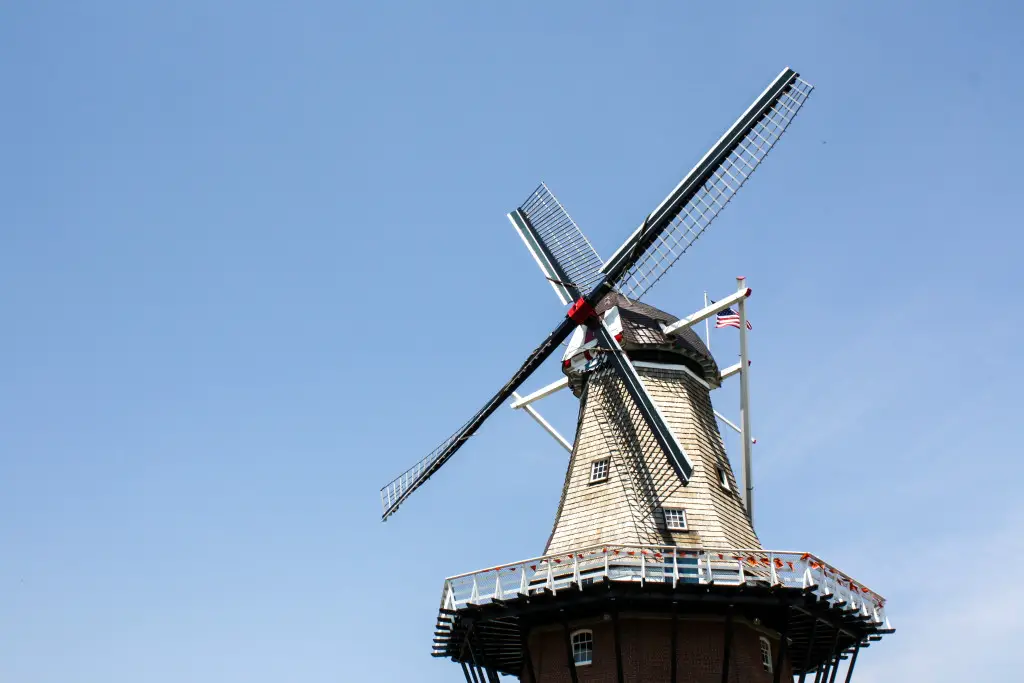 On the guided tour of De Zwaan, I learned that the miller, Alisa Crawford, is the only Dutch-certified miller in the Americas. She is a member of the professional grain millers guild of the Netherlands. My tour guide described the guild as an elite group of 45 millers — 44 Dutchmen and one American woman.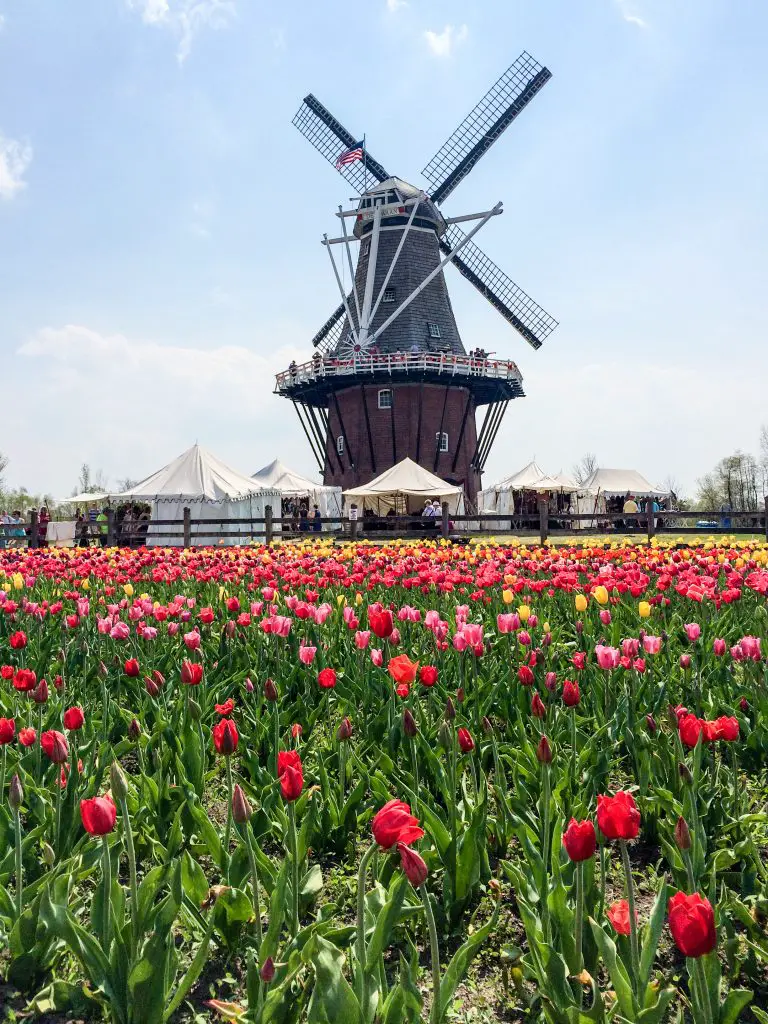 After touring the windmill, seeing the large tulip beds was next on my agenda. The tulips were planted in rows of color — red, pink, yellow, white, and purple. It was a beautiful sight.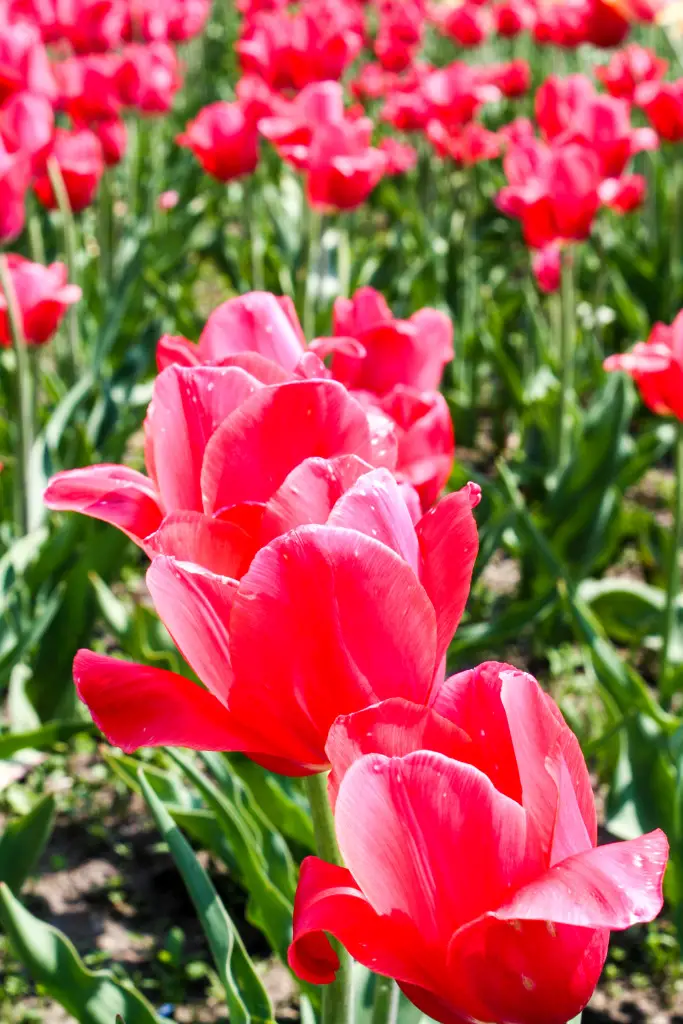 When you look at my photos of the tulips, do you imagine I took a leisurely stroll through the garden, stopping to take perfectly unfiltered Instagram-worthy photos? It was NOT like that. Do not expect viewing the tulips during Tulip Time to be a serene activity.
Note to selfie-takers and Instagram fanatics: You'll still get beautiful tulip photos, but patience is probably key. Despite the crowds and unusually high heat and humidity for May in Michigan, my visit was totally worth any discomfort I was feeling. To beat the crowds, try to go early on a weekday or visit Holland within a couple days before or after the Tulip Time festival.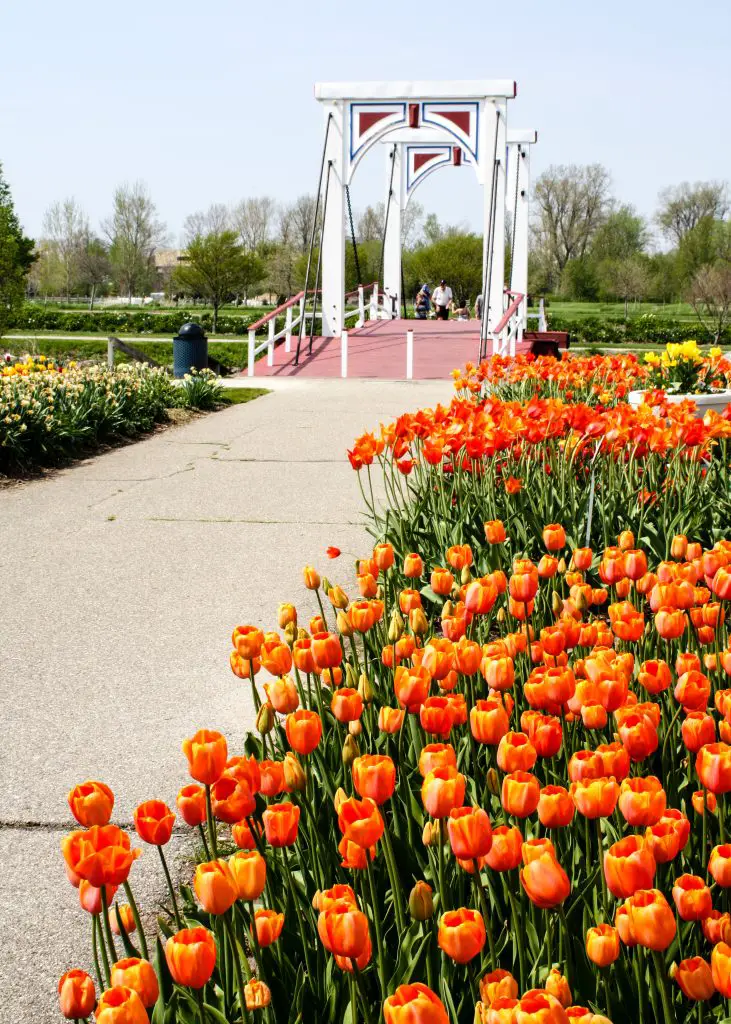 Beyond the windmill and tulips, Windmill Island Gardens is adorable. There are picturesque gardens, a children's playground, and a carousel, too.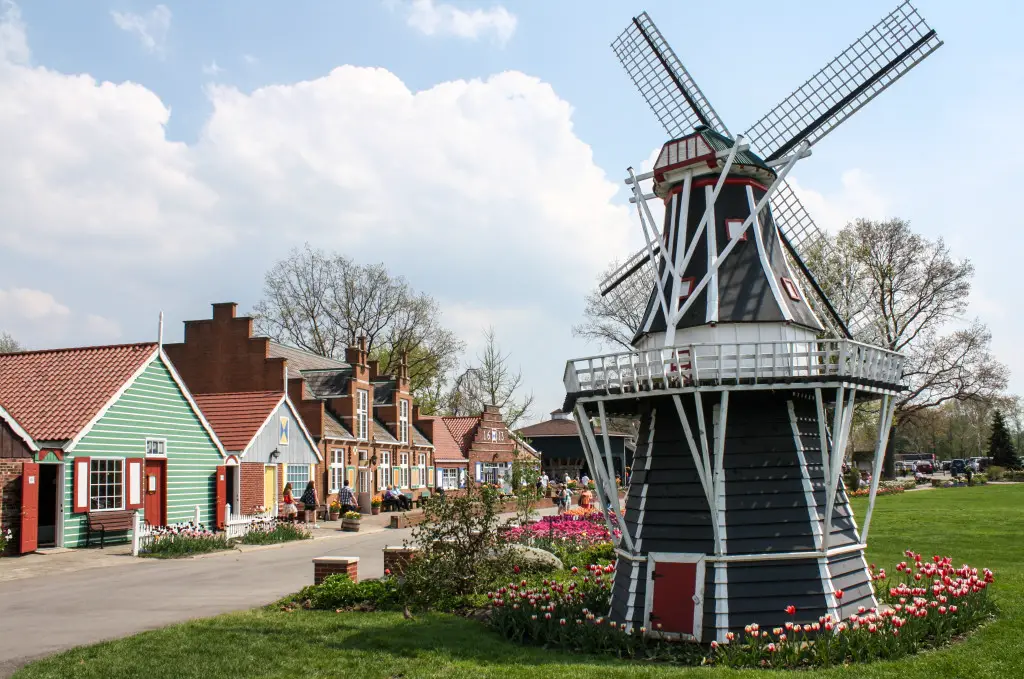 At the gift shop, you can purchase your own set of wooden clogs, Delft pottery, or whole wheat flour stone ground at De Zwaan. I purchased a Delft ornament shaped like a clog to hang on my travel-ornament-adorned Christmas tree. What would you choose as your souvenir?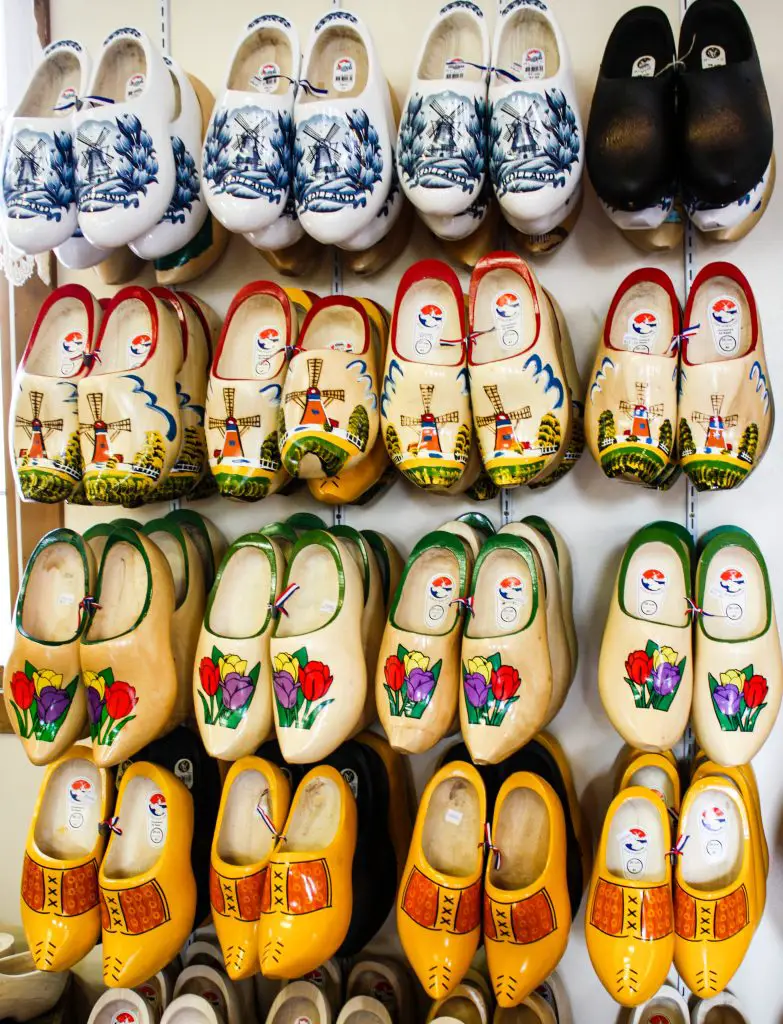 Windmill Island Gardens is located at 1 Lincoln Avenue.
More Tulip Time Things to Do
Watch and Learn Dutch Dances
Whether you want to watch Dutch dances or klomp along yourself, you'll have ample opportunities during Tulip Time!
In fact, Dutch dances are performed multiple times each day throughout the festival.
Conveniently, many of these free performances and dance lessons take place downtown along 8th Street and at various parks, though some are at the Ottawa County Fairgrounds.
You can click here for the festival's full Dutch dance performance schedule.
Browse Art & Quilt Shows
During the annual Tulip Time festival, art lovers can browse a fine arts show, a quilt show, and an artisan market.
At the Art in Bloem Fine Art Showcase, you can vote for your favorite artwork from the 19 finalists of the 2023 First Bloem competition. In addition to these contemporary pieces of art, you can also view traditional Dutch costumes up close. The showcase runs May 6 – May 13 at the Civic Center, and admission is free.
The Tulip Time Quilt Show exhibits more than 100 quilts, including art quilts, and wall hangings at Beechwood Church. The quilt show runs from May 6 through May 14, and tickets are $8.
Away from downtown Holland at the Ottawa County Fairgrounds, the annual Tulip Time Artisan Market features more than 200 vendors selling unique, hand-crafted items as well as food trucks and Dutch dance performances. The Artisan Market runs from 10 a.m. to 5 p.m. Saturday, May 6, and Sunday, May 7. The event is free, but you'll want to bring spending money.
Attend a Parade
The parades are absolute highlights of Tulip Time in Holland!
In the annual Kinderparade, local schoolchildren clad in traditional Dutch clothing march down 8th Street from Columbia Avenue to Kollen Park. They are joined by dozens of middle school and high school marching bands from around West Michigan, festive floats, and even dogs dressed in klederdracht. The Kinderparade takes place from 2 to 4 p.m. Thursday, May 11.
Then the annual Volksparade with more West Michigan middle and high school marching bands and community floats takes place from 2 to 4 p.m. Saturday, May 13. The parade starts on 8th Street at Columbia Avenue and heads west to Van Raalte Avenue, where the parade ends at Holland High School.
You can click here to purchase grandstand or street-side seating for the parades.
Go on a Photo Walk Tour
Of course, one of the major draws of visiting Holland during Tulip Time are the plentiful photo opportunities, and shutterbugs will love taking a photography tour of Windmill Island Gardens.
The all-in-one tour and photography lesson introduces one of Holland's top Tulip Time attractions through the eyes of professional photographers. Attendees will learn tips for photographing landscapes and architecture while visiting during a time without crowds.
After the tour, one attendee's photo will be selected as the best picture of the class and be featured on the Tulip Time social media channels.
Tulip Time Photo Walk Tours run from 7 p.m. to 9 p.m. May 8 – 11. Tickets cost $40, and you must bring your own camera (or smartphone).
Sip Local Craft Beverages
Want to try some local craft beer, spirits, or wine in Holland? There are several breweries, distilleries, and winery tasting rooms all within walking distance of one another in downtown Holland.
Additionally, Tulip City Brewstillery is offering several guided tasting events throughout Tulip Time. Tickets cost $35 for ages 21 and older only.
Eat Dutch Food
Want a taste of the Netherlands while visiting Holland, Michigan? You'll find traditional Dutch foods, such as pea soup and croquettes, at the Hungry Dutchman Café at Nelis' Dutch Village, deBoer Bakkerij & Dutch Bros. Restaurant, and the Wooden Shoe Restaurant.
You Might Enjoy These Related Posts
Easily refer back to this post by saving it now to your Michigan travel board on Pinterest!