Did you know you can visit English, Italian, and Japanese gardens all in one small Midwest city? The award-winning Rotary Botanical Gardens in Janesville, Wisconsin, is a 20-acre botanical display of 4,000 plant varieties!
With 26 beautifully landscaped and themed gardens, the Janesville Rotary garden is a family-friendly attraction for aspiring green thumbs of all ages.
To say this Janesville botanical garden is also a photographer's paradise doesn't do it justice. In my morning spent there in September 2017, I was in awe at every turn. Each garden was popping in colorful blooms. There was so much to capture!
Though I came home with dozens of photos to edit, I've selected 23 of my favorites to share with you. As the saying goes, a picture is worth a thousand words.
 Disclosure: I'd like to thank the Janesville Area Convention & Visitors Bureau for hosting my visit to Rotary Botanical Gardens. This post also contains some affiliate partner links. When you click on one of these links, I may earn a commission.
---

Why should you visit Rotary Botanical Gardens?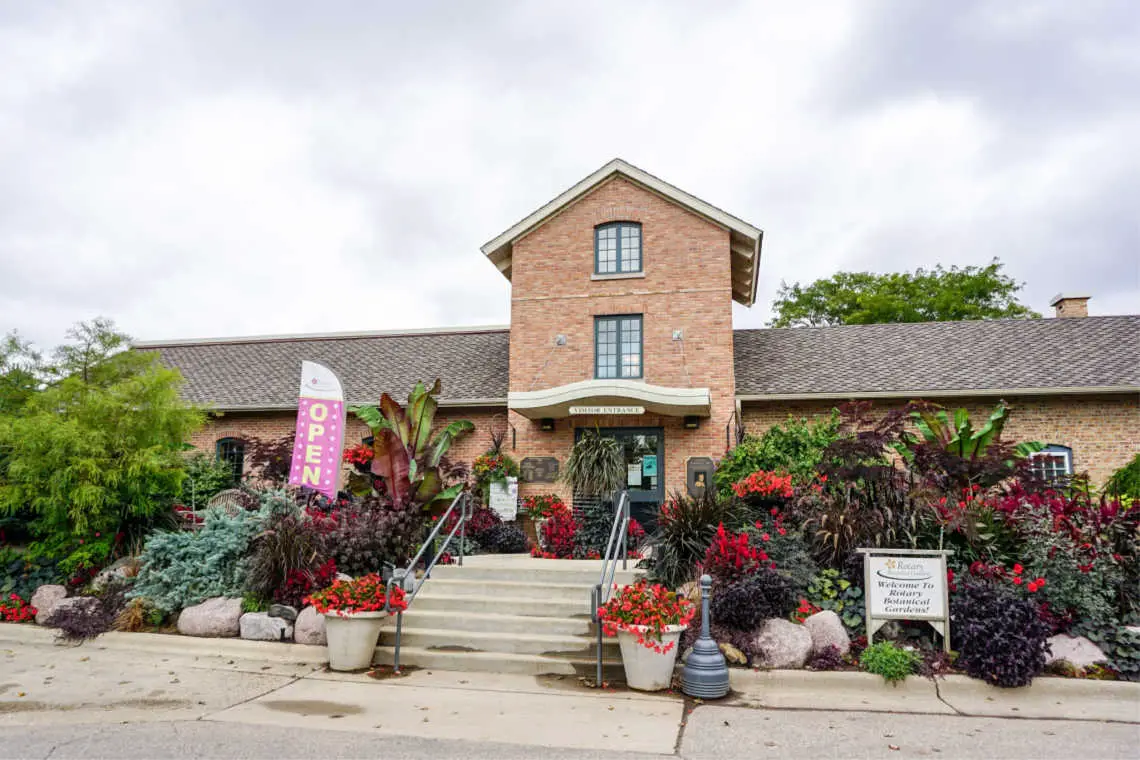 Rotary Gardens Offers Accessibility for All
First of all, I would recommend visiting the Rotary Gardens in Janesville to visitors and locals of all ages and activity levels due to the accessibility of most gardens via walking paths.
Close Proximity to Other Midwest Destinations
Near enough for a day trip or as part of a weekend getaway in Janesville, Rotary Botanical Gardens is located about:
Romantic Setting at Janesville Botanical Gardens
Are you a couple on a romantic getaway from the city? Or, are you a local twosome looking for a unique date activity? Well, Rotary Botanical Gardens offers plenty of walkways for strolling hand-in-hand.
Also, the gardens would provide gorgeous backdrops for outdoor weddings and engagement photos. If you are considering have a Rotary Botanical Gardens wedding, you should click here for more information.
Bountiful Beautiful Landscapes at One of the Best Wisconsin Botanical Gardens
With 4,000 plant varieties in 26 unique gardens, the Rotary Botanical Gardens offers plenty of stunning viewpoints and beautiful blooms to see.
Visiting botanical gardens is one of my favorite travel activities, and this is one of the most colorful, bloom-filled, and well-landscaped gardens I've seen.
RELATED: Michigan's Best Botanical Gardens and Seasonal Blooms
Photo Ops Galore
Of course, anyone seeking the perfect "instagrammable" shot must visit! With 20 acres to explore, the photo opportunities at the Janesville Botanical Gardens are endless.
Visitors are welcome to photograph the gardens, plants, and animals for personal use and to share on social media.
However, posed portrait photography is only allowed with a permit. This includes engagement, wedding, family, and senior portraits. Please refer to the Rotary Botanical Gardens' photography and videography policy for more information.
I hope my Instagram-worthy photos inspire your own trip to Rotary Botanical Gardens –– one of the best US botanical gardens I've toured.
RELATED: Guide to Visiting Atlanta Botanical Garden
Rotary Gardens Janesville in Photos
English Cottage, Italian and French Formal Gardens
As you enter Rotary Botanical Gardens, you'll likely start at the charming English Cottage gardens. You might just feel as if you are in the Cotswolds. Then you can follow the path to the formal Italian and French gardens, where I had flashbacks to visiting the gardens at European castles.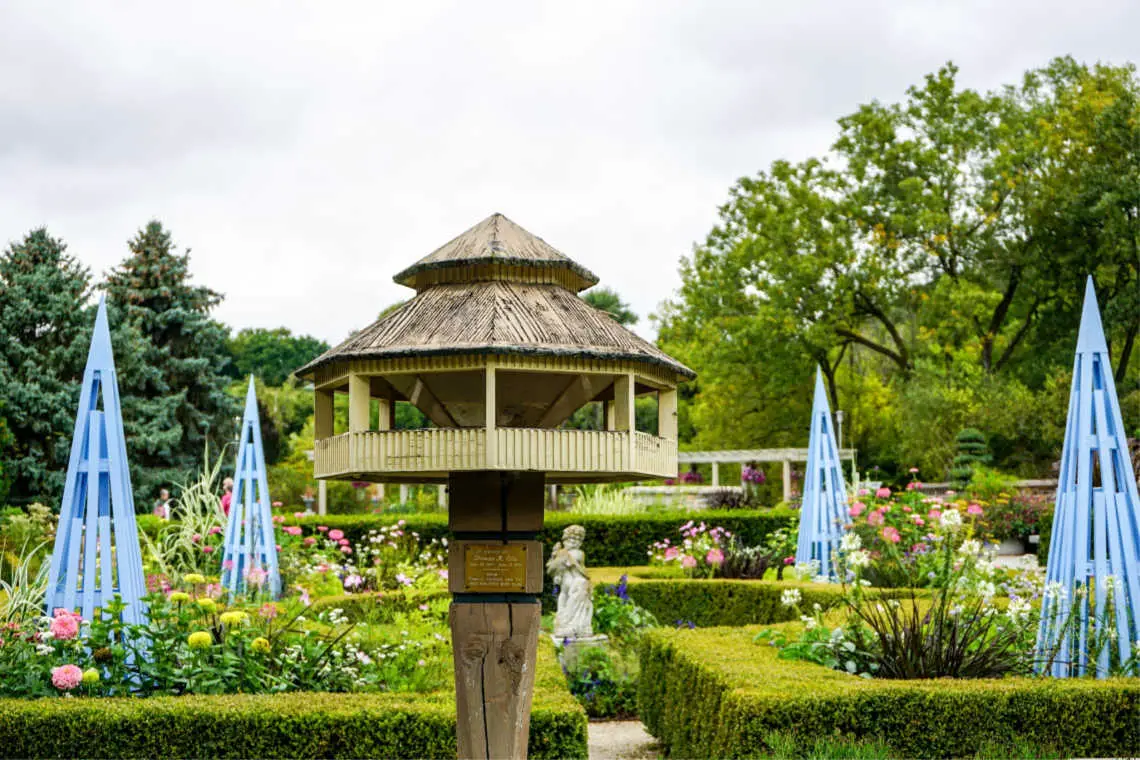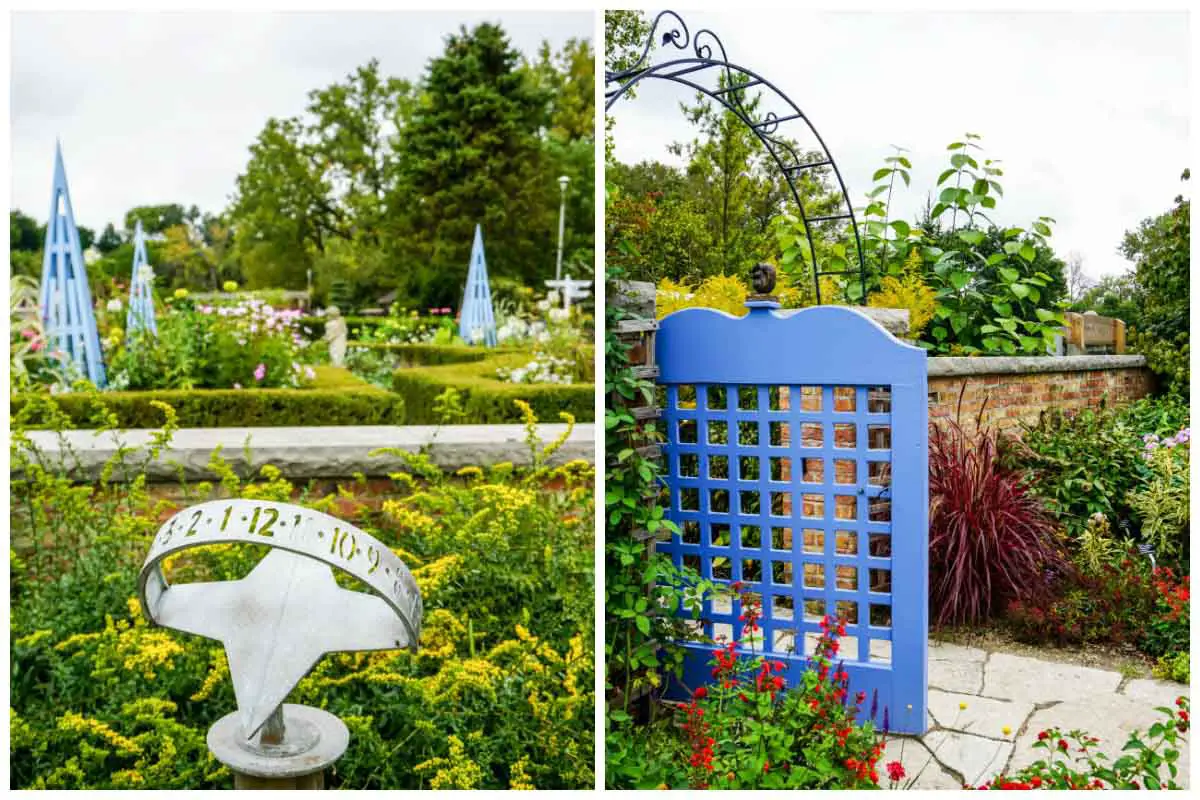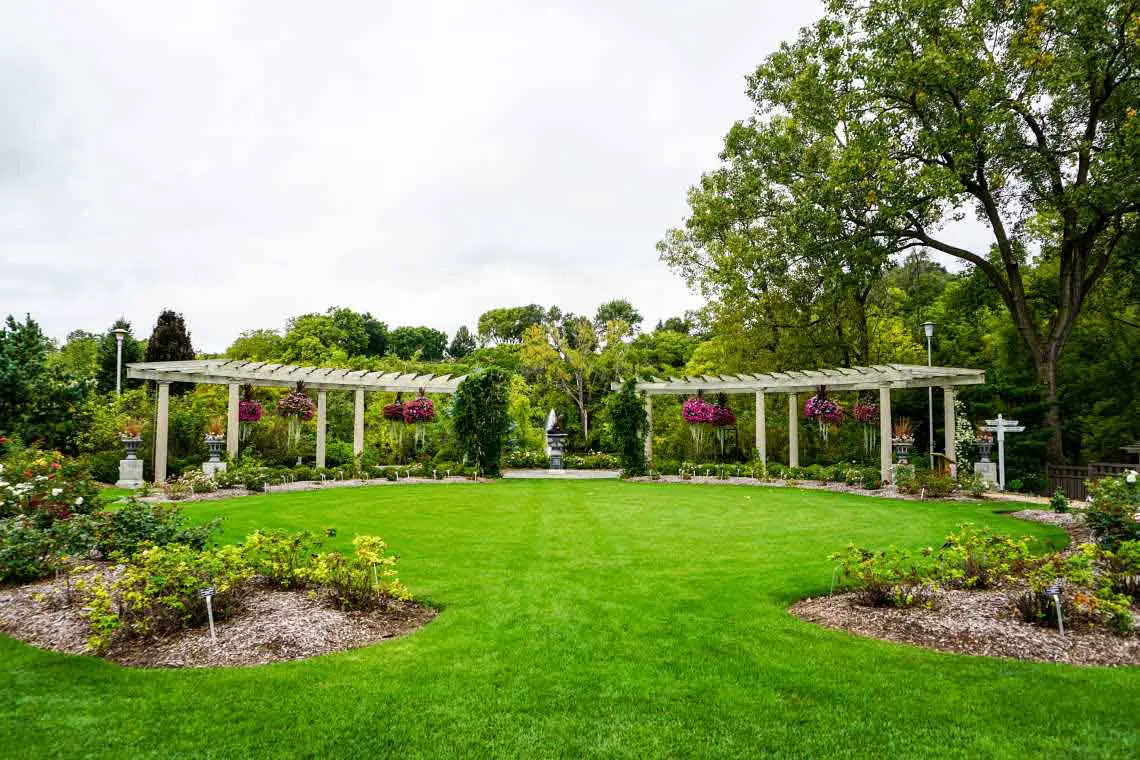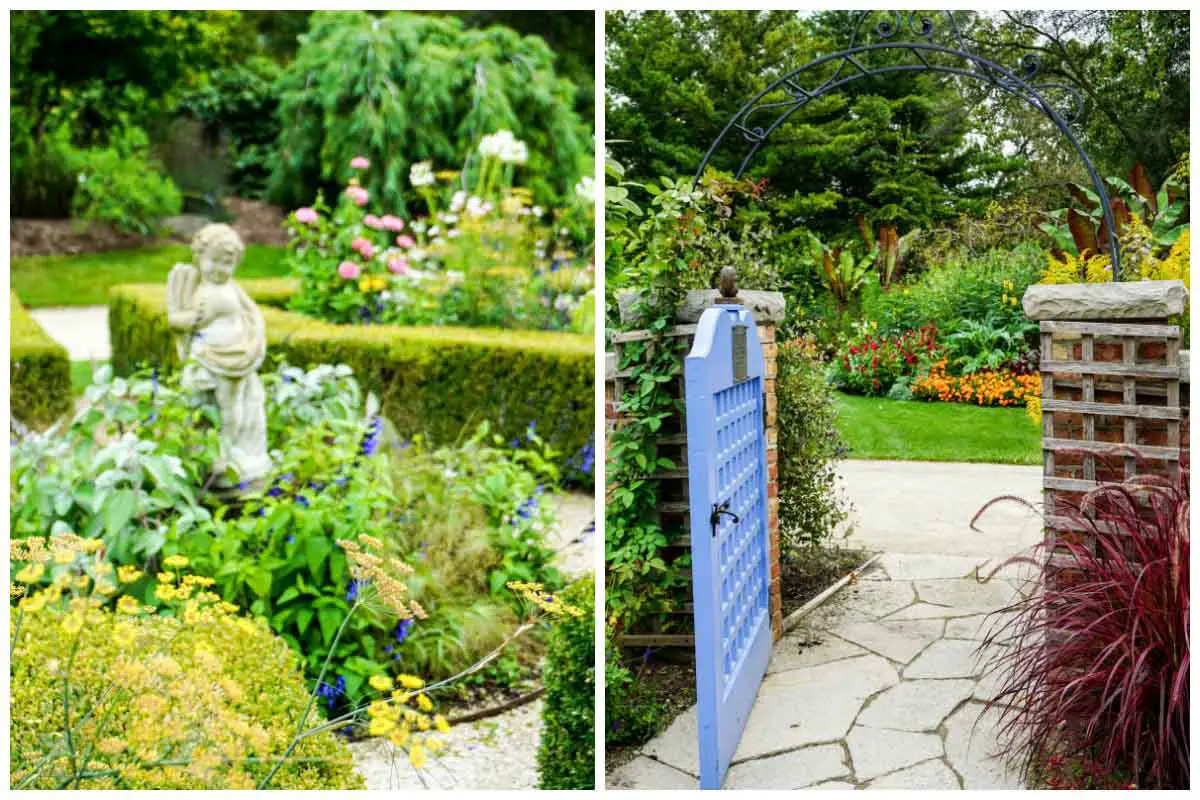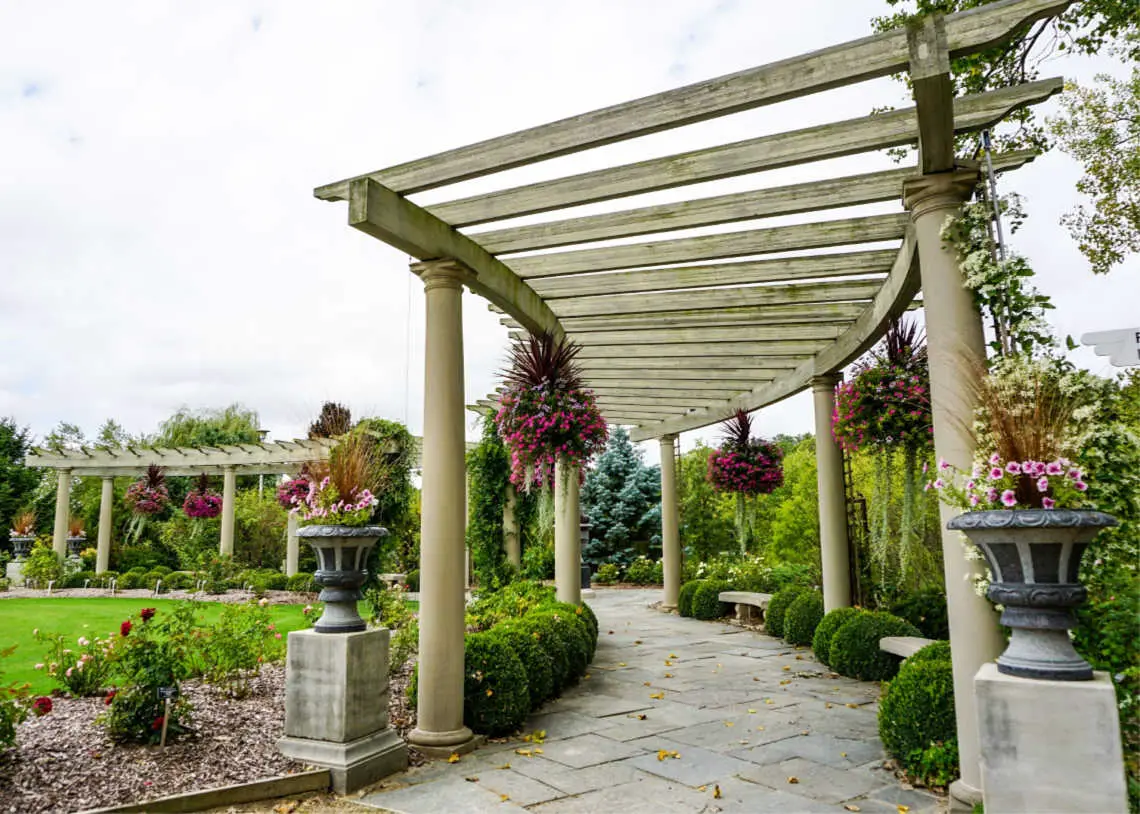 Japanese Garden at Janesville Rotary Garden
Feeling like you need to find your zen? This serene garden features lily pad-filled ponds, green bamboo stalks, and pathways to the Japanese Bridge. It's a peaceful oasis to sketch, read, or just sit and ponder.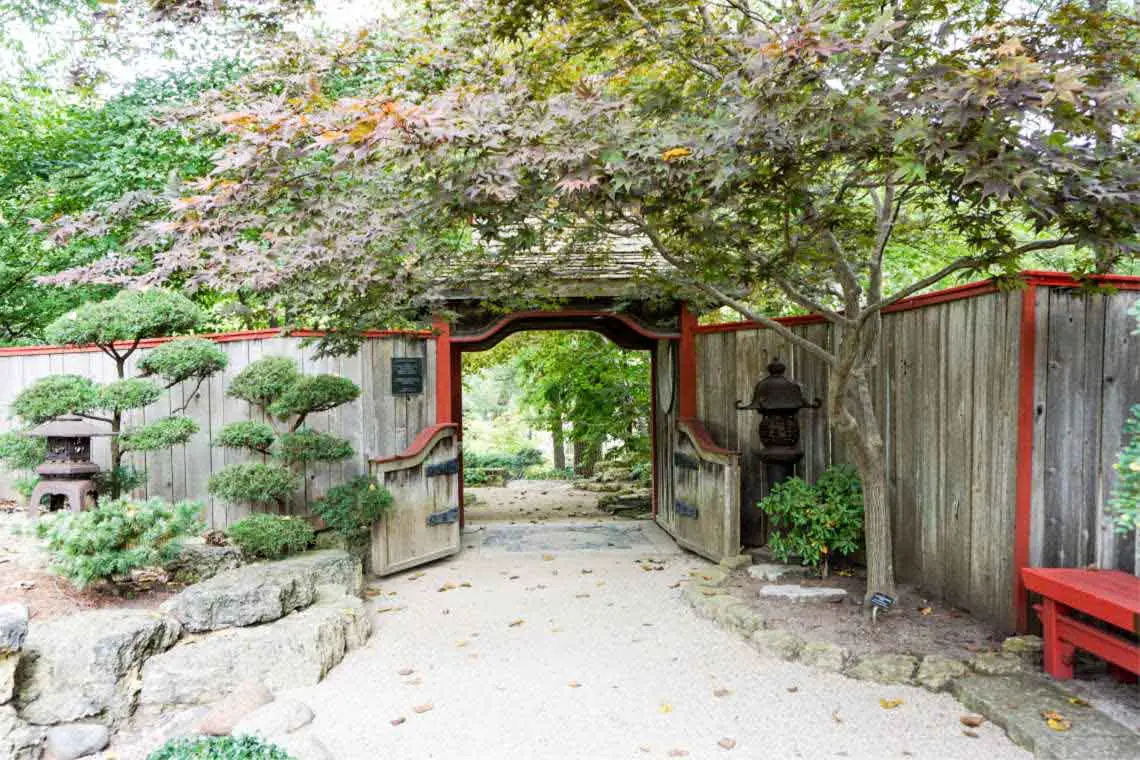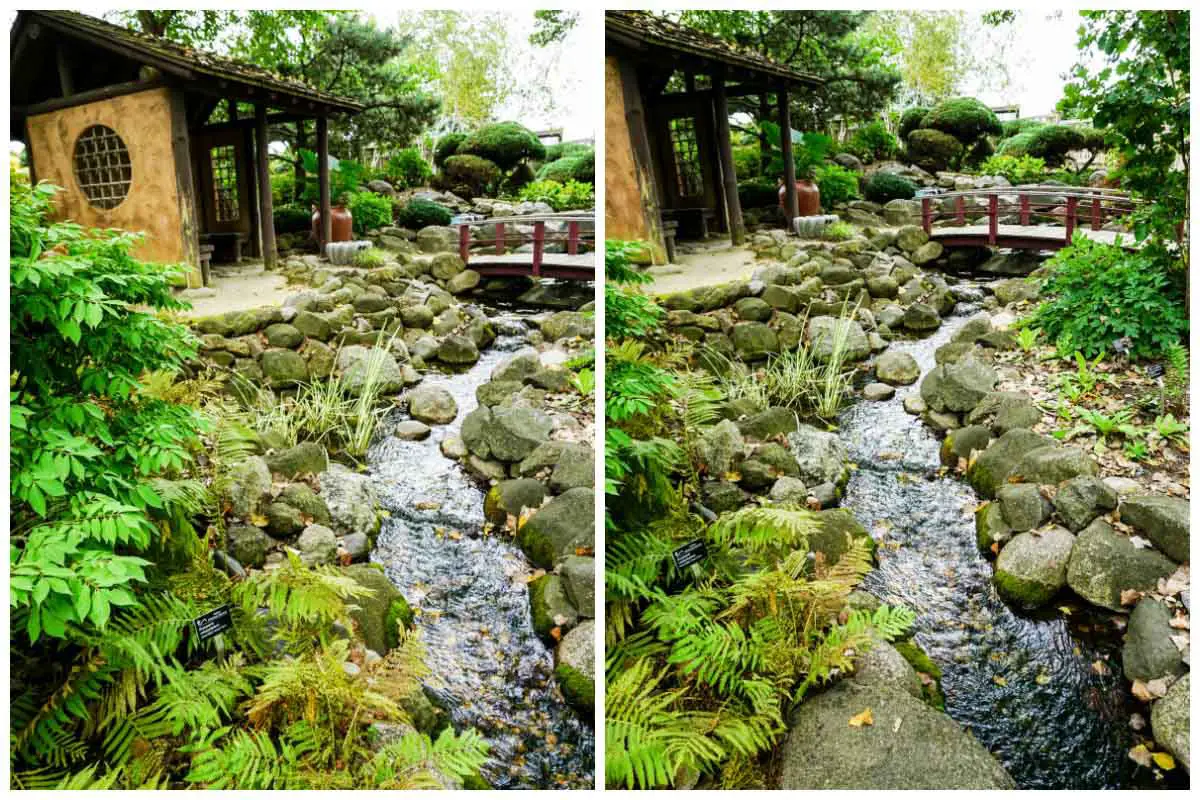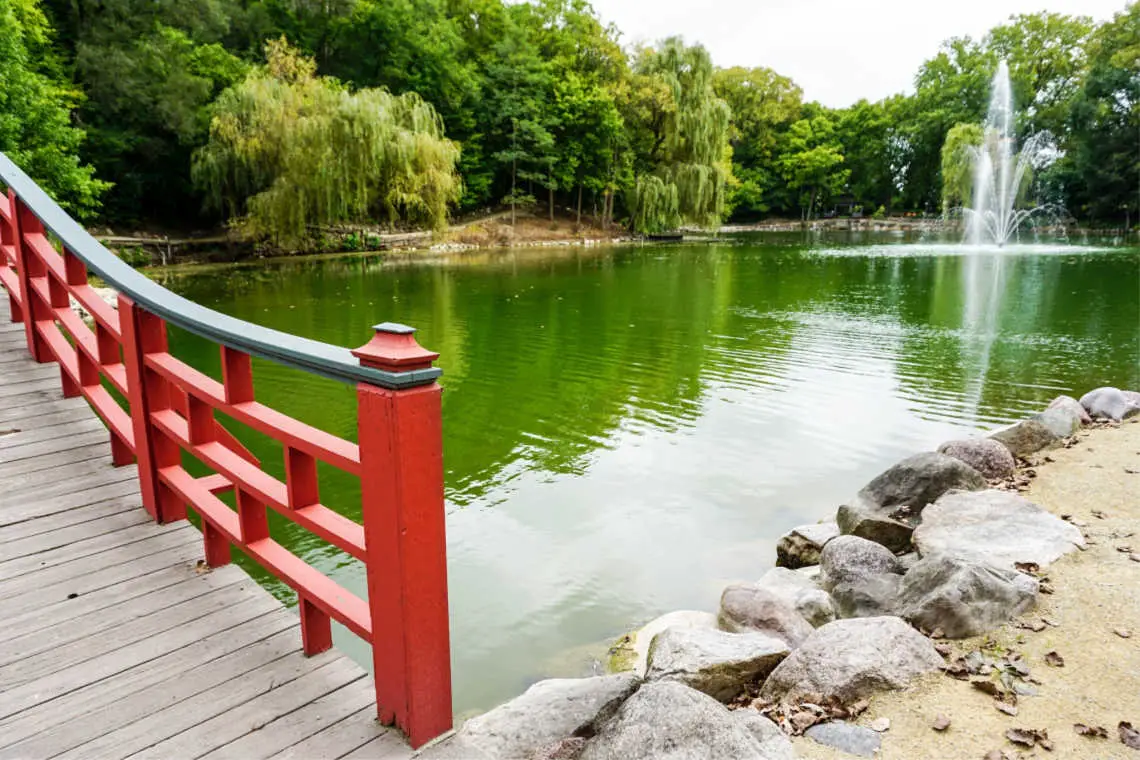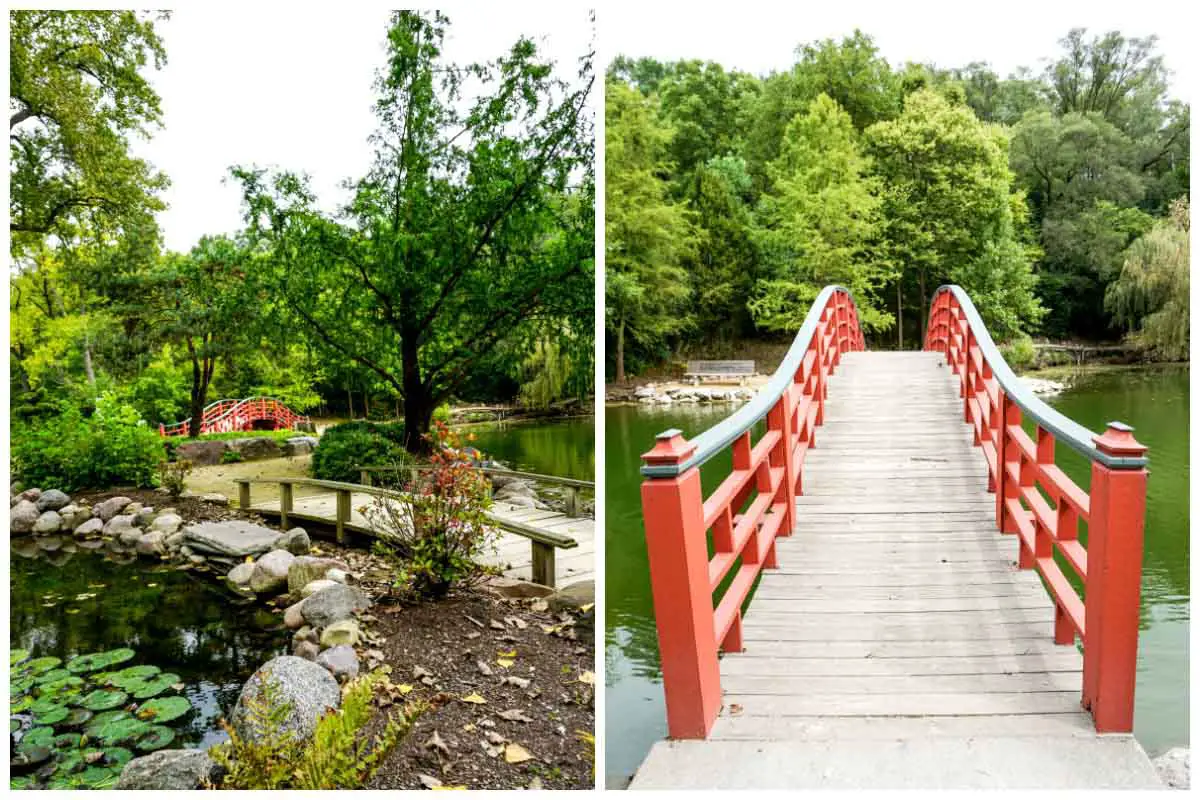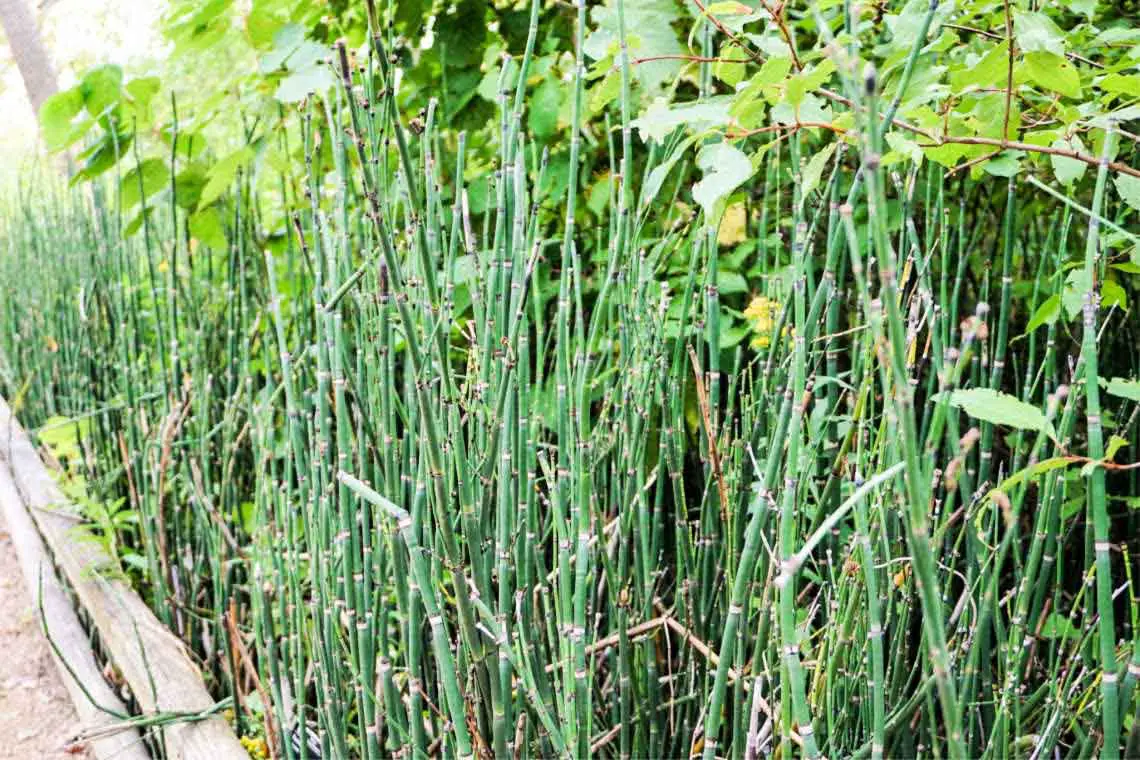 Nancy Yahr Memorial Children's Garden
With big, bright blooms in shades of red, pink, and purple, this garden has a playful vibe. Take a seat in one of the blue Adirondack chairs and enjoy the colorful flowers, whimsical sculptures, and lush weeping willow!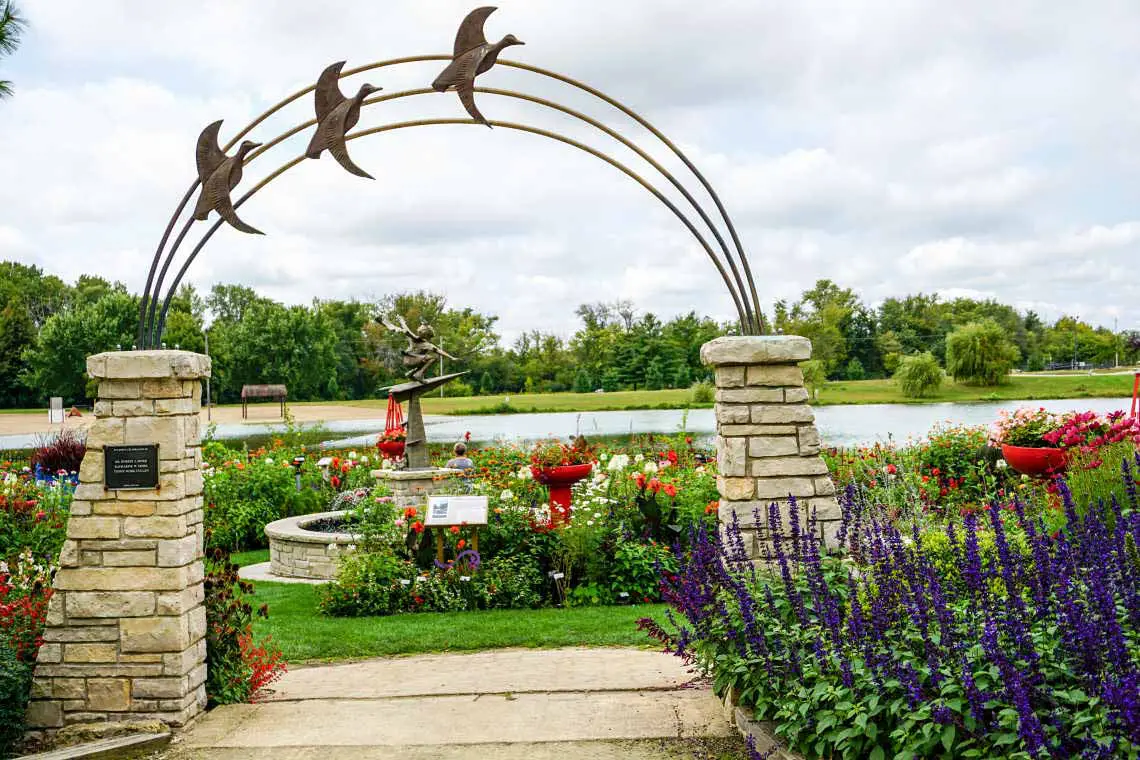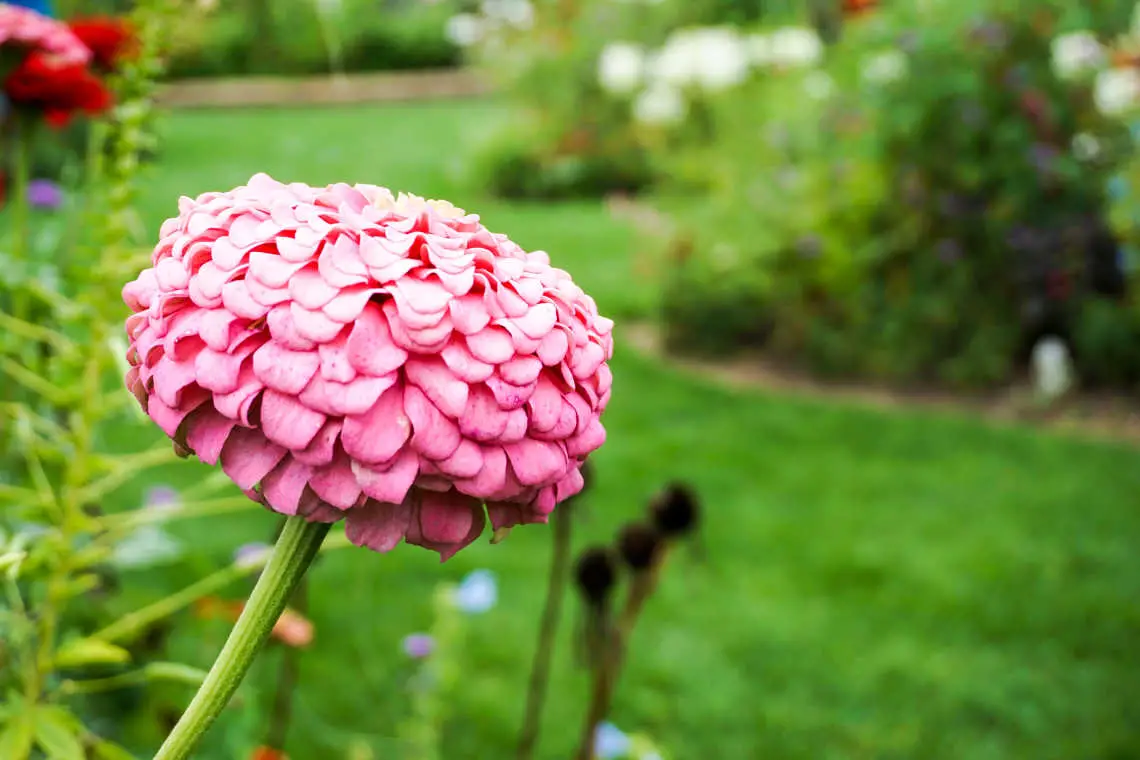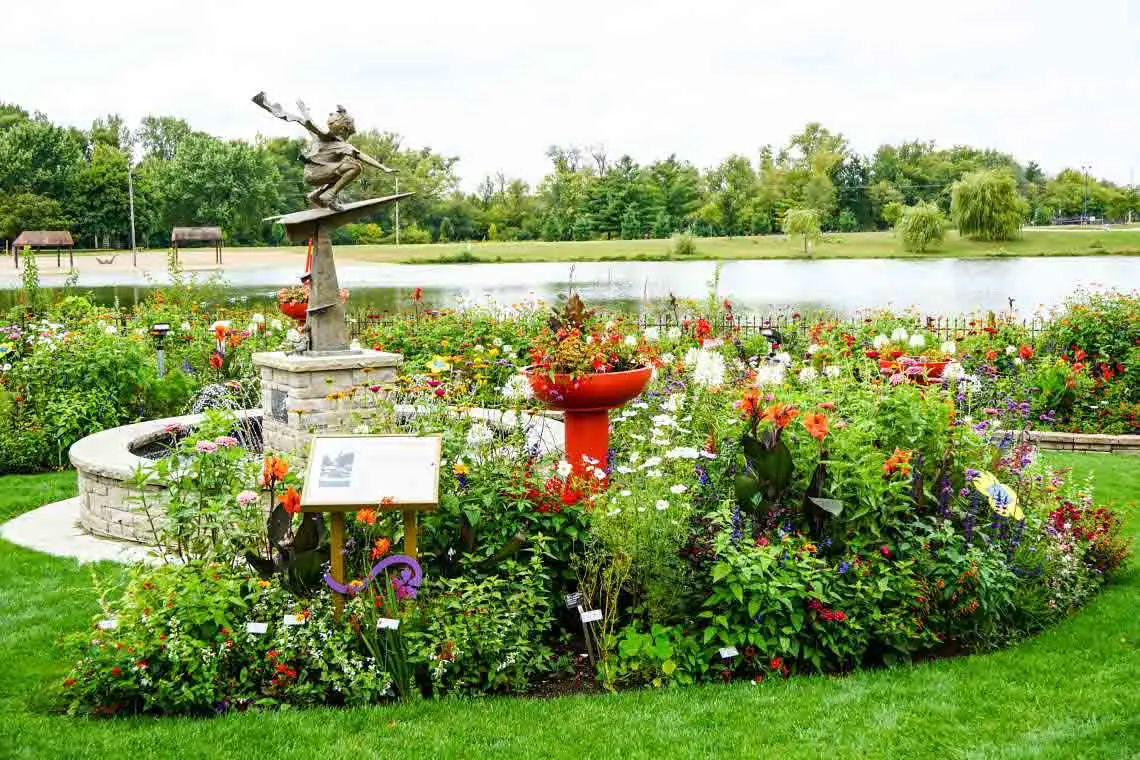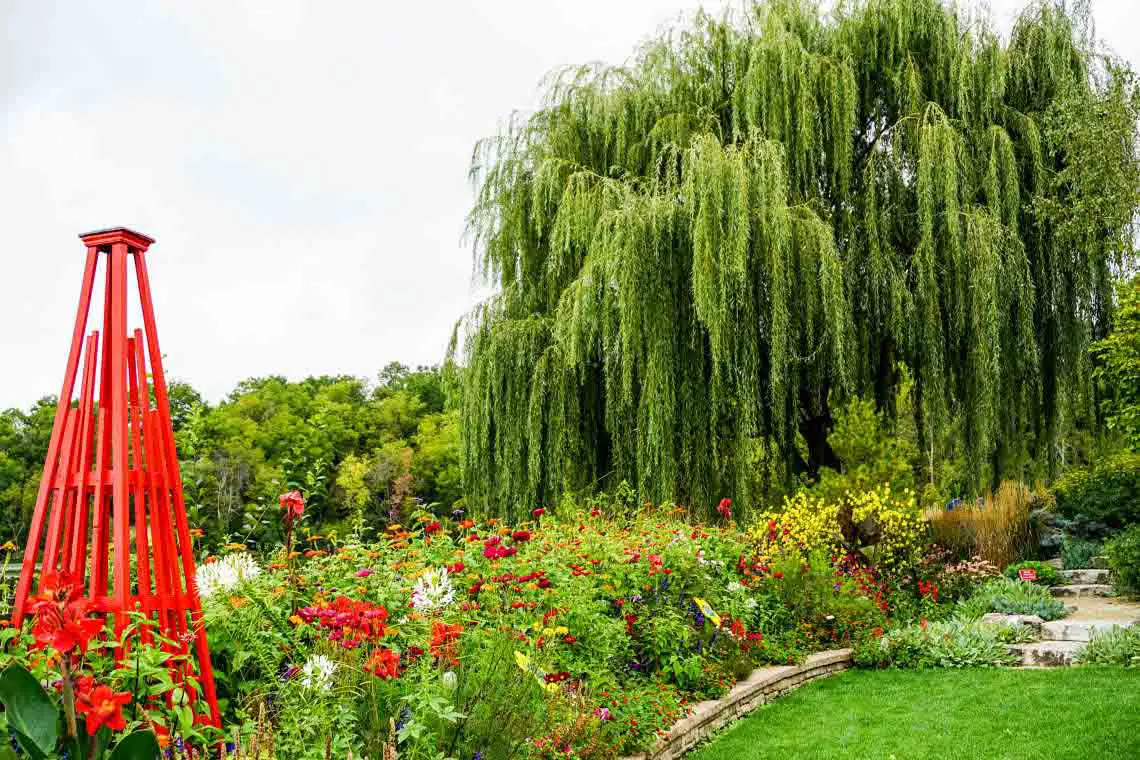 Things to Know Before You Visit Rotary Botanical Gardens
Are the Janesville Rotary Botanical Gardens accessible?
The gardens are mostly accessible, but some parts of the Japanese Garden are challenging for wheelchair users and pushing strollers due to steps and bridges. Please ask the staff for an accessibility map or view it online here.
Also, wheelchairs are available for free on a first-come, first-served basis.
What is the Rotary Botanical Gardens address?
1455 Palmer Drive, Janesville, WI 53545
You can plan your driving route using the Rotary Botanical Gardens map below:
What are the Rotary Gardens Janesville hours?
The 2023 springtime hours are 10 a.m. to 4 p.m. Monday through Saturday.
Rotary Botanical Gardens is closed for the following holidays:
Easter
Thanksgiving
Christmas Eve
Christmas
New Year's Eve
New Year's Day
Please refer to the Rotary Botanical Gardens' website for up-to-date hours of operation.
Are the botanical gardens free?
No, but unlimited visits is a perk of an annual membership. Additionally, a membership grants you free or discounted admission to 320 arboretums and botanical gardens in the US and Canada.
2023 Membership Fees:
Individual: $40
Friend +1 (Best for Twosomes): $60
Friend Family (Up to 4 People): $80
Friend Family Supporter +2 (Up to 6 People): $120
Patron (Up to 10 People): $500
Benefactor (Up to 14 People): $2,500
General Admission:
Rotary Botanical Garden Members: Free
Adults (16-64): $9
Seniors (65+): $7
Youth (6-15): $5
Military (With ID): $6
Children (5 and younger): Free
Parking: Free
Where to Stay in Janesville
Visiting the Rotary Botanical Gardens is one of best Janesville things to do. If you are visiting from out of town, you can reserve a variety of accommodations in Janesville. You'll find charming bed & breakfast lodging, national brand hotels, affordable motels, and campgrounds.
Here are some of the top-rated Janesville hotels:
Here are some the best vacation rentals near Janesville:
Family Home on Rock River — The 3,000-sq-ft house has five bedrooms, 3.5 baths, a deck with an outdoor grill, a spacious backyard, and a dock on the river.
Lakefront Cottage — Located about 12 miles from Janesville on Lake Koshkonong, this remodeled lakefront cabin has two bedrooms and a loft with additional sleeping space.
Not quite what you were looking for? Click the link to find more Janesville lodging, or browse the map below!
Which gardens would you like to explore at Rotary Botanical Gardens in Janesville, Wisconsin?
I'd love to hear which garden captured your interest. Was it the whimsy of the Nancy Yahr Memorial Children's Garden or the calmness of the Japanese Garden? Perhaps you'd prefer to meander through the elegant French and Italian formal gardens? Please share your favorites with me in a comment below!
You May Enjoy These Related Articles
Save this post to your Wisconsin travel board on Pinterest for future trip planning to Janesville, Wisconsin!