Along the Mississippi River runs the Great River Road. Established in 1938, it's a 3,000-mile trail running through 10 states from Canada south to the Gulf of Mexico.
In many of the 10 states, tourism sectors developed along the Mississippi. In Wisconsin, its 250-mile stretch of the Great River Road is the state's only National Scenic Byway and borders Minnesota. Also known as Highway 35, the byway passes through 33 river towns.
A road trip through these towns includes breathtaking views of bluffs along the world's ninth-largest river, stops for delicious food and wine, and charming lodging at historic homes or on houseboats.
If you are interested in driving Wisconsin's entire Great River Road, Travel Wisconsin has a five-day itinerary. Some of the highlights include visiting the Laura Ingalls Wilder Museum in the Little House on the Prairie author's hometown, cruising the Mississippi on a paddlewheel boat, cycling the Great River State Trail, and sleeping on the water.
Unfortunately, my time on the Great River Road was limited to less than 24 hours. Driving from Madison, I explored 20 miles of the byway before continuing onto Minnesota's Twin Cities the next day.
Disclosure: I'd like to thank Travel Wisconsin and the Tritsch House for hosting me for my night's stay in Alma. As always, all opinions shared in this post are my own. I was not otherwise compensated for this post.
---
My First Stop: Stockholm Pie & General Store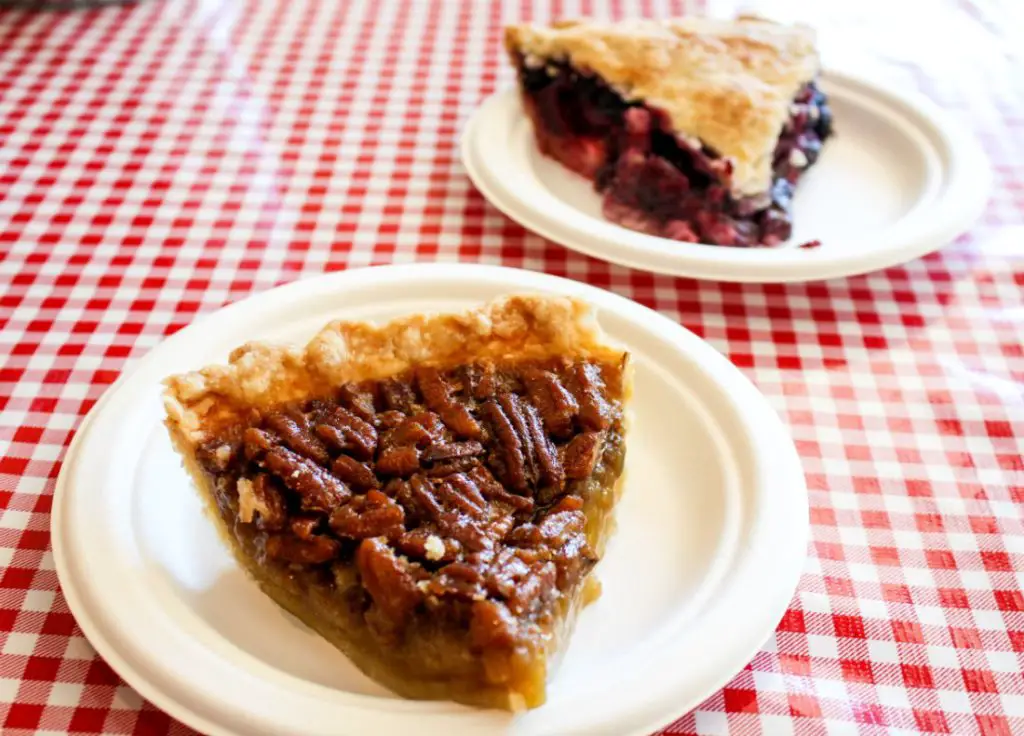 After eating a massive omelet at Mickies Dairy Bar and checking out of my hotel in Madison, I hit the road. A little more than four hours later, I arrived at Stockholm Pie & General Store rather ravenous.
It was around 3 p.m., so I had unfortunately missed lunch. Served from 11 a.m. to 2:30 p.m., the menu features soup, sandwiches, and "lunch pies" — vegetable quiche and chicken pot pie.
But, that meant more room for pie! I don't eat pie very often, so I ordered my two favorites — pecan and triple berry. Both were delightfully delicious. Served on paper plates, it's not fancy. It's just darn good.
Narrowing my selection to those two was tough. The menu features a dozen rotating flavors of fruit and nut pies plus eight cream pies. I don't think the double lemon pie — named by the Gourmet and Epicurious staff as one of the 53 best things they ate in 2012 — was available by the slice that day, but it sure does look heavenly.
Whether you want to pair an Italian espresso or cup of organic tea with your slice or you just need a caffeine boost during your road trip, you won't want to miss the espresso bar.
Besides pie and coffee, the general store carries Wisconsin wine, craft beer, cheese, jams, chocolates, and other local specialty food items. You can even create a mixed six-pack of Wisconsin beers, so you can take some New Glarus Spotted Cow home with you!
My Next Stop: The Great River Road Wine Trail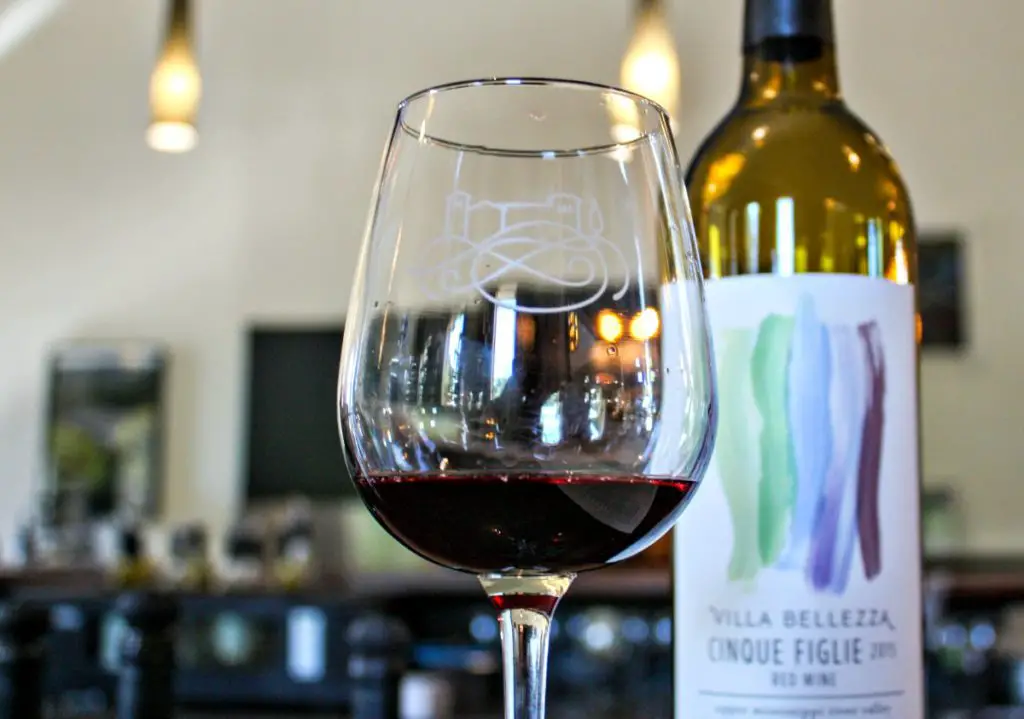 Speaking of Wisconsin beer and wine, I noticed a beautiful winery that looked like an Italian villa as I drove to Stockholm Pie. Since Villa Bellezza was on my route to my lodging, I decided to stop for a tasting.
Located in Pepin, the winery is part of the Great River Road Wine Trail — a 235-mile trail in the upper Mississippi River valley. The trail comprises 11 wineries that grow their own grapes locally. It's a scientific feat, finding grapes that withstand the cold, snowy Midwest winter.
Villa Bellezza actually grows 35 percent of its own grapes and also uses grapes from vineyards within a two-hour radius. The four-year-old winery produces 6,500 cases per year and ages its wines in American and French oak barrels.
Meaning "beauty" in Italian, the name for Villa Bellezza was inspired by the area's beautiful river bluffs and Lake Pepin. The owner, a retired energy-industry executive, was taught winemaking by an Italian couple. That influence shows in the stucco structure with its red-tile roof, and also in the vino itself.
For $5, I tasted three award-winning wines. If I had more time, I would have enjoyed sipping a glass of La Crescent — a medium-bodied semi-sweet white wine with a tropical fruit aroma and flavors of peach, mango, and nectarine — outside on the Piazza.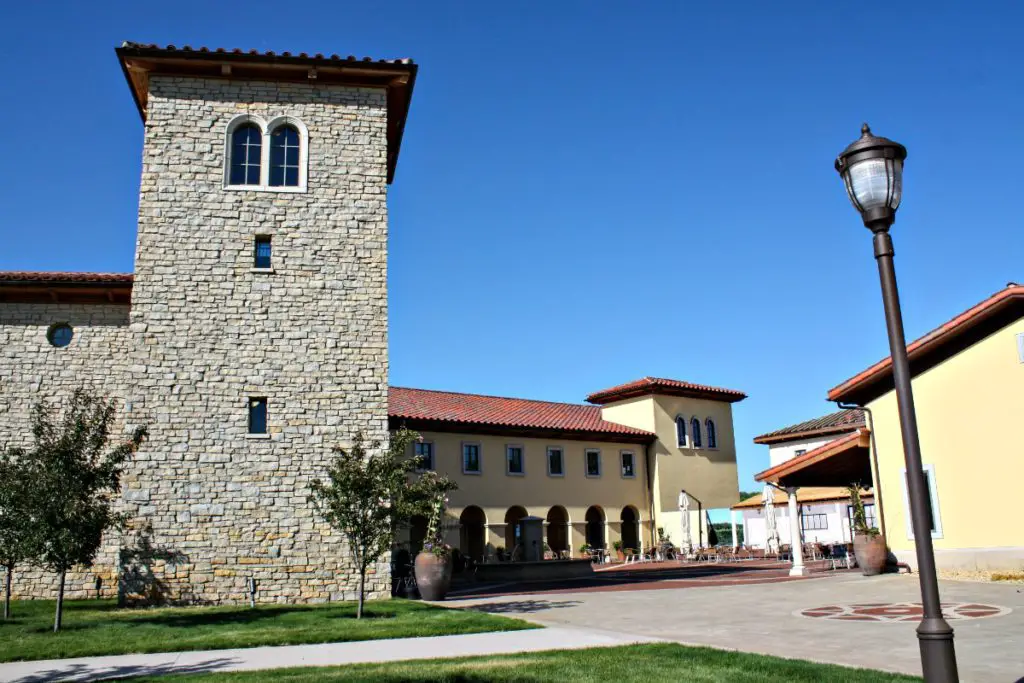 My Lodging: Tritsch House B&B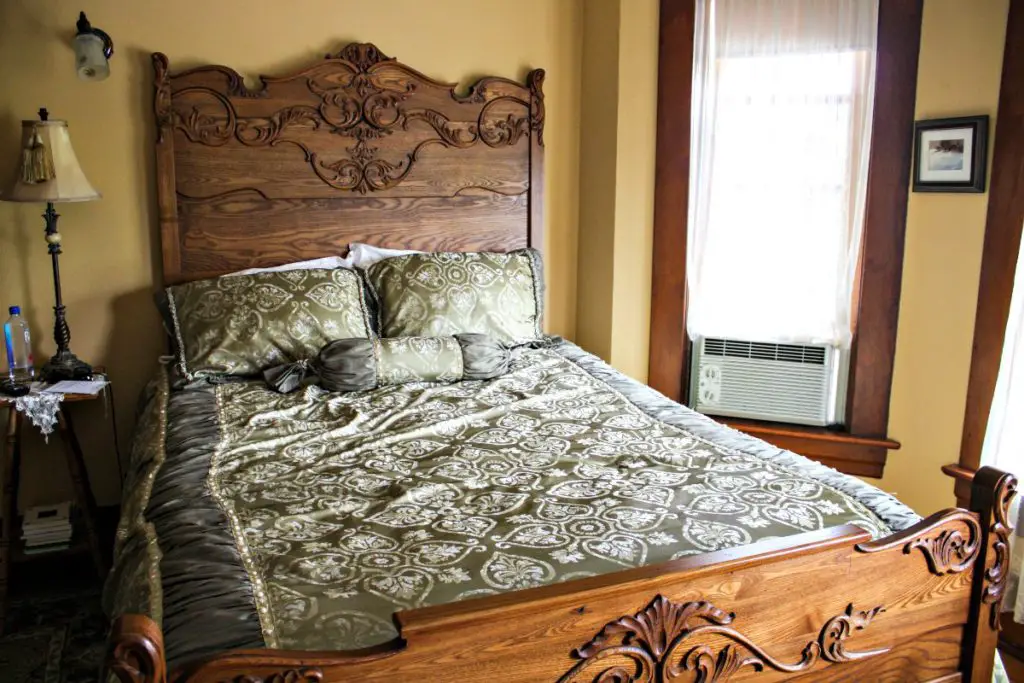 I stayed at the Tritsch House, a historic Queen Anne that has been beautifully restored as a bed and breakfast, in Alma. Staying in one of the quaint rooms decorated with period furniture and antiques was like stepping back in time to when this home was built in 1902.
Though it's a historic home, the bed and breakfast offers modern amenities like Wi-Fi and large flat-screen TVs. There also is a gorgeous eight-foot Olhausen pool table in the parlor that guests are welcome to use. And, every morning a continental breakfast spread is available in the kitchen.
Each of the five guest rooms has a private bathroom. I stayed in one of the three rooms also outfitted with a double Jacuzzi tub. Soaking in that tub was so relaxing after a long day of driving.
My upstairs room also had a fantastic view of the Mississippi River from the bay window, but I enjoyed the view more from the upstairs porch.
Wondering where I bought that New Glarus beer?
It was part of the mixed six-pack of Wisconsin microbrews I picked up at Stockholm Pie and General Store. I bought warm beers because, though I had a cooler in my car, I wasn't certain I'd drink them all on this road trip. In fact, as I write this post nearly two months after visiting Wisconsin, I still have a beer or two in my fridge.
One of the perks of staying at the Tritsch House was having access to a refrigerator and a full kitchen. Since I hadn't put ice in my cooler yet, I tucked a couple beers and the cheese I bought in Stockholm into the fridge for a couple hours. I pulled it out later for a delicious, local, and not-so-healthy-or-balanced dinner.
If I Had More Time, I Would Have …
Resources For Your Wisconsin Great River Road Trip
Explore the map below!

Read More Midwest Travel Posts
Have you driven the Great River Road?
What were your favorite stops? If you haven't been yet, what would you like to see?