Located along the Lake Michigan shore, Saugatuck, Michigan, charms its visitors with beautiful beaches, sand dunes, and an adorable waterfront downtown of boutique shops, local restaurants, and art galleries. It is a destination for art lovers, foodies, boaters, and anyone easily delighted by the quaintness of a small beach town.
Known for its inns and bed and breakfasts, such as the Judson Heath Colonial Inn and Belvedere Inn & Restaurant, this lakeside West Michigan town is a serene setting for a romantic getaway.
Additionally, Saugatuck is perfectly positioned for a weekend getaway from the Detroit and Chicago areas. About 40 miles southwest of Grand Rapids, it's also an ideal day trip destination for locals and visitors of Michigan's second-largest city.
Disclosure: This guide to things to do in Saugatuck, Michigan, was originally posted after a day trip to Saugatuck in July 2015. It has been updated in June 2022. This post also contains some affiliate links. When you click on one of these links to book your lodging or make a purchase, I may earn a commission. Of course, this is at no extra cost to you, and I only recommend products and lodging I have or would use myself.
---
Drink Craft Beer at Saugatuck Brewing Company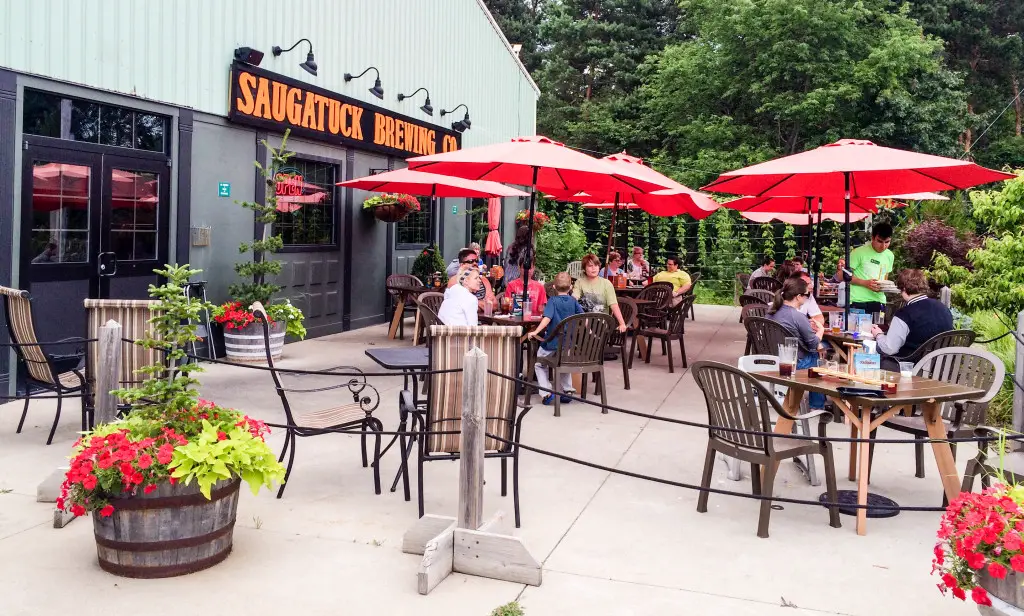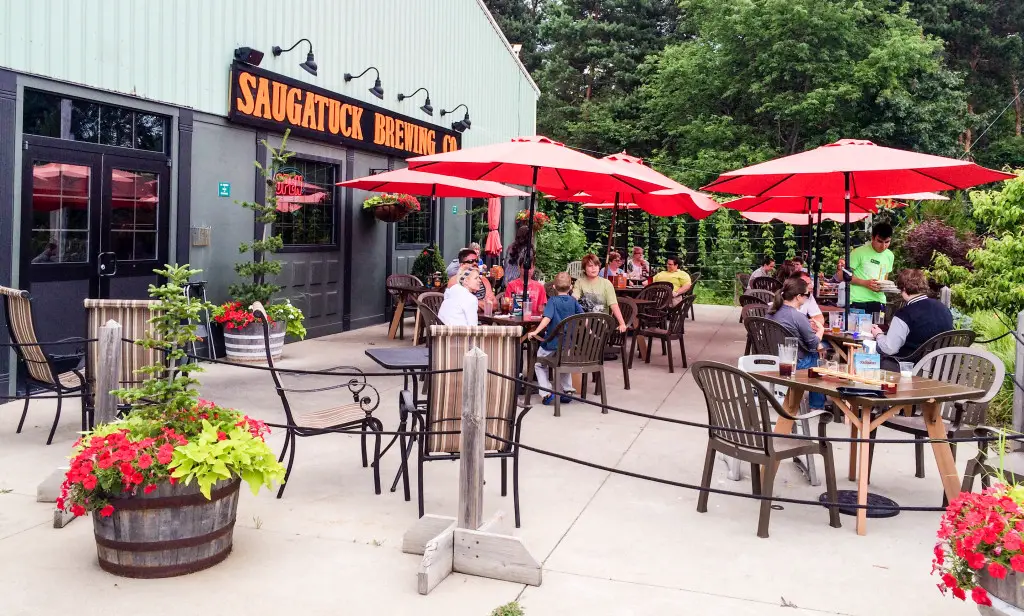 It was lunchtime as I arrived in Saugatuck on my first day trip from Grand Rapids. Luckily, I remembered that Saugatuck has a brewery!
Conveniently located on Blue Star Highway, the main road off of I-196, Saugatuck Brewing Co. is easy for visitors to find. However, if you happen to miss the brewery's sign, look for the large antique store that shares the parking lot.
The brewery's Douglas pub has ample indoor seating and an outdoor patio perfect for sipping craft beer under an umbrella on a warm day.
The Beer at Saugatuck Brewing Co.
After tasting an IPA and realizing it was too early in the day for all the hops, I decided a lighter beer was in order. The Oval Beach Blonde, named after one of the local beaches, hit the spot. It was light, crisp, and refreshing. Aptly named, it's the kind of beer you'd drink on a beach.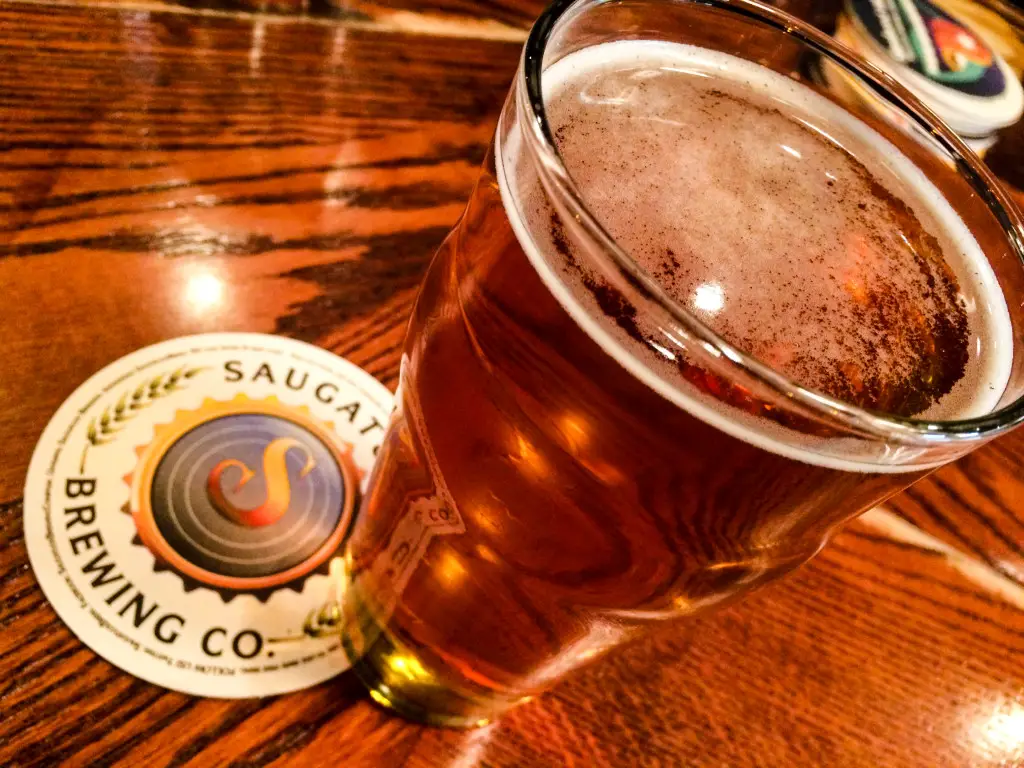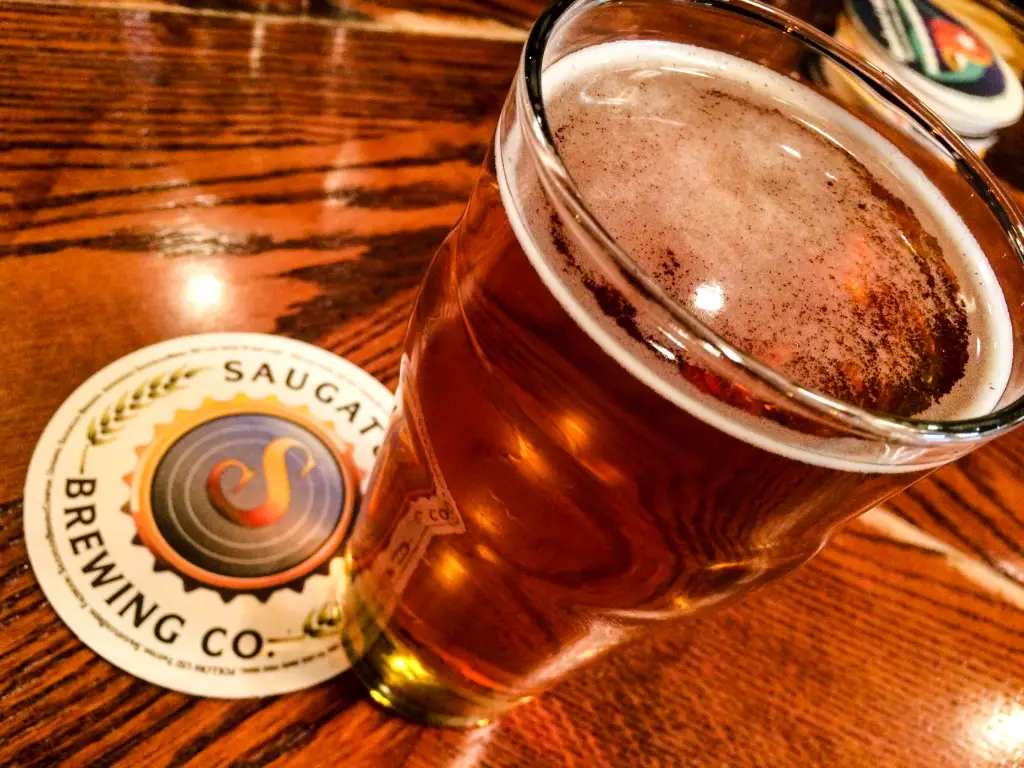 One of my favorite beers is Saugatuck Brewing Co. Blueberry Maple Stout, which tastes like blueberry pancakes in a pint glass. Other notable beers to taste here include the Neapolitan Milk Stout, Peanut Butter Porter, Cottonmouth Crusher, and any of their bourbon barrel-aged brews.
Additionally, for Pride Month in June, Saugatuck Brewing Co. releases Lager of Love. A portion of the proceeds from sales of Lager of Love benefits local LGBTQ+ organizations.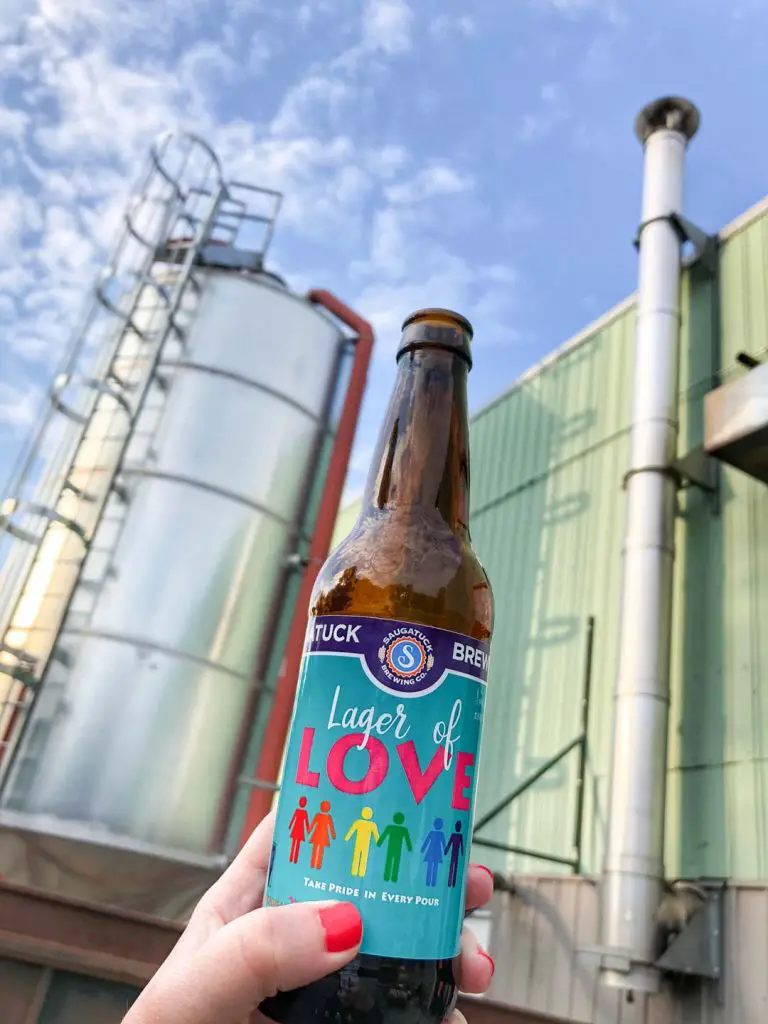 Saugatuck Brewing Co. Food
The Saugatuck Brewing Co. Douglas pub's food menu features a variety of sandwiches, burgers, salads, and pub fare like fish & chips. I'd love to go back to try the jumbo Bavarian pretzel served with beer cheese made with the brewery's Paled It! and the grilled steak and artichoke salad. Doesn't it all sound delicious?
On my first visit to Saugatuck Brewing Co. in July 2015, I ordered a bowl of tasty roasted red pepper and Gorgonzola bisque. I'm so glad the day I wound up in Saugatuck was cool for July (only reaching the high 60s), so I could enjoy this soup!
The next time I dined at Saugatuck Brewing Co. in 2018, I ordered the Southwestern Club sandwich served with a side of chips. I paired it with that summer's Cottonmouth Crusher (the called Cotton Mouth Quencher), a tart sour ale with a distinct peach flavor. The current Cottonmouth Crusher has a raspberry flavor, and it sounds right up this sour-ale drinker's alley!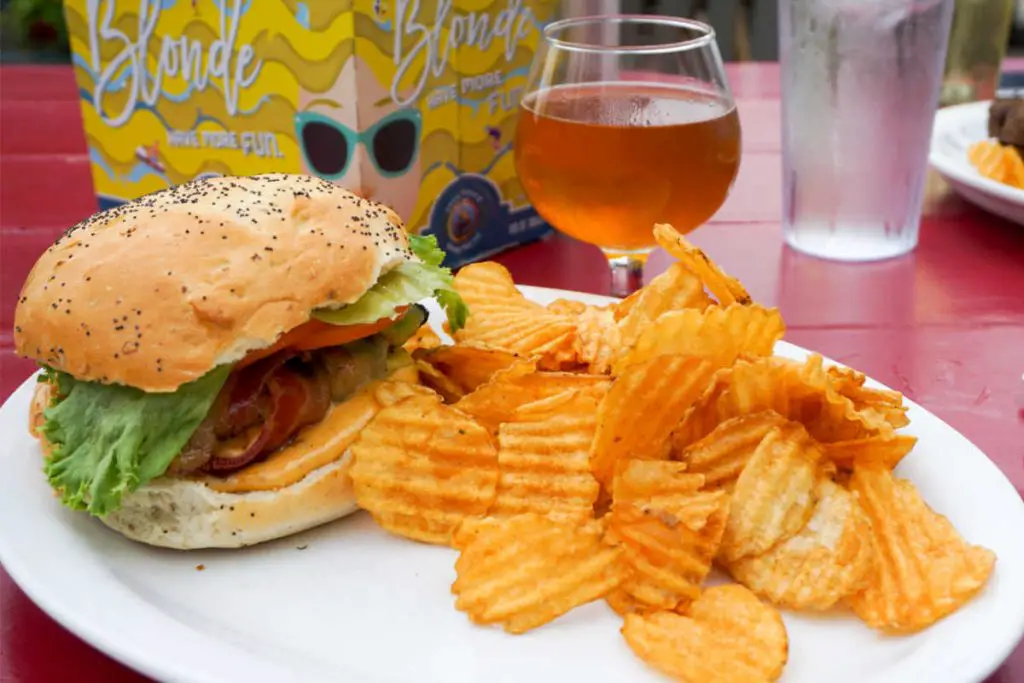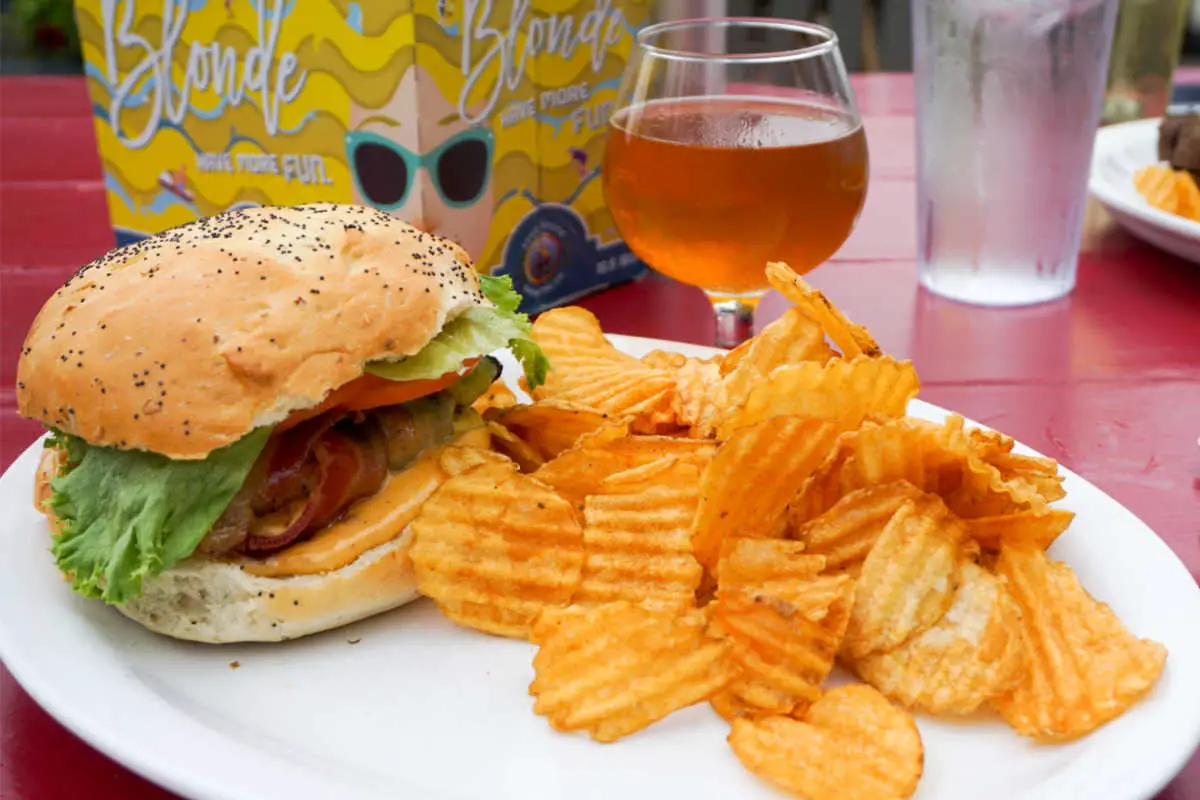 Saugatuck Brewing Company's Douglas pub is located at 2948 Blue Star Hwy, Douglas, MI 49406. Saugatuck Brewing Co. also has pubs in downtown Kalamazoo and the Creston neighborhood of Grand Rapids, Michigan.
Hike to Lake Michigan at Saugatuck Dunes State Park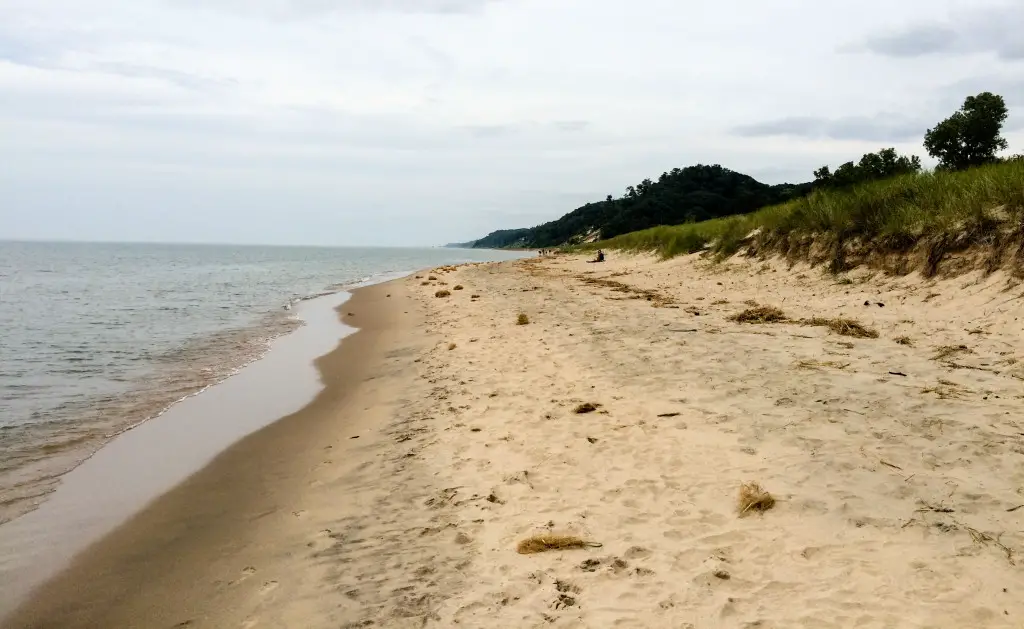 If it's outdoor recreation you seek, you'll love the Saugatuck area! You could climb more than 300 steps to the top of Mount Baldhead for bird's-eye views over Saugatuck. You can cycle along a local bike trail. You can hit the water for kayaking, stand-up paddleboarding, or even pedaling a HydroBike down the Kalamazoo River. And, at Saugatuck Dunes State Park, you can take a short hike through the woods to the sand dunes along the Lake Michigan shore.
If you are also interested in cycling, you could park your car at Saugatuck Dunes State Park and pick up the Beeline Trail. This West Michigan bike trail connects Saugatuck Dunes State Park and the Village of Saugatuck to Holland. From there, you can connect to other Holland Metro Area Trails and 200 miles of bike trails!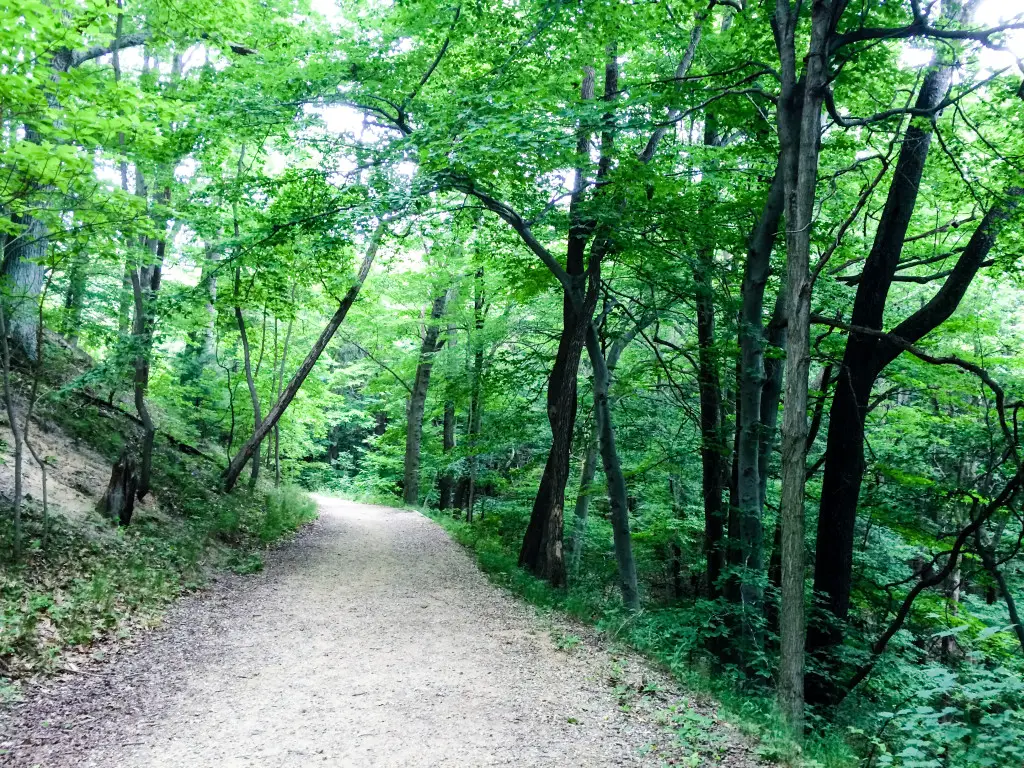 At Saugatuck Dunes State Park, the beach trail is just under a mile from the parking lot to the shore. Looking at the route on my MapMyFitness app, I noticed the trail took me up and down in elevation. It wasn't a strenuous trail, but do not go into the trek to the beach thinking it will be a flat cakewalk, especially if you are carrying a beach bag and/or cooler. The reward for your effort getting there: Upon arriving at the beach, you can run down a mini dune straight into Lake Michigan.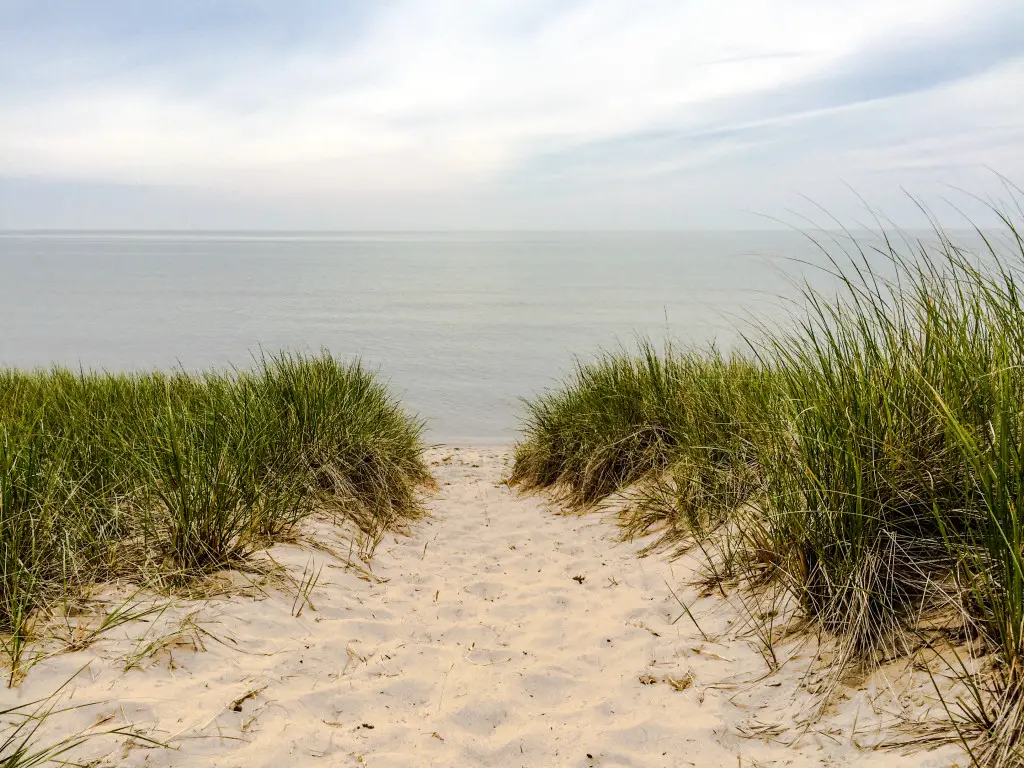 The beach wasn't crowded when I visited, and I had a peaceful walk along the shore. Then I spent some time relaxing atop a small dune, looking out to the Great Lake.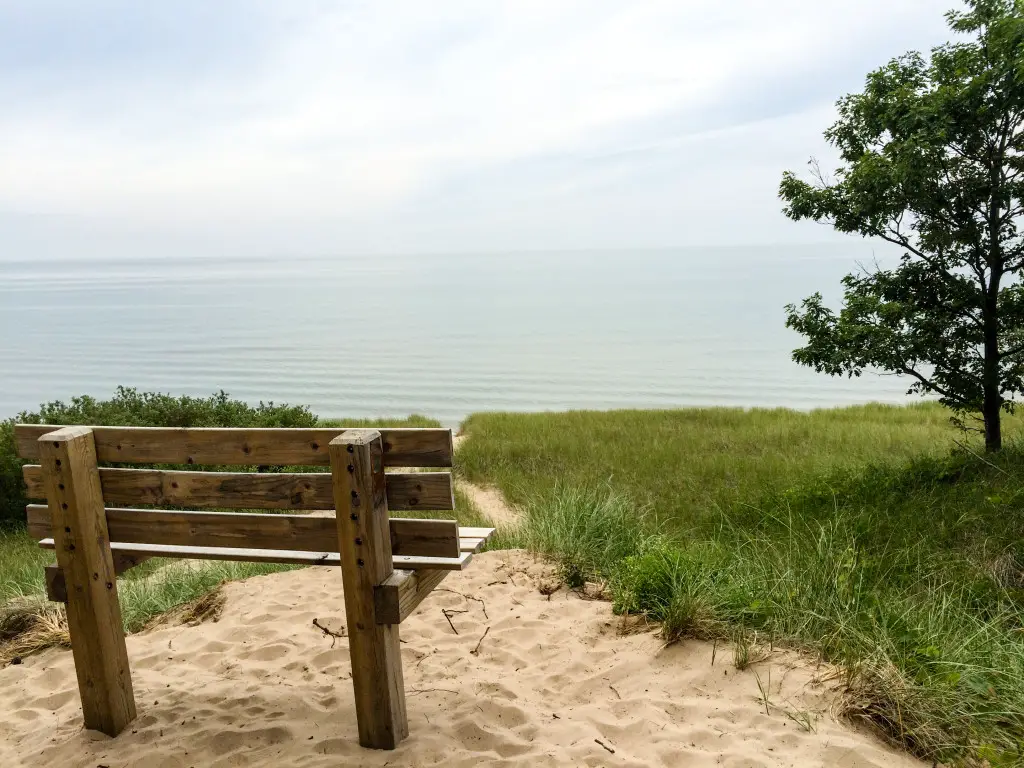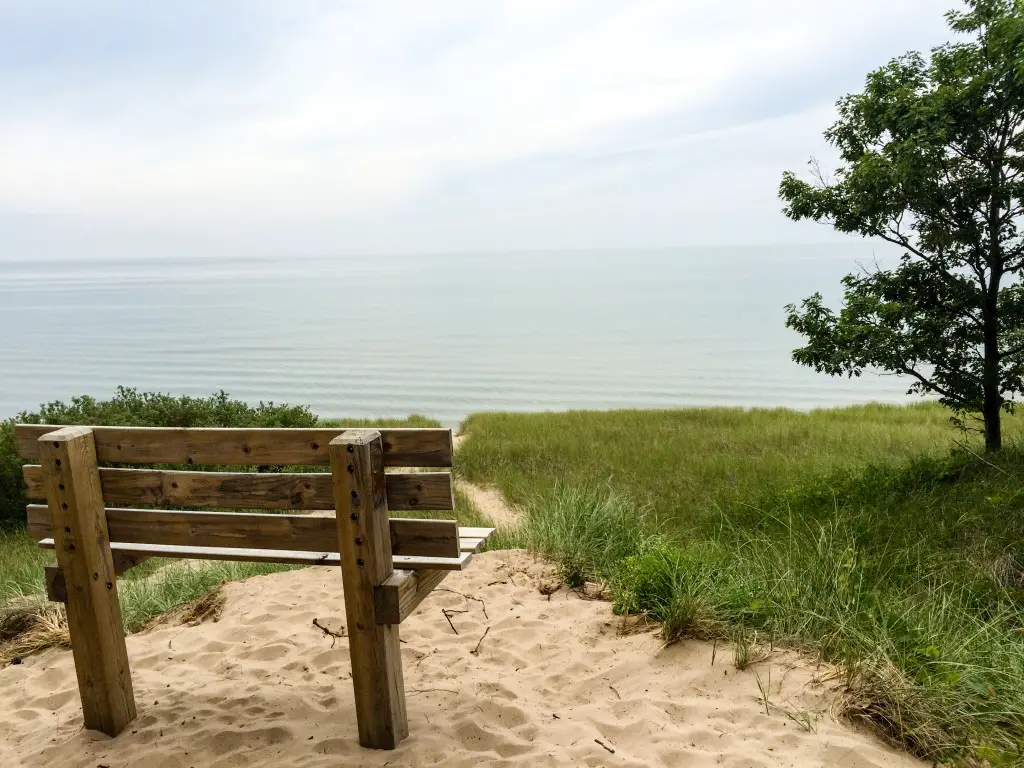 During my hike back to the parking lot, I passed by the adjacent Shore Acres Township Park, which has a disc golf course and a two-mile mountain bike trail.
I also spotted the Felt Estate, a sprawling 1920s mansion once used as a Catholic prep school and Michigan State Police office. Today, the Felt Estate primarily operates as a wedding venue and private event space. However, the Felt Estate is also open for self-guided public tours Monday through Wednesday during the summer. Please refer to the Felt Estate website for current tour offerings, hours, and admission prices.
Michigan requires the Recreation Passport to visit state parks. For Michigan residents, you can pay $12 for it when you renew your vehicle registration, or you can go to a Secretary of State's office to add it for an additional $5 fee. If you don't have a Recreation Passport when you arrive at a Michigan State Park, you can purchase one for $17. Out-of-state visitors can purchase an annual Recreation Passport for $36 online. Both the annual and the $10 daily passes are also available to purchase at Michigan State Parks.
Shop The Artsy Saugatuck Business District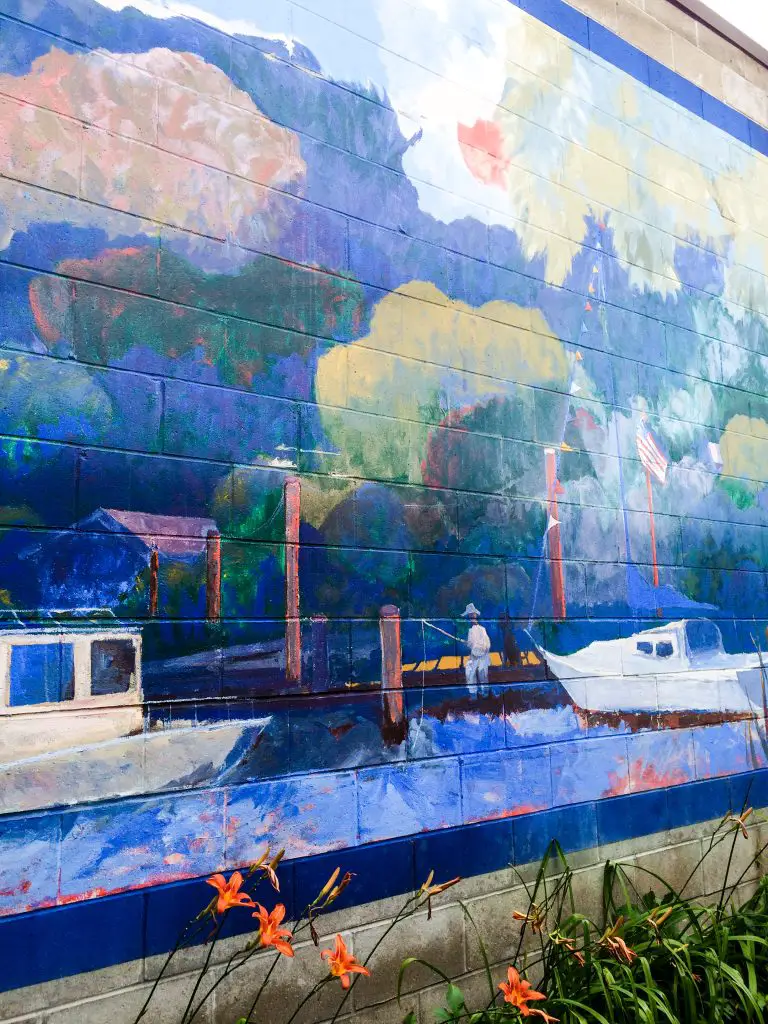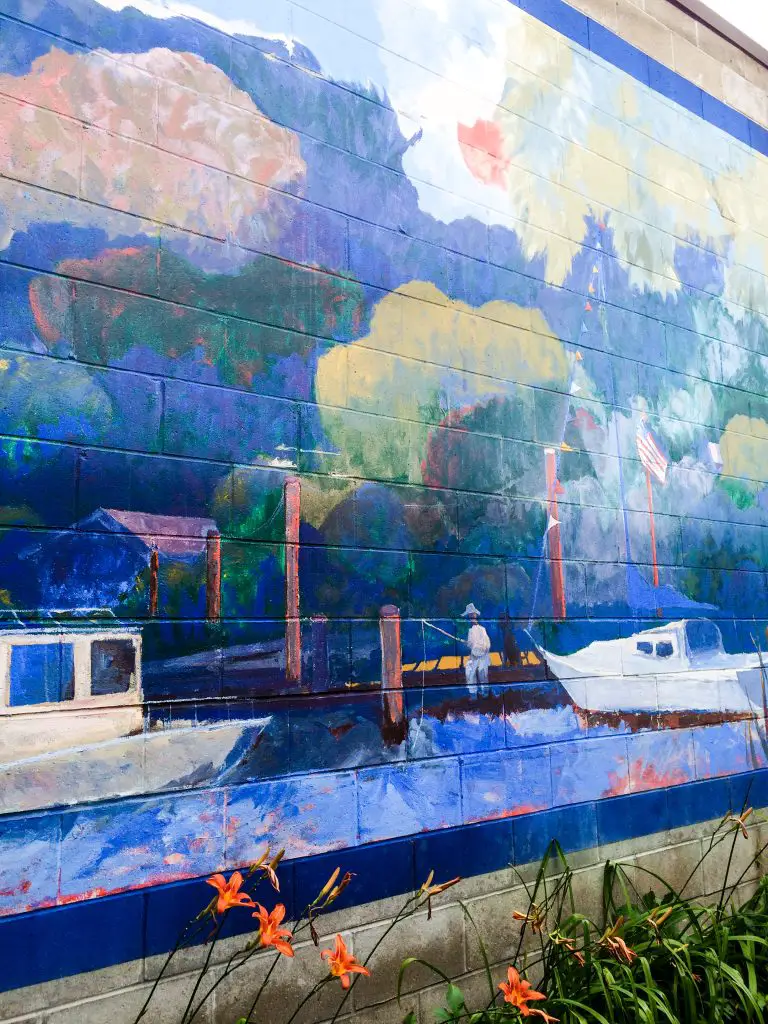 At this point, I thought I'd drive through Saugatuck's downtown to scope it out for future day trips or a weekend getaway. People were strolling from art gallery to boutique shop to local bar and grill to their sailboats docked at the marina. Cars were parked in every spot along every street. In a word, Saugatuck was bustling. Yet also quaint and charming.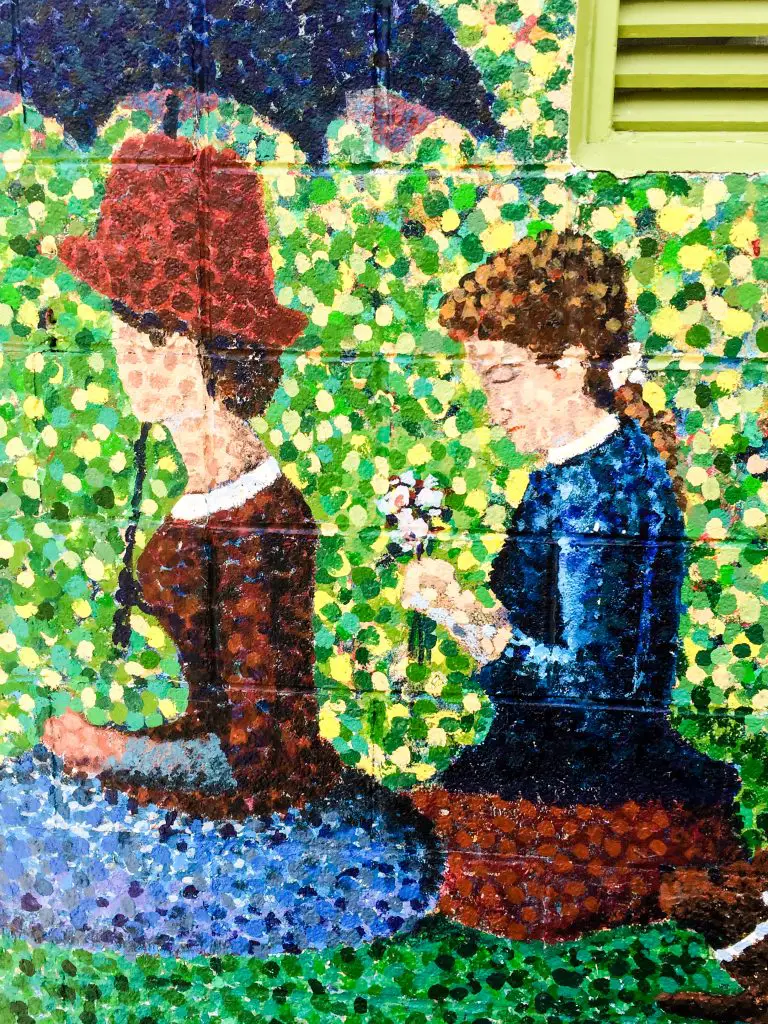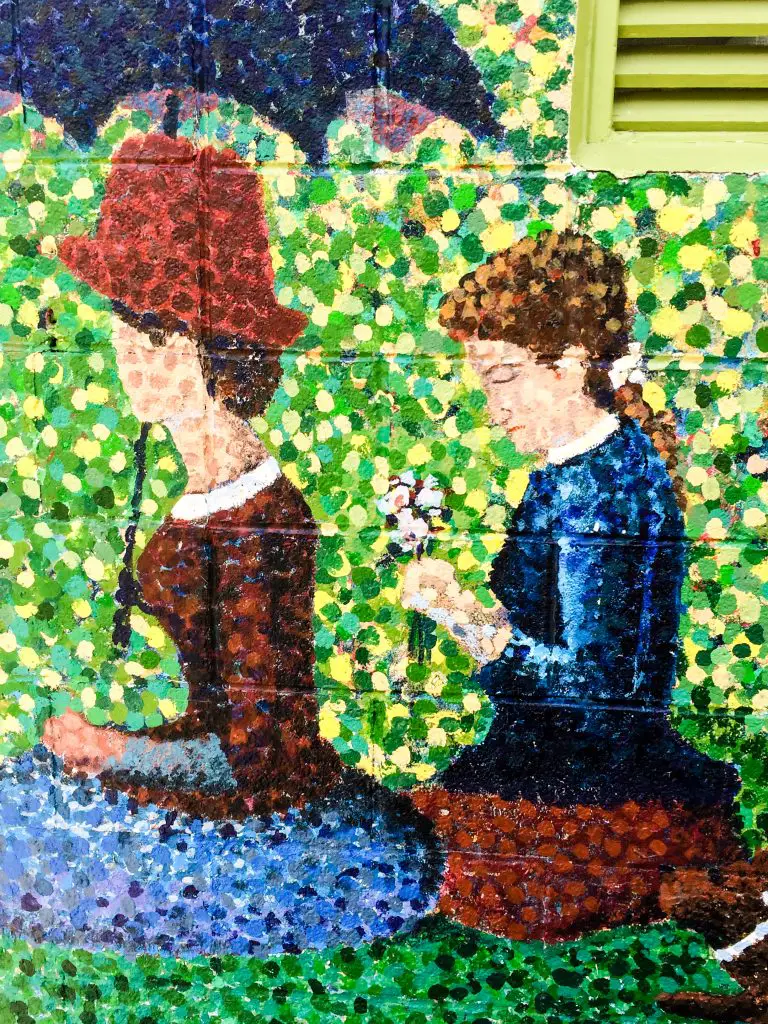 I lucked into a fantastic parking spot right in front of the above mural at the waterfront Wicks Park. Then I set off on foot to explore Saugatuck's downtown shopping and dining.
As I strolled the waterfront, I watched sailboats head out to Kalamazoo Lake and kayakers and stand-up paddleboarders make their way down the Kalamazoo River. I spoke with a local artist who creates brightly colored ceramic pieces for sale at his downtown gallery. I found another ornament to decorate my travel-themed Christmas tree at Tuck's of Saugatuck.
Eat Pizza At Scooter's Cafe & Pizzeria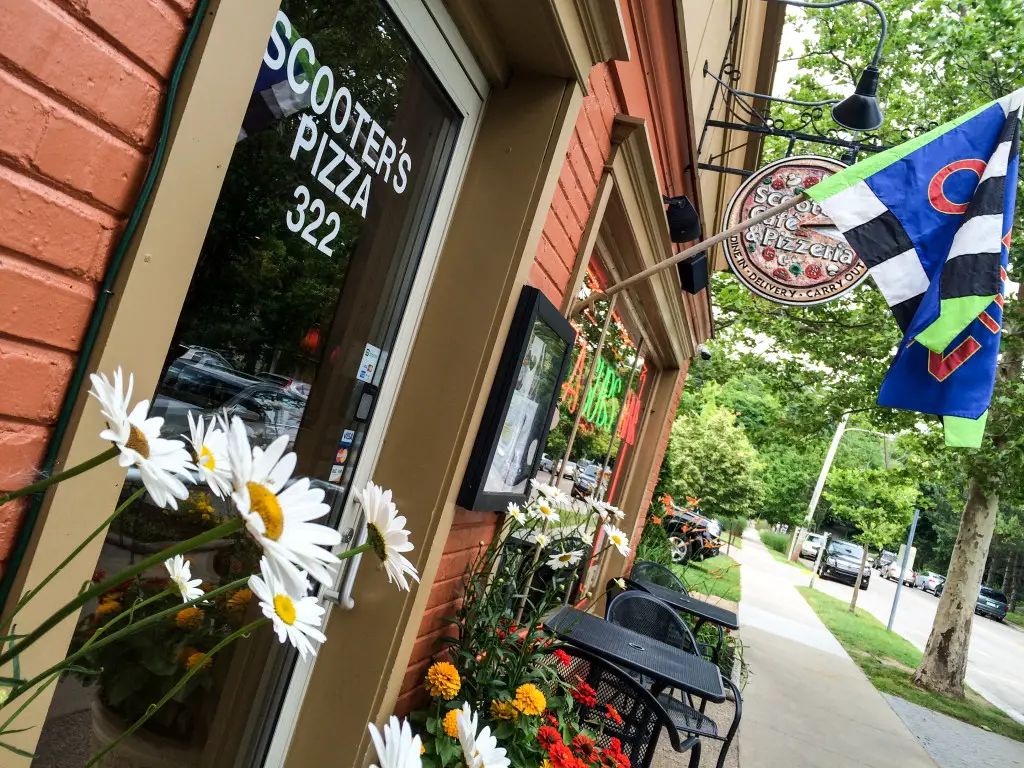 After dining at Scooter's Pizza, I'm so pleased I stayed in Saugatuck for dinner. Driving into town earlier, I had noticed this pizzeria where folks were dining outside. Though Saugatuck was getting busy around dinnertime, this casual pizza parlor didn't have a wait for a table. If you have a taste for pizza and want fast service, I'd recommend walking a few blocks from the bulk of Saugatuck's shops to Scooter's. It's a pretty casual eatery, and the pizza was scrumptious.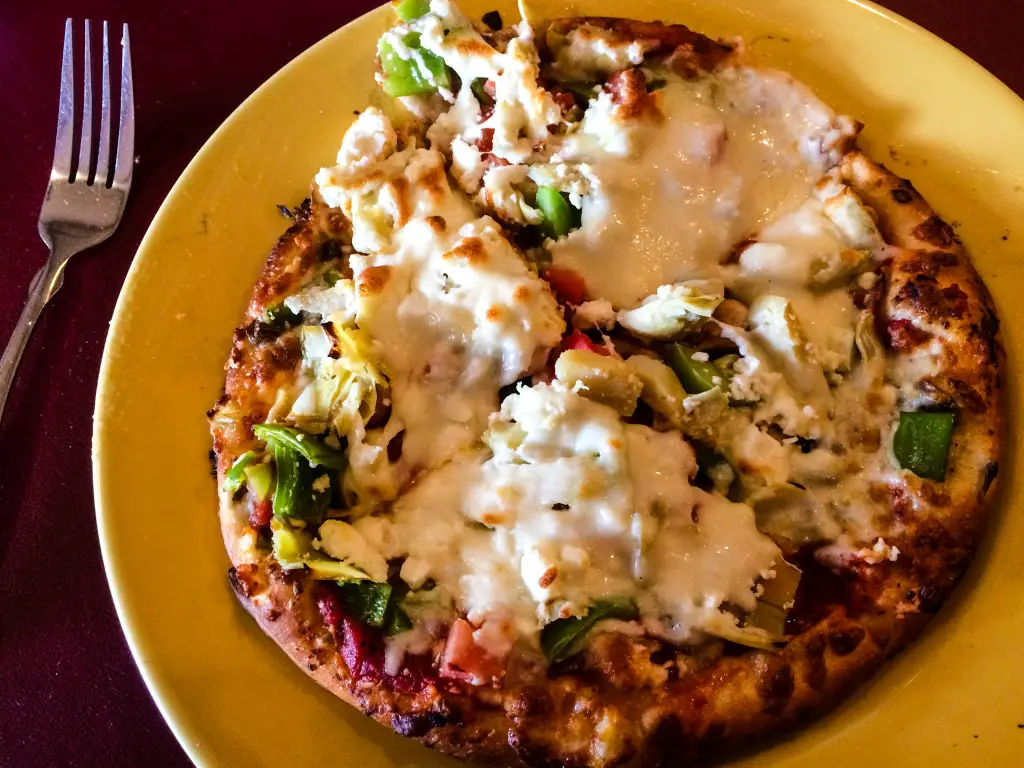 The vegetarian pizza I ordered was topped with artichoke hearts, tomato, green pepper, mushrooms, and feta cheese. Plus mozzarella cheese was melted over the toppings. I was pleasantly surprised by how delicious this pizza was. The menu features 11 specialty pizzas, create-your-own hand-tossed pies, salads, subs, wraps, sandwiches, and a selection of other entrees and appetizers.
Three other things I liked about Scooter's: 1. My server was super friendly. 2. The cafe uses Square for payment, so your receipt is conveniently emailed to you. 3. The restaurant offers take-out and delivery. Keep that in mind if you need some pizza delivered to your B&B during your getaway since I know you now want to visit Saugatuck, too!
Find more things to do in Saugatuck, Douglas, and Fennville by browsing the map below!
Where To Stay When Visiting Saugatuck
Planning to stay in the Saugatuck-Douglas-Fennville area overnight or for a weekend getaway? Here are my recommendations for where to stay:
The Kirby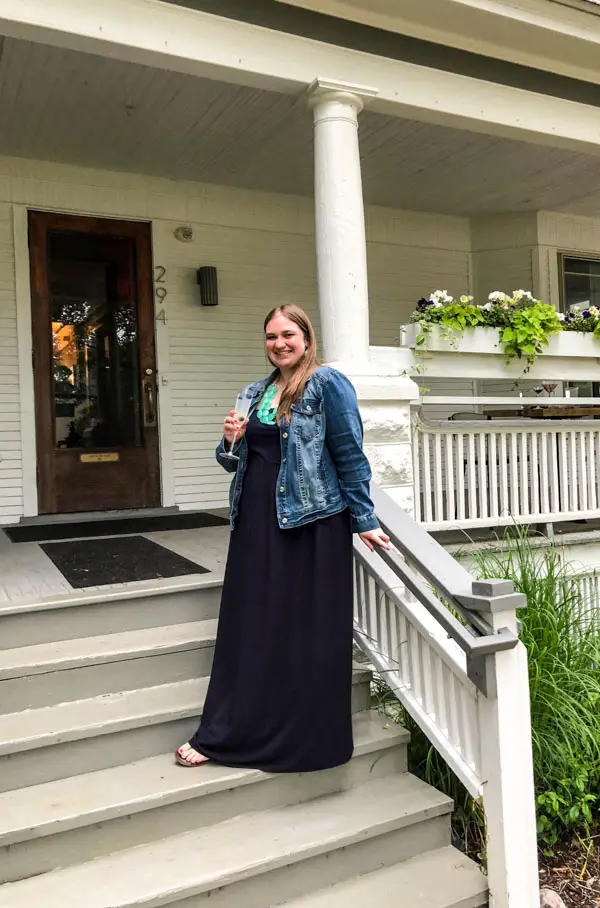 The Kirby is a four-star boutique hotel in an 1890s Victorian house in Douglas. Ideal for a romantic getaway, the Kirby also offers a fantastic restaurant with alfresco dining and a beautiful wrap-around porch. Rated 4.5 by TripAdvisor users, former guests have raved about the service, friendly staff, and delicious meals at J. Paul's Dining Room. I had the pleasure of dining there in June 2018, and the food, wine, ambiance, and service were all top-notch.
The Kirby is located at 294 West Center Street in Douglas. You can make reservations by calling 269-857-5472, and let them know you learned about the Kirby on The Epicurean Traveler.


Read More
Save this post to Pinterest for future trip planning!