Nothing says spring break like sipping cocktails at the beach — or at least feeling like we are doing that for a week! Combining my favorite tropical flavors of pineapple and coconut with a splash of lemon-lime from 7UP®, this simple piña colada white sangria is easy to make while on your spring break vacation or at home to bring those tropical beach vacation vibes to your staycation.
For even more delicious and refreshing sangrias, check out these summer sangria recipes.
Disclosure: This post contains affiliate links and has been compensated by Collective Bias, Inc. and its advertiser. However, all opinions are mine alone. Also, this content is intended for readers who are 21 and over. In the United States, you must be 21 or older to consume alcohol, and we ask that you please drink responsibly. #JustAdd7UP
---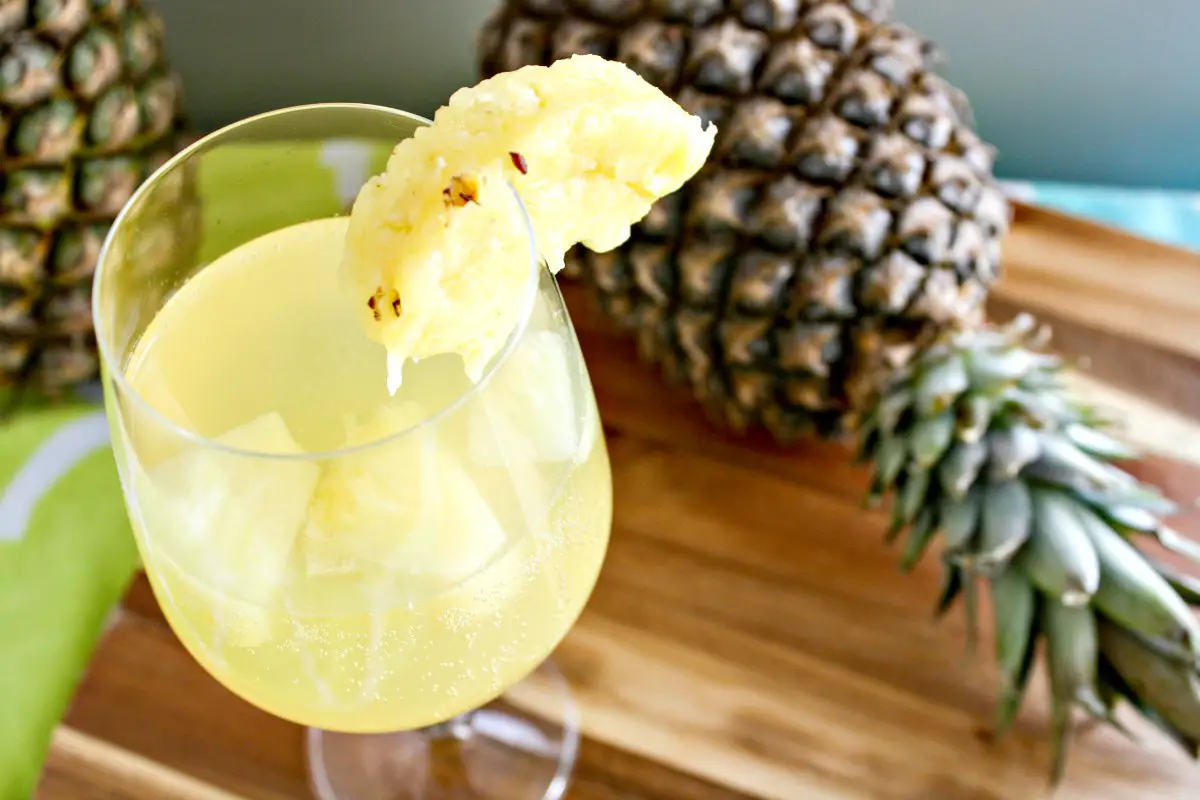 Piña Colada White Sangria is beach-ready in 15 minutes
Perfect for a beach vacation, this easy-to-make tropical sangria takes less than 15 minutes to prep.
For added convenience, it can even be made the night before your beach day.
If you chill the sangria overnight, add the 7UP right before you head to the beach the next day.
Alternatively, you can pack 7UP cans in your cooler and add fizz to your drink on the beach. This will keep your sangria bubbly and crisp.
Additionally convenient for spring breakers, this piña colada sangria calls for only five ingredients. When I'm on vacation, grocery shopping is the last thing I want to be doing. That is why I recommend simple recipes with few ingredients when traveling for spring break.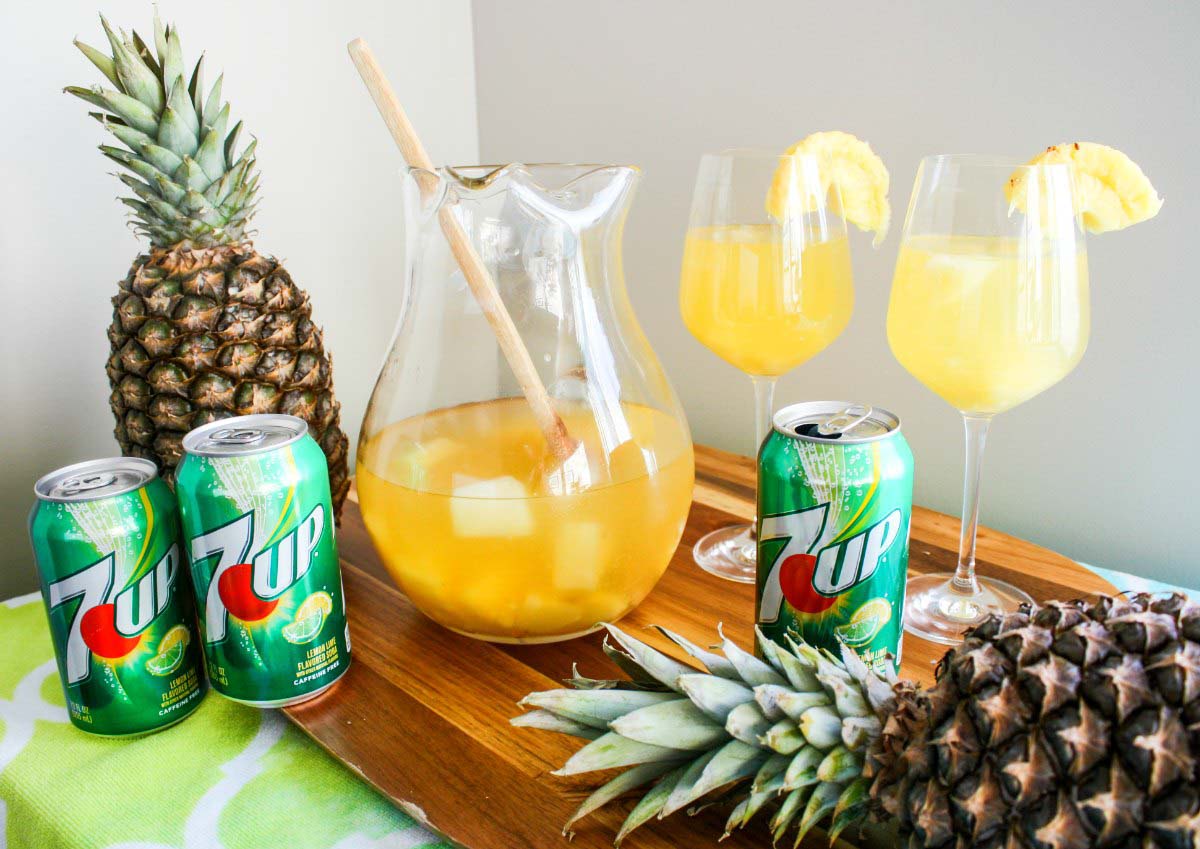 Pineapple Coconut Sangria Ingredients
The sangria's five ingredients — dry white wine, coconut rum, pineapple juice, fresh or frozen pineapple, and 7UP — should be readily available at local stores in popular spring break destinations in the United States.
1. Find 7UP at Walmart stores nationwide.
I purchased 7UP at my local Walmart in Comstock Park, Michigan, and it was easy to locate in the soft drink aisle. To find a Walmart near your spring break destination, input your hotel or vacation rental's zip code into the Walmart store finder.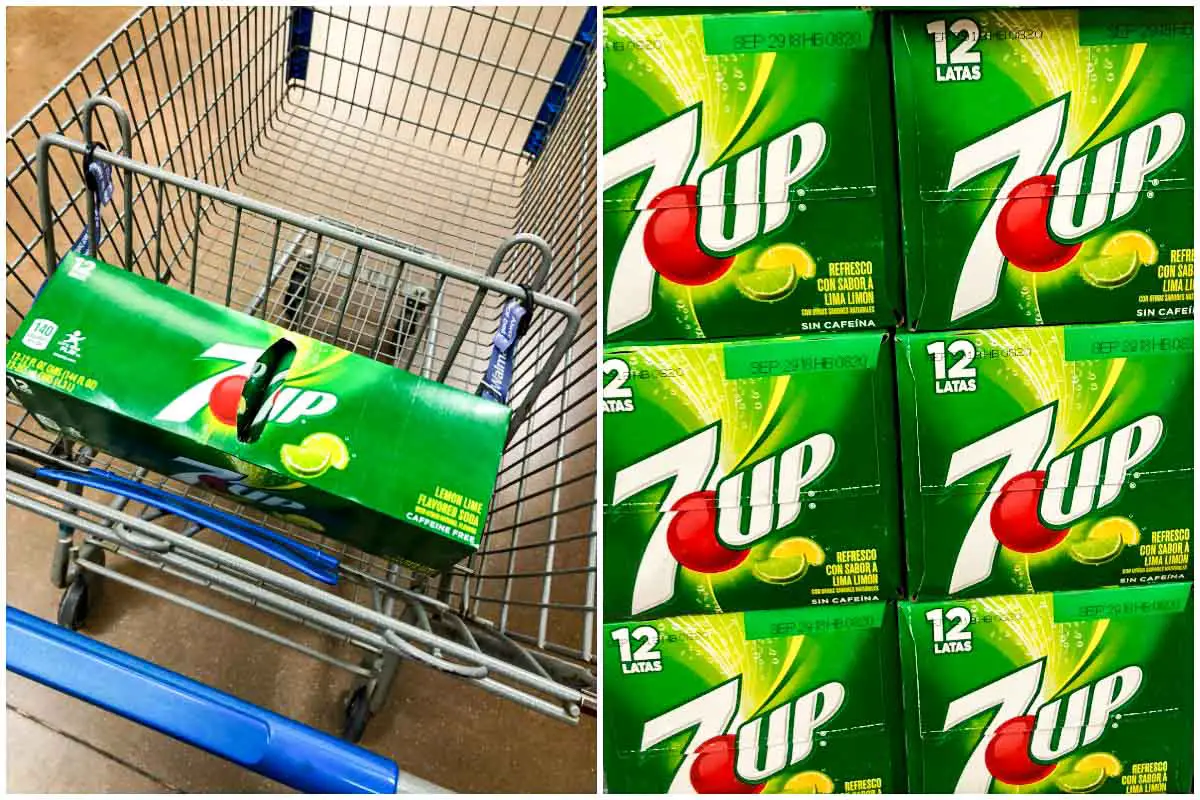 2. Get more beach time by strategically planning where to purchase ingredients.
If you plan to drive to your spring break destination, I recommend purchasing the wine, coconut rum, and 7UP at home. This will save time when grocery shopping on vacation, and that means more time at the beach!
3. If an ingredient is difficult to find, a similar product almost always works out fine in sangria.
Surprisingly, I had a difficult time finding pineapple juice at my local grocery stores. If you run into this problem, you can substitute it with any pineapple-based juice such as a pineapple-mango or pineapple-orange-banana juice. As long as you stay in the realm of tropical or citrus fruit juices, you'll create a fruity tropical sangria!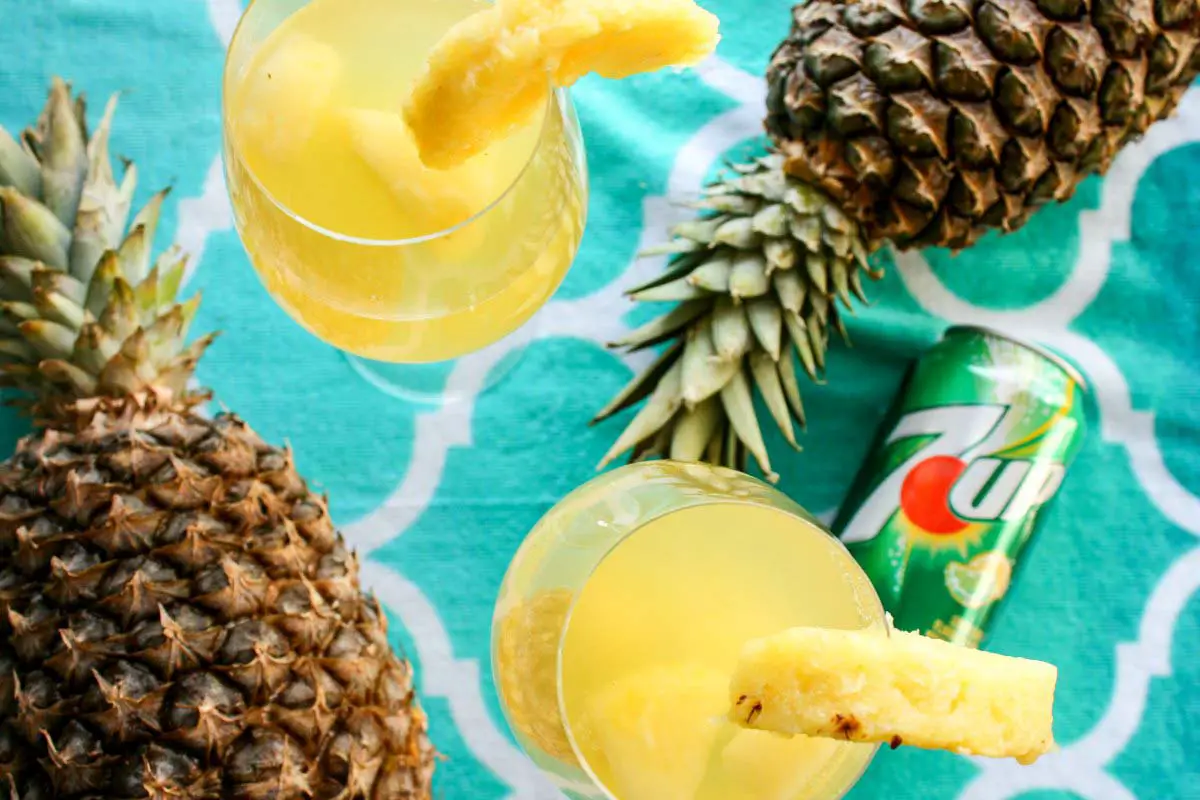 4. Select a white wine with tropical or citrus fruit flavors.
You'll also want to keep tropical and citrus fruit flavors in mind when selecting the dry white wine.
I usually use a Pinot Grigio in my white sangrias, but I opted for a bright and fruity Sauvignon Blanc with hints of lemon and lime for this recipe. I thought that would pair well with the lemon-lime flavor of 7UP, and indeed it did.
Therefore, as you peruse the wine aisle, I suggest reading the labels to find a wine described as showcasing citrus or tropical fruits for this particular sangria.
5. Frozen pineapple is easiest, but fresh is best for garnishing your drink.
Lastly, you can use fresh or frozen pineapple for this cocktail recipe.
To keep this recipe stress-free on vacation, I recommend using frozen pineapple chunks. No chopping involved this way!
Plus, the frozen pineapple chunks act as ice cubes to keep your beverage cool without watering it down like ice will.
However, I prefer fresh pineapple for an edible garnish. Of course, a garnish is totally optional, but it does add an element of fun.
Other possible garnishes to add some colorful flair to your sangria include orange slices, strawberries, maraschino cherries, and reusable pineapple-shaped cocktail picks.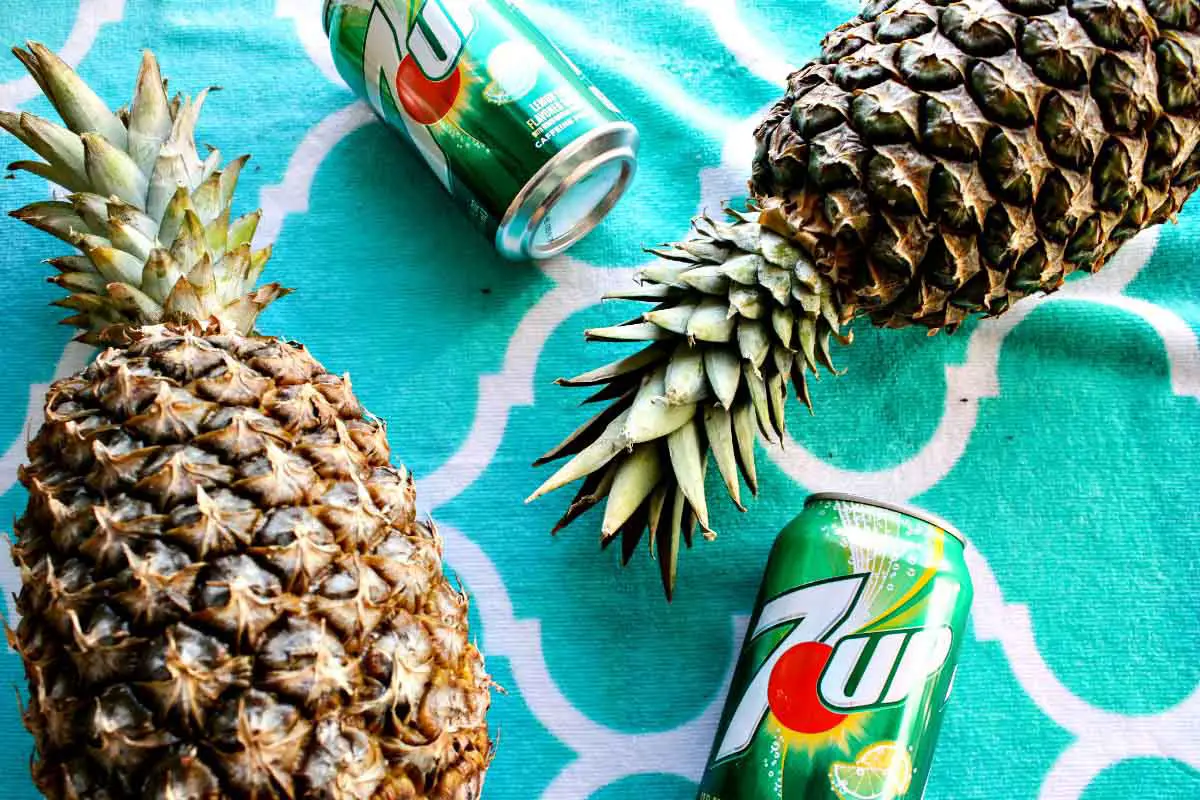 Why do I use 7UP in my piña colada white sangria?
When I make a white sangria — like this peach sangria — I typically make a simple syrup to add sweetness. Then I always top off my sangrias with a carbonated beverage for sparkle and fizz. Providing both carbonation and sweetness, we can combine those two steps by using 7UP.
In addition to the convenience of using 7UP in this recipe, I also like the lemon-lime flavor combined with pineapple and coconut for a truly tropical taste.
Since this recipe only calls for four cups, which is less than three cans, you'll have additional cans of 7UP to take to the beach, to double the recipe, or to create other mixed drinks. 7UP can be used in so many ways to add sparkle to a spring break spread.
How do you use 7UP during spring break? I'd love for you to tell me by leaving a comment under this blog post!
How To Make Piña Colada Sangria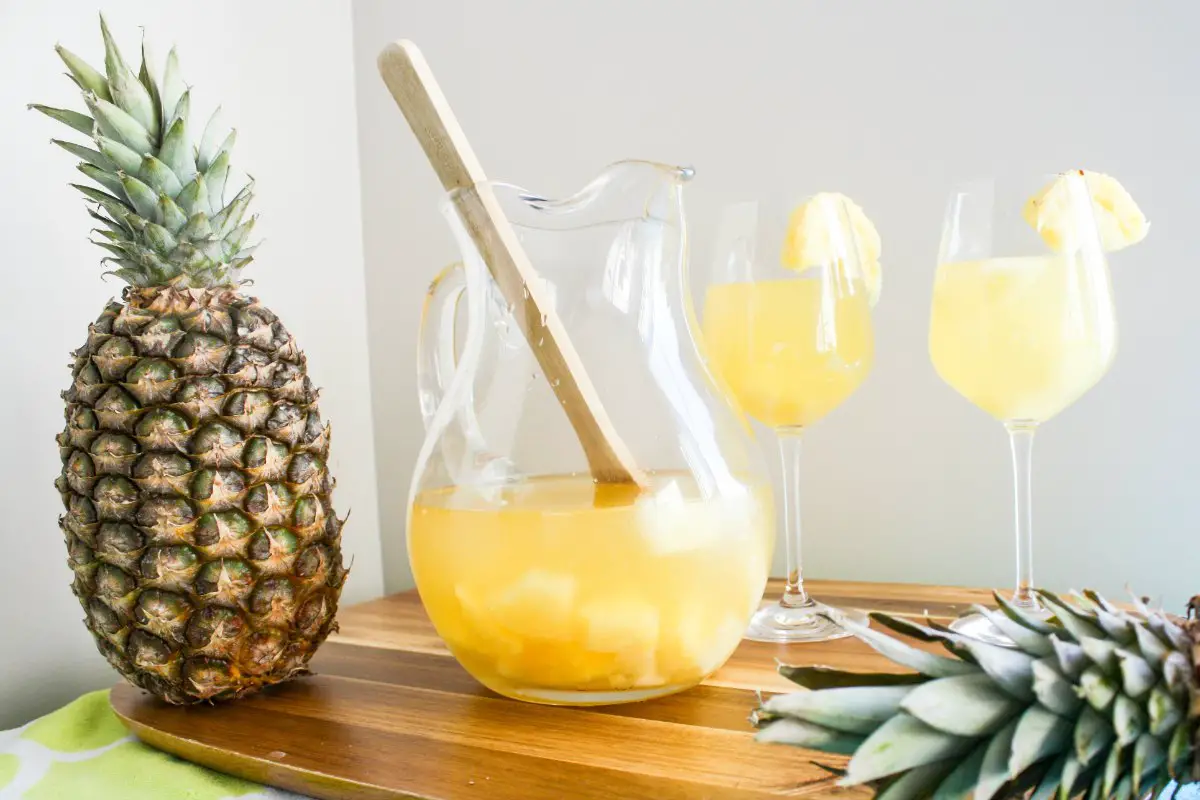 To make piña colada white sangria, you'll need a pitcher, liquid measuring cups, solid measuring cups, and a large spoon.
In the pitcher, combine a bottle of dry white wine (preferably a Sauvignon Blanc with tropical or citrus fruit flavors), two cups of pineapple juice, and 3/4 cup of coconut rum.
This mixture is heavier on the pineapple flavor, so feel free to adjust to your taste level. For more coconut flavor, you could add up to another 1/4 cup of rum.
Give it a stir, and place it in the refrigerator to chill for at least an hour. You can even prep this the evening before your beach day and chill it overnight.
Before serving, add two cups of pineapple chunks. Again, I recommend using frozen pineapple chunks. If you use fresh pineapple, you could add the pineapple before chilling. In that case, it is easier to put the pineapple in the pitcher first and pour the liquids on top.
If you are serving this sangria right away, top it off with four cups of 7UP and stir.
If you are packing the sangria for the beach, pour the mixture into individual reusable water bottles and pack cans of 7UP in your cooler. Then, at the beach, crack open a can and pour 7UP to your liking into your individual beverage. And enjoy!
Tropical Piña Colada White Sangria
Sweet and fruity, this tropical-flavored cocktail is easy to prep in 15 minutes or less. You can chill it overnight or make it the morning of a beach day. Pack it in reusable water bottles and add the 7UP at the beach for sipping this pineapple-coconut-citrus sangria during spring break!
Ingredients
2 Cups Pineapple Chunks, Frozen or fresh
1 Bottle Dry White Wine, Sauvignon Blanc with tropical or citrus fruit flavors recommended
3/4 Cup Coconut Rum
2 Cups Pineapple Juice
4 Cups 7UP®
Instructions
Pour wine, coconut rum, and pineapple juice into pitcher and stir
Chill in refrigerator for at least one hour up to overnight for best results
Before serving, add pineapple chunks, top with 7UP®, and stir
https://www.epicureantravelerblog.com/tropical-pina-white-sangria/
More Cocktail Recipes You May Like
Save this tropical sangria recipe to your cocktail recipe board on Pinterest to reference later!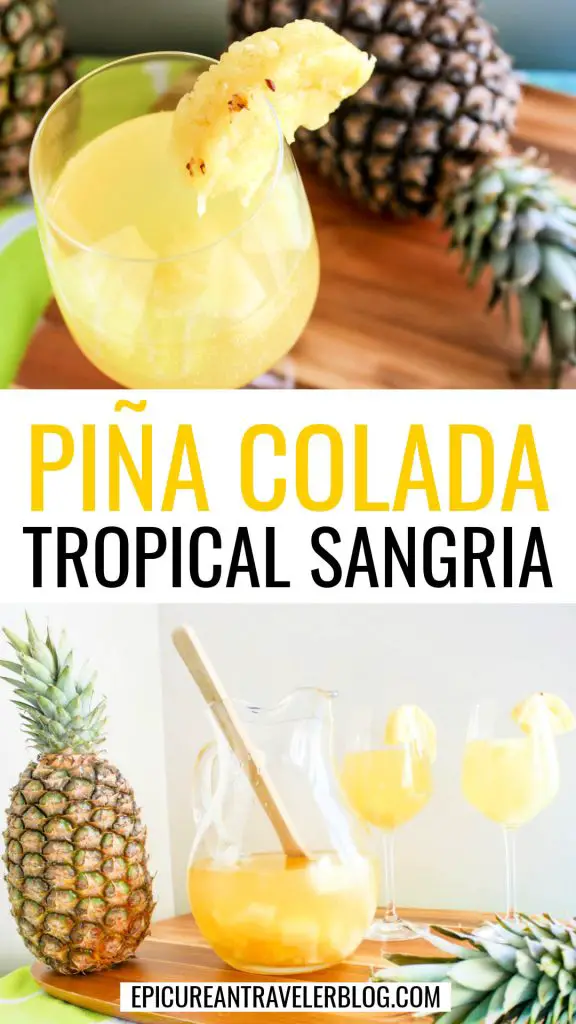 Whether you are traveling somewhere warm and sunny for spring break or just wish you were, this tropical piña white sangria will have you feeling like you are relaxing in a tropical paradise.
With only five ingredients, this cocktail can be beach-ready in 15 minutes, but I do recommend allowing the sangria to chill for at least an hour up to overnight.
As you plan your spring break, head over to Walmart to stock up on 7UP, and then sip your way to a relaxing vacation (or staycation) with this delicious tropical pineapple white sangria.