Looking for a delicious fall cocktail? This Michigan Apple Cider Sangria combines the spiced red wine Witches Brew from Northern Michigan's Leelanau Cellars with fresh apple cider, Honeycrisp apples, cinnamon, brandy, and citrus for a truly autumn-inspired libation. 
Disclosure: This post contains affiliate links. When you click on or make a purchase via one of these links, I may earn a commission. Of course, this is at no extra cost to you.
Ingredients In Michigan Apple Cider Sangria
In this sangria inspired by autumn in Michigan, you'll notice flavors of apple cider, cinnamon, nutmeg, and sweet Honeycrisp apples in each sip. For this easy-to-make fall cocktail, you'll need:
Spiced Red Wine — I used Leelanau Cellars Witches Brew, a sweet, spiced red wine made in the Traverse City area's Leelanau Peninsula AVA.
Apple Cider — You'll often find this in the produce section of your local grocery store during the fall, or you can purchase fresh apple cider at one of these Michigan cider mills.
Brandy — You don't need to buy an expensive brandy to make sangria. I used E&J VS Brandy, which I picked up for less than $12 from my local Meijer store. I also selected this brandy for its flavors of dried fruit, toasted brown spice, and vanilla.
Cinnamon Sticks — I used cinnamon sticks in the sangria and as a garnish.
Honeycrisp Apples — Sweet and crisp, these apples can be found by late August in the produce section of Michigan grocery stores. As the third largest producer of apples in the United States, Michigan apples are also sold in 32 states and 18 countries. You'll also find Honeycrisp apples at Michigan's farmers' markets, roadside farm stands, cider mills, and apple orchards. You can even pick your own Honeycrisp apples at U-pick orchards around Michigan.
Citrus — I prefer using the juice of a freshly squeezed lemon, but you can substitute with 2 tbsp of bottled lemon juice. You'll also need a navel orange to slice, and you can use orange juice or the juice of an additional navel orange.
Club Soda — Before serving, add bubbles and fizz with club soda. No club soda on hand? You could use sparkling water or ginger ale, such as Michiganders' beloved Vernors. To keep with our Michigan theme of this fall sangria, I suggest trying NoMI Sparkling Water. I bet the Michigan Cherry + Lemon flavor would taste delicious in this sangria!
Where Can You Find Witches Brew?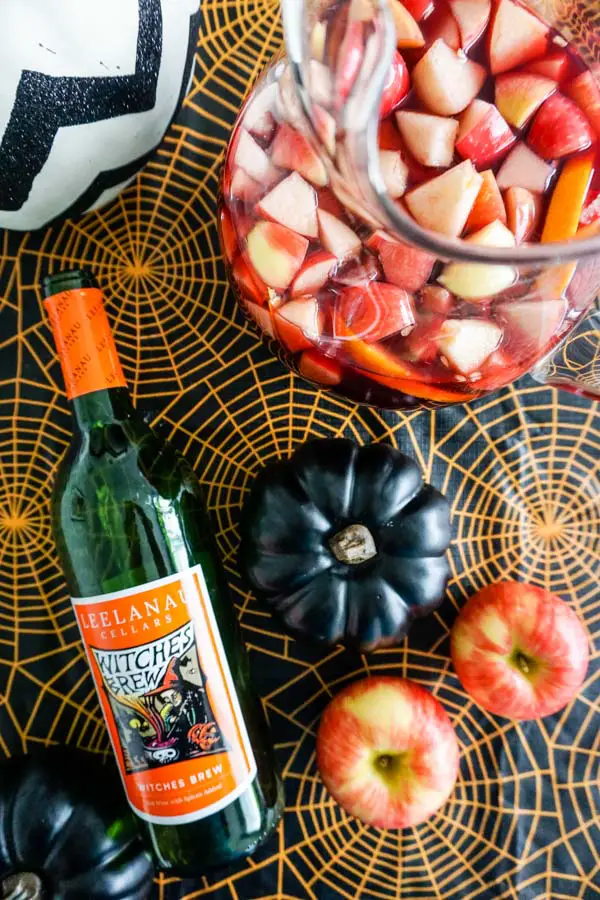 Beginning in late summer and throughout the fall, you'll find Leelanau Cellars' seasonal spiced red wine in the local wine section at Meijer stores around Michigan. If you don't live in Michigan or can't find Witches Brew in your area, you may be able to have it shipped directly from the winery.
Which Wine Should You Use If You Can't Find Witches Brew?
Personally, I love the fall flavors of Witches Brew because it reminds me of mulled wine. Therefore, if you can't find Witches Brew but still want that spiced wine flavor in your sangria, you could infuse your favorite red wine with an InBooze Mulling Spice Cocktail Kit.
By the way, my readers get 15% off all their InBooze orders with the discount code ERINSIPS.
Otherwise, to keep this recipe simple, I recommend you select a dry red wine. Then you can adjust the sweetness by adding sugar or honey to taste later.
More Cocktail Recipes
If you love to make cocktails at home, here are more recipes you might enjoy:
Michigan Apple Cider Sangria with Honeycrisp Apples and Leelanau Cellars Witches Brew
Ingredients
2 honeycrisp apples, chopped
1 navel orange, thinly sliced
3 cinnamon sticks, (Optional: more to garnish)
1 bottle (750 ml) Leelanau Cellars Witches Brew (or the red wine of your choice)
1 3/4 cups fresh apple cider
1/2 cup brandy
1/4 cup orange juice
Juice from 1 lemon (or 2 tbsp bottled lemon juice)
1 1/3 cups club soda (add more to taste, if desired)
Instructions
In a large pitcher, place the chopped honeycrisp apples, orange slices, and cinnamon sticks. Then pour in wine, apple cider, brandy, orange juice, and lemon juice. (Note: If you are using a dry red wine instead of Witches Brew or another sweet red wine for this recipe, you may want to add 1-2 tbsp sugar to sweeten it.)
Gently stir the mixture and refrigerate for at least 6 hours up to overnight.
Before serving, add club soda to sangria mixture in pitcher (or add it to your glass by taste).
Garnish your wine glass with a cinnamon stick and enjoy!
https://www.epicureantravelerblog.com/michigan-apple-cider-sangria/
Did You Make This Recipe?
Please share a photo of your Michigan Apple Cider Sangria by tagging @michiganepicure on Instagram and hashtagging #MidwestEpicureRecipes. We'd also appreciate it if you would save the image below to Pinterest and use the "Add Photo" button to share that you've tried this recipe.
Save the image below to your sangria, cocktails, or recipe board on Pinterest to easily reference later!