When I was a Central Michigan University student living in Mount Pleasant, Michigan, I never considered my college town a tourist destination.
A decade later — as a travel writer and a Central Michigan alumna — I see Mt. Pleasant as exactly that.
Disclosure: This post contains some affiliate links. When you click on or make a purchase from one of these links, I may earn a commission. Of course, this is a no extra cost to you.
---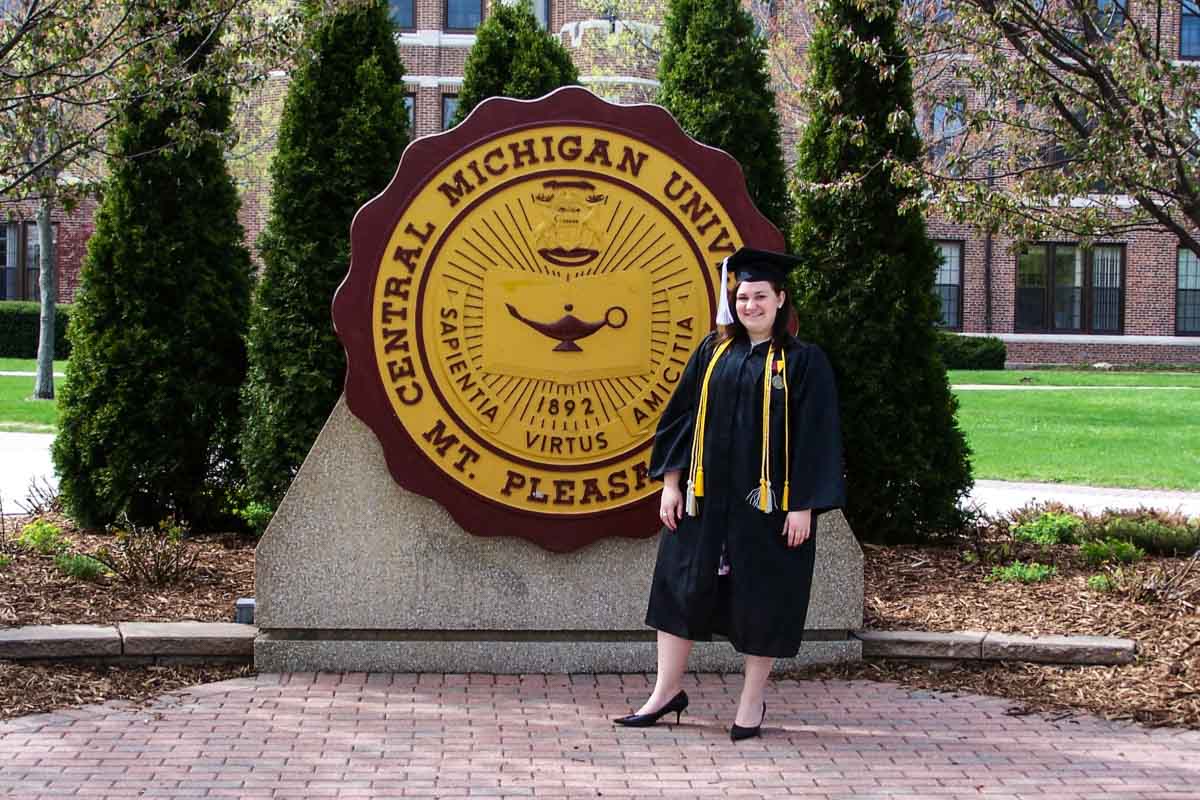 At the heart of this college town — Central Michigan University.
My alma mater is the sixth-largest public college or university in Michigan with more than 16,000 students on campus. Since 2013, the university also boasts a College of Medicine.
Naturally, the university attracts visitors. Prospective students visit with their parents to tour the campus. Students' families book hotel stays for freshman orientation, residence hall move-in day, and graduation. Spectators fill CMU's athletic facilities to watch NCAA Division I sports. And, each fall, proud alumni return to town sporting Maroon and Gold for the annual Homecoming festivities.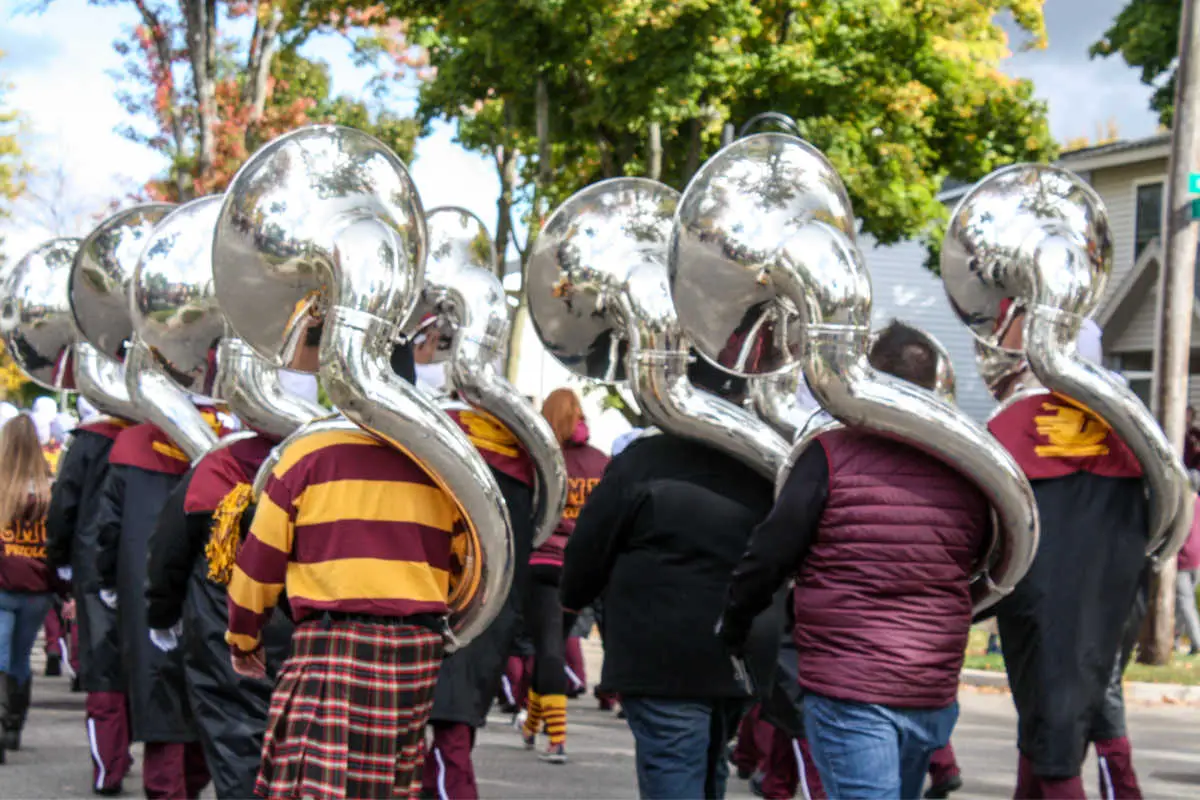 But, is Mt. Pleasant more than a college town?
With a population of about 26,000 full-time residents, Mt. Pleasant is a small city in the middle of Michigan's Lower Peninsula. It's located about 70 miles north of state capital Lansing and about 30 miles west of Midland, Dow Chemical's headquarters.
Mt. Pleasant's central location makes it perfectly situated for a day trip, overnight stay, or weekend getaway from the state's major cities. It is about a 2.5-hour drive from Detroit, 2 hours from Traverse City, and 1.5 hours from Grand Rapids.
In addition to being home to CMU, Mt. Pleasant is the Isabella County seat. It's also the base of the Saginaw Chippewa Tribal Nation, which operates one of the region's biggest attractions — Soaring Eagle Casino and Resort. Essentially, Mt. Pleasant is Mid-Michigan's culture, education, and entertainment hub.
So, though Mt. Pleasant is small, it's a small city with a big reach.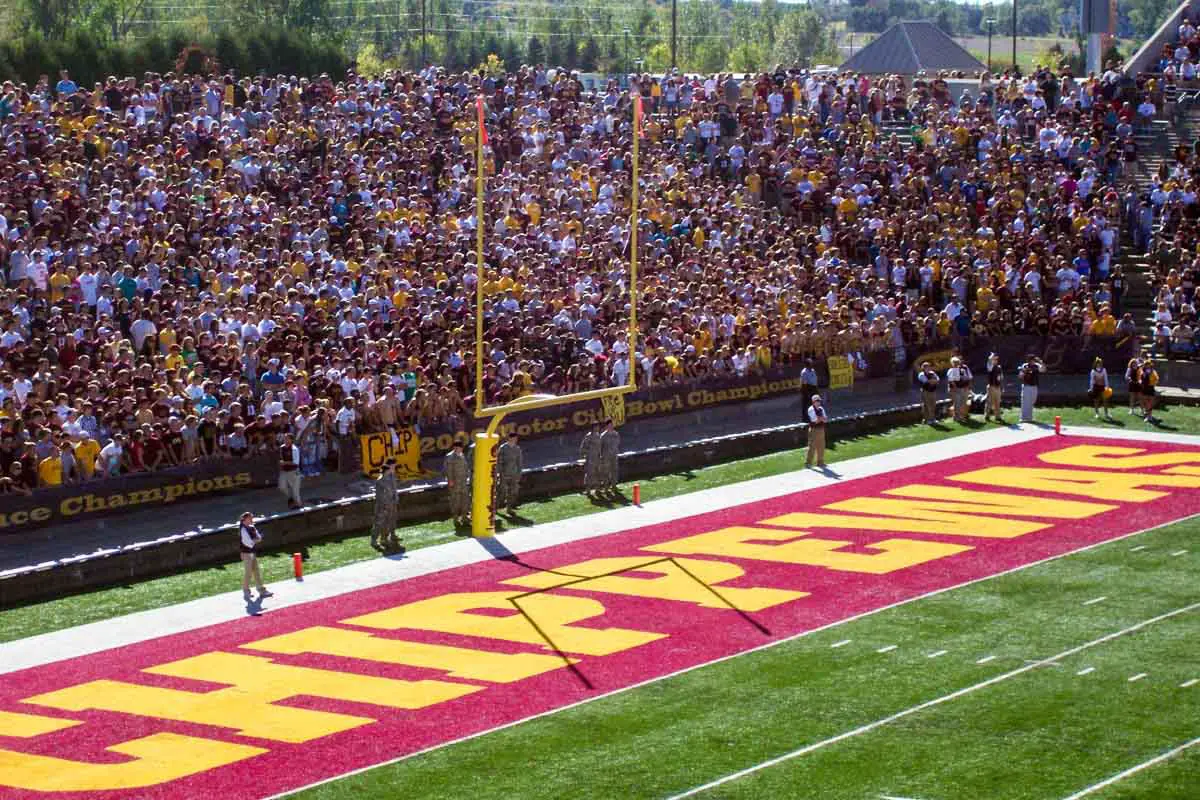 What is there to do when visiting Mt. Pleasant?
Home to a university and a Native American reservation, Mt. Pleasant is a unique destination with a diverse array of activities for visitors. I'll share some of my favorite ideas with you.
Attend a concert or comedy show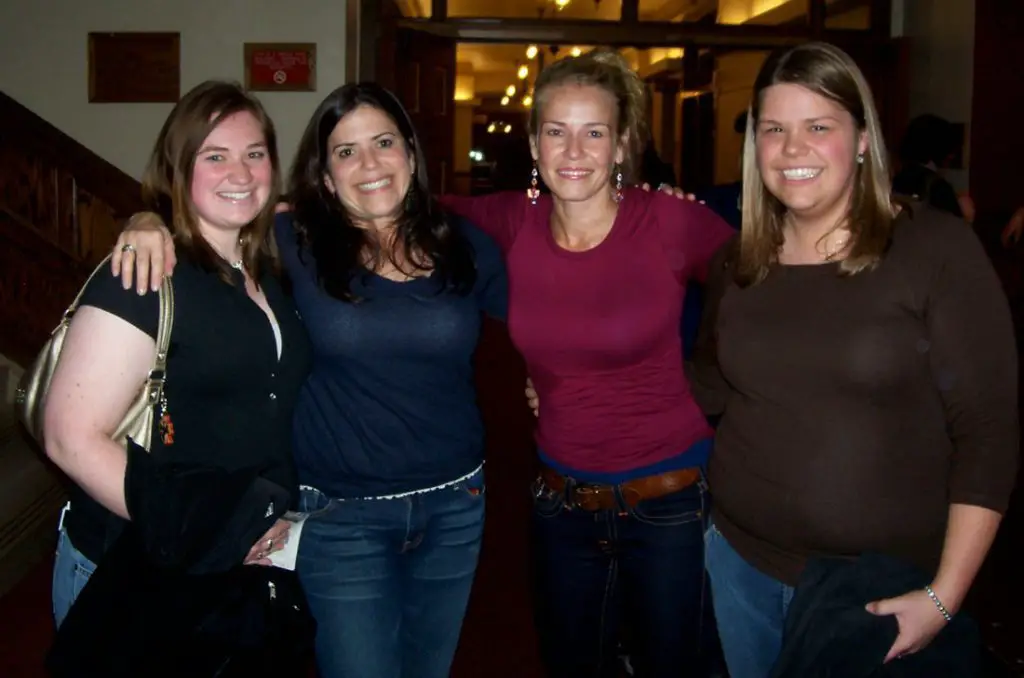 During my college years, I attended some big-name concerts and comedy shows in Mt. Pleasant. Both student-led CMU Program Board and Soaring Eagle bring exciting entertainment to town. In Mt. Pleasant, I've attended Keith Urban, Chelsea Handler, Daniel Tosh, and Jim Gaffigan shows to name a few.
Float down the Chippewa River
Go canoeing, kayaking, or tubing down the Chippewa River! You can access the river from five parks in the city — Riverside Park, Millpond Park, Nelson Park, Chipp-A-Waters Park, and Island Park. Just outside Mt. Pleasant, you'll find even more river and outdoor recreation — including hiking, camping, and disc golf — at Deerfield Nature Park.
Dine at local eateries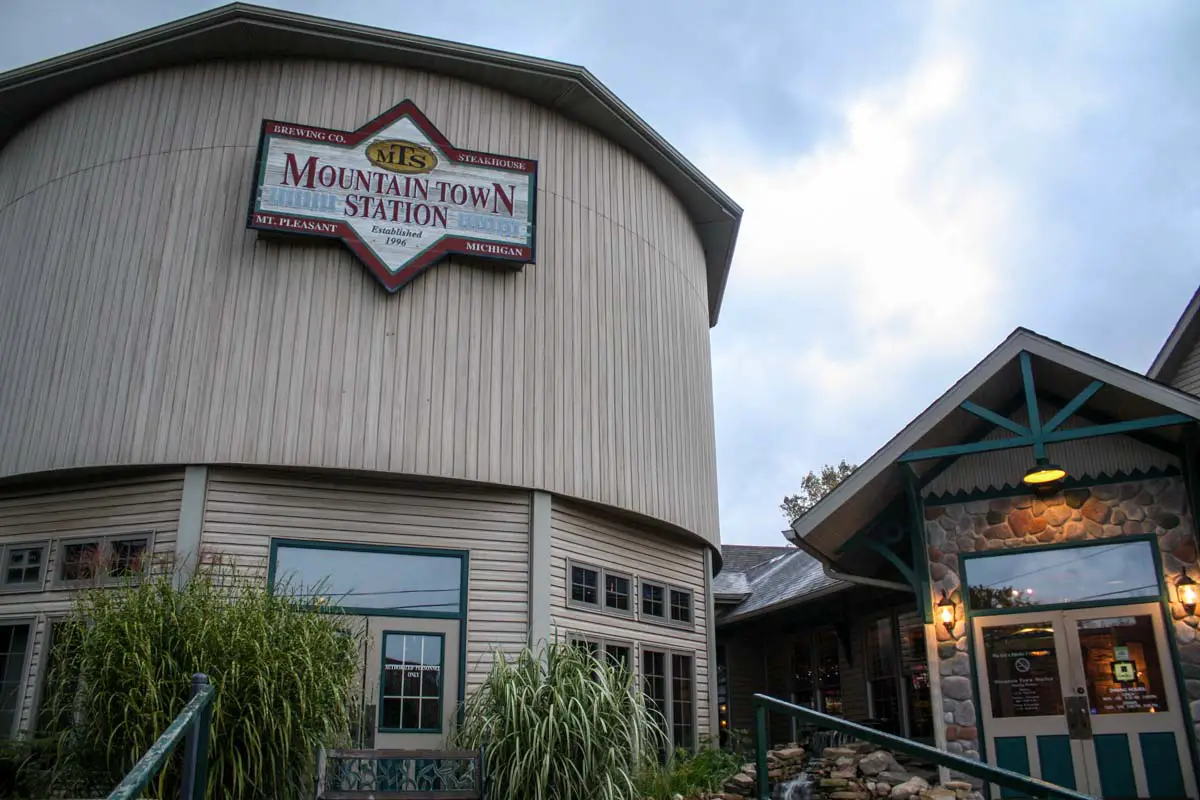 As you might expect of a college town full of students on tight budgets, Mt. Pleasant has pretty much every pizza delivery, fast food, fast casual, and national restaurant chain you could imagine. If you want to go that route, my favorites are Big Apple Bagels and Pita Pit.
Among the plethora of chain eateries, you'll find some local gems. As a student, I loved cabin sticks — cheese-stuffed breadsticks served with marinara and ranch dressing — at a rustic bar called The Cabin. During the summer, you have to stop by Doozies for ice cream. Max & Emily's is a cozy sandwich spot downtown. Also downtown, the Brass Cafe uses local Michigan ingredients and is a true gourmet delight. You'll find braised pork belly, grilled baby octopus, and fried quail on its menu — and that's only the appetizers! My fellow craft beer drinkers, head to Mountain Town Station for dinner as delicious as your beverage. And, it might look like a hole in the wall, but when you're craving Mexican, Los Palominos is your best bet.
Cheer on CMU athletes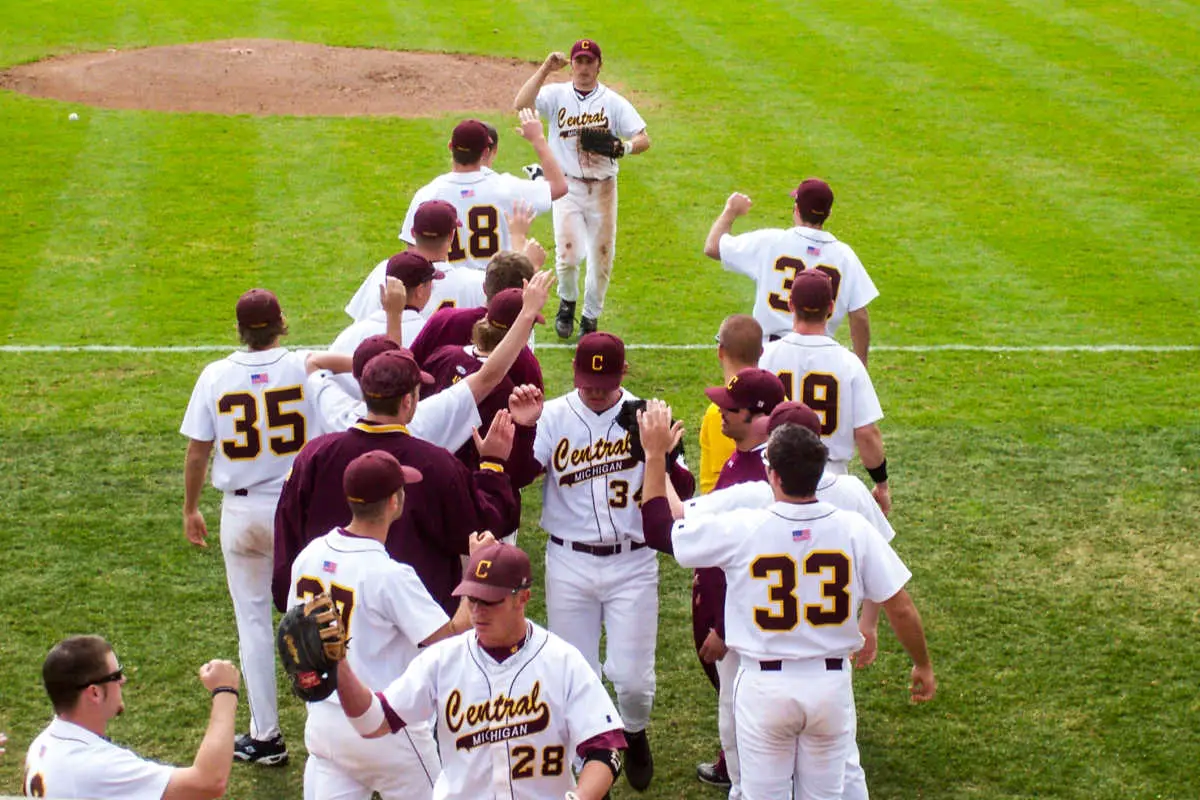 Central Michigan competes in 16 highly competitive NCAA Division I sports. If you want a high-energy fan experience, sit in or near the student section at a football or men's basketball game. Care to be dazzled by grace and athleticism? Watch the women's gymnastics team compete. If spectating is more about catching some rays, baseball or softball may be more your speed.
Get active indoors
In the Great Lakes State, the weather doesn't always cooperate with our outdoor plans. Luckily, Mt. Pleasant offers fun ways to stay active indoors. Go bowling at Riverwood Resort or at ULanes in CMU's Student Activity Center. Scale the rock climbing wall at Finch Fieldhouse, or ice skate at Mount Pleasant ICE Arena.
Tee off at one of Mt. Pleasant's 11 golf courses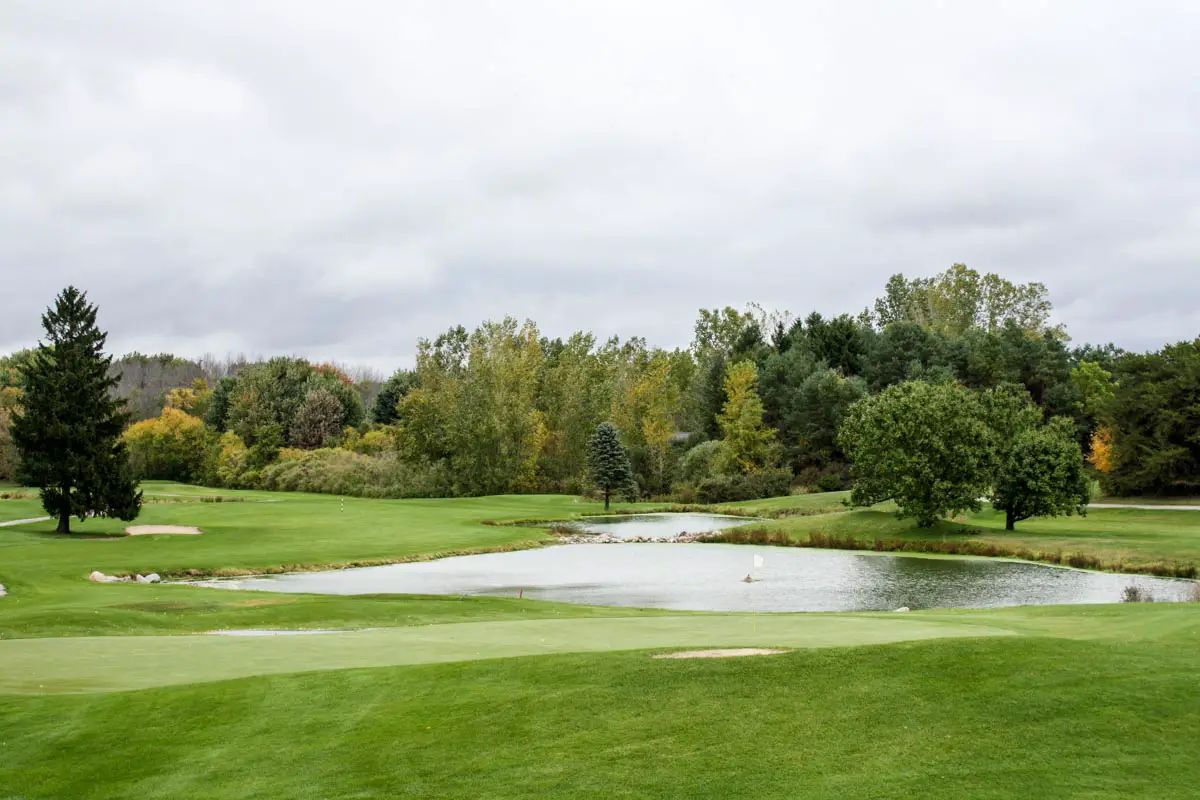 In Mt. Pleasant, golfers will find 10 pristine courses for a round on the local links. You can even create a custom golf-weekend getaway through Michigan's Central Swing.
Learn about Native American culture
Year-round you can learn about the Saginaw Chippewa tribe at the Ziibiwing Cultural Center. If you want a more hands-on experience, plan your visit for the annual Saginaw Chippewa Tribal National Pow Wow. I've always wanted to attend to experience the authentic Native American dance, storytelling, art, and food firsthand.
Taste local craft beer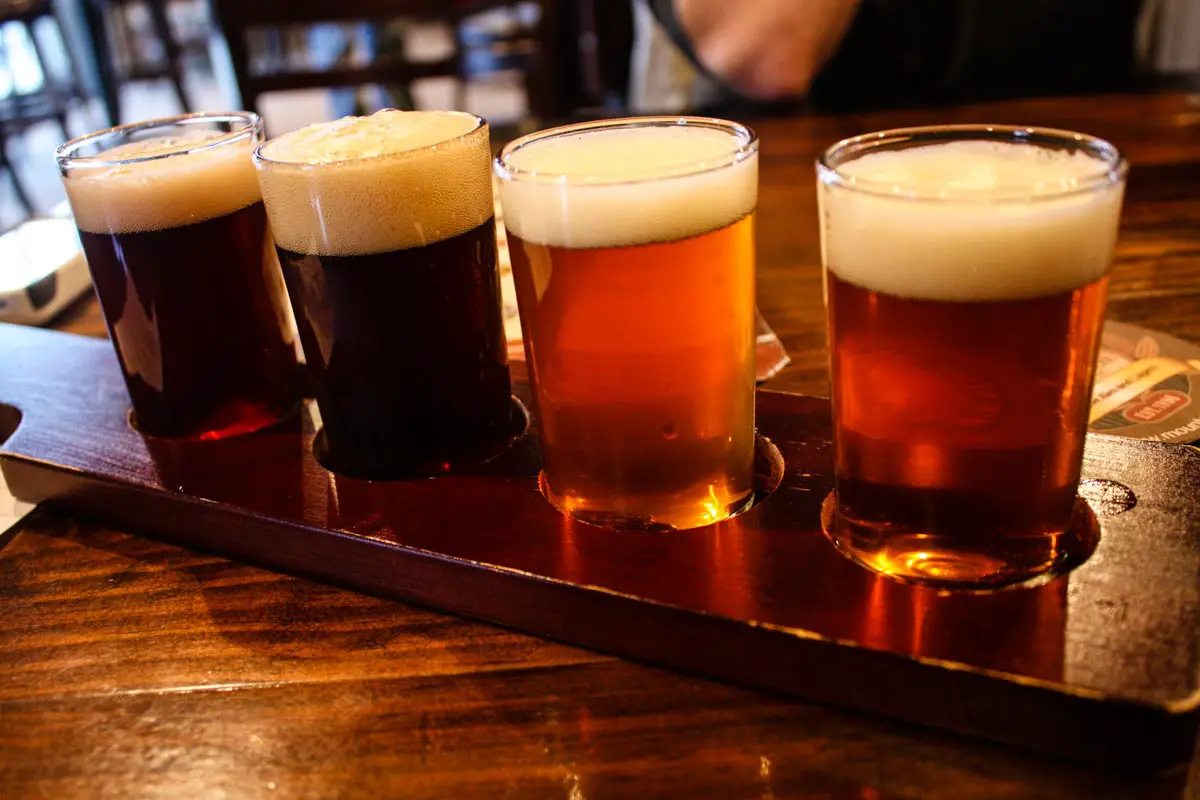 Craft beer enthusiasts will find local brews at Cranker's, Hunter's Ale House, the Mountain Town Brewing Company tap room, and Mountain Town Station.
Relive your glory days with a college bar crawl
I don't know if you can remember your nights on the town during college. I know the details of a few of mine are a bit fuzzy. However, one thing I know for sure is that we usually didn't get to the bar until 11 p.m. at the earliest.
Friends, that means you have about three hours between dinner and the bars getting slammed to relive your college nights with the ultimate bar crawl.
You should start at the Cabin, where you'll consume pizza, cabin sticks, and a cocktail served in a mug the size of your face. Then head downtown to the Blackstone, the Bird (is the word, right?), or Marty's. If you are really feeling brave, I dare you to dance in the cage at the Wayside.
Use the map to plan your Mt. Pleasant bar crawl!
Please drink responsibly, and don't drink and drive. Cabs are available from the following services:

Visit the only mountain around
The running joke around Mt. Pleasant is that despite its name, there isn't a mountain in sight. The closest you'll get is Snow Snake Ski And Golf about 26 miles away in Harrison. There you can ski, snowboard, and go snow tubing. In the summer, take advantage of the zip line or golf course.
Indulge your late-night cravings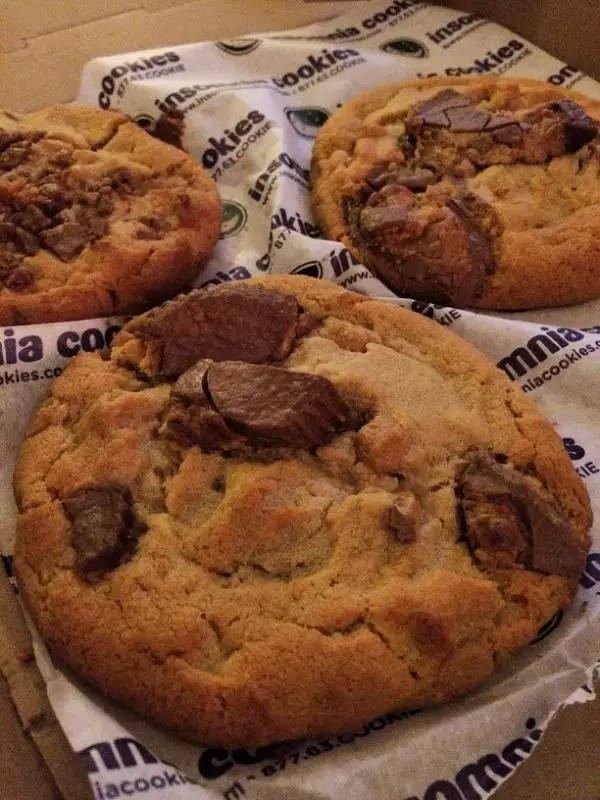 Upon graduating and moving to a non-college town, I realized I had taken late-night food for granted. In most of the world, you can't get warm, freshly baked cookies delivered to your door at 2 o'clock in the morning. But, you can in Mt. Pleasant! In fact, 3 a.m. is a common delivery cut off in this college town. If that isn't late enough, you can always eat pancakes 24/7 at IHOP.
Stroll around downtown Mt. Pleasant
Downtown is ideal for a quaint stroll. Grab a cup of artisanal coffee at Ponder Coffee Co, and then browse the local shops.
Lastly, watch the CMU Homecoming Parade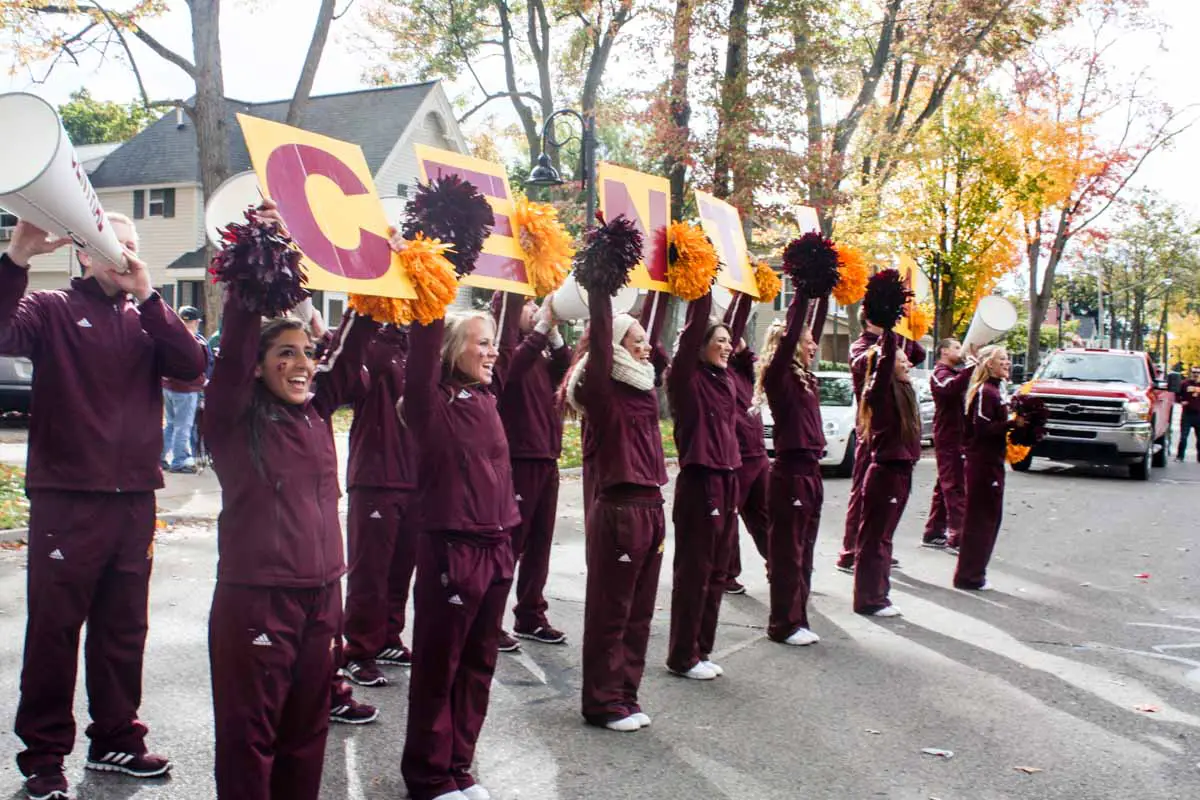 Even for visitors without ties to CMU, the Homecoming Parade is a sight to see. There are floats, dancers, cheerleaders, and, of course, the Marching Chips joined by the band's alumni. It is always my favorite part of Homecoming weekend.
Planning a visit to Mount Pleasant, Michigan?
If you plan to be in Mt. Pleasant for an event or just for a meal on your way across the state, you'll find lodging information, more itinerary ideas, and a directory of restaurants from the Mount Pleasant Area Convention & Visitor Bureau. You can also download this article to your phone for easy access once you are in Mt. Pleasant.
Where to stay in Mt. Pleasant
Though a small college town, Mount Pleasant offers a variety of lodging, including brand name hotels, affordable motels, campgrounds, RV parks, charming bed and breakfasts, and Airbnb home rentals. You can even stay in a Chippewa Yurt! If you'd like to try renting a home (or yurt) for your Mt. Pleasant visit, registering for Airbnb through my invitation gets you $40 off your first home booking of $75 or more. Plus, you'll also receive $15 towards an Airbnb experience — such as a food tour, cooking class, or surfing lesson — to use on a future trip for a total savings of $55.
Hotels near CMU campus
If you are visiting Mt. Pleasant for a campus event, you'll want to book one of the hotels near Central Michigan University. Unfortunately, your options are somewhat limited near campus, which is why I recommend you book hotel rooms for Central Michigan University graduation months in advance. For hotels near Central Michigan's campus, I recommend the Marriott Courtyard and the Fairfield Inn & Suites.
Recommended Mt. Pleasant accommodations
Gingko Tree Inn — Perfect for couples on a romantic getaway, this quaint inn is steps from Island Park, the Chippewa River, and downtown's shops, restaurants, and bars. Rated 4.5 out of 5 on TripAdvisor, visitors give the Gingko Tree Inn an impeccable score for location, cleanliness, and service. Your stay includes a homemade breakfast, and your dog is welcome to stay, too. Book your stay at the Gingko Tree Inn now!
Courtyard by Marriott — For Mt. Pleasant visitors in town for an event at Central Michigan University, the Courtyard by Marriott is my top pick. You'll be located near campus as well as Broomfield Road, the main thoroughfare that connects to US 127. You can't beat the convenience of this location if attending a football game at Kelly/Shorts Stadium, CMU graduation, or a prospective student tour. Plus, you can earn or burn your Marriott Rewards points. Check availability for your travel dates by clicking here, or go ahead and book your stay at Courtyard by Marriott now!
Soaring Eagle Casino & Resort — Removed from the hustle of campus, Soaring Eagle Casino & Resort offers on-site gaming, high-stakes bingo, award-winning dining, top-name entertainment, and a full-service spa. Staying at Soaring Eagle is ideal if you are visiting Mt. Pleasant for a concert, comedy show, or to gamble at the casino. Book your room at Soaring Eagle Casino & Resort now!
Save this post to Pinterest!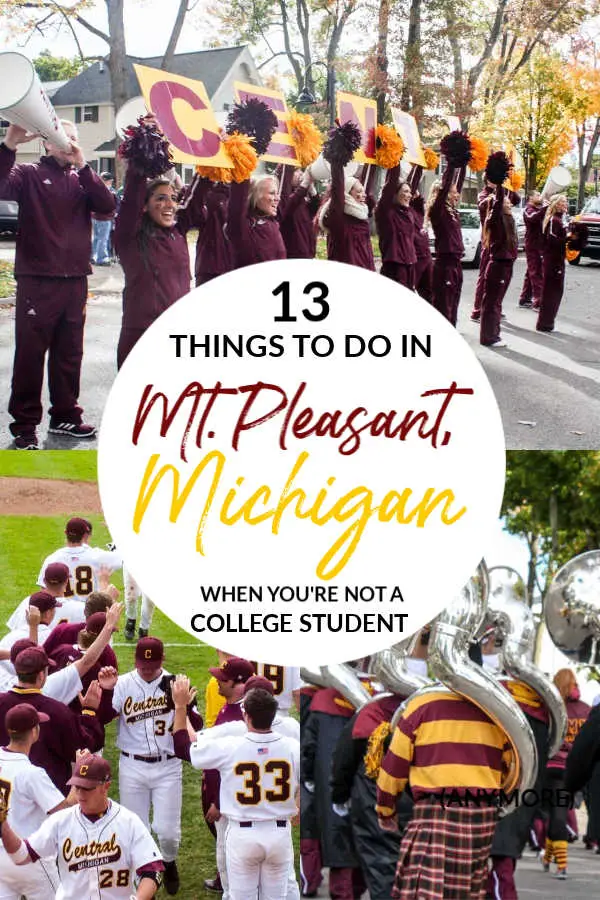 If you liked this post, you may also enjoy …
Editor's Note: This post was first published on October 7, 2016, and was most recently updated in September 2019.
Save
Save
Save
Save
Save
Save
Save
Save
Save
Save
Save
Save
Save
Save
Save
Save
Save
Save
Save