'Tis the season for holiday cocktails, and I've compiled 37 festive cranberry cocktails to bring cheer to your gatherings from Thanksgiving through New Year's Eve!
If you enjoy sipping cocktails at home, check out these 37 apple cider fall cocktails, refreshing summer sangrias, and 70+ flavored margaritas.
Disclosure: This roundup of holiday cranberry cocktails contains affiliate links. If you purchase one of the products I recommend, I may earn a commission. Of course, this is at no extra cost to you, and I only recommend products I would use myself. 
---

Why do we serve cranberry drinks during the holidays?
Cranberries have long been part of holiday traditions, particularly in the United States. The tart, red berries are believed to have been served at the first American Thanksgiving in 1621, and from there, a holiday tradition was born.
As of 2017, Americans consume about 80 million pounds of cranberries during the week of Thanksgiving each year alone!
Though cranberry sauce may be the most popular cranberry sidekick to our Thanksgiving and Christmas meals, 22% of first-time Thanksgiving dinner hosts plan to serve cranberry cocktails or mocktails, according to Ocean Spray.
With their deep-red color and seasonality, cranberries and their juice remain popular cocktail ingredients throughout the holiday season.
So, if you are planning to serve festive cranberry drinks at your next holiday gathering, you'll find a variety of seasonal beverages in this cranberry holiday cocktail roundup.
I've partnered with my fellow food bloggers to feature 37 ideas of cranberry cocktails to sip at Thanksgiving dinner, Christmas brunch, New Year's Eve parties, and every day in between!
But first, what do you need to make cranberry holiday cocktails?
Before we get to the cranberry cocktail recipes, let's make sure you have all that is needed to create these boozy, festive drinks!
To make cranberry cocktails this holiday season, you'll certainly want to stock up on cranberry juice and fresh cranberries, which can be used in a cranberry simple syrup or as festive garnishes.
You'll also want to ensure your home bar has the necessary tools. I've listed a few of the mixology tools I recommend for your home bar below.
Classic Cranberry Cocktails for the Holidays
Cosmopolitan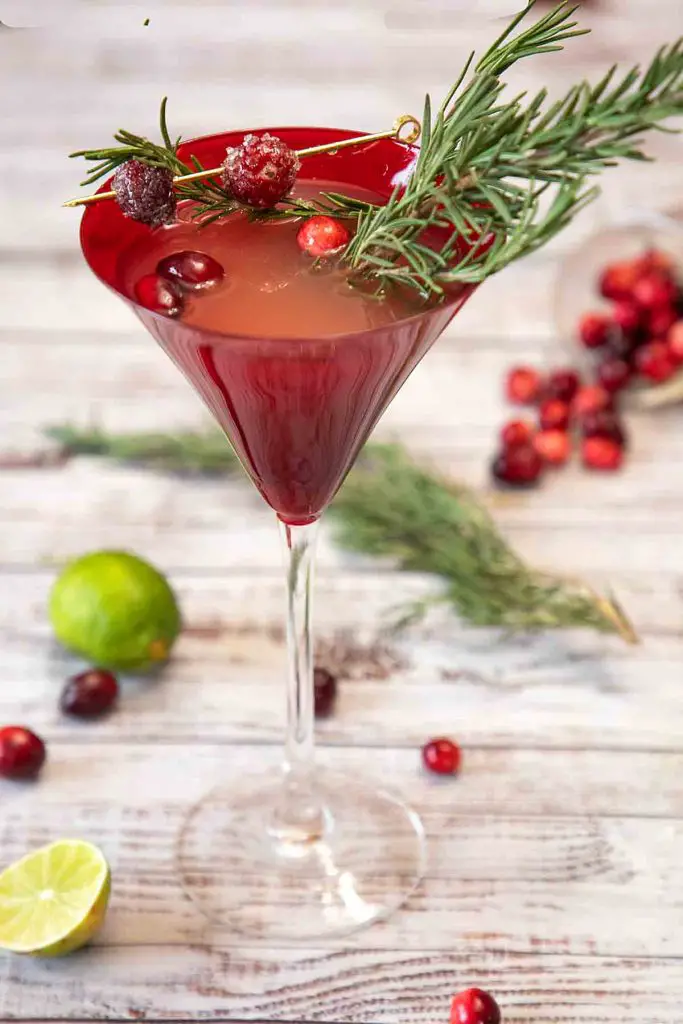 A classic Cosmopolitan — or cranberry martini — is fruity, flavorful, and easy to make. This year-round favorite is also easy to dress up for the holidays. Add rosemary sprigs and fresh or sugared cranberries for a festive touch this holiday season!
Cranberry Mimosa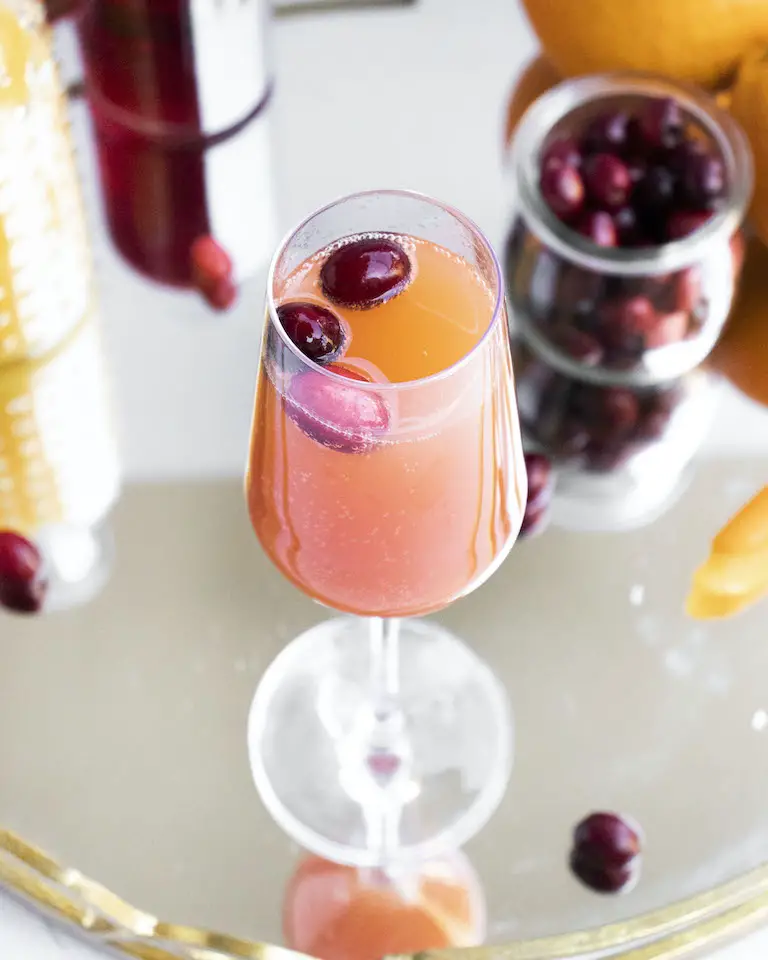 Slightly tart and bubbly, this Cranberry Mimosa is easy to make with just three ingredients. It's a fun and festive sipper to serve guests on Christmas morning or at a holiday brunch!
Cranberry Moscow Mule
This Cranberry Moscow Mule puts a festive spin on the traditional Moscow Mule by adding cranberry juice. With sweet and tart cranberry and lime flavors mixed with ginger beer, this mule is a refreshing cocktail to serve at holiday gatherings.
Christmas Sidecar
Looking for Christmas in a glass? That is exactly what this Christmas Sidecar is! Beautifully pink in color, with a good measure of gin and triple sec, and sweetened with cranberry syrup, this holiday drink is sure to get you in a festive mood!
Cranberry Negroni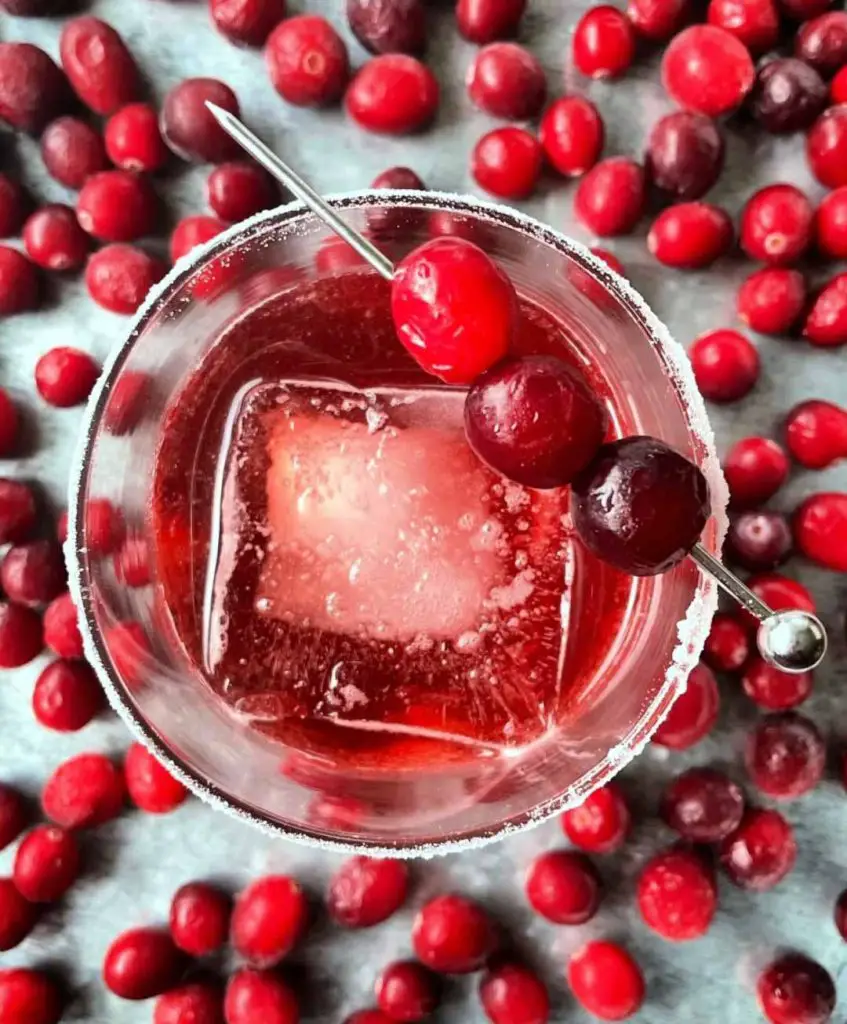 This Cranberry Negroni is a festive variation of the classic cocktail. The deep red color makes it the perfect winter cocktail for holiday parties.
Cranberry Old Fashioned
Festive and with a pop of beautiful color, this Cranberry Old Fashioned is a classy cocktail to sip as you celebrate the season.
Cranberry Pomegranate Mojito
Bring Caribbean island vibes to your holiday celebrations with this Cranberry Pomegranate Mojito. This festive holiday cocktail is made with fresh mint, a cranberry reduction, pomegranate juice, and fresh lime juice.
Cranberry Aperol Spritz
With a hint of cranberries, bubbly Prosecco, and the delicious flavor of Aperol, this Cranberry Aperol Spritz shows us that an Aperol Spritz isn't just for summertime sipping. It's a refreshing drink for the holiday season, too!
Festive Gin Cranberry Cocktails
Cranberry Gin & Tonic Cocktail
Cranberries and gin are a match made in holiday heaven! This Cranberry Gin Cocktail gives your go-to gin and tonic a punch of cranberry flavor. With garnishes of fresh red cranberries and green lime wedges, the drink's Christmasy color scheme will fit right in at your holiday celebrations during the holiday season.
Cranberry Gin Christmas Cocktail
White as snow and full of traditionally festive flavors, this Cranberry Gin Christmas Cocktail is as elegant as it is delicious.
Cranberry Orange Gin Cocktail
This festive Cranberry Orange Gin Cocktail can be served on the rocks or topped with Prosecco for an easy spritz. It's surprisingly refreshing and tart!
Vegan Cranberry Gin Fizz
This snazzy Cranberry Gin Fizz puts a festive twist on a classic cocktail with a gorgeous red color for the holidays. Made with aquafaba, a plant-based alternative to egg whites, this tart drink is vegan yet still has the signature foam on top.
Simple Rosemary & Cranberry Gin Cocktail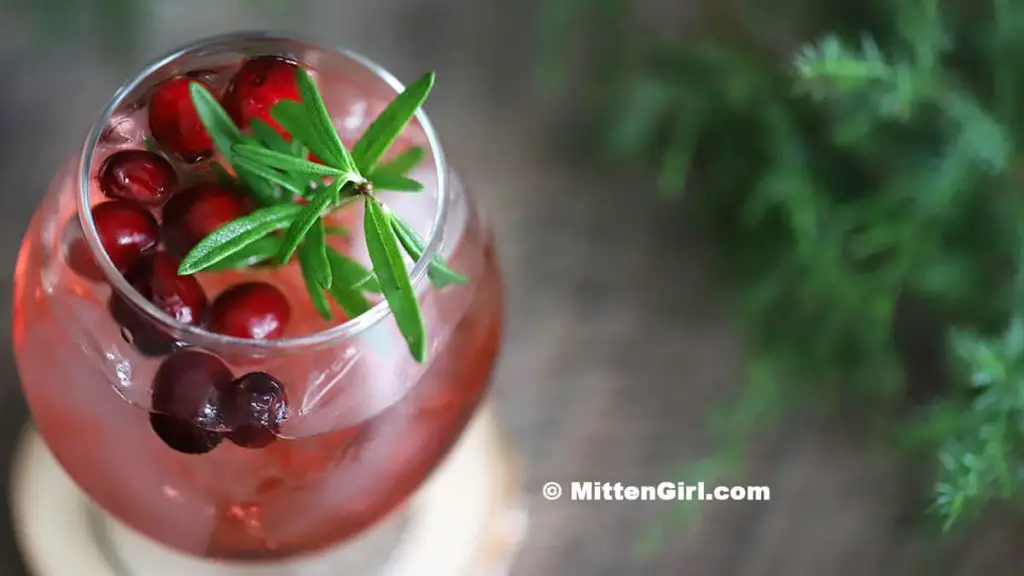 Serving this Cranberry Gin Cocktail made with rosemary simple syrup is an easy way to create holiday cheer as you entertain during the holiday season!
Merry Cranberry Margaritas
Cranberry Orange Margarita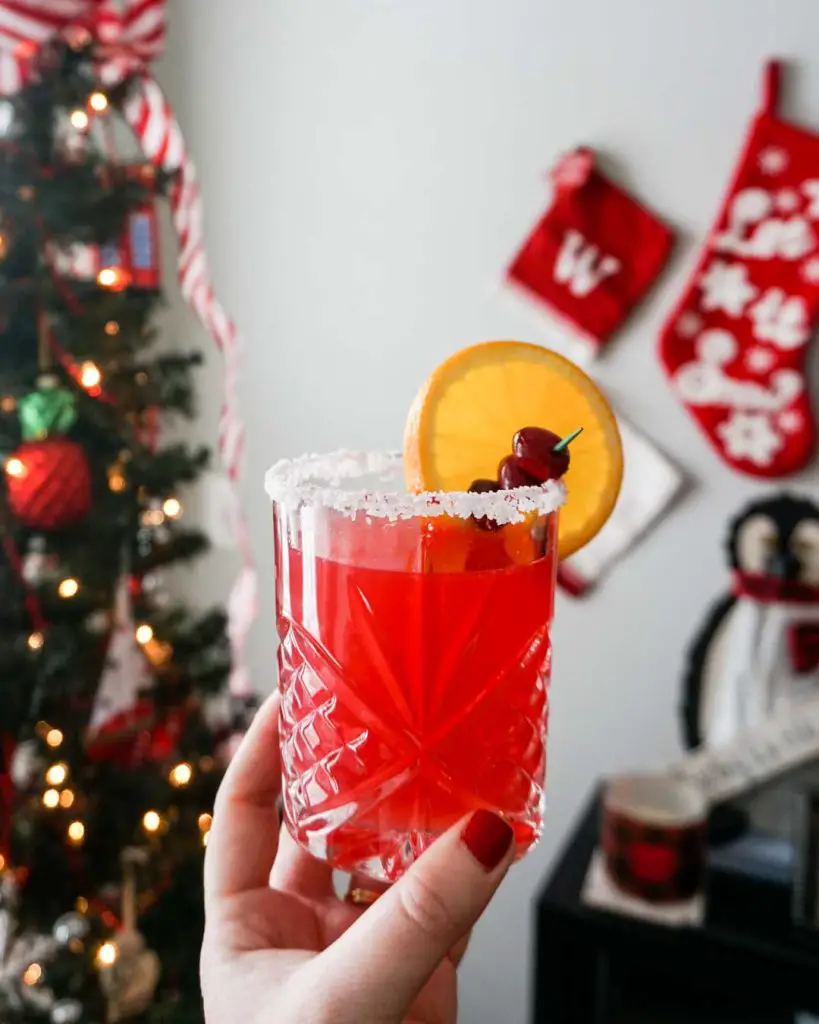 This merry-and-bright Cranberry Orange Margarita combines tart cranberry juice with fresh citrus flavors for a festive spin on your favorite tequila cocktail. With a salt rim that looks like a dusting of snow, this holiday margarita is perfect for social gatherings from Thanksgiving through New Year's Eve — or any taco-and-margarita night in between!
Mistletoe Margarita
This Mistletoe Margarita is sure to get the holiday party started! With reposado tequila, fresh lime, and a deliciously spiced cranberry-agave syrup, it's a festive cocktail that tequila drinkers are sure to enjoy.
Sparkling Cranberry-Ginger Margarita
You'll love this festive Sparkling Cranberry-Ginger Margarita for holiday sipping. It's full of seasonal spice with a bubbly finish for an elegant spin.
Cranberry Jalapeño Margarita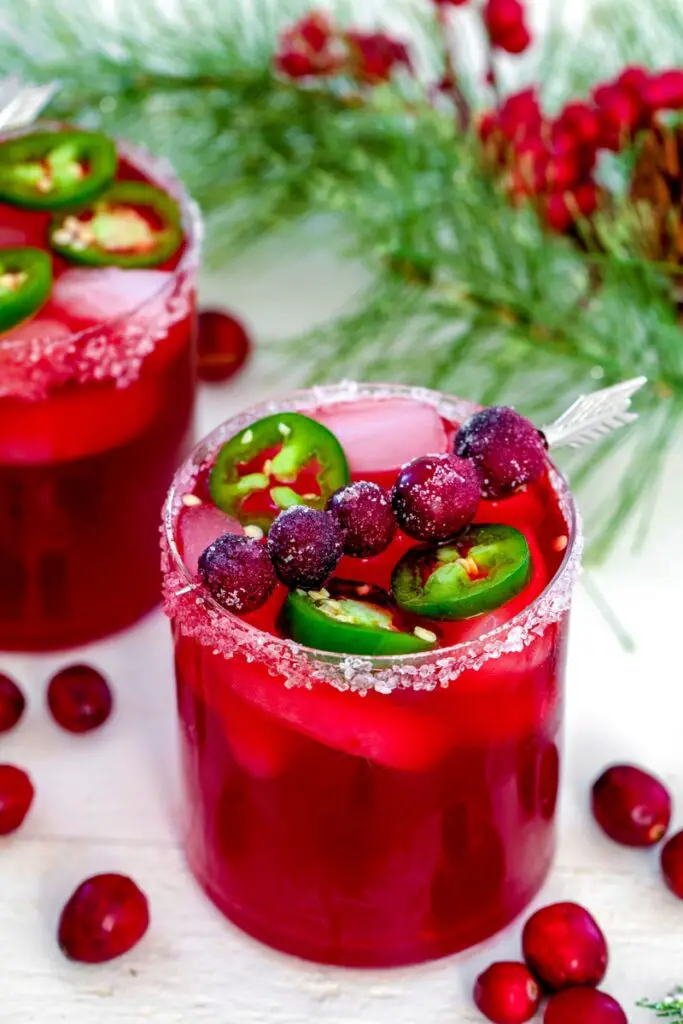 A little sweet, a little tart, and a little spicy, this Cranberry Jalapeño Margarita is a deliciously festive holiday cocktail!
Cranberry Margarita Spritzer
It's always a good time for a margarita, and this Cranberry Margarita Spritzer hits the spot. Lighter than a traditional cranberry marg, this version packs the flavor with fewer calories.
Christmasy Cranberry Punches
Christmas Punch
This Christmas Day Punch is a bubbly cranberry and clementine drink with Prosecco and a good dash of vodka for the grown-ups!
Cranberry Prosecco Punch
This Sparkling Cranberry Prosecco Punch is tart and sweet with a hint of orange. It's just what you need to get in the holiday spirit!
Poinsettia Punch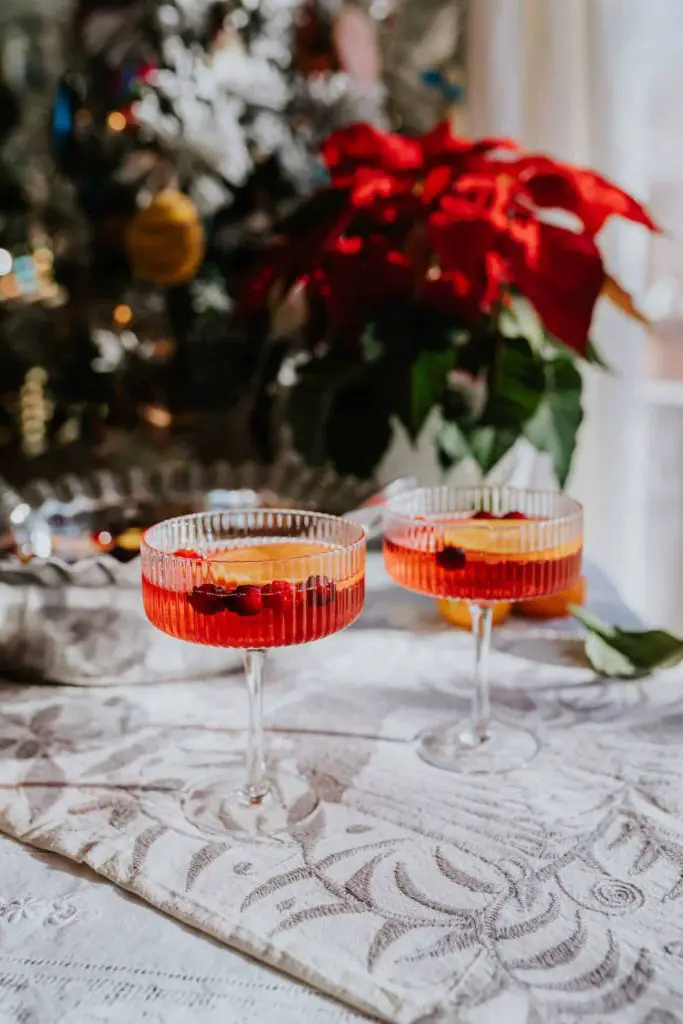 Made with cranberry juice, orange liqueur, and champagne with floating slices of oranges and fresh cranberries, this Poinsettia Punch is a festive drink for celebrating Christmas or New Year's Eve.
Cranberry-Peach Prosecco Punch
Perfect to serve at a holiday brunch or as you ring in the new year, this festive Cranberry-Peach Prosecco Punch is bubbly and crisp with sweet peach and tart cranberry flavors.
Jingle Juice
Bring your friends and family together this holiday season with a fruity Jingle Juice. This Christmas punch is packed with fruit flavors including cranberry, pomegranate, and citrus.
Vodka Cranberry Holiday Cocktails
Santa Cocktail (Christmas Vodka Cocktail)
A festive cocktail that looks the part, this Santa Cocktail has a ruby red color to match the jolly ol' elf's iconic suit. With a snowy sugar rim, this Christmas vodka cocktail will add a magical touch to your holiday party!
Sumac Cranberry Mule
This holiday season, when you're entertaining your friends, serve them this delicious and festive Sumac Cranberry Mule! It's a riff off of a classic mule with a very unexpected ingredient, a sumac-based syrup.
Cranberry, Clementine & Rosemary Cocktail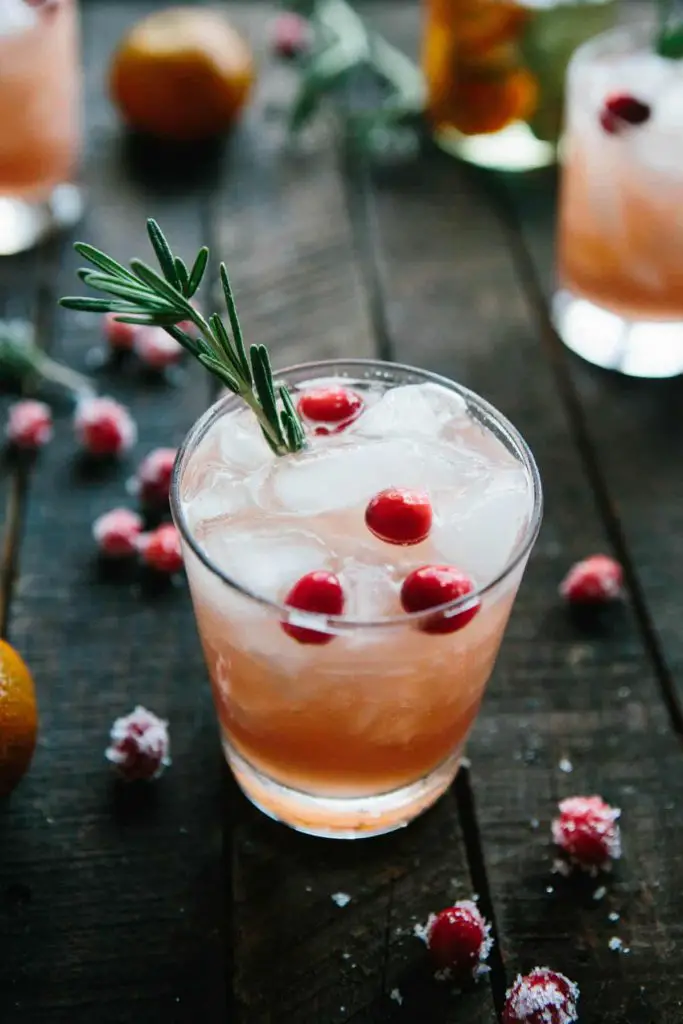 This Cranberry, Clementine, and Rosemary Cocktail is a festive cocktail that is bright, bubbly, and perfect for celebrating the holidays!
Cranberry Lemon Drop Martini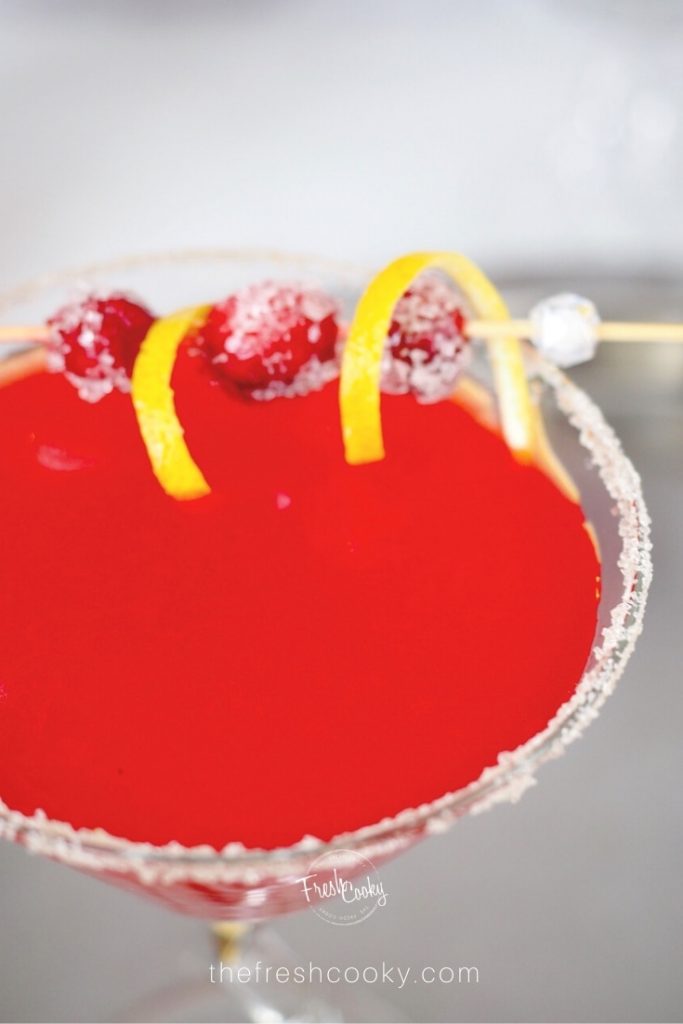 You are going to love this simple Cranberry Lemon Drop Martini. It's vibrant, easy to mix, and fun to drink!
Blushin' Russian
A refreshing, festive cranberry cocktail for all your holiday celebrations, a Blushin' Russian puts a seasonal twist on a traditional Italian soda.
Holiday Cranberry Cocktails with Wine
Cranberry Ginger Bellini
This Cranberry Ginger Bellini would be a festive and sparkling addition to your Christmas brunch or holiday parties!
Holiday Cranberry Prosecco Cocktail
Ruby-red cranberries are a symbol of Christmas festivities. Add a splash of celebratory bubbly, and this Cranberry Prosecco Cocktail is perfect for a Christmas holiday gathering.
Cranberry Orange Red Sangria
This effervescent Cranberry Orange Sangria is perfect for the holidays with its seasonal flavors. Your guests will love it!
Sparkling Cranberry Poinsettia Drink
This Sparkling Cranberry Poinsettia Drink is an elegant cocktail made with just three ingredients. It's delicious, quick to prepare, and perfect for entertaining during the holiday season.
Cranberry Wine Spritzer
This festive Cranberry Wine Spritzer combines cranberry blood orange simple syrup with bourbon, white wine, warm spices, and cranberry and orange juices.
Cranberry Champagne Cocktail
Celebrate the holidays with a sparkling Cranberry Champagne Cocktail! With festive champagne or sparkling wine, cranberry juice, and a dash of gin, this is a simple yet delicious cocktail.
Whiskey and Bourbon Cranberry Cocktails
Spiced Cranberry Old Fashioned
Put a festive touch on a classic cocktail with this Spiced Cranberry Old Fashioned. It's the perfect holiday drink for bourbon lovers.
Cranberry-Rosemary Whisky Cocktail
This Cranberry Rosemary Cocktail is a festive drink for whiskey lovers this holiday season. This tasty cocktail is made with Crown Royal whisky, cranberry juice, and a homemade rosemary simple syrup. The tartness of the cranberry juice is offset by the sweetness of the syrup, and the rosemary gives it an earthy flavor you'll love.
Holiday Cranberry Bourbon Cocktail
This holiday season, sip a Cranberry Bourbon Cocktail made with a cranberry simple syrup and garnished with an orange peel and fresh cranberries!
FAQ
Why are cranberries a holiday thing?
We associate cranberries with Thanksgiving in the United States, at least in part, due to the belief that cranberries were served as part of the first Thanksgiving feast. The berries' deep red color makes them festive ingredients in side dishes and drinks at holiday celebrations through Christmas and New Year's Eve, too.
What is a traditional Christmas drink?
From this list of cranberry cocktails, the Poinsettia Drink is one of the more traditional Christmas drinks. However, there are many other traditional Christmas drinks from cultures around the world such as Eggnog in the United States, Coquito in Puerto Rico, Glühwein in Germany, and Glogg in Scandinavia.
Is cranberry juice the same as cranberry juice cocktail?
You are likely to find both cranberry juice and cranberry juice cocktail on the same aisle at your local market, and, despite the similar names, there is a difference between these two cranberry beverages.
The cranberry juices on grocery store shelves is often labeled as "100% juice," but they usually contain other fruit juices to balance the tart juice from fresh cranberries.
Cranberry juice cocktail has a sweeter flavor from added sugars or high-fructose corn syrup and is often lighter in color.
Where are cranberries grown?
Cranberries primarily grow in the northern United States, and the US leads worldwide cranberry production. More than half of the US cranberry production is in Wisconsin and about one-third is in Massachusetts.
Other top cranberry-growing states are Oregon, New Jersey, and Washington. However, cranberries also grow in Delaware, Maine, Michigan, New York, and Rhode Island.
In my home state of Michigan, there are approximately 280 acres of cranberry bogs. They are located primarily in the Upper Peninsula, the northern Lower Peninsula, and the Southwest Michigan fruit belt.
In addition to the United States, Canada and Chile are leading global commercial producers of cranberries. In Canada, British Columbia and Quebec are the top cranberry-producing provinces, but cranberries are also grown in Ontario, Nova Scotia, and New Brunswick.
When are cranberries harvested?
Cranberries are in season from September through December with peak popularity among consumers at the start of the holiday season in November.
What should I drink on Christmas Day?
Though eggnog is a popular choice on Christmas Day in the United States, you could try one of the 37 festive cranberry cocktails listed in this post. I prefer a mimosa on Christmas morning and plan to make a Cranberry Mimosa this year. Most importantly, you should sip what you like on Christmas Day!
More Cocktail Recipes
To easily refer back to this post, save one of the image below to your cocktail recipes board on Pinterest!