If you are a Malbec drinker, Argentina is the ultimate wine-travel destination for you, but which are the best wine regions in Argentina to visit?
In this guide, guest blogger Helen Ruiz, co-founder of Wine Rooster, shares six of the best wine regions in Argentina with tips for your trip!
Also, if your visit to Argentina wine country is part of a longer trip in Latin America, don't miss our posts about Peru, Costa Rica, and Mexico.
Disclosure: This guide to Argentina's wine regions contains affiliate partner links. I may earn a small commission when you click on one of these partner links and make a purchase. Of course, this is at no extra cost to you.
---
Travel Guide to Argentina's Best Wine Regions
Argentina's journey to becoming a major player in the world of wine has been a gradual one.
Though Argentine winemakers have been making wine for centuries, only in recent decades has Argentina become a really popular wine producer.
With various wine regions, each with its own charm, Argentina has a lot to offer in terms of wine experiences.
In this Argentina wine travel guide, we'll discuss the unique qualities of Argentina's wine regions, giving you insight into what makes each area stand out.
Getting to the Top Wine Regions in Argentina
Before you start exploring Argentina's wine regions, you need to plan your trip.
Argentina has a few major airports, and most travelers come into the country through Ezeiza International Airport in Buenos Aires. 
From there, you can easily go to the wine regions by taking a domestic flight, a bus, or renting a car.
Travel Tip: To save money on your flight to Argentina, book your flight through WayAway. By joining WayAway Plus, you'll also receive 5% cash back on your flight bookings and 10% on hotel stays booked through the platform. You can click here to start your free 7-day trial of WayAway Plus!
Historial Roots of Wine in Argentina
Wine has deep roots in Argentina, dating back to the early 16th century when Spanish missionaries introduced vine cultivation. These early vineyards used native grape varieties well-suited to the local climate and terrain.
European Influence in Argentina
It was during the 19th century that Argentina's wine industry began to take shape. The influence of European immigrants, mainly from Italy and Spain, played an important role in forming Argentina's winemaking traditions.
Evolution of Argentine Winemaking
Over the years, winemaking techniques have adapted and improved, using a combination of old-world knowledge with the specifics of the Argentine terroir. The mix of old traditions and new ideas has resulted in the creation of outstanding Argentine wines that are admired worldwide.
Mendoza Wine Region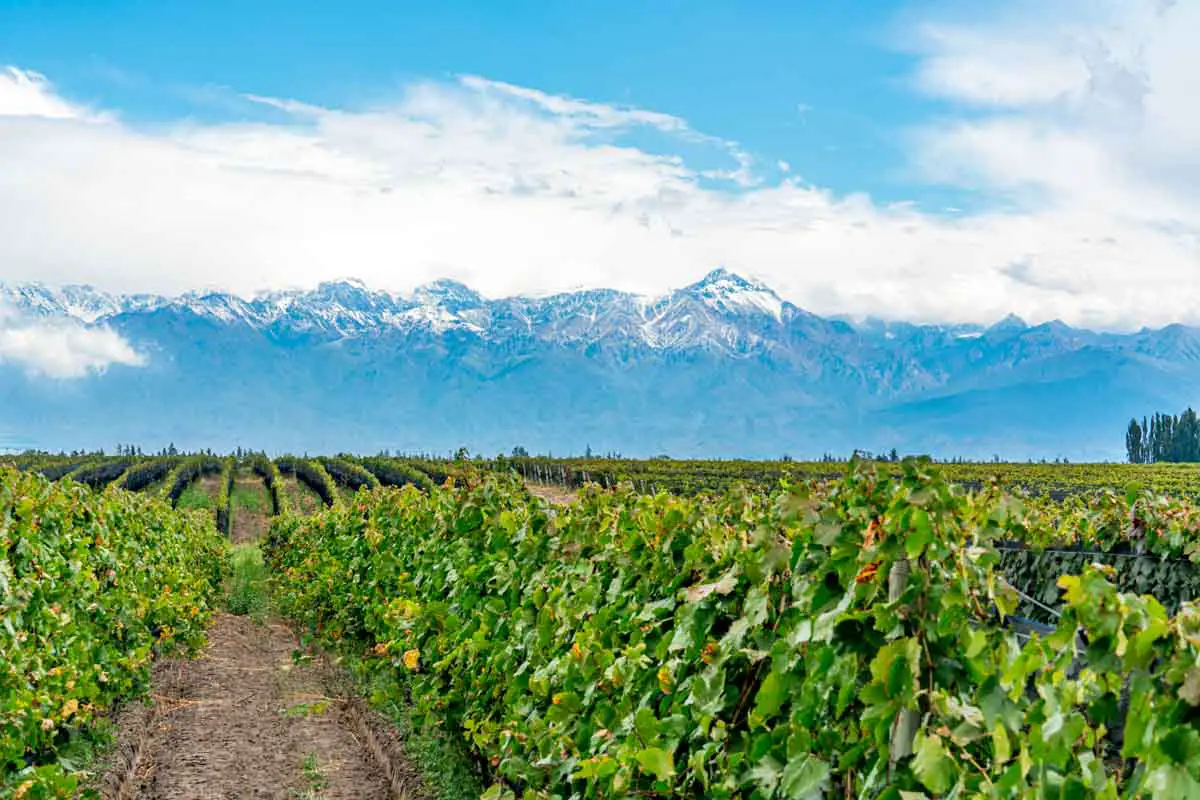 Mendoza, located at the foot of the Andes mountains in western Argentina, is the largest and most well-known wine region in Argentina.
Its climate is both dry and sunny, making Mendoza an ideal environment for growing grapes.
With approximately 300 sunny days per year, Mendoza's vineyards enjoy a lot of sunlight, which helps the grapes ripen and develop their unique flavors.
Mendoza is known as the world's Malbec capital, and its unique terroir gives a special character to this grape variety, resulting in wines that are bold, fruity, and smooth.
Whether you prefer your Malbec temperature slightly chilled on a warm summer evening or enjoyed at its classic serving temperature, the flavors of Mendoza's Malbecs are bound to leave a lasting impression on your palate.
Where to Stay in Mendoza Wine Region
When you visit Mendoza, you can choose from different places to stay. There are fancy resorts, cozy boutique hotels, and more. To really soak in the experience, think about staying in the city center or in the areas where there are lots of vineyards. Here are a few options for your stay:
A 100-hectare vineyard surrounds this four-star boutique hotel at the foot of the Andes. As a guest at Estancia Mendoza Wine Hotel, browse the library of 7,000 books in different languages, take a dip in the outdoor pool, or set off to explore the nearby upscale wineries.
Calle Barandica s/n, Finca Estancia Mendoza, Tunuyán, Mendoza, Argentina
Book a relaxing stay among the Malbec vineyards and century-old olive tree grove at Posada Verde Olivia. During your stay, enjoy swimming in the outdoor pool, tasting Malbec and olive oil, and unwinding with an olive-therapy massage.
Monte Caseros 2223, M5513 Coquimbito, Mendoza, Argentina
Surrounded by vineyards on a 10-hectare property about 14 miles outside Mendoza City, Posada Mawida boasts a variety of cozy and rustic guest rooms, an on-site restaurant, wine cellar, and outdoor swimming pool. In particular, the loft suite over the vineyard with mountain views from the private balcony would be ideal for wine-loving couples.
Maza Sur 6263, M5517 Lunlunta, Mendoza, Argentina
Subregions in Mendoza
Within the province of Mendoza, there are different subregions, each with its own characteristics that contribute to the diversity of wines produced in this area. Two notable subregions are:
Luján de Cuyo
This subregion is known for its high-altitude vineyards, making it a perfect home for Malbec grapes. The higher elevation provides cooler temperatures, allowing the Malbec vines to slowly ripen, resulting in rich and complex wines.
Uco Valley
Thanks to its location at the Andes foothills, the Uco Valley benefits from cool nights that help preserve the natural acidity of the grapes. This climate helps produce fresh and vibrant wines. The Uco Valley is gaining recognition for its elegant and aromatic white wines, such as Chardonnay and Sauvignon Blanc, which grow really well in this subregion.
Notable Grape Varieties in the Mendoza Region
Mendoza grows a lot of grape varieties, and the most famous among them is Argentine Malbec. However, there are more grapes cultivated in this wine region in Argentina, including:
Cabernet Sauvignon
This grape thrives in Mendoza's high-altitude vineyards, producing red wines that are rich, robust, and packed with dark fruit flavors.
Bonarda
While not as well-known as Malbec, Bonarda is gaining recognition for its approachable red wines. It grows well in Mendoza.
Torrontés
In addition to reds, Mendoza is also home to the Torrontés white grape variety, which produces white wines that are aromatic and refreshing.
Renowned Wineries in the Mendoza Wine Region
Mendoza is home to several famous wineries that have made a significant mark on Argentina's winemaking including:
Bodega Catena Zapata
This winery is famous for its high-altitude vineyards, which produce excellent Malbec and Chardonnay wines. Nicolás Catena played a major role in elevating the reputation of Argentine wines worldwide.
Bodegas Norton
Founded in 1895, Bodegas Norton has a rich history and is popular for its Malbec and Cabernet Sauvignon wines. They combine tradition with modern winemaking techniques to produce high-quality wines.
Things to Do in the Mendoza Region
You can plan a trip to Luján de Cuyo and Uco Valley to visit their great wineries. Also, make sure to enjoy the local wines with some yummy Argentine food!
Wine Tasting Tours in Mendoza
Set off from Mendoza City with a small group of fellow wine lovers on a full-day tour of Mendoza wineries. During the tour, you'll experience expert-led wine tastings and a multi-course gourmet lunch with each course paired with a local Mendoza wine.
Also, don't miss wine tasting at Bodega Trapiche, one of the oldest wineries in the Mendoza region known for its award-winning Malbecs. A number of guided tours visit this prestigious winery, such as this luxury Mendoza winery tour with a gourmet lunch and wine pairing.
Horseback Riding Through Mendoza Vineyards
As you follow the Rio Mendoza through southern Maipú, you'll pass through scenic vineyards, olive groves, and countryside on a guided horseback ride in Mendoza wine country.
After your 1.5-hour ride, you'll enjoy authentic asado, a delicious meal of Argentine barbecue, paired with wines from the Mendoza region.
See the Highest Mountain Peak in the Western Hemisphere
On a guided bus tour from Mendoza, take a journey through the Andes to hike in Aconcagua National Park for a stunning view of Cerro Aconcagua, the tallest mountain in the Americas.
During this full-day bus tour, you'll also pass through the Luján de Cuyo wine region, see Potrerillos Lake, and stop at the naturally formed arch Puente del Inca over the Las Cuevas River.
Before returning to Mendoza, you'll be treated to a truly Argentine lunch of asado and wine in Uspallata. Perhaps you'll even taste the local delicacy, cabrito asado (spit-roasted kid goat).
Salta Wine Region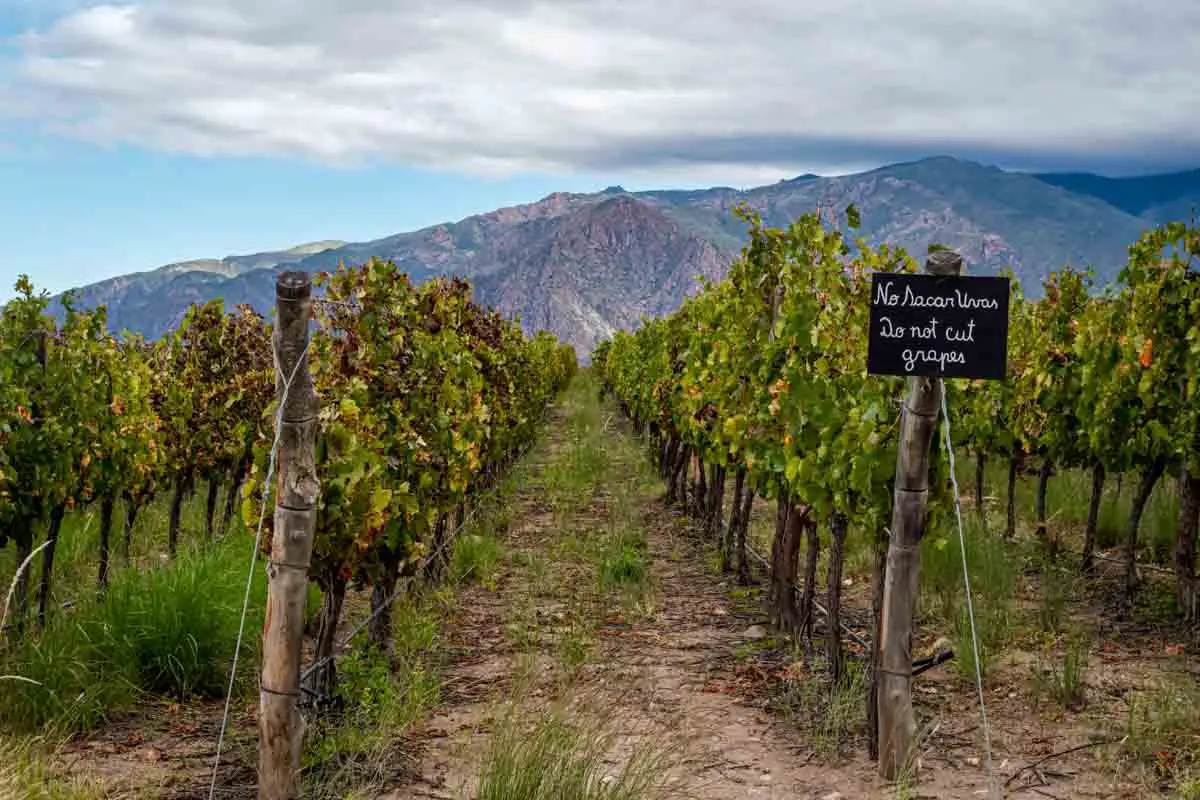 Salta is a wine region in the northern part of Argentina. What makes it special is that the vineyards there are way up in the mountains. They are perched on hills 5,000 to 10,000 feet high. The air up there is fresh, and the temperature swings a lot from day to night.
Travel tip: Getting around the twisty mountain roads in the Salta region can be tricky. It's a good idea to think about taking guided wine tours or getting a local driver to make your exploration safer and more relaxed.
Grape Varieties in Salta
In Salta, these particular grape types grow really well:
Torrontés
This is a famous grape in Argentina. Up in Salta, it's the king of the vineyards. The high mountain air helps the Torrontés grapes stay fresh and make wines with lots of flowery and fruity aromas.
Malbec
The bright sun, chilly nights, and the kind of soil in Salta give Malbec wines a special taste. They're deep, complex, and bursting with red fruit and flower aromas in every sip.
Why Salta's Wines are so Different
Salta's wines have a special touch because of where they grow.
The temperature swings from warm days to cool nights. This helps the grapes slowly ripen.
Being up in the mountains also helps the wine develop interesting scents. The strong sunshine helps them taste rich, and you can catch all sorts of flavors and smells. Plus, they stay tangy because of the natural freshness up there.
Things to Do in Salta
Go check out the stunning Cafayate region, famous for its special Torrontés wines. Don't forget to immerse yourself in the local culture, with traditional music and food, too!
Patagonia Wine Region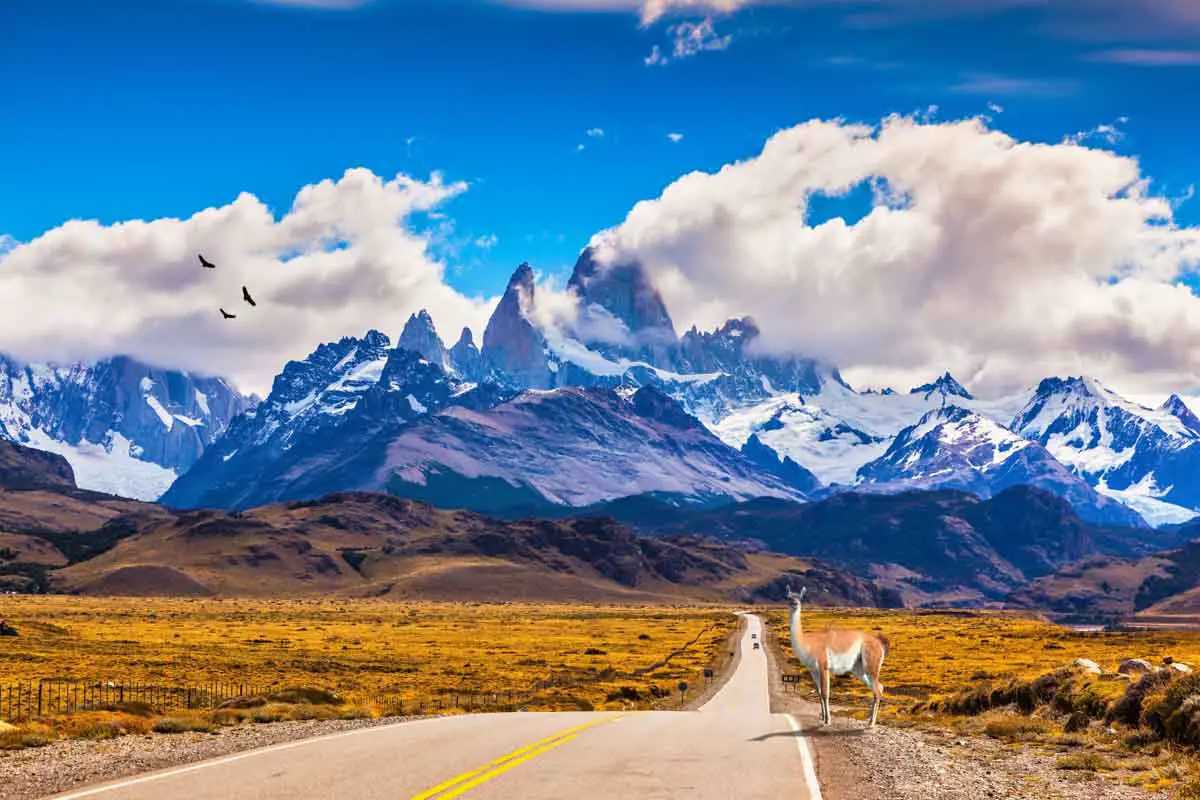 Patagonia is a wine region in the southern part of Argentina. It stands out due to its distinct climate and geography. The region is blessed with a cool climate, which is less warm compared to other wine regions.
Its landscape is a combination of mountains, lakes, and the ocean, creating a picturesque setting.
Travel Tip: Patagonia can get really cold, even during the summer. Wear clothes in layers and be ready for temperature changes.
Grape Varieties and Patagonian Wines
Patagonia's cool climate is an excellent match for specific grape varieties, leading to wines with unique qualities, such as:
Pinot Noir
One of the standout grape varieties in Patagonia is Pinot Noir. This grape thrives in the cool climate, producing wines that are gentle, fruity, and highly approachable. They have soft and fruity characteristics.
Chardonnay
Chardonnay is another grape variety that flourishes in Patagonia's climate. Wines made from Chardonnay grapes are known for their freshness and elegance, making them a great choice for those who prefer white wines. They often have a crisp and refreshing quality.
Malbec
While Malbec is more famous in other parts of Argentina, it also finds a home in Patagonia. The cool climate adds a unique dimension to Malbec wines produced in this region. They are known for their complexity and intriguing layers of flavors, offering a different take on the classic Malbec profile.
Innovative Wineries in Patagonia
Patagonia is home to wineries that bring innovation to Argentinian winemaking. They offer a new perspective to the world of Argentine wines by exploring new winemaking techniques.
Bodega del Fin del Mundo
This winery is famous for its dedication to being environmentally friendly and using creative methods to make wine. They make wines that show the special characteristics of Patagonia's land, and their sustainability work has gained recognition all around the world.
Bodega Patritti
Patritti Winery is famous for its dedication to crafting wines that capture the essence of Patagonia's cool climate. They have a range of wines that showcase the region's potential, and their innovation in winemaking is evident in their unique and expressive wines.
Fun Things to Do in Patagonia
Visit the wineries of Patagonia, of course! Also, explore this region's stunning nature by taking Patagonia tours of national parks, lakes, and glaciers.
San Juan Wine Region
San Juan is a lesser-known region among the Argentina wine regions. Located in the western part of the country, it's a place with a lot to offer. While it might not be as famous as Mendoza, San Juan is making a name for itself.
Travel Tip: If you want to discover the hidden treasures of San Juan's wineries, it's a good idea to rent a car for your visit.
Grape Varieties and Terroir of San Juan
San Juan's climate and soil create the perfect conditions for growing certain grape varieties, such as:
Syrah
One of the stars in San Juan is the Syrah grape. This grape loves the warm, sunny days and cool nights. It results in wines that are rich and full of flavors, often with a hint of pepper and spice.
Bonarda
Another grape that thrives here is Bonarda. It's known for making easy-drinking red wines that are fruity and smooth.
Torrontés
San Juan also has its own take on Torrontés. The grape produces white wines that are aromatic and fresh.
Famous Wineries in San Juan
San Juan's winemakers are on the rise, and a few new wineries are starting to get noticed, including:
Bodegas Callia
This winery is known for its dedication to crafting elegant wines. They pay a lot of attention to detail and bring a modern touch to their winemaking techniques.
Bodegas Santa Ana
Santa Ana is famous for its sustainable practices and for making wines that are easy to enjoy. They aim to capture the spirit of San Juan in every bottle.
Things to Do in San Juan
While you're in San Juan, check out the local markets and try the delicious regional dishes.
La Rioja Wine Region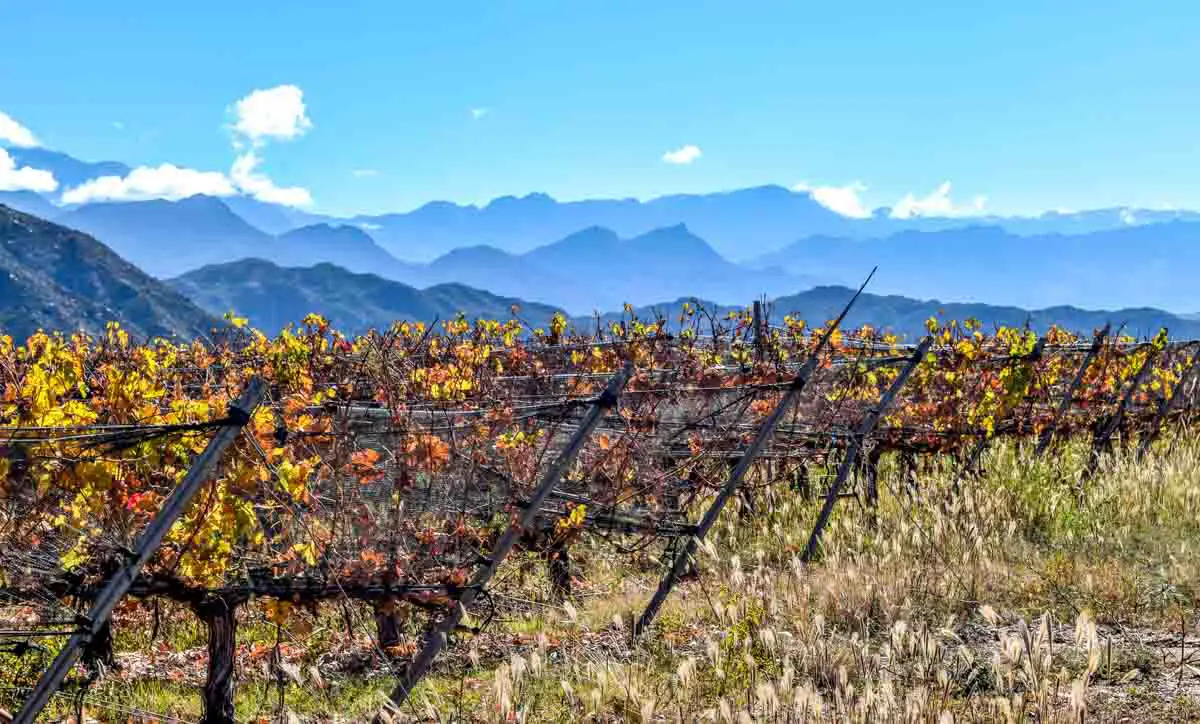 Situated in the northwest of Argentina, La Rioja is a province with a rich winemaking heritage. Still, La Rioja doesn't receive the global recognition that more famous wine regions of Argentina do.
The province's name, "La Rioja," carries historical significance, going back to the early Spanish colonial era when the region was named in honor of the Rioja wine region in Spain.
Travel Tip: La Rioja has a hot climate, so it's best to schedule your trip for the milder months, from May to September.
Grape Varieties and Unique Terroir of La Rioja
La Rioja's terroir provides an ideal environment for these specific grape varieties:
Torrontés Riojano
La Rioja is home to the famous white grape known as Torrontés Riojano. Thriving in the province's unique conditions, this grape variety makes white wines that are aromatic and fresh. They offer floral and fruity notes.
Malbec
While Malbec is grown across Argentina, in La Rioja, it adopts special qualities. The wines crafted there often have a rich and fruity profile, featuring subtle hints of spice and earthiness. These nuances are a product of the region's terroir.
Bonarda
This grape variety is famous for producing accessible and easy-drinking red wines. These wines are recognized for their smooth taste and ripe fruit flavors.
Popular Wineries in La Rioja
Some of La Rioja's best wineries to visit are:
Bodegas Los Haroldos
This winery is dedicated to preserving the traditions of the region while embracing innovative winemaking techniques.
Bodega San Huberto
San Huberto aims to feature the distinctive qualities of La Rioja's terroir in their wines.
Things to Do in La Rioja
Discover La Rioja's fascinating past and culture by visiting old landmarks and beautiful churches. You can check out some of the local churches, like the impressive Cathedral of La Rioja, which tells the history of the region.
Also, be sure to meet the local people, enjoy their food, and get a real feel for this wonderful place.
Córdoba Wine Region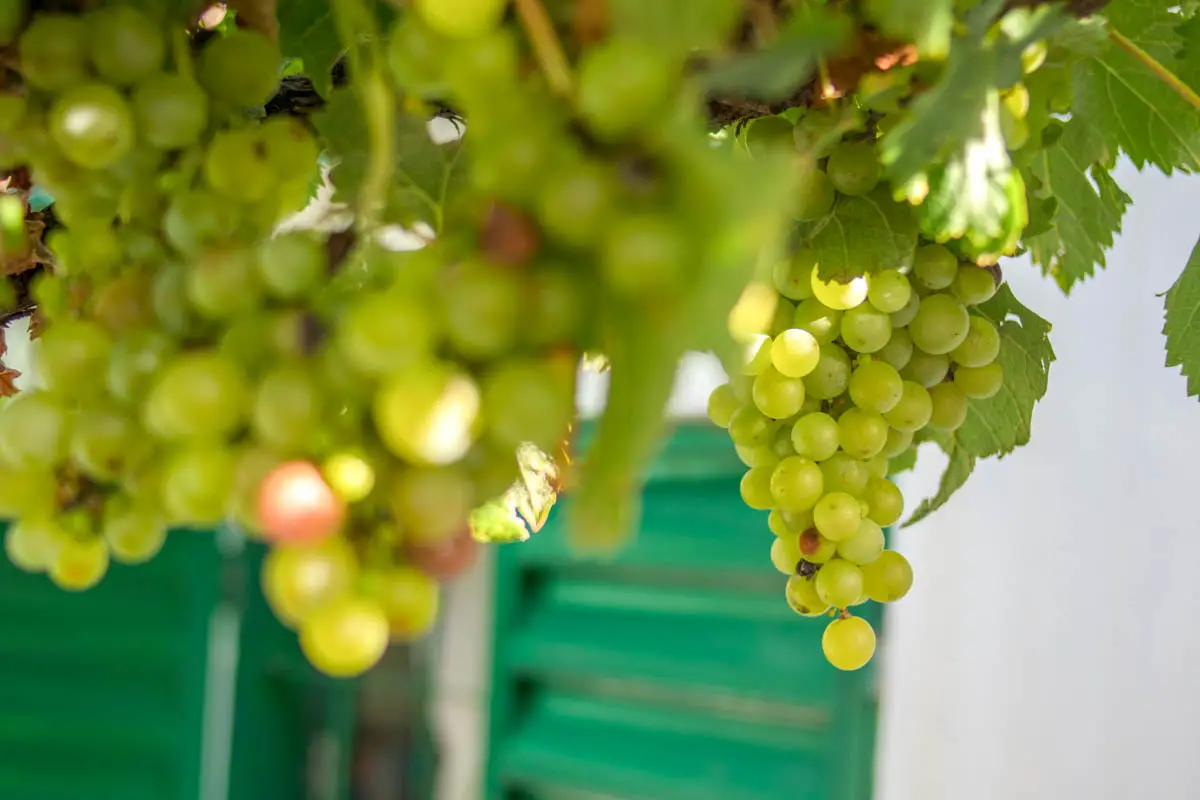 Córdoba, located in the heart of Argentina, plays an important role in the country's history of wine production. It's a place where wine has been part of the culture for generations. The province gets its name from the Spanish province of Córdoba, indicating the strong Spanish influence in the region's winemaking history.
Travel Tip: Some wineries in Córdoba are small and might need you to book tours and tastings in advance. Make sure to plan your visits accordingly.
Unique Grape Varieties and Traditional Winemaking in Córdoba
Córdoba's climate and soil create perfect conditions for growing these specific grape varieties:
Cepas Elegidas
In Córdoba, some winemakers experiment with less common grape varieties, like Cepas Elegidas. These grapes produce wines that reflect the province's distinct character. They may not be widely known, but they offer a taste of Córdoba's wine creativity.
Cabernet Sauvignon
Córdoba is home to some outstanding Cabernet Sauvignon vineyards. These grapes thrive in the province's diverse landscapes, giving rise to red wines that are rich, bold, and full of character.
Criolla
The Criolla grape, also known as Cereza or Pais, is one of the oldest grape varieties still cultivated in Argentina. It's used to create a light and refreshing Argentine wine with minimal skin contact.
Notable Wineries Preserving and Advancing Córdoba's Wine Legacy
Córdoba's boutique wineries are known for preserving tradition and innovating with modern techniques. Here are a couple worth visiting:
Bodega La Caroyense
This winery is dedicated to preserving the heritage of Córdoba's wine production. They continue the tradition of making regional wines that connect the past with the present.
Bodegas Campos
A winery known for its commitment to crafting quality wines that represent Córdoba's rich winemaking history. Their portfolio of wines reflects the region's unique terroir and traditions.
Things to Do in Córdoba
Discover Córdoba's old town with its historic buildings and learn about the Jesuit history. Go hiking in the mountains for amazing views, and try tasty Argentine food like empanadas and asado at local restaurants.
Private Colonia Caroya Wine Tour
On this private wine tour from Córdoba, your party of 2-6 wine drinkers will tour vineyards and taste wines at two wineries in Colonia Caroya. Included in this guided wine tour is a three-course lunch paired with Córdoba wines.
Private Calamuchita Wine Tour
Take a Calamuchita Valley private wine tour from Còrdoba, and your party of 2-6 wine lovers will be whisked to the central valley of the Córdoba province. During the tour, you'll taste local wines, tour vineyards in this beautiful wine region, and eat lunch at a nearby restaurant.
Conclusion: Argentina Wine Regions are Worth Visiting Now!
It's time to end our virtual visit to the Argentina wine country. It's been quite the exciting journey, hasn't it? Argentina's wine regions truly cater to every wine preference, offering a wide range from bold and rich Malbec to refreshing Torrontés.
But it's not just about the Argentine wine; these wine regions come with a bonus – the breathtaking views. With the Andes as a backdrop and the picturesque vineyards, every visit is a treat for the eyes.
So why wait any longer? Start planning your trip, book all the wine-tasting tours you have time for, and discover all that the wine regions in Argentina have in store for you.
About the Guest Blogger
Helen Ruiz, born in San Diego, California, is a passionate wine enthusiast with a background in Agronomy from the University of New England. Her love for wine led her to gain extensive knowledge in winemaking through experiences at top California wineries. In addition to managing Wine Rooster, she operates a wine bar in San Diego, furthering her expertise by tasting and evaluating wines from across the globe.
Read Related Posts
Planning a trip to an Argentina wine region? Save this guide to your Argentina or wine travel Pinterest board to easily reference later!
Editor's Note: Photo credit for the lead image (© Aleksandr Vorobev/Adobe Stock)