Are you a foodie who seeks out the best fine-dining restaurants, local flavors, and unique culinary experiences when you travel? Then pack your bags and head out on a culinary tour of these 11 upscale restaurants I recommend based on my travel in Canada, Ireland, and the United States in 2017.
Whether I was learning to shuck oysters on an Alabama oyster-farm boat or dining at a Michelin-starred restaurant in Ireland, culinary experiences were the absolute highlights of my travels in 2017. Looking back on all of my tasty adventures in 2017, delicious dinners at upscale restaurants stand out for their flavorful foods and the fabulous overall dining experience. Often featuring three or four courses from appetizer or amuse bouche to dessert, the meals I ate at these restaurants were paired with a fine wine or craft cocktail. Service was stellar at each of these restaurants, and I left feeling like a well-fed VIP each and every time. That is why I recommend you eat at some of the finest restaurants where I dined during my 2017 trips.
Disclosure: Please note that some of the dining experiences shared in this post were comped when I was a guest of a tourism board. This post also contains some affiliate links to book accommodations near these 11 fantastic restaurants. I thoughtfully selected each of these recommendations for you, and if you click on one of these links and make a hotel reservation, I may earn a small commission. Of course, this is at no extra cost to you.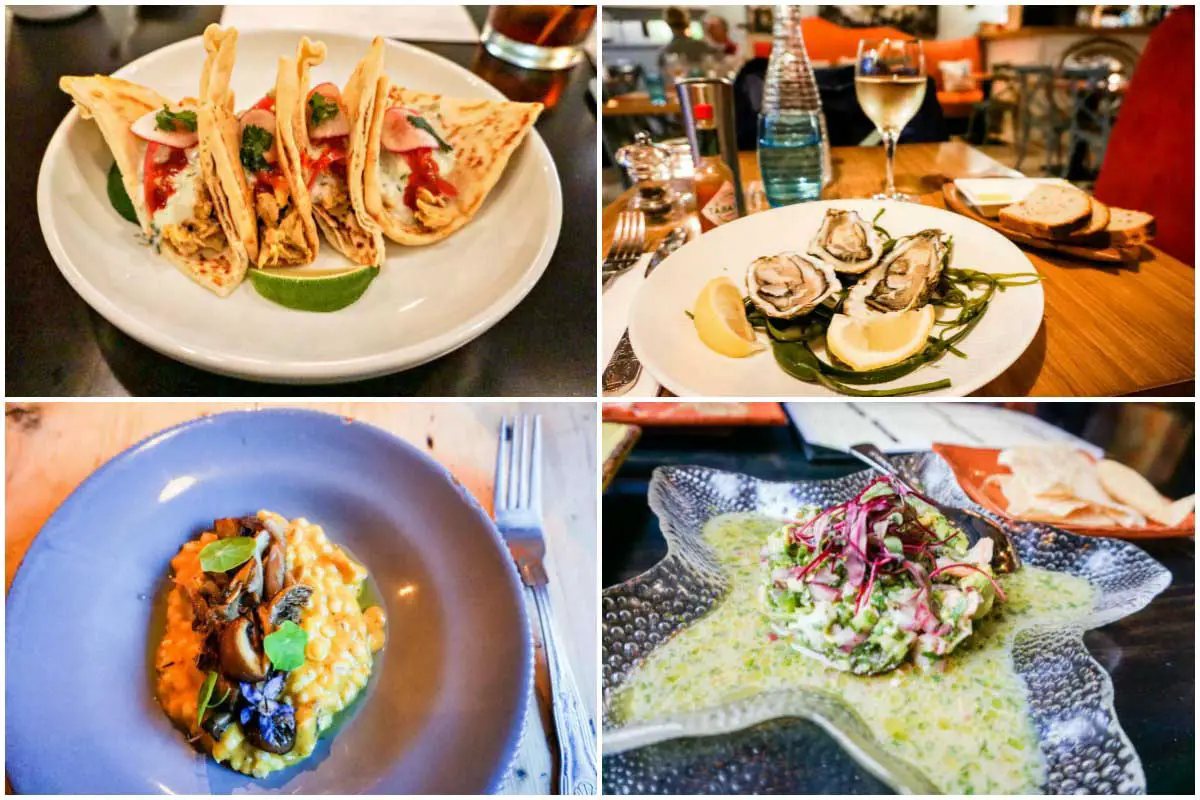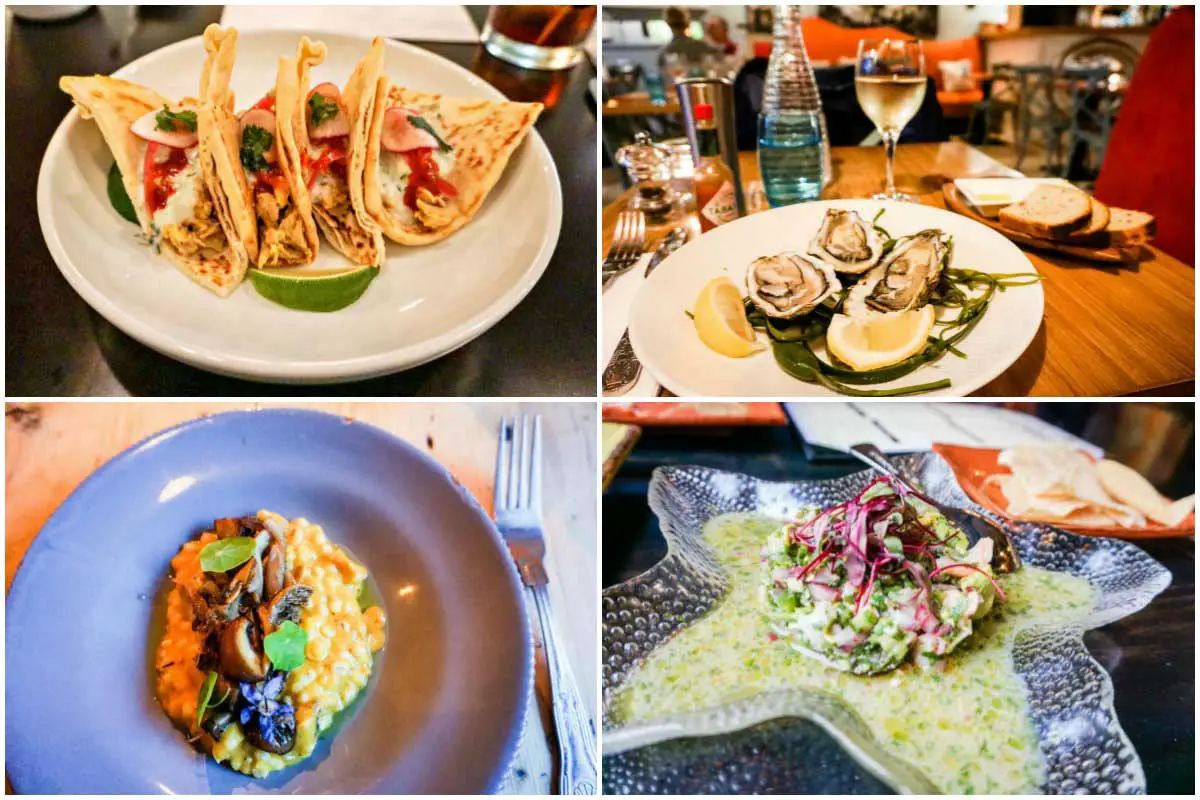 In January 2018, I decided to compile what I thought were my top 10 meals — plus a bonus because it was really difficult to narrow down this list — at fine dining and upscale restaurants where I dined during my 2017 travels. Will I experience even tastier meals in 2018? Well, I'm headed to Seattle and Yakima Valley, Washington, and Victoria, British Columbia, this month. So, I suspect we'll see very soon. In the meantime, let's take a look back on all the delicious dishes I tasted during last year's trips.
Bonus: Caucus Club Detroit | Detroit, Michigan
In late December, I dined with my dad at this recently reopened fine-dining establishment in downtown Detroit. Located in the Motor City's financial hub, the Caucus Club was once the "power lunch" spot for Detroit's movers and shakers. It's also where then-18-year-old Barbara Streisand had one of the first gigs of her musical career.
After six decades, the legendary restaurant closed its doors in 2012, but new owners reopened in March 2017 with a commitment to hospitality and restoring this Detroit classic. From the hostess who collected our coats to our server who described dishes with detail and personal recommendations, hospitality certainly was at the forefront of our dining experience. You know what they say, diners come for the food, but they return for the service. That type of hospitality sometimes seems like a sentiment from years gone by, but that step into the past is why I enjoyed dining at the Caucus Club.
However, I'll also be returning for the romantic ambiance. When a pianist wasn't playing jazzy standards, Frank Sinatra tunes were delicately piped into the dining room. With white linen tablecloths, live music, and dim lighting on a Friday night, the Caucus Club certainly felt more like a date-night spot than a restaurant where business deals are brokered.
Most importantly, I'd revisit the Caucus Club because the food was delicious. We began our four-course meal with fresh bread served with a duo of pesto dipping sauces. I then selected a warm crock of onion soup covered with melted Gruyere. For our entrees, we veered away from the steaks for which the Caucus Club is known. My dad ordered the prime rib, and I opted for the blackened Scottish salmon served over a butternut squash risotto. Side dishes are served family-style for sharing, so we tried the asparagus and au gratin potatoes. To finish our delightful meal, we split a rich slice of cheesecake.
Dine At Caucus Club
Caucus Club Detroit | 150 W Congress St, Detroit, Michigan, USA | Reserve Your Table
Stay near the Caucus Club at one of these top-rated Detroit hotels:
The Shinola Hotel | Detroit Foundation Hotel
10. 360 The Restaurant at the CN Tower | Toronto, Canada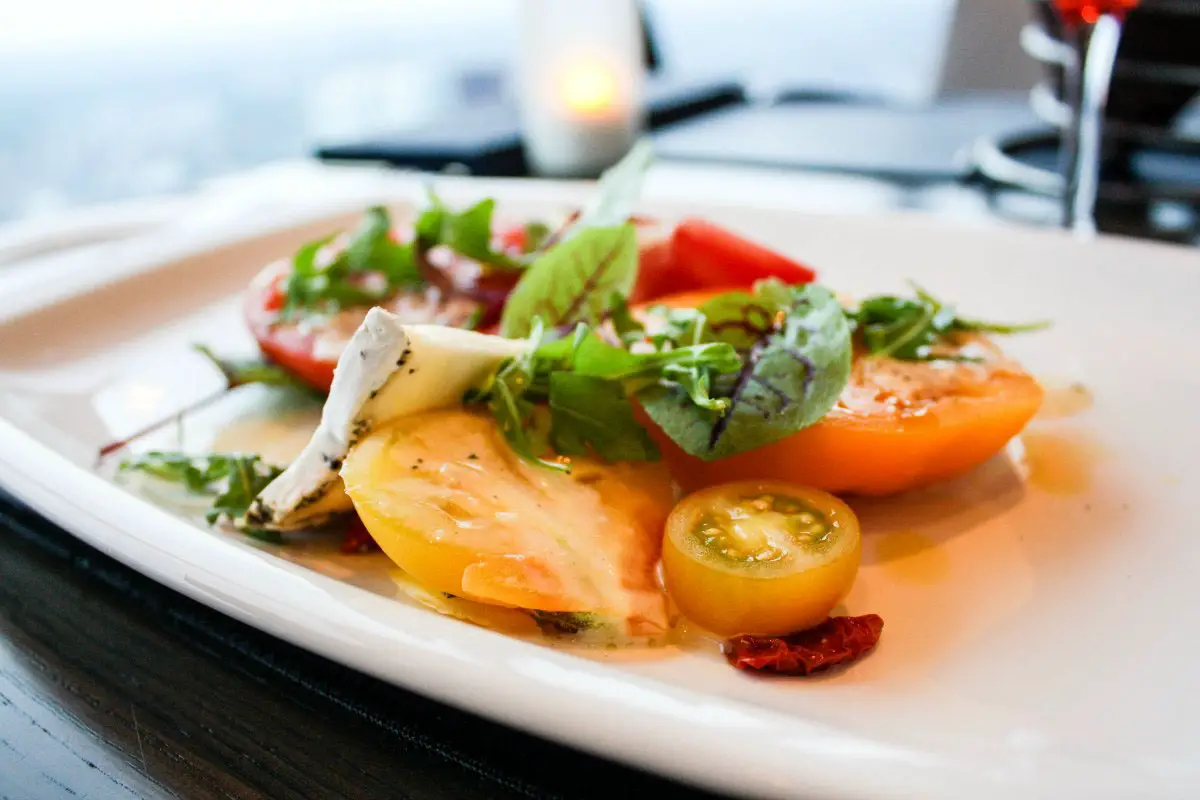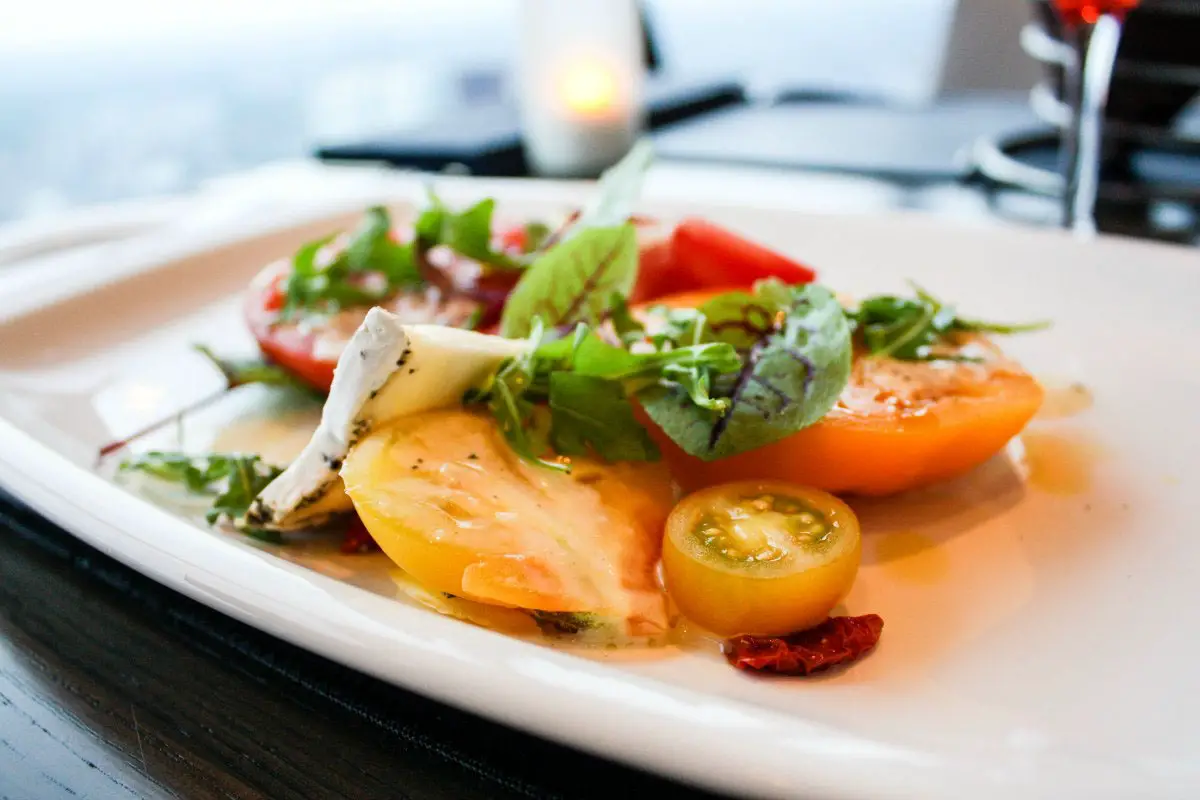 While visiting Toronto in late May, I dined at 360 The Restaurant at the CN Tower as a guest of Tourism Toronto. Since I was visiting Toronto to learn about Canadian cuisine, I was eager to taste Canadian wine and ingredients in front of a majestic view of Canada's largest city.
Looking out over the Toronto skyline from 1,151 feet (351 meters) high, I sipped a Canadian rosé from the world's highest wine cellar. As the dining room revolved, I enjoyed an appetizer of fresh heirloom tomatoes and cheese along with my view out to Lake Ontario. Choosing the prix fixe option, my entree was a beautifully-plated seafood dish of Fogo Island cod, crab legs, and shrimp.
When you dine at 360, I recommend making your reservation for before sunset. As I watched the sky turn black and the city lights shine below, I sipped an espresso paired with a decadent cake dessert topped with caramel and garnished with fresh strawberries and candied pecans.
In addition to the delicious Canadian cuisine and an incredible view of Toronto, dining at 360 also allowed me access to the CN Tower. After finishing my dinner, I visited the CN Tower's observation deck for a final bird's-eye view of Toronto.
Dine at 360 The Restaurant at the CN Tower
360 The Restaurant at the CN Tower | 301 Front St W, Toronto, Ontario, Canada
Stay in luxury in Toronto:
Fairmont Royal York | Drake Hotel
9. Mint 29 | Dearborn, Michigan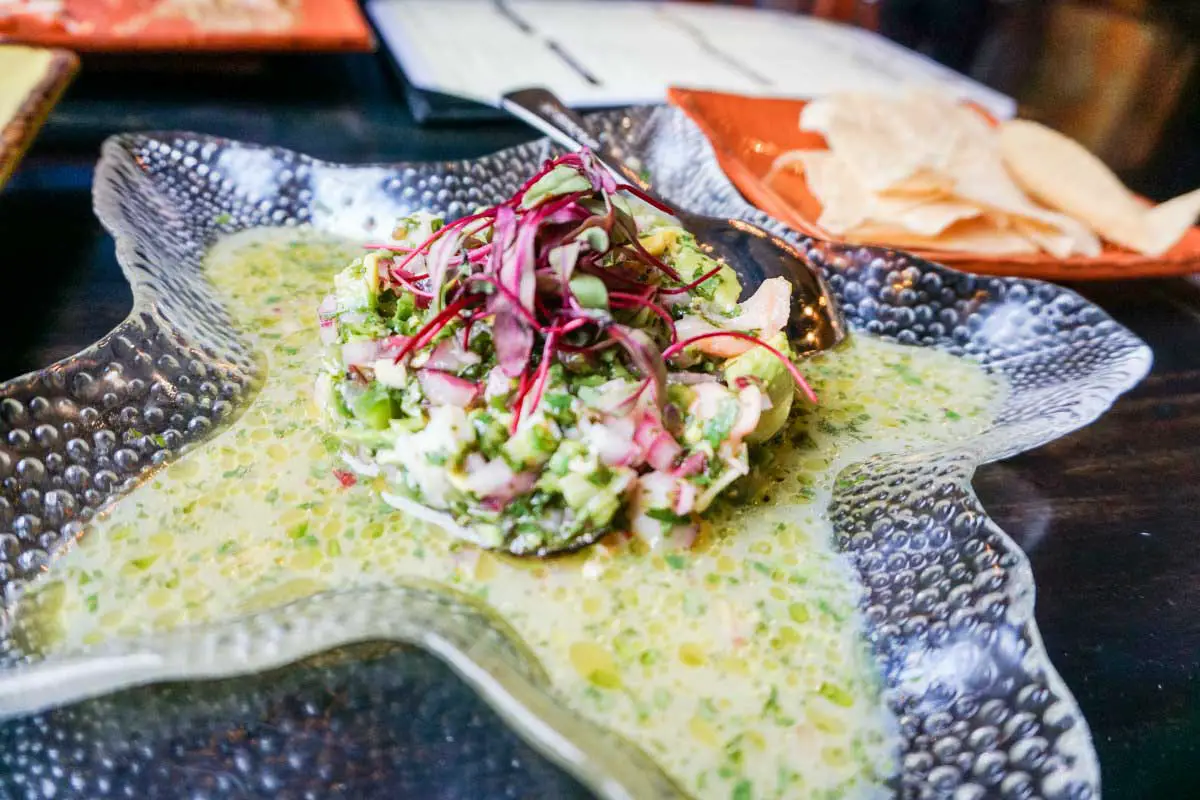 While visiting my hometown in August, my dad and I dined at Mint 29, a new "upscale fusion" restaurant serving international cuisine in a former federal bank building on Dearborn's west side. International cuisine certainly suits Dearborn, most well known for its Middle Eastern eateries, but this upscale restaurant also filled a gap in the city's dining scene. Whether you want to impress your date, sip a craft cocktail, or carve into a well-cooked steak, Mint 29 is the place to dine in this metro Detroit city.
On a hot summer day, the W. Dearborn Lemonade was a refreshing start to my meal. The bourbon-based drink mixed with fresh raspberries, lime juice, sparkling water, and Briottet Crème de Cassis was a well-balanced, fruit-forward cocktail. The beverage's mix of sweet, tart, and sour paired well with our appetizer selections — the fresh seafood ceviche and jumbo gulf shrimp cocktail.
For the shrimp cocktail, four of the largest jumbo shrimp I've seen were served in a glass of Bloody Mary mango salsa. Also showcasing a lot of flavor, the ceviche — made of salmon, black cod, red onion, and avocado — soaked in a zesty cilantro-citrus marinade. Both chilled appetizers were excellent for light, summer dining.
As we moved onto our entrees, we ordered a bottle of full-bodied red wine to complement the 8-oz. petite filet mignon we both ordered. Served with herb-roasted garlic, my filet was perfectly cooked medium rare. Following such a savory dish, we finished our meal on a sweet note, sharing a crème brûlée topped with fresh berries.
Dine at Mint 29
Mint 29 | 22000 Michigan Ave, Dearborn, Michigan, USA
Stay near Mint 29 and the Detroit's area's leading attraction, The Henry Ford:
The Henry, Autograph Collection | The Dearborn Inn
8. Twisted Olive | Petoskey, Michigan [CLOSED]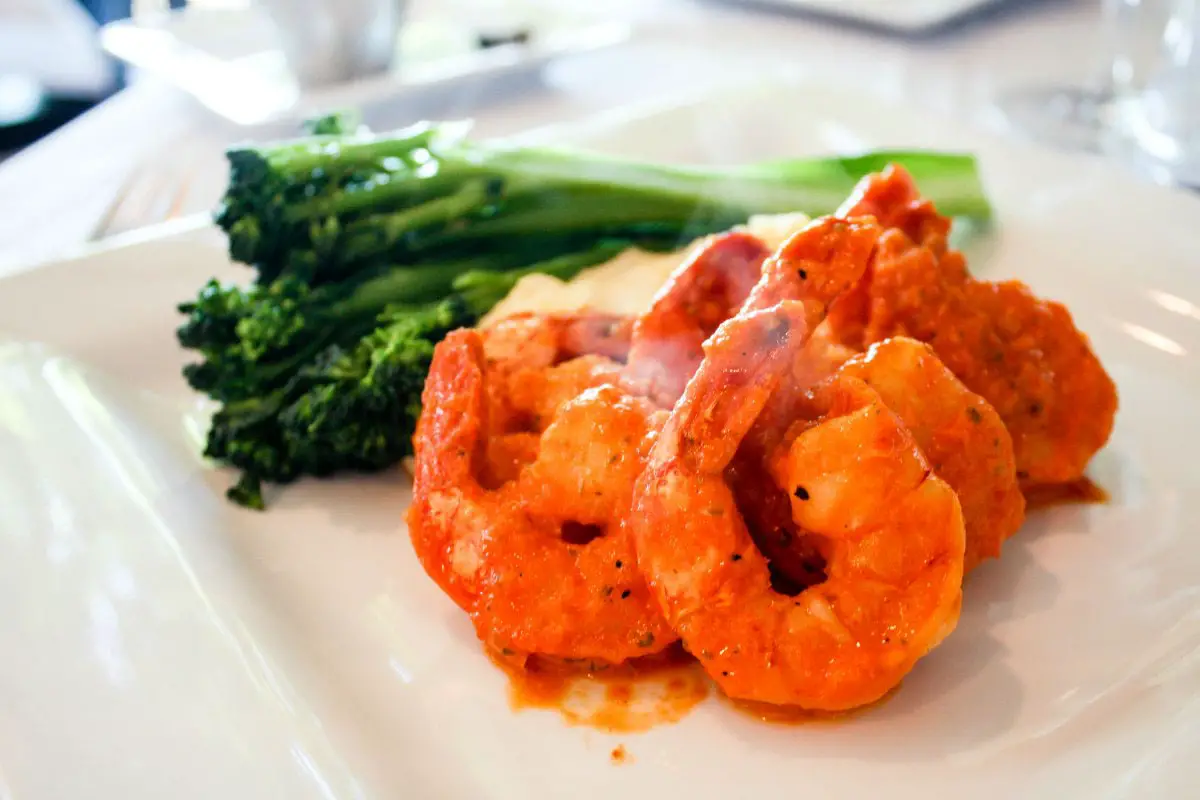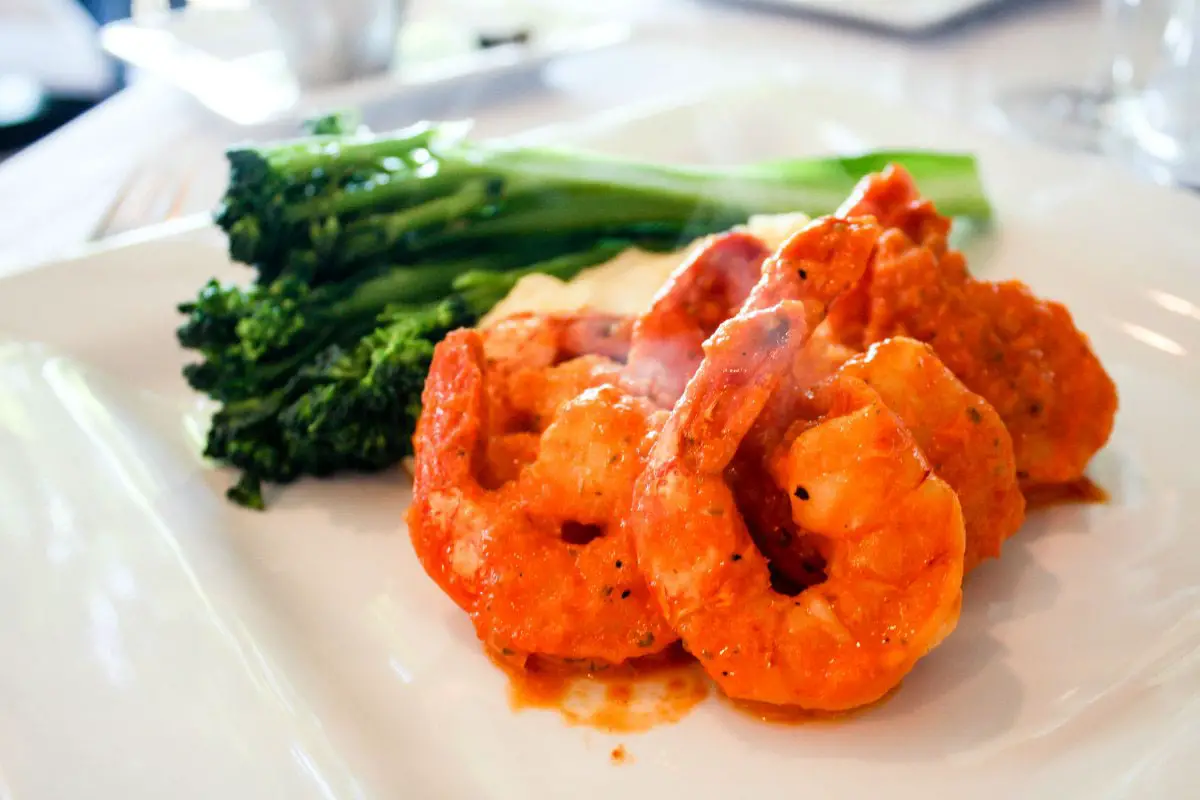 Last June, I had planned a romantic getaway for two to Northern Michigan's Petoskey. Unfortunately, my boyfriend hadn't returned from visiting his family in Iraq in time to accompany me. So, I took the trip on my own — solo romantic dining and all. And, what a great "date night" spot Twisted Olive would have been!
My table for two was right in front of a floor-to-ceiling window with a beautiful waterfront view. I guess the perk of dining alone is not having to give up the window-facing seat to anyone else. 😉 I certainly enjoyed looking out to Lake Michigan throughout my dinner.
While researching Petoskey restaurants for our vacation, I noticed Twisted Olive serves coastal Mediterranean cuisine, which we love. Plus, it is only a short walk from where we were to stay at Stafford's Perry Hotel. Since I kept my reservation at the downtown Victorian-era hotel, I still decided to eat dinner at Twisted Olive, and I am so glad I did. The special that night was a flavorful shrimp dish served over polenta with broccolini. It was a delicious and light dinner paired with white wine and stunning waterfront views.
7. Fisher's at Orange Beach Marina | Orange Beach, Alabama
When visiting Orange Beach, Alabama, it isn't difficult to find delicious seafood. The beach destination sits right along the Gulf of Mexico after all. If you seek fresh gulf seafood in a refined, timeless waterfront setting, the upstairs restaurant of Fisher's at Orange Beach Marina is an excellent choice.
When the Gulf Shores and Orange Beach tourism board invited me to visit in late November for their #ALBeachEats Foodie Fanguide, their social media fans and followers sent me and Shannon, of The TV Traveler, for our dinner entrees at Fisher's. I'm sure the appetizers and desserts at Fisher's would have been delicious as well, but we were on a progressive dinner adventure. What the heck does that mean? Well, we started at Luna's Eat & Drink for appetizers, then dined at Fisher's for our dinner entrees, and capped the night with a round of desserts at Bill's by the Beach. All of which were voted on by the Alabama Beaches' fans.
After taking in the restaurant's beautiful holiday decorations, I selected the seared jumbo scallops with roasted cauliflower and a ginger herb salad for my entree. It's no wonder my entree was delicious — Chef Bill Briand previously worked in the kitchens of Emeril Lagasse and Donald Link and has been nominated for a James Beard Best Chef award for three years running in the south region.
Paired with my seafood was a craft cocktail, Through the Porthole — a refreshingly light drink of St. Germain, vodka, pear syrup, lemon, and sparkling wine. The cocktail menu changes seasonally, and though Through the Porthole wasn't on the fall/winter menu, the restaurant accommodated our request without hesitation. This is merely one example that made clear to me hospitality is highly valued at Fisher's.
Dine at Fisher's at Orange Beach Marina
Fisher's at Orange Beach Marina | 27075 Marina Rd #300, Orange Beach, Alabama, USA
Stay along the beach like I did at:
6. Lark | Janesville, Wisconsin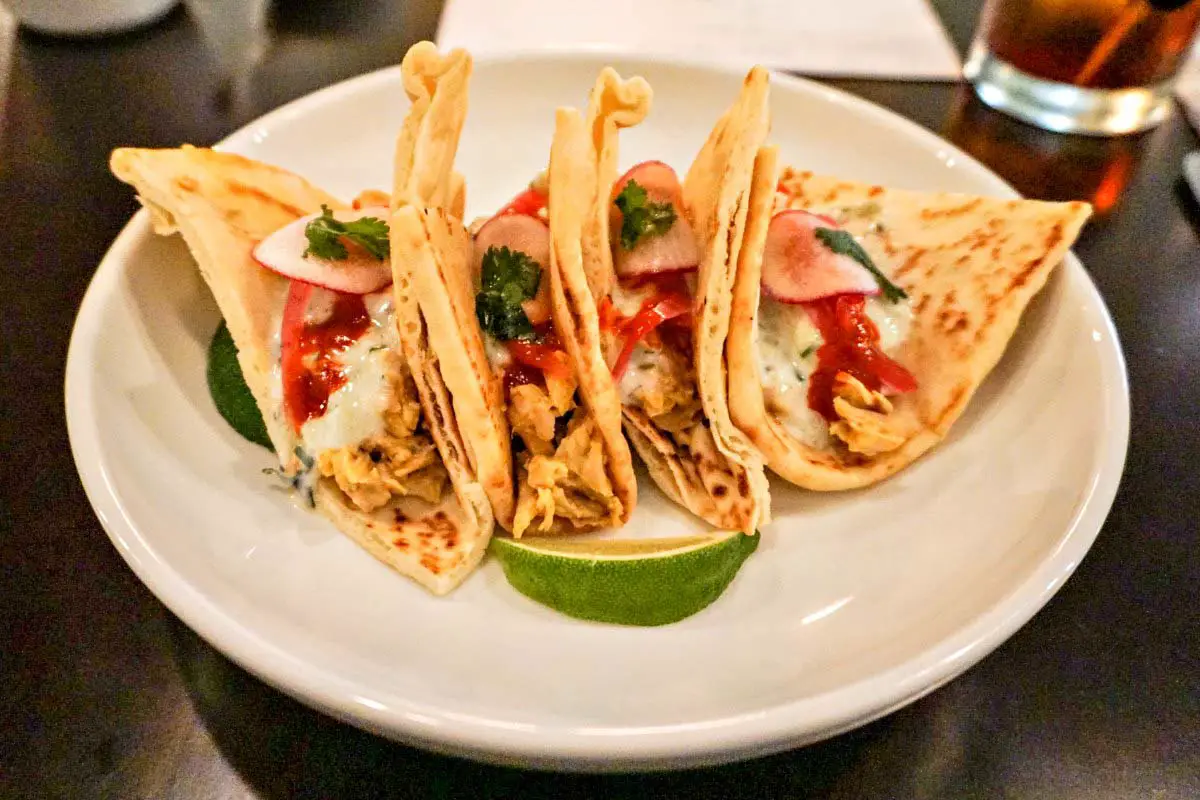 My hosted Janesville trip in September was full of delicious food and drinks, and Lark was a definite highlight of my visit. My first night in this southern Wisconsin city was spent at Lark, which serves seasonally inspired dishes and drinks. Located in Janesville's walkable downtown, the upscale restaurant had just opened about a month or two earlier.
To begin my flavorful meal, I selected the Rev. Morris from an impressive selection of handcrafted cocktails including such classics as the Manhattan and Negroni as well as creative specialties. A cocktail you'll want to sip slowly, the Rev. Morris is a velvety Irish-whiskey drink tasting of vanilla, coffee, and a hint of sweetness. I felt like I started my dinner with dessert.
Though Wisconsin is known for fried cheese curds, at Lark, a meal is best started with fried blue-cheese-stuffed green olives coated in a panko crust and served with an aioli for dipping. I would also highly recommend the Tikka Tacos of masala-braised chicken, cucumber sauce, pickled red onion, chili, and cilantro in a naan shell. It's a delicious fusion of Indian and Latin flavors. Listed as a small plate on the menu, the portion of four mini tacos is sizable enough to be an entree for one or shared as an appetizer among two to four diners. To end on a sweet note, I ordered a seasonal summer lemon cheesecake for dessert. Served in a mason jar, the Meyer lemon cheesecake was layered with sticky rhubarb and buttery graham cracker toppings.
My meal at Lark truly blew me away. First of all, the service I experienced was top-notch. Secondly, the food and cocktail showcased creativity and well-balanced flavors. Third, executive chef Jennifer Tillou has crafted a menu showcasing seasonal produce and flavors using locally sourced ingredients such as oils and vinegar from Bodacious Olive, an olive oil shop located just a few blocks away. Lastly, more than 40 percent of the menu items are vegetarian or offer a vegetarian option. Dishes are also clearly labeled as vegetarian and/or gluten free on the menu. All of that says Lark is a restaurant that truly cares about the community it serves.
Dine at Lark
Lark | 60 S. Main Street, Janesville, Wisconsin, USA
Stay near Lark in Janesville at:
5. L'Ecrivain | Dublin, Ireland [CLOSED]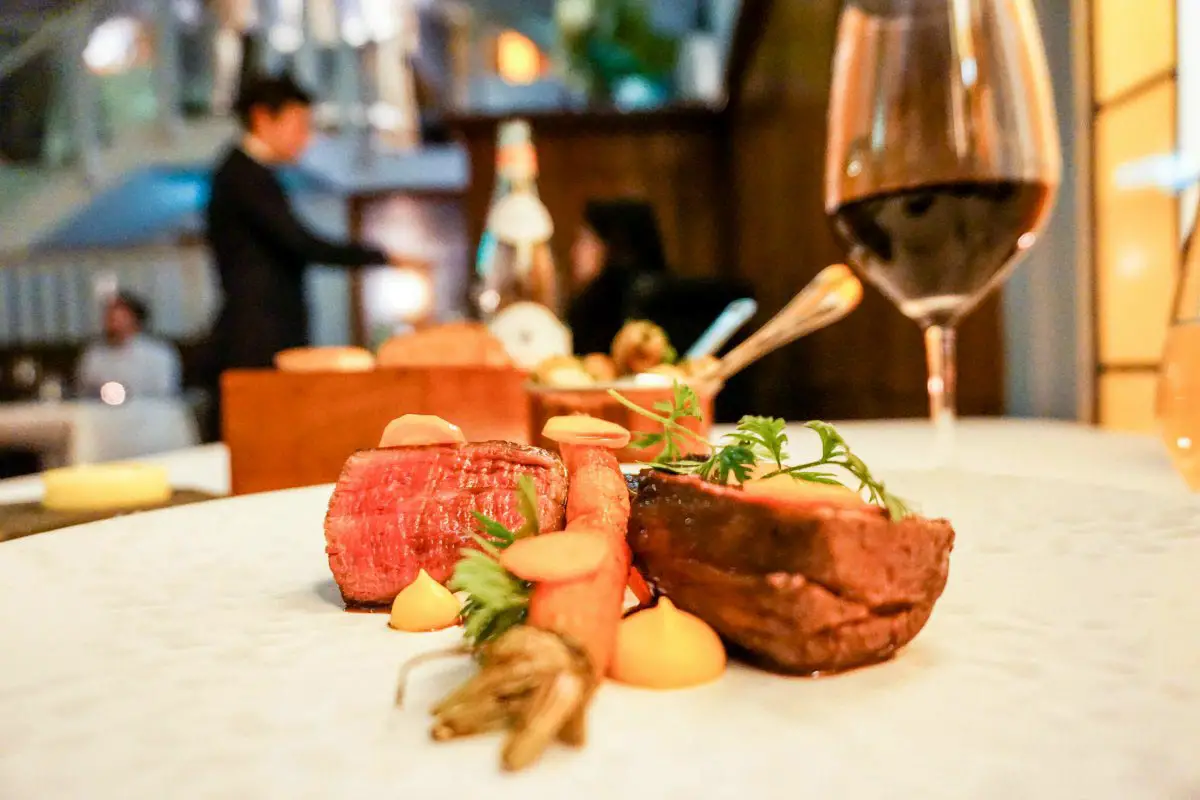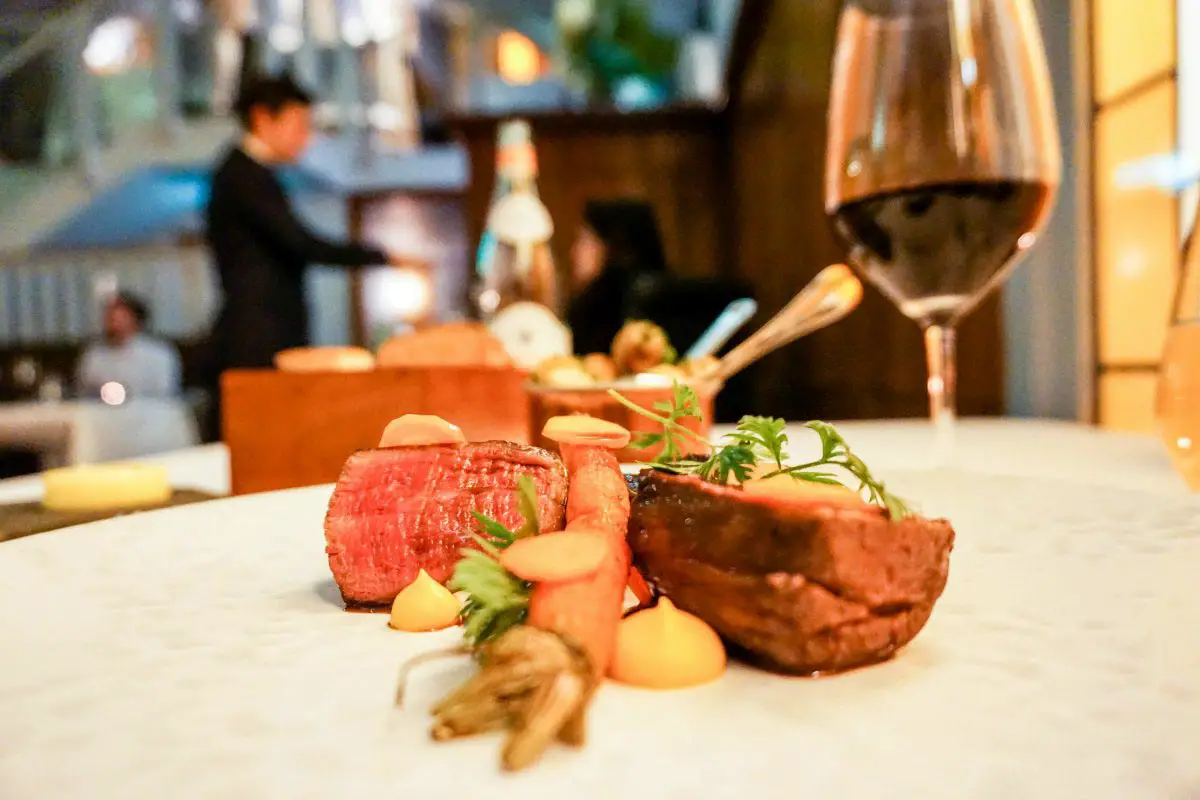 While visiting Ireland, I was invited by Ireland's Blue Book to dine at L'Ecrivain in Dublin. Serving delicious Irish and French cuisine, L'Ecrivain has been awarded a Michelin star every year since 2003. After dining here, I certainly understand why.
As my dinner progressed from amuse-bouche to dessert, each course appeared more decadent and tasted even more delectable until culminating in the most luscious dark chocolate tart topped with fresh raspberries alongside cocoa sorbet. Each course was a work of art almost too beautiful to eat. But eat them I most certainly did. From assorted slices of bread and lobster risotto to the aged Angus beef served with carrots and potatoes, every bite was divine.
Dining at L'Ecrivain was such a wonderful ending to my two-week culinary exploration of the Emerald Isle.
4. Oscar's Seafood Bistro | Galway, Ireland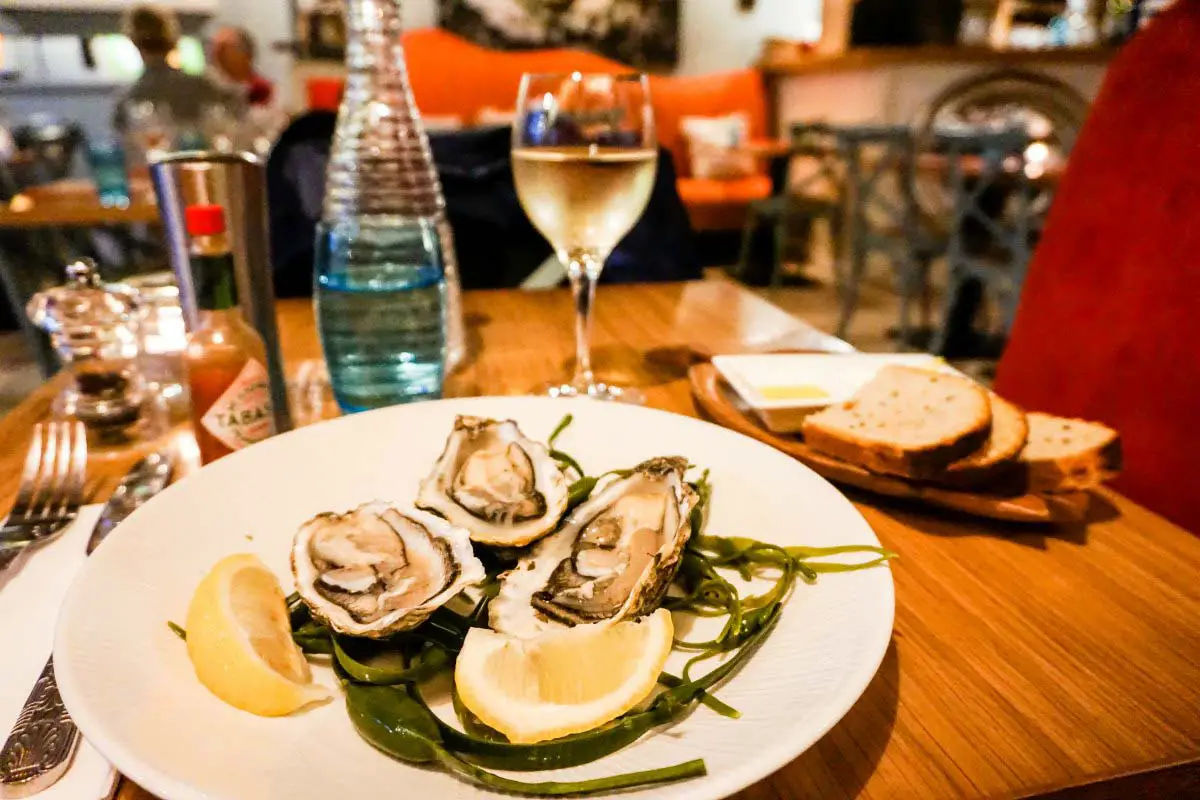 There is no denying Galway was my favorite destination of my Ireland trip, and that was in large part because of the abundance of delicious food. On my last night in Galway, I followed the advice of a local. Four times throughout my Galway visit, I had the same taxi driver. We often chatted about Galway and the local restaurants, and he mentioned Oscar's Seafood Bistro was a favorite of his and his wife.
While I could have found Oscar's by reading Lonely Planet, it was my driver's tip to dine at the early seating that really paid off. Walking umbrella in hand from Taaffes Pub, I arrived at Oscar's as the restaurant opened for the evening. Served Monday through Thursday from opening until 6:30 p.m., the early bird special includes two courses from a select menu for €19.50.
After being ushered to a table for two, I settled into the plush red booth and selected a glass of Sauvignon Blanc. I started with the ¼ dozen Galway Rock Oysters. For my entree, I selected a bowl of mussels steamed with white wine, cream, and garlic butter served with a side of fries. Both the oysters and mussels were incredibly fresh, and I left Oscar's completely satisfied with my early-bird dinner.
Dine at Oscar's Seafood Bistro
Oscar's Seafood Bistro | Dominick Street Lower, Galway, Ireland | For reservations, call +353 91 582 180
Stay in Galway:
Clybaun Hotel (where I stayed) | Menlo Park Hotel
3. Wright & Company | Detroit, Michigan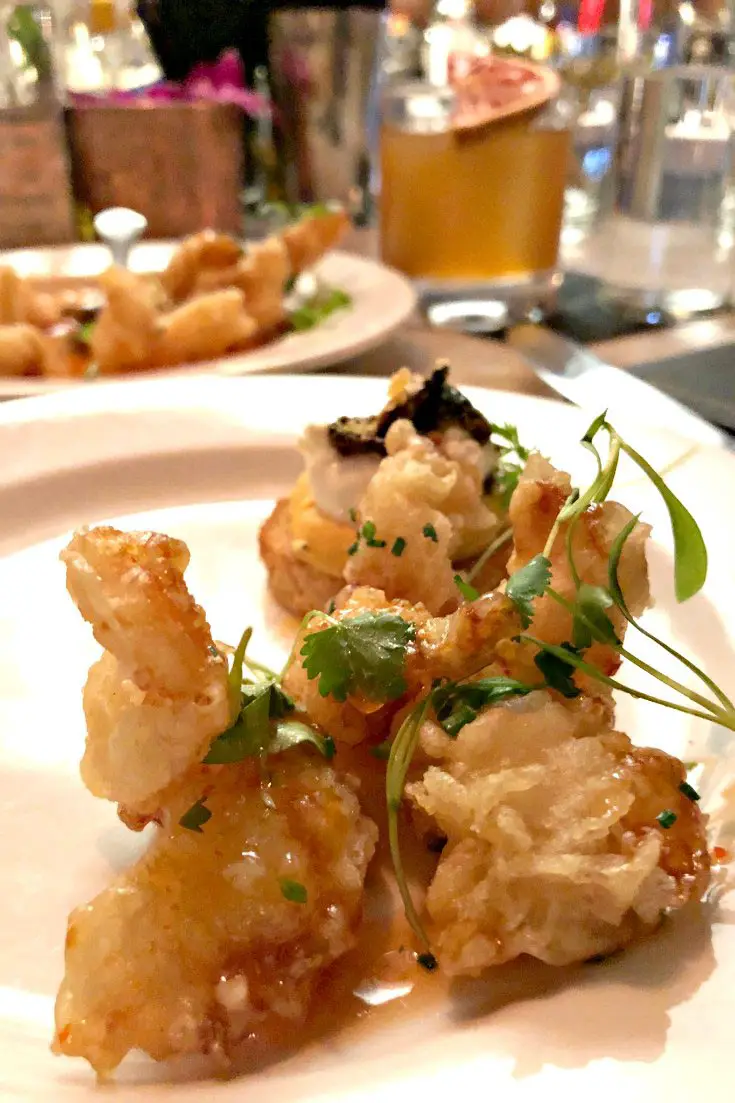 Are you wondering how a self-described gastropub made a list dedicated to fine dining? Well, Wright & Company is far more upscale than your average gastropub. Though you could never describe Wright & Company as formal, stuffy, or many other adjectives you might use to describe a traditional "fine dining" establishment, the high-quality ingredients, creative handcrafted cocktails, and delicious small plates certainly earn this Motor City hot spot a place on this list.
A collaboration from Dave Kwiatkowski, owner of my favorite Detroit cocktail bar The Sugar House, and chef Marc Djozlija, nominated for a James Beard "Best Chef" award in 2015 for the Great Lakes region, Wright & Company was named one of Detroit's 10 best new restaurants of 2014 by the Detroit Free Press. Pretty much since it opened, Wright & Company had been on my wishlist for dining in Detroit. Finally, I made it in late December to celebrate Christmas with my dad and sister.
Spotting the John Varvatos store on the ground level, we knew we had arrived at 1500 Woodward. Constructed in the late 1800s, the Queen Anne building with its classic corner turret housed the Wright-Kay jewelers for decades. Today, Wright & Company occupies the building's second floor. To access the restaurant, we rounded the building's corner to an entrance that leads to an elevator. Stepping into the dark lobby, I was immediately greeted by the sight of Wright & Company's jewelry-inspired logo and sounds of 1980s' Michael Jackson tunes.
While we waited for our table, we nabbed seats at the bar and ordered a round of cocktails and shared plates. I started with the Moon & Harbor, a cocktail that transported me back to Ireland. The three of us shared crisp Gulf shrimp in a sweet Thai chili sauce, burrata toast, and Maine crab cakes while at the bar. We liked the shrimp so much we ordered a second round once we were seated. We also split the New York strip steak with chimichurri, a deconstructed chicken pot pie, and scallops served with dates and chorizo. I don't know how we even found room for dessert, but I managed to take a couple bites of the most adorable chocolate ginger bundt cake.
After eating such a filling dinner, we had to walk off some calories. Luckily, the restaurant is a short distance from Campus Martius Park, where we watched skaters glide by on the outdoor ice rink and took photos in front of the large Christmas tree.
Dine at Wright & Company
Wright & Company | Wright-Kay Building, 1500 Woodward Ave, Second Floor, Detroit, Michigan, USA | First come, first served policy
Stay near Wright & Company at these four-star hotels in downtown Detroit:
The Shinola Hotel | Detroit Foundation Hotel
2. Cotton Row | Huntsville, Alabama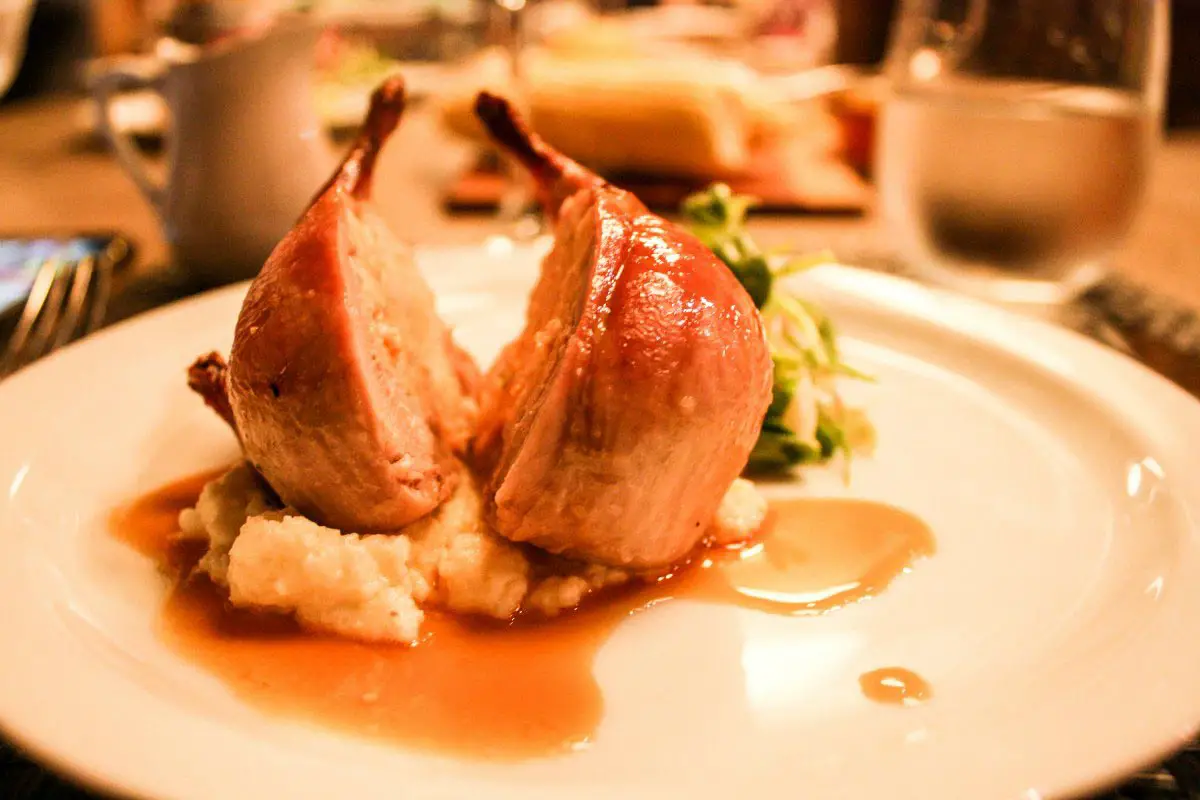 While visiting Huntsville, Alabama, for the travel blogging conference TBEX, I gathered with fellow travel bloggers at Cotton Row for a hosted dinner. Meeting in an event space above the restaurant, we watched chef James Boyce prepare an incredible meal right in front of us. Meanwhile, he chatted with us about his culinary career, the Alabama restaurant scene, the local ingredients he was using, and the dishes he was making for us.
One of the first bites we tried were Wagyu sliders with an herb goat cheese. Those sliders were next-level delicious. We also had a refreshing seafood dish with bright flavors from citrus and radish. Then we moved on to jumbo scallops roasted in butter in a cast-iron skillet. The scallops were served with Florida-grown corn and shaved white truffle. It was heavenly. Our fourth course featured roasted quail stuffed with andouille sausage and crayfish served over grits and an apple jus alongside a celery salad. Ending our delicious meal was a warm pear tart with vanilla bean ice cream with mint-scented fruit and a bourbon caramel drizzle. Throughout the meal, I thoroughly enjoyed learning about the local ingredients and tasting the chef's refined Southern cooking.
Best of all? You can experience this, too. In addition to dining at Cotton Row, you can also take cooking classes here.
Dine at Cotton Row
Cotton Row | 100 Southside Square, Huntsville, Alabama, USA | Reserve Your Table
Stay in Huntsville:
Homewood Suites by Hilton | SpringHill Suites Huntsville
1. Ard Bia at Nimmos | Galway, Ireland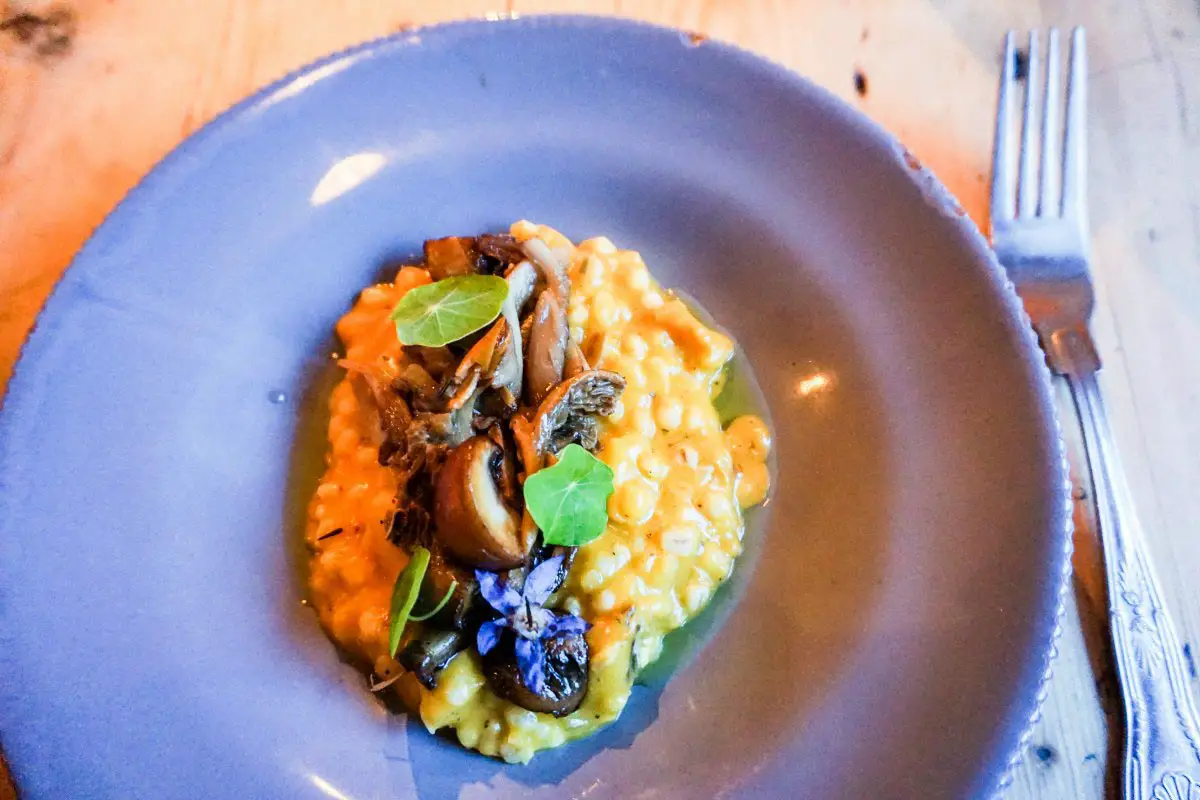 Claiming the top spot on this list is Ard Bia at Nimmos in Galway, Ireland. It's an absolute must for any of my foodie readers who will be traveling in Ireland this year. Honestly, it's worth taking a trip to Ireland to dine here!
This restaurant came highly recommended by a few food-loving friends and colleagues who had visited Galway. Additionally, locals I met in Galway touted Ard Bia at Nimmos as a top place to eat in their city. After my dining experience here, I couldn't be happier to pass this recommendation along to you.
Dining at Ard Bia at Nimmos is a unique experience for both the creative Irish cuisine with global influences and the iconic setting. Housed near the Spanish Arch in a stone building along the River Corrib, the restaurant's rustic interior creates a romantic ambiance. If you can, sit by one of the windows for riverfront views. Though the setting may be the first aspect of Ard Bia at Nimmos I noticed, it was the food that stole my heart and soul.
Glancing over the seasonal menu, the roasted pumpkin and pearl barley risotto with wild mushrooms and nasturtium oil immediately caught my eye. The dish had such a beautiful balance of flavors. For my second course, I was quite torn. It had been a rainy, chilly day, so my server gently nudged me toward the stew of monkfish, mussels, chickpeas, and chorizo served with a dollop of preserved lemon yogurt. Warm, hearty, and packed with flavor, the stew was an excellent choice. It warmed me to my bones.
To end a meal I really did not want to end, I selected the apple pie with an apricot glaze for dessert. Served with rum ice cream and goat's yogurt cream, I was in heaven. Based on a recommendation from my server, I paired my pie with a Malbec dessert wine. It was all delectable!
I could not have been happier with this meal, and this was the one restaurant where I felt completely comfortable dining solo. Like me, most of my readers live in North America, and I'm telling you, Ard Bia at Nimmos is a restaurant worth flying over the Atlantic Ocean to experience.
Dine at Ard Bia at Nimmos
Ard Bia at Nimmos | Spanish Arch, Long Walk, Galway, H91 E9XA, Ireland | Reservations recommended, call +353 91 561 114
Stay within walking distance of Ard Bia at Nimmos at one of these four-star hotels:
Menlo Park Hotel | The House Hotel
At which of these upscale restaurants would you like to eat?
And, there you have it! One incredible year of travel led to dining at 11 unique upscale restaurants around the United States, Canada, and Ireland. I hope 2018 brings even more delicious meals our way. For me, I'm off to Seattle, Yakima, Victoria, and Quebec for more culinary adventures. For you, I hope this post provided inspiration for where to dine as you travel this year.
Save this post to Pinterest!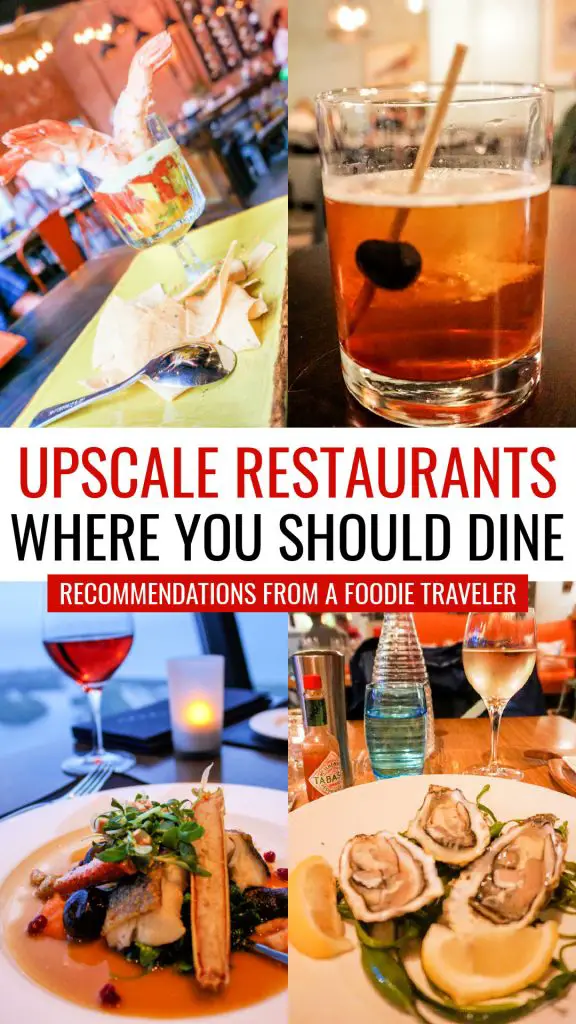 A Thank You Note To My Readers
Are you wondering why a roundup of my 2017 travel has been published so late into 2018?
Usually, I would share this type of post in January to reflect upon the past year. You might have even read this roundup of my favorite breakfast and brunch spots from my 2017 travel, which I posted at the beginning of the year.
Then the gallbladder attacks I had been experiencing really became a pressing issue, and I had to prioritize my health over the blog the past few months. If you follow me on Instagram, you likely already know I ended up needing gallbladder surgery in late February. Since you aren't here to read about my health, I don't want to bore you with the details. I just wanted to explain why this post is so late.
My health has also limited how much I could travel in recent months. However, I'm now feeling mostly recovered from surgery. I've resumed writing again, and I will even be traveling soon.
I also want to thank you. Yes, you! First of all, I would like to thank many of you who reached out to me on Instagram and Facebook to share your experience with gallbladder attacks and surgery. Thank you for all the well wishes. And, thank you for your patience as I catch up on blog posts that were pushed aside the past few months. I have blog posts coming about destinations in Alabama, Wisconsin, New York, Canada, Ireland, and more. Stay tuned!