10 Best Breakfast And Brunch Restaurants Of My 2017 Travels
In 2017, I took 10 trips, visiting destinations in Michigan, Alabama, New York, Wisconsin, Canada, and Ireland. During my travels last year, I ate a lot of delicious food. So join me as I count down my favorites over the next month. To start, it only makes sense to begin with the first meal of the day. Here are my 10 favorite breakfast and brunch spots from my 2017 travels near and far.
10. Studio Grill | Kalamazoo, Michigan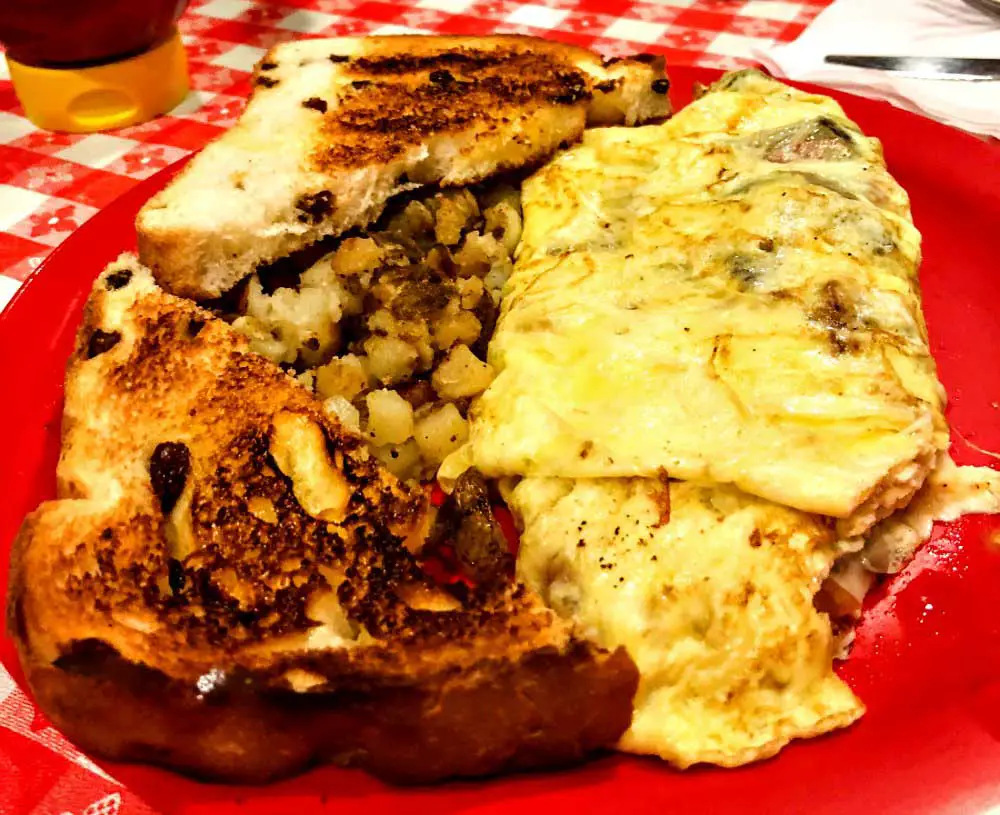 Located in downtown Kalamazoo, this greasy spoon is a beloved breakfast spot among locals and Western Michigan University students. Open only for breakfast and lunch daily, the menu features such tasty breakfast dishes as flavored pancakes, cheesy omelets, egg scrambles, and a sausage hash. I opted to create my own omelet with bacon, sautéed onions, tomatoes, and cheddar cheese. Pictured above is the sunshine omelet filled with Swiss cheese, avocado, tomato, mushroom, and onion with American fries and cinnamon raisin toast.
Studio Grill | 312 W Michigan Ave, Kalamazoo, Michigan
9. Dripworks Coffee | Petoskey, Michigan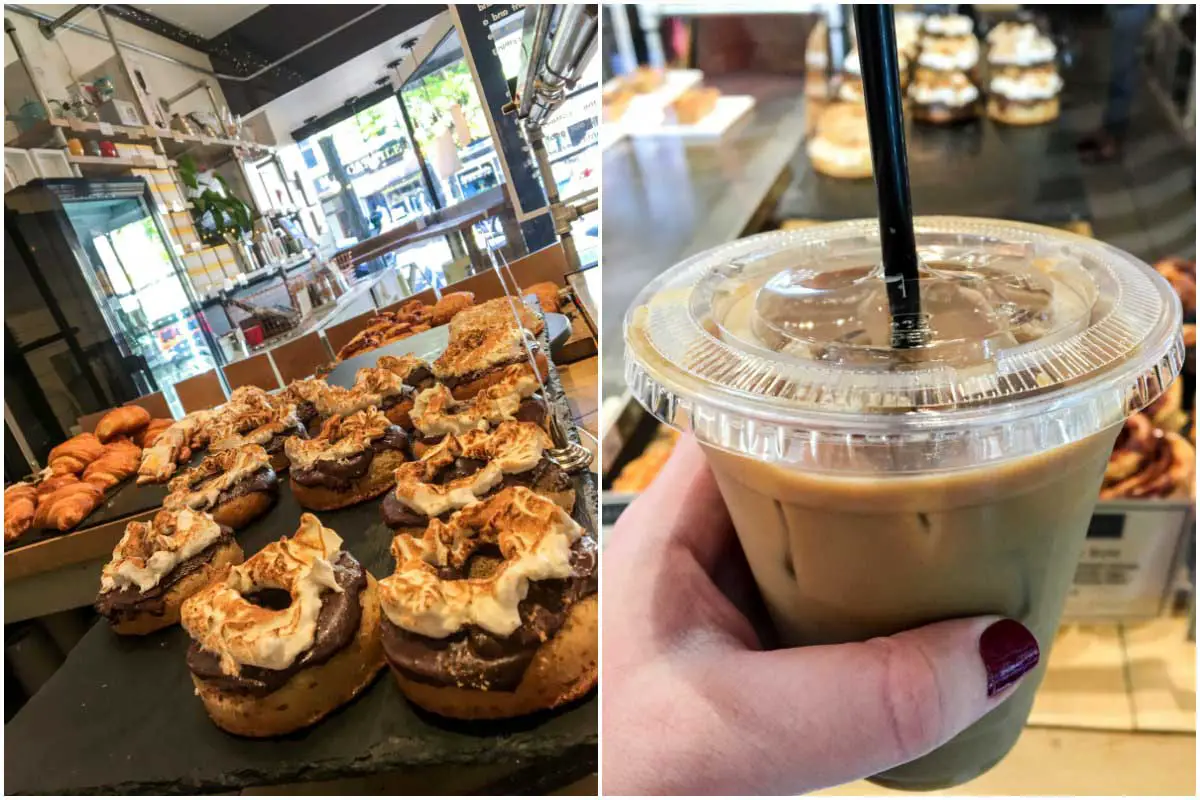 Sometimes all I really want for breakfast is a good cup of coffee, which leads us to No. 9 on this list. While visiting Petoskey in June, I stopped into Dripworks Coffee — located just a few blocks from where I was staying at Stafford's Perry Hotel in downtown. In addition to a variety of coffee and tea beverages, you can order croissants, frittatas, and an array of pastries and goodies like the s'mores doughnuts pictured above. Yum!
Dripworks Coffee | 207 Howard Street, Petoskey, Michigan
8. Cafe Velo | Cork, Ireland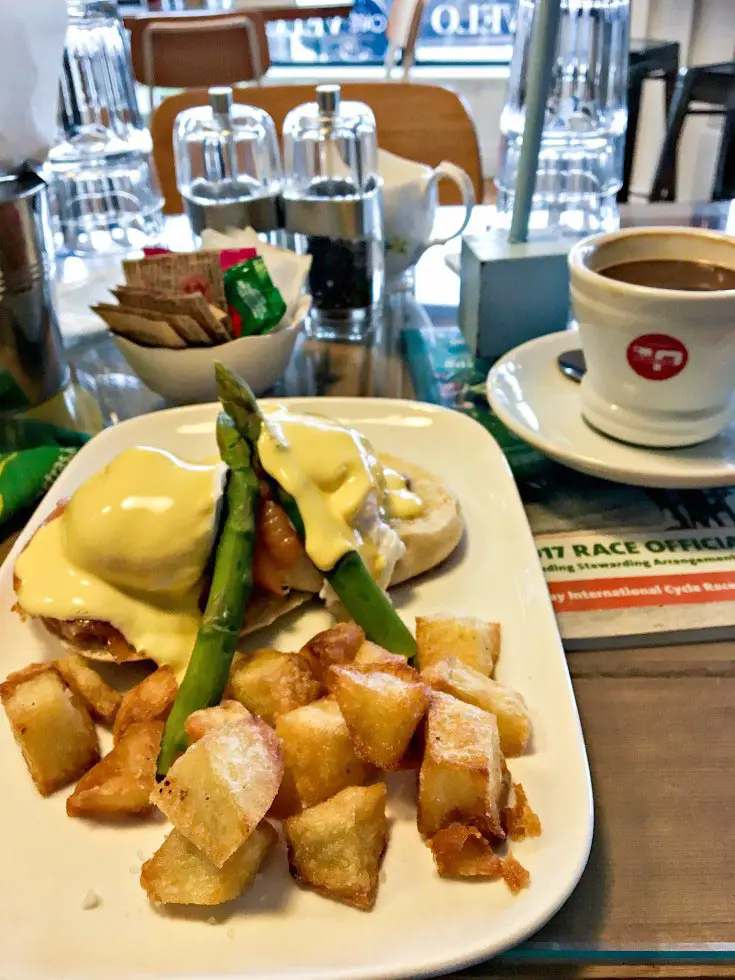 My overnight visit to Cork fell on a Saturday to Sunday. You know what that means — Sunday brunch in Cork! Based on a recommendation from the reception worker at Sheila's Hostel, where I was staying (and staying on a budget!), I set off to Cafe Velo on Cork's southern side. The weekend brunch menu features salads, sandwiches, avocado toast, a bacon "Rashers" sandwich that sounds absolutely mouth-watering, and, of course, the eggs Benedict I ordered. Two poached eggs sat atop salmon and an English muffin and was topped with hollandaise and asparagus. It reminded me of #SundayFunday brunches back home and was a welcomed break from the full Irish breakfasts served at most of the hotels where I stayed in Ireland.
Cafe Velo | 3 George's Quay, Cork
7. Brooklyn Bagel & Coffee Company | New York City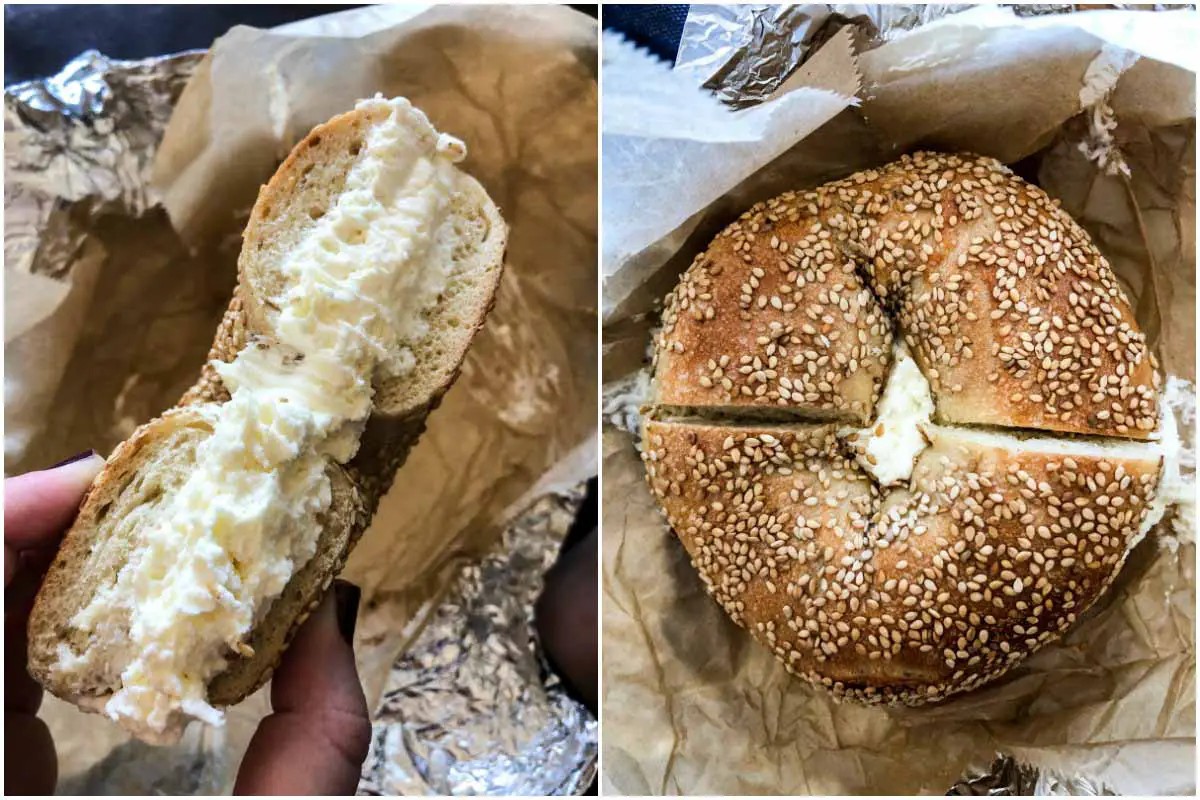 When in New York City, there is no better breakfast option than a bagel smothered in cream cheese.  Also, in New York, you can be totally lazy and have your food come to you. On a chilly November morning, my sister and I decided to order breakfast in via the food delivery app Seamless. Wherever you stay in New York, you are likely to find a neighborhood bagel shop that delivers to your door. Luckily, in Chelsea, one of those bagel places is Brooklyn Bagel & Coffee Company. I opted for one of their original kettle-boiled bagels — sesame with plain cream cheese. So freaking good!
Brooklyn Bagel & Coffee Company |  286 8th Ave, New York, New York (Chelsea) | Other locations in Astoria and Long Island City
6. Farmer & The Fish | New York City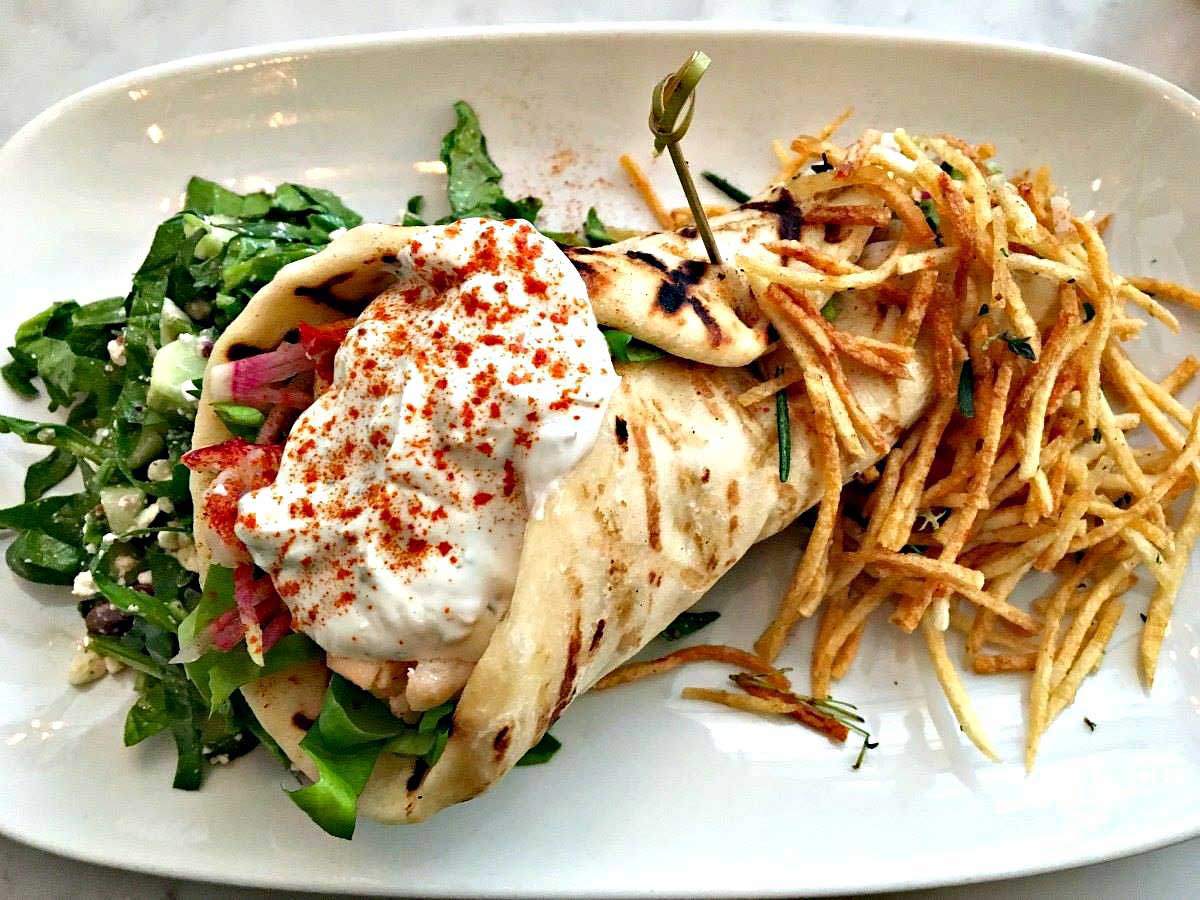 Kicking off my year of mouth-watering breakfasts was this Farmer & the Fish brunch during my January visit to New York City. The restaurant had just opened this location in Gramercy, and if you read this post you know our service was under par. However, this savory lobster gyro served over a Greek salad of cucumber, feta, and Kalamata olives and crispy shoestring fries totally made up for that. If you like seafood, you should give it a try on your next visit to NYC.
Farmer & the Fish | 245 Park Avenue South, New York, New York | Reserve Your Table Now
5. Wolfgang's Restaurant | Grand Rapids, Michigan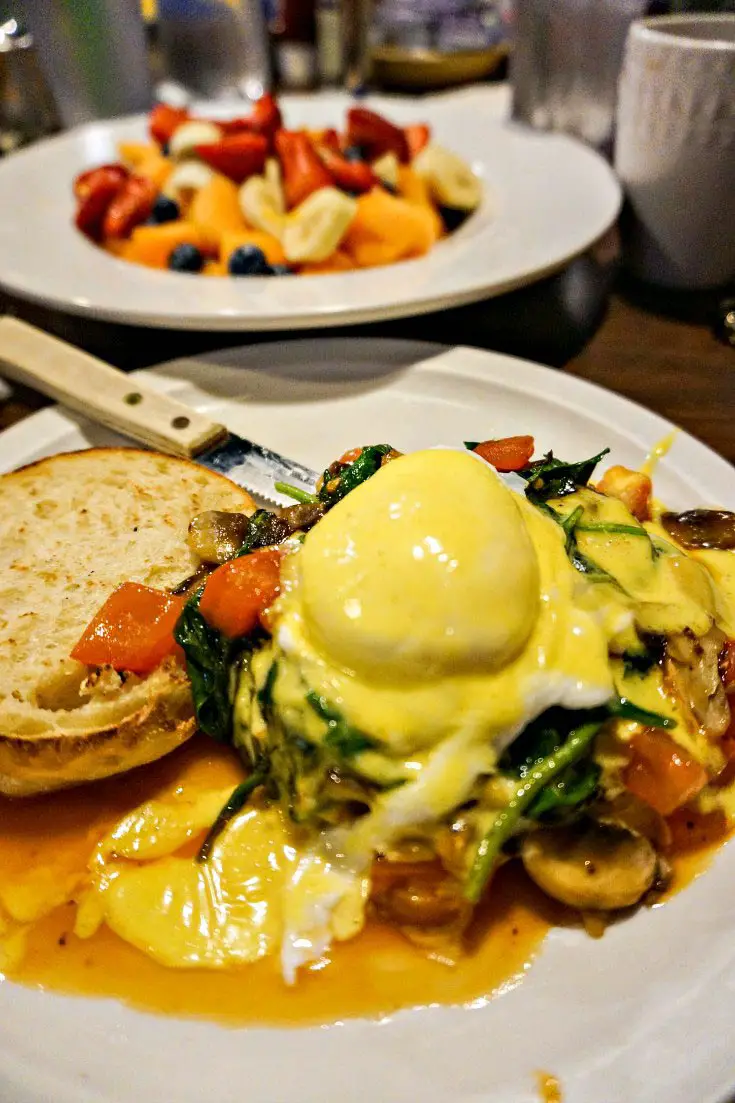 A local favorite for breakfast in Grand Rapids, Wolfgang's Restaurant did not disappoint. After 3.5 years of living in Grand Rapids, I finally made it to Wolfgang's in August. I just had to try the Spinach Benedict. It's a hollandaise-covered poached egg atop spinach, tomatoes, and mushrooms sautéed in a sundried-tomato-and-basil vinaigrette over an English muffin. It tasted so good I wished I had ordered the full breakfast, but the half order with a plate of fruit was the smarter choice before a day of craft beer drinking. I guess.
Wolfgang's Restaurant | 1530 Wealthy Street, Grand Rapids, Michigan
4. The Ruby Slipper Cafe | Orange Beach, Alabama
In case you haven't been able to tell from this list so far, I have a thing for Eggs Benedict. Making a poached egg seems like a daunting task, so I leave it to the professionals. Naturally, Eggs Benedict is one of my favorite breakfast dishes to order when dining out for my first meal of the day. And, none have been like those at the Ruby Slipper Cafe. First of all, instead of an English muffin as the base, it's a thick Southern buttermilk biscuit. The restaurant also gives you the option to try two different Benedicts — what they call the Peacemaker. So, I opted for the Chicken St. Charles with fried chicken and a pork tasso cream sauce over the poached egg and the Shrimp Boogaloo Benedict with Gulf shrimp, pork tasso and creole tomato sauce, fried green tomatoes, and the dish's signature poached egg. Talk about an over-the-top breakfast!
The Ruby Slipper Cafe | 24151 Perdido Beach Blvd., Orange Beach, Alabama | Other locations in New Orleans, Baton Rouge, Pensacola, and Mobile, Alabama
3. Butcher's Union | Grand Rapids, Michigan
Apparently, August is when I explore my city's local breakfast scene. My friend Francesca, of The Working Mom's Travels (<– Check out her blog post on Grand Rapids!), was visiting from Chicago, so I joined her and some of her friends for brunch at one of the new restaurants in Grand Rapids — Butcher's Union, located on the city's up-and-coming West Side. The hot elote corn dip we shared as an appetizer got our brunch off to a mouth-watering start. Add in a couple mimosas and this heavenly B.B.E.L.T — applewood smoked bacon, bacon pate, fried egg, lettuce, and tomato on local bakery Field & Fire's sourdough bread — and I had myself an eggsellent brunch. Not a mimosa fan? Build your own Bloody Mary or order one of the fabulous craft cocktails when you go!
Butcher's Union | 438 Bridge Street, Grand Rapids, Michigan
2. Mocha Moment | Janesville, Wisconsin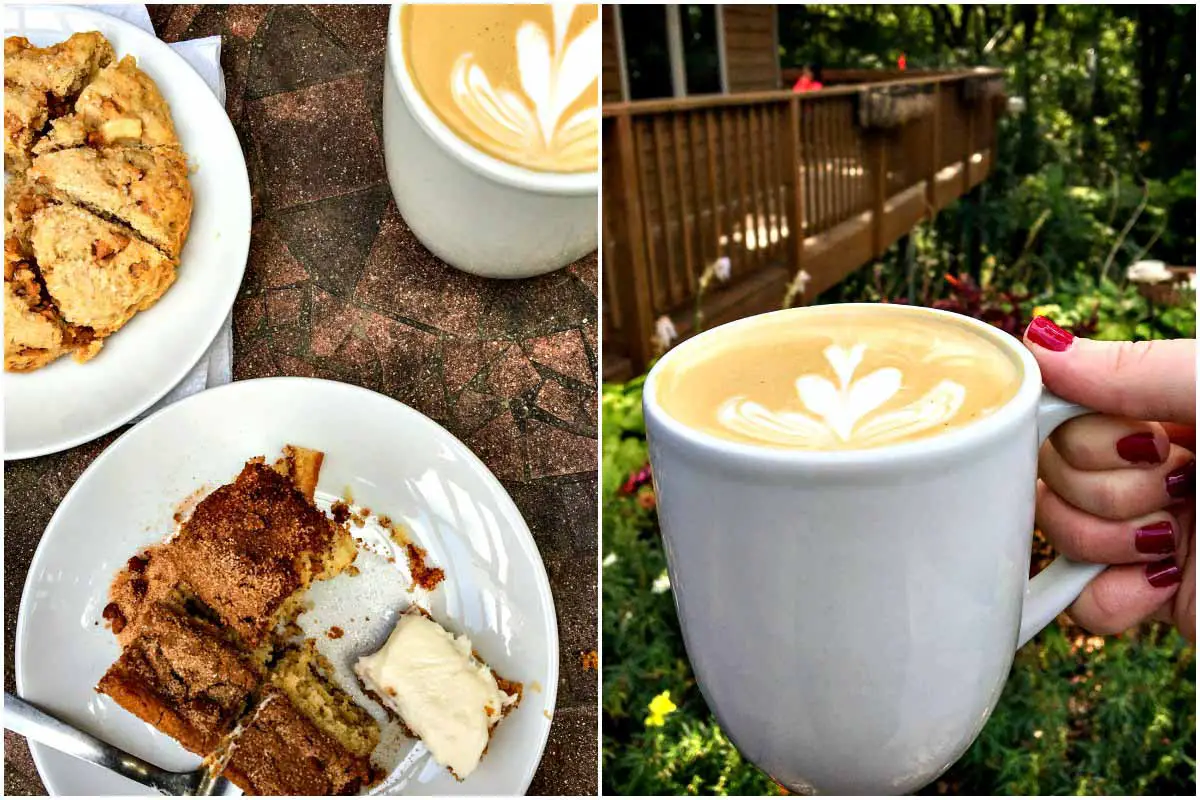 I love, love, love that near the top of my best breakfast spot list is a coffee shop. I'll be the first to admit I'm not a morning person, so often grabbing a cup of coffee and a pastry is my breakfast of choice when traveling. It doesn't get any better than at Mocha Moment in Janesville, Wisconsin. Family-owned and run, Mocha Moment is a hot spot among locals who are clearly beloved regulars. But, you won't feel like an outsider here for long. This is a place where you feel like you're hanging out at a relative's cabin. It helps that Mocha Moment sits away from the road and is surrounded by the woods. It's such a relaxing venue for a morning cup of joe, which is sourced from some of the world's best coffee regions and roasted by the owners' son. Mom and her small team of bakers make all the pastries from scratch each day, and I highly recommend the scones and muffins and — when its in season during the fall — the pumpkin roll.
Mocha Moment | 1121 Center Avenue, Janesville, Wisconsin
1. The Southern Grind | Orange Beach, Alabama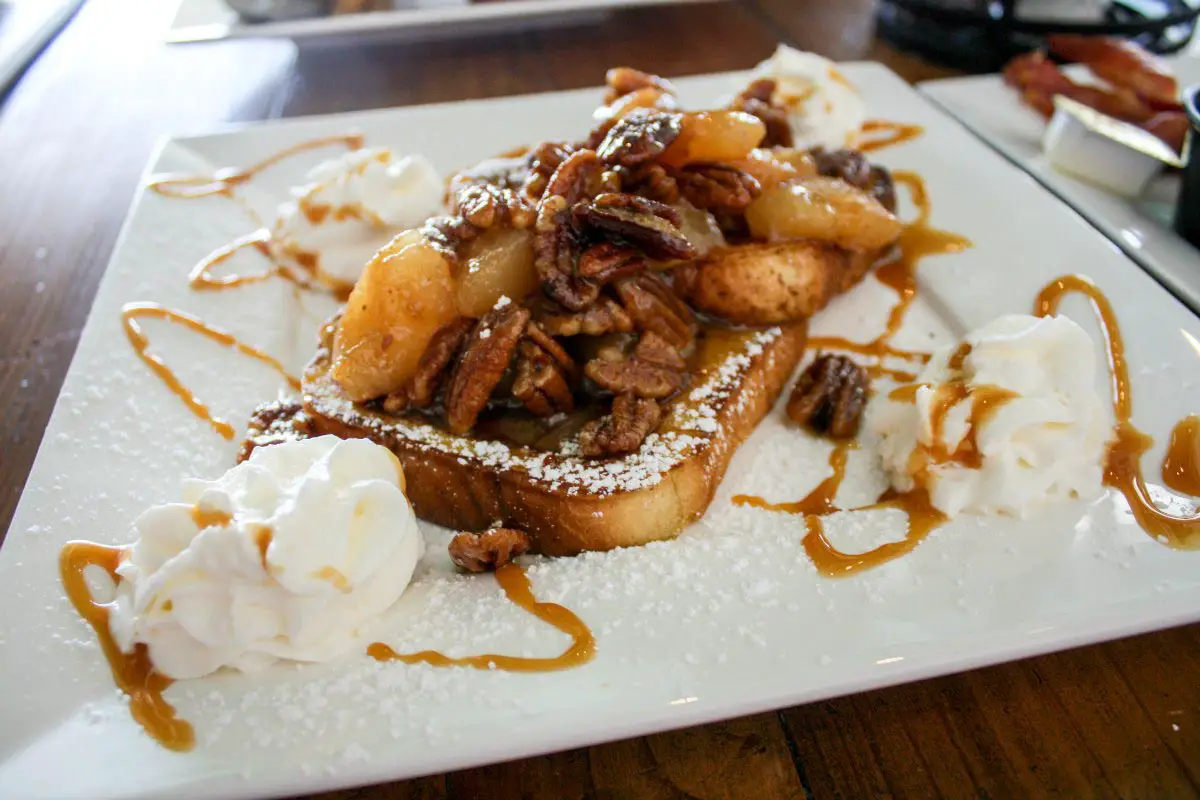 To top off my best breakfast and brunch spots of 2017 is The Southern Grind. I visited this nautically chic coffee shop attached to the Hotel Indigo in Orange Beach thanks to the #ALBeachEats voters of the Gulf Shores & Orange Beach tourism board's Foodie Fanguide trip. They also sent me to The Ruby Slipper Cafe. Two fantastic choices in Alabama's beach towns! The Southern Grind truly blew me away. For coffee, I had my first-ever nitro draft cold brew. It was so smooth that I drank it black. For food, there were several items I wanted to try, but the Pear & Pecan Cinnamon French Toast was definitely the right call. It's two slices of cinnamon swirl French toast with caramelized pears and pecans, whipped cream, powdered sugar, and a salted caramel drizzle. As decadent as dessert, this dreamy French toast was a wonderful start to my day.
The Southern Grind Coffee House |  22843 Perdido Beach Boulevard, Orange Beach, Alabama | Other location at The Wharf
Save this to Pinterest for future reference!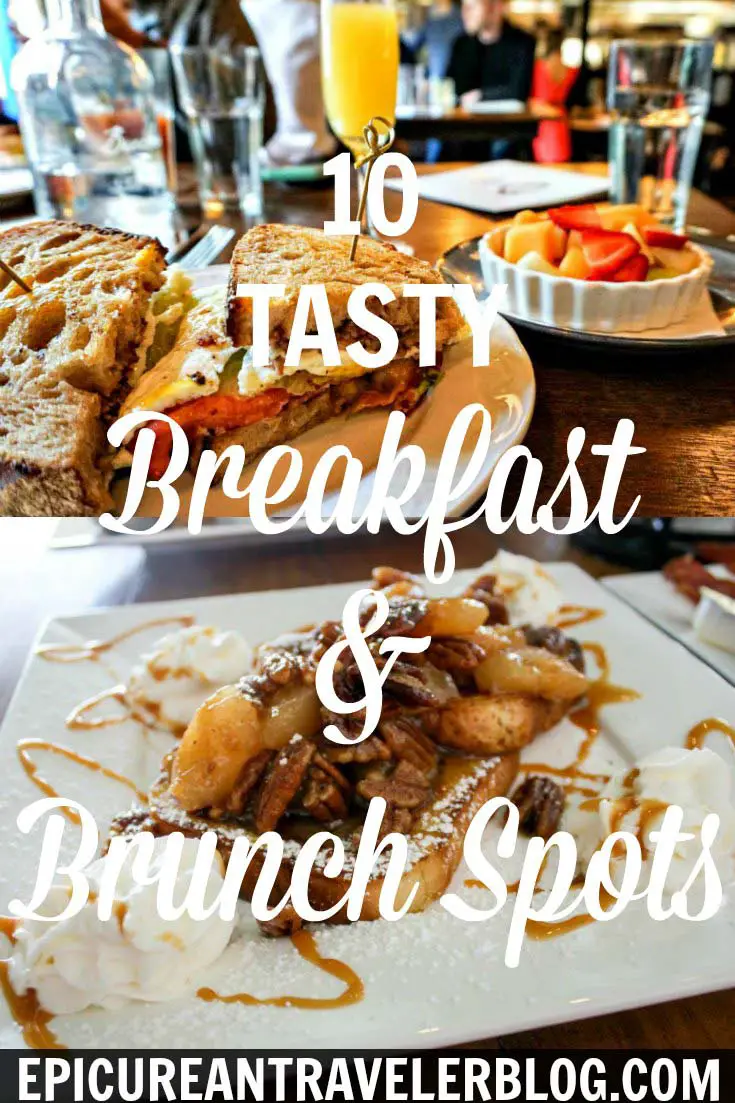 If you liked my 10 best breakfast and brunch spots of 2017, don't miss these past year-end countdowns and reviews:
What was the best breakfast or brunch spot you visited in 2017?
Tell me about it by leaving a comment below, and maybe I'll dine there during my 2018 travels!