Quaint Alpine towns, towering mountains, and picturesque cities with medieval landmarks amaze Switzerland's visitors. So, let's take a virtual journey to Zürich, Lucerne, and the Bernese Oberland in 10 photos of Switzerland!
Disclosure: This post showcasing Switzerland travel photos contains some affiliate links. When you click on or make a purchase from one of these links, I may earn a commission. Of course, this is at no extra cost to you, and I only recommend products and services I have or would use myself. 
---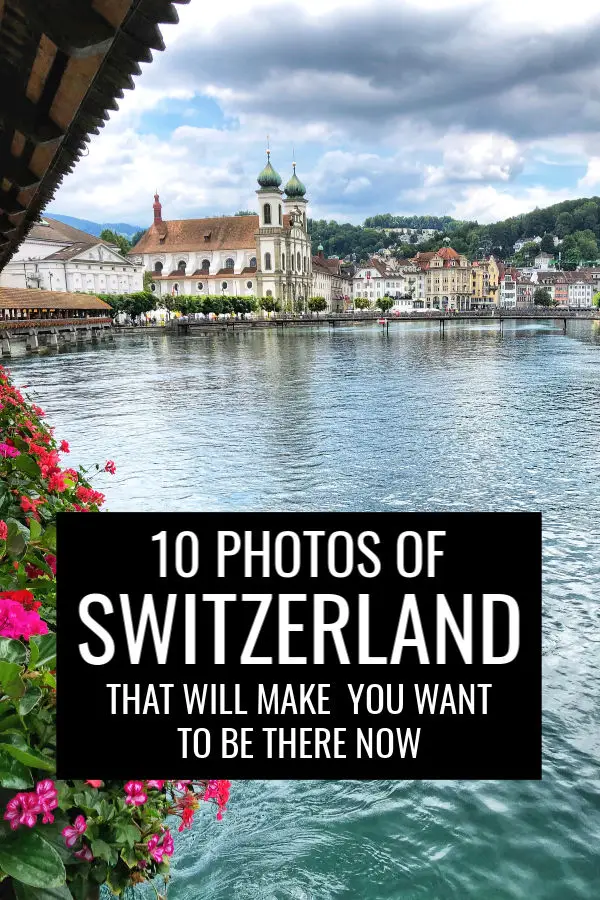 Colorful Blooms Along Zürichsee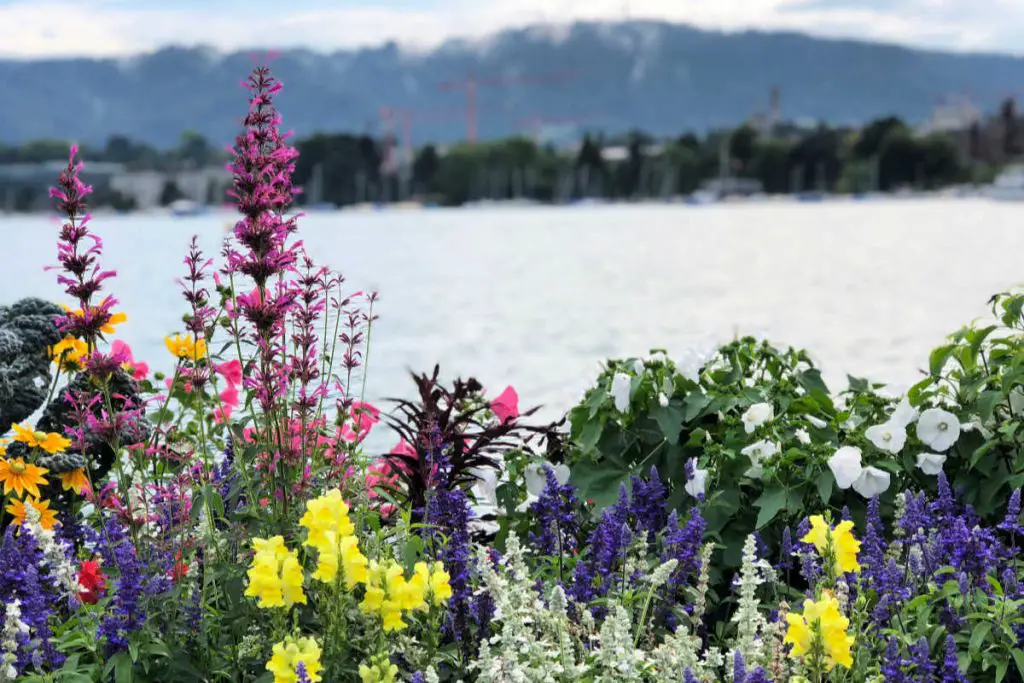 Switzerland Travel Tip: If you plan to travel by train in Switzerland, purchase a Swiss Travel Pass for your trip. These rail and tourism passes also include unlimited boat rides with the exception of specialty cruises, such as brunch or dinner cruises.
With your Swiss Travel Pass, you'll have access to the scenic round-trip cruise around Lake Zürich. You can also hop off to explore the surrounding lakefront towns. Best of all, there is no additional fee for this activity unless you purchase a snack or beverage on board. And yes, you can enjoy this relaxing cruise with a glass of wine. 😉
To take one of these round-trip Lake Zürich cruises, head to the dock at Bürkliplatz, where Bahnhofstrasse meets the lake in Zürich.
Stay Nearby: Hotel Seehof Zurich, a stylish boutique hotel with 20 nautically themed rooms and a Japanese restaurant, puts you only steps from Lake Zürich and the Zürich Opera House in the trendy Seefeld neighborhood.
Alternatively, you could stay at the Ambassador, a boutique four-star hotel with an onsite restaurant and rooftop terrace.
Zürich Altstadt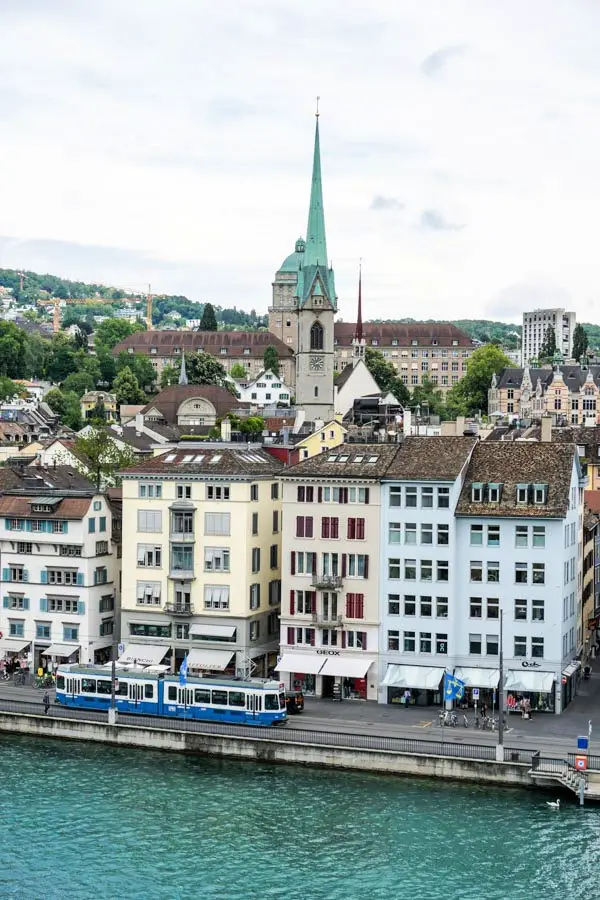 Stay Nearby: KINDLI Hotel, a boutique 3.5-star hotel, from which it's just a short uphill walk to this scenic view. From personal experience, the onsite KINDLI Restaurant is a cozy spot to enjoy an al fresco lunch of classic European fare.
Moody Sky Over Grossmünster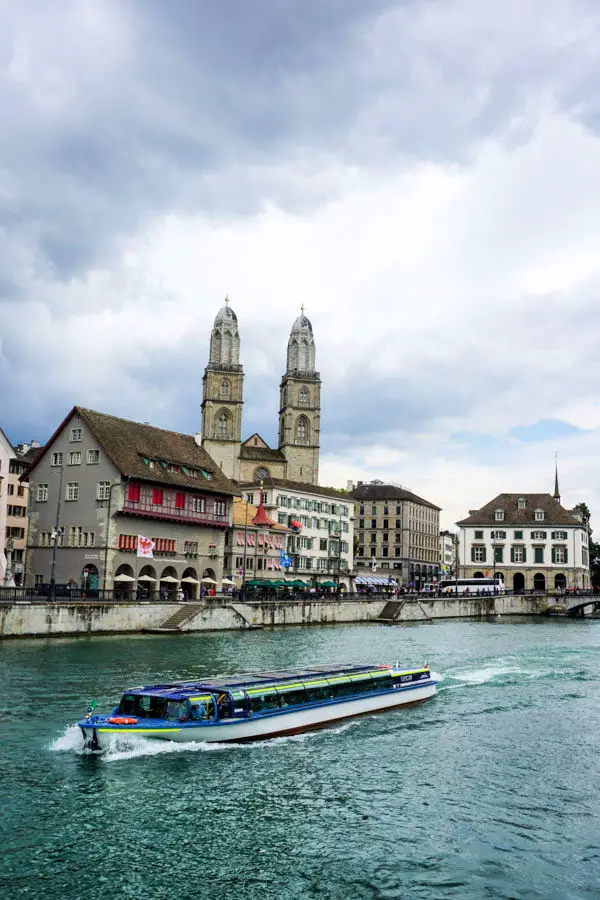 Stay Nearby: The beautiful riverfront Storchen Zürich, a luxurious five-star hotel, is only a five-minute stroll to Grossmünster.
Church of St. Peter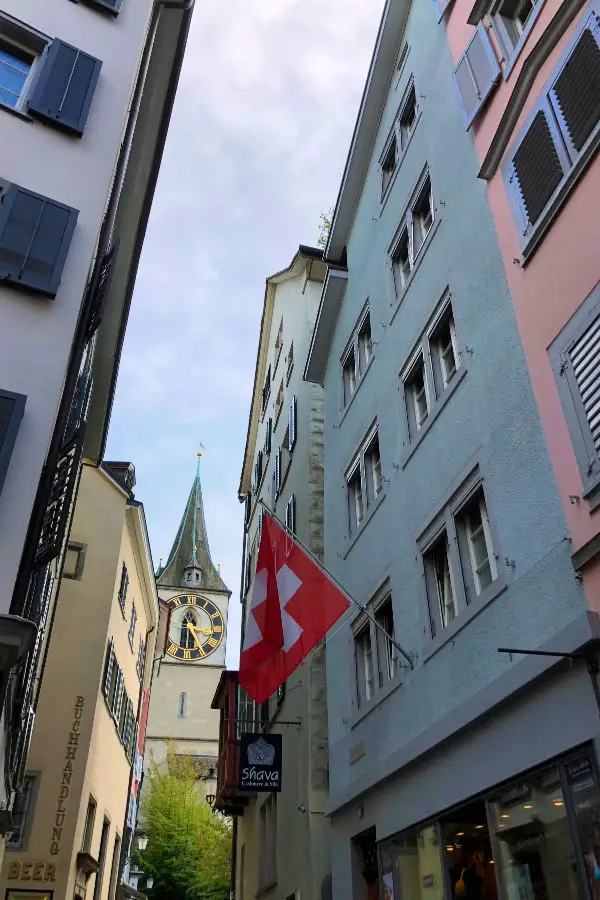 Zürich Through An Aperol Spritz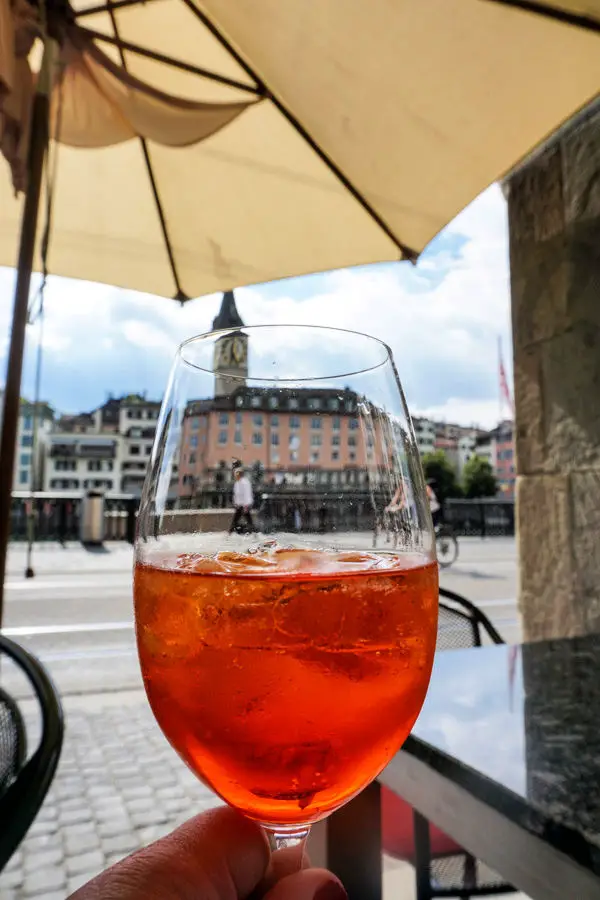 Chapel Bridge View In Lucerne, Switzerland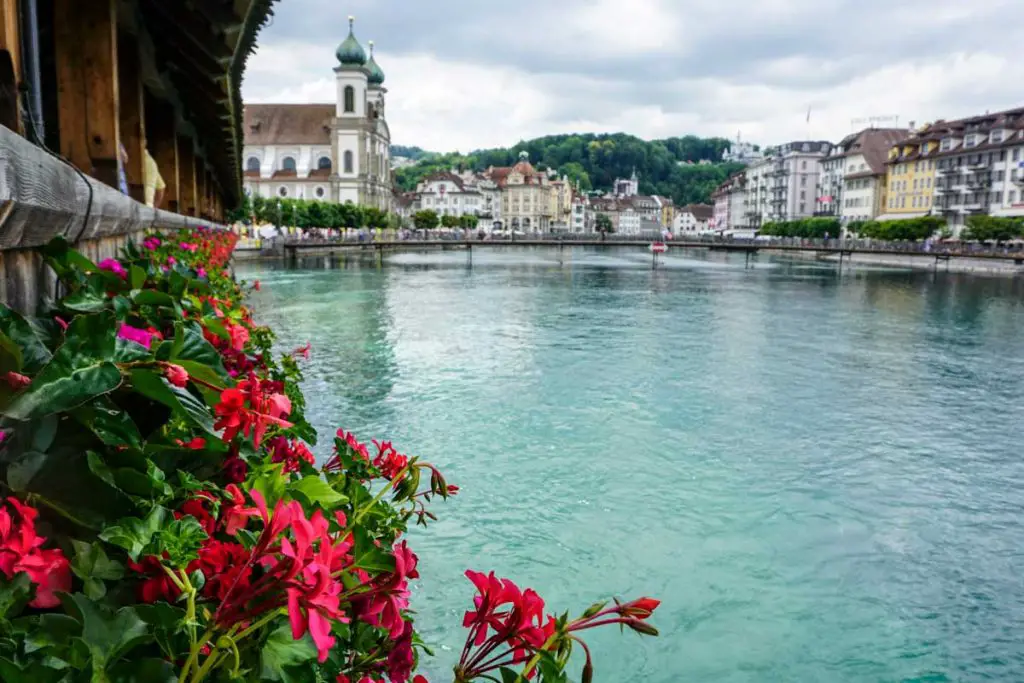 Switzerland Travel Tip: If you are crunched for time, consider visiting Lucerne as a day trip from Zürich. One of the best ways to do this is by booking a guided excursion to Mount Titlis and Lucerne.
Stay Nearby: If you want stay within walking distance of the Chapel Bridge, your best option is the family-owned, five-star Hotel Schweizerhof Luzern. For a room with a view of the Chapel Bridge, take a look at Hotel des Balances. I also recommend The Hotel Lucerne, Autograph Collection, where my family enjoyed sitting on the private balcony of our penthouse suite.
Jungfraujoch – Top Of Europe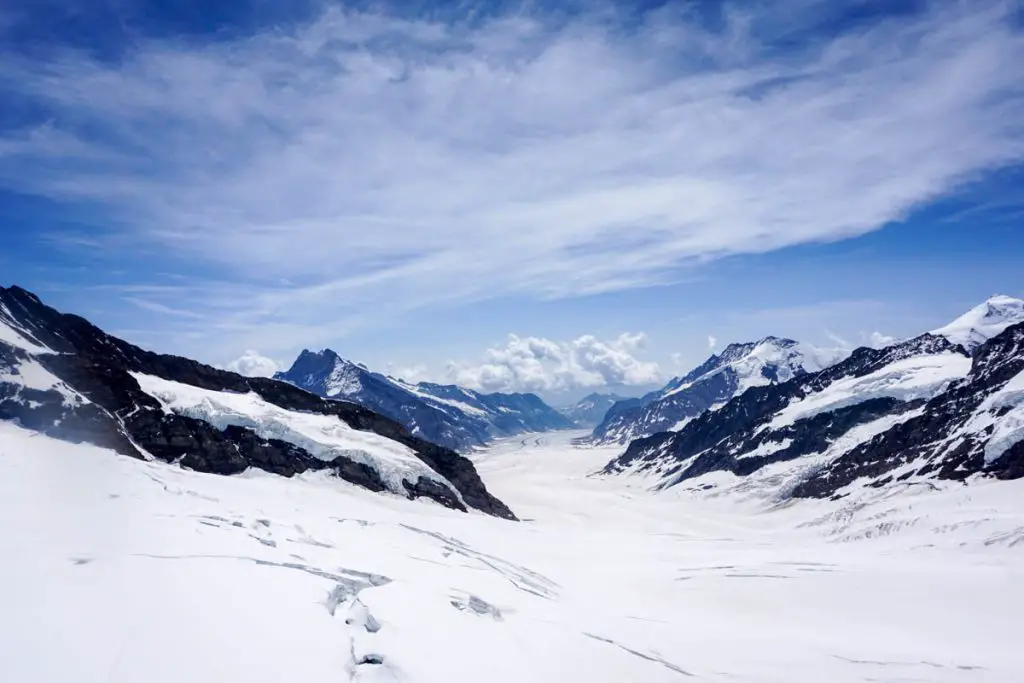 Switzerland Travel Tip: If you are spending at least three days in the Jungfrau region and have purchased a Swiss Travel Pass, the Jungfrau Travel Pass may also be financially beneficial.
Why? Well, for one thing, it includes a special reduced price for visiting Jungfraujoch.
Plus, the Jungfrau Travel Pass covers all mountain rail travel in the region. Therefore, you can easily travel between Interlaken, Grindelwald, Lauterbrunnen, and Mürren.
Stay Nearby: Since Jungfraujoch is only accessible via rail from Grindelwald and Lauterbrunnen, staying in one of those destinations would be most convenient. Based on my experience, I highly recommend Boutique Hotel Glacier in Grindelwald.
Opened in spring 2018 after full renovations, Hotel Glacier offers stunning Eiger mountain views, stylish rooms, and a fantastic restaurant. You can read more about my fabulous stay at Hotel Glacier.
Bachläger Waterfall In Grindelwald, Switzerland
Grindelwald First Cliff Walk
Switzerland Travel Tip: When visiting Grindelwald, budget at least half a day for Grindelwald First – Top of Adventure activities.
I recommend starting with a scenic gondola ride up to the top. Then spend about 30 minutes walking the mountainside Cliff Walk for breathtaking Alpine views dotted with paragliders.
Other summertime activities include zip lining on the First Glider and First Flyer and riding mountain carts or Trottibikes down the mountain.
If you aren't planning to stay in the Jungfrau region, visiting Grindelwald First is possible as a day trip from Zürich or Lucerne.
Friedhof Cemetery in Lauterbrunnen, Switzerland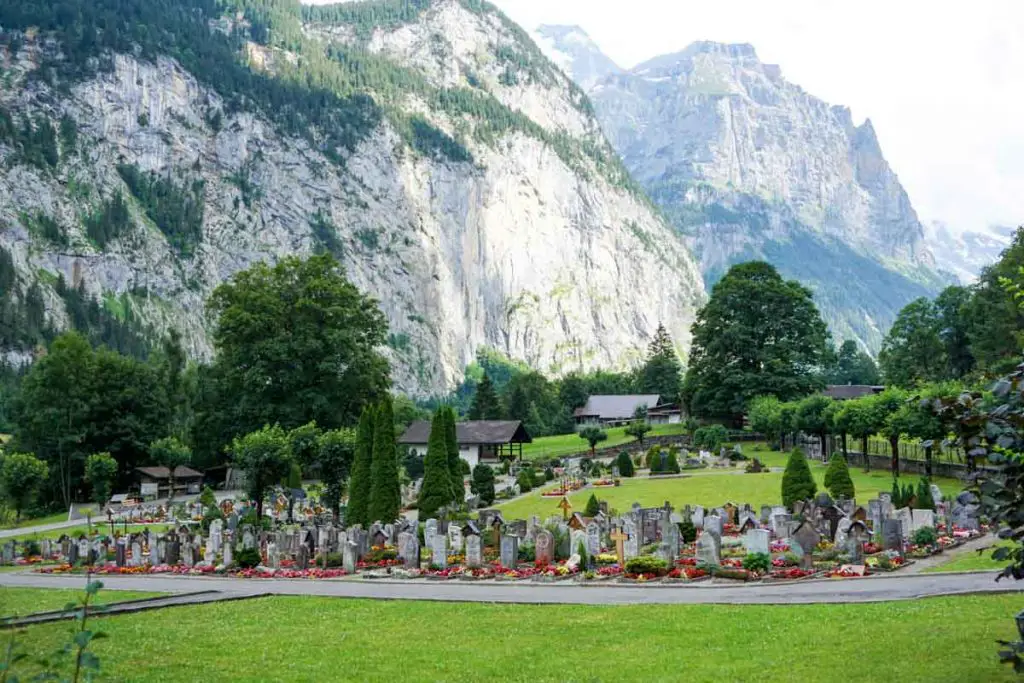 Switzerland Travel Tip: Hiking in the Lauterbrunnen Valley is a popular activity because of its many waterfalls — 72 of them in fact!
On a day trip to Lauterbrunnen, the easiest waterfall to see is Staubbach Falls.
From the Lauterbrunnen train station, it's about a 15-minute walk straight through the village to the waterfall. Along the way, you'll take in stunning views of the valley sandwiched between mountain peaks.
Still Dreaming of Travel? Fuel Your Wanderlust With …
If you enjoyed this post, save the image below to your Switzerland, Europe, or Travel board on Pinterest to reference later when planning your Switzerland trip!