In 2018, I stayed at 27 hotels during my trips in Switzerland, Canada, and the U.S. states of Washington, Michigan, West Virginia, Ohio, and New York. It wasn't easy to narrow down this list to a top 10 this year. Yet, after careful review of these hotels' amenities, dining, location, and my experience as a hotel guest, I've come up with 10 hotels where I'd happily stay again. From a boutique hotel in a former Masonic Temple to the luxurious and castle-like Fairmont hotels, here are my 10 best hotel stays of 2018.
Disclosure: At some of the hotels on this list, my stay was hosted by the hotel or area's tourism board. Hosted stays will be indicated in the description. This blog post also contains affiliate partner links. When you click on one of these links and book your hotel stay, I may earn a small commission that helps to sustain this website. Of course, this is at no extra cost to you. Thank you for your continued support of The Epicurean Traveler! As always, all opinions are my own.
10. The Hotel Maison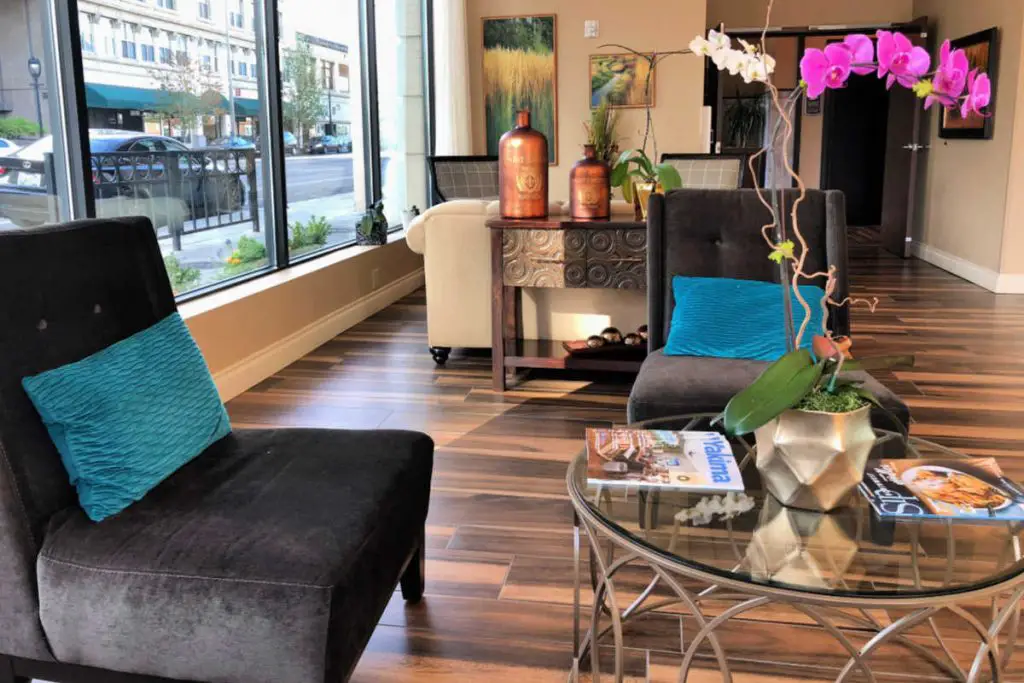 Located in downtown Yakima, Washington, The Hotel Maison is ideally positioned for visiting the wineries, breweries, hops fields, and restaurants of Yakima Valley. Built by the freemasons in 1911, the former Masonic lodge is a beautiful six-story building designed in Second Empire style with a slate mansard roof and dormer windows. Inside, the suite-style rooms offer comfort and space for a relaxing stay. With a fitness room, business center, and on-site spa, the Hotel Maison offers thoughtful amenities for both business and leisure travelers.
Features I Loved: 
Complimentary daily breakfast of yogurt, pastries, and fresh fruit
Coffee, tea, and infused water available all day in the lobby
Complimentary glass of wine + wine available for purchase at the reception desk
Close proximity to restaurants, tasting rooms, and the Yakima Convention Center
Secure underground parking garage
TripAdvisor Rating: Excellent (4.5/5)
Booking.com Rating: Awesome (9.2/10)
Average Room Rates: $164-233
The Hotel Maison is located at 321 East Yakima Avenue in Yakima, Washington.
9. Kimpton Hotel Eventi
Walking distance from the Empire State Building, Macy's, Madison Square Garden, and Penn Station, Kimpton Hotel Eventi is in the heart of New York City's landmark attractions, shopping, and entertainment. Located directly on Sixth Avenue, hailing a taxi is a fairly easy task for going anywhere beyond the hotel's hip Chelsea neighborhood. In the hotel, you'll be welcomed into a trendy and modern lobby where you can sink into a tufted leather sofa dotted with plush pillows. Be sure to request a Sixth Avenue-facing room for a view of the Empire State Building from your window!
Features I Loved:
Access to two bars/restaurants, L'Amico and The Vine
Ease of catching a cab on 6th Avenue, especially with assistance from the doorman
Complimentary wine hour
Empire State Building view from my room
TripAdvisor Rating: Excellent (4.5/5)
Booking.com Rating: Excellent (8.7/10)
Average Room Rates: $213 – $576
Kimpton Hotel Eventi is located at 851 6th Avenue in New York City.
RELATED: Bagels, Bloody Marys And Brunch Spots In New York City
8. Kimpton Palladian Hotel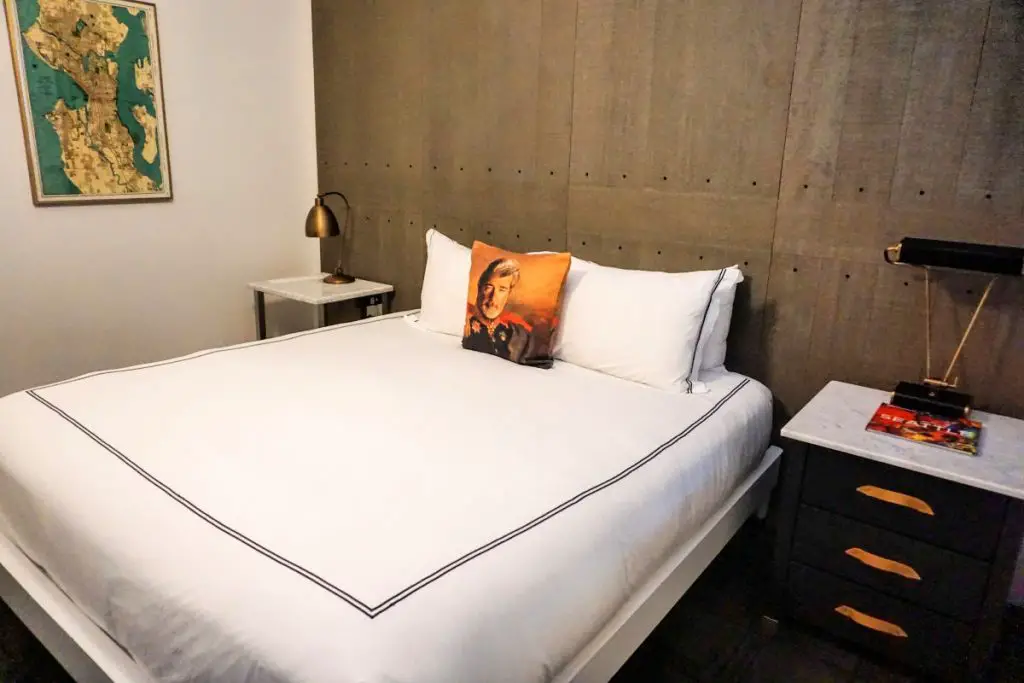 Urban explorers will find contemporary, masculine design in the guest rooms and common areas of the Kimpton Palladian Hotel. Located in downtown Seattle's Belltown neighborhood, restaurants, boutique shops, music venues, and the infamous Pike Place Market are all within a short walk. For dining at the hotel, there is seafood restaurant Shaker + Spear and the speakeasy-like Pennyroyal Bar. Plus, the complimentary wine hour is an opportune time to check out the lobby's portraits of celebrities who have ties to Seattle.
Features I Loved:
Plush robes
Complimentary wine/cocktail hour
Quirky artwork featuring celebrity portraits
On-site restaurant and bar, Shaker + Spear and Pennyroyal Bar, respectively
TripAdvisor Rating: Excellent (4.5/5)
Booking.com Rating: Awesome (9.0/10)
Average Room Rates: $147 – $480
Kimpton Palladian Hotel is located at 2000 2nd Avenue in Seattle.
7. Hotel Theodore
Conveniently located only three blocks from the Westlake/Seattle Link light rail station, getting to Hotel Theodore from Sea-Tac Airport was quite easy. The location in downtown Seattle is right in the midst of Pine Street shopping, and it's walking distance to Pike Place Market and the trendy Capitol Hill neighborhood. Inside the hotel, you'll find MADE Coffee, a café that roasts Central and South American blends, and Rider serving cuisine of the Pacific Northwest. Though the bathroom was small, my spacious and open suite would have been quite comfortable for a couple. I would certainly stay here again when visiting Seattle, especially for the aperitivo hour with a signature cocktail made to order.
Features I Loved:
MADE Coffee right in the hotel lobby
Location convenient for exploring Seattle and arriving from Sea-Tac airport via Link light rail
Complimentary aperitivo hour
Seattle art and artifacts on display
TripAdvisor Rating: Very Good (4/5)
Booking.com Rating: Very Good (8.4/10)
Average Room Rate: $139 – $416
Hotel Theodore is located at 1531 7th Avenue in Seattle.
6. Graduate Ann Arbor
Thank you, Graduate Ann Arbor and Destination Ann Arbor, for hosting my three-night stay in May 2018
As a boutique hotel in a college town, Graduate Ann Arbor nails the balance of luxury comforts with collegiate nostalgia. Throughout the hotel, you'll find decor and artwork that gives a nod to the city and the University of Michigan. Perhaps that is best experienced in the lobby filled with chalkboards covered in mathematical equations. There you can relax in a tartan armchair as you sip a gourmet coffee with your breakfast sandwich from Poindexter Coffee, also located in the lobby. In the evening, the old-school cocktail lounge of the Allen Rumsey Supper Club is a fun spot for a pre- or post-dinner drink. Best of all, Graduate Ann Arbor sits in the heart of Ann Arbor, so it's only a short stroll to campus, restaurants, bars, shops, theaters, and live music venues. Overall, this collegiate-chic hotel is a great base for exploring downtown Ann Arbor and/or the University of Michigan campus.
Features I Loved:
Craft cocktails at the Allen Rumsey Supper Club
"Studying" pennant as "do not disturb" doorknob hanger
School ID room key
Library-like lobby with cushy seating areas that invite guests to chat over coffee, read a book, or even study like a college student
TripAdvisor Rating: Very Good (4/5)
Booking.com Rating: Excellent (8.8/10)
Average Room Rates: $116 – $330
Graduate Ann Arbor is located at 615 East Huron Street in Ann Arbor, Michigan.
RELATED: Ann Arbor Weekend Getaway: Where Foodies And Art Lovers Need To Go This Summer
5. Hotel Glacier
Hikers, skiers, and tourists alike will find Hotel Glacier and the charming village of Grindelwald a wonderful base for exploring Switzerland's Jungfrau region. Whether soaking in the outdoor hot tub, dining at the restaurant, or sipping a glass of wine in the lounge, Hotel Glacier's guests will have breathtaking views of the Eiger Mountain, an iconic mountain-climbing destination in the Bernese Alps. The view my family and I woke up to from our Eiger-facing rooms was just as jaw-dropping.
Though the building dates back to the mid-1800s and appears to be a traditional Swiss chalet from outside, stepping inside you'll find a modern, four-star boutique hotel. The 28 rooms are elegantly styled in shades of blue with artwork and decor paying homage to the ice workers and glacier of Grindelwald's past. Having opened in spring 2018 after major renovations, hoteliers Jan and Justine have created a beautiful hotel with thoughtful amenities and personalized service for their guests. Staying at Hotel Glacier was the absolute highlight of our family vacation in Switzerland, and I can't imagine booking anywhere else on a return visit.
Features I Loved:
Stunning views of Eiger Mountain from select Eiger-facing rooms, restaurant, lounge, and spa
Walking distance of train to Jungfraujoch, Interlaken, and Lauterbrunnen
On-site restaurant offers delicious meals, including a beautiful breakfast spread for hotel guests
Outdoor hot tub with mountain view
Personalized service
TripAdvisor Rating: Excellent (5/5)
Booking.com Rating: Awesome (9.2/10)
Average Room Rate: $304 – $488
Hotel Glacier is located at Endweg 55 in Grindelwald, Switzerland.
4. Fairmont Château Laurier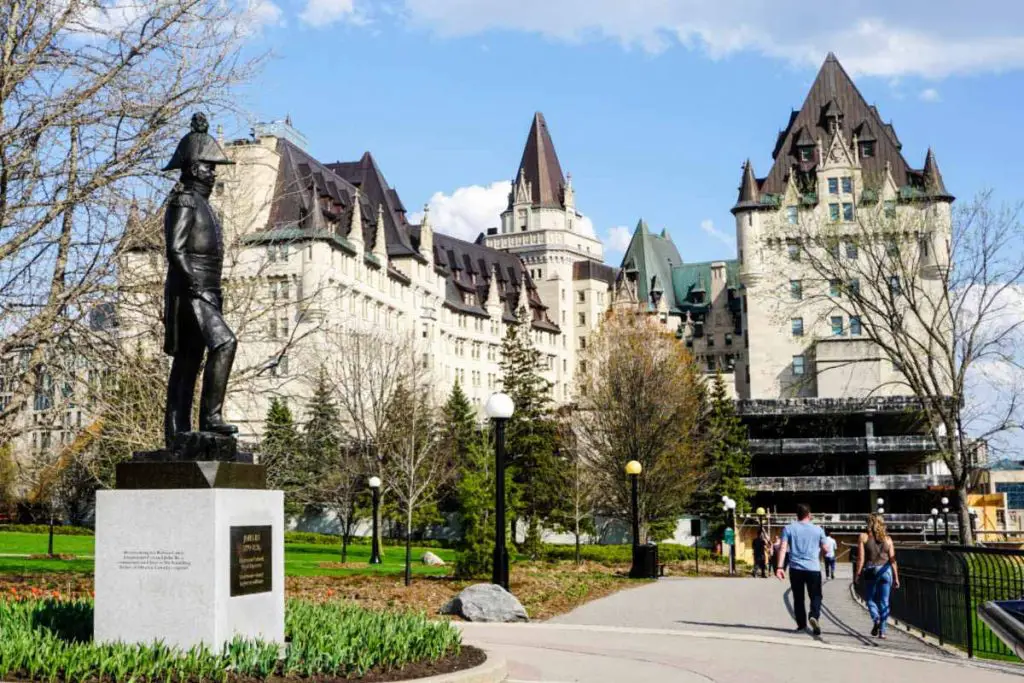 Thank you to Fairmont Château Laurier and Ottawa Tourism for hosting my two-night stay in May 2018
Only a short walk from the Parliament buildings, the National Gallery of Canada, and the dining and shopping of the Byward Market, the Fairmont Château Laurier is in the heart of downtown Ottawa. Yet, like the other Fairmont hotels to come on this list, the Château Laurier is a destination in itself. Undeniably one of the best culinary experiences in Ottawa is afternoon tea at Zoe's. Seated in an atrium-like setting you can relax with a glass of bubbly, a warm pot of tea, and bite-sized desserts as you watch the hustle and bustle of Canada's capital city. Later in the evening, Zoe's is an ideal spot for a pre-dinner cocktail. The Fairmont hotels are the epitome of luxury, and you will certainly feel like royalty when staying in this chateau.
Features I Loved:
Zoe's for afternoon tea and evening cocktails
Breakfast at Wilfrid's Restaurant
Luxurious bed with nightly turndown service
Close proximity to Ottawa's attractions, shopping, and dining
TripAdvisor Rating: Very Good (4/5)
Booking.com Rating: Excellent (8.7/10)
Average Room Rate: $165 – $374
The Fairmont Château Laurier is located at 1 Rideau Street in Ottawa, Ontario.
3. Fairmont Le Château Frontenac
If you thought the last hotel on this list looked like a castle, you need to check out the Fairmont Le Château Frontenac. Standing like a fortress above Québec City, the Frontenac is an iconic part of its destination. In fact, the hotel celebrated its 125th anniversary last year. During my four-night stay in one of the 611 guest rooms, I enjoyed the Fairmont hospitality, including nightly turndown service and in-room dining. Dining at the hotel was a definite highlight of my stay. I particularly enjoyed the wine and cheese selection at 1608 Wine and Cheese Bar. Next door at Bistro Le Sam, I had fantastic craft cocktails and a delicious lobster roll.
Features I Loved:
1608 Wine and Cheese Bar
Bistro Le Sam for craft cocktails and delicious food
Spacious and luxurious guest room
Location in Old Québec overlooking the Saint Lawrence River
TripAdvisor Rating: Excellent (4.5/5)
Booking.com Rating: Awesome (9.0/10)
Average Room Rates: $176 – $493
The Fairmont Le Château Frontenac is located at 1 Rue des Carrière in Québec City.
2. Fairmont Olympic Hotel
Thank you to the Fairmont Olympic Hotel for hosting my one-night stay
I only stayed here for one night during my Seattle trip, but it didn't take long to see why the Fairmont Olympic Hotel is considered one of Seattle's best. My executive suite had a luxurious king bed, spacious bathroom with a rainfall shower, and separate seating area ideal for a small gathering or dining in the room. In the morning, I used this space to enjoy a buttery croissant and latte from the new Fourth Ave espresso bar in the hotel's lower level. In the evening, the Terrace Lounge is a swanky spot for cocktails before eating fresh oysters and seafood at Shuckers.
Features I Loved:
Shuckers for oysters and seafood
Fourth Ave for espresso drinks, breakfast sandwiches, and macarons
Terrace Lounge cocktails
Close to Seattle attractions, entertainment, and dining
TripAdvisor Rating: Excellent (4.5/5)
Booking.com Rating: Awesome (9.1/10)
Average Room Rates: $205 – $551
The Fairmont Olympic is located at 411 University Street in Seattle.
1. Fairmont Empress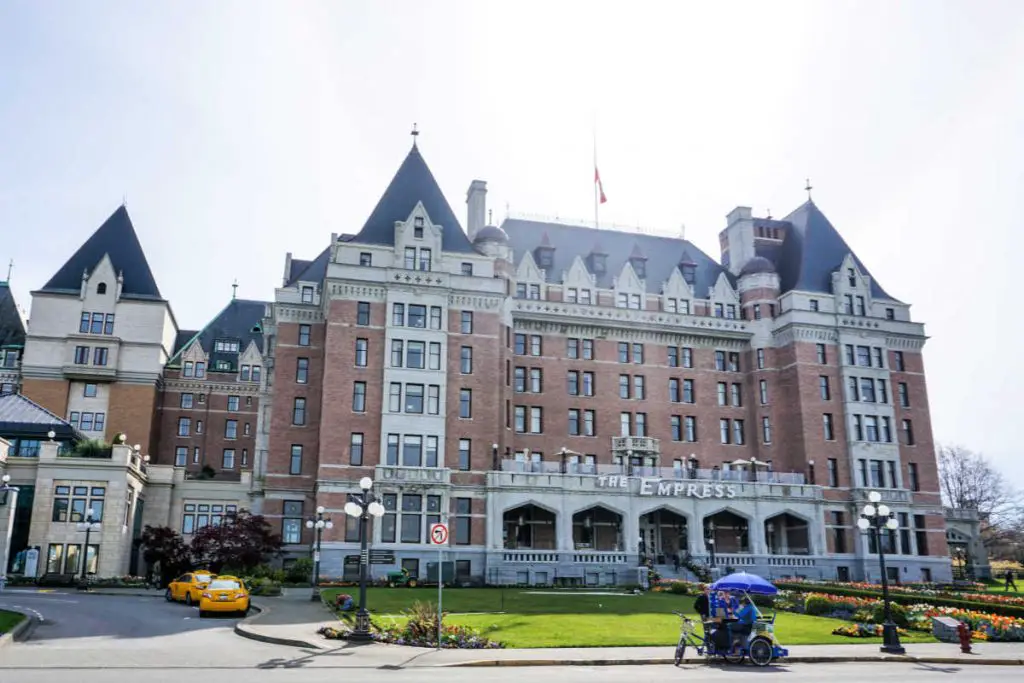 Thank you to the Fairmont Empress for hosting my two-night stay
Claiming the top spot is the Fairmont Empress situated across from the harbor of Victoria, British Columbia. From this grand hotel I walked to the Royal British Columbia Museum and fantastic Victoria restaurants and bars. As a food lover's destination, it's fitting that the culinary experiences at the Empress make a stay here so special. At Q at the Empress, you'll enjoy Pacific Northwest dishes — such as geoduck ceviche or a beautiful beet salad — created with ingredients from local farmers and artisans. At the Q Bar, you can snack on the best cheese and charcuterie board I've ever tasted or sip a purple 1908 Empress Gin & Tonic. Additionally, tea at the Empress is a must-have experience when visiting Victoria.
Features I Loved:
Harbor views from my room
Short walk from museums, shops, and dining
Pacific Northwest cuisine made with local ingredients at Q at the Empress and Q Bar
Tea at the Empress
Empress Torte — the hotel's signature chocolate cake is decadent, rich, and topped with a chocolate replica of Queen Elizabeth II's crown
1908 Empress Gin, a collaboration with Victoria Distillers made with butterfly pea blossom, which is found in the Empress teas and turns cocktails purple or pink
TripAdvisor Rating: Very Good (4/5)
Booking.com Rating: Excellent (8.8/10)
Average Room Rate: $203 – $387
The Fairmont Empress is located at 721 Government Street in Victoria, British Columbia.
These 10 hotels were fantastic places to call home away from home as I traveled last year. For my fellow foodie travelers, any of these 10 hotels would be wonderful additions to your travel itineraries for 2019!
Explore the map below to see where these 10 chic hotels are located!
Save this post to Pinterest to reference later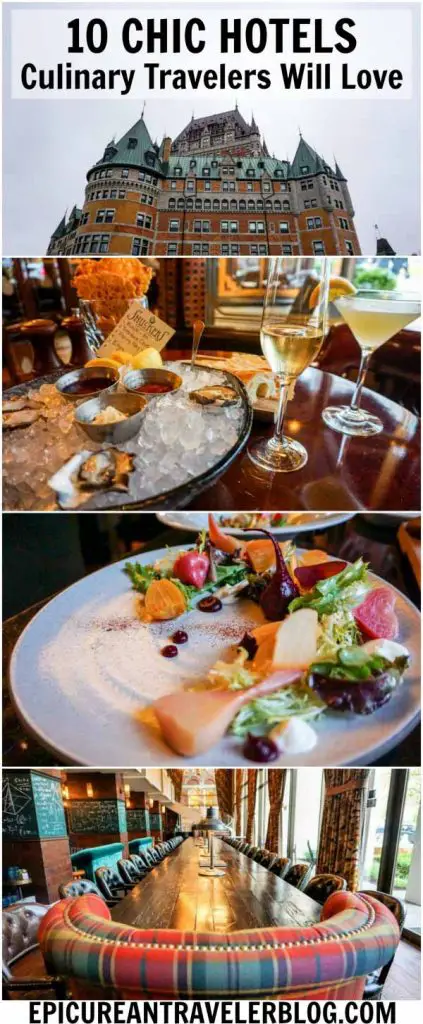 Where did you have your best hotel stay in 2018?