Stepping out of my cab at the Revere Hotel Boston Common, I was immediately impressed with the doorman's professionalism and friendliness.
Though my crazy cab driver — who reminded me of Ken Jeong's character in the Hangover movies — had just ran over the hotel's curb, the doorman greeted me with a smile, welcomed me to the hotel, and politely escorted me and my extremely heavy suitcase straight to reception.
That professional, helpful, and friendly attitude was a common characteristic shared among all the staff members I encountered during my three-night stay. I was in Boston as a first-time visitor for the Women in Travel Summit, and the staff made me feel welcome in their city and like the Revere Hotel truly was my home away from home.
And, what a chic place to call "home"! Let me show you what I mean.
Disclosure: This post contains affiliate links. As an Amazon Associate, The Epicurean Traveler earns from qualifying purchases. When you click on an ad or link to make a purchase, I may earn a small commission. This is at no extra cost to you. Thank you for your continued support!
Revere Hotel Rooms Are Spacious And Contemporary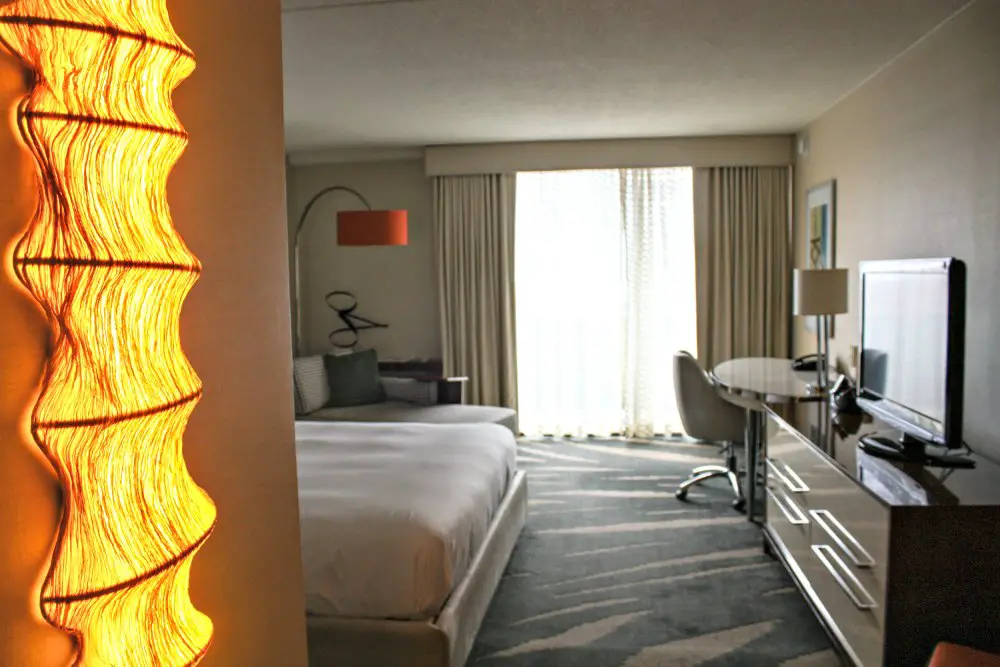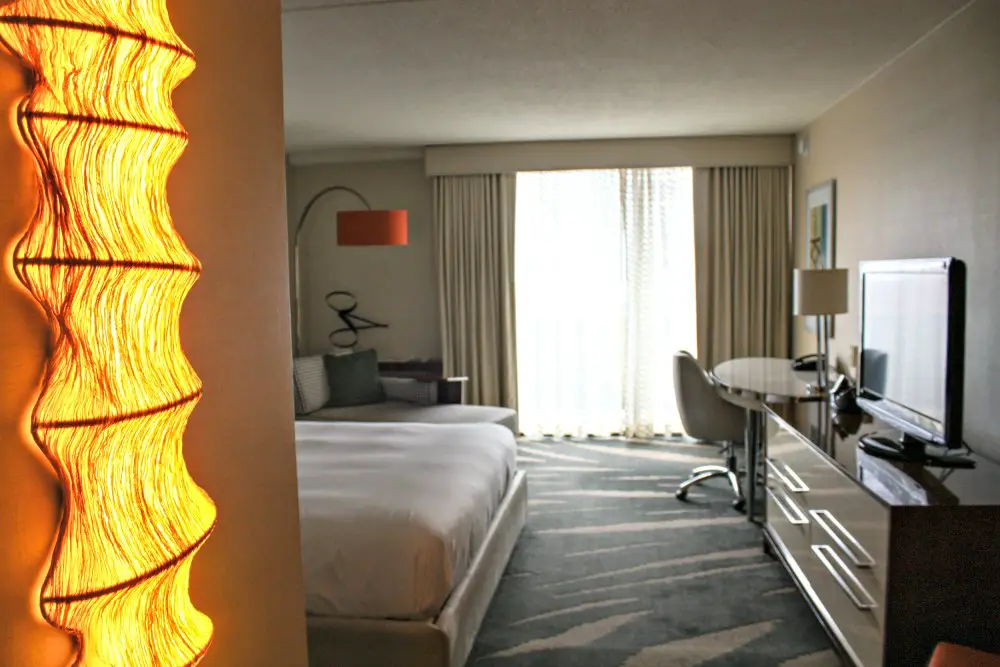 Despite arriving ahead of check-in time because I took the earliest morning flight I could out of Detroit (to maximize my time in Boston, of course), my room was ready when I checked into the hotel around 11 o'clock.
I had booked a room with a king-size bed, but never in my wildest dreams would I have imagined how incredibly comfortable this bed would be. If it weren't for my deep desire to experience Boston — a city I had been dying to visit for nearly a decade — I may have never left this bed.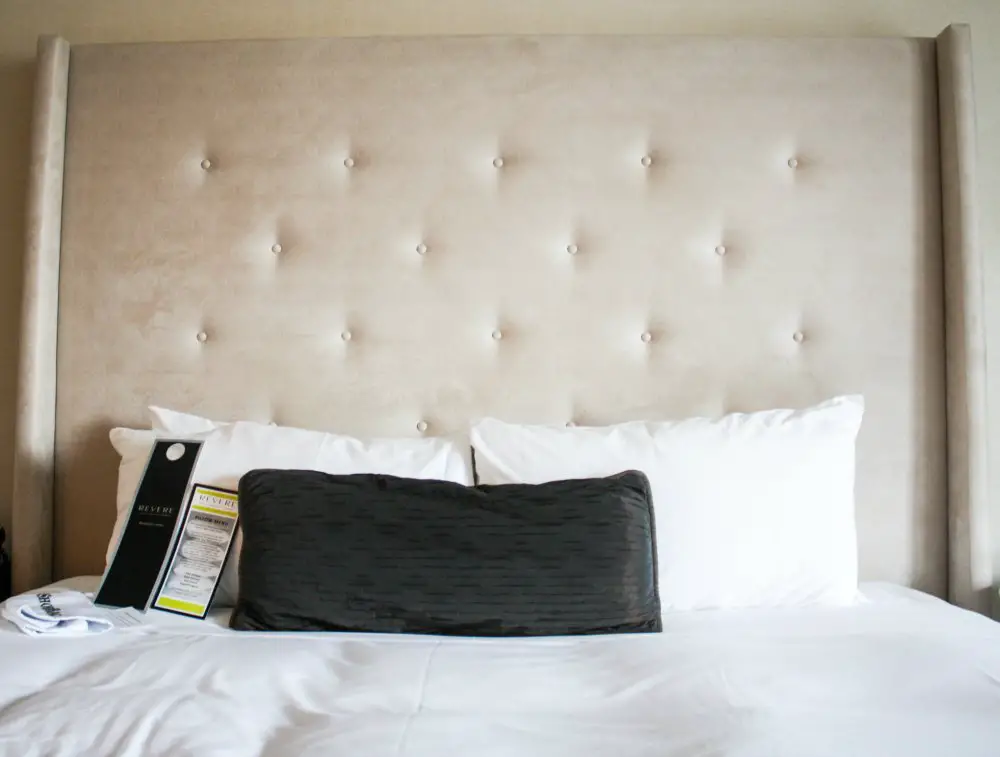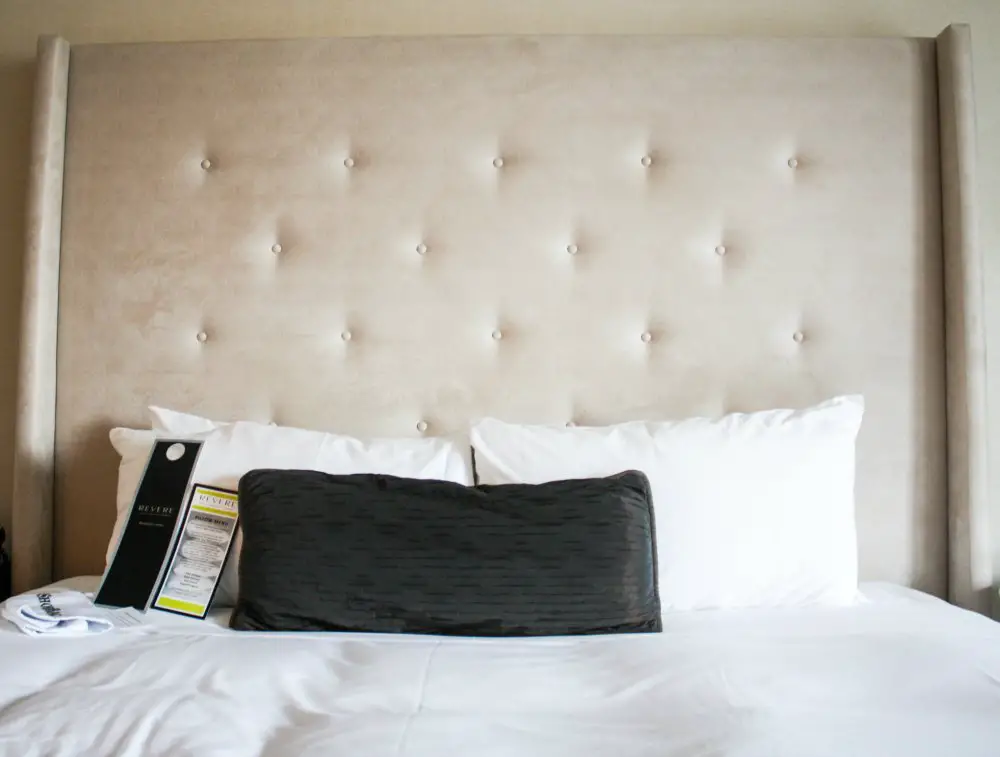 The spacious room was styled with contemporary furnishings, but the orange and olive green shades paired with the houndstooth chaise lounge gave the space a retro, 1960s Mad Men era vibe. But with all the luxuries of a modern boutique hotel.
Update 2019: Since my March 2015 stay, the Revere Hotel has updated the styling of its guest rooms. While many features remain, the rooms have taken on a trendy patriotic vibe I'm dubbing colonial hipster with contemporary portraits of the hotel's namesake, Paul Revere.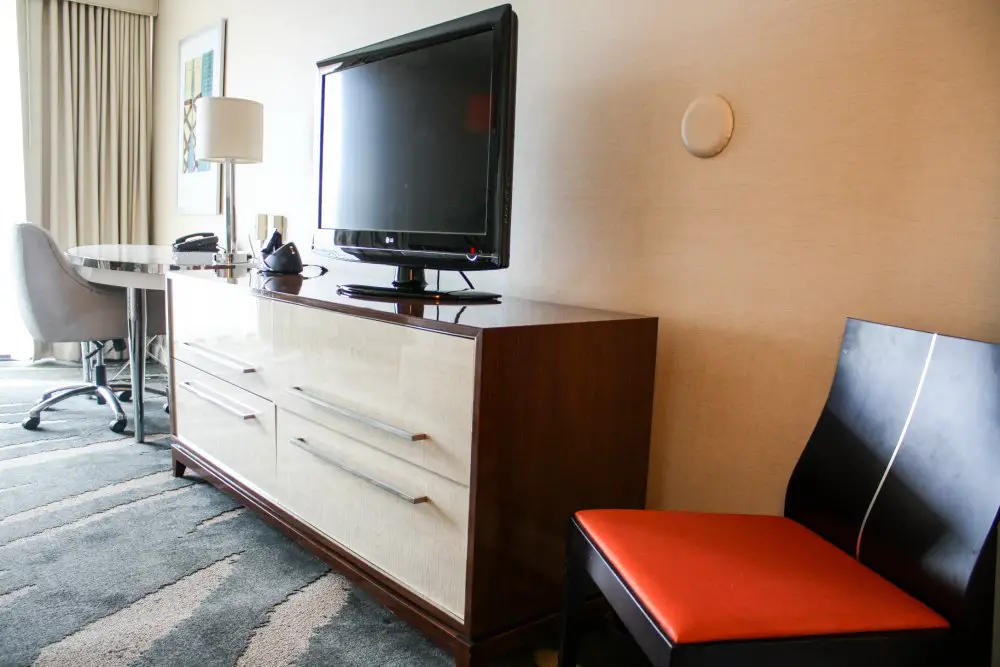 My room had a view of downtown Boston, but I bet the rooftop bar and lounge has an even better one. You'll also enjoy the city view and cocktails at the indoor heated pool. 
Revere Hotel Bathrooms Feature Natural Skincare Products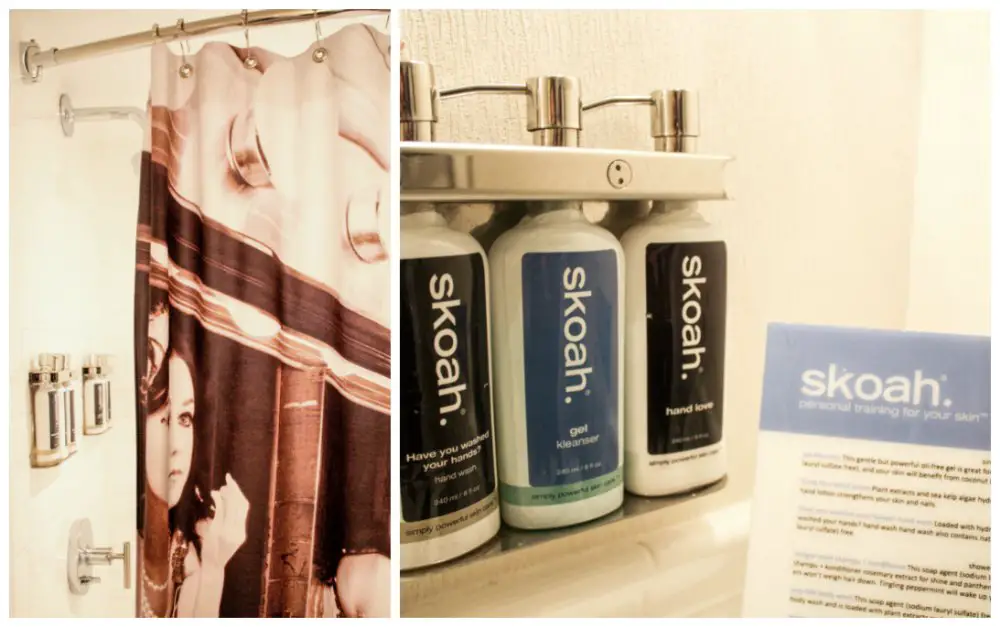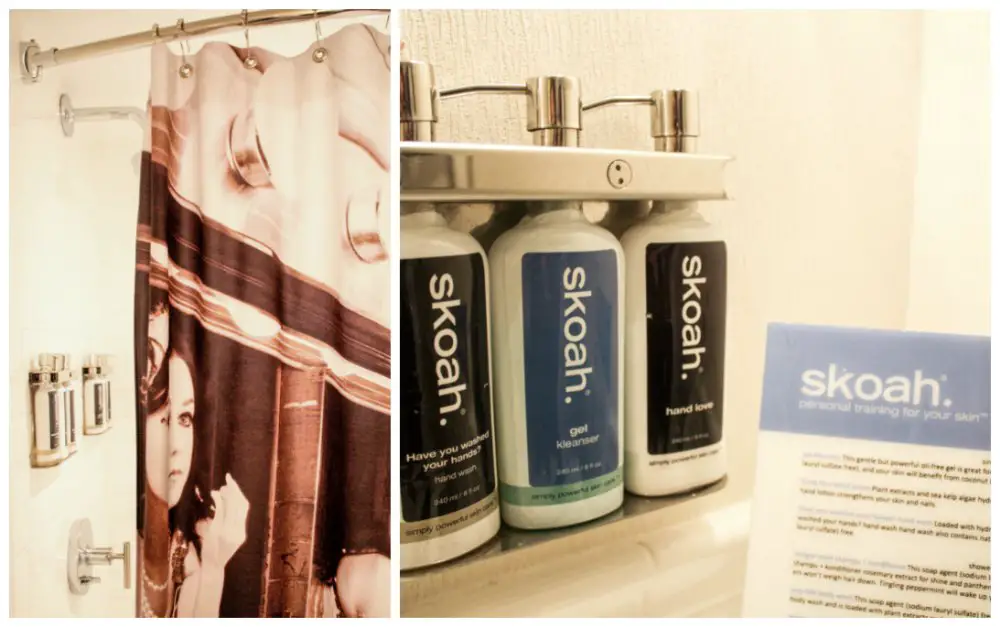 The luxury of the Revere Hotel extends to the room's bathrooms, where skoah's natural skincare products and shampoo were provided. 
Revere Hotel Staff Is The Epitome Of Hospitable
I could not possibly rave enough about the staff. Here are just a couple examples of why …
Upon checking into the hotel, I was asked about my plans for the day. I mentioned wanting to find a place to eat lunch and then head to the Museum of Fine Arts, Boston. The employee then mapped out the exact route I could take to a delicious lunch at Parish Cafe, my first and successful experience navigating Boston's light-rail system, and a wonderful afternoon spent exploring the MFA's collections of impressionist paintings and Paul Revere's silver.
When I lost a ring and realized it after checking out, the staff graciously allowed me back into the room. The maid was already cleaning for the next guest, but she stopped to help me search. The hunt was a fruitless endeavor, but I really appreciated her efforts. Luckily, my ring had been turned into the conference organizers, so this tale of a typical Erin Klema mishap does have a happy ending.
Revere Hotel Located Near Boston Common, Theatre District, And More!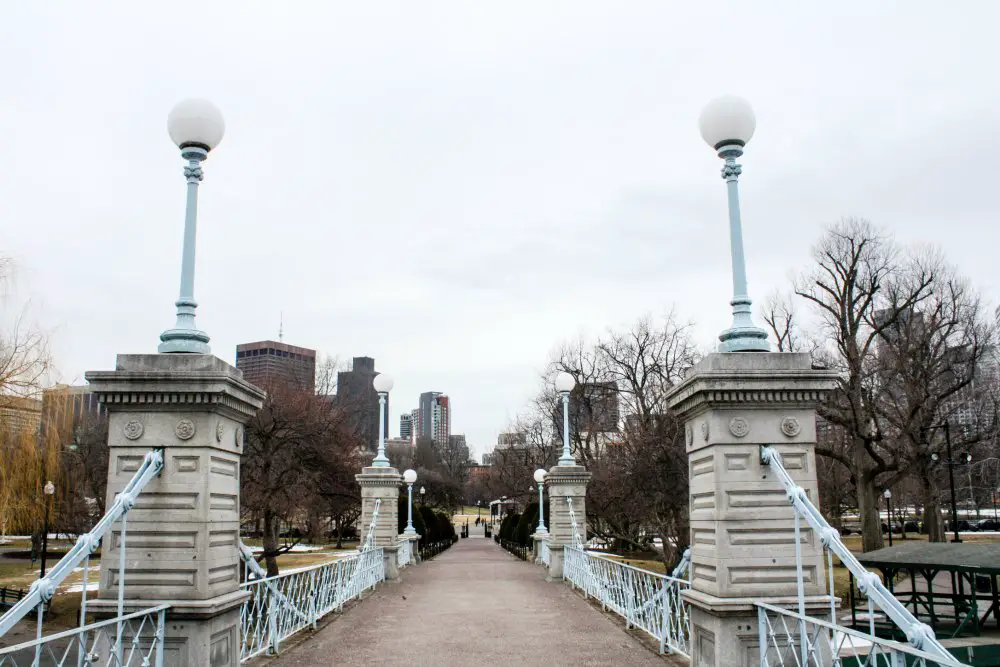 The Revere Hotel is located in the smallest of Boston's neighborhoods — Bay Village, sandwiched between Back Bay, the South End, the Theatre District, and Chinatown. It's about a 6-mile drive from Boston Logan International Airport and a convenient home base for exploring the city.
Getting Around
The nearest light rail station is the Arlington Station on the T's Green Line. There are a couple other nearby T stations, and the reception workers can provide walking directions and a map. It was usually easy to find a cab outside the hotel, and the doorman will also hail one for you. Throughout my time in Boston, I found walking was often the easiest way to get around, and I had some of my best Uber rides in Beantown.
Get your first Uber ride free by clicking here. Use promo code: erink388
Nearby Attractions
The Revere Hotel is a short walk to a number of popular attractions including Boston Common and Boston Public Garden. For more ideas of things to do in Boston, I compiled a list of five things to do in the city on your first visit.
At the edge of the Theatre District, the hotel is also close to the theaters along Boylston and Tremont streets — a staging area for Broadway-bound musicals.
Nearby Dining & Drinks
The Revere Hotel offers several on-site dining options. However, if you want to explore dining options in the neighborhood, here are some of the nearby restaurants, cafes, and bars I visited:
Parish Cafe — This casual eatery offers salads and sandwiches created by Boston's top chefs. Great drink menu, too!
Legal Sea Foods — Get a cup of New England's staple dish — clam chowder — at this upscale-yet-casual seafood chain restaurant with deep roots in Boston.
Rock Bottom Restaurant & Brewery — You'll find craft beer, cocktails, wine, a diverse menu, broadcast sports, and a lively atmosphere at this chain brewery.
M J O'Connor's — Craving late-night pub fare and an Irish stout? Then this Irish pub is the place to be.
Explore The Area By Map:
Before Your Stay At Revere Hotel Boston Common
If you want to stay at a hip boutique hotel conveniently located near attractions, dining, and public transportation in Boston, I highly recommend booking the Revere Hotel. But, before you go to Boston, here are a few things to do and know …
Pin this Boston boutique hotel review for future reference!
What would be on your Boston itinerary? 

Save
Save