Wondering where to stay in Bloomington, Indiana? Whether you are visiting Indiana University or taking a weekend getaway, the four-star boutique hotel Graduate Bloomington is ideally located near campus and Courtyard Square's shopping and dining. After the hotel hosted my two-night stay this summer, I've pinpointed seven perks for why you should stay at Graduate Bloomington, too.
Disclosure: I'd like to thank Graduate Bloomington for hosting my two-night stay and Visit Bloomington for inviting me to explore this Midwest college town. This post also contains some affiliate links. When you click on or book your hotel room through one of these links, I may earn a small commission. Of course, this is at no extra cost to you.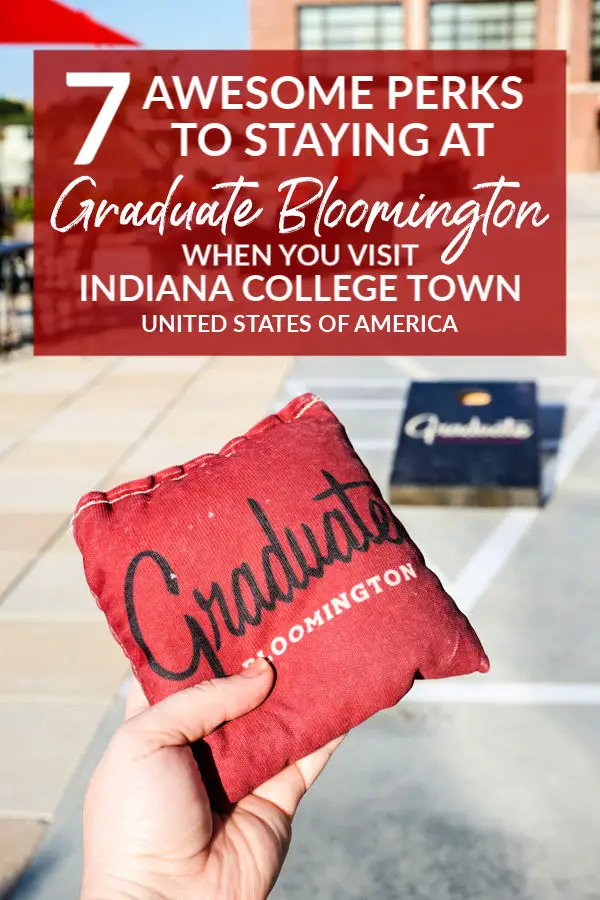 1. You'll Catch #CollegeVibes
One of the reasons I adore Graduate Hotels® is that each property takes on its own unique character. Since a visit to Bloomington places you in Hoosier territory, Graduate Bloomington embraces its collegiate locale like no other hotel in town.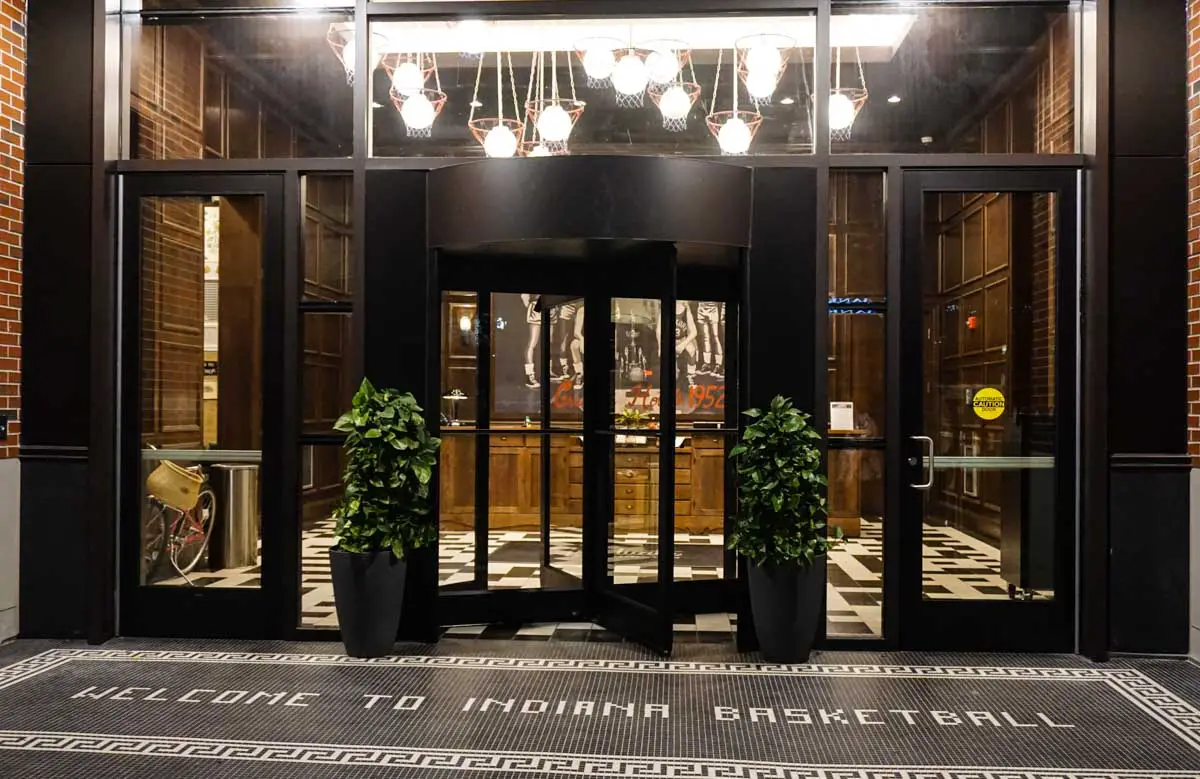 From the moment I checked in at reception, I was surrounded by decor inspired by Indiana University, its famous graduates, and the local area. Glancing upwards, the basketball hoop light fixtures reminded me IU has been a college basketball powerhouse. At my feet, I spied black-and-white tiled floor paying homage to New York Times crossword puzzle editor Will Shortz, a 1974 graduate of Indiana University.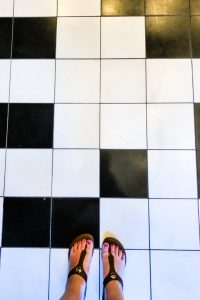 Beyond the lobby, you'll find even more collegiate-themed decor. For example, pennants that read "studying" serve as "do not disturb" signs and room keys look like student ID cards.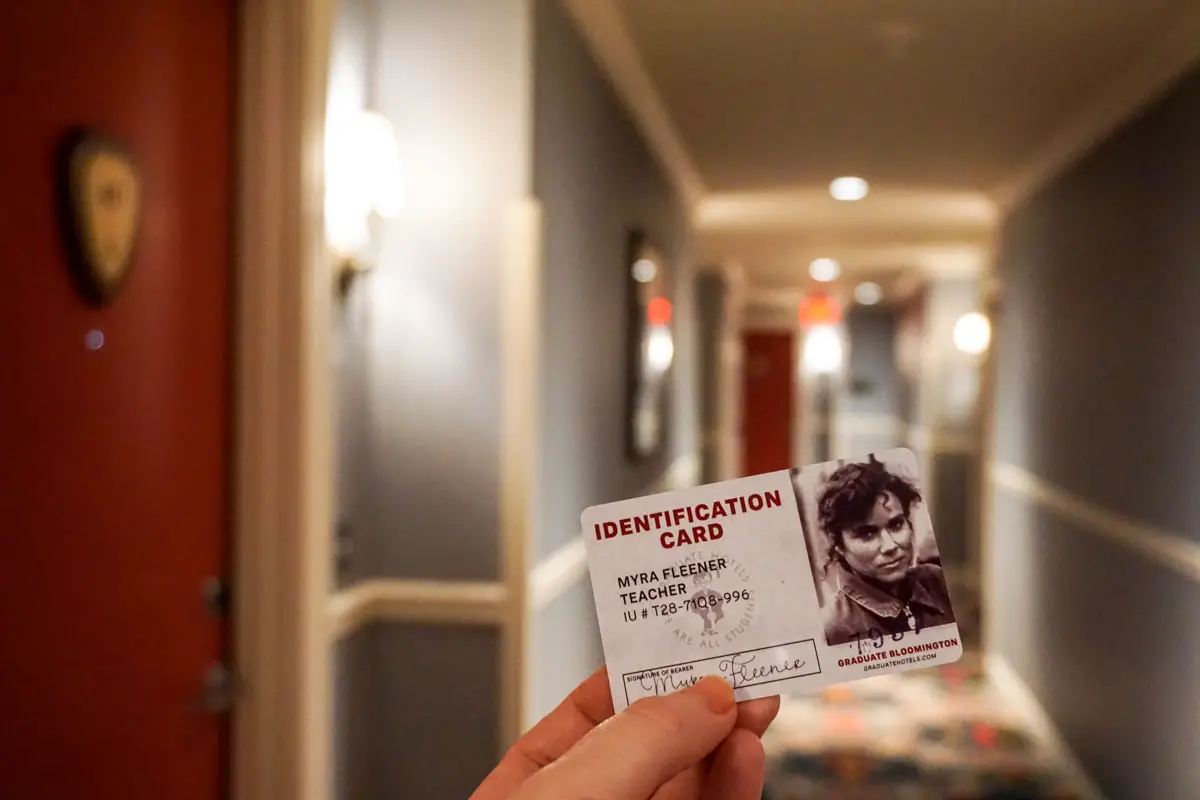 Having stayed at Graduate Hotels in Ann Arbor and Bloomington, I appreciate that each hotel is distinctly unique, celebrating its local campus and community. In Bloomington, the hotel's decor features floral prints, shades of cream and crimson, and nods to IU basketball. Even the hallway carpeting features a basketball and floral print!
Perhaps my favorite of Graduate Bloomington's unique decor is the chair chandelier located near the entrance to the Jack and Diane Terrace. To fully appreciate this artistic masterpiece — as well as framed prints throughout the halls and elevator banks — you have to know a bit about Bobby Knight.
During a tense 1985 game against rival Purdue, the IU men's basketball coach took his frustration out on an innocent chair. This ESPN clip shows Knight reaching for his red plastic chair and sending it tumbling as it sails clear across the court. Needless to say, "the General" was ejected from the game, and Knight's chair toss remains a memorable moment in college basketball.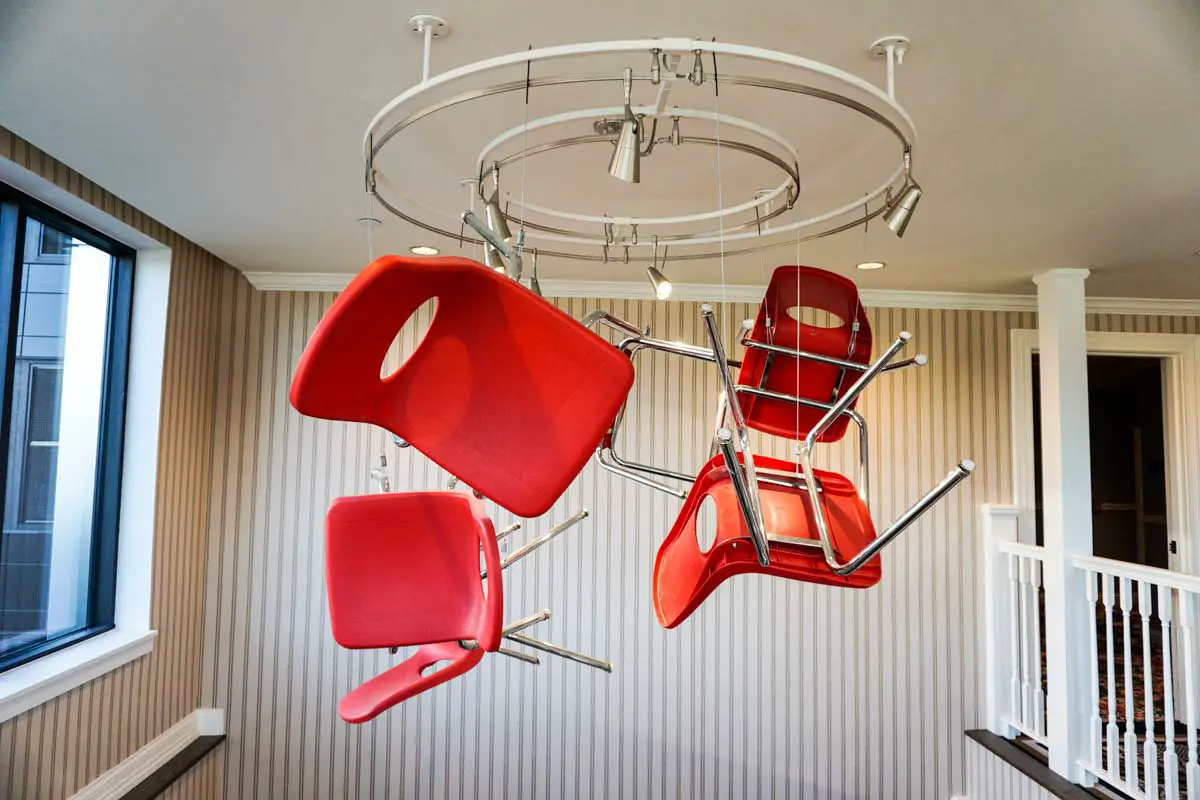 2. Hanging In The Lounge Take Will Take You Back To Your Own College Days
College-themed decor is certainly on display in the lounge where wooden bleachers line the back wall. Around knick-knack covered coffee tables, plaid armchairs and dark green sofas invite hotel guests to gather and converse. If there is one place within the Graduate Bloomington hotel that will remind you of a student union or dormitory's study lounge, this is definitely it.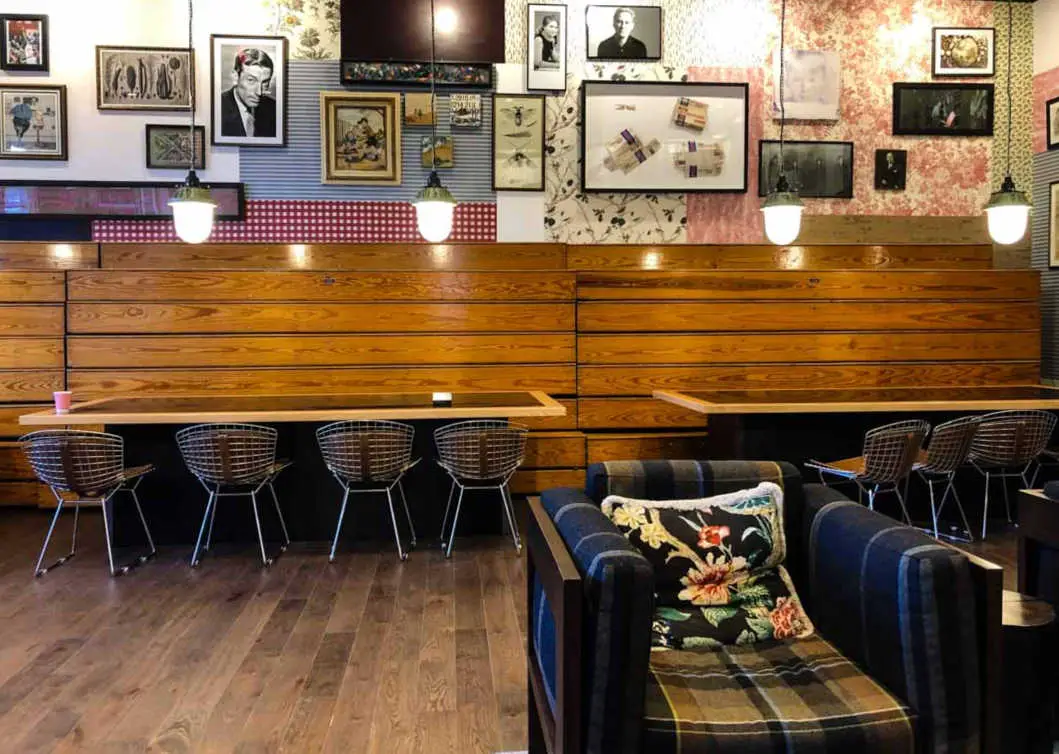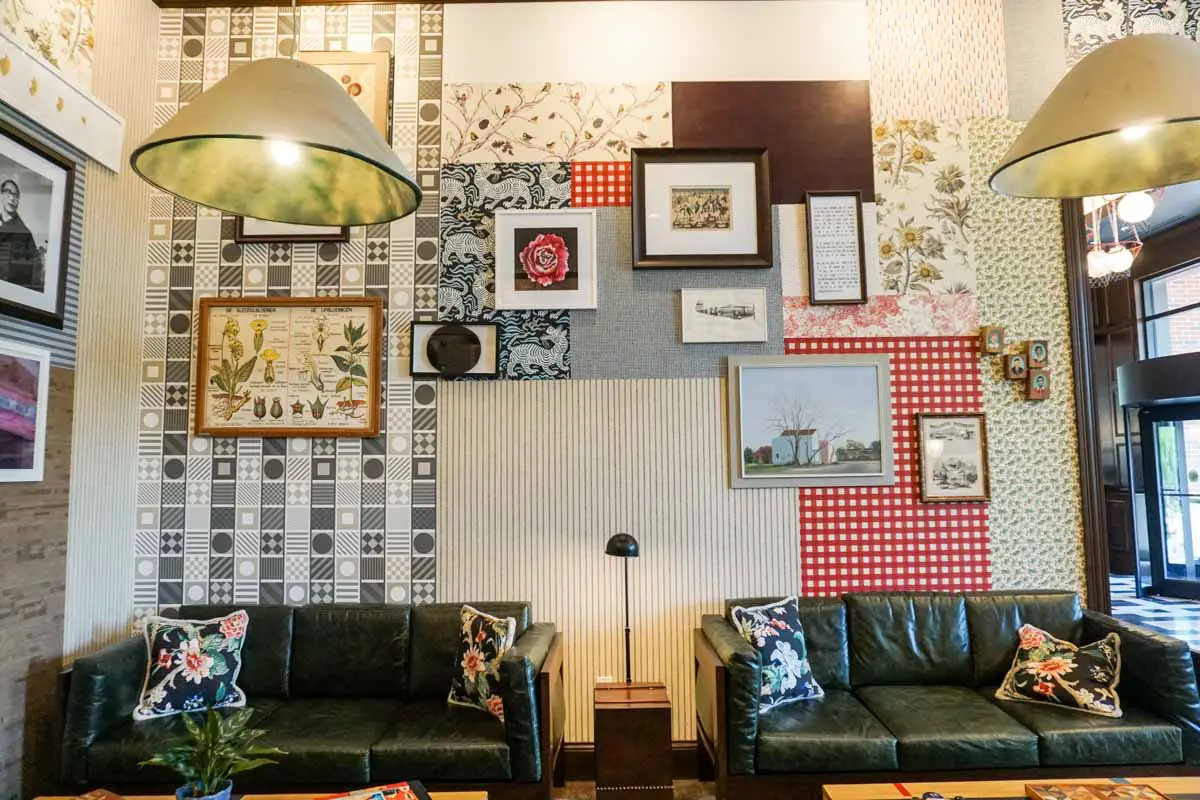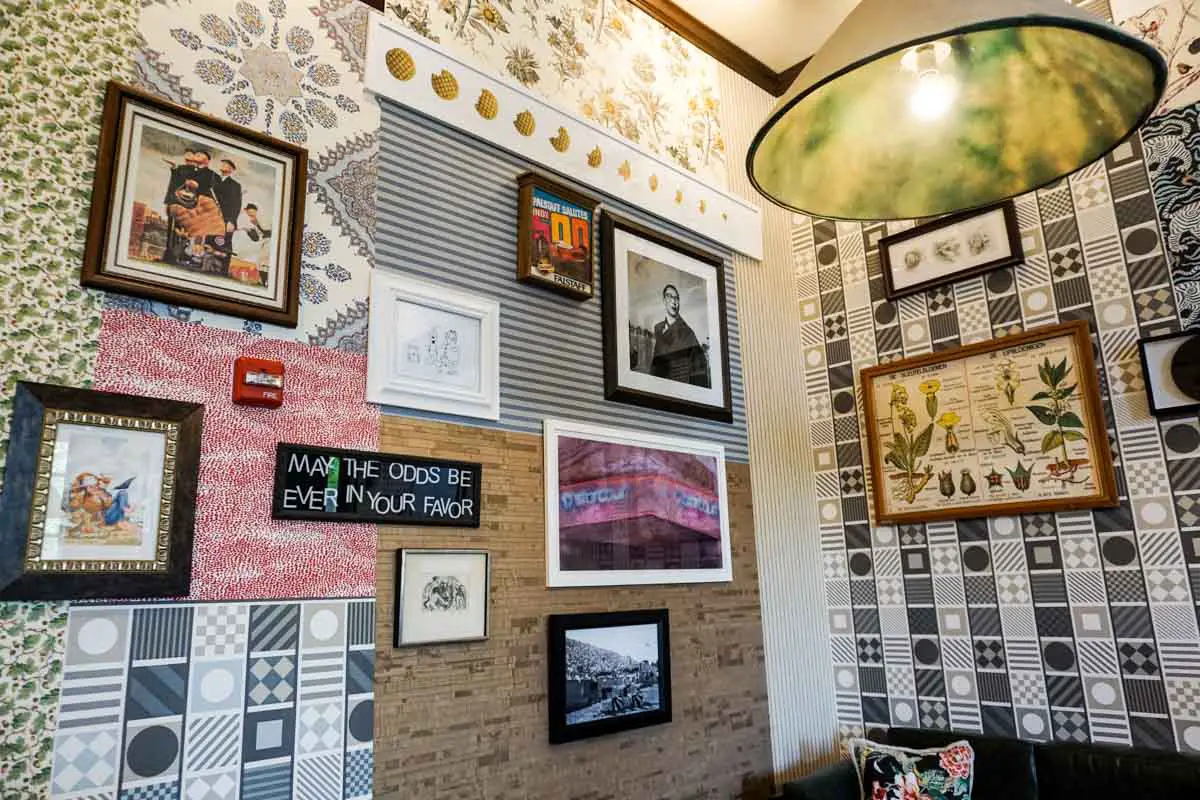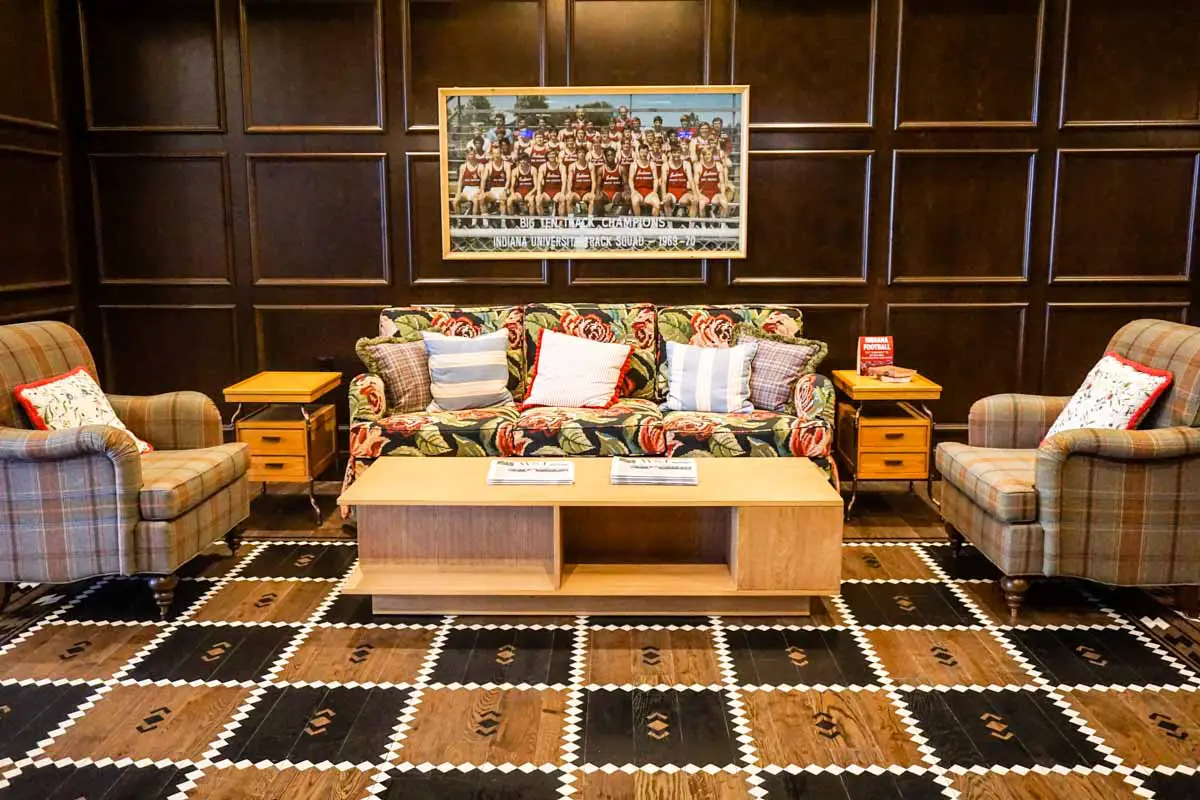 3. Your Pet Can Stay, Too!
Aside from the hotel's collegiate decor, a major perk to staying at Graduate Bloomington is its welcoming stance towards guests of all shapes, sizes, and furriness. That's right — one of the best perks for pet owners is their furry travel companions are welcome at Graduate Bloomington. In addition to not charging a fee for four-legged guests, Graduate Bloomington also provides complimentary pup perks courtesy of BarkBox.
4. You Can Get Caffeinated On-Site At Poindexter Coffee
Particularly convenient for those of us who immediately need our morning coffee, Poindexter Coffee serves hot and cold caffeinated beverages right next to the hotel's lobby. In addition to drip coffee and espresso drinks, the cafe menu features smoothies made with seasonal fruits, nitro cold brew, and kombucha on draft. In the a.m. hours, you'll find light breakfast options such as an acai bowl, Greek yogurt parfait, steelcut oatmeal, breakfast sandwiches, and avocado toast. Open until 9:30 p.m., Poindexter also serves lunch and dinner with a variety of salads and sandwiches.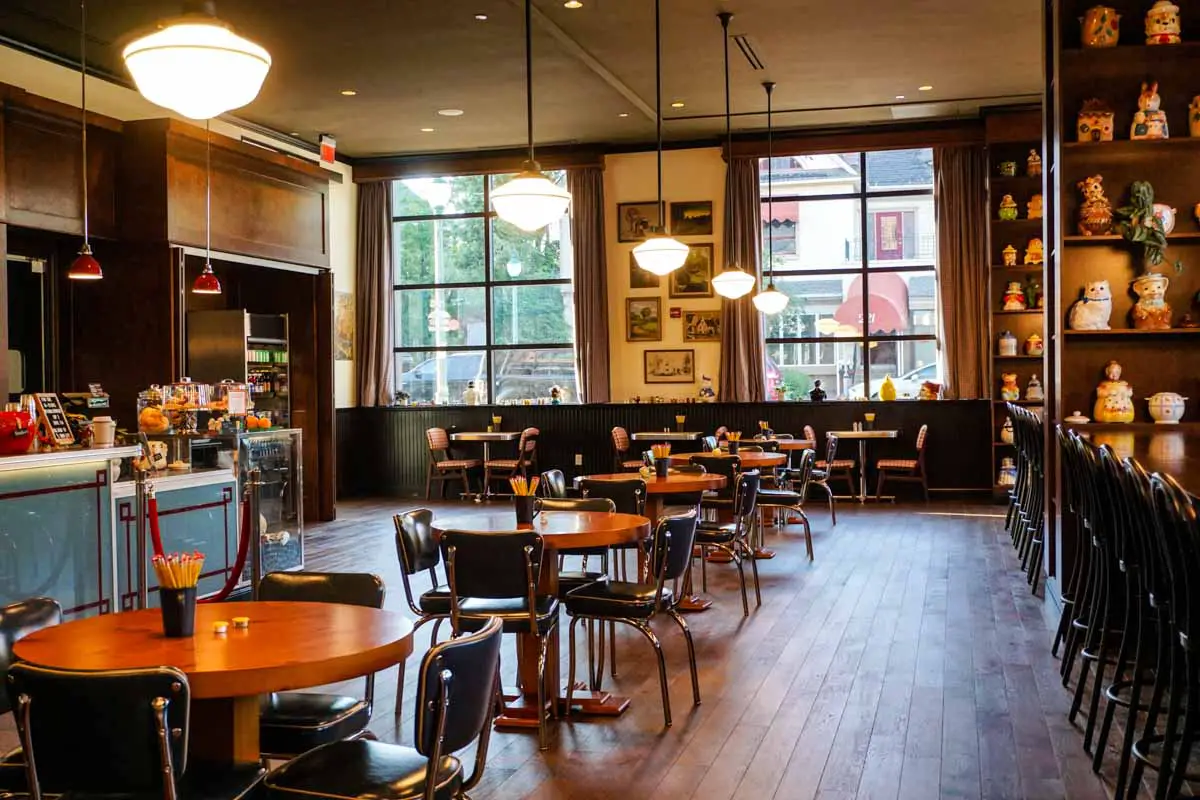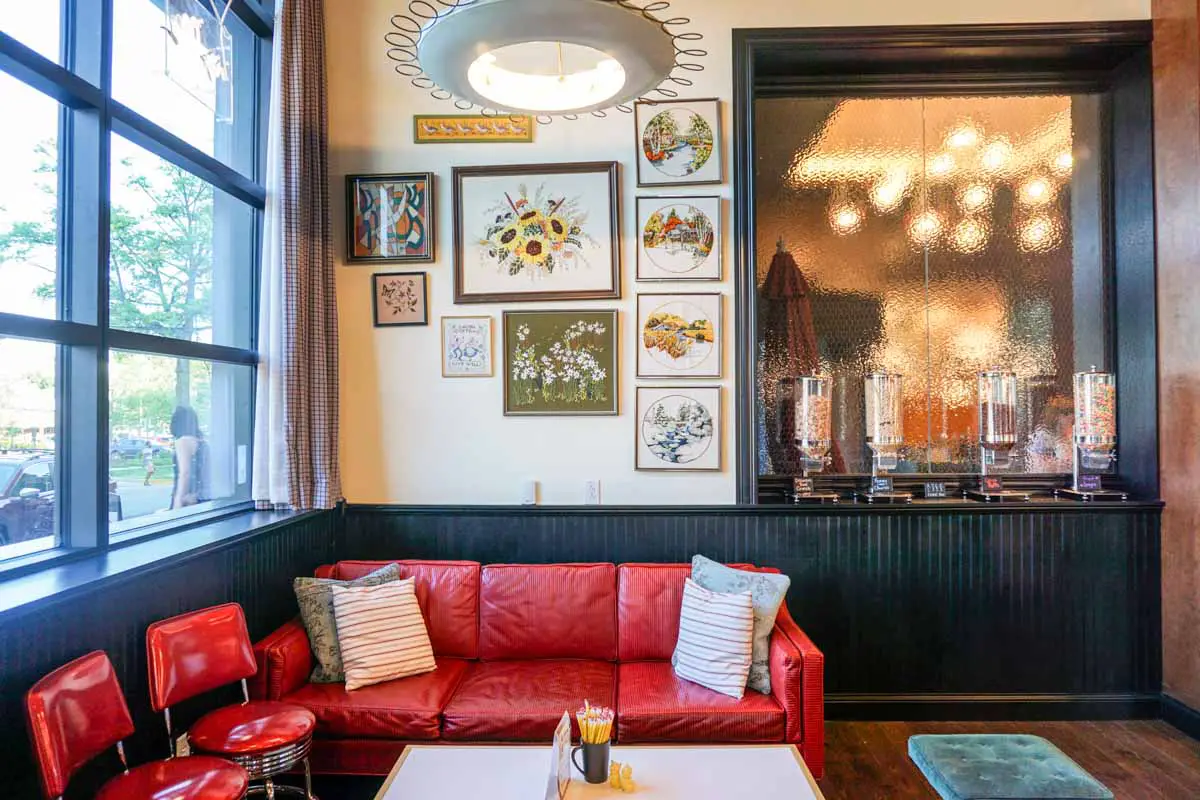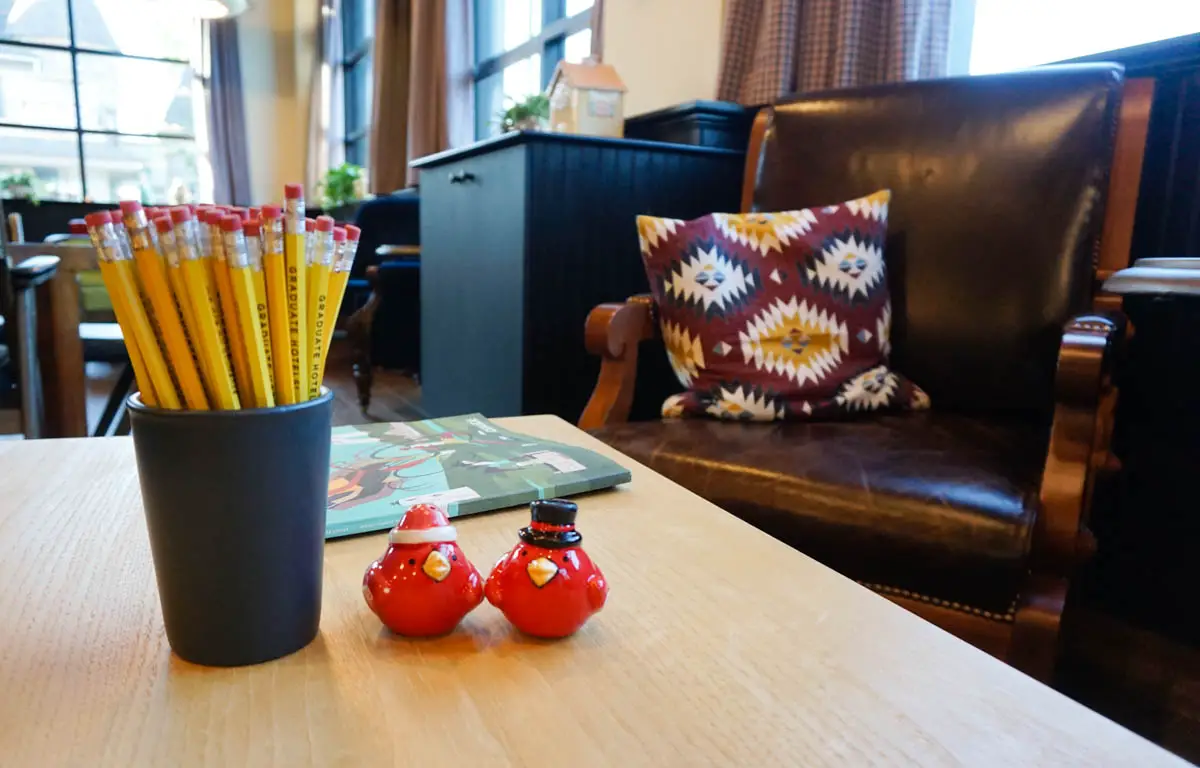 5. Walk Out The Door To Dining, Shopping, And IU Campus
Staying here places you in the heart of downtown Bloomington between the Indiana University campus and Courtyard Square. Along Kirkwood Avenue are quite a few beloved local eateries such as the Village Deli, where I ate delicious lemon, blueberry and poppyseed pancakes. The hotel is also only a short stroll from the iconic Sample Gates.
Want to see how I used Graduate Bloomington as my home base? Take a look at my foodie's weekend getaway guide to see all the foods, drinks, and local stops I explored in Bloomington!
6. You Can Relax On The Jack And Diane Terrace
Perhaps my favorite perk of staying at Graduate Bloomington is access to the Jack and Diane Terrace. With a view overlooking the city, you can relax in red rocking chairs or toss bean bags during a game of cornhole. This is the perfect spot for a pre-dinner rendezvous on a warm summer night.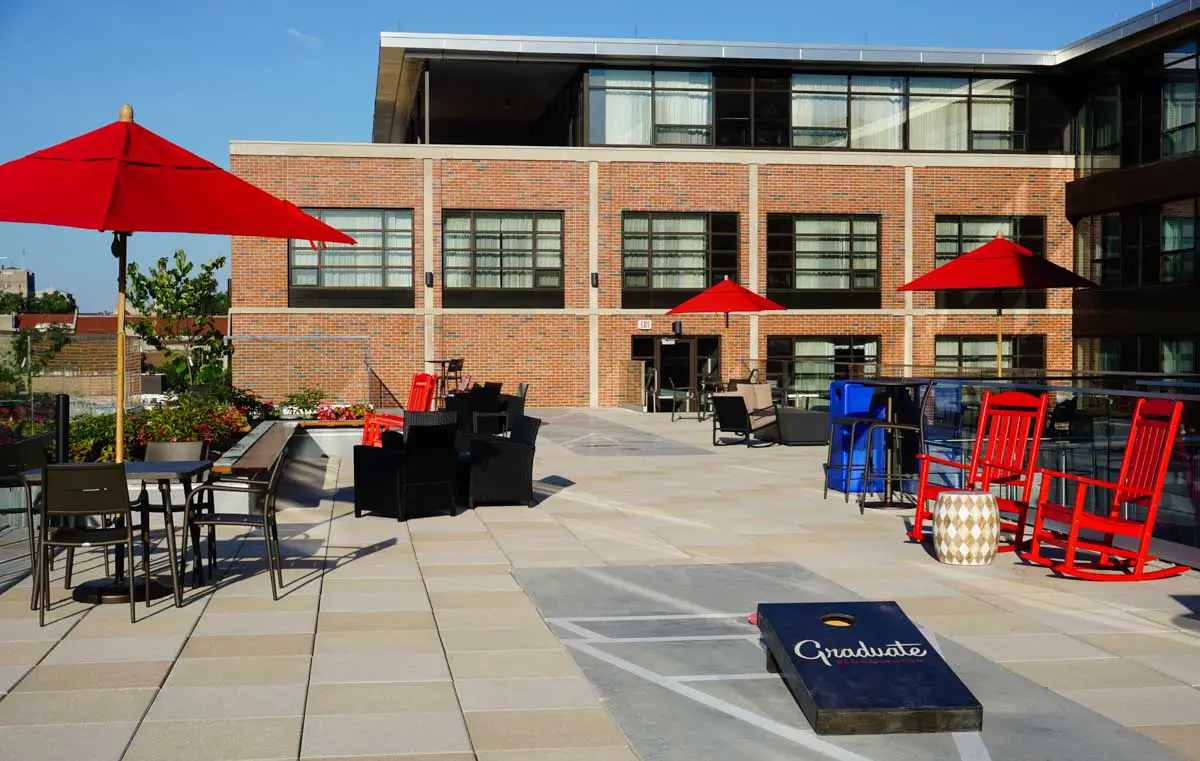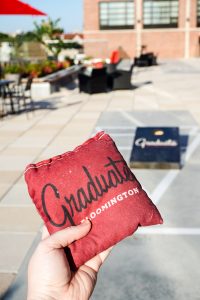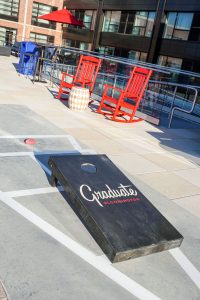 7. On-Theme Guest Rooms Outfitted With All A Traveler Needs
As you've seen, Graduate Bloomington offers guests thoughtful and curated amenities — a collegiate-themed lounge, on-site café, and rooftop terrace. So it came as no surprise to me that my guest room had all the comforts I'd expect of a boutique hotel with unique touches to remind me of Bloomington and Indiana University.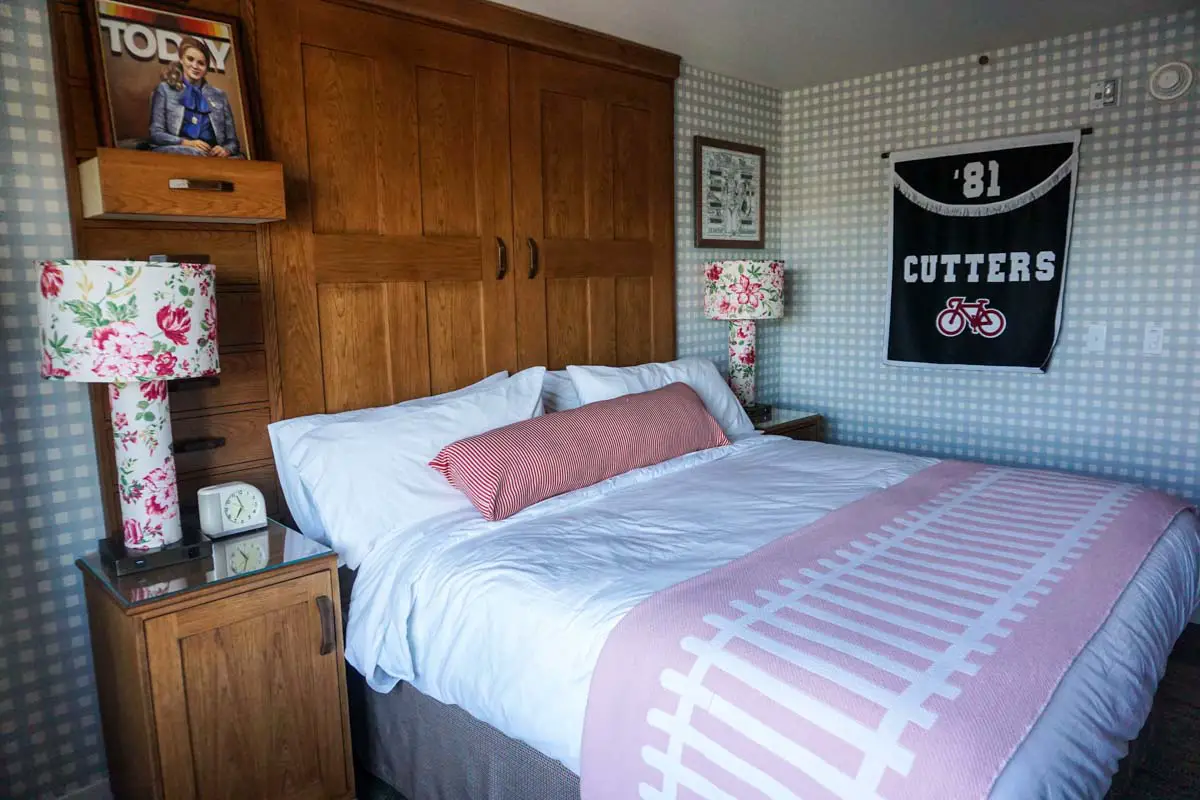 Adorning the wall, a Cutters banner is a nod to the 1979 coming-of-age film Breaking Away set in Bloomington. Above the nightstand sits a portrait of Indiana University alumna Jane Pauley, a prominent broadcast journalist and author. Yet the decor is functional too. Looking like school lockers, the armoire actually provided ample storage space for luggage and clothing.
In the bathroom, I got a chuckle once I spied the cartoons of sexologist Dr. Alfred Kinsey. In my own college days, I had learned of Kinsey, a pioneer in scientific sex research, during a human sexuality course. What's the connection to Bloomington? Well, in 1947, he founded the Institute for Sex Research. Today, the Kinsey Institute at Indiana University continues research and education concerning human sexuality, gender, and reproduction in relationships.
Of course, it wouldn't be a collegiate hotel without a place to study! Above the desk are a portrait of His Holiness the Dalai Lama, who has visited Bloomington several times, and sheet music for "Stardust" by Bloomington-born composer Hoagy Carmichael, who attended IU's law school in the 1920s.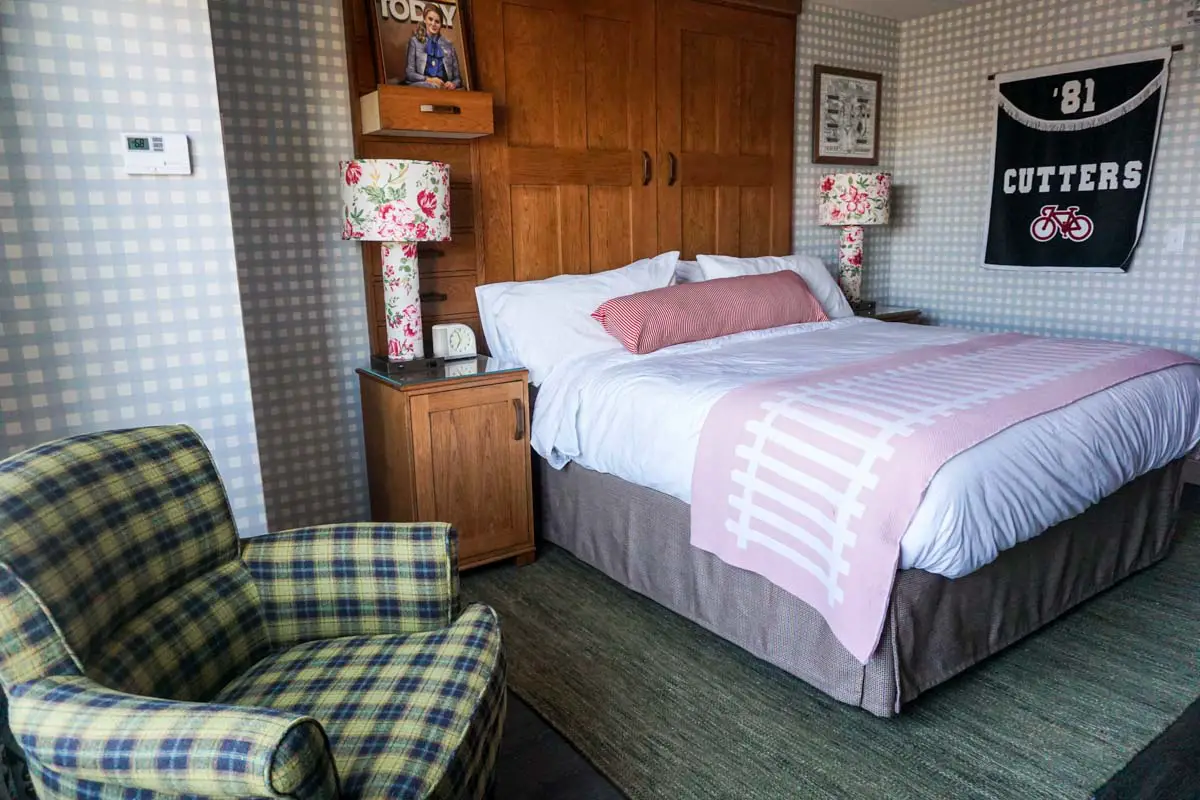 Overall, my room was cozy, functional, and like a quirky dormitory for adults. The plush king-size bed and plaid armchair made me feel like Graduate Bloomington was a home away from home.
Things To Know About Graduate Bloomington
Location: 210 E Kirkwood Ave, Bloomington, IN 47408
Phone: 812-994-0800
Parking: $10/night self parking in garage (entrance is on S Lincoln Street)
Accessibility: Accessible guest rooms and suites are available. Accessibility features vary by room type but may include lowered light switches and vanities, strobe and sound fire alarms, accessible shower and bathtub, and/or doorbell sound alarm. Please refer to Graduate Bloomington's website for more information.
Connect With Graduate Bloomington: Website | Facebook | Instagram
Choosing Graduate Hotels For Your College Town Visits
Set to open its first international location in Cambridge, England, next summer, Graduate Hotels is a growing brand of curated boutique hotels in college towns. As Graduate Hotels expands, it's also slated to open another hotel in my home state. Let me tell you, this daughter of a Spartan and Wolverine is pretty excited to soon have Graduate Hotels in both of Michigan's Big Ten college towns. That's right, Michigan State fans, we are getting a Graduate East Lansing in fall 2020!
Here in the Midwest, you'll find also Graduate Hotels in:
If you enjoyed this post, you might also want to read …
Save this post to Pinterest!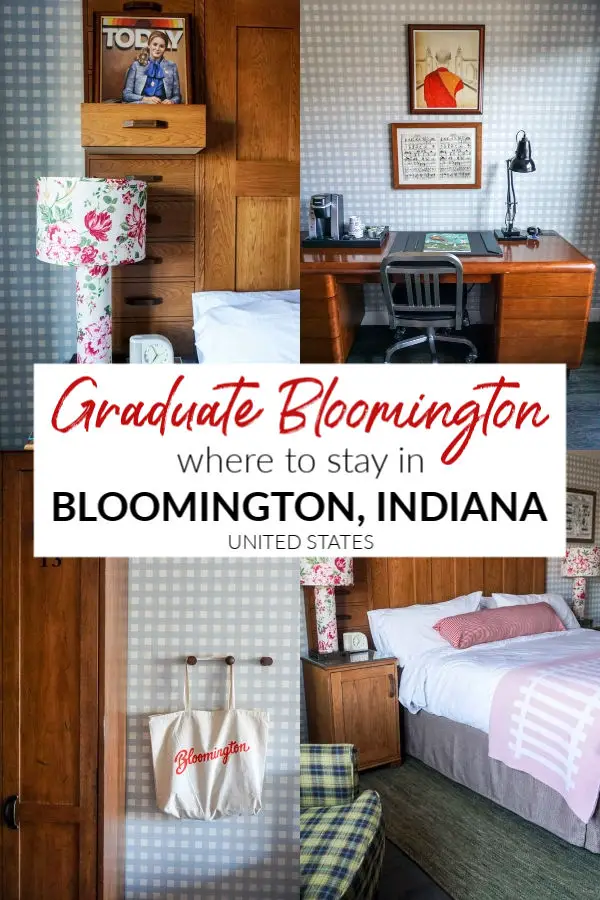 When visiting the home of Indiana University, I say embrace the college town locale at Graduate Bloomington. You'll be located in the heart of Bloomington's downtown with shops, restaurants, and campus all within a short stroll from your boutique accommodations. To check availability for your travel dates and book your room, head to Booking.com. I hope you'll enjoy the perks of Graduate Bloomington as much as I did!
Which Graduate Bloomington perk is your favorite?