Are you looking for a beachfront all-inclusive resort with relaxing spa services, poolside cocktails, and exciting excursions in a tropical destination? That is exactly what my best friend Ashley and I sought to celebrate our 30th birthdays, and we found it at Dreams Las Mareas Costa Rica.
Like its name — translating to "the tide" — our Dreams Las Mareas stay ebbed and flowed, having ups and downs. Overall, we had an amazing trip in Costa Rica, and the highs at the resort outweighed the lows.
Disclosure: This review of Dreams Las Mareas Costa Rica contains some affiliate links. When you click on, book your stay, or make a purchase from one of these links, we may earn a commission. Of course, this is at no extra cost to you.
---
Staying in Costa Rica's Tropical Dry Forest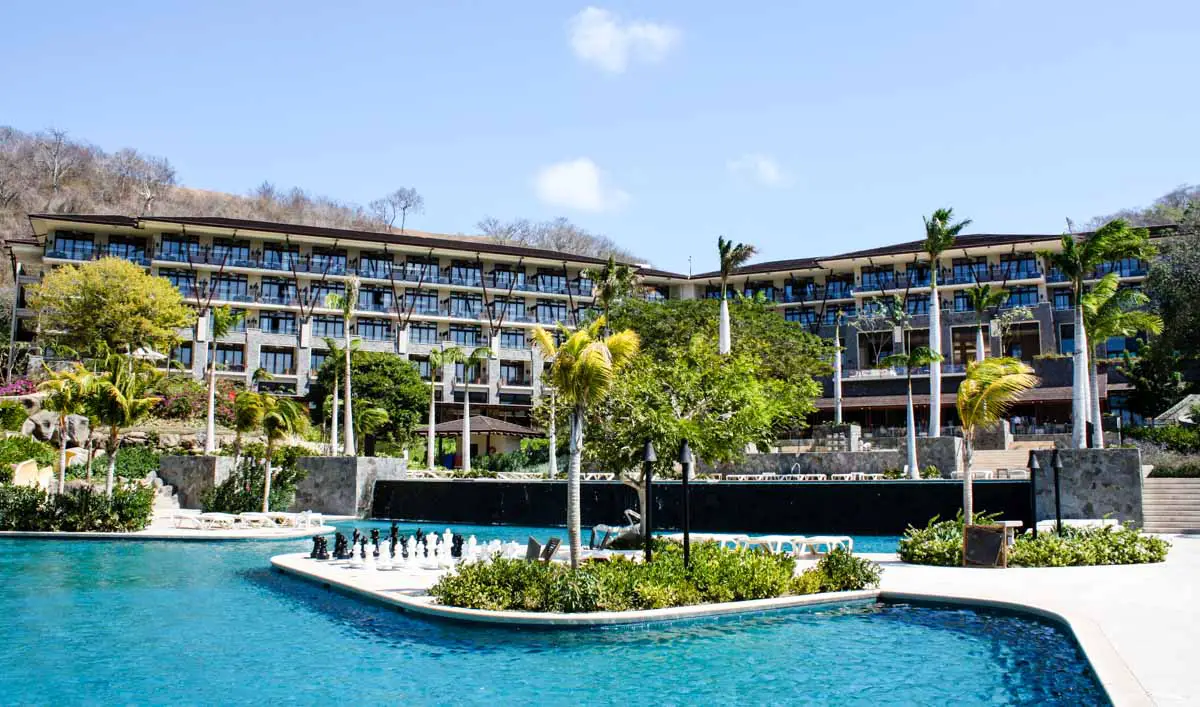 Located in Guanacaste, Costa Rica's most northwest province, Dreams Las Mareas is situated along the Pacific coast, nestled along the edge of El Jobo beach.
If you are looking for a secluded getaway, you've come to the right place. The closest airport, Daniel Oduber Quirós International Airport in Liberia, is about an hour-and-a-half-long drive. The nearest town — La Cruz — is about 30 minutes away by taxi. Expect excursions to be full-day affairs with two-hour commutes each way to Palo Verde National Park and four hours to Arenal Volcano and Monteverde's hanging bridges.
Surrounded by a tropical dry forest, it's unlikely that rain will spoil your vacation during Costa Rica's dry season (summer) from mid-November to April. Because the forest circles the resort, you may see exotic birds, iguanas, and monkeys playing in the trees.
The deciduous trees of the tropical dry forest lose their leaves. Therefore, the resort is surrounded by barren trees in the dry season. The obvious downside is your "jungle view" room looks out to brown and gray, leafless trees rather than a vibrant green canopy. The silver lining may be that it is easier to see the animals among the trees.
Accommodations Feature Open-Layout Rooms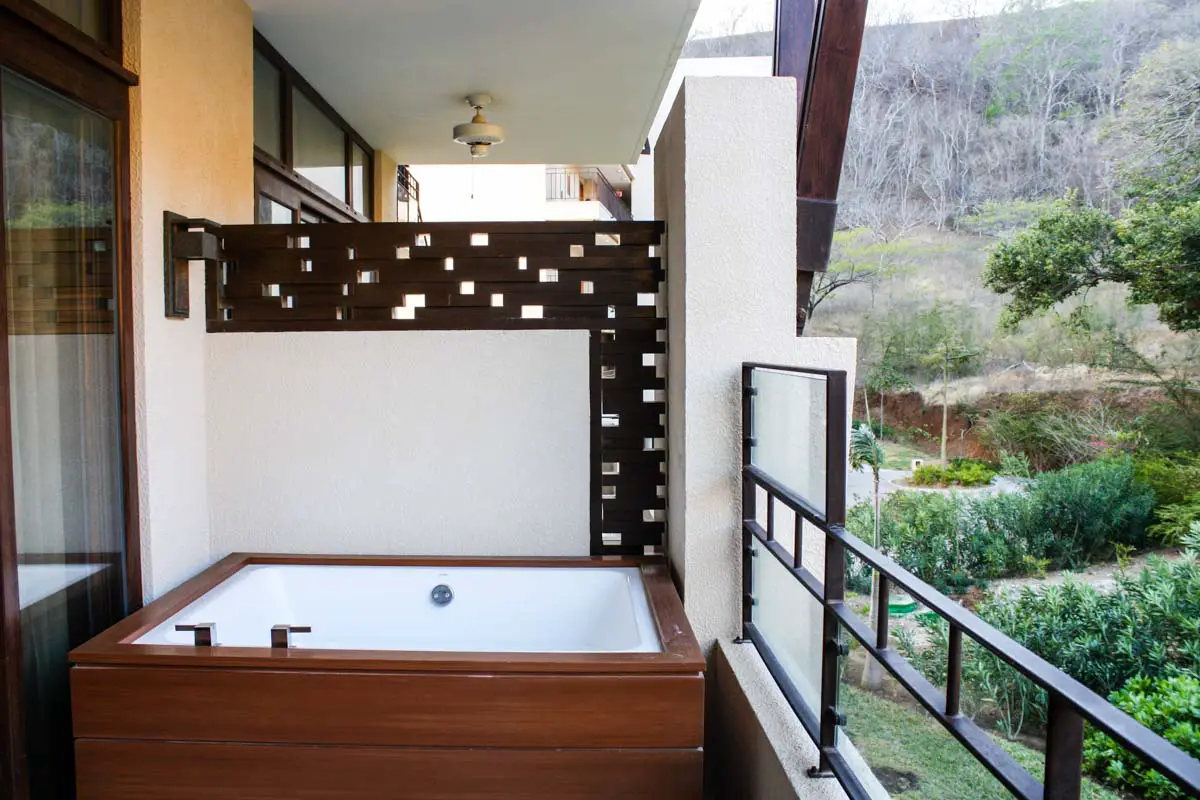 For our five-night stay, Ashley and I booked a jungle-view room with two double beds. Our beautiful room was located in Building 5, which is conveniently located near the spa, gym, Rendevouz Bar, Desires Bar (disco), gift shops, coffee shop, and several restaurants.
Inside our room, the open layout divided the bedroom and bathroom with just a curtain. The toilet and shower were "hidden" behind frosted glass doors. While this setup worked out just fine for us — best friends of 20+ years, I can't imagine this provides much privacy for a family, less-acquainted friends, or a couple that likes to keep a little mystery in their relationship.
Intimate Bathroom Includes Phone in the Toilet Stall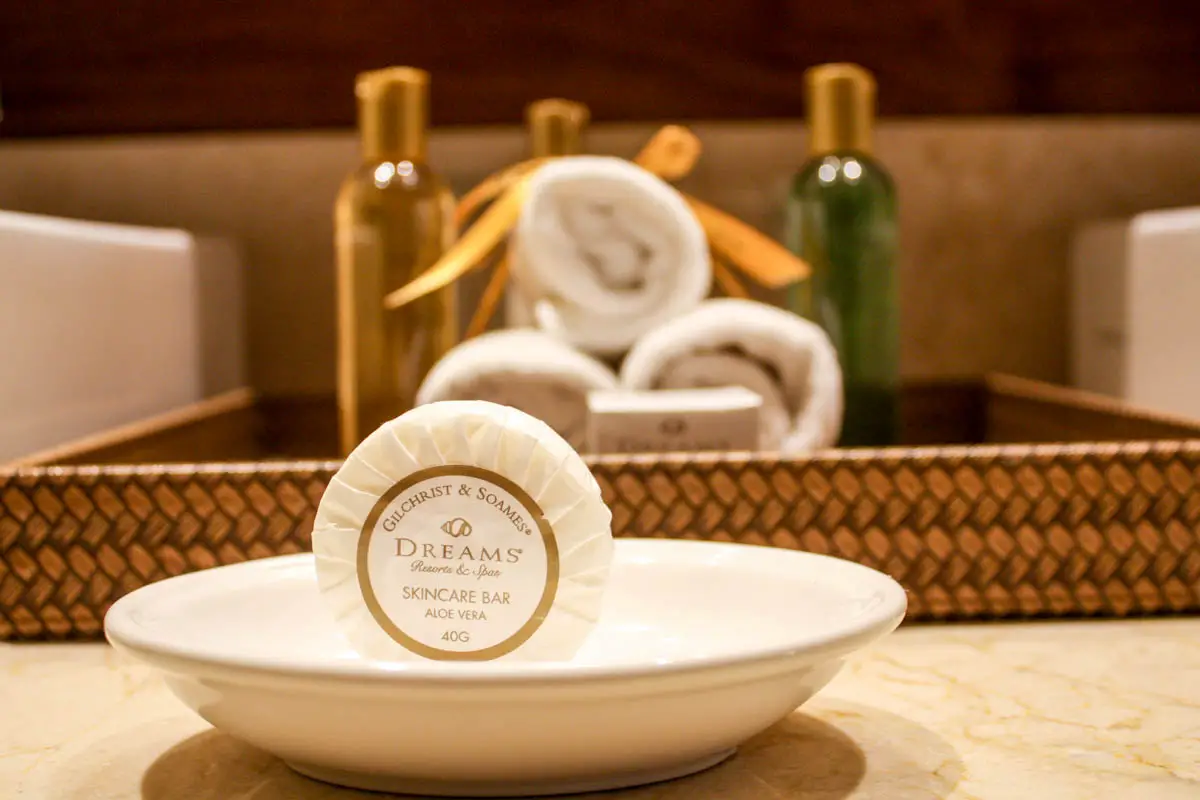 I'm not exactly sure why you'd want to use a phone while on the toilet, but you can at Dreams Las Mareas. The bathroom may not be the most private, but the amenities are thoughtful. You'll find a hair dryer in the armoire, bath products and washcloths on the sink, and fluffy full-sized towels on a shelf under the sinks.
The double vanity is so helpful when two women are getting spruced up for an elegant dinner or rushing to an early-morning excursion. Unfortunately, the socket and magnifying mirror are located on the same side of the sinks, so it does make for some jockeying around for two people simultaneously getting ready.
The shower has a convenient built-in shelf perfect for holding shampoo bottles. There is a little seat/shelf, which many women will probably agree with me is necessary for bikini-ready shaving.
Pro Tip: Hot water is not a problem here. In fact, if you turn the dial all the way left, you'll get scalding water for the duration of your shower. Instead, keep the dial mostly center and make slight adjustments to warm up or cool down.
Beds Made for Peaceful Slumber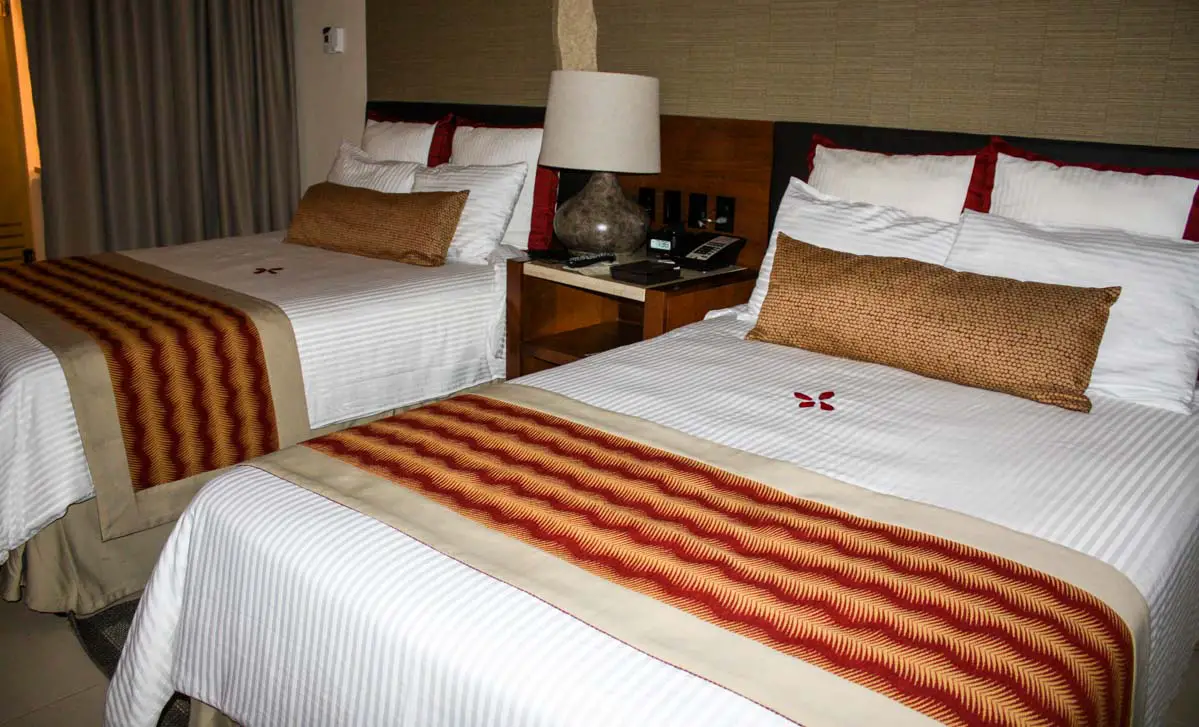 The beds and pillows were a comfortable level of firm but cushy, but the room temperature wasn't always ideal for peaceful slumber. It was extremely windy the week of our February stay. In fact, it was so gusty that the resort's power would get knocked out momentarily — just long enough to reset the room's air conditioning to a warmer temperature.
Despite that I had gotten only two hours of sleep the night before my trip and was dead tired that first night in Costa Rica, I still woke when other guests made a racket in the middle of the night. Later in the week, we found out there had been a wedding that night. Those rowdy wedding guests are my prime suspects for this offense. I understand that the resort can only do so much to eliminate this problem, but we were surprised by how long these guests were allowed to carry on considering it was an hour when most of the other guests were in bed.
Pro Tip: Do not rely on your bedside clock for accurate time or as an alarm because of power outages. We also heard from another guest that they never received their wake-up call from the front desk. Be sure to pack a battery-operated travel-size alarm
or your phone and charger!
Smooth and Sparkling (Wine) Check-In Experience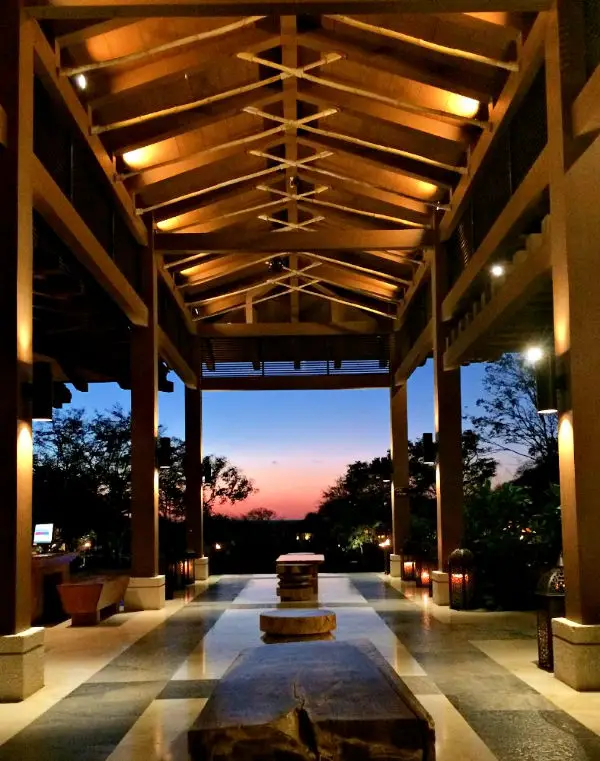 After making our way through immigration and customs, we walked out to the airport lobby and immediately spotted a Dreams representative. He welcomed us to Costa Rica, directed us to our transportation with Swiss Travel, and pointed out a mini-mart where we could buy a beer for the road.
Arriving at Dreams Las Mareas, the bellboys whisked our luggage away, and we were led to the check-in room outfitted with ample seating. Though others were also checking in at that time, we didn't wait long. The wait time was quite pleasant with a complimentary flute of Italian sparkling wine and a beautiful view of the resort grounds.
Checking in went quickly and smoothly. Afterward, we were given coupons to use at the spa, on a "romantic" beachfront dinner, or on a bottle of wine. Unfortunately, the explanation of the coupons verged on a sales pitch. However, I suppose I can't blame them for the sales pitch because it worked. We ended up using our spa coupons on massages, which I'll get to later in this post. A bellboy then drove us to our building, handled all of our luggage, and escorted us to our room. Overall, it was a smooth check-in process.
Checking out went pretty quickly, too. However, about 20 or 30 minutes before we were to board our shuttle back to the airport, we called for a bellboy to help bring our luggage back to the lobby. He hadn't shown by the time we needed to leave our room. So, on the hottest morning of our stay, we pulled our jam-packed bags down the steep hill from our building to the lobby and then lugged them up the three or four large steps. We barely made it to our shuttle! Not that it would have left without us. I hope.
Pro Tip: After checking in, this would be a great time to book your excursions. Some excursions are only offered once or twice per week. Book these on your first night to ensure you get to do everything you want!
Cultural, Wildlife, and Adventure Excursions Offered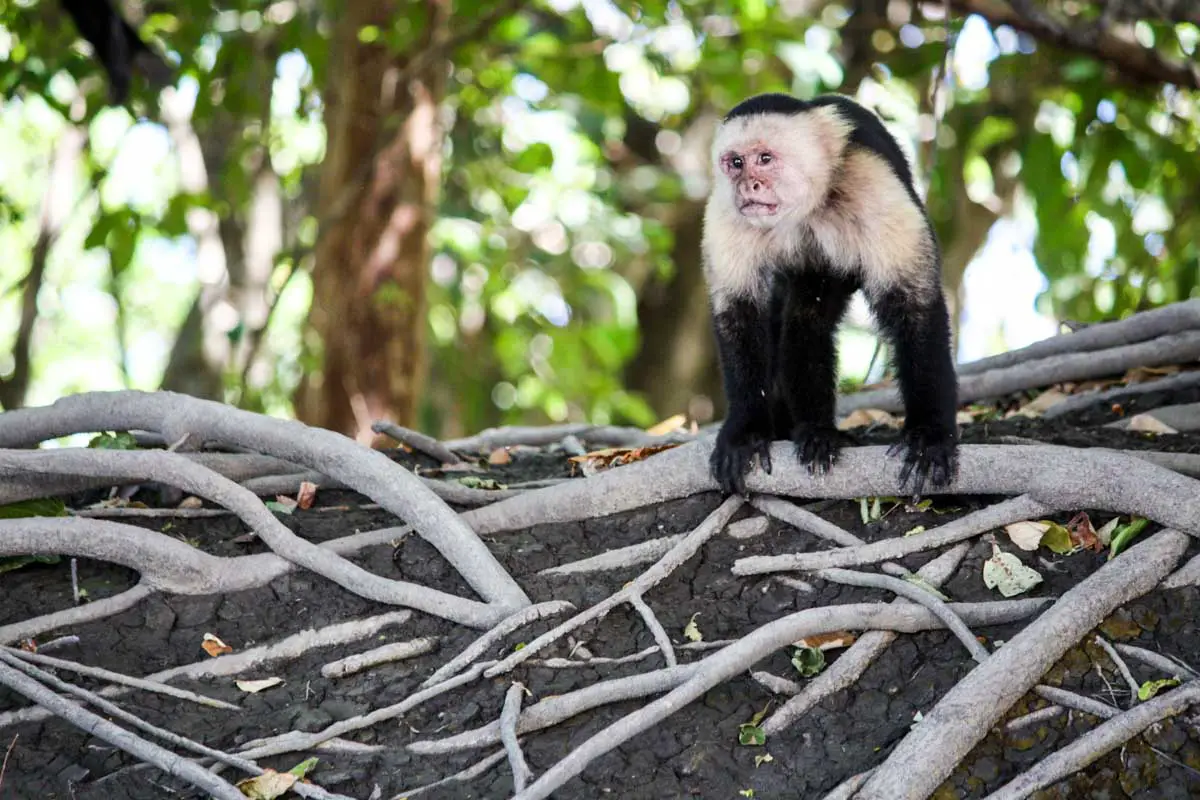 Speaking of excursions, Swiss Travel offers tours to Nicaragua's colonial cities, Palo Verde National Park, Arenal volcano and more. The company also offers ATV adventures, canopy ziplining, and white-water rafting. The half-day and full-day tours offered through Dreams Las Mareas have changed since my February 2016 stay. The following are the two excursions Ashley and I went on.
A Wildlife & Old Hacienda Tour
We learned about the sugar-cane process, made tortillas, ate traditional snacks, listened to and sang a little music, and drank coffee at an old Sabanero (Costa Rican cowboy) house. Then we cruised the Tempisque River bordering Palo Verde National Park, where we saw iguanas, crocodiles, white-faced capuchin monkeys, bats, and a variety of birds. Afterward, a buffet lunch of traditional Costa Rican cuisine was served at La Casona. Next, we learned about Costa Rica's coffee plantations and tasted some of the product. To wrap up our day trip, we had a brief tour of Liberia. I highly recommend this tour for its blend of culture, history, food, and wildlife sightings.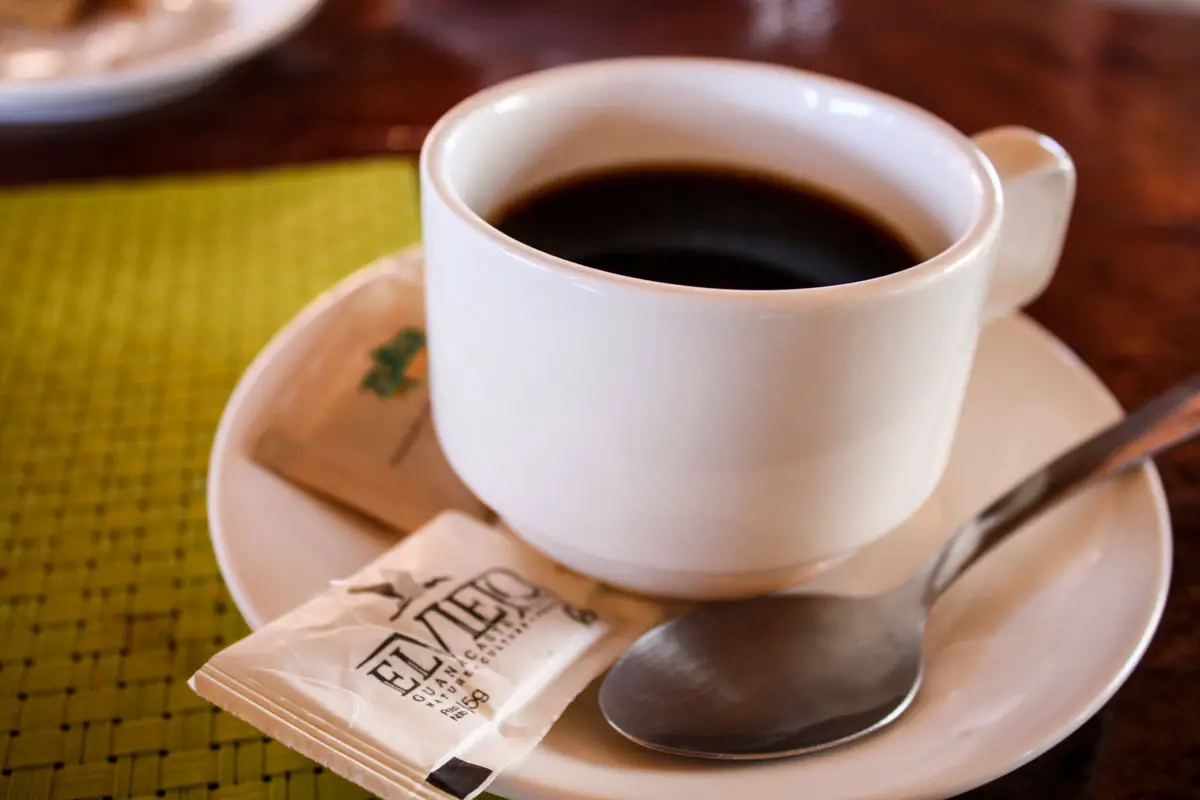 Mega Combo Tour
This tour started with an amazing zipline through the rainforest canopy. Then the tour attendees could go down a long, twisty water slide or enjoy some traditional snacks and Costa Rican coffee. A buffet lunch of traditional food was provided. Then the tour group rides horseback or takes a tractor ride down to natural hot springs, a steam room, and a volcanic mud bath.
Perhaps because horseback riding was canceled due to windy conditions, this tour left me underwhelmed. If I could book tours again, I'd probably opt for a half-day zipline and half-day horseback riding over the Mega Combo tour. Then again, I saw a toucan fly above me while I was sitting in a natural hot spring with a frozen mojito in my hand. Seeing a toucan was the one thing I really wanted to do in Costa Rica.
Pro Tip: Full-day and even 3/4-day tours will feel like long days due to an 8 a.m. departure and lengthy commutes.

Get Pampered at Dreams Spa by Pevonia
To relax our muscles and our minds, Ashley and I cashed in our spa coupons for 50-minute neck-and-back massages. We stopped into the spa earlier in the week to book our appointments, and we didn't have any problems finding open slots to get a couples-style, side-by-side massage for a couple days later.
Upon arriving at the spa, we were ushered into the women's locker room. We were each given a locker to stow our belongings and provided a robe, towel, and flip-flops. We then had a few minutes to relax in the open-air waiting area and enjoy a glass of cold strawberry juice. There was a nice spread of fruits, water, and juices to enjoy in the shaded waiting area, in little woven huts, or on lounge benches in the sun.
Our massages took place in two connecting rooms, so we were essentially in one larger room together. The lights were dimmed and the setting serene. When my masseuse placed a warm blanket over me, I felt completely relaxed.
After our massages, Ashley and I checked out the spa's other amenities, which are included when you book a spa service. We baked a bit in the sauna, froze a bit in the cold plunge pool, giggled at the sensation of the bubble massage bed, and warmed back up in the Jacuzzi.
Pro Tip: When you book a spa appointment, you have access to all of the aforementioned amenities plus a steam room, so bring your swimsuit and plan to stay a while before or after your massage. Also, don't forget that the spa services are not included in the all-inclusive package, so you'll need to bring a credit card (and cash if you plan to tip) to your appointment.
Gym for All Your Vacation Fitness Needs
Since Ashley and I were both preparing for races later in February, we made a point to hit the resort's gym during our stay. OK, we only made it there once. But from that one workout, I can tell you the gym has five treadmills. And, each of those five treadmills will stop working momentarily if there is a power outage. I hope you were keeping track of your mileage manually or with a watch/phone/Fitbit. 😉
The gym is also outfitted with weight and strength-training machines, ellipticals, a bench, and free weights. There are fresh towels, ice-cold Gatorade, and a small assortment of fruit. During our stay, the gym was open from 6 a.m. to 8 p.m. daily. Certainly, you can get your fitness on while on vacation at Dreams Las Mareas.
Pro Tip: If you are like me, you need your jams in the gym. Many music streaming services won't work in Costa Rica. One way around this is using a VPN so your ISP location isn't identified as Costa Rica. 
'Rendezvous' for Cocktails and Salsa To Your Heart's 'Desires'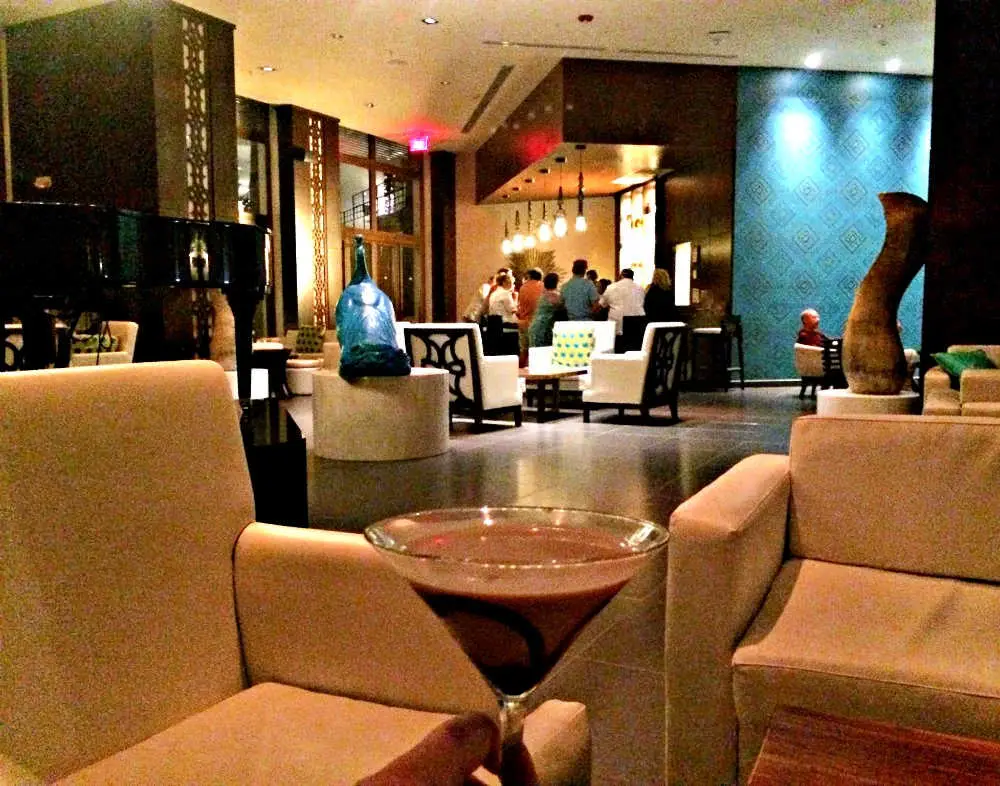 Each night at Dreams Las Mareas provides opportunities to drink, dance, and be entertained.
Ashley and I began most of our evenings at the Rendezvous Bar. We found we could place our names on the waiting list at one of the restaurants downstairs, and the buzzer to alert us our table was ready would work at this bar. We loved the teal peacock decor and the self-playing piano. Though we sometimes had to wait a while for the bartender to take our order and make our drinks, we were fans of the chocolate martini and Italian sparkling wine.
We spent a night at the disco Desires, where entertainment staff members taught us how to salsa dance. On another night we watched a Bollywood dance performance. On our first night, we tossed bean bags during a few rounds of Cornhole. Most nights there was a movie — such as Grease and The Hunger Games: Catching Fire — and a live event such as Karaoke, trivia, or a dance performance.
Pro Tip: Befriend the entertainment staff! They will keep you in the loop about activities available on the resort day and night. The entertainment staff hosts contests, classes, games, and athletic activities throughout the day. Another great way to find out what is going on at the resort is to check the newsletter delivered to your room and posted in the elevators each day.
Beautiful Oasis at Dreams Las Mareas Pools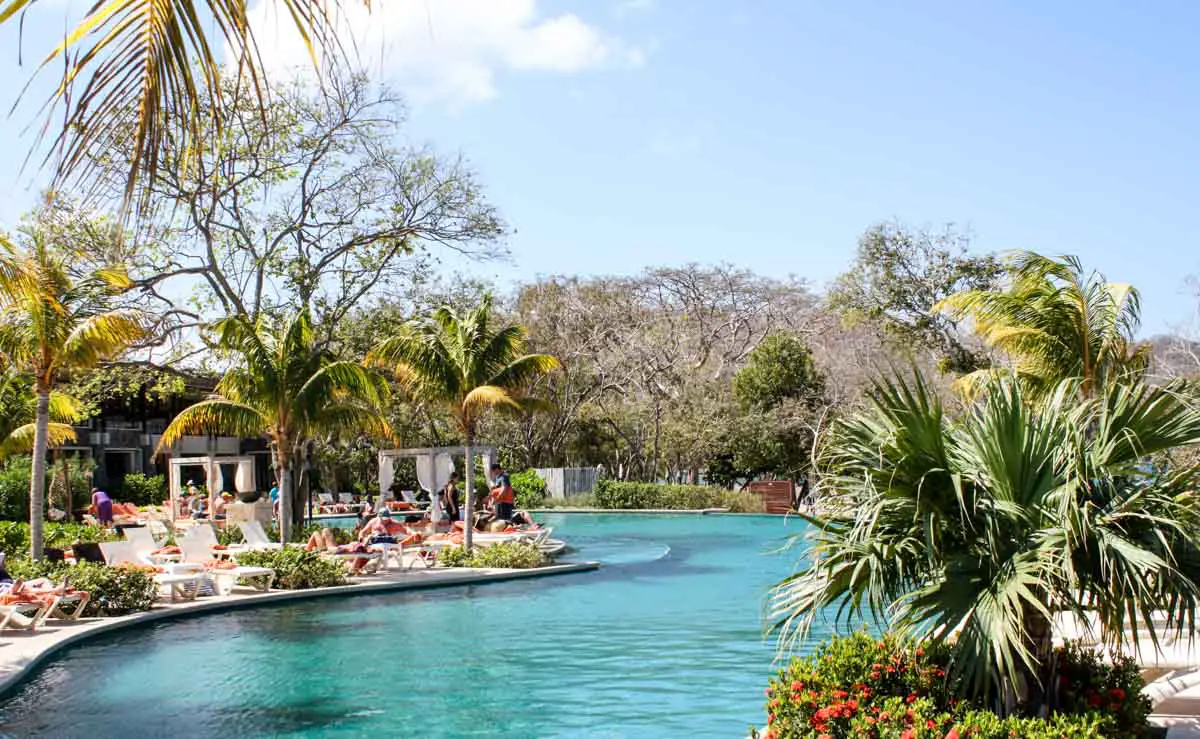 If you are visiting Dreams Las Mareas with kids, your family will probably prefer the infinity pool that overlooks the resort. Kids can go down the waterslide and play on the giant chess board at this upper pool.
The lower pool is an adult oasis. Having strawberry daiquiris delivered directly to my lounge chair, I relaxed poolside with a book. We even ordered quesadillas from our lounge chairs for lunch.
For a more animated pool experience, hang out near the swim-up bar. The bartender at the swim-up bar was so friendly and even created a rainbow of colorful shots for us.
Pro Tip: By the lower pool, you'll also find a Jacuzzi, a bar and grill, and beach access. It's also a fantastic spot to watch the sunset.
Lounge Chairs and Drink Service on El Jobo Beach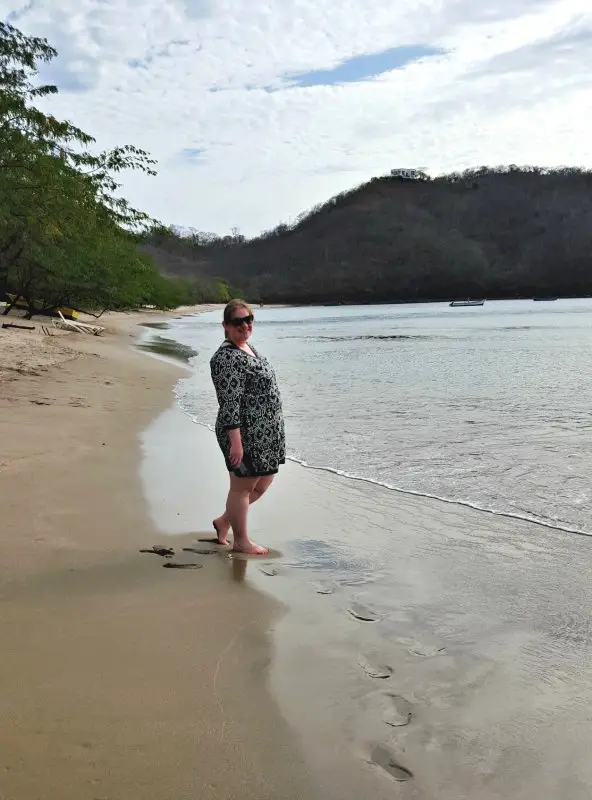 We took a short walk on the beach one afternoon so I could dip my toes in the Pacific Ocean for the first time in my life. The beach is a bit rocky, so I didn't find it very comfortable to walk barefoot.
The resort has a section of lounge chairs set up on the beach, where a server delivers drinks to guests. The resort also has some water-sports equipment available to rent.
Pro Tip: Almost as soon as we stepped off of the resort property, we were approached by vendors selling excursions, souvenirs, and massages at tables set up right there on the beach. As always, beware of scams, but we found that politely expressing our disinterest allowed us to explore the beach without further inquiries.
Restaurants Boast Interesting Décor and Ambiance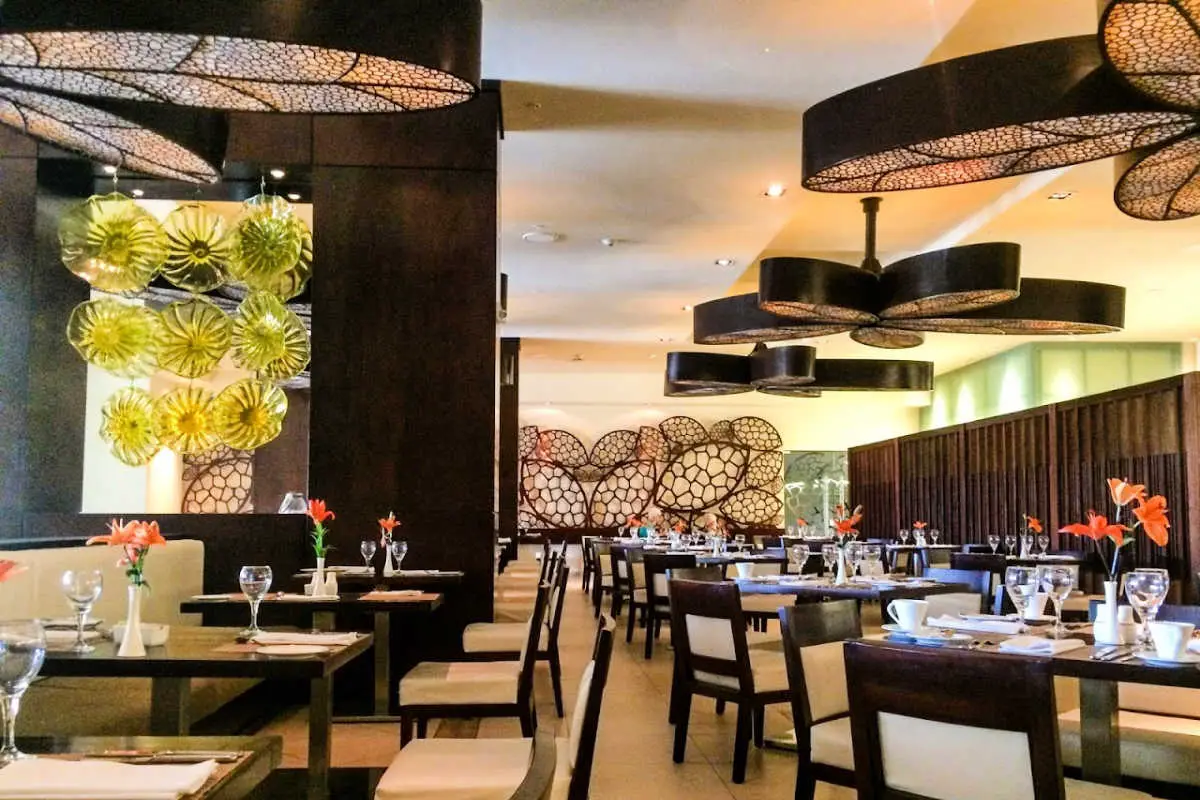 Though our dining experience at the resort's restaurants had highs and lows, the Dreams Las Mareas restaurants never ceased to wow me with their décor and ambiance. With whimsical artwork mixed with a sleek, modern aesthetic, each restaurant had its own unique character.
During our five-night stay, we ate five breakfasts, two lunches, five dinners, and a couple snacks at the resort. So, I've shared my full review of the resort's restaurants in a separate post.
Pro Tip: Make time to eat breakfast at the World Cafe. The buffet offerings are much more diverse than the in-room dining menu. We loved the omelet station and pastries!
Things to Know Before Your Stay at Dreams Las Mareas Costa Rica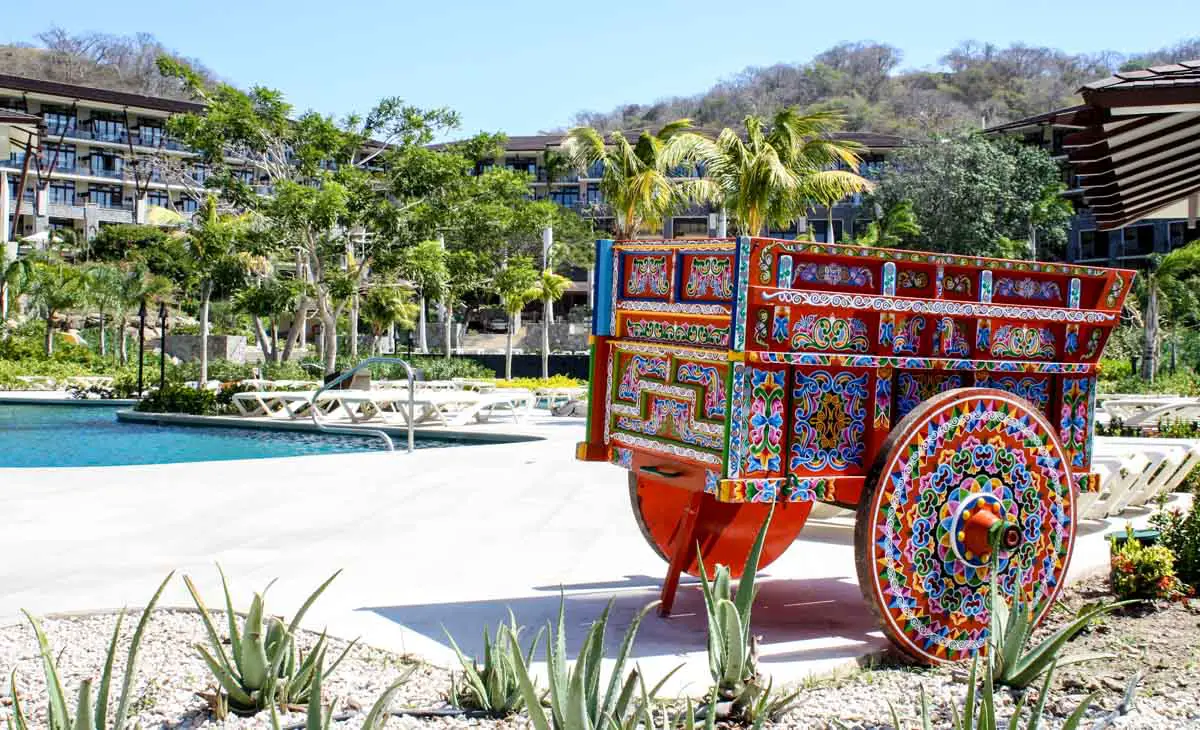 Location: Playa El Jobo, Guanacaste, Costa Rica
Closest Airport: Daniel Oduber Quirós International Airport in Liberia (48 miles/77.2 km)
Amenities: All-inclusive dining and drinks at 8 restaurants and 6 bars, two pools, beachfront and poolside service, on-site spa, fitness center, nightly entertainment, activities for children and teens, off-site excursions, special honeymoon and anniversary packages, destination wedding venue
Explore the area around Dreams Las Mareas using the map below:
Overall, why do I recommend Dreams Las Mareas?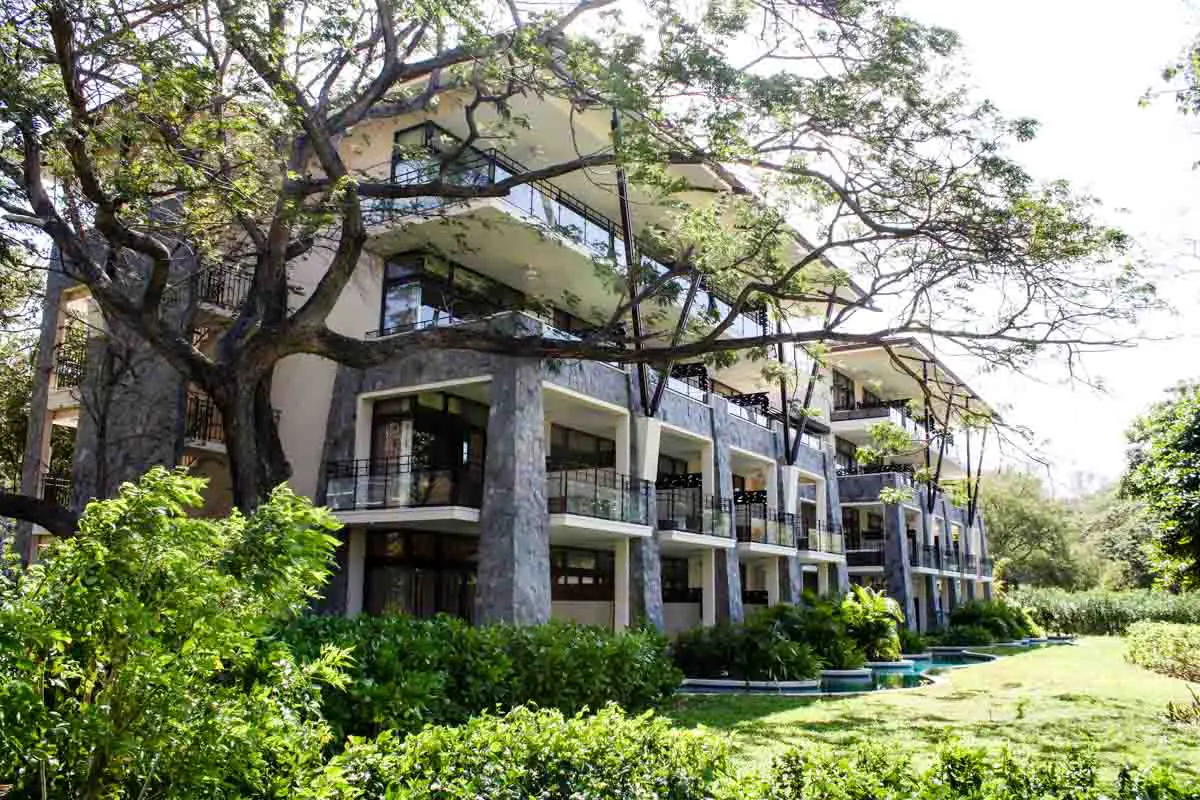 Dreams Las Mareas is a luxurious all-inclusive resort along Costa Rica's Pacific coast. The secluded location in the tropical dry forest would be ideal for a couple's romantic getaway or a destination wedding. While I did see families with children during my stay, the resort is much more of an adult oasis with spa services, a swim-up bar in a large adult-only pool, and a romantic Italian restaurant strictly for adult guests. If you want to vacation at Dreams Las Mareas, you can book your room or suite now at this all-inclusive resort in Costa Rica.
Read More Posts
Save this Dreams Las Mareas review to your Costa Rica travel or resort vacation board on Pinterest!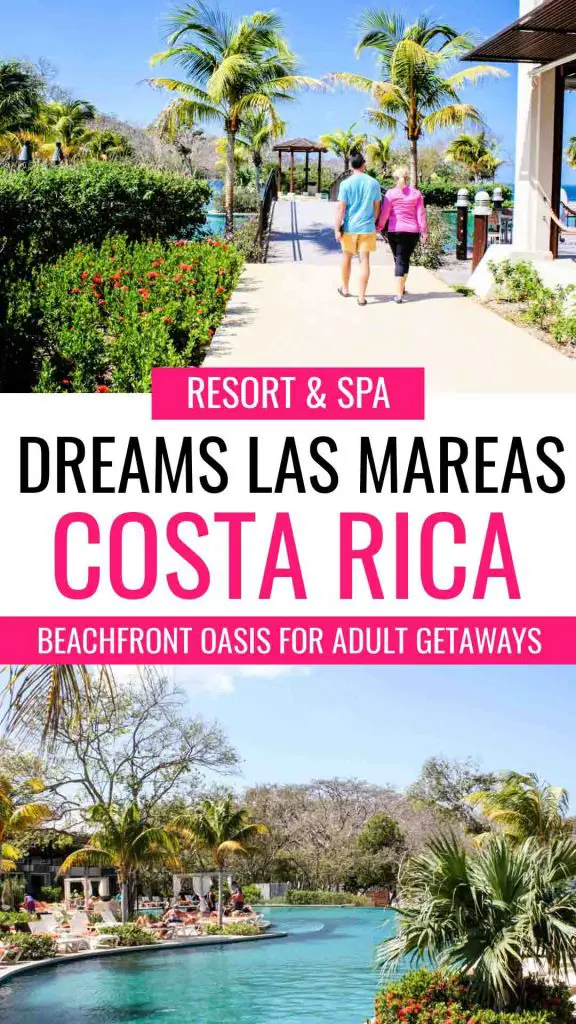 Save