Are you considering a beach vacation in Mexico? If so, I recommend the Riviera Maya on Mexico's Yucatán Peninsula, especially for first-time visitors to Mexico. Stretching from Puerto Morelos south to Punta Allen, this tourism district along the Caribbean Sea encompasses Playa del Carmen, Cozumel, and Tulum.
Known for its beautiful beachfront resorts and ease of travel from Cancún International Airport, this region is also home to ancient Mayan ruins, crystal-clear swimming holes called cenotes, and one of Mexico's best fine-dining destinations.
After staying at the all-inclusive Hotel Marina El Cid Spa & Beach Resort in Puerto Morelos for a girls' getaway in April 2015, it was easy to see why the Riviera Maya is such a popular beach vacation destination. After you visit the best beach in Playa del Carmen, I think you'll see why visitors love vacationing here, too!
Whether you are seeking sandy beaches, poolside margaritas, or natural and cultural landmarks to explore, a trip to Riviera Maya on Mexico's Yucatán Peninsula may just be your ideal getaway.
As you consider booking your own Riviera Maya vacation, our guest blogger Meg D. Gonzalez shares five tips for visiting Playa del Carmen and the Tulum ruins based on her first and life-changing trip to Mexico.
Disclosure: This post contains affiliate advertising. When you purchase a product from one of these links, I may receive a small commission. Of course, this is at no extra cost to you. As always, all opinions shared are my own.
---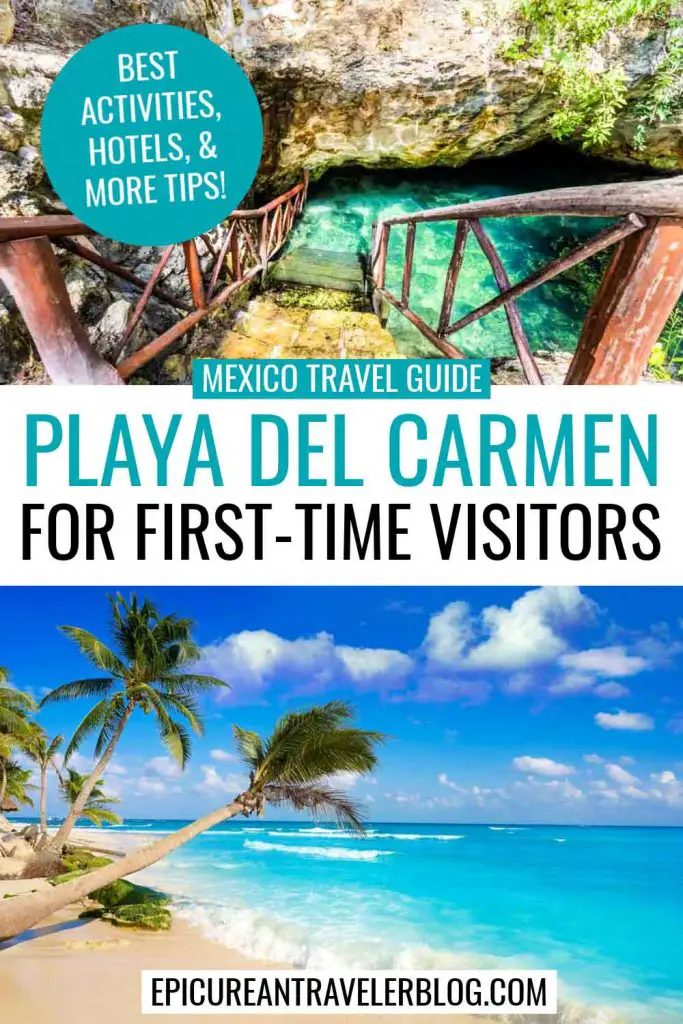 Five Tips for First-Time Visitors to Playa del Carmen
Who knew that one night of salsa dancing could change the course of a life?
When I accepted Alan Gonzalez's offer to dance, I began a journey that pulled me out of my sheltered life and into a big and beautiful world.
When he took me to Mexico for the first time, he first introduced me to the tourist side of Mexico in Playa del Carmen. Located just south of party hot spot Cancún, Playa del Carmen is a quieter (and some say classier) alternative.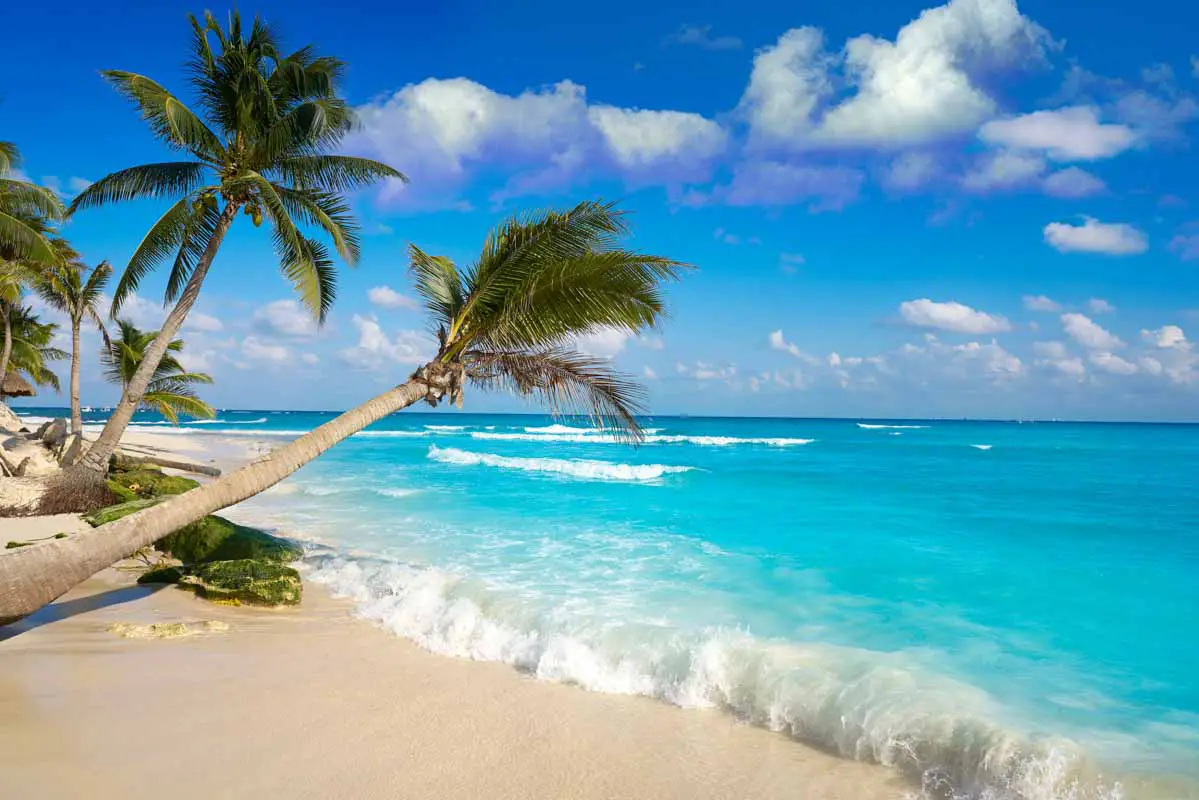 Tip 1: Search for hotels with multiple branches in the area
We got a great deal on two rooms across the street from the beach for only $100 a night. Since our hotel was partnered with another hotel on the beach, we could access the beach for free. It's important to note that many beaches are privately owned in this region of Mexico. Luckily, we could use the beachfront hotel's lounge chairs and beachside service. Meanwhile, we got our room just across the street at a fraction of the price!
Tip 2: Avoid hurricane season
The best time for travel in Mexico is between November and mid-May, which is when we went. Any later than that you risk running into the nasty weather of hurricane season.
We lounged on the beach for days, soaking up the sun, and enjoying the fabulous restaurants along the main strip in the evening. Toward the end of the week, we traveled to the nearby cenotes, which are freshwater lagoons. It was absolutely gorgeous! You could swim around in water so clear you could see straight to the bottom. There was a small cliff from which we could jump into the lagoons and so many fish.
Tip 3: At the cenotes, feed the fish with care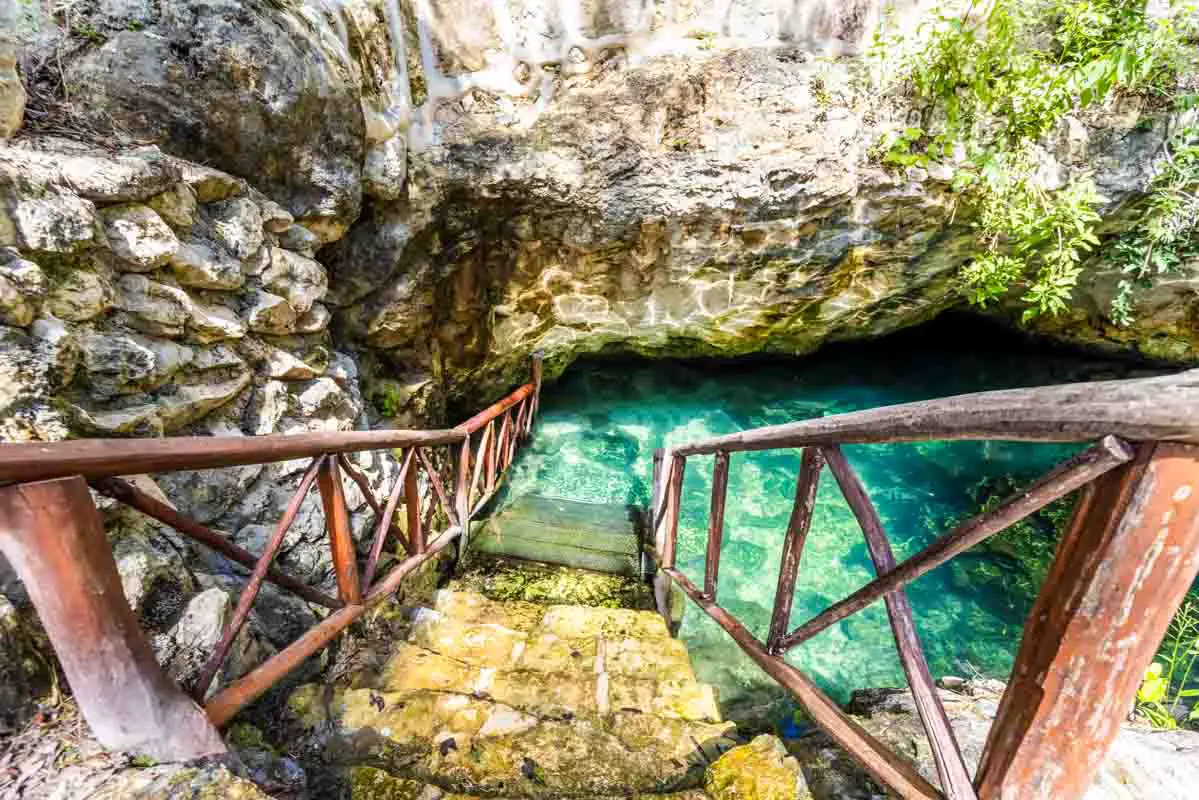 We bought fish food from a stand at the entrance to the cenote we visited. The fish swam away from us until the first pinch of food hit the water. Then they swarmed! It was pretty cool, though a little alarming. A few of the more adventurous ones nibbled on my toes! It tickled so much I laughed and swallowed some water. Within 30 minutes, I was feeling ill.
Tip 4: Don't Swallow the Water!
Okay, you've probably heard this one, but it's no joke. I was seriously sick for over a week, which was really unfortunate because that night Alan proposed!
That day, we also visited the ruins at Tulum, which I highly recommend, especially if you haven't seen Mayan ruins before.
Tip 5: Bring a swimsuit to Tulum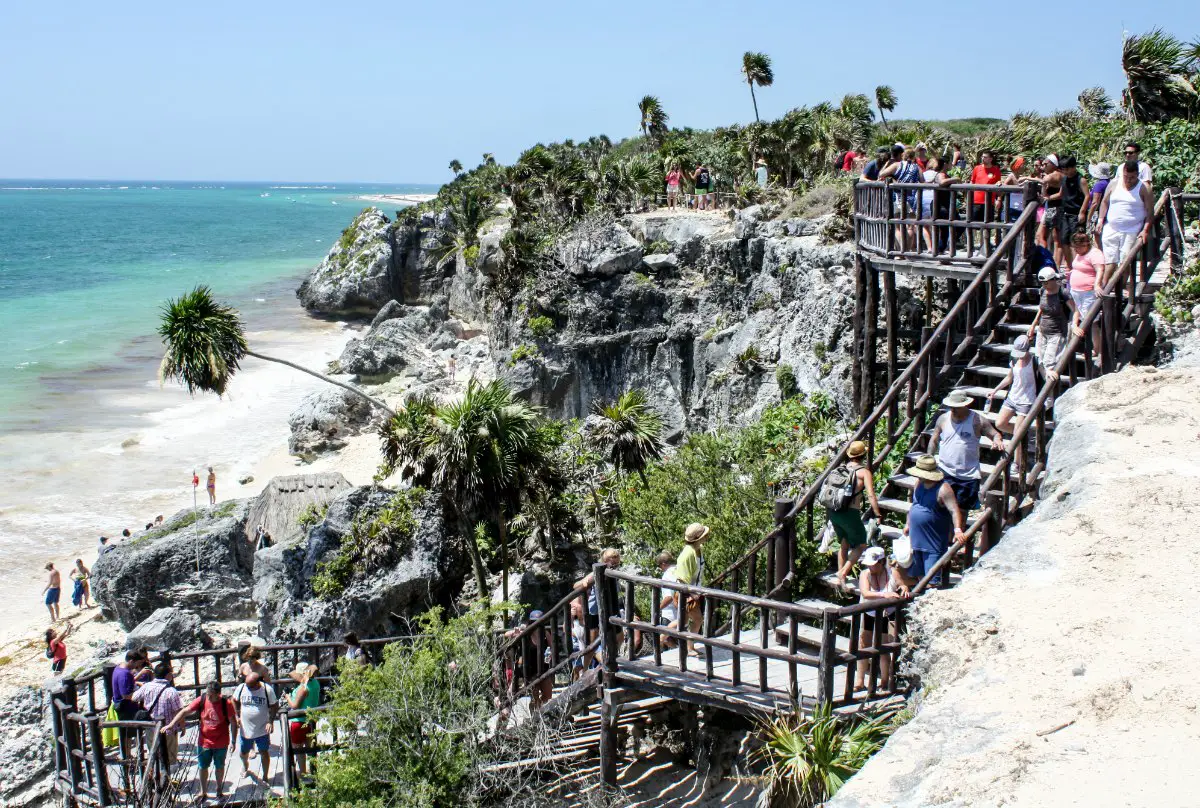 Tulum was built into cliffs as a major seaside trading town. Steps have been built into the cliffside to allow visitors down to its fabulous little beach!
Alan then took me to the house in which he grew up for a big, Mexican-style engagement/birthday party. Alan's family and friends had hired a cook to make amazing traditional tacos and quesadillas. His friends also pitched in to get him a mariachi band for a few hours. Everyone sang along to the songs, and we danced.
One of the first things that struck me was the warmth of all his friends and family. The immediate attitude was, "We love him, therefore we love you." They welcomed me with open arms … after they got over the shock of him coming home engaged to a girl they had never met. 😉
It was a whole new side of the country I'd only seen depicted in cartoons or on the news. Once Alan and I married, I moved with him to Mexico for a year. The rich culture and varied landscape captured my imagination, and I just knew I had to share.
Everything was vibrant from the food to the music to the paint on the walls. The party and later the markets and towns were so full of life. Emotions and voices run loud and unchecked. Friendships are strong and made for life. Life is lived to the fullest.
About the Author
Meg D. Gonzalez is the author of the YA novel Sketchy Tacos and a tea-sipping, adventure-seeking, pug-loving kind of girl. She's crazy for God and wants to share His love with awesome young women around the globe. You can connect with her on Twitter and Instagram.
Best Things to Do in Playa del Carmen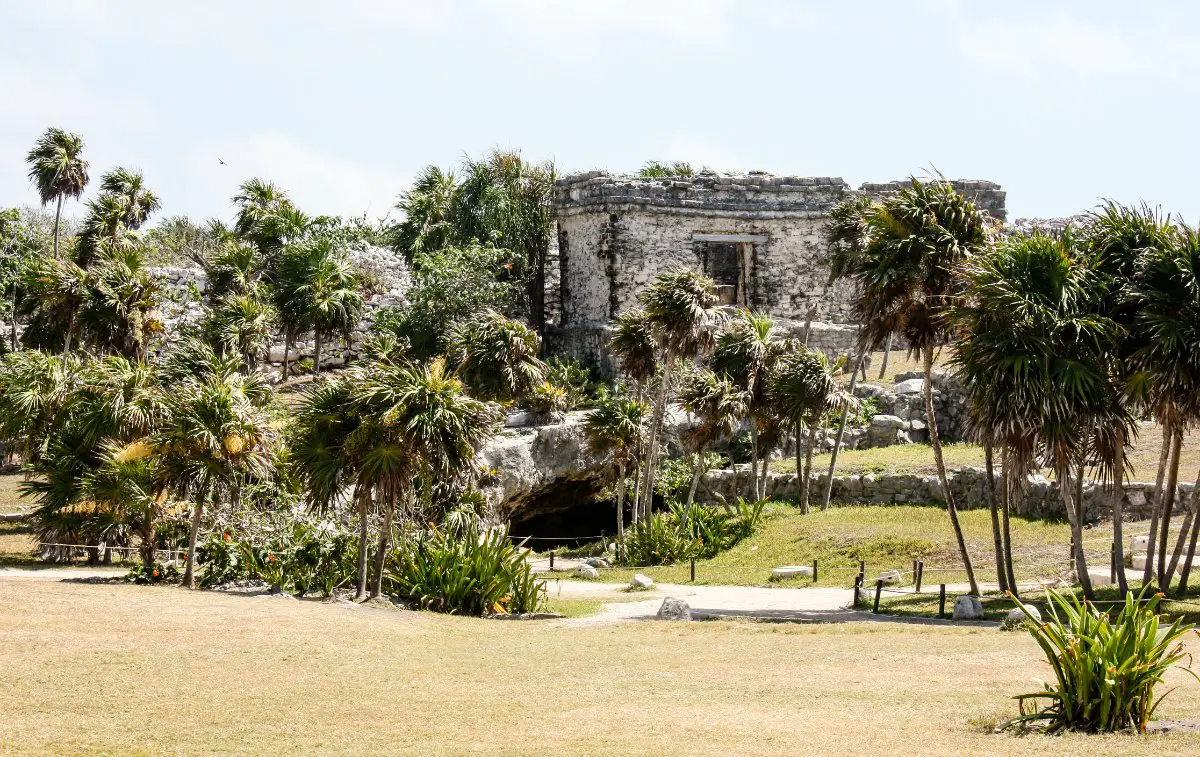 Tour Mayan Ruins
Explore Natural Wonders: Jungles, Caves, and Cenotes
Visit Tropical Amusement Parks
Sail, Snorkel & Cruise Caribbean Waters
Taste Local Cuisine
Where to Stay in Playa del Carmen
Wondering where to stay in Playa del Carmen? I've done some of the research for you, and here are my top picks!
This budget-friendly bed and breakfast is truly a gem as the name indicates. Highly rated for both cleanliness and customer service, this Playa del Carmen bed & breakfast has been called "cozy" and described as "like staying with friends" by past guests. The location is outside the hustle and bustle, and, therefore, renting a car is recommended. Best of all? A home-cooked breakfast each morning is included in your stay!
Put your Hilton Honors points to use on an all-inclusive vacation to Playa del Carmen! At this adults-only resort, take in the city view from the rooftop terrace, and then dip into the pool. The resort's all-inclusive plan covers all your meals, endless drinks, and even late-night snacks. Plus, you'll be only a short walk to bars, restaurants, shops, and art galleries. Opting for the All-Inclusive Plus package also grants you beach access at the sister resort, Hilton Playa del Carmen.
This beachfront resort is a wonderful mid-range option for families, especially with young children. You'll find all-suite accommodations and an all-inclusive option for onsite food and beverages (though some exceptions apply). Families will enjoy the beach, pools, small waterpark, games, and crafts. Perhaps most importantly, tired parents will also find a relaxing respite during facials and massages at the spa while the kiddos are supervised at the resort's Kids Club for ages 4 to 12.
This all-inclusive resort offers the whole package for groups of friends, active couples, and families with teens and older kids. Hike a jungle trail, soar through the rainforest on a zipline, swim in cenotes, taste Mexican and international drinks and cuisine at 12 restaurants and 14 bars, and get pampered with a spa treatment all without leaving the resort property!
For a wellness and spa retreat to Playa del Carmen stay at this luxurious, eco-friendly resort. Your earth-friendly conscious will find zen in the nutritious plant-based cuisine, healing spa services, yoga retreats, and sustainable design.
Not quite what you are looking for? Use the map below to find more hotels and resorts in Playa del Carmen!
Traveling to Mexico's Riviera Maya?
Here are some additional resources that I recommend for your trip:
Read More About Latin American Destinations
Final Thoughts on Visiting Playa del Carmen, Mexico
For an easy introduction to Mexico as a first-time visitor consider visiting Playa del Carmen in the beautiful Riviera Maya region.
In Playa del Carmen you'll find beachfront hotels and all-inclusive resorts, but don't forget Meg's advice to book accommodations across the street from the beach at a hotel within the same chain for a budget-friendly alternative. Always remember to check the rules before you book, but this should grant you access to the beach at the partner hotel.
Also, from Playa del Carmen, you can visit the cliffside Mayan ruins in Tulum and swim in a cenote. Both are activities I also did while staying in Riviera Maya, and I'd also highly recommend both.
Save this Playa del Carmen vacation guide to your Mexico travel board on Pinterest!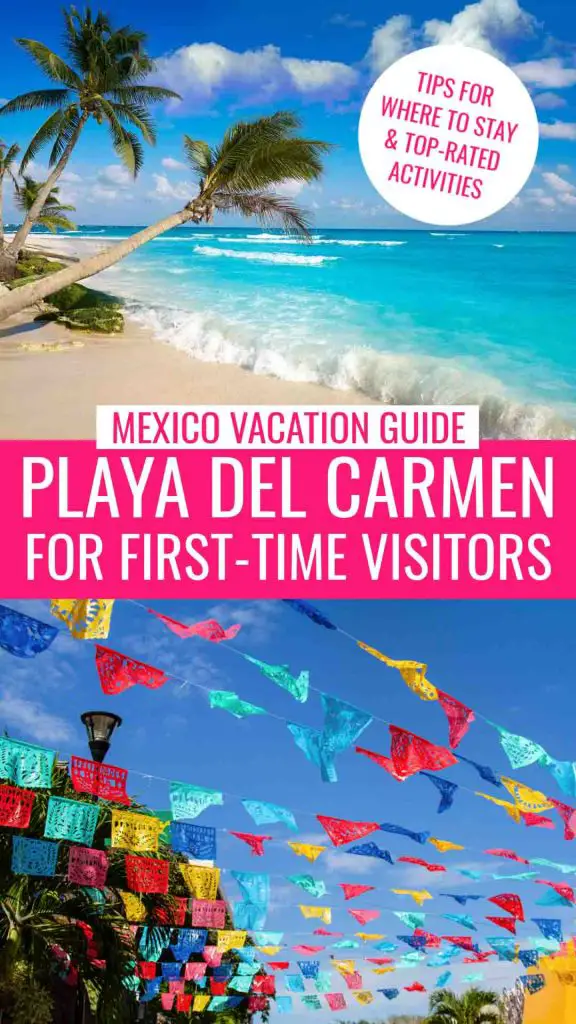 Photo credit: Papel picado hangs in Playa del Carmen (© francescodemarco/Adobe Stock)
Have you traveled to Playa del Carmen or elsewhere in Mexico's Riviera Maya?
Tell me about your trip in the comment section below!
Save
Save
Save
Save
Save
Save
Save
Save
Save
Save