Disclosure: This post contains affiliate advertising. When you purchase a product from one of these links/ads, I will receive a small commission that helps to support this blog. This is at no extra cost to you. As always, all opinions shared are my own.

Two years ago I visited Mexico for the first time. Like guest author, Meg D. Gonzalez, my introduction to the country was the Riviera Maya with its beautiful beachfront resorts along the Caribbean Sea.
For those of you considering taking your first visit to Mexico, Meg offers advice based on her first visit — to Playa del Carmen and Tulum. As you read on, you'll also see how that first trip to Mexico was a life-changing one for Meg and how the country inspired her.
How Travel To Mexico Changed My Life
By Meg D. Gonzalez
Who knew that one night of salsa dancing could change the course of a life?
When I accepted Alan Gonzalez's offer of a dance, I began a journey that pulled me out of my sheltered life and into a big and beautiful world.
When he took me to Mexico the first time, he first introduced me to the tourist side of Mexico. He took me to Playa del Carmen, which is just south of Cancun and a quieter (and some say classier) alternative.
Tip #1: Search for hotels with multiple branches in the area.
We got a great deal on two rooms across the street from the beach ($100 a night). It was partnered with a hotel on the beach, which we could access for free — all beaches are privately owned in Mexico. We could use the beach hotel's lounge chairs and beachside service, and we got a room at a fraction of the price!
Tip #2: Avoid hurricane season.
The best time for travel in Mexico is between November and mid-May, which is when we went. Any later than that and you risk running into the nasty weather of hurricane season.
We lounged on the beach for days, soaking up the sun and enjoying the fabulous restaurants along the main strip in the evening. Toward the end of the week, we traveled to the nearby Cenotes, which are freshwater lagoons. It was absolutely gorgeous! You could swim around in water so clear you could see straight to the bottom. There was a small cliff from which we could jump into the lagoons and so many fish.
Tip #3: At the cenotes, feed the fish with care.
We bought fish food from a stand at the entrance. The fish swam away from us until the first pinch hit the water. Then they swarmed! It was pretty cool, though a little alarming. A few of the more adventurous ones nibbled on my toes! It tickled so much I laughed and swallowed some water. Within 30 minutes, I was feeling ill.
Tip #4: DON'T SWALLOW THE WATER!
Okay, you've probably heard this one, but it's no joke. I was seriously sick for a week plus, which was really unfortunate because that night Alan proposed! You can check out our full, fairly hilarious proposal story here.
That day, we also visited the ruins at Tulum, which I highly recommend, especially if you haven't seen Mayan ruins before.
Tip #5: Bring a swimsuit to Tulum.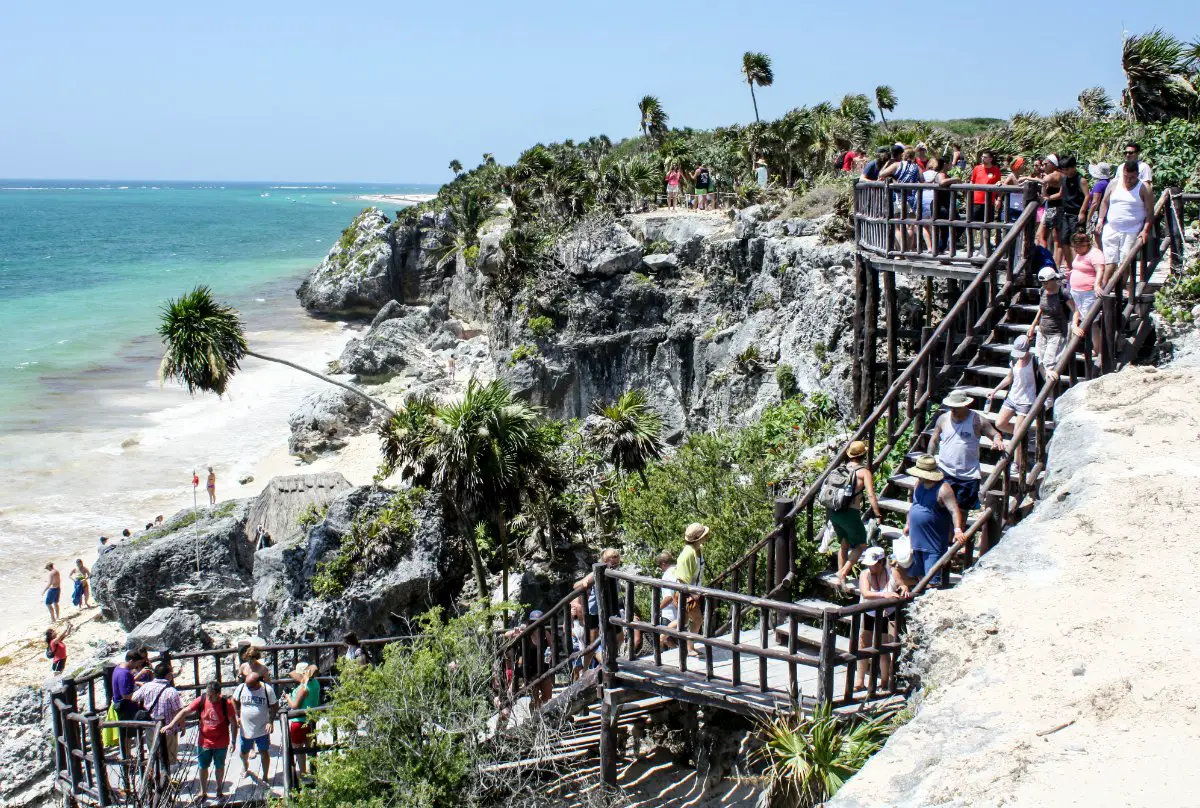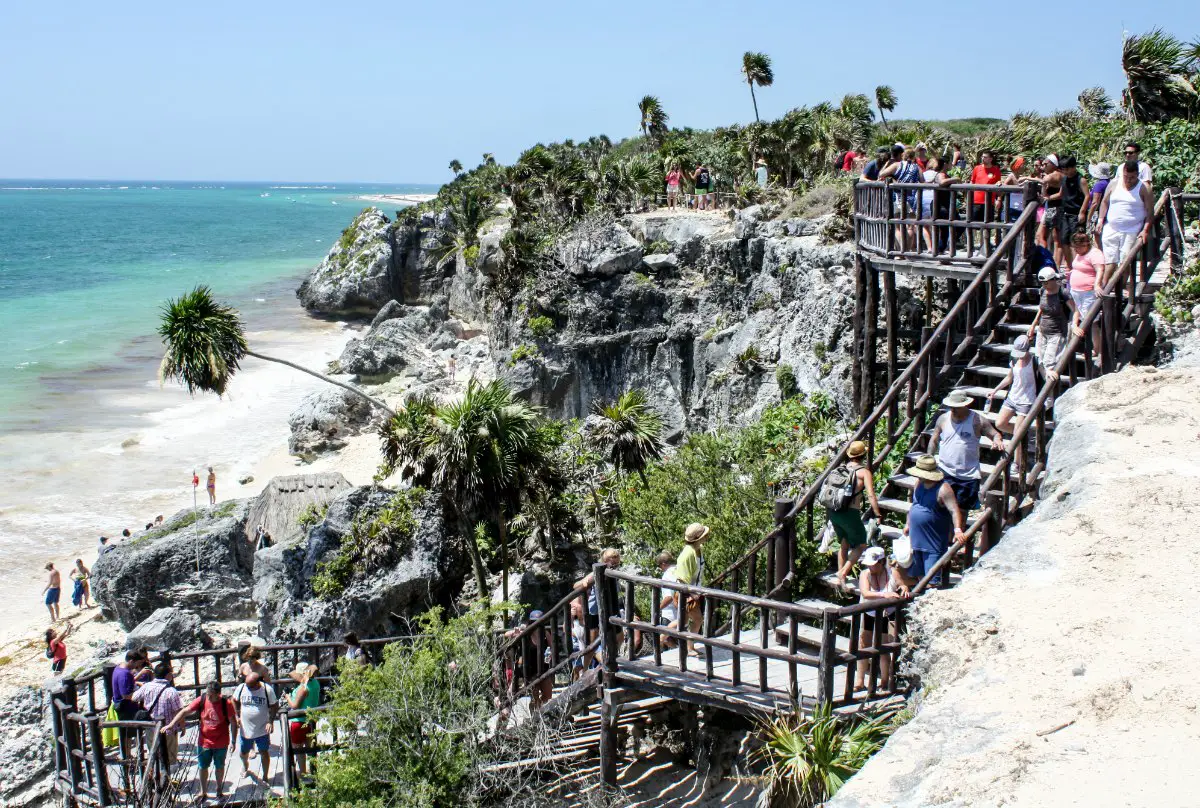 Tulum was built into cliffs as a major seaside trading town. Steps have been built into the cliffside to allow visitors down to its fabulous little beach!
Alan then took me to the house in which he grew up for a big, Mexican-style engagement/birthday party. They'd engaged a cook for the evening to make amazing traditional tacos and quesadillas. His friends pitched in to get him a mariachi band for a few hours. Everyone sang along to the songs, and we danced.
One of the first things that struck me was the warmth of all his friends and family. The immediate attitude was, "We love him, therefore we love you." The welcomed me with open arms … after they got over the shock of him coming home engaged to a girl they had never met. 😉
It was a whole new side of the country I'd only seen depicted in cartoons or on the news. Once Alan and I married, I moved with him to Mexico for a year. The rich culture and varied landscape captured my imagination, and I just knew I had to share.
Everything was vibrant from the food to the music to the paint on the walls. The party and later the markets and towns were so full of life.
Emotions and voices run loud and unchecked. Friendships are strong and made for life. Life is lived to the fullest.
The Inception Of Sketchy Tacos
My time in Mexico inspired my first book, Sketchy Tacos. In this YA travel novel, a teenage artist travels to Mexico to escape her overbearing mother and find what she wants to do with her life. She encounters mishaps and misadventures, friends, and some very cute boys on this fun summer romp.
Sketchy Tacos is an outsider's view of the often overlooked middle-class Mexico. And it's a story very near to my heart. If you'd like to learn more about Mexico and Sketchy Tacos, check out my Adventurers Resource Library — which offers insider guides to Mexican food, "Travel Mexico Like a Native," and more.
More About The Author
Meg D. Gonzalez is a tea-sipping, adventure-seeking, pug-loving kind of girl. She's crazy for God and wants to share His love with awesome young women around the globe.
Grab a copy of Meg D. Gonzalez's YA travel novel, Sketchy Tacos. Explore a new culture through teenage artist Mila Gulick's eyes while she struggles to find herself and her faith in vibrant, fun-filled Mexico.
Meg would love to connect! You can email her at meg (at) megdgonzalez.com or connect with her on Facebook, Twitter, or Instagram.
To get the first two chapters of Sketchy Tacos and instant access to the adventurers' resource libraries, click here now!
In Summary:
Tips For Visiting Playa del Carmen, Mexico
For an easy introduction to Mexico as a first-time visitor consider visiting Playa del Carmen in the beautiful Riviera Maya region. There you'll find beachfront hotels, and guest author Meg D. Gonzalez recommends booking cheaper accommodations across the street from the beach at a hotel within the same chain. Check before you book, but this should grant you access to the beach at the partner hotel.
From Playa del Carmen, you can visit the cliffside Mayan ruins in Tulum and swim in freshwater cenotes. Both are activities I did while staying in Riviera Maya, and I'd also highly recommend both.
Lastly, download Sketchy Tacos to read about Mexican life through the eyes of a teenage artist visiting for the summer.
Save this post to your travel board on Pinterest for future reference!
Traveling to Mexico? Check out these resources:
Have you traveled to Playa del Carmen, Tulum, or Mayan ruins elsewhere in Mexico?
Tell me about your trip in the comment section below!
Save
Save
Save
Save
Save
Save
Save
Save
Save
Save