Want to learn how to make Argentine empanadas, Peruvian ceviche, or Mexican-style street tacos? You can with live virtual cooking classes offered on Amazon Explore!
Disclosure: This post contains affiliate links. As an Amazon Associate, I earn commissions on qualified purchases.
---
How to Learn Latin American Recipes Online
Do you love to taste foods from countries and cultures other than your own? Would you enjoy learning about other cultures from a local while making an authentic recipe?
If you answered "yes" to the questions above, I'm sure you'll love the virtual cooking classes offered by Amazon Explore.
From the comfort of your own home, you can "virtually" travel to Argentina, Mexico, or Peru, where local chefs share a taste of their culture and food while demonstrating authentic recipes.
That's right; no passport necessary! You'll be eating ceviche, street tacos, guacamole, and empanadas without the expense of an international trip. Though I highly recommend you travel to Lima, Peru, to eat ceviche someday. 😉
You can cook along with the live online cooking demonstration and get your questions answered by a local food expert. And, it's easy to book right on Amazon.com!
What is Amazon Explore?
Amazon Explore is an Amazon service offering interactive virtual experiences, such as tours and classes online, that you live stream from home. Each of these experiences is hosted by a chef, artisan, tour guide, or another expert from around the world.
For example, you can take a sushi-making class with an expert in Japan, or your Costa Rican host can introduce you to sloths, macaws, and toucans during a virtual tour of the Toucan Rescue Ranch.
You can virtually visit landmarks around the world, take guided wine tastings, learn cocktail and food recipes, and so much more!
In particular, I think Amazon Explore's virtual Latin American cooking classes are perfect for:
Couples looking to spice up their date nights at home (perhaps literally with the Mexican salsa class)
Bachelorette parties for brides who love to eat tacos or guacamole
Families wanting to learn about other cultures in a fun and interactive way
Team building among co-workers, teammates, or classmates while creating a tasty reward
Birthday, holiday, anniversary, or wedding gifts, especially for anyone who loves cooking, eating Latin American foods, traveling to eat like a local, and/or learning about cultures around the world!
Amazon Explore: 60% off all virtual experiences for Prime Day
How do Amazon Explore virtual cooking classes work?
First, it's important to know that Amazon Explore experiences are available only to customers in the United States.
Secondly, you'll need a laptop or desktop computer with a microphone and speakers to live stream your virtual cooking class, but a laptop would probably be easiest to set up in your kitchen. Unfortunately, phones, tablets, and other devices are not supported.
Your computer does not need a camera because these are one-way videos. Therefore, you can see your instructor, but your host can't see you. However, there is two-way audio, so you will be able to communicate with your instructor and ask questions.
You can take your virtual cooking class on an up-to-date Chrome, Edge, Firefox, or Safari browser, and Amazon recommends that your device have a high-speed internet connection of at least 5 Mbps. Amazon also recommends disabling your VPN, which can cause connectivity issues.
When you book your Amazon Explore experience, you'll select the date and time for your cooking class. If you need to cancel or reschedule, you can do that up until 24 hours before your experience. After that, you may incur a charge.
You can also select a group class or a private one-on-one lesson. If you plan to share your cooking class with friends, family, or party guests in other locations, you should all book the group class for the same time and date. For groups planning to meet in one location, you can all gather around one computer for a private or group class.
To make your cooking class a truly interactive experience, you should purchase and prep the listed ingredients and ensure your kitchen is outfitted with the necessary tools ahead of time. For each class I recommend, I have listed some of the tools you'll need to complete the recipe.
Amazon Explore's Best Latin American Virtual Cooking Classes
In this post, I've rounded up the top-rated virtual live cooking classes offered by Amazon Explore for learning Latin American recipes. With these five interactive cooking classes, you can take your taste buds on a journey to Latin America without traveling beyond your own kitchen!
Argentine Empanadas Online Cooking Class
Are you interested in taking a crash course on Argentine cuisine? If so, look no further! As you make savory beef empanadas, you'll also learn all about Argentina's food traditions in this Argentine empanada demonstration streamed live from Buenos Aires.
One Amazon Explore reviewer "learned a lot about Argentina and other local foods", while another called this class a "great way to experience a different culture". Several past participants were surprised by how much they learned in just one hour. It's no wonder this class has a five-star rating and rave reviews!
In addition to this Argentine empanada cooking demonstration, Signature Tours also offers a vegan Argentine empanada class.
Before your beef or vegan empanada class, make sure you have a mixing bowl, rolling pin, frying pan or skillet, and a baking sheet lined with tin foil, parchment paper, or a reusable baking mat.
Virtual Mexican Cooking Class: Tacos & Tortillas
If #TacoTuesday is your favorite night of the week, you won't want to miss this live-streaming tortilla and taco class!
In this virtual cooking class presented by Mexican Food Tours based in Mexico City, a Mexican chef teaches you how to make tortillas from scratch. Then the chef will show you how to prepare real Mexican campechano tacos.
If you are already imagining yourself eating Mexican-style street tacos at home whenever you want, this is your chance to learn an authentic recipe from a local expert.
For this cooking class, required supplies include a chef's knife, cutting board, frying pan, comal pan, several bowls, and plastic bags. Though it's not required, a tortilla press is also recommended. I recommend this tortilla press that also comes with an 8-inch, cast-iron comal pan.
Mexican Salsa-Making Online Class
Love a spicy salsa? Can't get enough guacamole? Then perhaps this interactive salsa class is the ideal virtual cooking lesson for you!
Mexican Food Tours also presents this salsa-making lesson in addition to the aforementioned tortilla and taco class. During the virtual demonstration, a Mexican chef will teach you how to make three authentic Mexican salsas as spicy (or mild) as you like!
From your own couch or kitchen, you'll tune into the live-streaming preparation of salsa verde, salsa roja, and guacamole.
You can simply watch and learn from a master of salsas. However, I suggest you purchase the ingredients ahead of time and make your own salsas and guacamole with the chef for a fully interactive experience!
You'll also need a chef's knife, cutting board, frying pan or skillet, saucepan, serving bowls, and a molcajete.
Peruvian Ceviche Virtual Cooking Class
Calling all ceviche eaters! In this virtual Peruvian ceviche class, a Peruvian cook will demonstrate how to make Peru's national dish.
Your instructor will share how fresh seafood, freshly squeezed lime juice, onions, cilantro, and a few secret ingredients combine to create the perfect Peruvian ceviche.
Presented by Intrepid Urban Adventures, this online cooking class will give you peeks into both Peruvian culture and a local home.
To participate in this interactive Peruvian ceviche lesson, you'll need a medium-sized bowl, a citrus squeezer, and a blender.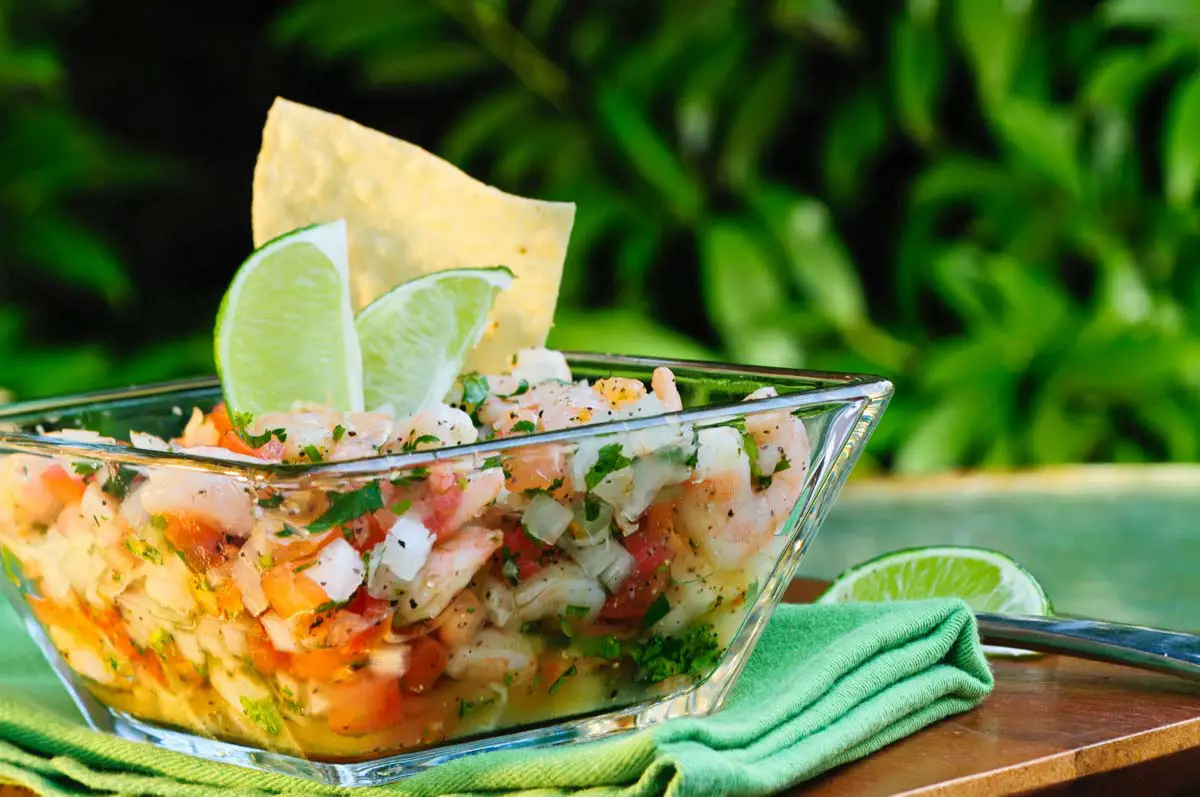 Live Virtual Ceviche Cooking Class from Mexico City
If you haven't had your fill of ceviche, you are in luck! Mexican Food Tours also offers a virtual ceviche class with a professional chef from Mexico City as your teacher.
Though it is Peru's national dish, ceviche is popular in other parts of Latin America, especially along Mexico's coastline. Generally, you'll see Mexican variations made with shrimp or chopped fish and served alongside crunchy fried tortilla and a frosty beer.
In addition to learning to make a Mexican-style ceviche, you'll also learn how to make homemade salsa during your class.
For this ceviche class, you'll need a chef's knife, cutting board, mixing bowl, and spoon to participate.
Final Thoughts on Amazon Explore's Latin American Live Virtual Cooking Classes
If you love to try new recipes, have missed traveling to eat ceviche and empanadas in Latin America, or are obsessed with guacamole, you should try one of these five live-streaming Latin American virtual cooking classes.
Each class is taught by a local expert who will demonstrate one or more authentic recipes, answer your questions, and share insights into their homeland's culture, history, and/or food traditions.
All you need to do is purchase your Amazon Explore experience for your desired date and time. On Prime Day (July 12-13, 2022), you can get 60% off all live-streaming Amazon Explore experiences, including the five virtual Latin American cooking classes featured in this post.
Don't forget to purchase and prep your ingredients and tools ahead of time to turn the recipe demonstration into an interactive cooking class!
Then live stream your cooking lesson on your laptop or desktop computer right from your own kitchen.
Amazon Explore: 60% off all virtual experiences for Prime Day
Read More About Latin American Food, Drink & Travel
Save the image below to your virtual travel, culinary travel, or cooking board on Pinterest!
Which of these Latin American cooking classes online will you take?
I'd love to hear about your experience taking these online cooking classes via Amazon Explore. Please share your experience in a comment below. If you haven't taken one of these cooking classes yet, tell us which one interests you most and why!