Located in the Lima Province, Chaclacayo and Chosica, Peru, are cute little towns to visit during a day trip.
After volunteering in the Lima suburb Huaycán for four days, my fellow Unearth the World and Wanderful volunteers and I traveled by combi bus to Chosica with a stop in Chaclacayo for coffee and cake. The roughly-an-hour-long combi ride cost only a couple Soles each way.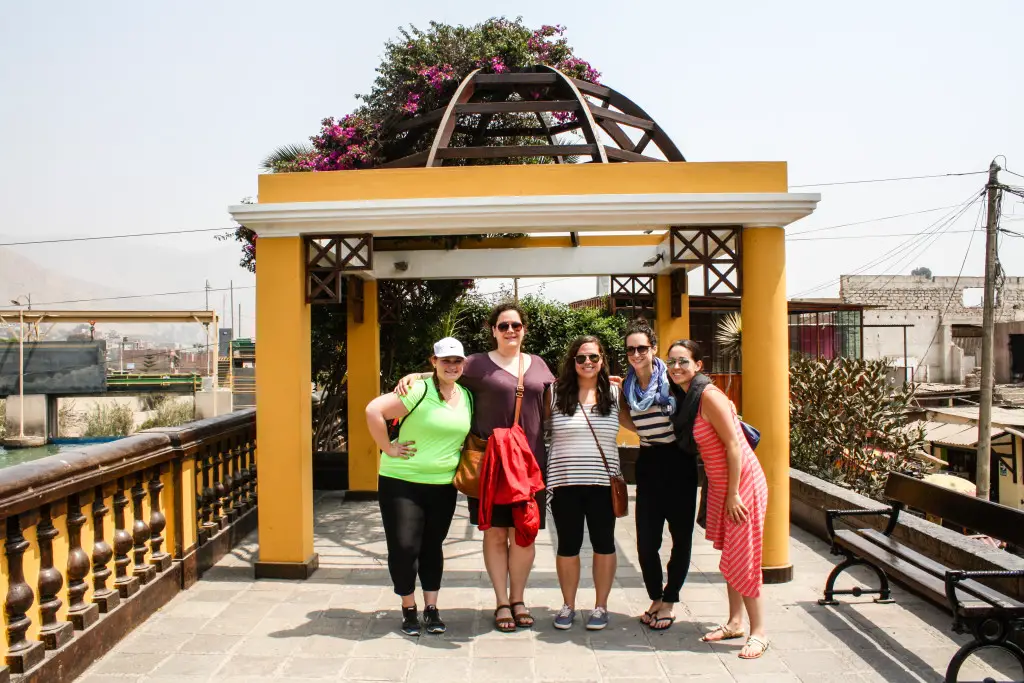 One of the first things I noticed in Chosica was that flowered-covered trellises were abundant. Coming from a dusty, desert-like city it was refreshing to see vibrant blooms and lush vegetation.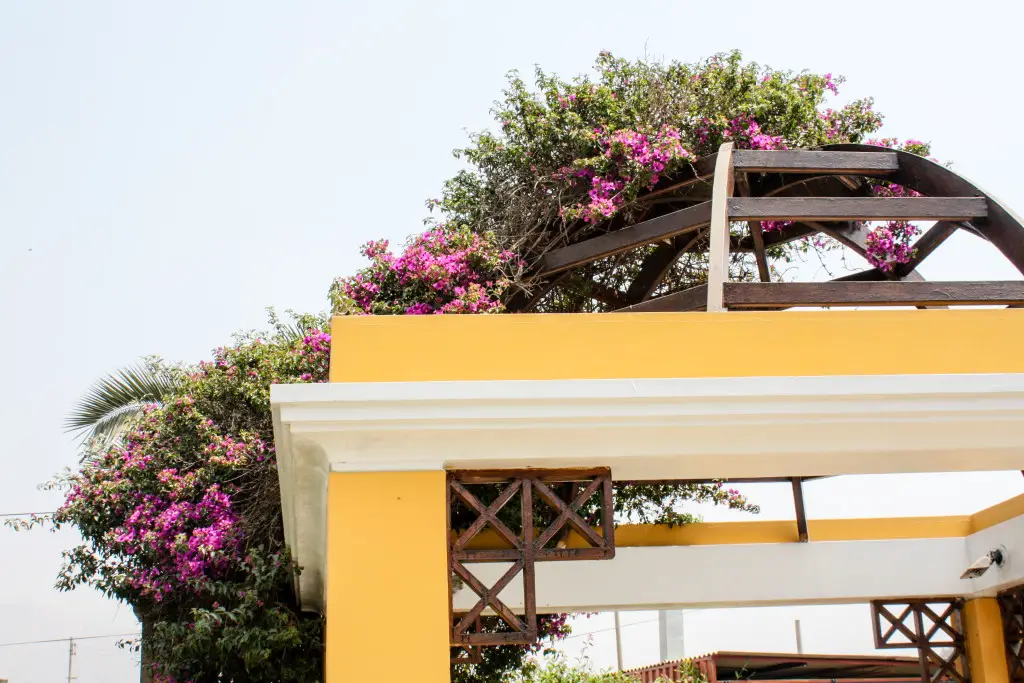 We began our walk around Chosica near the Rímac River, which also runs through Chaclacayo and Lima. The mouth of the river is in Callao, near the Lima airport, where it meets the Pacific Ocean. The name means "talking river" in Quechua, one of the three languages spoken in Peru.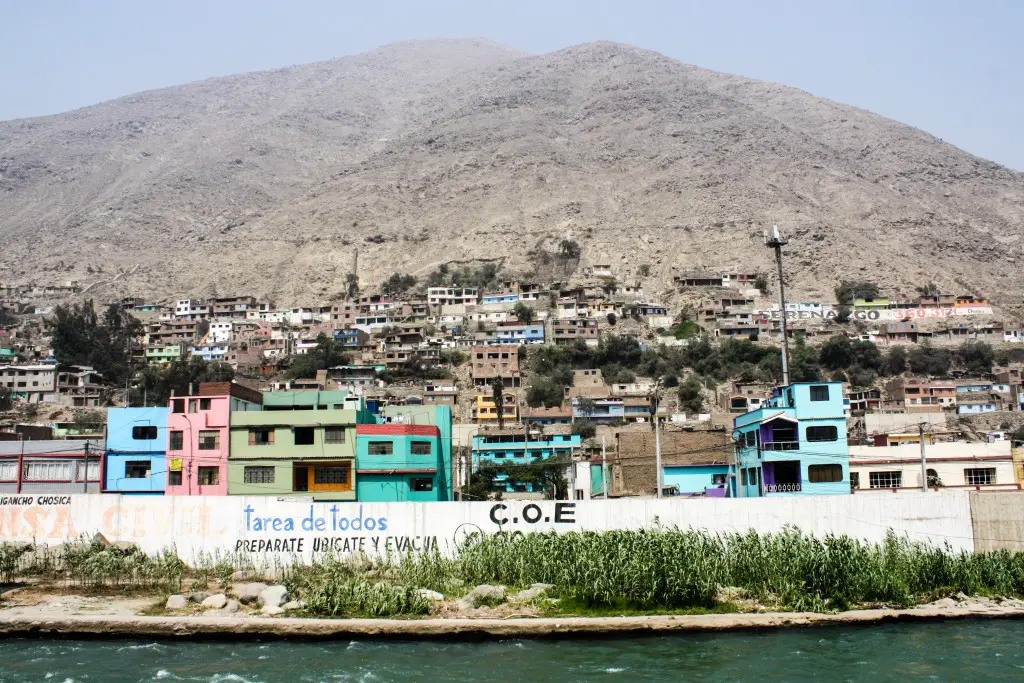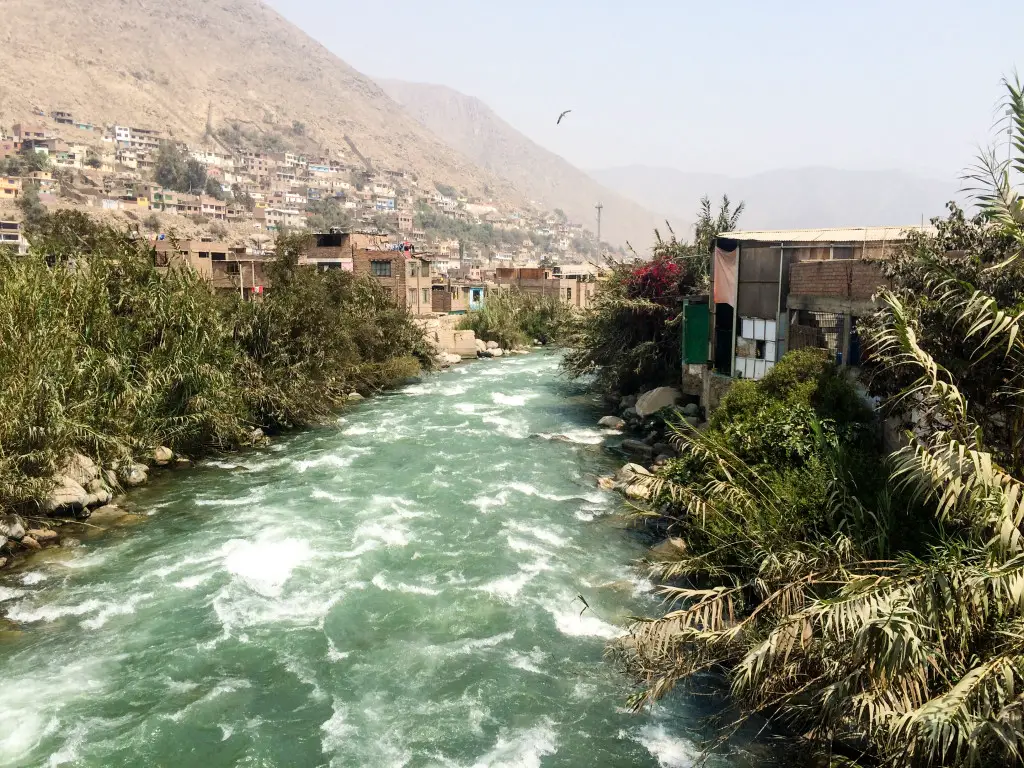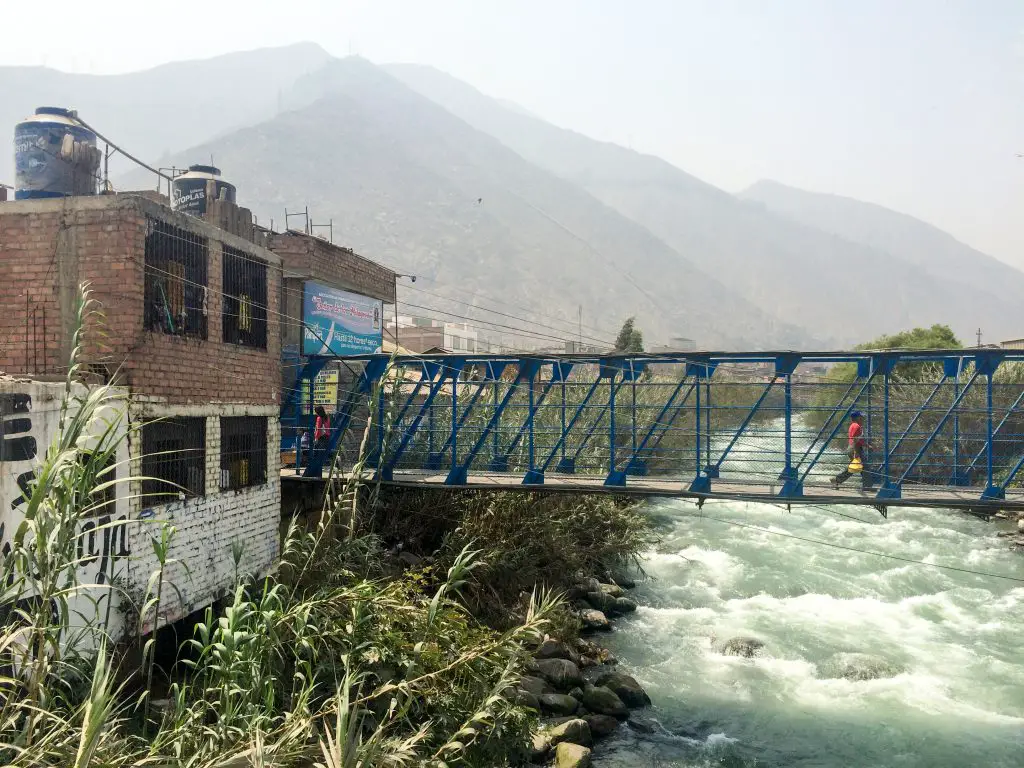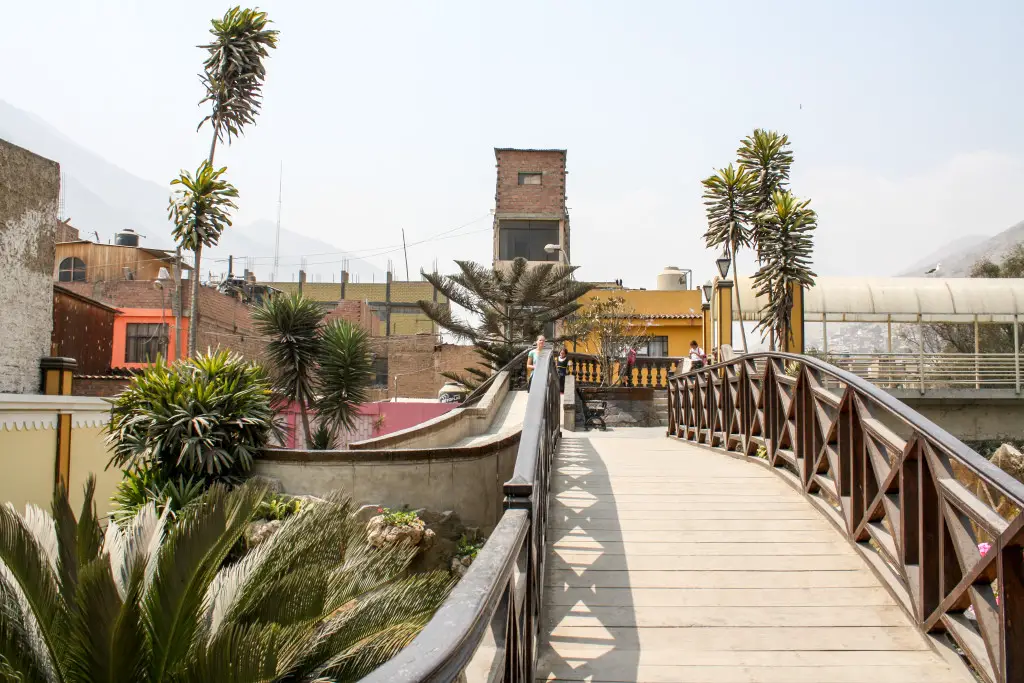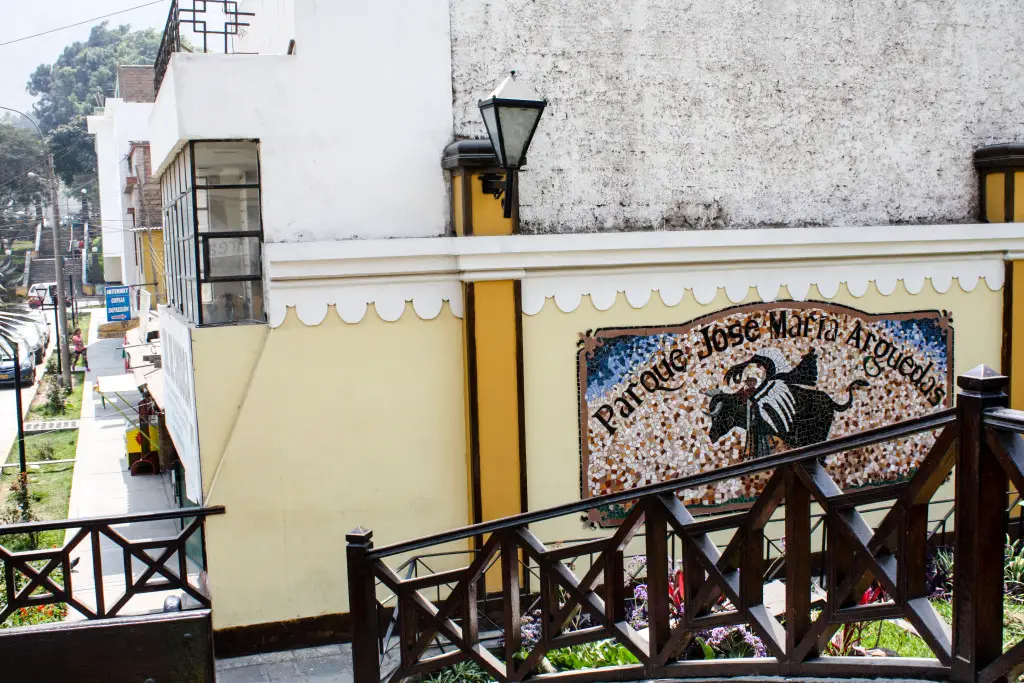 We continued our walk past little shops, including a small store selling beautiful fabrics. My fellow volunteer Veronica makes handbags, so she stopped to purchase some brightly colored and boldly patterned textiles. The shopkeeper had lived in Los Angeles, so he spoke English with us. Wherever we went, we seemed to meet ex-pats, other Americans visiting Peru, and Peruvians who once lived in the United States.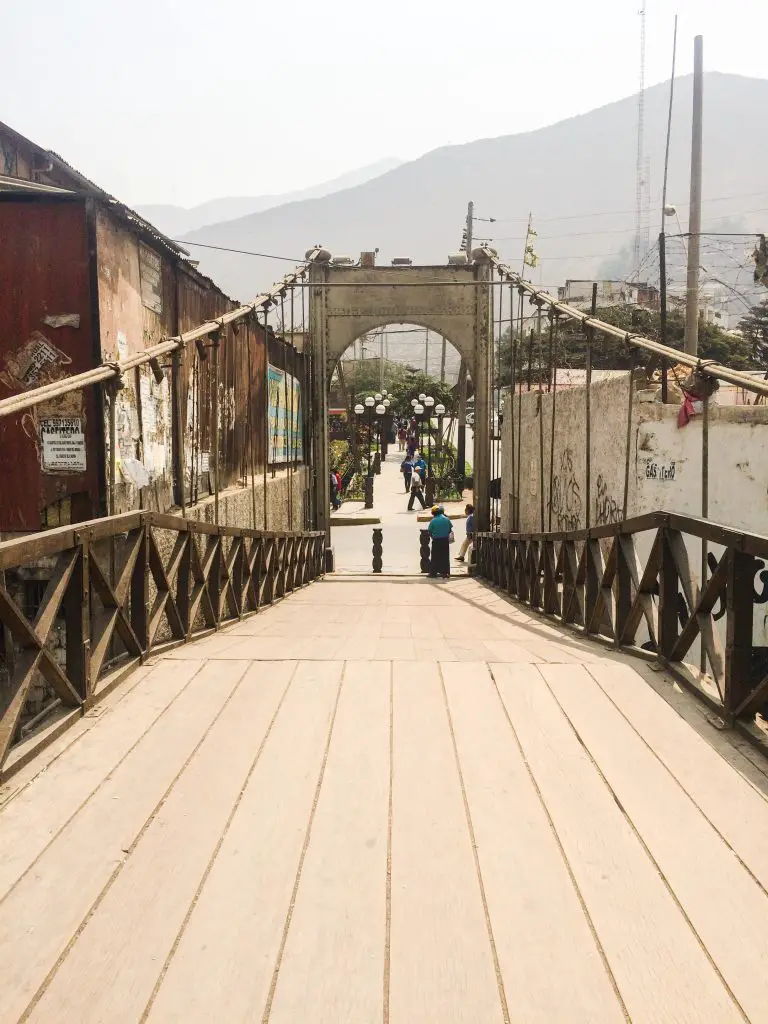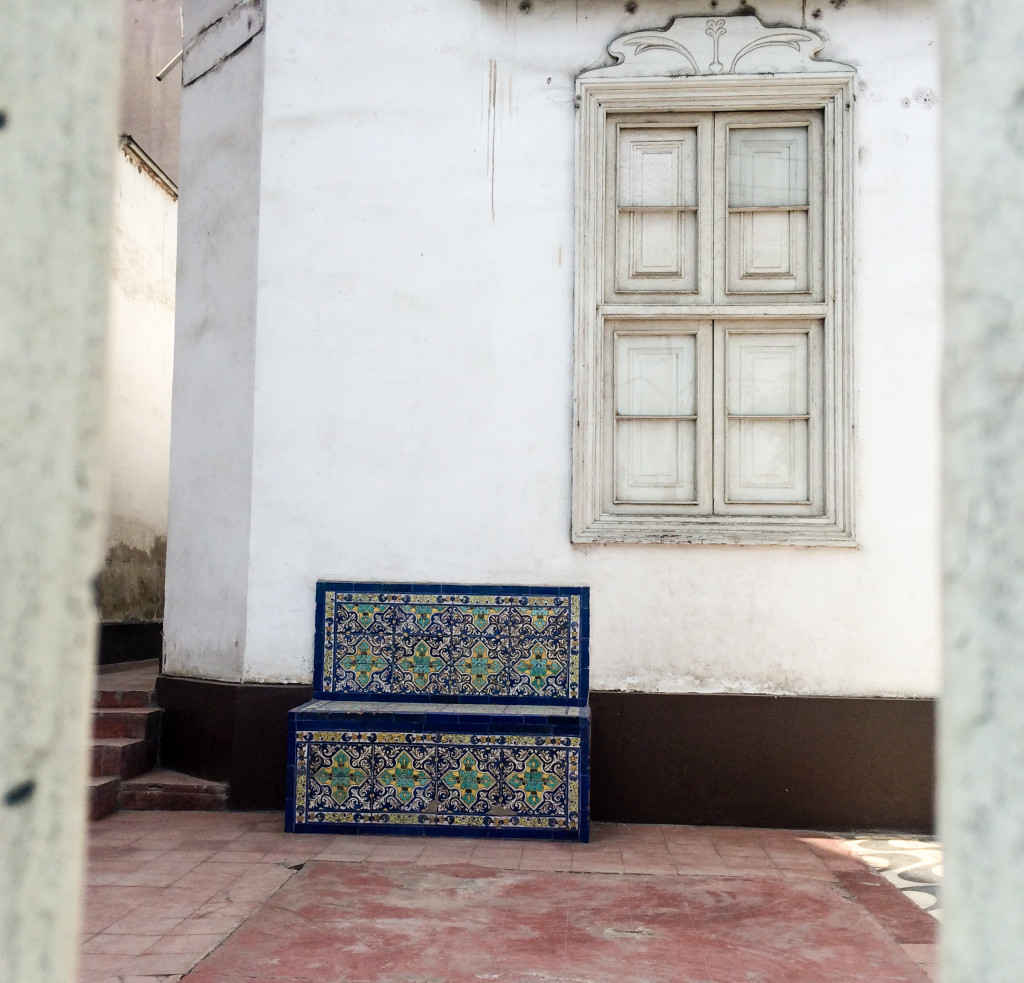 We strolled down busy streets to a quiet neighborhood where we encountered a massive Jesus statue. This was the first of many giant monuments of Christ and large hillside crosses I'd see while in Peru. Though the Peruvian people still have very strong ties to the spiritual traditions practiced by the Incas, the country is also a devout Catholic nation. When the Spaniards arrived, they began building beautiful cathedrals. If you travel through Peru, you'll notice this cross-section of religious traditions — leaving coca leaf offerings for the Pachamama (Mother Earth) and also celebrating with parades for patron saints like Santa Rosa de Lima, the patron saint of Peru.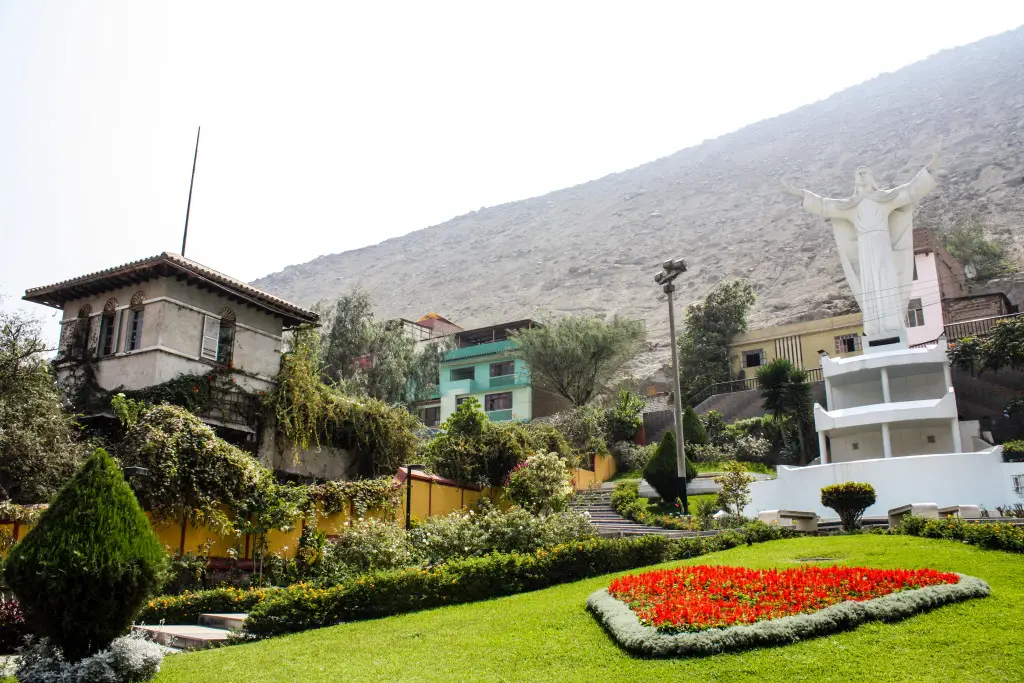 Our walking tour continued past a pastel aqua-colored church, beautiful flower beds, and palm trees to the Plaza de Armas. Each Peruvian town I visited had a main square called the Plaza de Armas. Often there is a statue dedicated to a military hero or historical figure.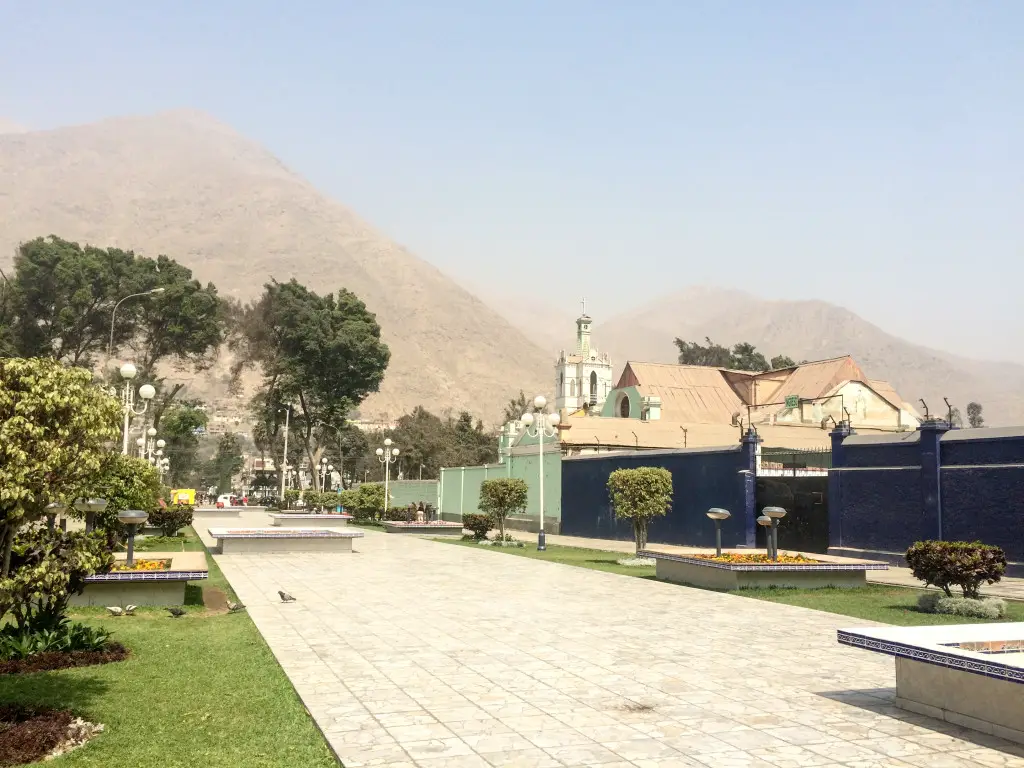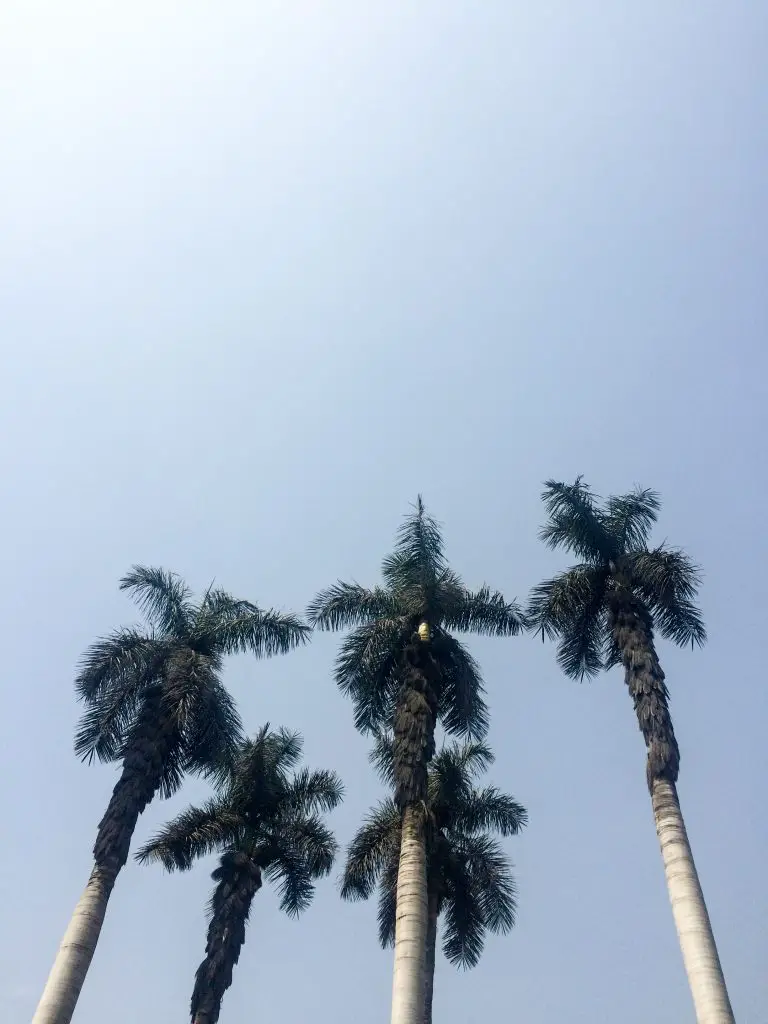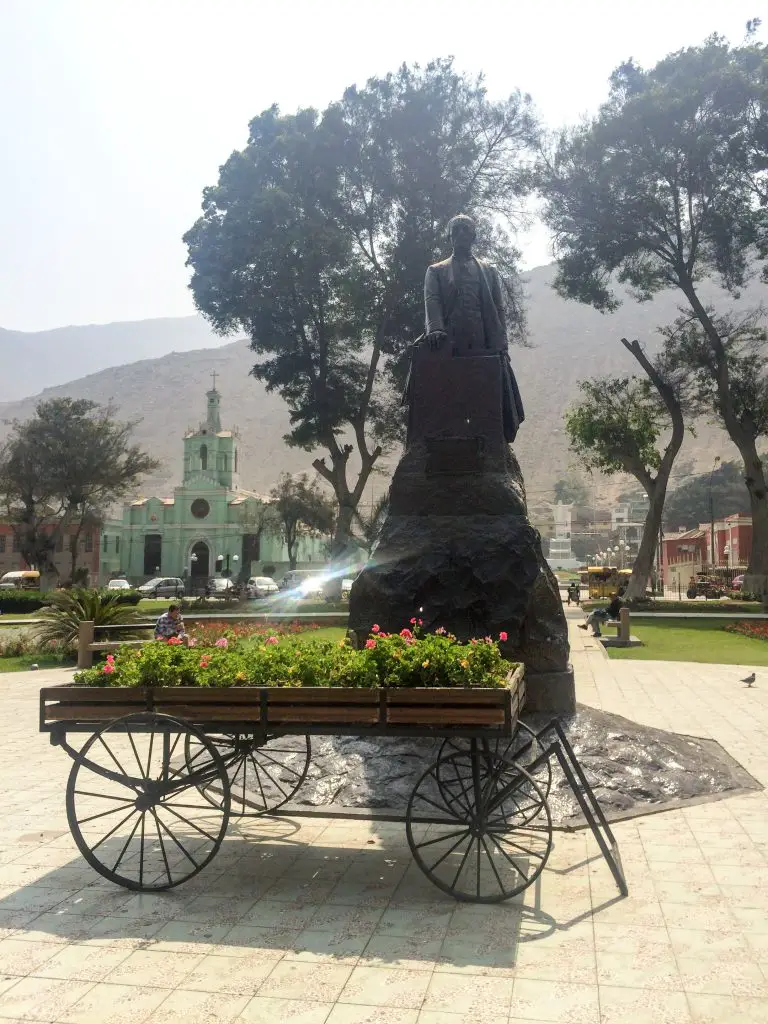 We stopped for delicious smoothies and juices. I drank a delicious mango smoothie made with fresh mangoes and yogurt. It had a chocolate sauce drizzled throughout. I thought that was a strange combination at first sight, but it tasted surprisingly good with the sweet mango. I love when food combinations pleasantly surprise me. Don't you?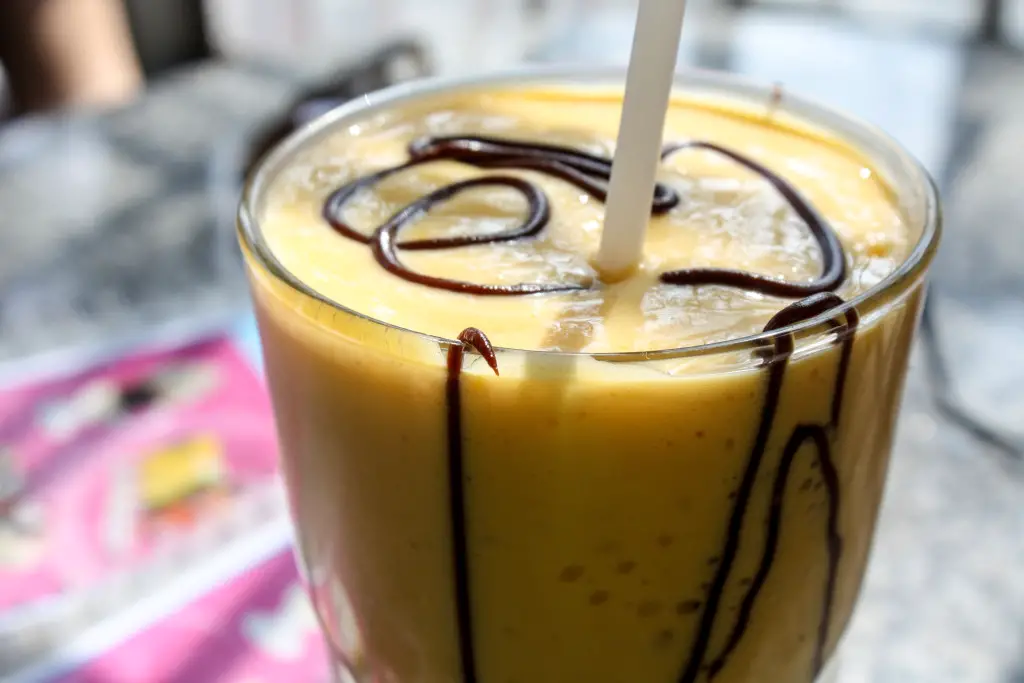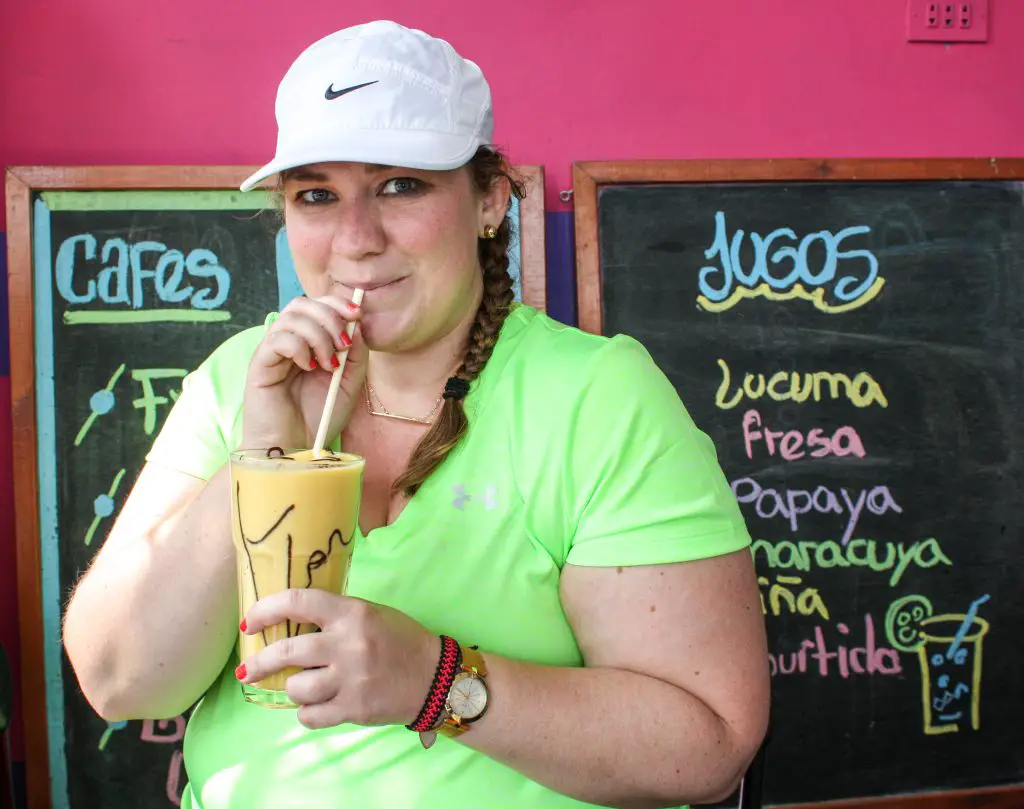 Then we took a short combi bus ride to Chaclacayo. There we stopped into a restaurant for cake and coffee, which several of us were craving pretty badly at this point.
It's pretty common to drink coffee with breakfast and usually as a pick-me-up midday in the United States. At home, most of us brew either a pot of coffee or make a cup in a Keurig one-cup coffee maker in the morning. Most workplaces have a communal pot of coffee brewing in the morning if not throughout the day. Cafes, coffee shops, Dunkin Donuts, and Starbucks are bountiful, right?
Not so much where we volunteered in Huaycán. If you wanted coffee at the volunteer house, you had to buy instant coffee from a bodega. Then you had to boil water on the stovetop, pour that into the coffee powder, and stir that mixture together. It wasn't ideal, but I drank it once or twice while volunteering. Usually, I just stopped at a bodega for a Coca-Cola midday if I needed a caffeine boost.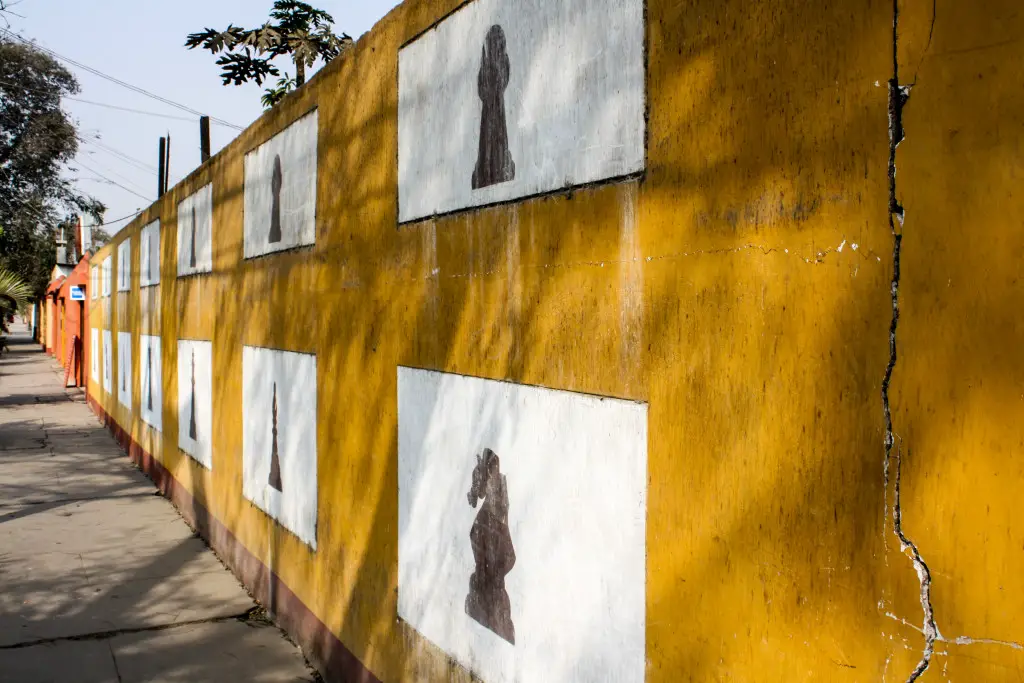 The cakes in Chaclacayo were absolutely delicious. We all shared a Tres Leches cake, which you may have guessed from its name is made with three milks. We were all big fans of the Pie de Limon, a lemon meringue-like pie that is made in Peru with small citrus fruits that are very similar to key limes. Our third cake was a classic and dense chocolate cake with chocolate icing and Manjar Blano, also a favorite dessert of ours in Peru, caramel sauce filling.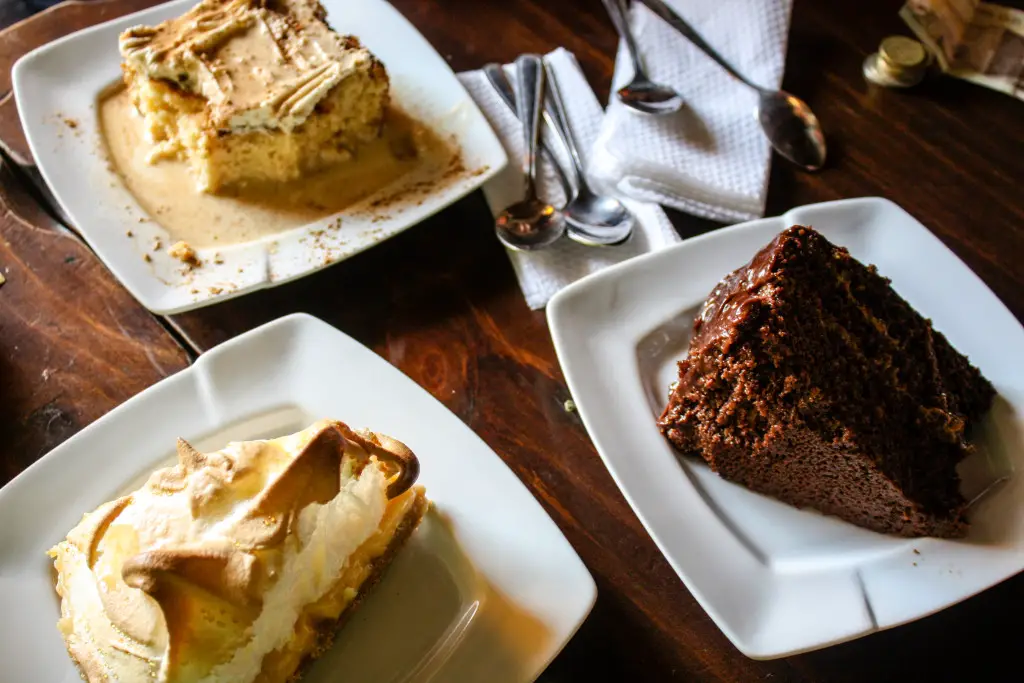 Our day trip was short and sweet just like the duration of time these delicious desserts lasted between the five of us!
Shout Out: A big thank you to Mervi, of the Light and Leadership Initiative, for showing us around Chosica and Chaclacayo!
Obviously, I like to try local foods when I travel. Throughout this trip, my fellow volunteers and I joked that we have separate stomachs for desserts, and I discovered a newfound love for manjar blanco (caramel), tres leches, and lemon meringue pie!
What desserts have you discovered a taste for while traveling?