With several on-site restaurants, you certainly won't go hungry at Dreams Las Mareas Costa Rica. Trust me, you won't go thirsty either.
The all-inclusive resort has five à la carte restaurants, an international buffet, a 24-hour coffee shop, 24-hour in-room dining, a lobby bar, a disco, a swim-up bar in the pool, poolside bars, and a casual poolside grill.
When my best friend and I stayed at the resort in February 2016 to celebrate our 30th birthdays, we dined at each of the Dreams Las Mareas restaurants. We certainly had our favorites, but we also had a couple of disappointing meals. I'm bluntly sharing the hits and misses of our experience at this Costa Rica resort. In doing so, I hope you will have the tastiest visit to Dreams Las Mareas.
Disclosure: This review of the Dreams Las Mareas Costa Rica resort's restaurants contains some affiliate links. When you click on, book your stay, or make a purchase from one of these links, we may earn a commission.
---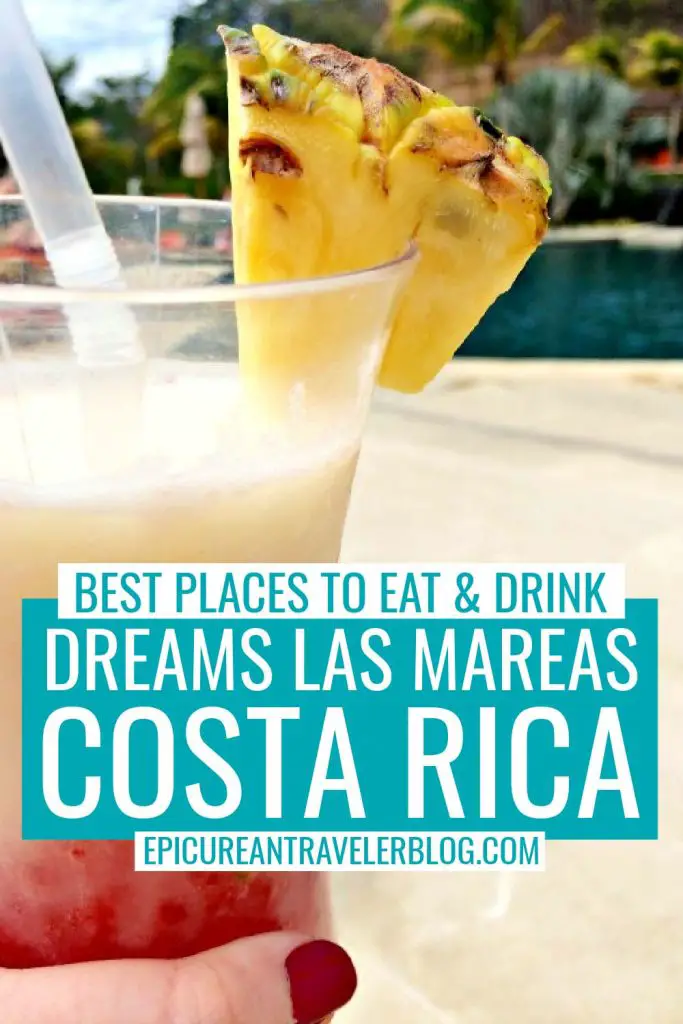 Portofino: Italian Cuisine and Romantic Ambiance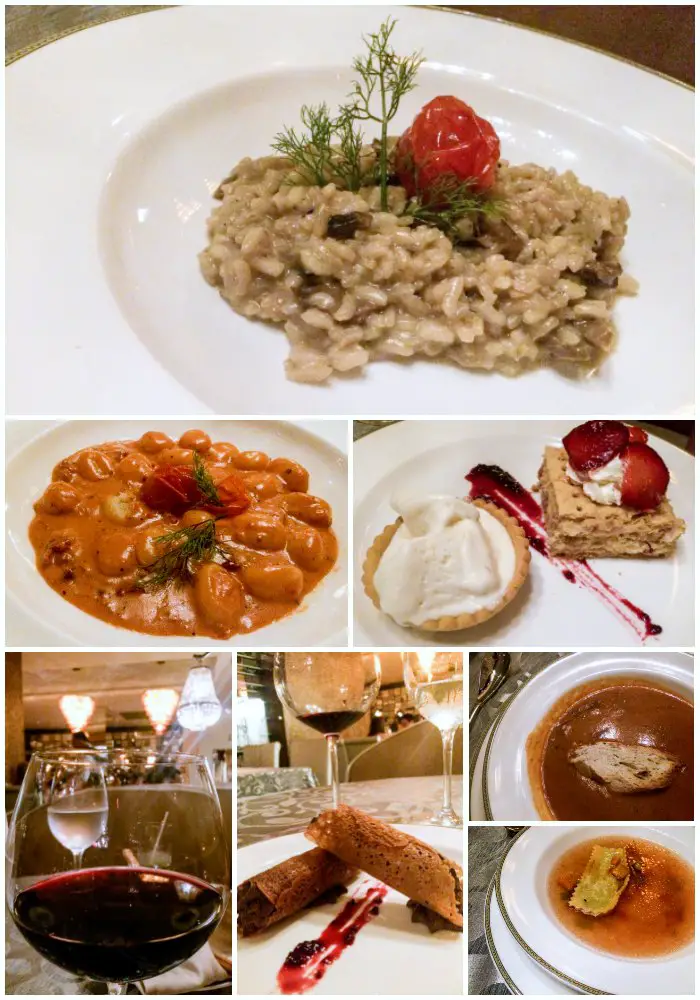 We enjoyed our first meal so much at Portofino, it was the one restaurant we repeated for dinner. Though service was extremely slow on our second visit, I still highly recommend dining here during your stay at Dreams Las Mareas.
We went to dinner between 7 and 8 p.m. most nights during our trip. It seems this is one of the most popular choices, as we were placed on a waiting list both times. The hostess gave us a buzzer, which still worked when we strayed upstairs to the Rendezvous Bar for pre-dinner drinks.
Some of our favorite dishes here were the bruschetta appetizer, Pomodoro soup, beef carpaccio, mushroom risotto, and gnocchi.
For dessert, I had chocolate-filled cannoli. The chocolate filling was delicious, but the pastry tube was nothing like that of traditional Italian cannoli. Also, my friend wasn't wild about her strawberry shortcake, which she described as "cookie-like." We also were disappointed the cappuccinos we ordered with dessert arrived much later.
I had the house red wine, a Chilean Merlot, with dinner. If you'd rather order a bottle of wine, the restaurant offers à la carte bottles. At check-in, we received a coupon for wine, so you may want to inquire about this.
I recommend Portofino because it's the sole adult-only restaurant at the resort. With silver tablecloths and dim lighting, Portofino also has a romantic ambiance — making it ideal for a couple celebrating an anniversary or on a honeymoon.
Speaking of celebrating special occasions at Portofino, the restaurant provided a bottle of sparkling wine to a couple celebrating their 60th wedding anniversary. The waitstaff even provided small pours of sparkling wine to diners at the nearby tables, including ours, to share in the toast. It was an adorable moment to witness.
El Patio: Mexican Food and Tasty Cocktails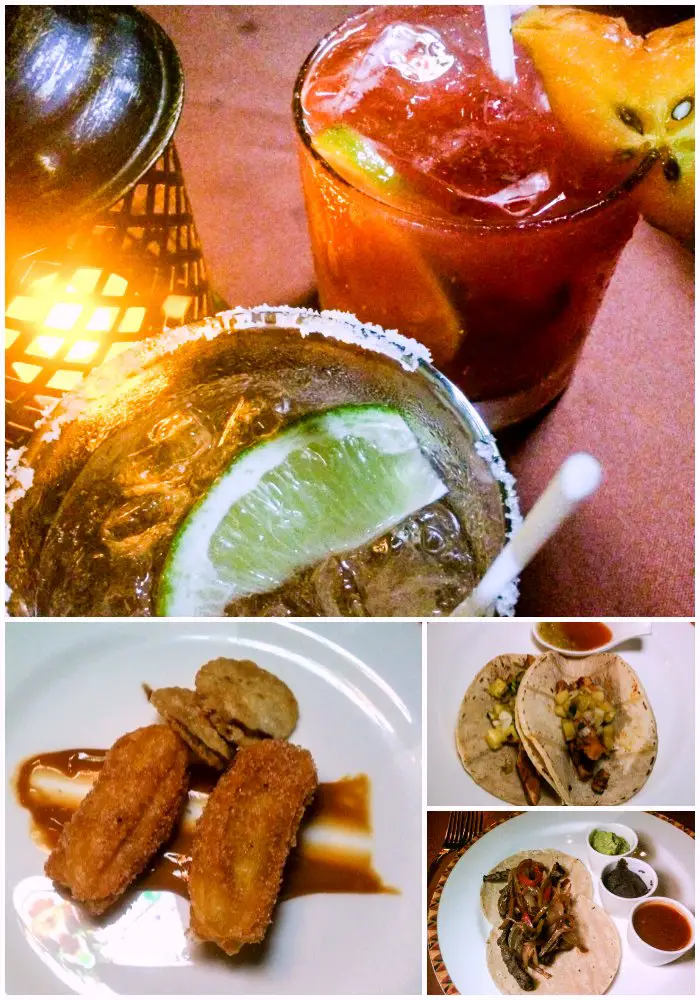 El Patio was not my favorite restaurant at Dreams Las Mareas, but I enjoyed the food. I began my filling meal with a boozy margarita on the rocks. The tacos, soup, and fajitas were tasty, but my favorite dish was dessert — churros served over caramel.
We had a few issues with service during our meal. For example, my soup was delivered without a soup spoon. Since I feared the soup would cool before a server would be by to check on us, I had to hunt down one from the hostess.
Despite the soup spoon mishap, I enjoyed El Patio for its ambiance. Sitting on the patio, we had views of the resort and the Mardi Gras celebration going on that night. We could also look into the elegant and vibrantly decorated dining room.
Himitsu: Sushi and Asian Fusion with Hibachi Show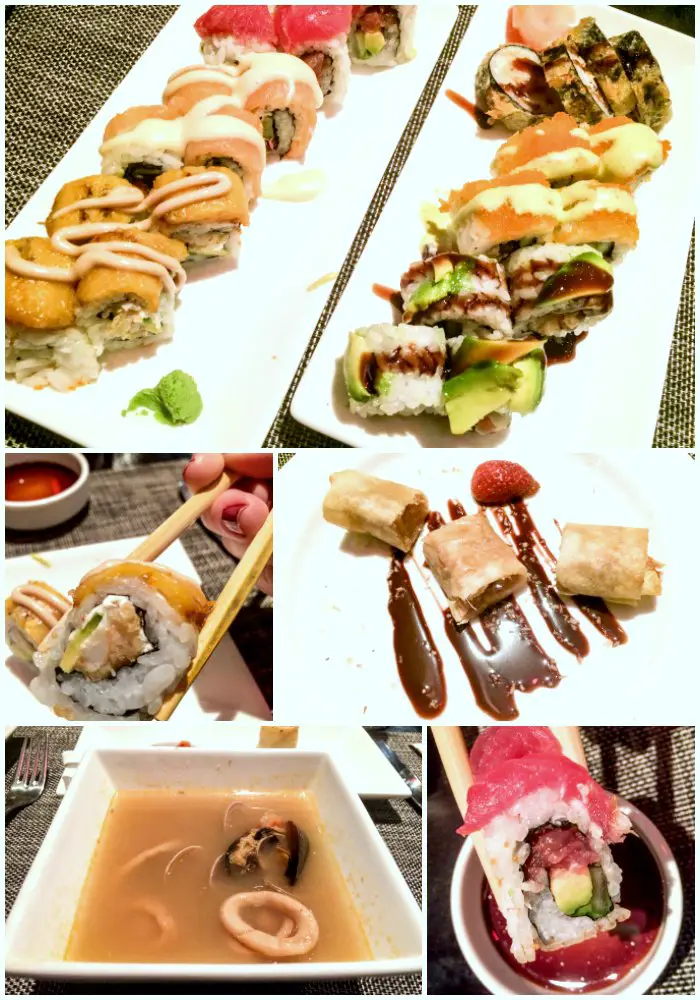 Himitsu is the one restaurant where you do need a reservation — but only for the hibachi table. The hibachi show only takes place one night per week, and it fills up quickly. When we visited, the show was on Wednesday evening, and the restaurant was closed on Monday. Therefore, if the hibachi show is of interest to you, I recommend you inquire about it at the concierge desk and make your reservation as early as possible during your stay.
However, if you are not interested in the hibachi show, I suggest dining here on another night. When we couldn't get reservations for the hibachi show, we decided to still eat at Himitsu that night. We hoped we might be seated close enough to catch a glimpse of the hibachi show. Unfortunately, I think other guests had the same idea because we had the longest wait of our trip for this restaurant.
Additionally, the hostess was not at all sympathetic to the guests who were waiting for a significant amount of time to leave their names for a table. Most disappointingly, the service never rebounded from there.
Yet, if you have patience, all the waiting may be worth it. Once we were eventually seated, we could order an appetizer, soup, main dish such as fried rice, and up to three kinds of sushi. If you like sushi, definitely plan to dine here. I really enjoyed each of my rolls and was impressed with the use of unique and local ingredients like ripe plantains in a sweet, dessert-like roll. If you don't like sushi, you'll still find plenty of other options at Himitsu.
Oceana: Seafood in a Whimsical Poolside Setting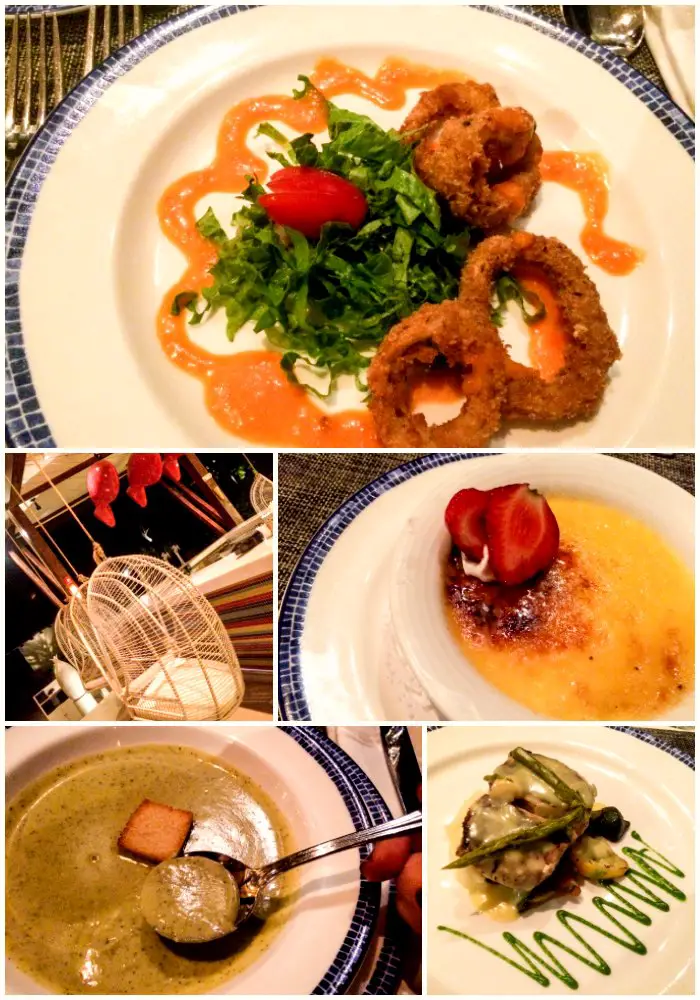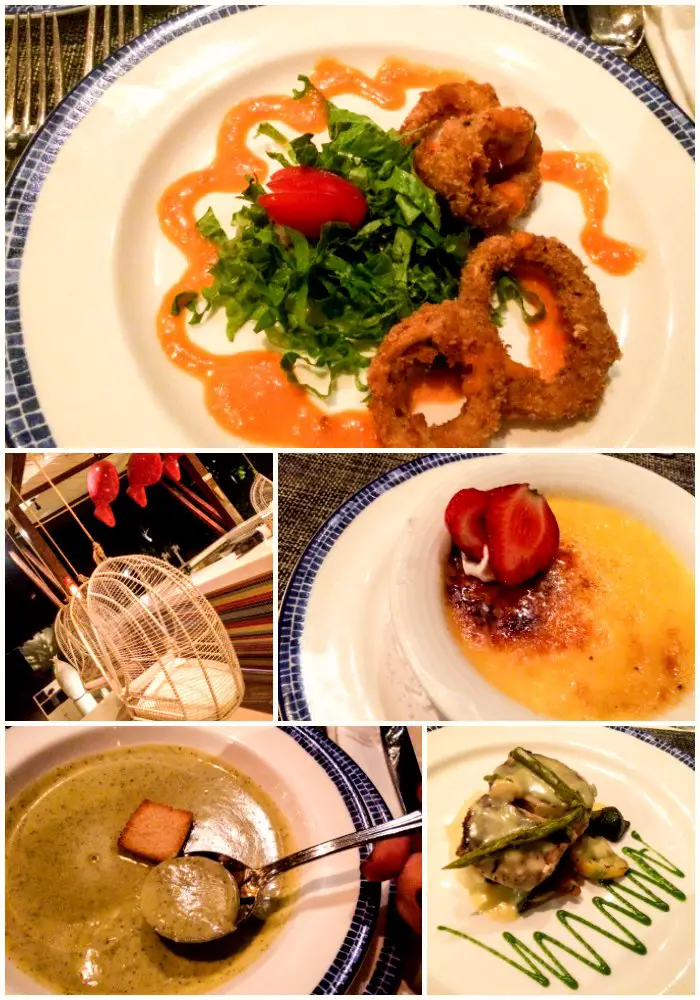 Of all the restaurants at Dreams Las Mareas, Oceana was the one at which I was most looking forward to dining. So, I was thoroughly disappointed that none of our food was served warm enough.
The open-air, poolside restaurant was fighting an uphill battle on a windy night. Therefore, I understand the broccoli and cheese soup was cooling faster than it normally would, but I don't think it was even served hot back in the kitchen.
Unfortunately, the cool soup wasn't even the worst of it. My calamari appetizer tasted like it had been sitting out in the kitchen for a while.
To recap the food at Oceana: My calamari wasn't edible. My soup was lukewarm at its hottest. My entrée was so forgettable that I can't even tell you what kind of fish I ordered. It may have been the sea bass, which I usually love. I remember my main dish had a strangely sweet flavor. Midway through our meal, my friend offered me her ratatouille dish to graciously took my fish. I really hoped the crème brûlée would save the night, but the custard was missing the crispy caramelized sugar on top.
We did love the hanging chairs at the bar. It's a very cute photo op!
Seaside Grill: Grilled Food at Poolside Steakhouse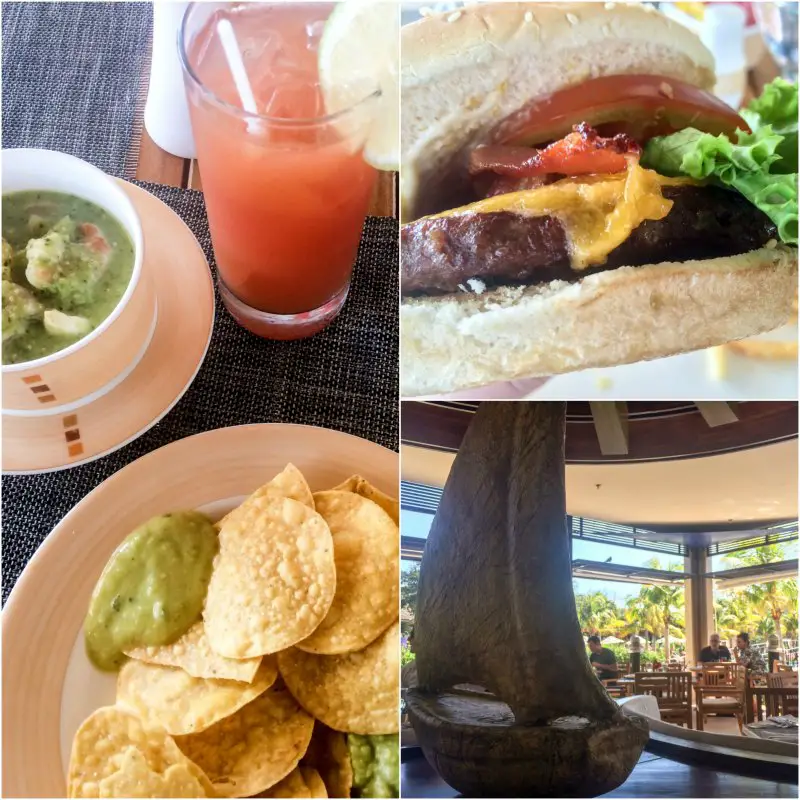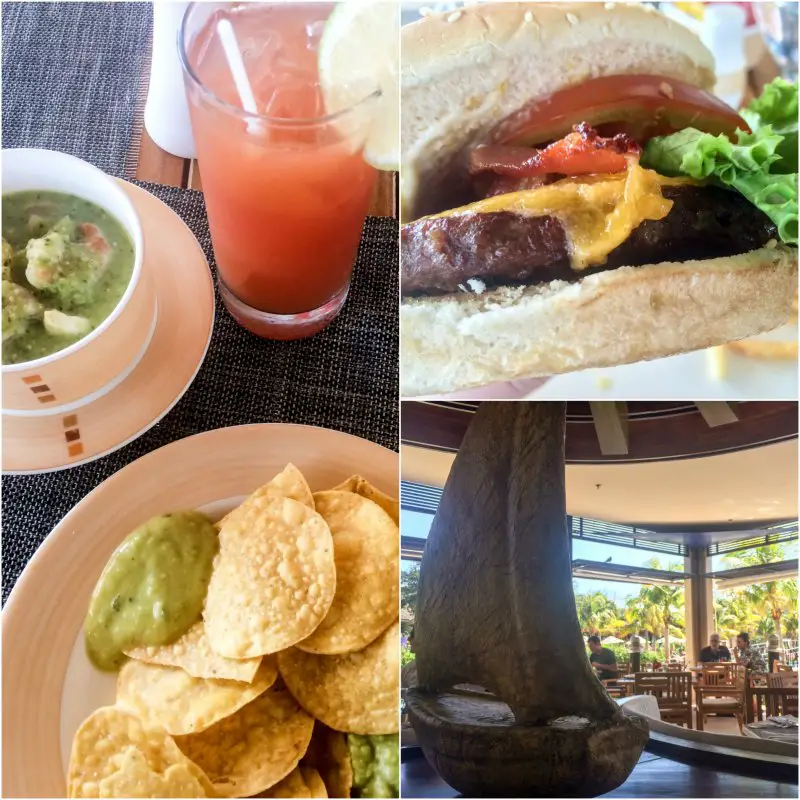 You thought our dinner at Oceana was bad? Lunch at the Seaside Grill was worse.
First of all, at the restaurant that supposedly specializes in tropical cocktails, I tried to order a Malibu Bay Breeze. I say tried because our waitress had no clue what that drink was. I understand not having Malibu because that is a specific brand. Yet, you're telling me a tropical resort doesn't have a coconut rum at its bars? I doubt it. Despite trying to explain the simple recipe to her, my drink was certainly not anything close to a bay breeze.
Then we tried to order ceviche only to find out from our waitress that all the ceviches were part of a buffet. Across the board, the resort's restaurant employees could do a better job of explaining how each restaurant works when a guest is first seated. Once we explored the buffet, we weren't impressed with the ceviche offerings. Maybe I've just become a ceviche snob after traveling in Peru.
We ended up ordering burgers. Then we waited. And we waited. And we waited some more. Not a single server checked on us. Other diners came, ate, and left. Two burgers were all we needed, and these aren't even hand-formed patties. One of the servers even told us that the burgers are made from frozen patties "like at McDonald's." Except I'd take a McDonald's burger over the one that took 40 minutes to be delivered to my table any day. After our burgers arrived, we realized they were definitely not worth the wait. I believe we tossed the word "gross" around a couple times, and that's how we ended up at …
Manatees, Barracuda & Barefoot Grill: Eat and Drink Poolside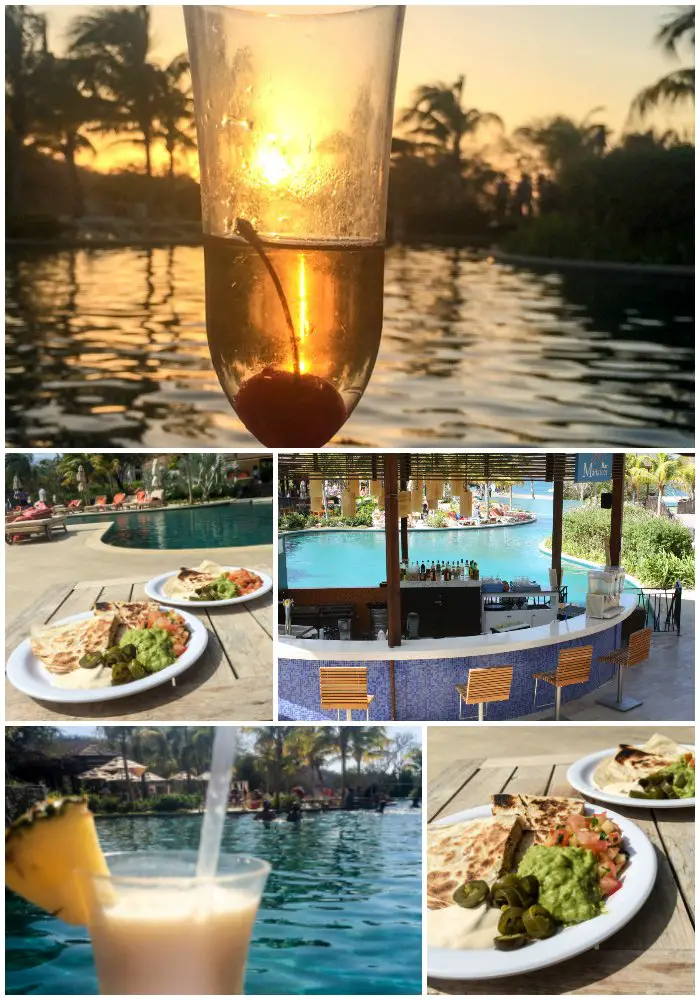 An absolute highlight of staying at Dreams Las Mareas is drinking tropical cocktails at one of the pools. Strawberry daiquiri, piña colada, Miami Vice, rum runner — you can try them all right from your lounge chair. A piña colada garnished with a pineapple wedge, sunshine, and an ocean breeze is pure bliss, isn't it?
You can eat lunch right on your lounge chair, too. During our stay, the limited food menu included cheese or chicken quesadillas served with guacamole, jalapeño peppers, and pico de gallo. The quesadillas were a much better lunch option than the Seaside Grill burger!
Drinks are served in plastic barware, so you may take your drink right into the pool. We loved hanging at the swim-up bar, where our friendly bartender made a rainbow of shots and added maraschino cherries to our sparkling wine.
World Cafe: Breakfast Buffet with International Influences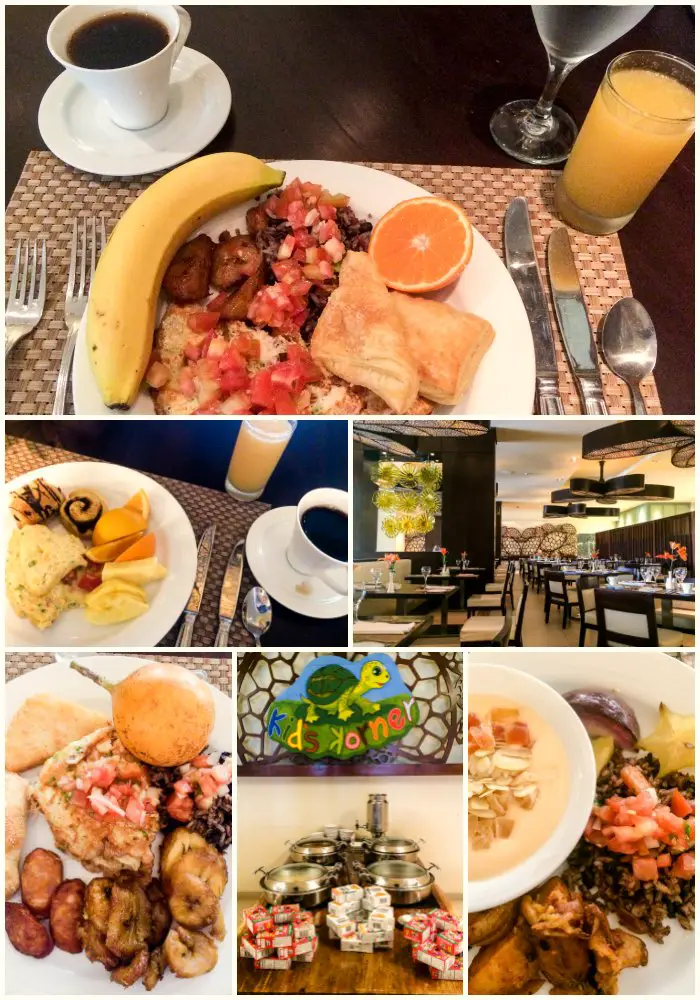 For breakfast, you have three options at Dreams Las Mareas. You can pick up coffee and a pastry at the Coco Cafe. You can order breakfast from in-room dining. Your best choice for the variety of food available is to dine at the World Cafe.
The World Cafe is the resort's only buffet restaurant. It offers an international spread of breakfast foods. We particularly liked the omelet station, the diverse mix of fresh fruits, and the delicious pastries. As a foodie, I really appreciated the inclusion of Costa Rican rice and beans and ripened plantains. There also was a kids' section with individual cereal boxes.
The World Cafe is also open for dinner, and it is probably the most kid-friendly restaurant at the resort.
Before You Dine at Dreams Las Mareas Restaurants
The abundance of food and beverages is a major perk of staying at an all-inclusive resort. What I really liked about staying at one of the Dreams Resorts was that we didn't need to upgrade to a special VIP level to dine at the a la carte restaurants.
You also don't need to worry about making reservations. The only exceptions are the Himitsu hibachi show or if you are arranging a special event.
If you plan to order in-room dining, you may want to inquire about when it will be delivered. It usually took 20-30 minutes for our breakfast to arrive. This is a really convenient option for mornings when you have early excursions.
Ready to eat, drink, and relax at an all-inclusive resort in Costa Rica? Check availability for your desired travel dates now:
If you liked this post about Dreams Las Mareas, you may also enjoy …
If I Could Dine at Dreams Las Mareas Again
Since the resort isn't near a town with restaurants, it was nice to taste different cuisines each night. If I stayed at Dreams Las Mareas again, I would try dinner at the World Cafe and try to get a reservation at the Himitsu hibachi show. Otherwise, I'd probably rotate between Portofino, Himitsu on a non-hibachi night, and El Patio since Italian, Mexican, and sushi are three of my favorite foods. To stay at this luxurious all-inclusive resort, click here to check availability for your travel dates and book your room now!
Save this review of the Dreams Las Mareas Costa Rica resort's all-inclusive restaurants to your Costa Rica travel board on Pinterest for future reference!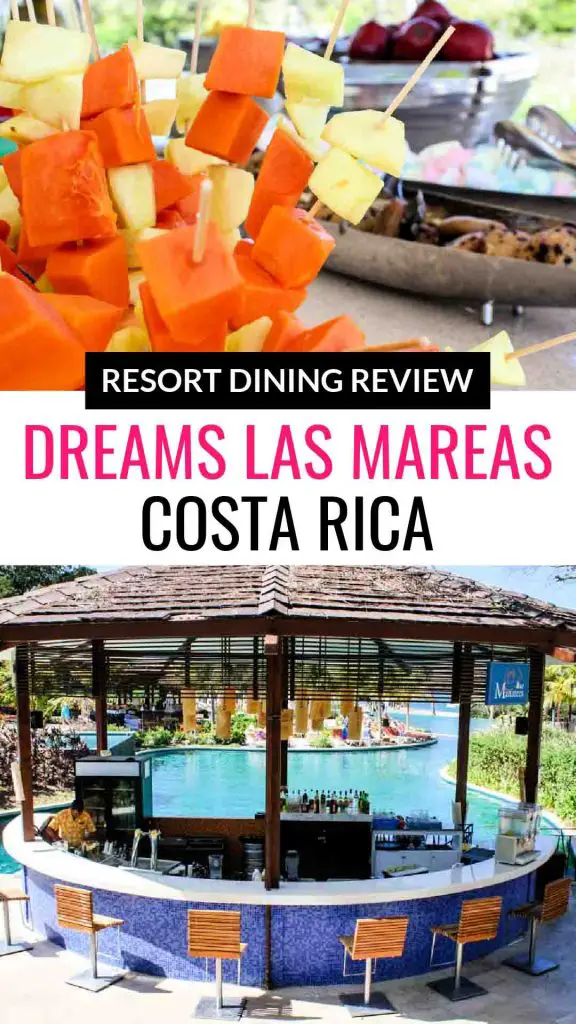 At which of these restaurants would you dine during your Dreams Las Mareas vacation?