Among the best destinations in Turkey, officially the Republic of Türkiye, are ancient wonders, jaw-dropping natural sites, and scenic seaside cities.
As you journey across this transcontinental country, you can trek to a dormant volcano's summit, relax on beautiful beaches with aquamarine water, explore the rich history of the Byzantine and Ottoman empires, and eat the most delicious cuisine.
Disclosure: This travel guide to the top destinations in Turkey contains some affiliate links. When you click on one of these partner links and make a purchase, I may earn a commission. Of course, this is at no extra cost to you.
---
16 Top Destinations in Turkey: Ancient Wonders, Contemporary Delights, and Hidden Jewels
Turkey, where the past and present harmoniously converge, unfolds as a treasury brimming with enchanting destinations awaiting your exploration.
From the charming streets of Istanbul to the time-honored wonders of Ephesus and from the surreal landscapes of Cappadocia to the tranquil beaches of Antalya, Turkey unveils a vibrant spectrum of experiences for all travelers.
In this encompassing guide, you will journey through some of Turkey's essential destinations, revealing the narratives, sights, and sensations that collectively render this country unforgettable.
Istanbul: Where East Meets West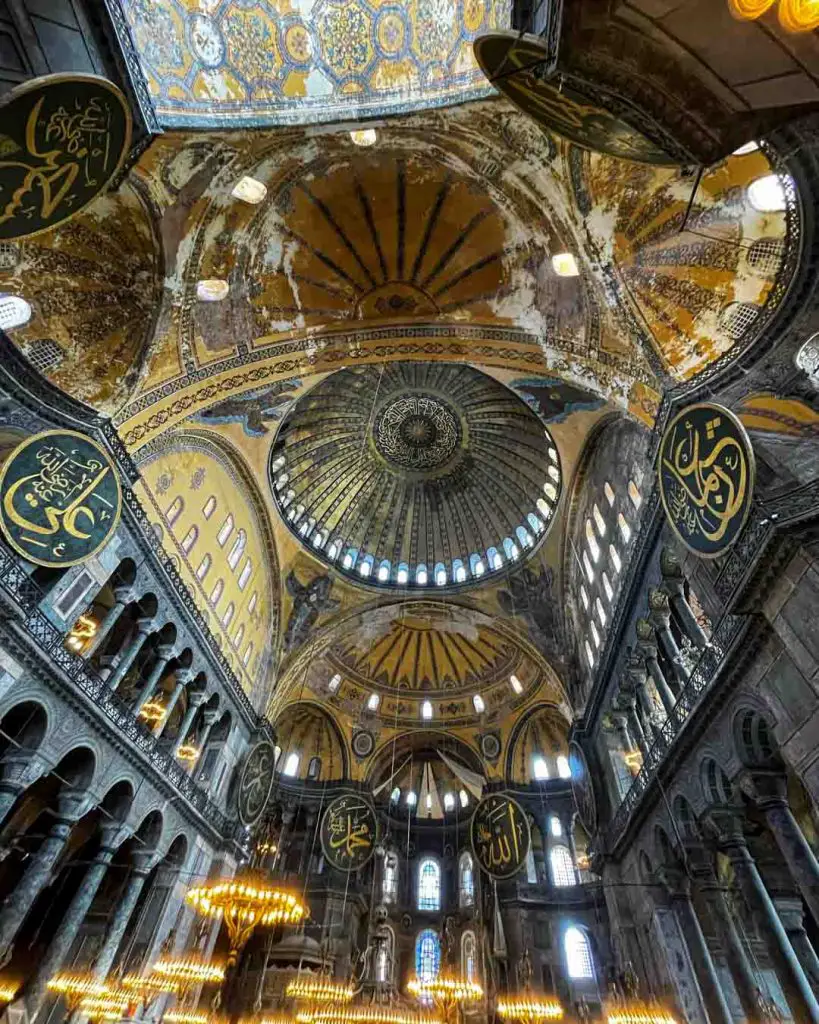 Istanbul is a constant reminder of the splendor of the Byzantine and Ottoman Empires because of its extensive history.
For example, the Ayasofya (Hagia Sophia) is a masterpiece of Byzantine architecture, a symbol of Istanbul's cultural legacy, distinguished by its massive dome and exquisite mosaics.
As you journey through Istanbul, you'll embark on a timeless voyage through the pages of history as you meander through its maze-like streets and savor the mouthwatering flavors of traditional Turkish cuisine.
Here, the harmonic combination of Eastern and Western influences creates a fascinating synthesis of civilizations.
The Bazaars of Dreams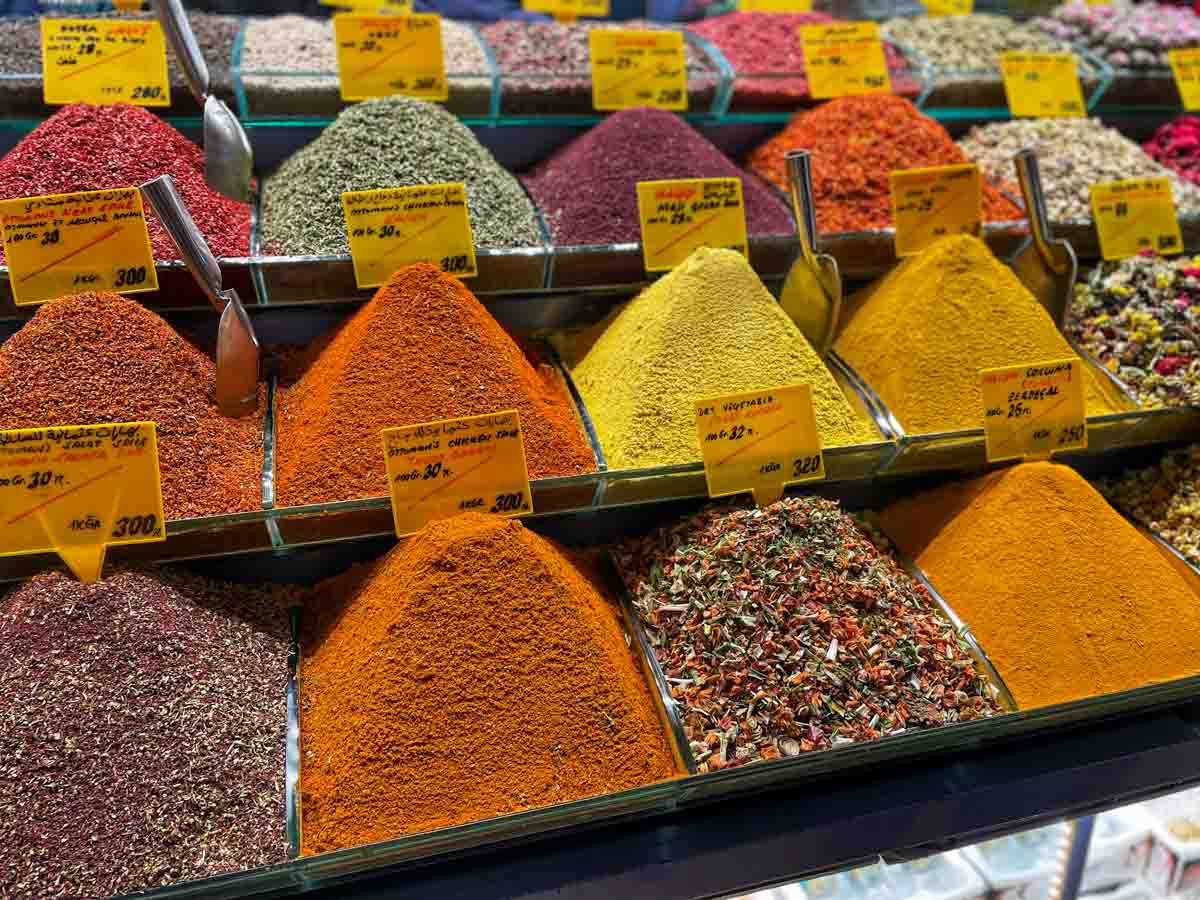 While in Istanbul, embark on a journey to the Grand Bazaar, an expansive labyrinth boasting over 4,000 shops.
Here, you'll immerse yourself in the art of haggling, discovering treasures such as intricately woven carpets, aromatic spices, and exquisite jewelry that narrate tales of craftsmanship and heritage.
To truly feel the pulse of local existence, venture into the lively Spice Bazaar, where the air is adorned with the alluring fragrances of exotic spices, fragrant teas, and herbal elixirs.
Before you set out to visit the grandeur of these bazaars, check more info about the visa for hassle-free entry into this diverse and enchanting country.
Cappadocia: The Land of Fairy Chimneys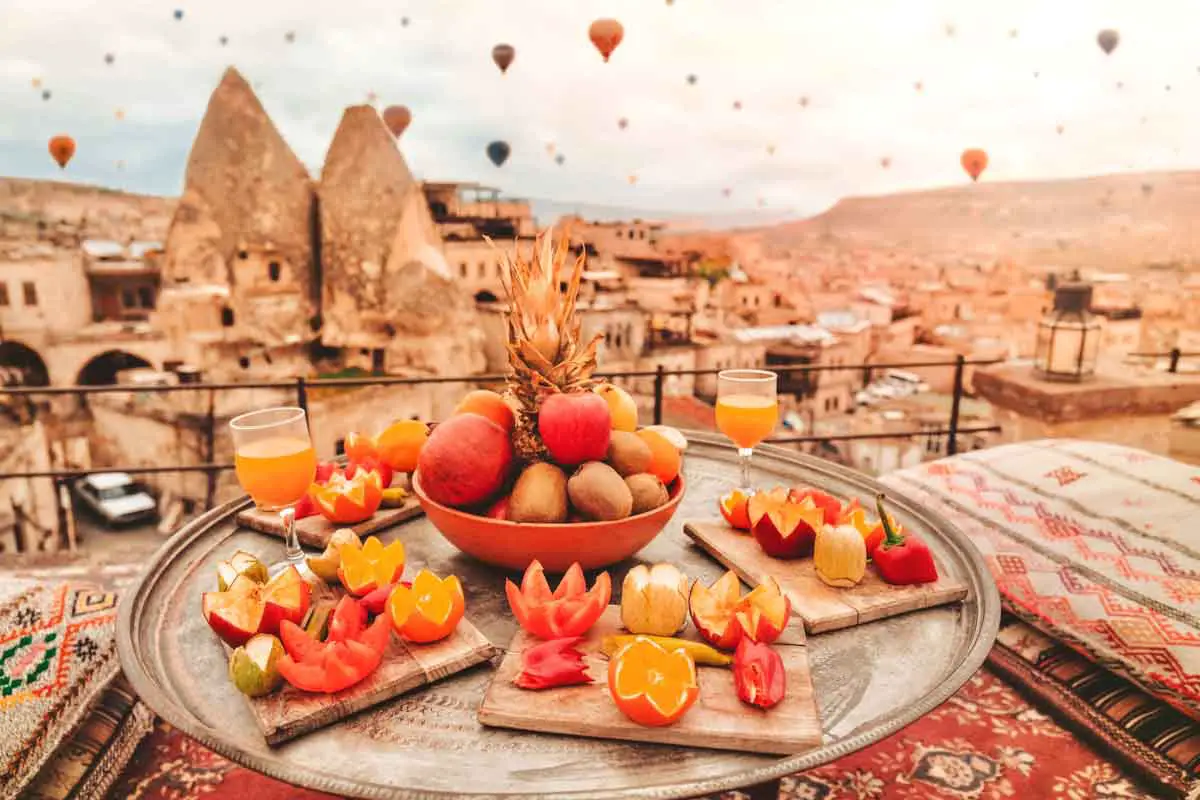 Cappadocia is a surreal region where whimsical rock formations, known as fairy chimneys, dot the landscape, creating an almost magical ambiance.
Explore the underground cities of Derinkuyu and Kaymaklı, masterfully carved into the soft volcanic rock, showcasing the remarkable architecture of ancient civilizations.
For a truly ethereal experience, rise at dawn for a hot air balloon ride in Cappadocia. You'll float above this otherworldly terrain and watch the sunrise cast an enchanting and golden glow on the remarkable landscape.
Göreme Open-Air Museum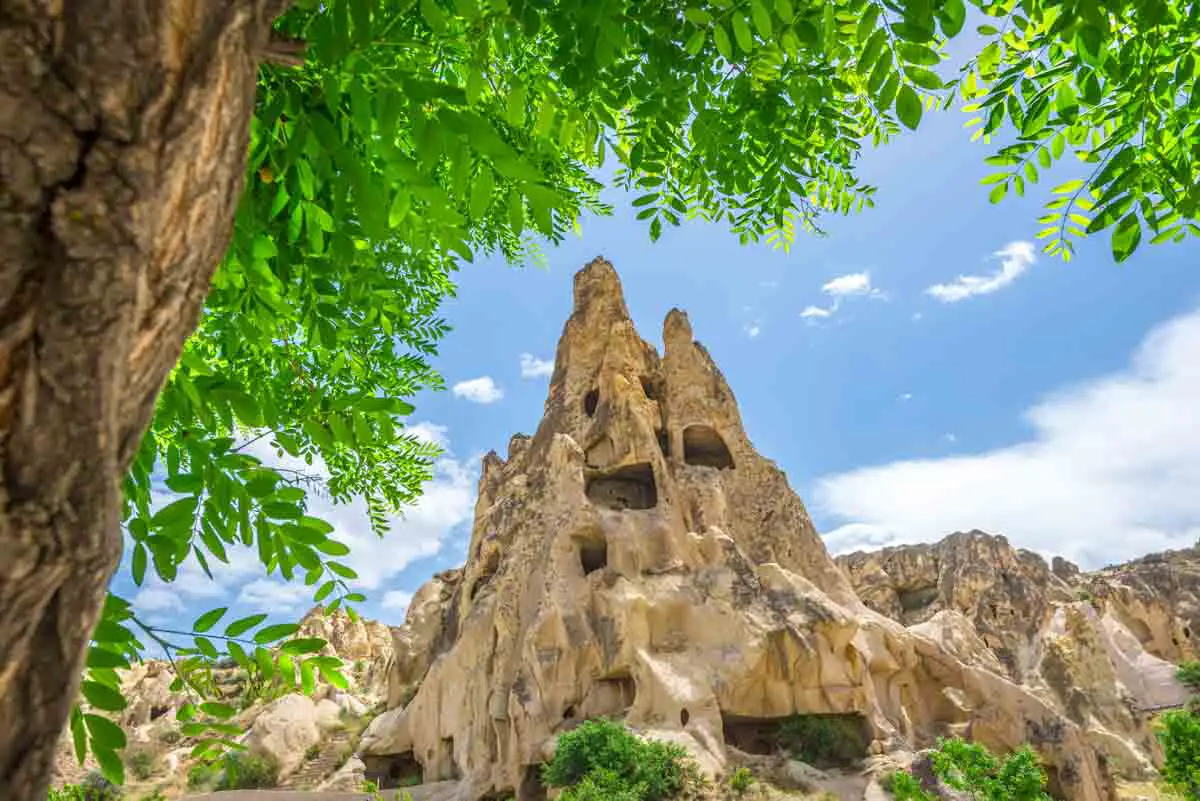 Marvel at the Göreme Open-Air Museum, an architectural wonder where ancient cave churches are adorned with intricate frescoes, offering a fascinating glimpse into the region's rich religious history.
Explore the spiritual heritage of Cappadocia as you delve into these beautifully preserved cave sanctuaries, where art, faith, and history converge in captivating harmony. 
Ephesus: Walking Through History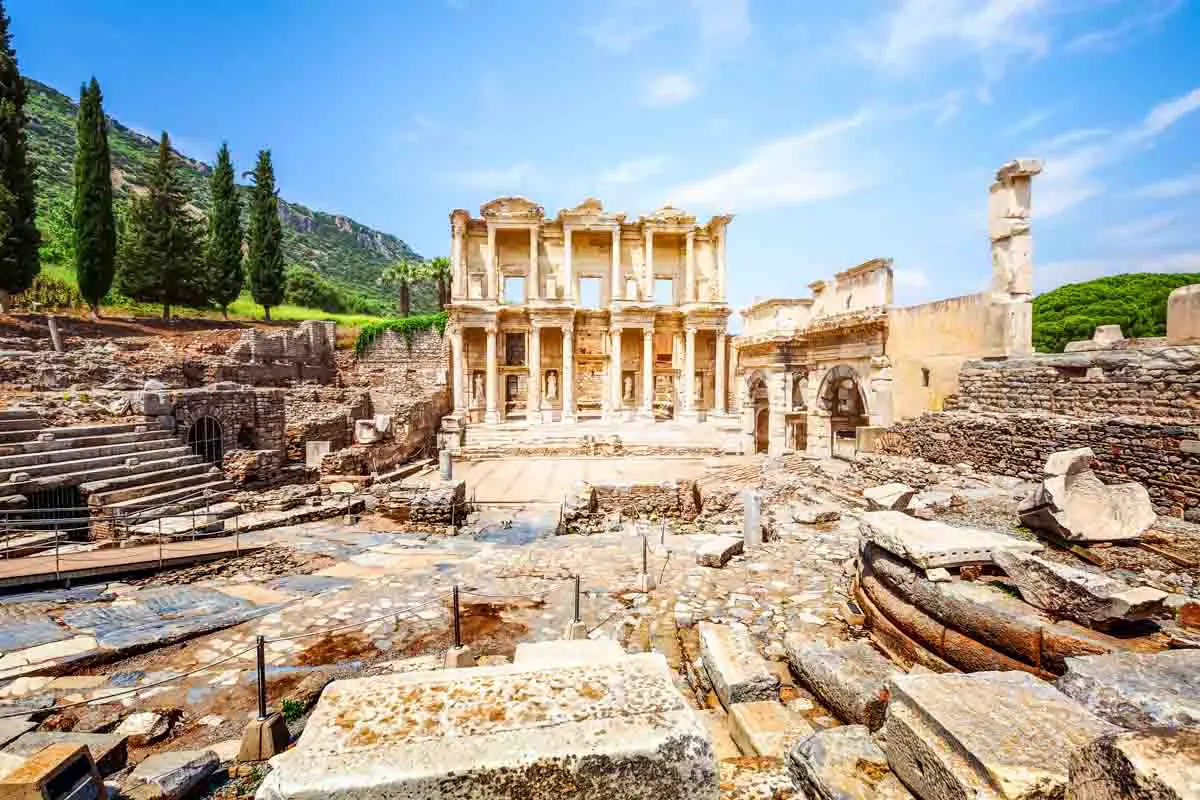 Ephesus, an ancient Greek city that blossomed into a significant Roman metropolis, stands as a living museum, effortlessly whisking you away to a bygone era.
The Library of Celsus, an architectural masterpiece, is a profound testament to human ingenuity and the relentless pursuit of knowledge.
Imagine the echoes of the past in the Great Theater, with its colossal seating capacity of 25,000, where the voices of ancient philosophers and orators once reverberated through history. 
The Temple of Artemis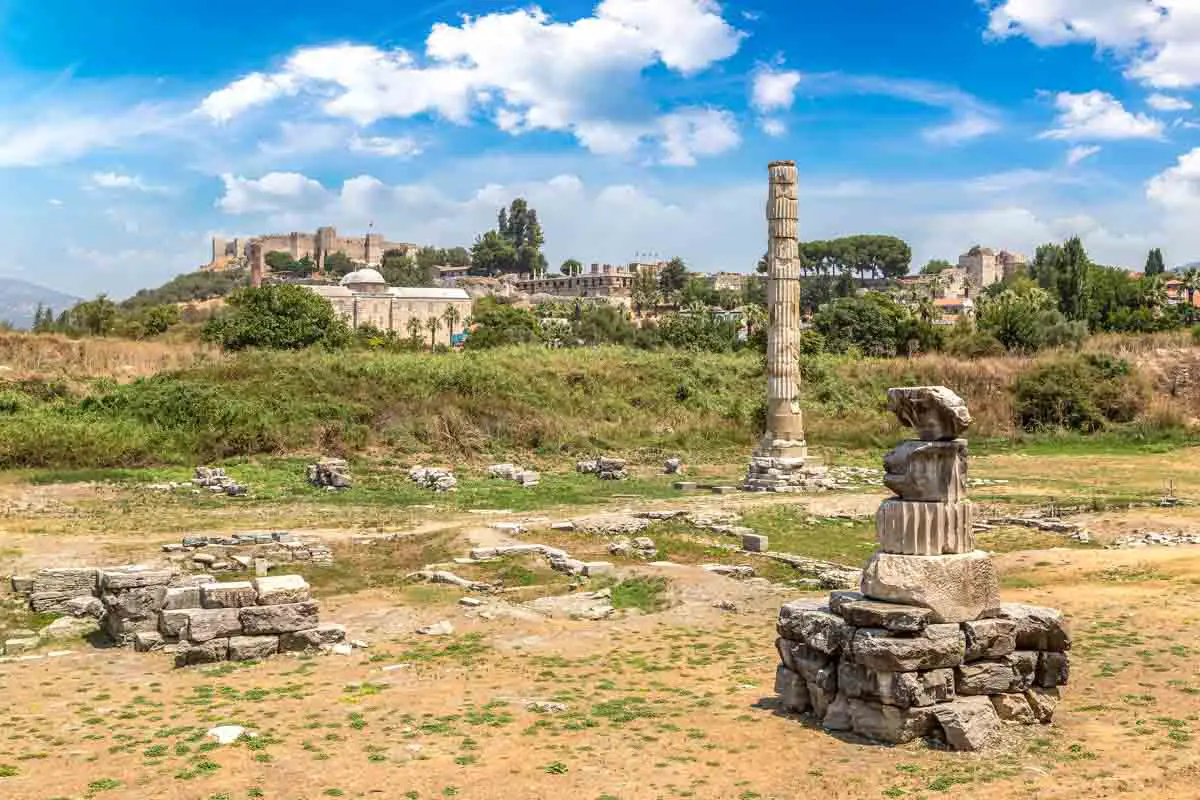 A short ride from Ephesus brings you to the site of the Temple of Artemis, celebrated as one of the Seven Wonders of the Ancient World.
Here, you'll explore the history and mythology surrounding this ancient sanctuary.
Though only a few towering columns stand today, the lingering essence of its former grandeur is undeniable, leaving you amazed by the historical importance and splendor that once defined this remarkable place.
Antalya: The Turquoise Coast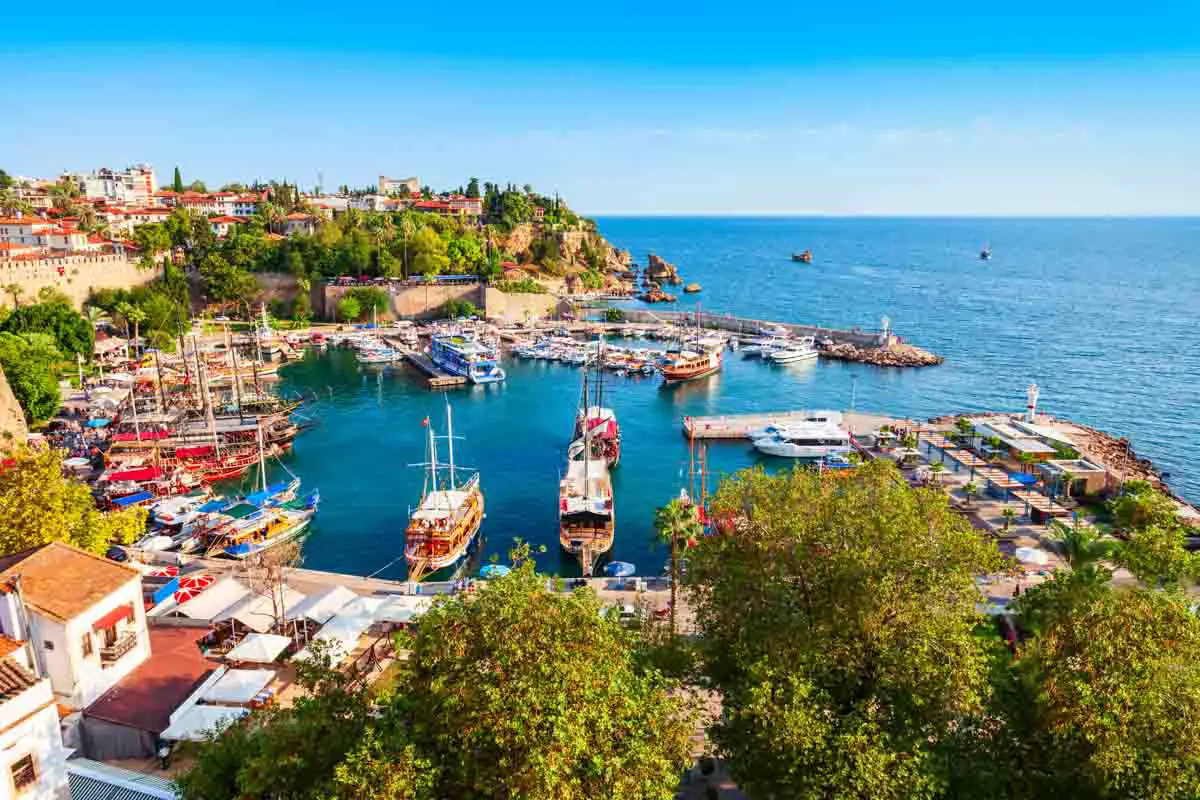 Antalya, often called the Turkish Riviera, is a haven of pristine beaches and a Mediterranean climate that invites relaxation.
Whether you choose to lounge on the golden sands of Konyaaltı Beach or embark on a journey through history amidst the ancient ruins of Phaselis, perched elegantly on the coastline, you'll find a harmonious blend of natural beauty and historical intrigue. 
Kaleiçi: The Old Town
Stroll through Kaleiçi, Antalya's captivating old town, where narrow streets transport you back amidst the enchanting backdrop of Ottoman-era houses and charming cafes.
As you wander these historical alleys, you'll encounter the iconic Hadrian's Gate, a magnificent structure that serves as the gateway to this picturesque district, welcoming you to explore its timeless charm and rich heritage.
Bodrum: Where Ancient and Modern Collide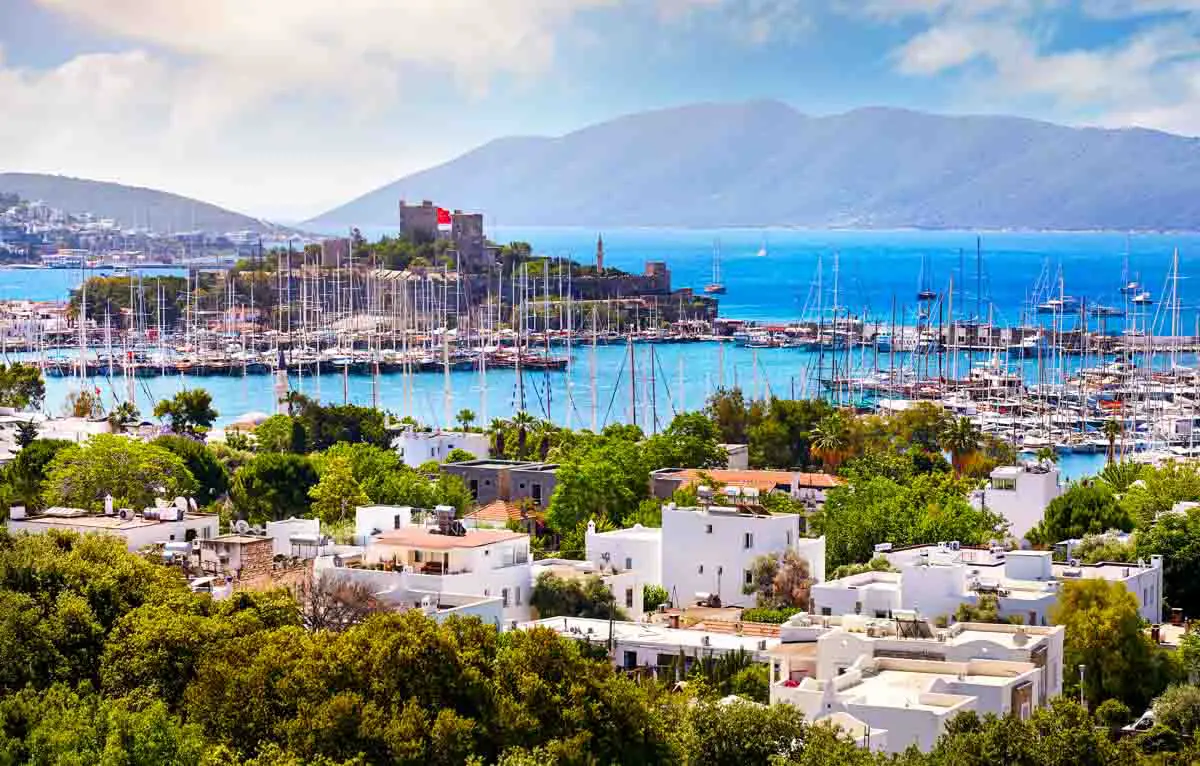 The Mausoleum at Halicarnassus, another notable member of the Seven Wonders of the Ancient World, is proudly on exhibit in Bodrum, a picturesque coastal town tucked away amid the tranquil Aegean Sea.
Visit the Bodrum Museum of Underwater Archaeology in the Castle of St. Peter to further immerse yourself in history. Here, you'll gain fascinating insights into the area's marine past.
Yachting and Nightlife in Bodrum
Bodrum is also renowned as a yachting paradise, beckoning travelers to embark on a "blue cruise" along the captivating Turkish coastline.
As day turns to night, Bodrum awakens with a lively nightlife scene featuring beachfront clubs and charming bars in the old town.
Whether you seek adventure on the open sea or vibrant entertainment after dark, Bodrum promises a memorable experience. 
Pamukkale: The Cotton Castle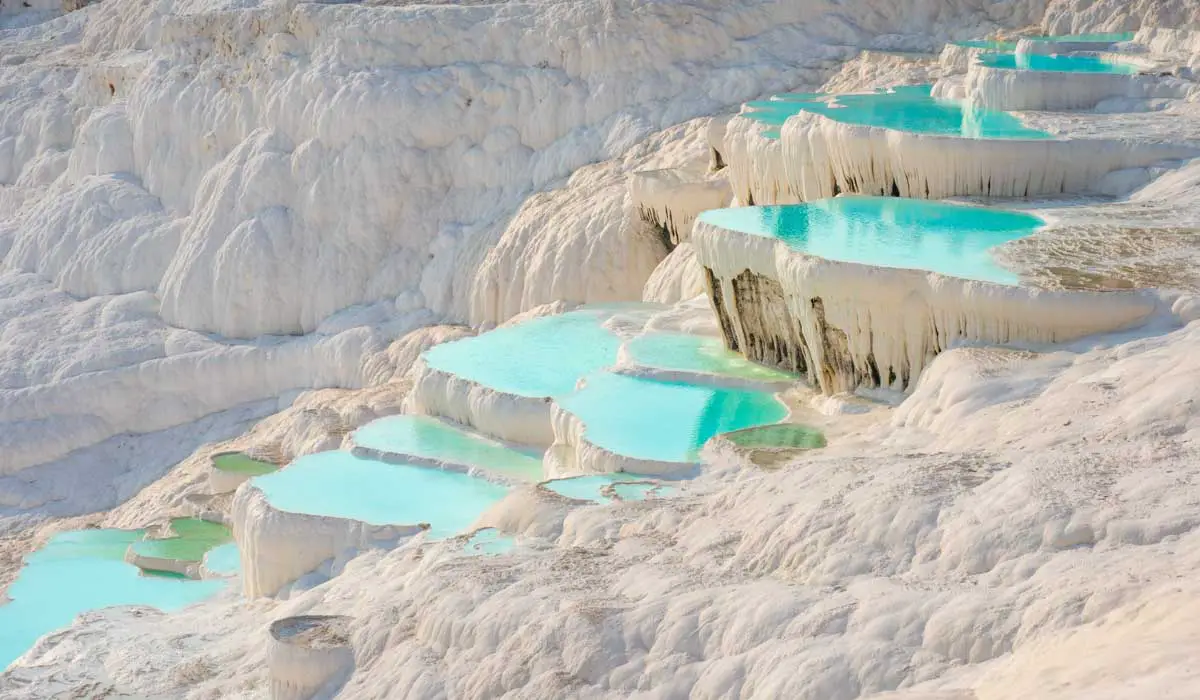 Affectionately called the "Cotton Castle," Pamukkale is a nature marvel.
Its terraces, adorned with glistening white mineral-rich thermal waters, have been a magnet for visitors for countless centuries.
Immerse yourself in the inviting, calcium-laden pools while savoring the sweeping vistas of the picturesque surroundings.
Pamukkale is a true testament to the Earth's artistic prowess.
Hierapolis: Ancient Healing Site
Adjacent to Pamukkale lies the historical city of Hierapolis, renowned for its impeccably preserved theatre and the Sacred Pool, where the legendary Cleopatra is said to have indulged in healing baths.
Explore the age-old relics of this site, which continues to evoke the mysteries of the past, offering a tangible connection to the ancient world's rituals of rejuvenation and wellness.
Troy: A Tale of Legends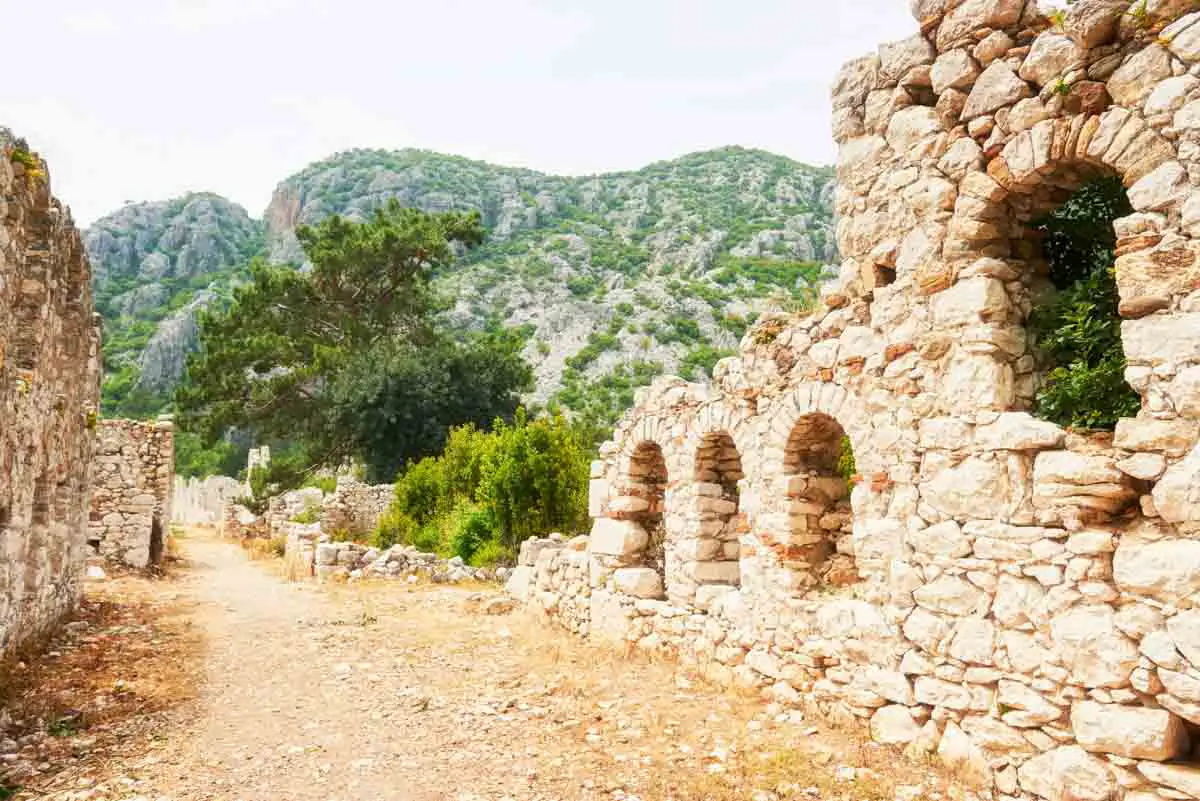 As you continue your journey northward to Troy, you'll find yourself walking in the footsteps of legends.
This ancient city, forever etched in mythology, is where the storied Trojan War played out.
Explore the evocative ruins of Troy, from its towering walls to the heart of the city where the iconic wooden horse once stood, concealing Greek soldiers.
This reconstructed wooden horse, an enduring symbol of antiquity, offers a tangible connection to a tale that has captivated the human imagination for centuries.
Çanakkale and the Dardanelles
Nearby Çanakkale serves as a poignant reminder of more recent history—the events of World War I.
This region is the gateway to the Gallipoli Peninsula, where a brutal and protracted conflict unfolded.
Here, you can pay your respects at the moving memorials honoring the sacrifices made during this tumultuous era.
The Gallipoli Peninsula's solemn atmosphere and historical weight reflect the enduring impact of wartime experiences.
Safranbolu: A Step Back in Time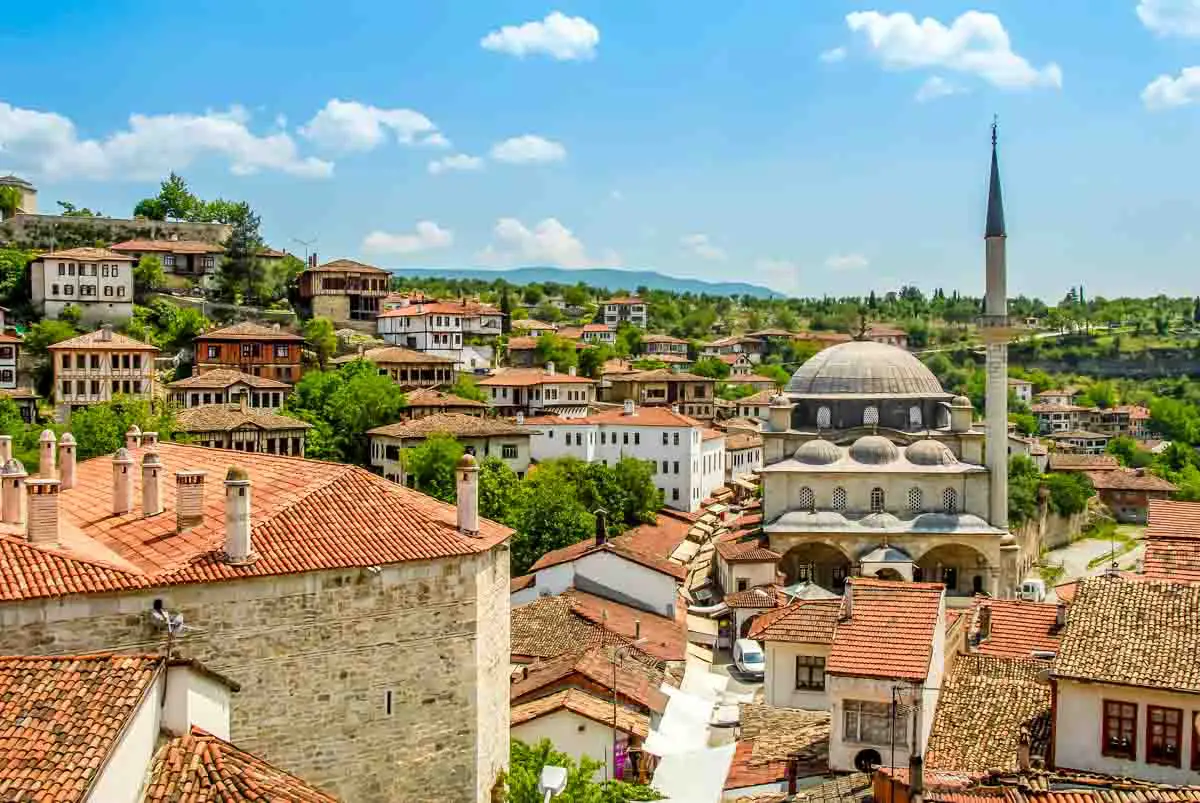 Safranbolu is a perfectly preserved Ottoman town, a UNESCO World Heritage site nestled amid rolling hills.
Wander through its cobbled streets, lined with charming houses and shops selling saffron and Turkish delight.
Immerse yourself in the ambiance of a bygone era as you explore the historical mosques, hammams, and caravanserais that evoke the grandeur of the Ottoman Empire.
Mount Ararat: A Challenge and a Mystery
Finally, for the adventurous souls, there is Mount Ararat, Turkey's highest peak and a dormant volcano.
Trekking to its summit is a challenging endeavor. Still, the reward is breathtaking views and the possibility of uncovering the mystery of Noah's Ark.
This legendary mountain has captured the imagination for centuries. While the ark remains a mystery, the journey to its heights promises an unforgettable adventure and a deep connection with nature.
 Which of these top destinations in Turkey would you visit?
As you explore Turkey's multifaceted destinations, you'll be captivated by the stories etched into its stones, cuisine flavors, and inhabitants' welcoming spirit.
Each corner of Turkey unveils a new chapter in its rich history, making it a treasure trove of experiences waiting to be discovered.
So, pack your bags, embrace the unknown, and let the magic of Turkey weave its spell on you.
Discover and book more top attractions in Turkey now on Viator and GetYourGuide!
Read More Articles
Planning a trip to Turkey? Save the image below to your Turkey travel board on Pinterest to refer back to this article later!