Restaurants and bars surround the Woodward Avenue and 9 Mile Road intersection in Ferndale, a Detroit suburb about 11 miles from the Motor City's downtown. One of those restaurants is Anita's Kitchen, a family-owned Lebanese eatery.
Knowing my love of Lebanese cuisine, my friend Monica suggested we meet at Anita's Kitchen for lunch. We arrived at 1 p.m. on a Friday to find the dining room full and the tiny waiting area jam-packed. Despite the crowd, we were seated shortly after arriving, and I dare say our meal was well worth the brief wait.
Overall, I thoroughly enjoyed my dining experience at Anita's Kitchen and hope to eat here again. The menu features quintessential Lebanese favorites — falafels, kabobs, and chicken shawarma. In addition to the traditional Lebanese fare, diners will find Mediterranean classics, such as lamb and chicken gyros. The menu also includes quite a few vegetarian, vegan, gluten-free, and halal options.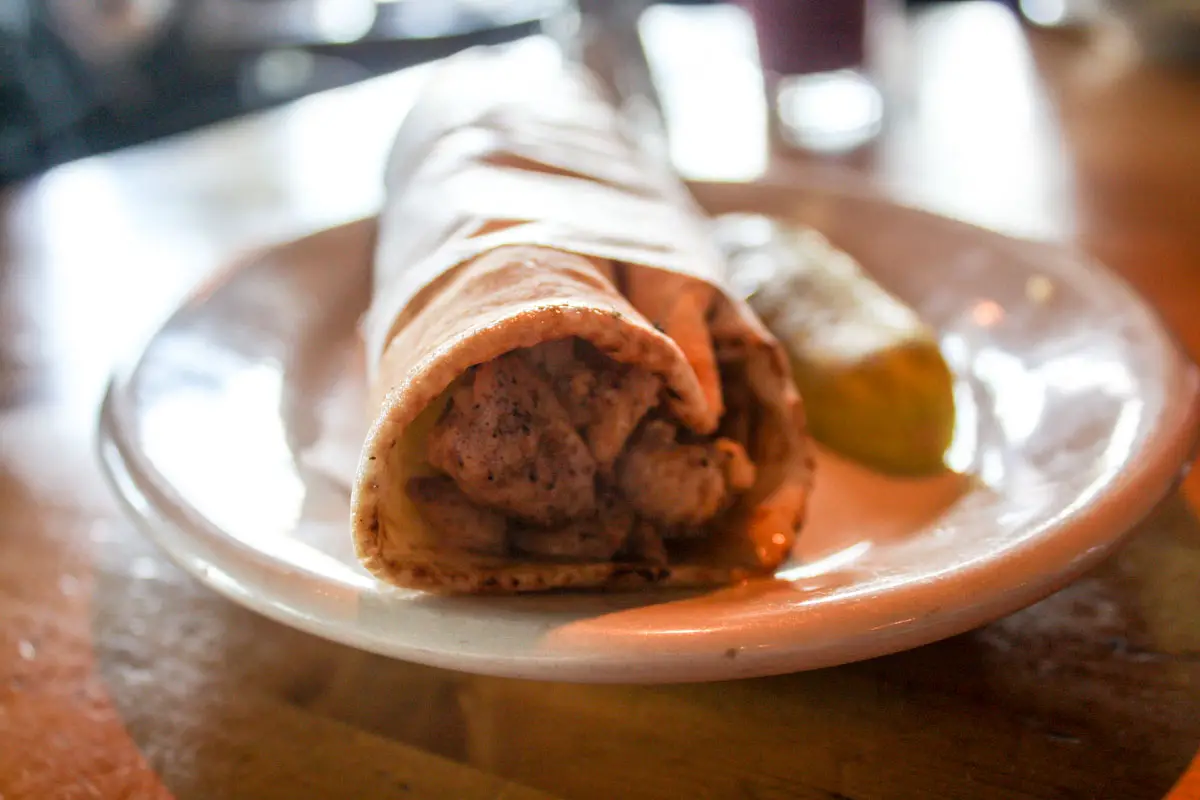 Anita's Kitchen: The Food
Once we were seated in dark wicker-like chairs in view of a large map of Lebanon and a case of delicious-looking desserts, Monica and I both began our meals with cups of soup. Monica selected the black bean soup topped with feta cheese. I had to try the restaurant's lemon lentil. On a cold January day, my cup of flavorful soup had just the right amount of warmth and zest.
Chicken shawarma pita sandwiches each with a slice of pickle on the side came next. The lunch special of any pita sandwich paired with a cup of soup is a filling meal. All for under $10, too. The shawarma was a little greasy, but, in my opinion, that is to be expected. I really appreciated that it was just chicken and pickles — a shawarma pita really does not need extra veggies.
Though the menu reflects Lebanese flavors, there are also dishes — such as the beef burger and Anita's chopped salad — that less adventurous diners may find appetizing. For vegetarians, vegans, and diners who must eat gluten free or halal, Anita's Kitchen has plenty of options for you, too. You'll find the menu clearly labels dishes as vegan, vegetarian, gluten free, and/or halal.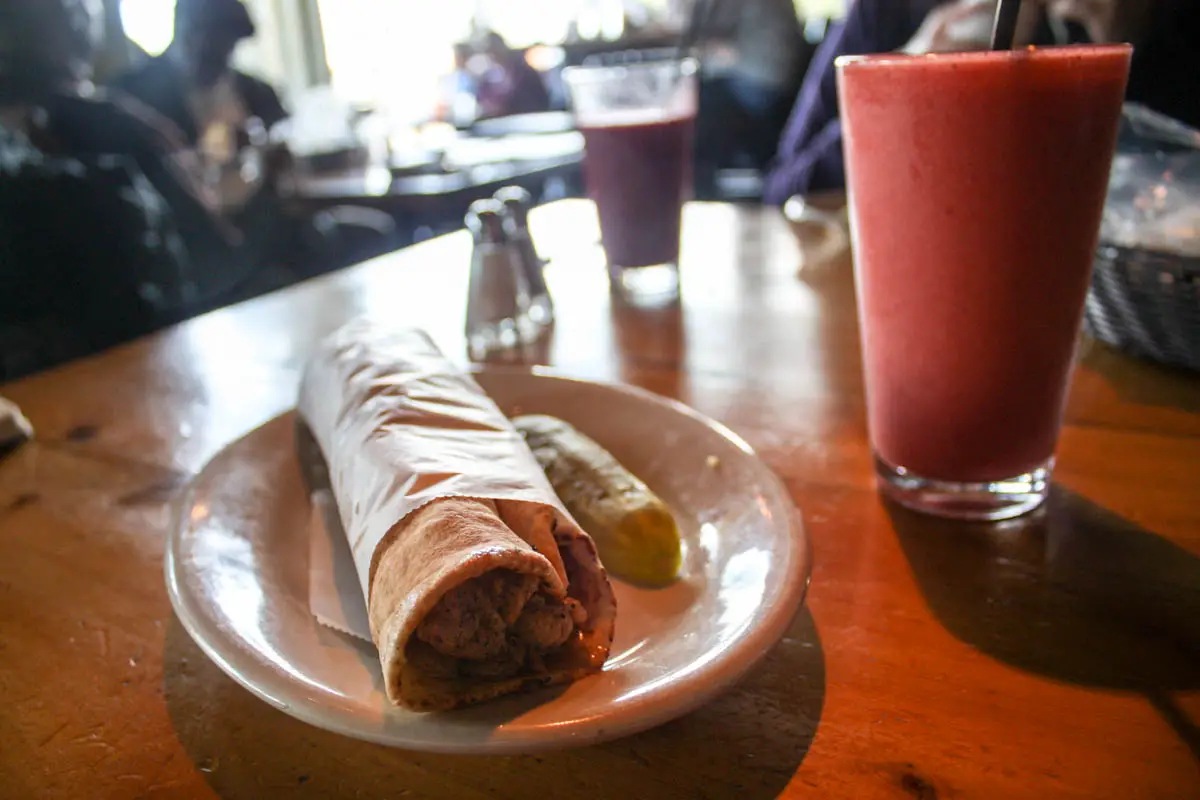 Anita's Kitchen: The Drinks
One of the features I like best about Anita's Kitchen is the raw juice and smoothie menu. The menu lists some of the restaurant's "favorites." You can also create your own drink from a selection of fruits and vegetables. Monica's Berries Over Beirut smoothie had strawberries, raspberries, and blueberries in it. It looked tasty to me! I opted to add spinach to the sweet and refreshing Wango Tango smoothie mixed with strawberries, banana, raspberries, and mango. So refreshing!
Things To Know Before Dining At Anita's Kitchen
As of July 2020, Anita's Kitchen is open only for carry-out orders with curbside pick-up available.
Location: 22651 Woodward Ave, Ferndale, MI 48220
Parking: No private parking lot. Limited number of metered spaces on the side street. Free two-hour parking in the neighborhood.
Price: Moderate
Kids' menu available
Great for vegetarians, gluten-free diners, families, couples, friends
Halal meats available
Outdoor patio
Free WiFi
Anita's Kitchen also has locations in Detroit and Lake Orion, but they have been temporarily closed in 2020.
Don't forget to save this restaurant review to your Michigan board on Pinterest to easily reference when you plan your next dining experience in Metro Detroit!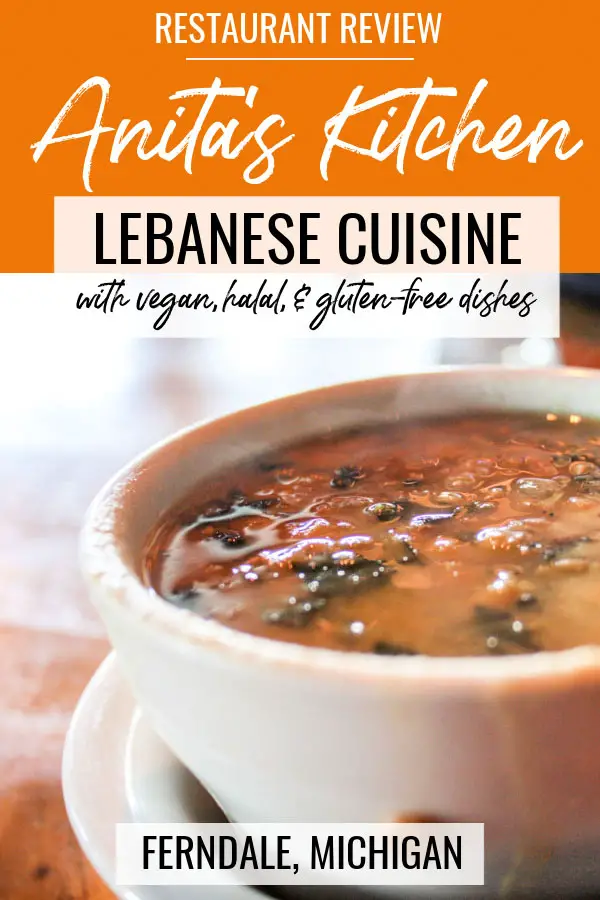 I'd love to dine here again. Perhaps I'd split the vegetarian mezze platter and a bottle of wine with friends on the patio. Afterwards, we could walk to the nearby bars on 9 Mile. Sounds like a fun night in Ferndale, right?
For more ideas of where to eat in Metro Detroit, check out more of my local restaurant reviews and dining guides:
Who is up for hummus and stuffed grape leaves?