In a neighborhood settled by European immigrants, Ottava Via brings a little of the Old World to Detroit's Corktown.
My dinner at Ottava Via was my first dining experience in Corktown in at least five years, having previously eaten at Slows Bar B Q, about a half-mile down Michigan Avenue from Ottava Via. This historic Detroit neighborhood hosted the Detroit Tigers and their fans from 1912 until 1999, when the major league team moved to downtown's Comerica Park. After the legendary Tiger Stadium was shuttered and eventually demolished, I, like many other metro Detroiters, wondered what would become of the neighborhood.
In the past few years, development has revitalized Corktown. Cafes, gastropubs, and bars have opened their doors, and Detroit's foodies have taken notice. In 2013, Ottava Via joined Mudgie's Deli, Mercury Burger & Bar, Astro Coffee, and Sugar House in Corktown's culinary revolution. And it's the tastiest revolution I've witnessed.
If you are planning a visit to Detroit, dining in Corktown is a must. So, let's take a closer look at the food and beverages you could taste in this foodie neighborhood's Italian eatery, Ottava Via.
Disclosure: This post contains affiliate links. If you click on one of these links to make a purchase or hotel reservation, I may earn a commission. Of course, this is at no extra cost to you, and I only recommend products I have or would use and hotels where I have or would stay.
Ottava Via Food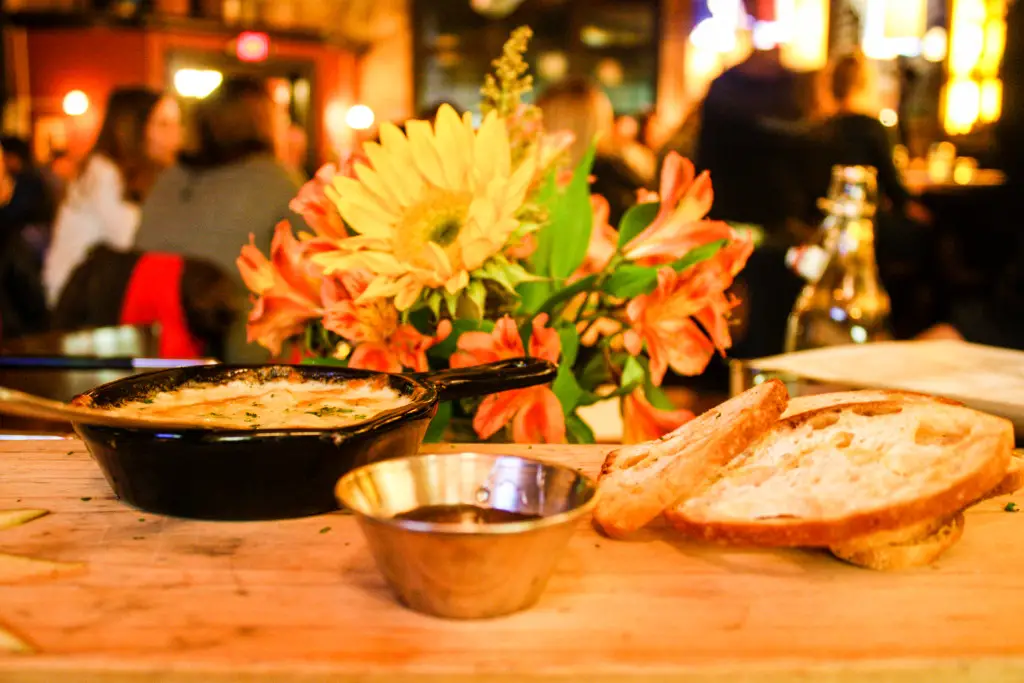 Ottava Via's paper menu, which also serves as the diner's placemat, lists a variety of small plates, thin-crust pizzas, salads, panini sandwiches, and pasta dishes. My dinner companions had previously dined here, so they recommended we share some of the small plates and a pizza.
We started our delicious meal with melted pecorino cheese served with crispy bread, pear slices, and honey. It was heavenly. If you like cheese, definitely order this dish.
The following small plate — garlic shrimp — was beyond wonderful. Is there a word for that yet? As long as this dish remains on Ottava Via's menu, I will be ordering it. You should, too!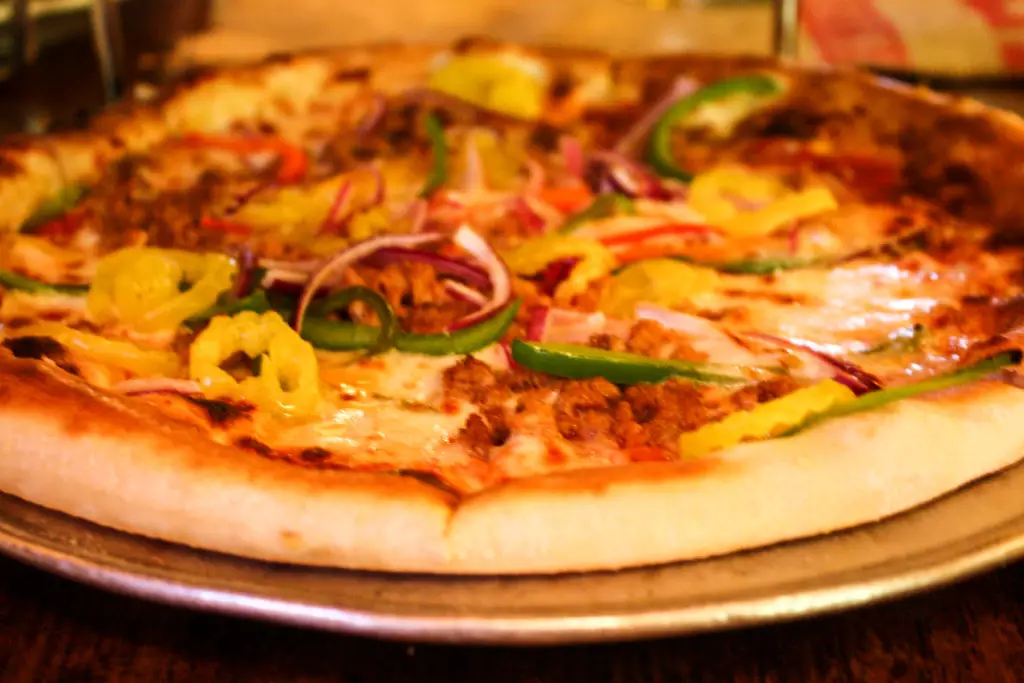 Our thin-crust pizza was topped with green bell and banana peppers, red onion, and sweet Italian sausage. Other pizzas included the Fungi topped with mushrooms and a quattro formaggi (four cheese) pie that sounds scrumptious.
The night we dined at Ottava Via one of the specials was the beautifully plated Chilean sea bass dish pictured above. When my friend offered me a bite, I had to do a taste test for the sake of this blog, of course. It was simply mouthwatering. Overall, all the food tasted delicious.
Ottava Via Drinks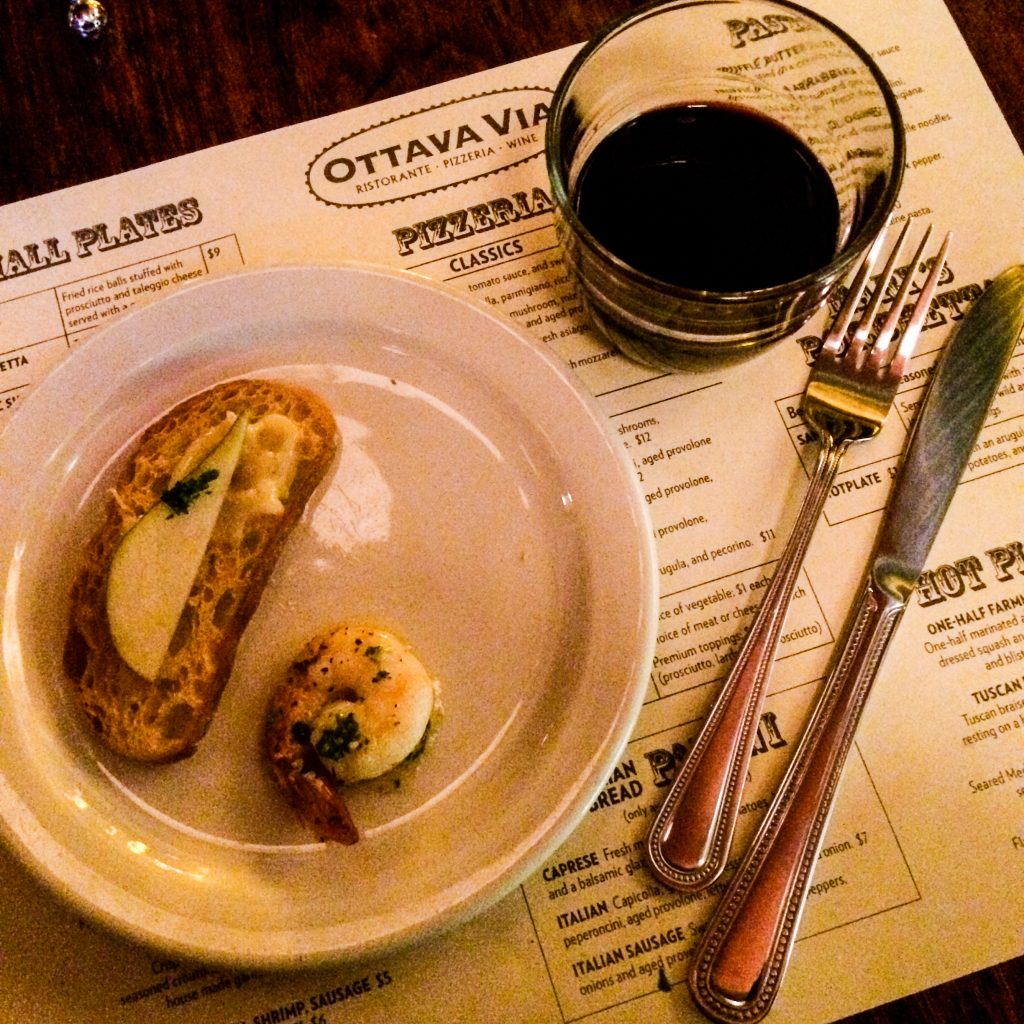 The focal point of the Ottava Via dining room is a beautifully detailed dark wood bar, where classic cocktails with a Detroit-spin — like the 8th Street Negroni featuring Detroit-distilled Two James gin  — and a nice selection of wines are poured. During my visit, I opted for a Darkhorse Cabernet Sauvignon. The fruit-forward California red stood up to the flavorful meal.
Ottava Via Ambiance
The atmosphere of this dimly lit Italian restaurant reminded me of the ristorantes I patronized in Rome, and its Neapolitan-style pizza brought back memories of dining in Venice. I particularly noticed European influences in the communal dining, which dates back to the French Revolution and is still common at German beer gardens. During warmer months, Ottava Via's patio is the place to be. Not only can you dine al fresco, but you can also play a game of bocce ball.
Things To Know Before You Dine At Ottava Via
Location: 1400 Michigan Ave, Detroit, MI 48216
Parking: Street parking is available along Michigan Avenue, and there are attended parking lots in the area around the restaurant. The attended lots cost a few dollars.
Reservations: Call 313-962-5500 to be placed on the list for a table
Who Should Visit: Romantic ambiance and shareable dishes — doesn't this sound perfect for date night?
Menu: Italian cuisine featuring small plates, pizzas, and pasta dishes with a variety of vegetarian options
Where to Stay Nearby: Trumbull and Porter
The thin-crust pizzas, garlicky shrimp, and bocce ball on the patio make Ottava Via worth a visit to Detroit's Corktown neighborhood. If you have dined at Ottava Via, what was your experience like? Tell me about it by leaving a comment below.
Dining in Detroit someday? Save this review of Ottava Via to your Detroit, Michigan, or dining board(s) on Pinterest!
Save