Would you like to taste the most exotic fruits in the world? In this guest post from Raw Juicery, you'll learn about the flavor and health benefits of 18 of the rarest fruits around the globe!
Disclosure: This guest post about the most rare fruits in the world contains some affiliate links. When you click on one of these links and make a purchase, I may earn a commission. Of course, this is at no extra cost to you.
---
18 Unusual Fruits to Try While Traveling the World
The world is full of rare, exotic, and health-boosting fruits, many of which are yet to be discovered by even the most well-traveled foodies.
Even if you've traveled to 30+ countries all around the world, I'd be willing to bet you've never had some of these on our list of exotic fruits!
From "miracle fruits" in West Africa to smelly durian in Thailand, we'll explore where to find these rare and exotic fruits, their cultural significance, and how they can benefit your health while traveling.
Get ready to broaden your culinary horizons as we dive in!
Must-Try Exotic Fruits in Asia
Schisandra Berries (Schisandra chinensis)
Schisandra berries are a rare fruit native to Northern China and Russia.
Also known as "five-flavor berries" and omija fruits, their unique taste combines all five flavor profiles — sweet, sour, bitter, salty, and umami. 
These small, red berries are also a potent source of antioxidants and have been used in traditional Chinese medicine for centuries to increase vitality and boost immune strength.
Whether you consume them raw, dried, as a supplement, or in a juice, the complex flavor profile and health benefits of schisandra berries are impossible to ignore.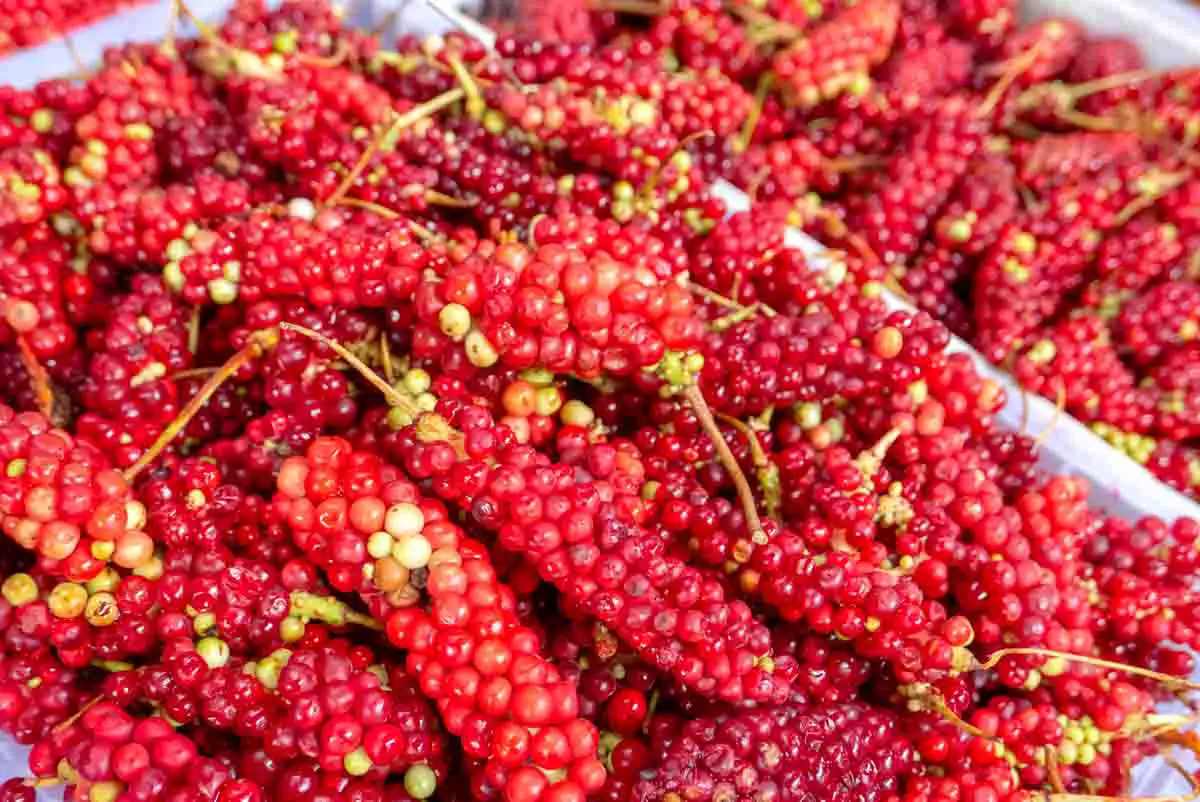 Durian (Durio)
Weighing up to 7 pounds (3kg) and growing up to 12 inches (30cm) in diameter, durian is the "King of Fruits" in Southeast Asia. In particular, these exotic fruits are most prevalent in Thailand, Malaysia, and Indonesia.
Did you know there are over 30 species of durian? All of the durian species are characterized by their large size, thorny exterior, and distinct (not very pleasant) smell. 
Though the flavor is a combination of sweet, savory, and creamy, the durian's unique smell is full of odors similar to "rotten egg, rotten cabbage, skunk and fruit."
Aside from its smell and size, durian is highly valued for its rich amount of dietary fiber, B-vitamins, vitamin C, and healthy fats.
It can be consumed fresh or cooked into dishes; either way, there is, unfortunately, no escaping that smell.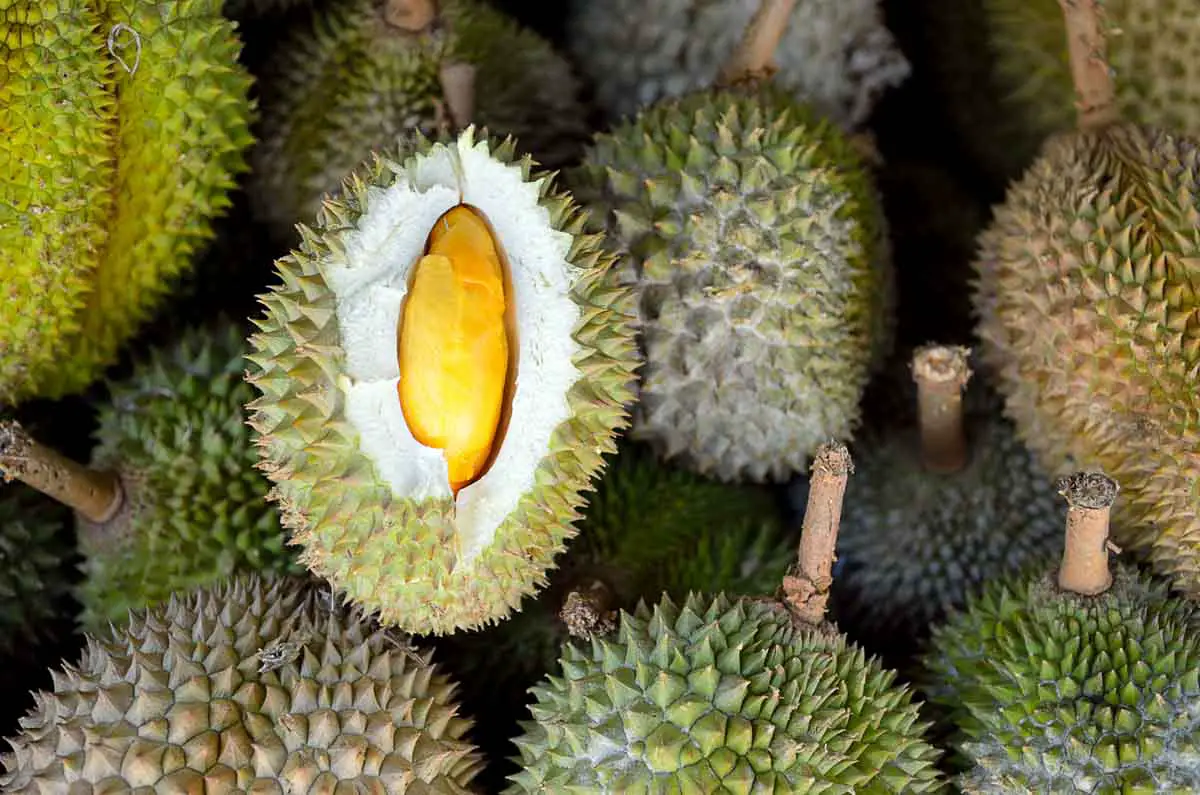 Rambutan (Nephelium lappaceum)
Asia has no shortage of unusual fruits and vegetables, and rambutan fits right in.
The name "rambutan" comes from the Malay word for "hairy," which perfectly describes this hairy fruit.
Primarily found in Malaysia and Indonesia, this fruit is more than meets the eye. Beneath the hairy rind lies a sweet and juicy fruit that has a similar taste to lychee and grapes.
Rambutan is an excellent source of vitamin C and other antioxidants. Plus, its seeds are known to have various medicinal uses for treating inflammation, bacterial diseases, diabetes, and even cancer.
Most people simply slice and eat it fresh, but it's also a staple in many cocktails, desserts, and entrées.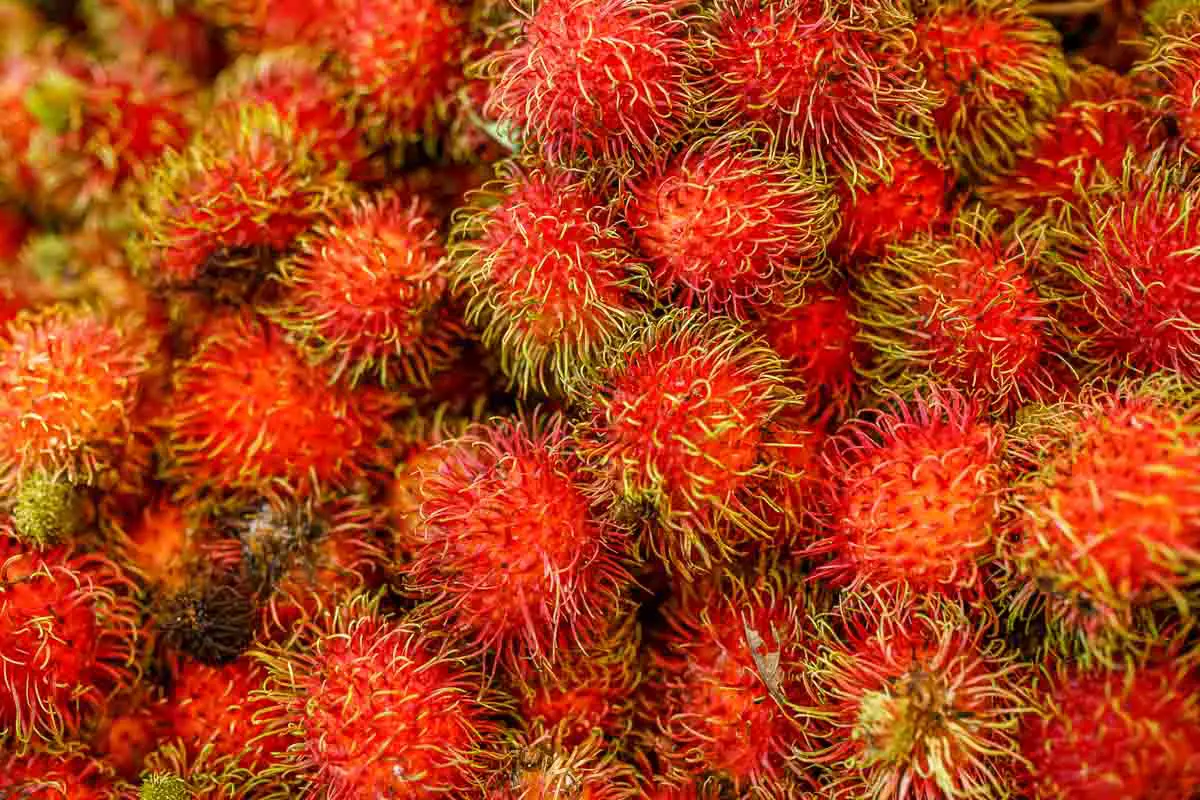 Rare Fruits in Europe
Cornelian Cherry (Cornus mas)
The lesser-known cornelian cherry is native to Southeast Europe (and Southwest Asia), but it packs exotic flavors and health benefits that everyone should know about.
Cornelian cherries' taste ranges from tart to semi-sweet and has been described as similar to the tart cherries grown in the US.
Though they can be eaten fresh, cornelian cherries are often used for culinary purposes like wines, syrups, and jams.
And the best part is that you can eat and drink guilt-free! Cornelian cherries are full of antimicrobial, antioxidant, anti-cancer, and anti-inflammatory properties.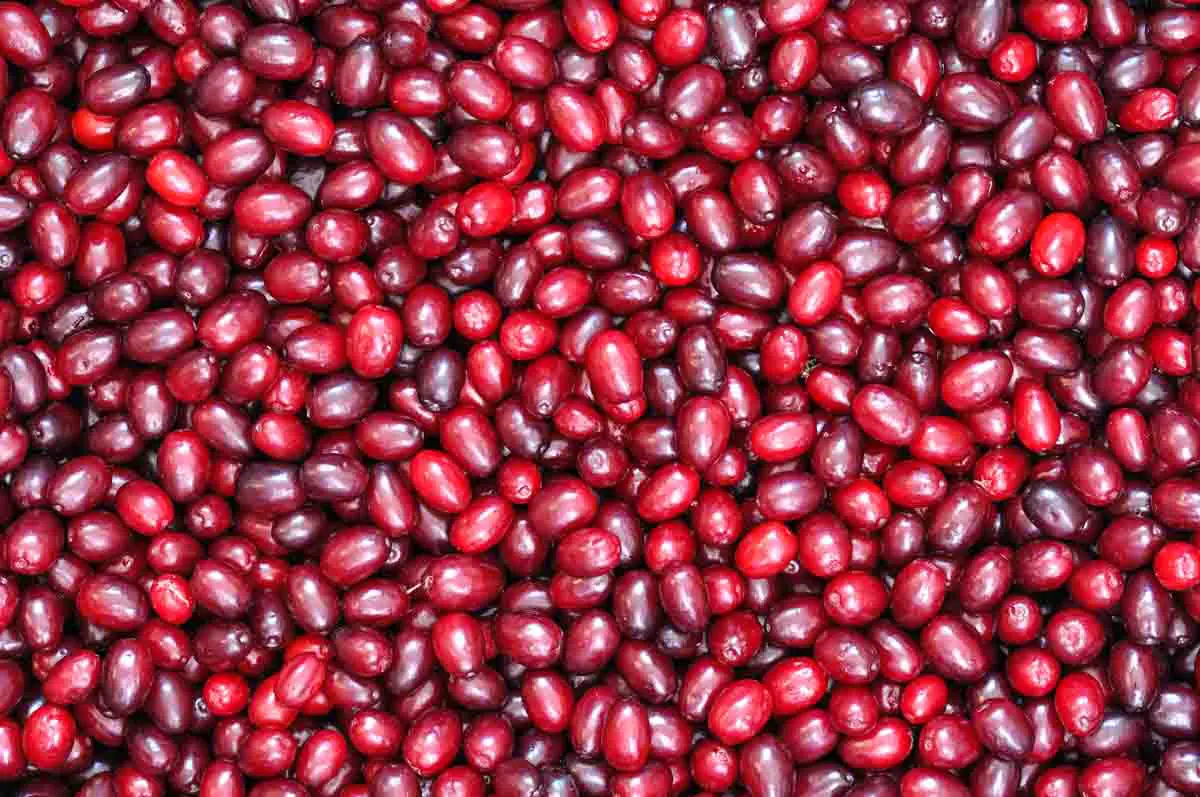 Medlar (Mespilus germanica)
Medlar is another rare fruit that even the most well-traveled foodies don't know about.
Grown in Türkiye and Bulgaria, it's a fruit that is best consumed when "bletted," or softened by frost.
People describe the taste as a blend of apple sauce and spiced wine, and the smell is similar to cooked apples.
Usually, medlar is used in jellies, cheeses, and desserts, but it can be eaten raw.
Full of vitamins A, C, and E, as well as antioxidants and high fiber content, this exotic fruit also promotes good digestive and immune health. Those are two essentials for remaining healthy while traveling!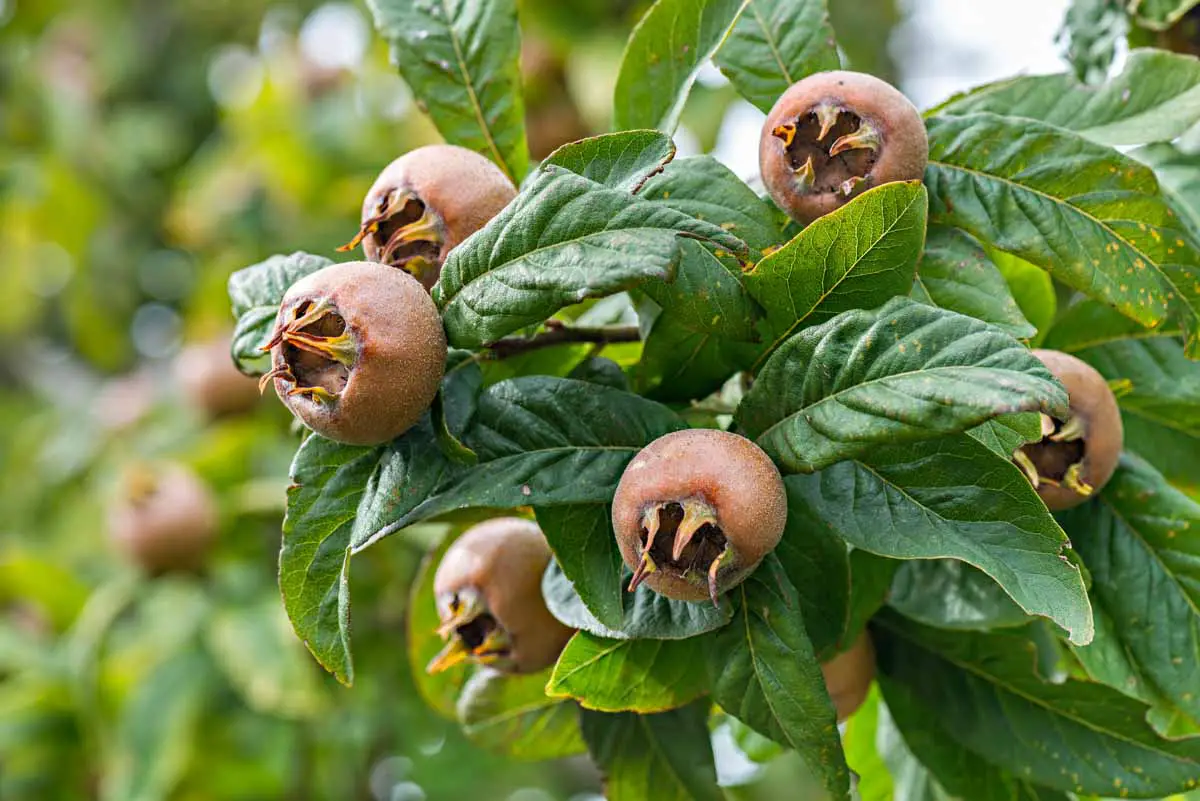 Sea Buckthorn (Hippophae rhamnoides)
Sea buckthorn is a bright orange berry native to Northwest Europe and most of Northern Asia.
If you're thinking to yourself, it's not very warm in those regions — you're right! This rare fruit thrives in harsh climates and poor soil, which is also why it is known as one of the most invasive species in the world.
Regardless, the sour fruit is widely consumed across the world, mostly because of its health benefits. It's loaded with vitamins C and E, essential amino acids, and other plant compounds that are rumored to help manage obesity, prevent heart disease, and improve gut health.
Sea buckthorn may be considered more exotic than rare so to speak, as it's been pushed as a health product in the US. The fruit has even been processed into oils, juices, and cosmetic products.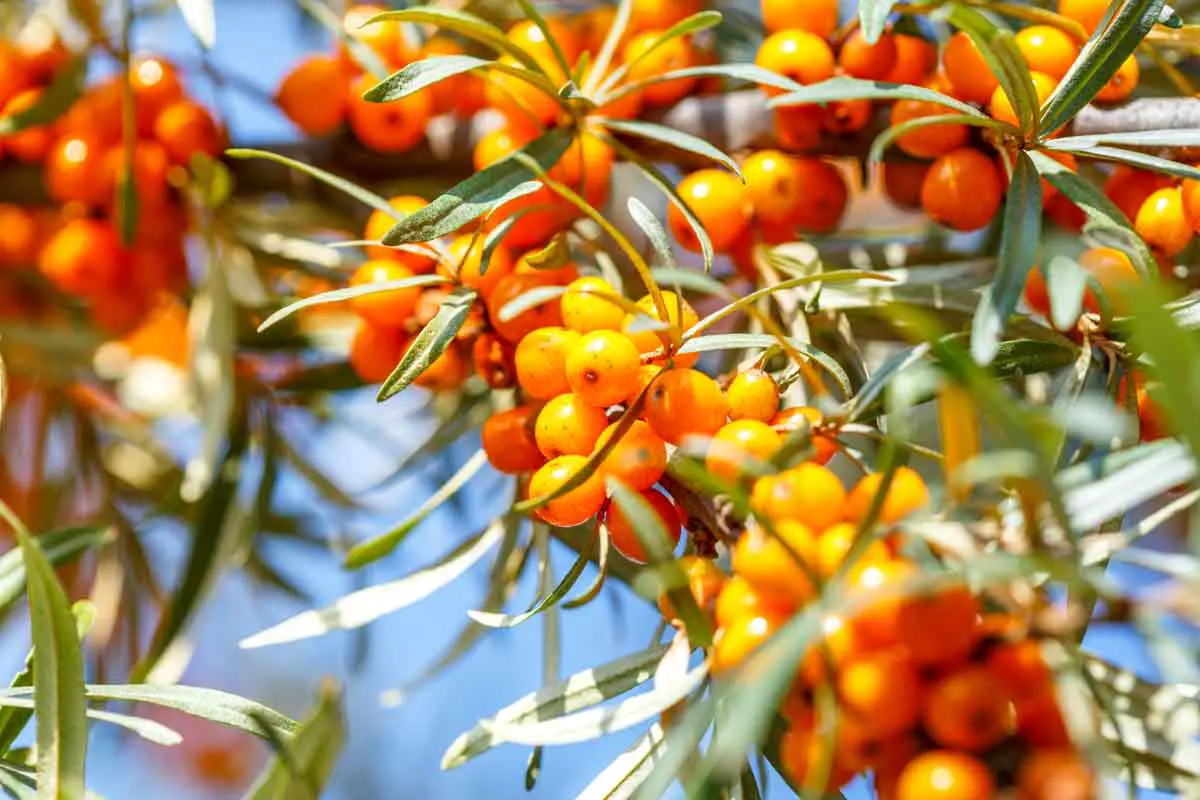 Unique Fruits in North America
Pawpaw (Asimina triloba)
Believe it or not, the United States has its fair share of exotic fruits too! And kicking off the short list is pawpaw, which grows on the largest edible fruit trees in North America.
Indigenous to the Eastern, Southern, and Midwestern United States, it's also called the "American custard apple" because of its creamy texture and rich flavor profile, likened to a blend of banana, mango, and melon. 
Much like every other fruit, pawpaws are rich in nutrients like vitamins A and C in addition to dietary fiber.
Though pawpaws are usually enjoyed fresh, they are also used in salsas, juices, breads, and desserts.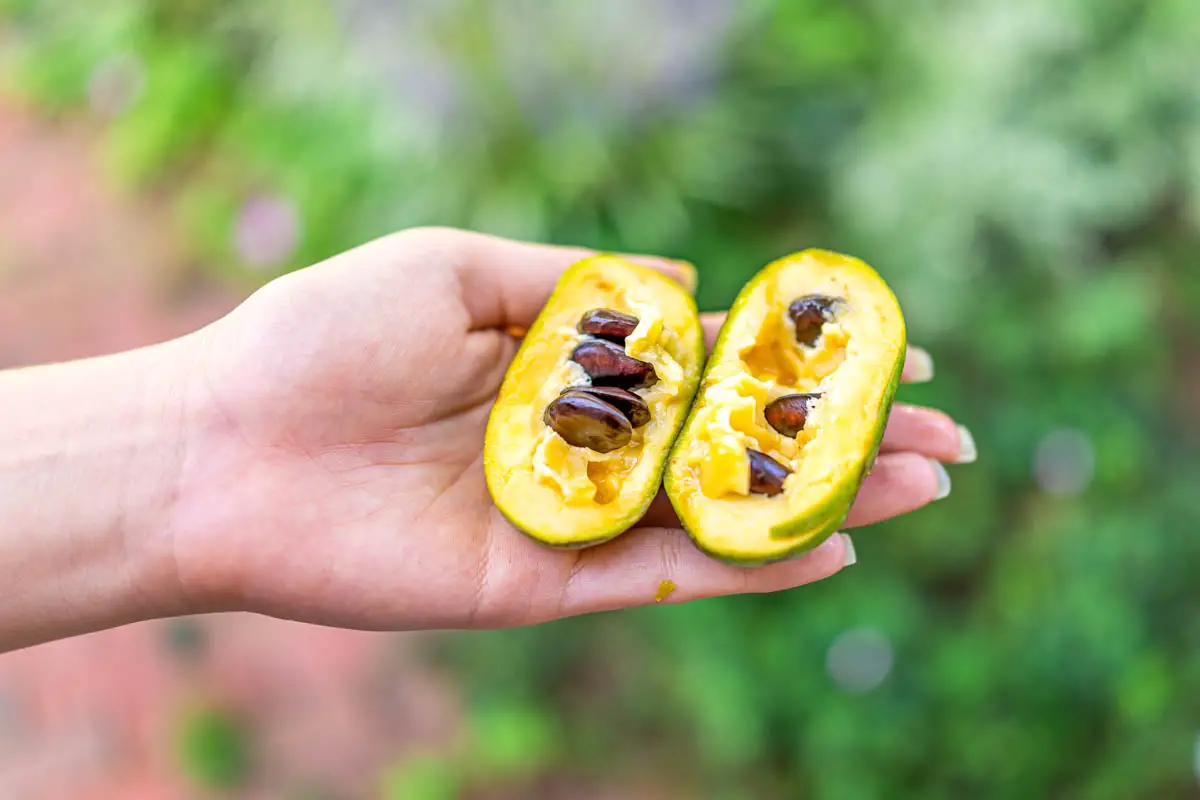 Salal Berry (Gaultheria shallon)
Once you've traveled to the Eastern, Southern, and Midwestern US, head over to the west coast for a handful of salal berries.
These small, dark berries have a rich history in Native American cultures, used both as a food source and for medicinal purposes.
The taste is pleasantly sweet, somewhat similar to blueberries, making them the perfect snack or for use in pies, jellies, and smoothies. 
And just like blueberries, they pack an antioxidant punch. Salal berries are full of essential vitamins and minerals, too.
Between their health benefits, rich history, and captivating flavor, salal berries are a must-have whenever you travel to the west coast of North America.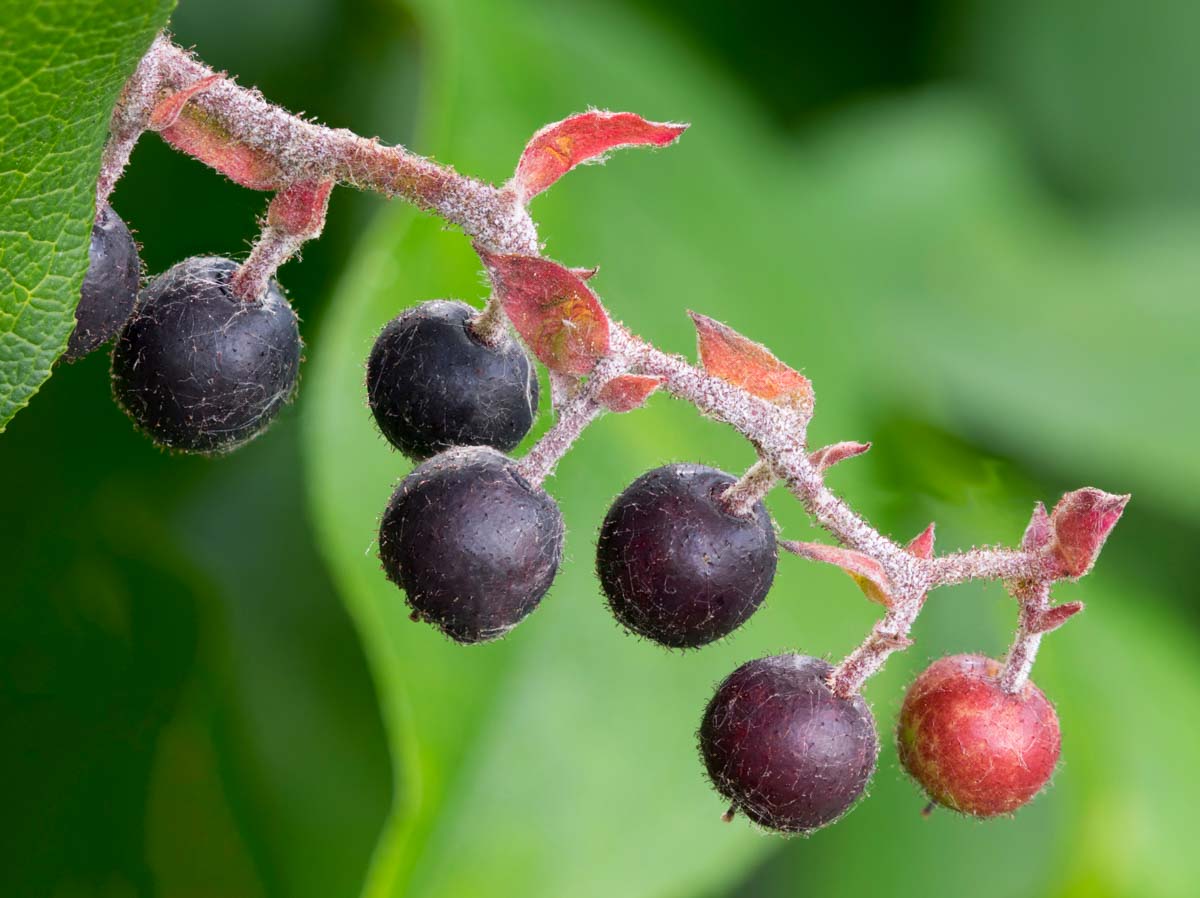 Mayhaw (Crataegus Aestivales)
Named after the typical harvest time in the month of May, the Mayhaw is a fruit that is unique to the southern US.
The small, bright red fruit is best known for its role in jellies, which is regularly slathered on toast, crackers, and pastries.
The taste is tangy and slightly sweet, and the raw fruit is rich in vitamins A and C, copper, iron, magnesium, and potassium, all of which offer numerous health benefits like relieving pain, promoting relaxation, and lowering blood pressure.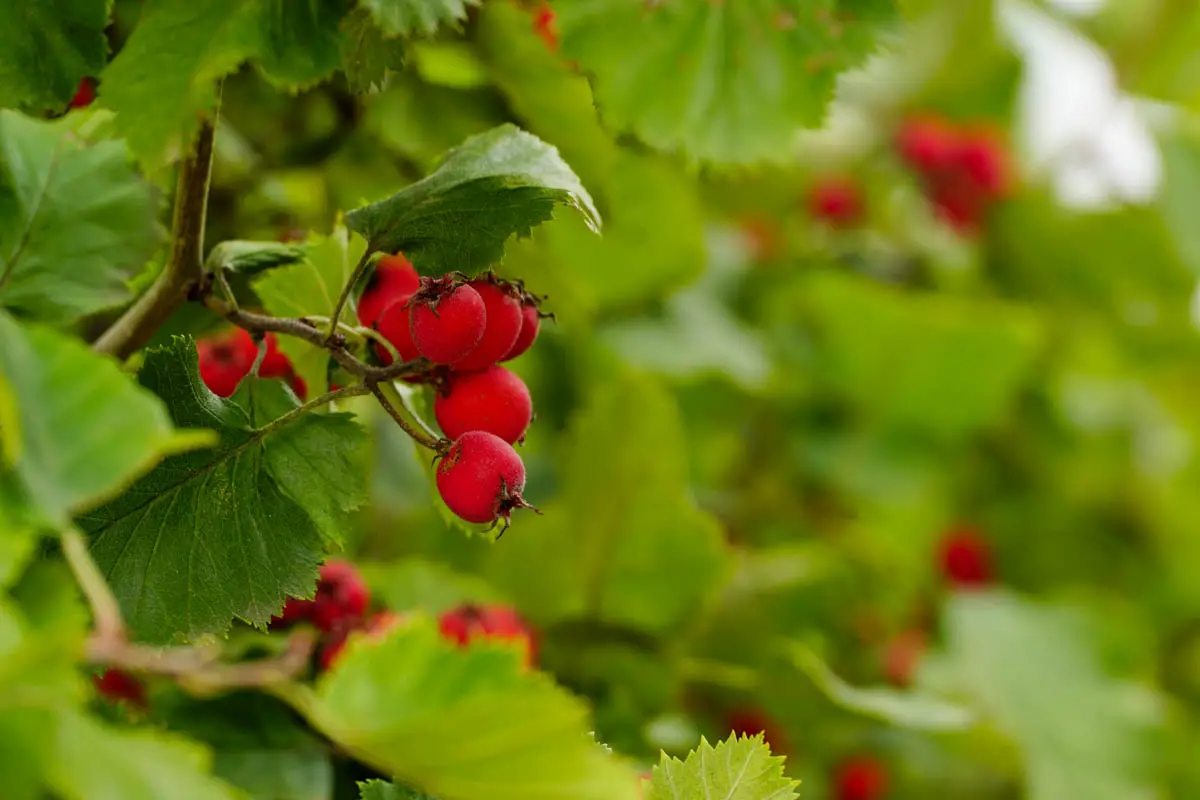 Unusual Fruits in Australia
Finger Lime (Citrus australasica)
Just as you'd expect, the finger lime looks like a finger, which is why it made our list of most exotic fruits.
But once you cut into it, you'll be surprised to learn that the shape isn't even the most unique part! The interior is filled with tangy, citrus pearls, similar to caviar.
This eastern Australian-native fruit pairs well with seafood, salads, and cocktails, just like key limes.
If you're feeling adventurous, this fruit will reward you with a mouth full of flavor and a body full of potent antioxidants and vitamin C.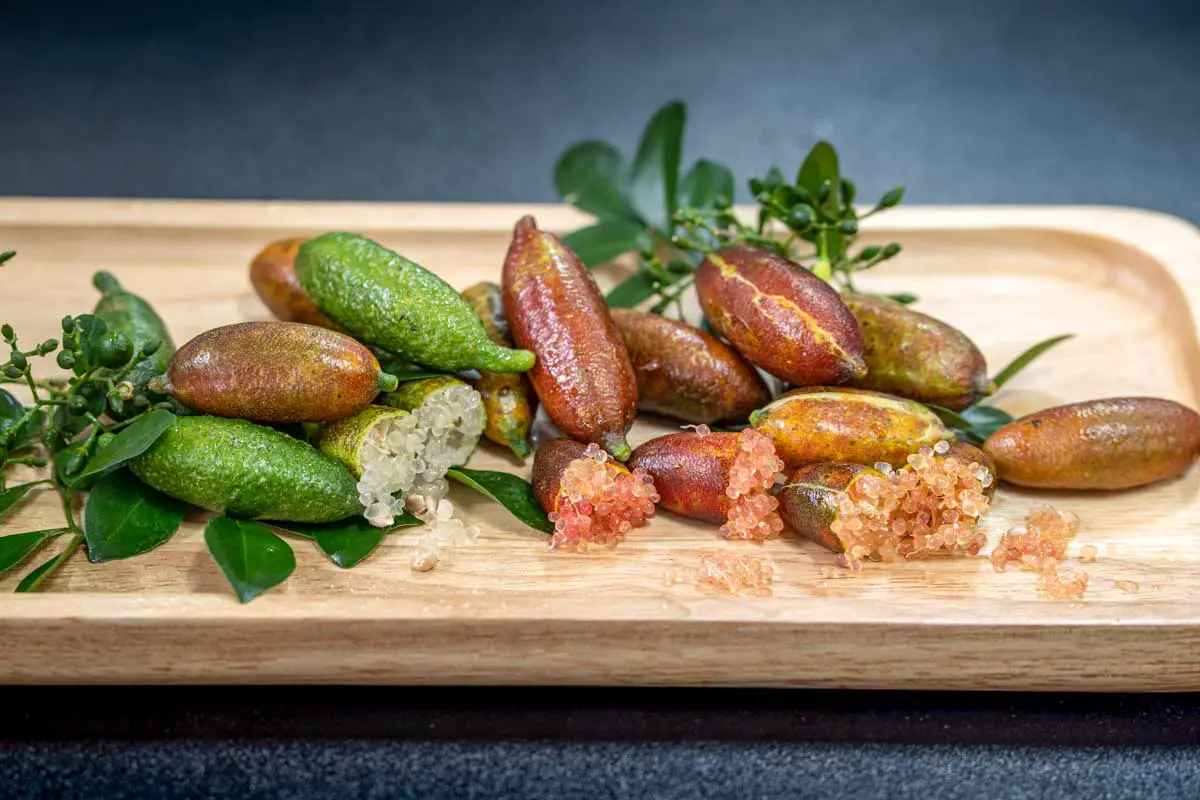 Kakadu Plum (Terminalia ferdinandiana)
The Kakadu plum, also known as the gubinge or billygoat plum, is a "superfruit" that is indigenous to Northern Australia.
Among every fruit in the world, (2,000+ species), these plums have the highest vitamin C content out of all of them, upwards of 100x more than an orange.
The green fruit has a pear-like texture and a mix of tart and sweet flavors, which makes it an excellent fruit to consume fresh, in juice, or in smoothies.
Full of powerful antioxidants, folic acid, and iron, it's recently entered the skincare space via lotions, serums, and beauty oils.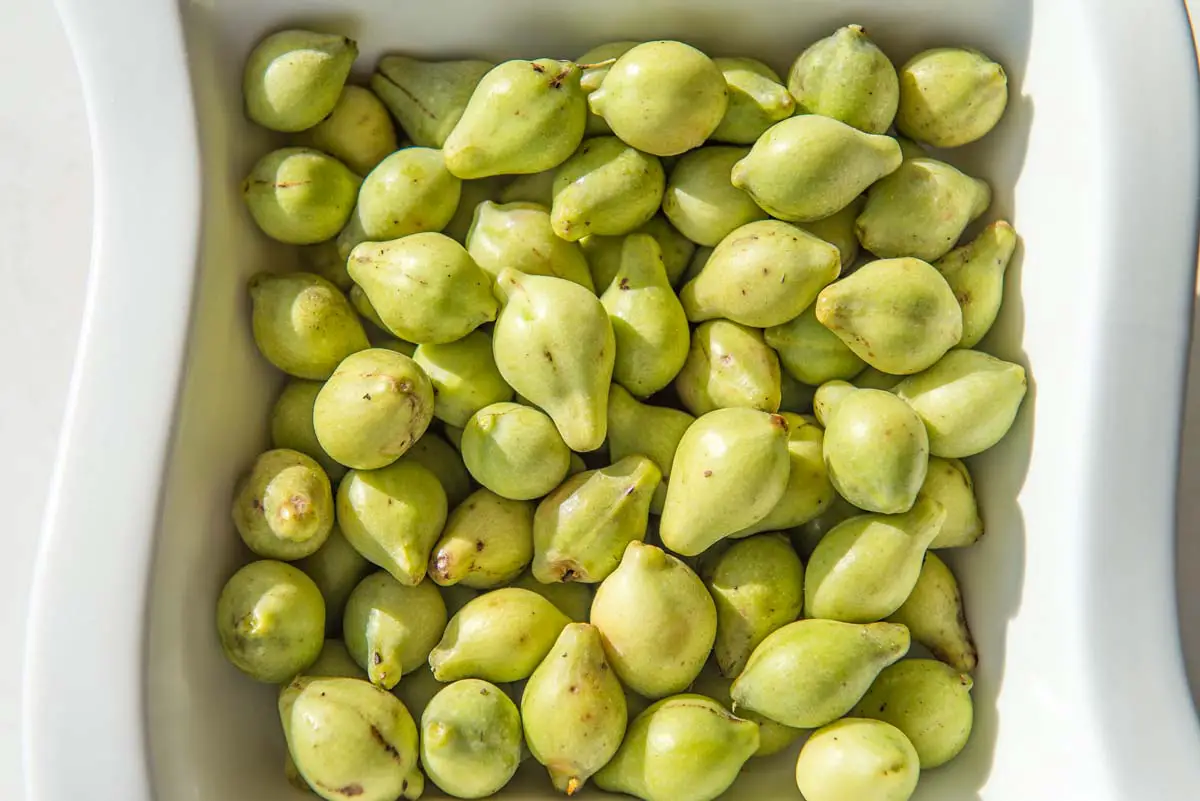 Quandong (Santalum acuminatum)
Quandong is a vibrant, crimson-colored fruit that is native to the Australian Bush.
Also known as the "wild peach," the tart flavor hints at peach, apricot, and rhubarb.
Quandongs have been a staple of Indigenous Australians for thousands of years. More recently, they are used in jams, desserts, and sauces, though they can safely be eaten fresh. 
This fruit has twice the vitamin E of an almond and is a fan-favorite among camels, which has caused the quandong population to dwindle, classifying it as "vulnerable" on the endangered species list.
We're all about trying rare and exotic fruits whenever possible, but please consume responsibly to preserve this delicate species.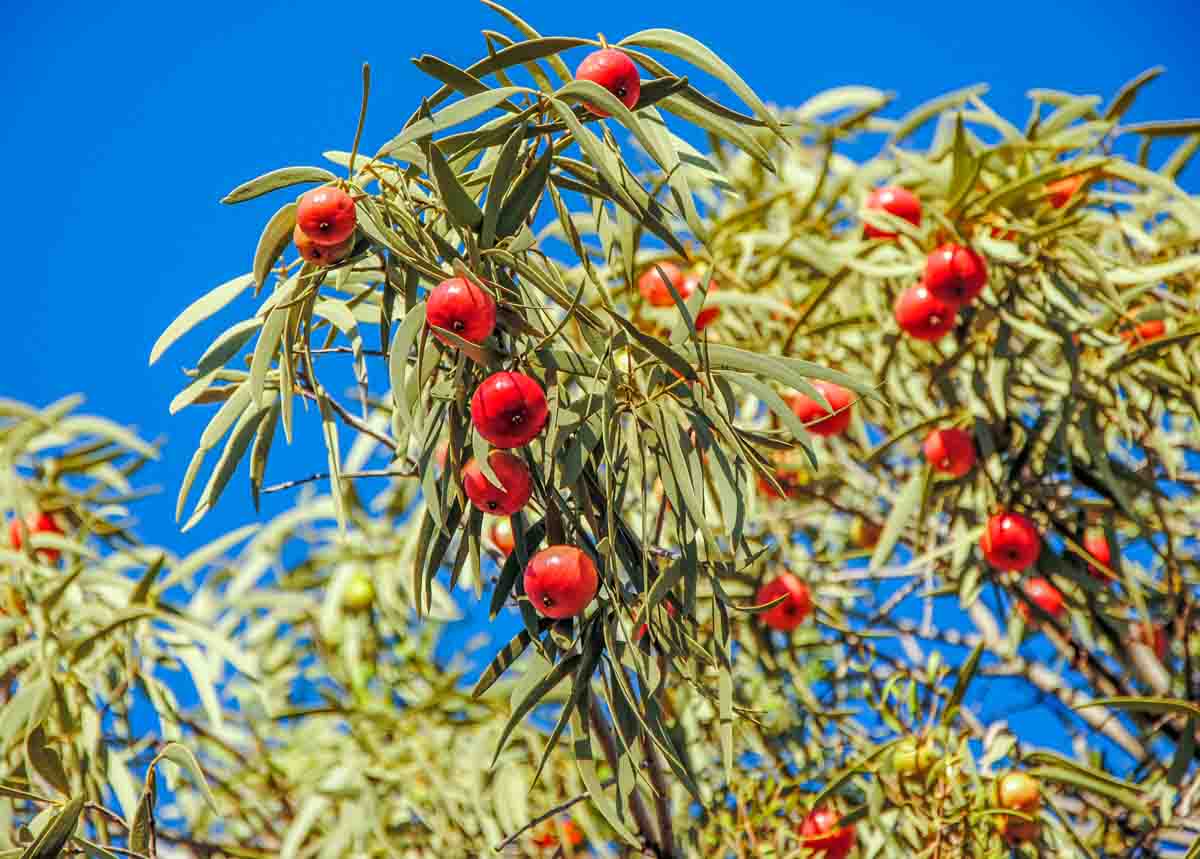 Exotic African Fruits
Miracle Fruit (Synsepalum dulcificum)
A West African-native, miracle fruit is a small, red berry that truly is one of the most unique fruits in the world.
Once you eat it, there is a short period of time where sour foods taste sweet. So for example, a sour lemon would instead taste like sweet lemonade. This is attributed to a glycoprotein called miraculin (the namesake), which binds to the sweet taste receptor and inhibits the sour taste receptor on your tongue. 
If your curiosity hasn't already piqued, it's also low in calories and high in vitamin C. On top of that, it has been used to treat obesity, taste differences, and diabetes.
Next time you're in Ghana or Nigeria, grab yourself a handful of miracle berries!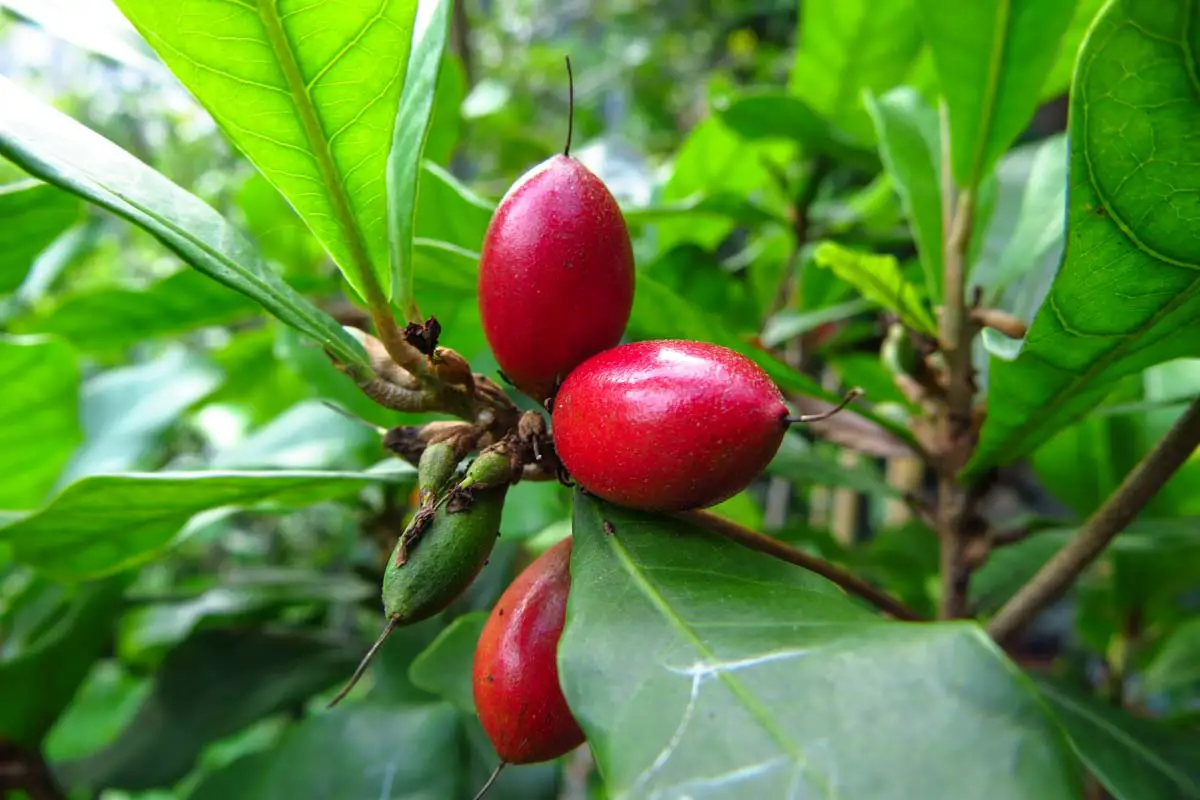 Baobab (Adansonia)
The baobab fruit grows on one of the oldest and distinct-looking trees in the world, but it's only native to Madagascar, mainland Africa, Arabia, and Australia.
The Baobab tree is known as the "Tree of Life," and its fruit is a nutrient powerhouse. The pulp is full of vitamins B and C, calcium, and fiber, making it great food for gut and digestive health. 
People describe the flavor as tangy, similar to a sour mango or citrus. Given that, it's typically consumed as a powdered supplement or used in smoothies, yogurt, and baking.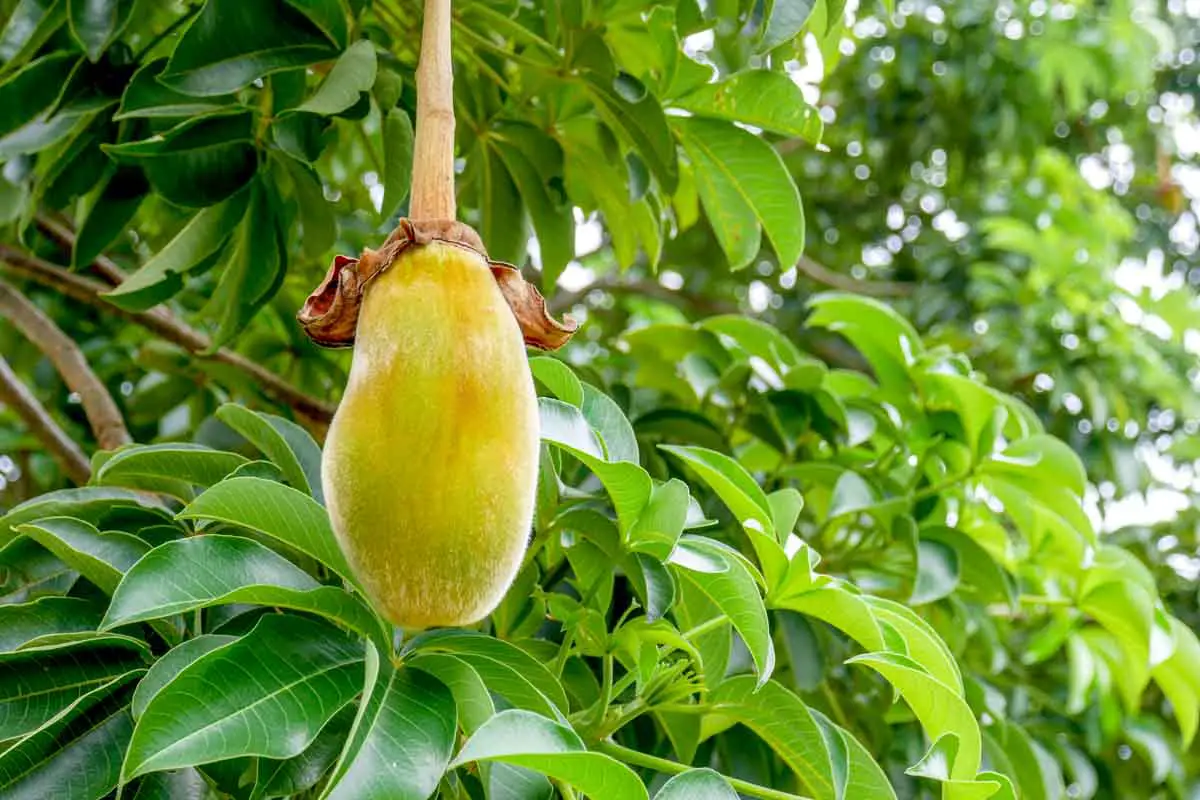 Safou (Dacryodes edulis)
Safou is an exotic tropical fruit found in the African tropics.
Also known as the African pear or butter fruit, the pulp has a buttery texture and a rich, nutty flavor. This unique tropical fruit is often enjoyed boiled or roasted, though it can be eaten raw as well.
It's high in healthy fats and protein, making it one of the more macro-friendly fruits out there. But it doesn't stop there, safou also has a rich concentration of calcium and iron, which improve bone strength and blood circulation.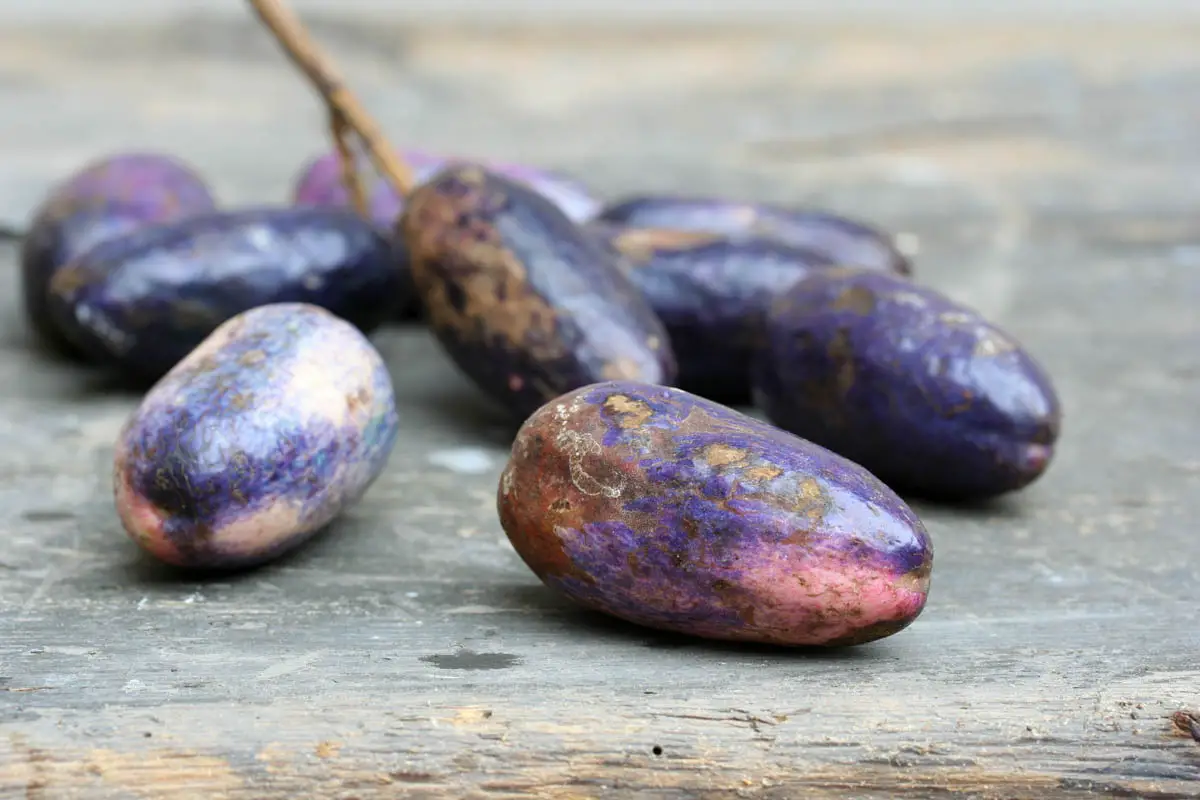 Rare Tropical Fruit in South America
Pitanga (Eugenia uniflora)
Pitanga is a tropical fruit native to Brazil and Uruguay, but locals may also refer to it as the Surinam cherry or Brazilian cherry.
This small, bright red-orange fruit is famous for its unique, sweet-tart flavor, which is similar to a blend of cherry, mango, and citrus.
And as you can imagine, that flavor pairs well with cocktails, sangrias, jellies, and desserts.
Beyond its flavor, pitanga is rich in vitamin C, beta-carotene (vitamin A), and antioxidants. Also, these cherries are suspected of boosting immune health and are used in traditional medicine for their potential therapeutic benefits.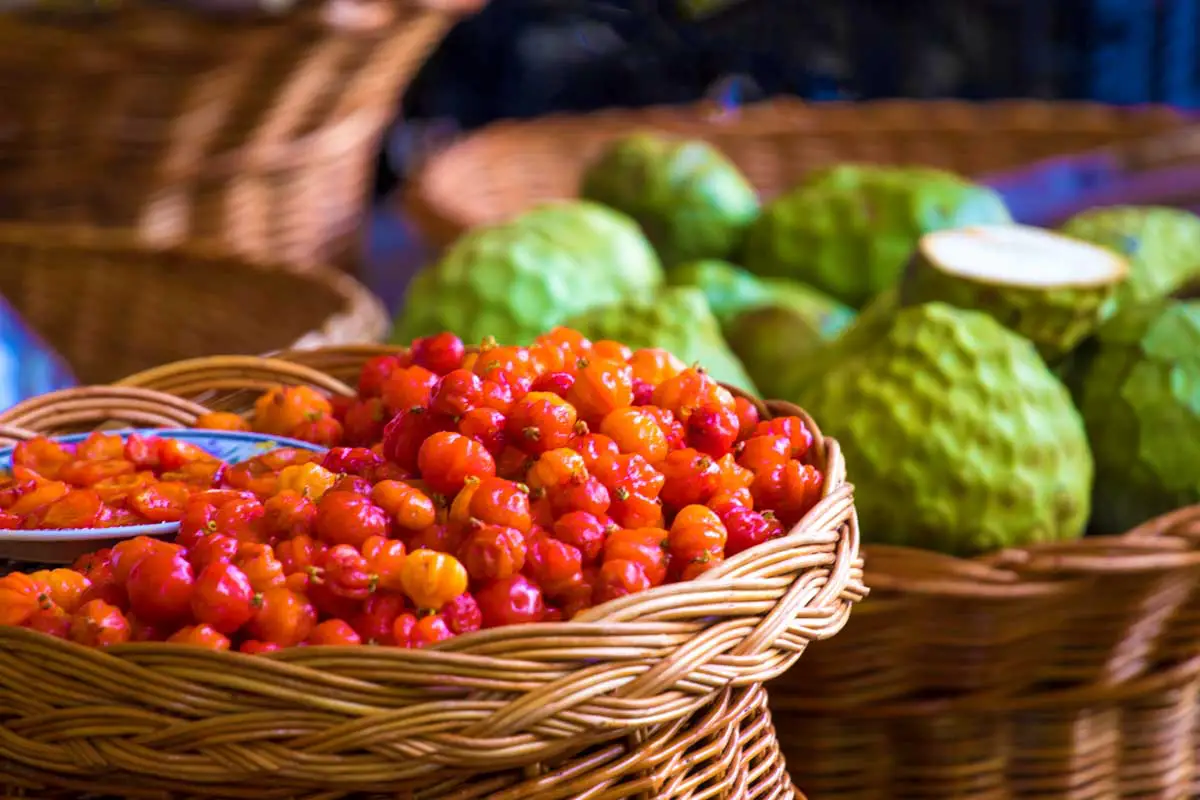 Pepino Melon (Solanum muricatum)
The pepino melon is an exotic fruit that is native to the landscapes of Peru and Chile.
As the name suggests, the flavor resembles a blend of honeydew melon and cucumber with a touch of banana-like sweetness.
The pepino melon is usually enjoyed fresh, but it can also be used in salads, desserts, or refreshing beverages, adding a dash of freshness. Plus, it's aesthetically appealing, making it a colorful addition to fruit bowls and platters.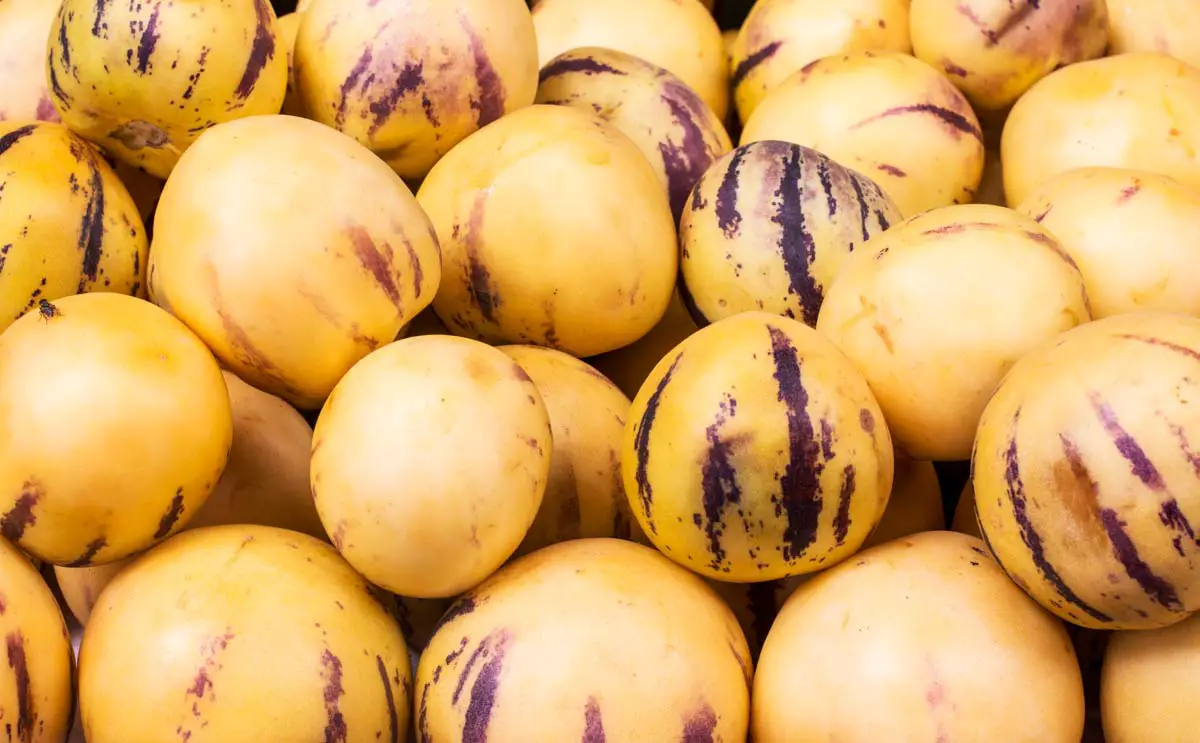 Jabuticaba (Myrciaria cauliflora)
Wrapping up our list of rare and exotic fruits around the world is jabuticaba, which is as fun to eat as it is to pronounce.
Native to Brazil, Paraguay, and Argentina, it grows unlike many other fruits — directly on the trunk of the tree.
It resembles a dark grape and tastes like a lychee or plum with a sweet-tart flavor.
Many people eat it fresh, but it's a welcome addition to jellies, wines, and liqueurs.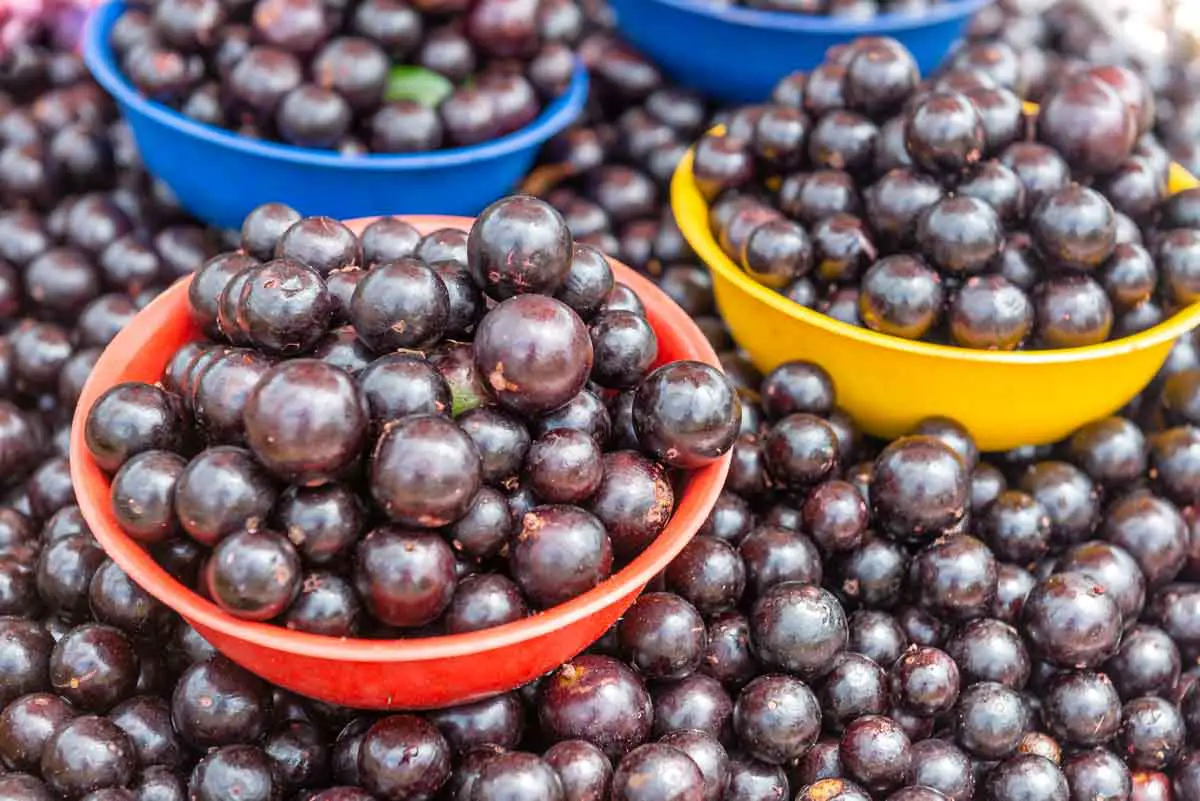 Which of these exotic fruits would you travel to eat?
As you travel, you can see, taste, and smell (unfortunately with durian) some of the rarest and most exotic fruits in the world.
Perhaps you'll taste the hairy rambutan's lychee-like fruit or endure the odorous durian's smell after touring the Damnoen Saduak Floating Market in Bangkok. Or, see exotic Amazonian fruits as you stroll through São Paulo's food markets!
Read More About Foods Around the World
Save this post to your food travel or foods around the world board on Pinterest!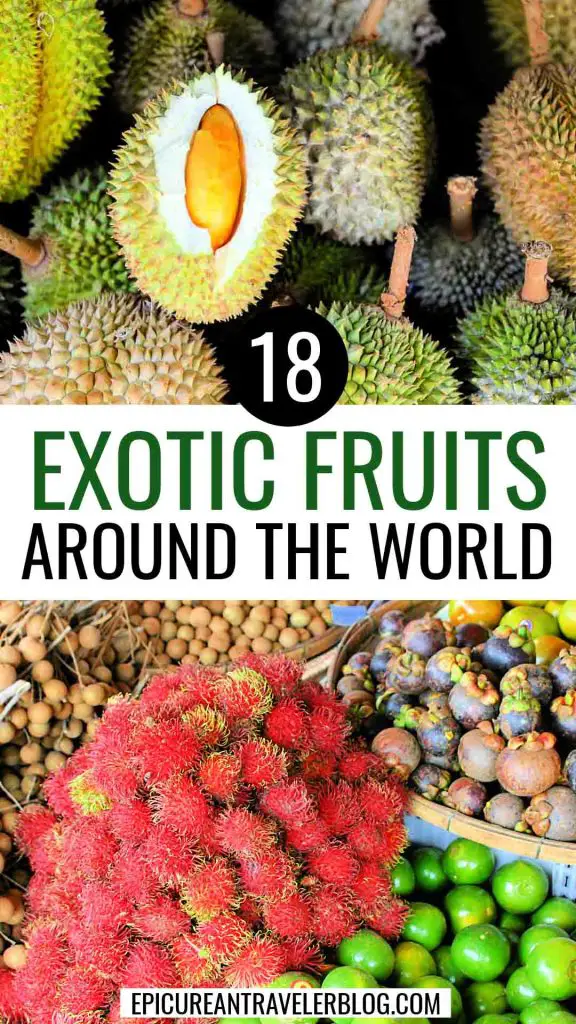 Editor's Note: Photo credit for rambutan and other exotic fruits at a market used in Pinterest image (© Antoine Beyeler/Adobe Stock)