I received compensation from Bayer Consumer Health, makers of MiraLAX® to write this post. MiraLAX® is a laxative used to treat occasional constipation. All opinions are entirely my own. #ReLAXOnTheGo #CollectiveBias
As a culinary travel writer, my trip itineraries often revolve around experiencing the local culture through their food and drinks. I've tasted Peruvian ceviche, Canadian poutine, Irish seafood chowder, and even fried foods-on-a-stick at the Minnesota State Fair. It's a delicious job I have, but the unfortunate downside of being a traveling foodie is occasional constipation.
Yep, I just went there. I realize some of you reading this may think experiencing occasional constipation while traveling and how to deal with it is a taboo topic for a blog post. But, haven't we all dealt with this from time to time while traveling? Wouldn't you like to avoid it on your next trip?
Feeling constipated can certainly spoil what I enjoy most about travel — tasting the local cuisine and delicacies. So, I've sought out ways to treat and prevent it. Since I don't want you to miss any once-in-a-lifetime culinary experiences on your upcoming trips, let's dive right in with five tips that will help you live healthier while exploring the world.
Disclosure: This post contains some affiliate links. When you click on or make a purchase from one of these links, I may earn a commission.
---
Five Tips To Help You "Go" When You're On The Go
In this post, I'm sharing my best tips to help you prevent occasional constipation while traveling. Plus, I'll also share how to aid your body's natural process so you won't miss out on bagels and brunches in New York City or the fresh oysters and Southern cuisine of Alabama's Gulf coast. As a frequent traveler, I'm speaking from (unfortunate) experience throughout this post.
Tip #1: Pack MiraLAX®
I always recommend being prepared for unexpected circumstances when traveling. That is why my first tip for you is to pack MiraLAX® Mix-In Pax in your suitcase. As my mother always says, "Better safe than sorry." 😉
Why pack MiraLAX® Mix-In Pax?
Trust me — I learned the hard way when I got food poisoning in Peru — it is MUCH BETTER to be prepared than to hunt down medication while traveling. It gets even trickier when you are traveling abroad.
When I fell ill in Germany, I had to describe my symptoms to the pharmacist in order to get the proper medicine. Can you imagine trying to translate "I'm experiencing occasional constipation" into a language you barely speak?
To avoid trying to locate a pharmacy when you would rather be sightseeing — not to mention the possibly embarrassing conversation likely to ensue with the pharmacist — keep MiraLAX® Mix-In Pax with you.
The individual packets are a travel-ready size that easily fit into your purse pocket or cosmetic case. I pack all my medicines into a clear, quart-size reusable TSA-approved toiletry bag. That way it is easy to find them when I'm not feeling well.
Please note that TSA does not allow powders in your carry-on bag as of June 30, 2018. So, as you pack for your next flight, make sure you put MiraLAX® Mix-In Pax in your checked baggage.
How does MiraLAX® work?
MiraLAX® provides a gentle experience because it works with your body's natural process to provide effective relief from occasional constipation.
How does that work? Unlike stimulant laxative pills, which forcefully stimulate the nerves in your colon, MiraLAX® works with the water in your body to hydrate, soften, and ease, unblocking your system naturally. And, because it works with the body, MiraLAX® doesn't cause harsh side effects, such as gas, cramps, sudden urgency, or that uncomfortable bloated feeling.
Please note, it is important to use MiraLAX® Mix-In Pax as directed. You'll take it only once per day for up to seven days. While traveling, you can mix it into a glass of water or your morning coffee in your hotel room.
Where to buy MiraLAX® Mix-In Pax
It is so convenient to shop for MiraLAX® at Target, where I stock up on travel-size toiletries and any other health and beauty products I need before my trips.
As I was running errands prior to my family's Switzerland trip, I stopped into my local Target in Walker, Michigan. After picking up my toiletries, I wandered over to the pharmacy area. In the aisle with digestive medicines, I easily found MiraLAX® Mix-In Pax.
As you prepare for your summer vacation, you can check your local Target for MiraLAX®!
Tip #2: Eat Fruit At Breakfast
Have you ever noticed how difficult it can be to eat fruit while traveling?
That is such a shame because our bodies digest fruit rather quickly, getting the digestive system going in the morning. Plus, many fruits are good sources of dietary fiber.
Since I've noticed very few restaurants offer fruit at lunch and even fewer at dinner, I recommend starting your day with fruit at breakfast.
Luckily, most hotel breakfast buffets offer fruit — even it if is just apples, oranges, and bananas. By the way, those are great to grab for Tip #4!
If your hotel doesn't offer breakfast, where can you find fruit in the morning?
Go out to a restaurant for breakfast. Most offer a side of fruit as a healthy substitution.
Grab a fruit cup, banana, and/or yogurt parfait with berries at a coffee shop or cafe.
Juice and smoothie bars are great options for blended fruit drinks.
If there is a local grocery store or farmer's market nearby, you'll have a wide selection of fruits.
In a pinch, bodegas usually stock a few fruits. Typically you'll find bananas, apples, or citrus fruits.
RELATED: 18 Most Rare and Exotic Fruits Around the World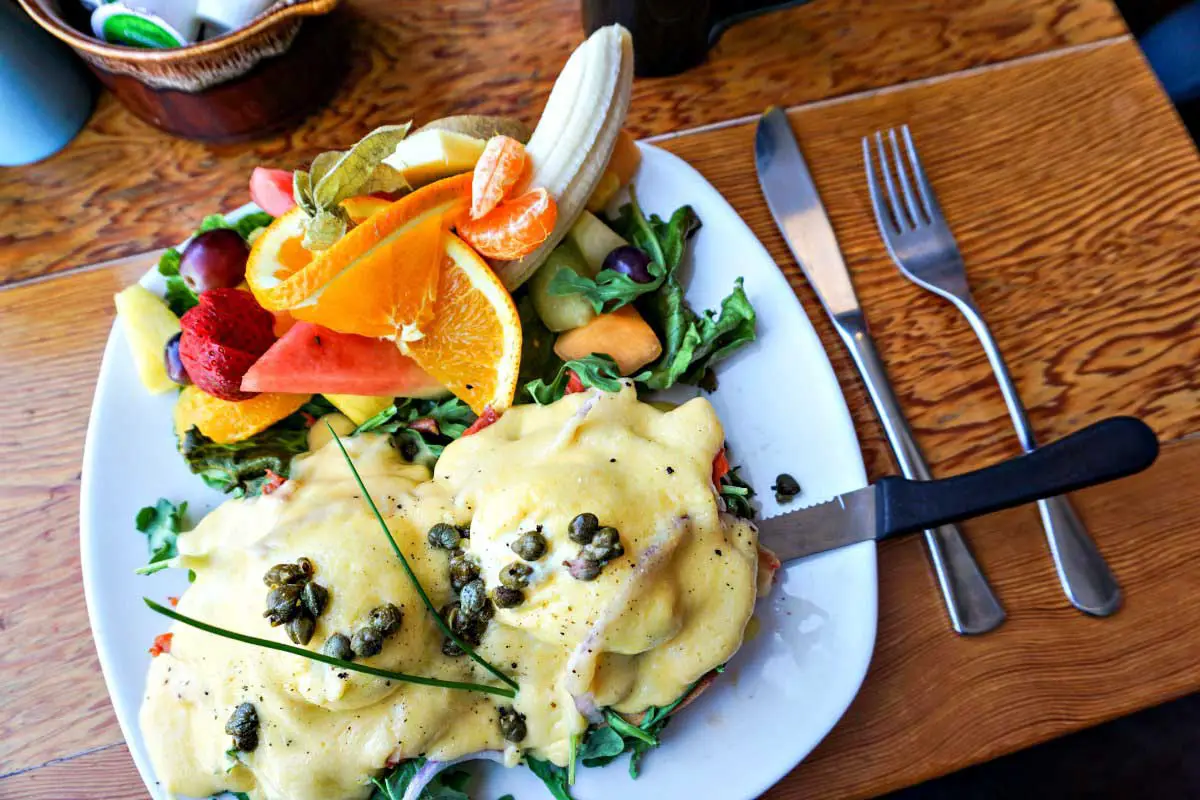 Tip #3: Stay Hydrated
Did you know dehydration can cause occasional constipation? That is why my third tip is to carry water with you throughout the day — and drink it! Drinking water helps fiber do its thing so you can do yours. 😉
To save money and the environment, you can travel with a reusable water bottle. There are so many kinds of water bottles on the market these days. I'm sure you'll find one that suits your personal style. You can even find water bottles that collapse for easy packing.
If you carry water with you but still forget to drink it, try downloading an app to your phone that reminds you to hydrate. There is an app for everything these days!
Tip #4: Keep Healthy Snacks In Your Daypack
When visiting a new destination, don't you want to see it all? Jam-packed itineraries leave little time to find healthy snack options.
So you don't turn to the junk food sold near tourist attractions, make sure you've packed healthy snacks in your daypack. Foods high in fiber, such as a handful of a trail mix of nuts and dried fruit, are best. Apples, pears, and fruits with peels are also easily portable for healthy snacking on the go!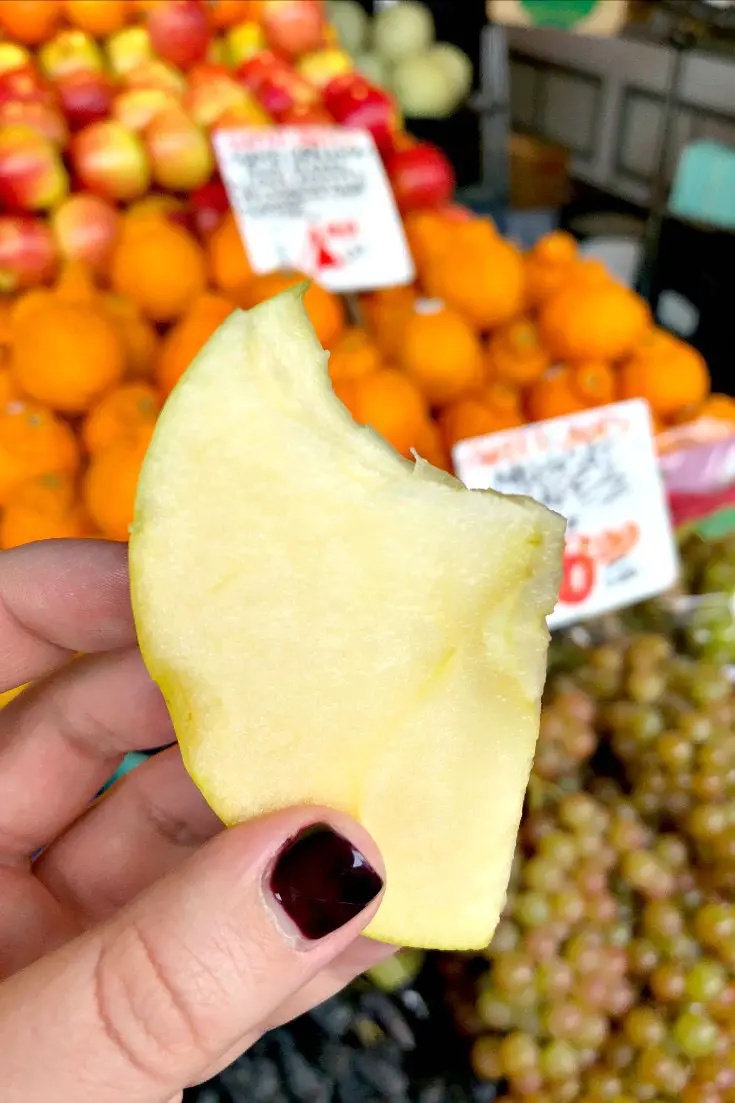 Tip #5: Embrace Slow Travel
Finally, I urge you to forgo the whirlwind tour and consider a leisurely travel pace. One of the reasons we travel is to give ourselves a mental and physical break from our daily lives. It's why we call traveling "taking a vacation."
In addition to being a more pleasurable and leisurely way to travel, I think it provides a more insightful cultural experience, too. By traveling slower, you get to know the destination and its locals rather than rushing through a sightseeing bucket list.
Plus, it gives the body the vacation it needs — and your digestive system the time it needs to break down those local delicacies as well. You'll come home feeling rested and full of memories and stories to tell!
Conclusion
Now armed with these five tips to aid digestion while traveling, I hope you won't miss out on any once-in-a-lifetime culinary travel experiences as you get out and explore. It would be such a shame to miss out on ceviche in Peru or a "lobstah" roll this summer in New England. So make sure you pack MiraLAX® Mix-In Pax just in case! You'll conveniently find it at your local Target.
Save this post to your travel or health tips board on Pinterest and refer back to these tips before your next trip!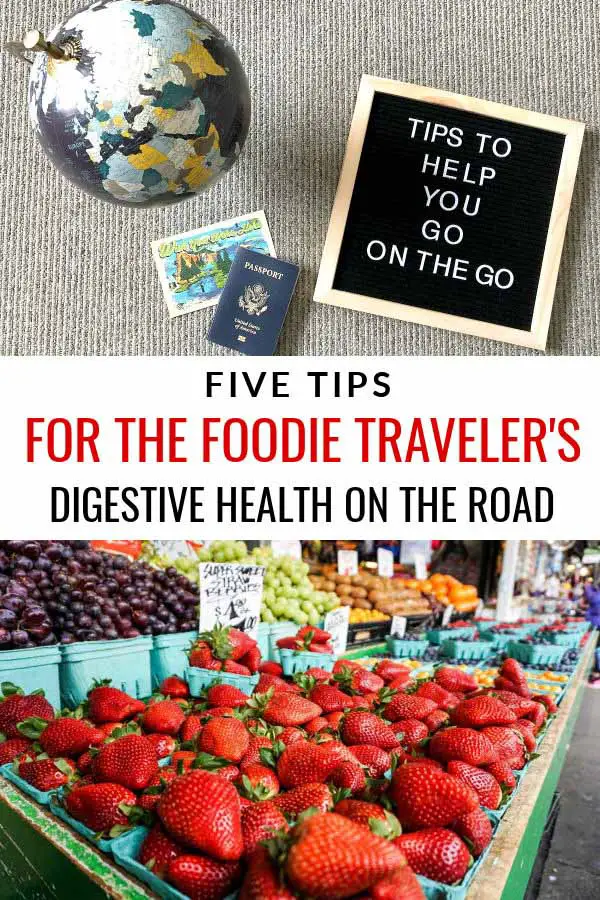 Get More Travel Health Tips!
Disclaimer: The information in this post is intended for informational purposes only. You should not rely on this information as a substitute for professional medical advice. If you have any questions or concerns about your health, you should speak with your doctor.