At some point, we've all been given the advice to take daily vitamins, right? Yet how often has that advice been specifically tailored to your personal health, wellness goals, and lifestyle? That is why I wanted to try hundred's personalized vitamin subscription service.
When I began my journey toward a healthier life seven years ago, I wanted to add vitamins and supplements to my daily routine. I knew supplements were packed with vital nutrients beneficial to so many aspects of my health — such as boosting my energy and focus when I'm at home writing or reducing the effects of jet lag when I travel.
In particular, I wanted to take vitamins or supplements that could help me to reduce stress and anxiety and fight fatigue. Following my gallbladder removal surgery last year, aiding digestion has also become a wellness goal of mine. It's especially important when I travel, as I tend to eat more adventurously then. Of course, as a frequent traveler, any vitamin regimen needs to be convenient for me to take on the go, too.
Naturally, I've wanted to find an alternative that made finding the right vitamins easy.
Recently, hundred asked me to try their digital subscription service. In addition to providing high-quality and personalized vitamins and supplements, a hundred subscription comes with complimentary guidance from a Nutrition Expert — all at an affordable price.
In full disclosure, I've partnered with hundred to share my experience. I went through the entire process from taking hundred's online assessment quiz to speaking with one of hundred's nutritionists to discover the vitamins and supplements that best fit my core wellness goals.
Later in this post, I'll share my experience traveling with the individual vitamin packets and tips for traveling with vitamins and supplements.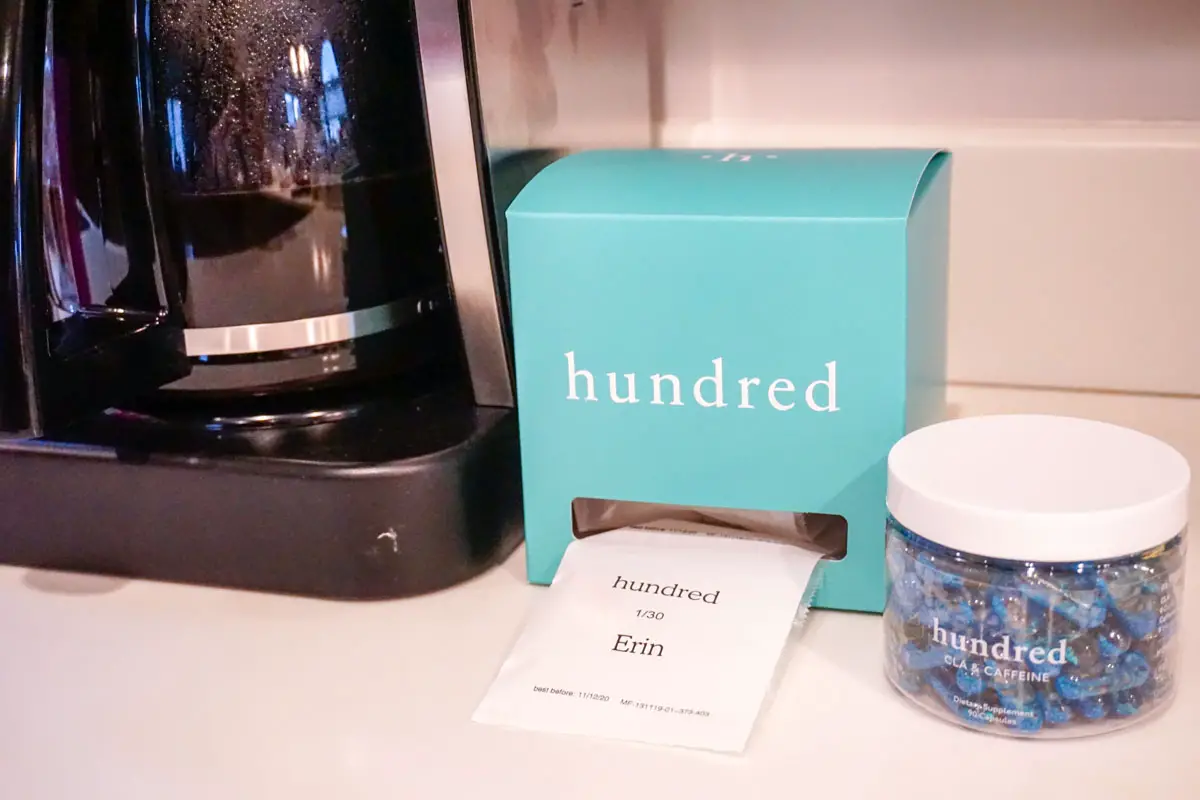 hundred individually packages your daily vitamins and supplements in sachets convenient to take with you on the go. However, for use during your non-travel routine, hundred recommends keeping your box of vitamin packets somewhere relatively cool and easily visible in the morning such as near your coffeemaker or on your work desk.
How hundred Suggests Vitamins To Aid My Goals
When I first decided to add vitamins and supplements to my daily routine, I was quite overwhelmed by researching which vitamins would be best for me to take. At hundred, nutritional experts do all that heavy lifting for you. As a customer, my hundred experience began with a holistic online quiz based on the four pillars of wellness — nutrition, movement, sleep, and stress balance.
Assessing My Wellness Needs
Since vitamin recommendations will vary based on factors such as age and sex, hundred takes your information into account when making your personalized vitamin pack. Additionally, hundred makes adjustments for any medications you take or allergies you have that could affect your optimal vitamin regimen.
Throughout the quiz, hundred explains the reasoning behind the questions. For example, after I indicated my age of 33 and gender as female, I was asked questions such as how heavy my period is to assess if an iron supplement would be beneficial.
To give you a better idea of how the quiz works, here are a few of the questions I was asked:
How intense are your workout sessions?
Are you following a specific diet? [ Answers included vegan, vegetarian, paleo, keto, or none ]
What are your stress levels like?
How much sleep do you normally get?
Combining My Needs With Wellness Goals
Then the quiz asked me about my core wellness goals. From a list of a dozen possible topics, I selected stress and energy. However, other goals you can select include supporting digestion, immunity, mobility, sleep, sex, or mood. Additionally, you can target specific parts of your body, such as the brain, eyes, hair, heart, or skin.
After taking the quiz, hundred recommended three supplements to help me achieve my wellness goals. I could choose to subscribe to one month's supply delivered and billed each month at $49 or select a pre-paid three-month supply shipped and billed every three months at $42. The average cost is $40 per month, which is pretty affordable when compared to hundred's competitors. Along with the vitamins, I also receive ongoing support from one of hundred's Nutrition Experts through a quarterly health assessment and the ability to adjust my plan at any time.
One-On-One Chat With A Nutritionist
Since hundred believes vitamins without guidance don't work, I was matched with one of their Nutrition Experts. During my chat with Edwina Clark, hundred's head of nutrition, I was able to ask questions about why my supplements were selected and how I should implement taking them into my life.
She also made another helpful recommendation based on my quiz answers. Noting I don't get much sun exposure living in West Michigan, she recommended keeping an eye on my Vitamin D levels and possibly adding hundred's Vitamin D3 to my next order this winter.
The 30-minute call was a wonderful opportunity to also ask questions about other supplements and vitamins that would be beneficial when I travel. As we chatted, I mentioned I had recently come home from a trip to Riga, Latvia, and was struggling with jet lag. Edwina recommended hundred's Melatonin to help regulate my sleep when I travel across time zones.
Also, as a journalist and research geek, I totally appreciated that Edwina backed up each recommendation with studies showcasing the benefits. In fact, each product page on hundred's website lists research studies to back up each claim about benefits. You'll also find transparent information disclosing the manufacturers and sources of hundred's products. Additionally, hundred works with a third-party lab in Germany to ensure its products meet the strictest EU regulations, whereas most of hundred's competitors only do in-house testing, if any at all.
My Recommended Vitamins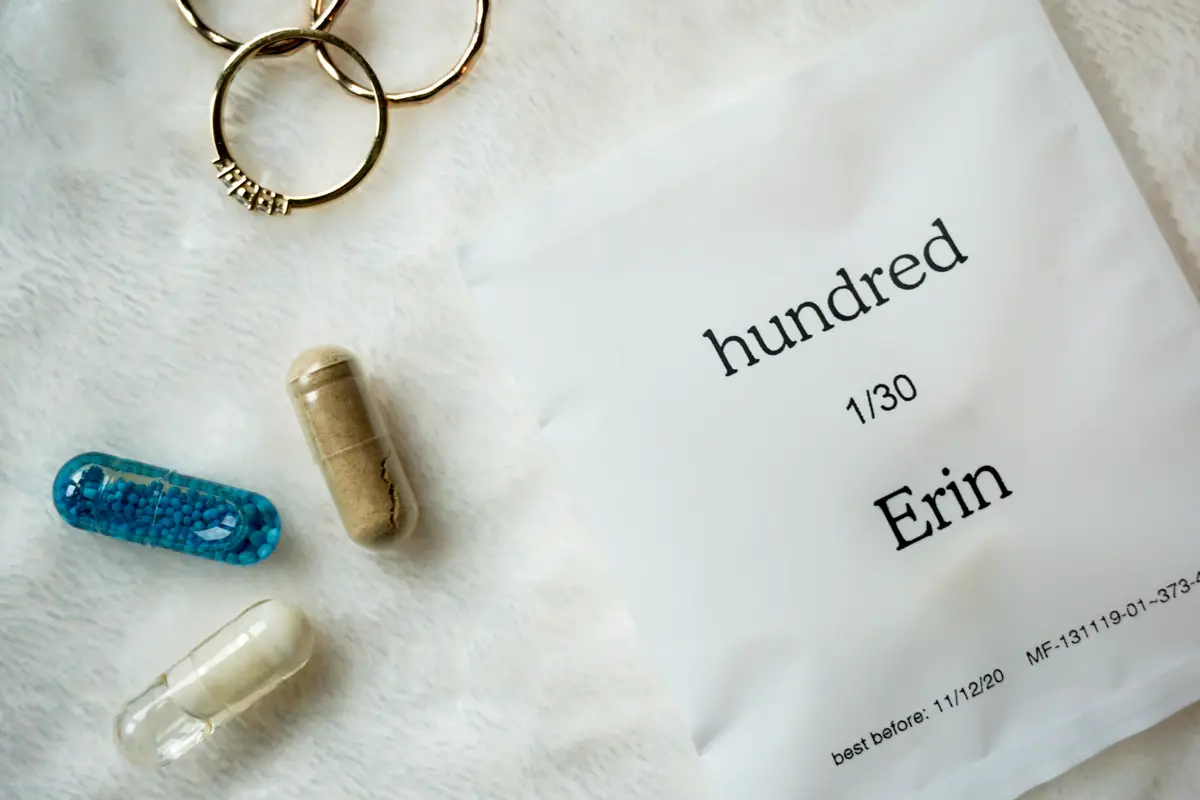 Here is a look at my personalized hundred vitamin pack with Maca, CLA, and a pre/probiotic.
Pre/Probiotic
Recommended since I indicated relieving stress as one of my goals, a pre/probiotic has been proven to support digestion, immunity, liver function, and mood. The hundred pre/probiotic capsules have an 8-hour delayed release, causing them to dissolve slowly and deeper into the gut.
CLA
Providing a boost of energy, CLA is designed to increase endurance and metabolism. Unlike coffee which provides a caffeine boost followed by a crash, hundred's CLA consistently releases caffeine into the bloodstream through beadlet technology. Though recommended to me for supporting alertness, I also like that CLA boosts metabolism and enhances workouts.
Maca
This "sexy superherb" may have been used as a fertility remedy, but it was recommended to me because it also helps fight fatigue. Not only did I select boosting energy as a goal on my quiz, I also indicated that sometimes after sleeping a full 7+ hours I still feel groggy. Since I deal with fatigue almost daily, I was excited to learn about hundred's Maca. Knowing it's made from an herb that organically grows in the Peruvian Andes was an added bonus!
Tips For Traveling With Your Vitamins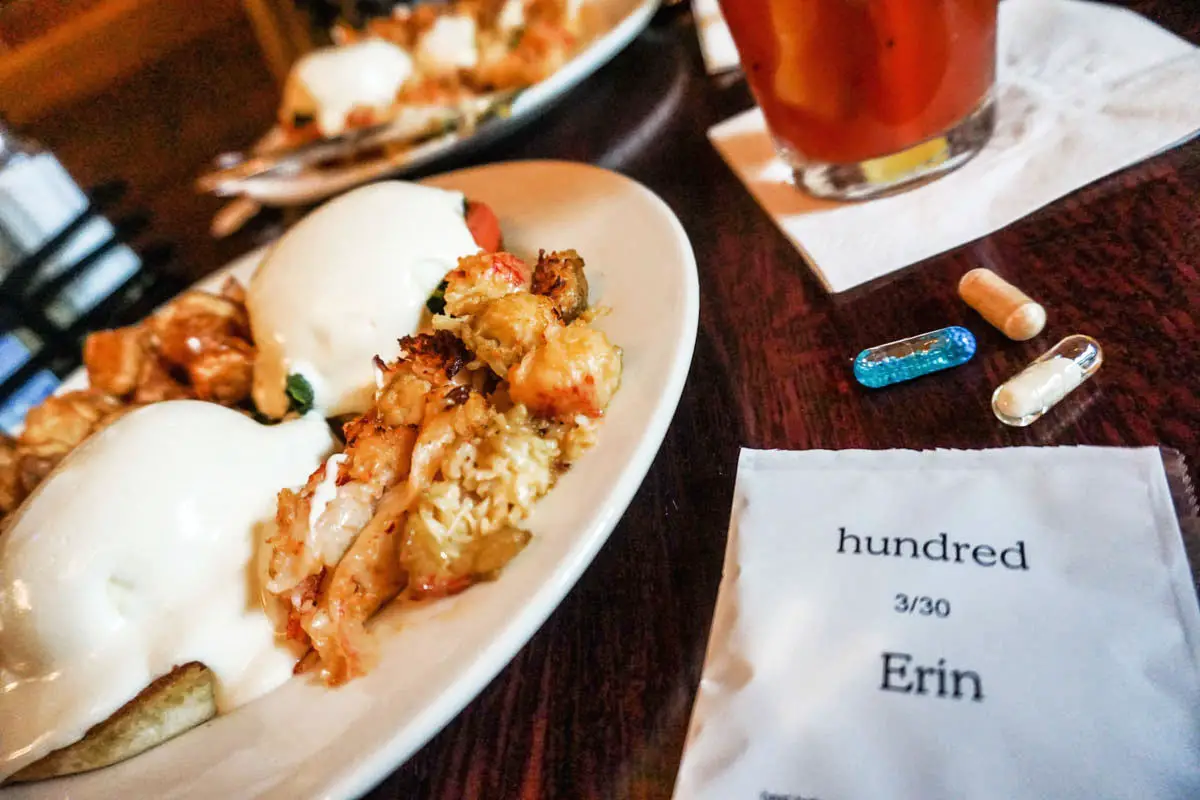 The convenience of traveling with hundred vitamin packs is a major perk. For my recent trip "home" for Thanksgiving, I packed only what I needed for the duration of my trip. Since each day's pills are already individually packaged into a little packet, I could put it into my purse or suitcase. I even took my vitamins to brunch!
Here Are A Few Tips For Traveling With Your Vitamins:
Pack light by taking only what you need for the duration of your trip.
Keep all your vitamins together by placing your hundred packets and any loose pills (like my CLA) in a ziplock bag.
When flying domestically in the United States, vitamins don't need to be taken out of your bag at security. However, following the tip above is helpful should TSA flag your bag for further inspection.
If you are checking a suitcase, pack at least two days' worth of vitamins in your carry-on bag or personal item in case your checked luggage is delayed.
Why I'll Be Packing hundred Vitamins for My Trips
After my initial experience with hundred, I have found quite a few perks. First of all, I love that hundred eliminates shopping for vitamins in the traditional sense. All the research is done for me by nutrition experts, and knowing where my vitamins are coming from, what is in them, and why they were specifically chosen for me also adds to my peace of mind.
I also like the convenience of using hundred. Once I ordered my vitamins, they arrived in just two days. Plus, the individual packets filled with my daily supplements are particularly convenient for traveling light and taking my vitamins on the go. I could see myself tossing them into my purse before busy mornings or into a gym bag before a morning workout too.
What are the cons? Well, it isn't a negative for me since I wasn't looking for either of these things, but hundred doesn't provide multivitamins or pre-natal vitamins. However, the pre/probiotic as well as hundred's Krill Oil provide a wide range of benefits.
In conclusion, I'll definitely be traveling with my hundred packs to keep my energy up and stress at bay, and I'll also be getting the Melatonin before I fly across time zones again.
Which hundred vitamins will you take on your next trip?
Since I've loved my hundred experience, I'm happy to announce hundred is giving my readers 30% off orders for their first two months. Just take your online quiz, and then when you order your recommended vitamins, use the code HUNDREDEPICUREANTRAVEL for 30% off your first two months!
Save this post to Pinterest!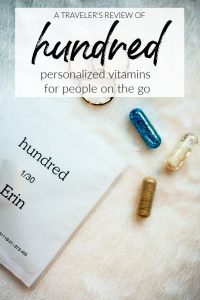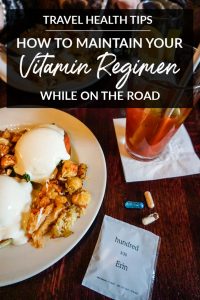 Read More Travel Health Posts