Glimmering light displays, seasonal cocktails, and visits with Santa mark the holiday season in Detroit, Michigan. As a born and raised Metro Detroiter who celebrates every Christmas with my family in Dearborn, I've rounded up more than 20 of the most joyfully festive things to do in Detroit and its surrounding communities during the holidays.
Disclosure: This guide to holiday events in Detroit contains some affiliate links. When you click on one of these links, make a purchase, or book your hotel, I may earn a commission.
---
Festive Activities & Holiday Events in Downtown Detroit
Detroit Christmas Tree Lighting 2022
The holiday season officially arrives in Detroit with the annual ceremonial lighting of the Motor City's Christmas tree at Campus Martius Park in downtown Detroit.
Taking place from 5 p.m. to midnight on Friday, Nov. 18, the 19th annual Detroit Tree Lighting will feature live performances by Olympic figure skaters including Mariah Bell, local skating clubs, and award-winning musicians, including Glee star and University of Michigan alumnus Darren Criss.
Being billed as "bigger, brighter, and better than ever," this year's 65-foot, Michigan-grown Norway Spruce will twinkle with 20,000 multi-color lights.
Rounding out the festivities are horse-drawn carriage rides, appearances by Santa, holiday shopping, hot chocolate giveaways, and food trucks.
For more information about the Detroit Tree Lighting Ceremony, please refer to the Downtown Detroit Partnership.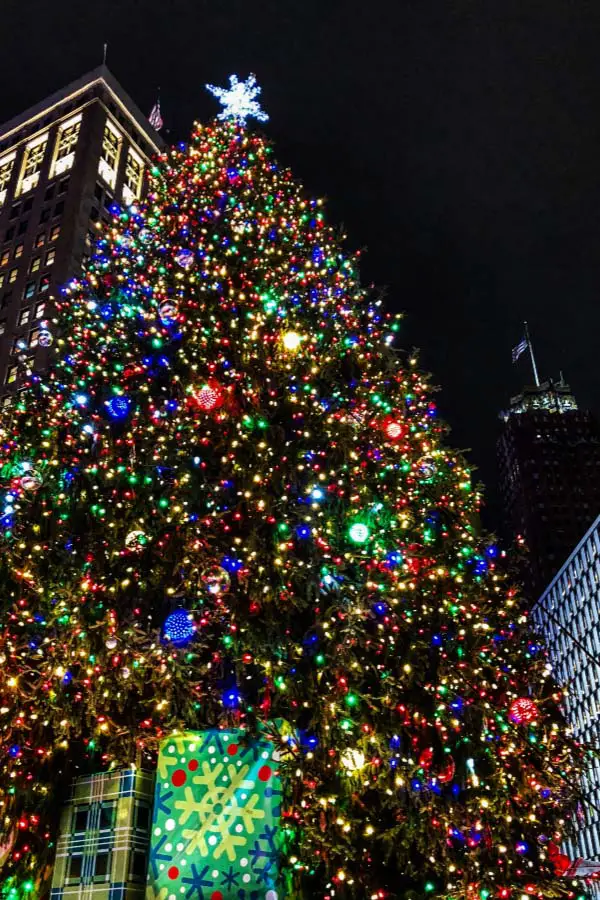 Detroit Thanksgiving Parade
With lively marching bands, animated floats, celebrity appearances, and larger-than-life, helium-filled balloons traversing the three-mile parade route along Detroit's historic Woodward Avenue, America's Thanksgiving Day Parade® presented by Gardiner-White is a marvelous holiday spectacle.
The parade has also been a cherished Detroit holiday tradition for nearly a century. It all began in 1924 — the same year that Macy's began its Thanksgiving parade in New York — with a horse-pulled Mother Goose float, four papier-mâché heads, and seven marching bands, according to the Detroit Historical Society.
This year, America's Thanksgiving Day Parade will feature nine new floats and appearances from professional skateboarder Tony Hawk and Detroit Tigers legend Willie Horton of the 1968 World Series team among other local and national celebrities. It all kicks off at 9 a.m. on Nov. 24 with an opening performance by Zurin Villanueva, star of TINA – THE TINA TURNER MUSICAL, which is coming to the Detroit Opera House in December.
Parade-goers can also expect to see Kermit, Big Bird, and Captain Underpants float down the parade route. Nursery rhyme character Mother Goose has never missed a parade since 1924, and she makes her appearance again this year on the Detroit News' float alongside Humpty Dumpty and nimble Jack jumping over the candlestick. Of course, the holiday magic culminates with the arrival of Santa Claus on his custom sleigh with eight reindeer.
The parade is typically 1.5 hours and stretches from Kirby to Congress streets along Woodward Avenue in downtown Detroit. For more information about the parade including where to find parking, please refer to The Parade Company.
Campus Martius Park Skating
With Detroit's Christmas tree setting a festive backdrop, ice skating around the outdoor rink at Campus Martius Park is a family-friendly holiday activity. The rink is open daily, including holidays, from November through March. Also one of the best things to do in Detroit at night during the holiday season, the rink remains open until midnight on Fridays and Saturdays from Nov. 18 through New Year's Eve.
For the Rink at Campus Martius Park hours, admission pricing, and skate rental costs, please refer to the Downtown Detroit Partnership.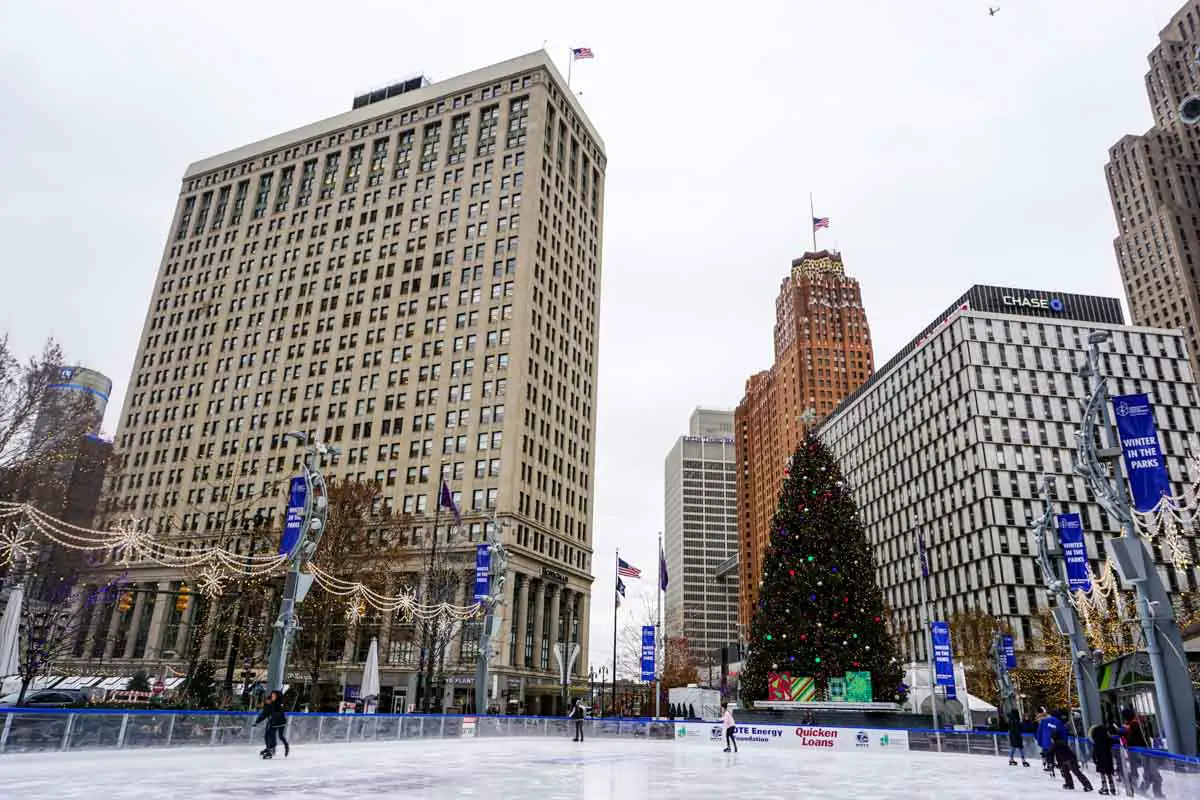 Downtown Detroit Markets and The Cadillac Lodge
This holiday season, you can shop small and local at the Downtown Detroit Markets. These small gift shops in glass huts at Cadillac Square in downtown Detroit feature 18 Detroit-area vendors and artisans.
With unique and artisanal items including home décor, specialty and vintage apparel, gourmet food items, toys, and more, you are sure to find stocking stuffers and gifts to put under your Christmas tree.
Once you've finished shopping in the outdoor market, step inside the Cadillac Lodge. The heated tent's ski-lodge aesthetic is a cozy space to sip hot cocoa or seasonal cocktails.
For the full list of participating vendors and market hours, please refer to the Decked Out Detroit website.
Monroe Street Midway Outdoor Fun
The Monroe Street Midway offers one of the newest Detroit winter events. Located across from Campus Martius Park, this magical winter playground features a 20-ft-high, 80-ft-long slide, winter bumper cars, a nine-net hockey puck-putt course, and an arcade through Jan. 29. Plus, Santa will visit from 4 to 8 p.m. Thursdays and Fridays and from noon to 4 p.m. Saturdays and Sundays from Nov. 18 through Dec. 22.
For the Monroe Street Midway schedule and more information visit the Decked Out Detroit website.
Menorah in the D
To celebrate Hanukkah in Detroit, the Menorah in the D is annually lit at Cadillac Square. This year's Menorah Lighting Ceremony begins at 5:30 p.m. (with doors opening at 5 p.m.) on Dec. 18 and requires a reservation.
For more information about the annual Menorah Lighting Ceremony visit the Menorah in the D website. 
Motor City Kwanzaa Kinara Lighting
Also at Campus Martius Park during the holidays this year will be the world's largest Kwanzaa Kinara. Standing at 30 feet tall, the Motor City Kwanzaa Kinara is "a new seasonal monument for the celebration of African American life, community and culture to Downtown Detroit's holiday landscape, alongside the Christmas tree and Menorah."
The Motor City Kwanzaa Kinara will be unveiled during a lighting ceremony from 5 to 5:30 p.m. on Dec. 26 at the southwest garden of Campus Martius Park. In addition to lighting the first candle, the first of Kwanzaa's seven principles will be discussed. The Kinara lighting ceremony follows a Kwanzaa celebration with African dance and drum performances from 3 to 4:30 p.m. at Beacon Park.
The Motor City Kwanazza Kinara will remain on display throughout the seven days of Kwanzaa. Additionally, you can celebrate Kwanzaa at these Detroit Kwanzaa events compiled by the Charles H. Wright Museum of African American History. 
Fox Theatre Holiday Shows
Dressing up for a holiday show at the historic Fox Theatre is a time-honored tradition in Detroit.
In 2022, you can see ELF THE MUSICAL during its eight-show run from Nov. 22 through Nov. 27 at the Fox Theatre. The hit Broadway musical based on the beloved holiday film starring Will Ferrell follows the story of Buddy the "elf" who journeys from the North Pole to New York City to reunite with his birth father. Along the way, Buddy discovers his true identity and brings Christmas spirit and joy to New York.
Other holiday shows at the Fox Theatre for the 2022 holiday season include:
Baby Shark Live!: The Christmas Show, Dec. 2
A Charlie Brown Christmas, Dec. 4
Christmas with Amy Grant & Michael W. Smith, Dec. 8
Mannheim Steamroller Christmas by Chip Davis, Dec. 10
Nutcraker! Magical Christmas Ballet, Dec. 11
'Twas the Night Before by Cirque du Soleil, Dec. 15-16
To purchase tickets for these holiday shows visit the 313 Presents website.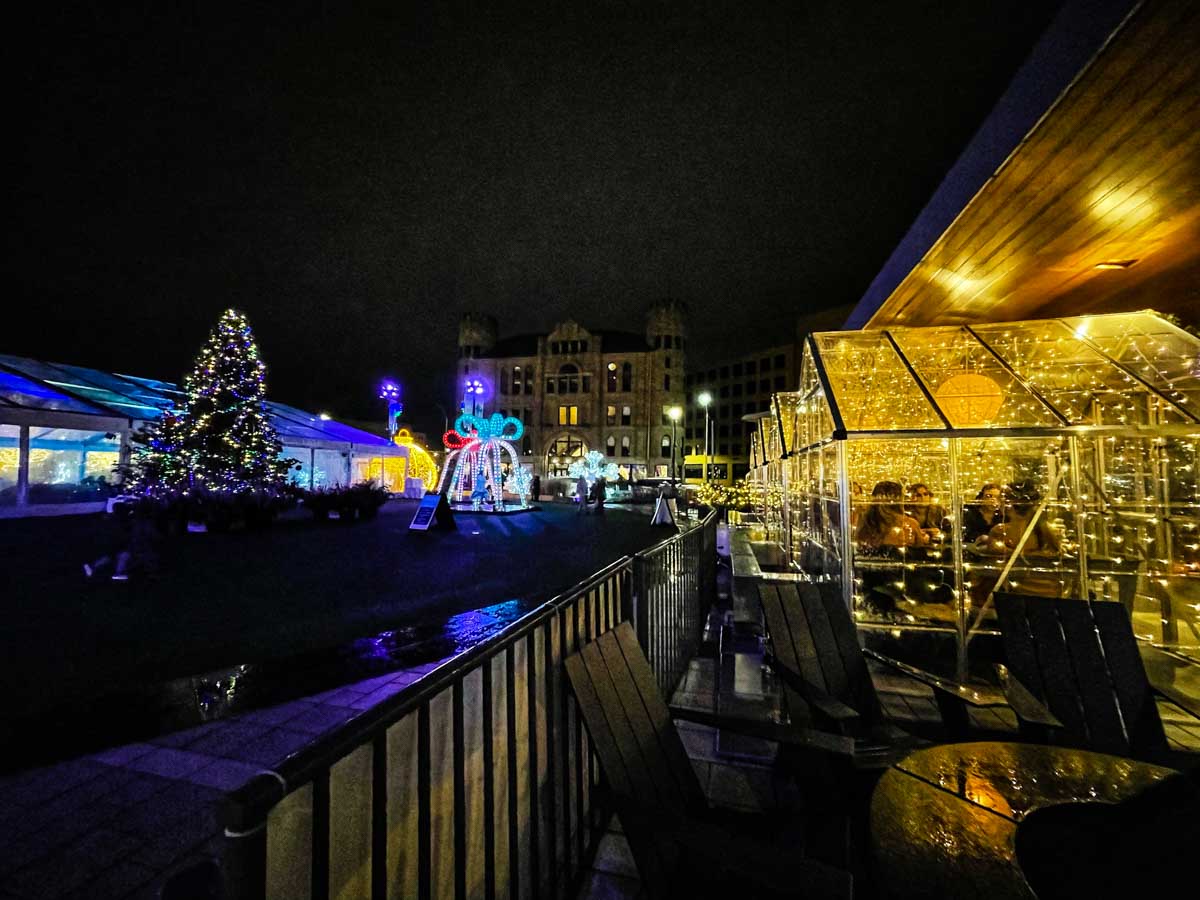 Chalet Dining at Lumen and Holiday Lights at Beacon Park
The 1.2-acre Beacon Park is illuminated in 125,000 dazzling holiday lights beginning Nov. 18, and one of the best ways to view them is while or after dining in a private, heated chalet at Lumen.
My husband and I dined in one of these chalets with our friends last December. Inside the chalet, we shed our coats, and the heater kept us toasty and warm — except for when our server entered and exited!
If you plan to dine in one of Lumen's chalets, I recommend wearing a warm, long-sleeve top like a sweater. This should keep you warm enough to dine without donning your coat inside the chalet, but you'll want to bundle up again before strolling through Beacon Park.
After a delicious dinner of seasonal modern-American fare and craft beverages, you can wander through the interactive holiday light installations and stop for festive photo ops. Last year, one installation was a swinging bell, and another was the oversized ornament pictured below.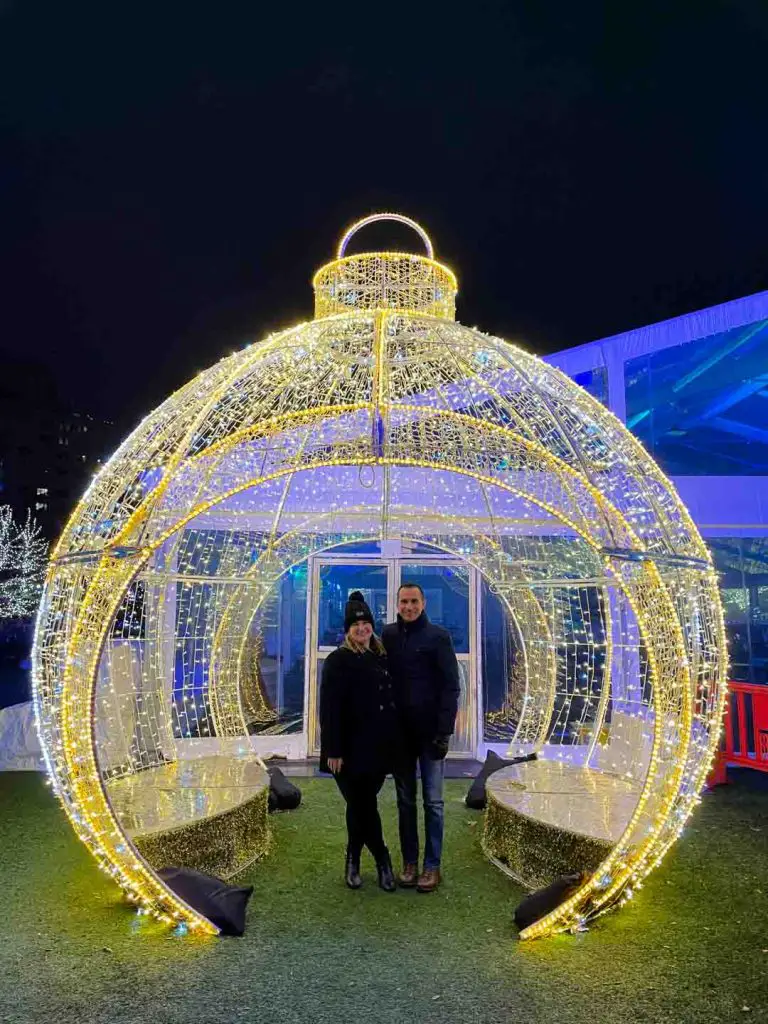 For the restaurant's current hours and menu, check out lumendetroit.com. Also, you'll need to make reservations online for Lumen's private chalets. Chalets accommodate 4-6 diners, so make sure you enter the number of guests as 4-6 to view chalet reservation timeslots. You'll also need a credit card handy to complete your reservation as chalets have a $35 food and beverage minimum per person due when reserving your chalet. 
Christmas Pop-Up Bars in Metro Detroit
Sippin' Santa at The Skip
Shoot a lusciously chocolate-flavored "Rudolph Shoots the Curl!" made with herbal mint and dark chocolate liqueurs and amaro or sip the tropical Shaka Kalikimaka at this festive tiki pop-up at The Skip from Nov. 25 through New Year's Eve.
You'll find The Skip in downtown Detroit's street art-filled alleyway The Belt conveniently near the Z Deck parking garage.
To keep up with all its Sippin' Santa happenings visit The Skip's website.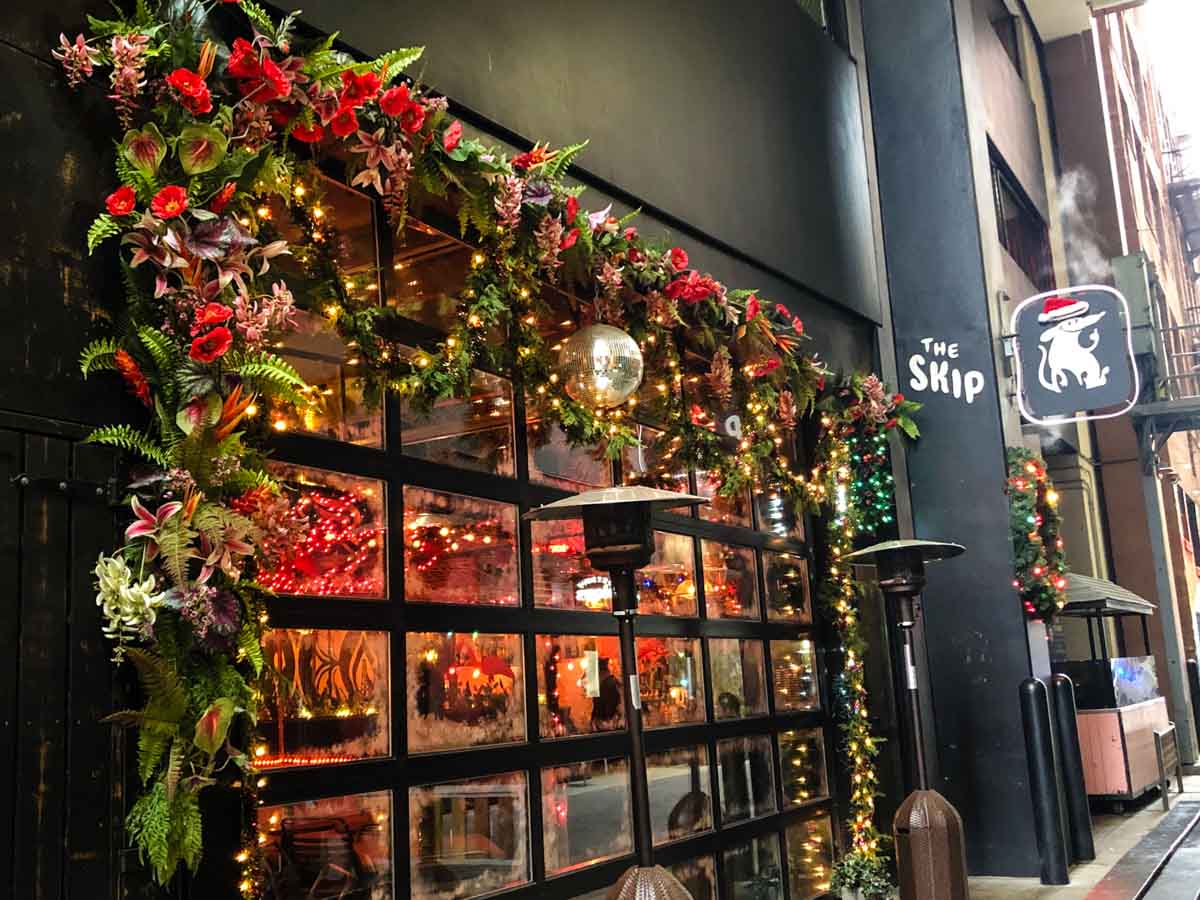 Blitzen's on Bagley
Detroit's newest holiday pop-up bar, Blitzen's on Bagley offers green Grinch Punch, a Very Merry Marg, spiked egg nog, and hot cocoa with Bailey's, Rumchata, or Fireball in a festively decorated space. You can pair your holiday sips with Goblin Detroit sushi, Shell Shock'd tacos, or Christmas cookies.
Blitzen's on Bagley is open through early January at 2545 Bagley St in Southwest Detroit. You can find more info including hours and how to have sushi delivered to you on the Blitzen's on Bagley website.
Miracle Pop-Up at The Oakland
Don your ugly Christmas sweater and head to The Oakland in Ferndale for the Christmas-themed cocktail pop-up bar Miracle, Nov. 23 through New Year's Eve. Surrounded by kitschy Christmas decor, you can sip a spiked egg nog of brown butter and cinnamon-infused Pierre Ferrand Cognac, Amontillado Sherry, vanilla, cream, sugar, eggs, almond milk, and nutmeg.
Before you go, make your reservations online (strongly recommended), arrive early to park in downtown Ferndale, and look for the Art Novelty Company sign of this modern speakeasy.
Jingle at Ale Mary's Beer Hall
Dine in an igloo for a view of the holiday lights all aglow in downtown Royal Oak, or pull up a seat inside the bar, where wrapped presents hanging from the ceiling, colorful twinkling lights, and Christmas drinkware create a vibe as jolly as Saint Nick himself.
The holiday season is certainly merry at Jingle. The Ale Mary's Beer Hall holiday popup offers a menu of seasonal cocktails, including the refreshing, cranberry-flavored Jingle Juice pictured below.
To keep up-to-date on the Jingle hours and offerings, follow Ale Mary's Beer Hall on Instagram.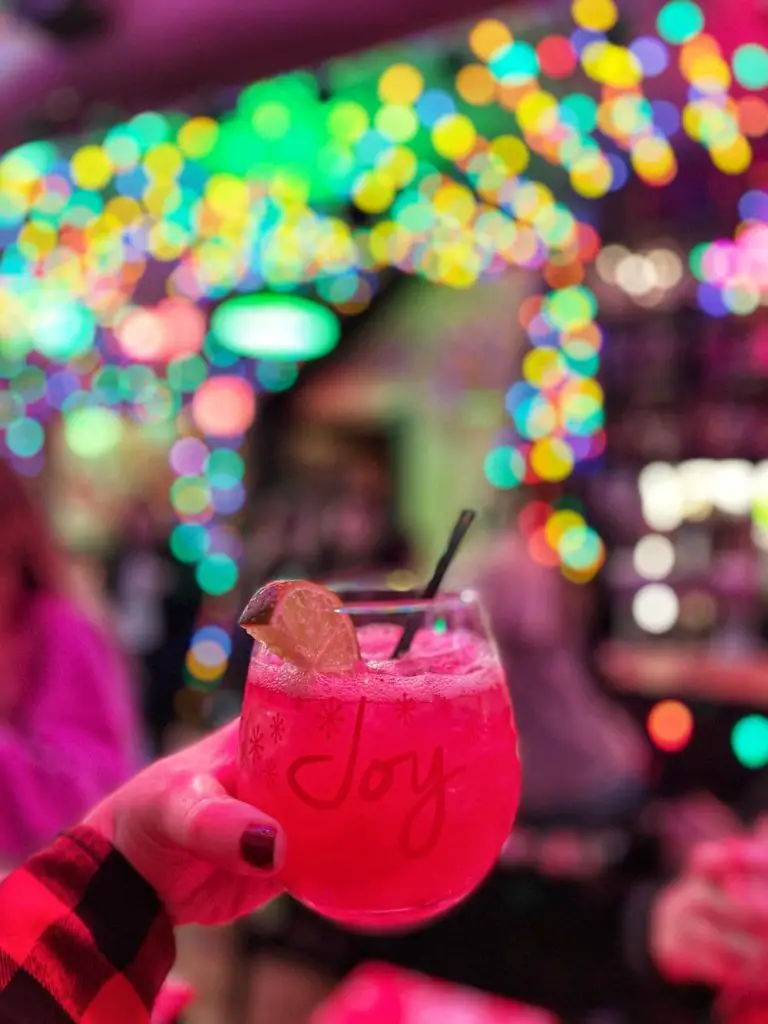 Metro Detroit Holiday Events
Greenfield Village Holiday Nights
Join Santa, live reindeer, and carolers to step back in time for one of the most unique Christmas experiences in the United States. Annually held at The Henry Ford in Dearborn, Holiday Nights in Greenfield Village features homes and shops decorated for Christmas, holiday cooking demos, skilled artisan demonstrations, live music, and holiday vignettes in period attire.
To purchase tickets and find more information about Holiday Nights in Greenfield Village, visit The Henry Ford's website. 
Detroit Zoo's Wild Lights
From Nov. 19 through Jan. 8, see more than five million LED lights illuminating trees, buildings, and 280 sculptures — including 230 of animals — at the Detroit Zoo in Royal Oak. This family-friendly holiday display takes about 1.5 hours to walk through, but plan to spend extra time sipping a hot chocolate on the Polar Patio.
To purchase tickets online and learn more about Wild Lights, visit the Wild Lights website.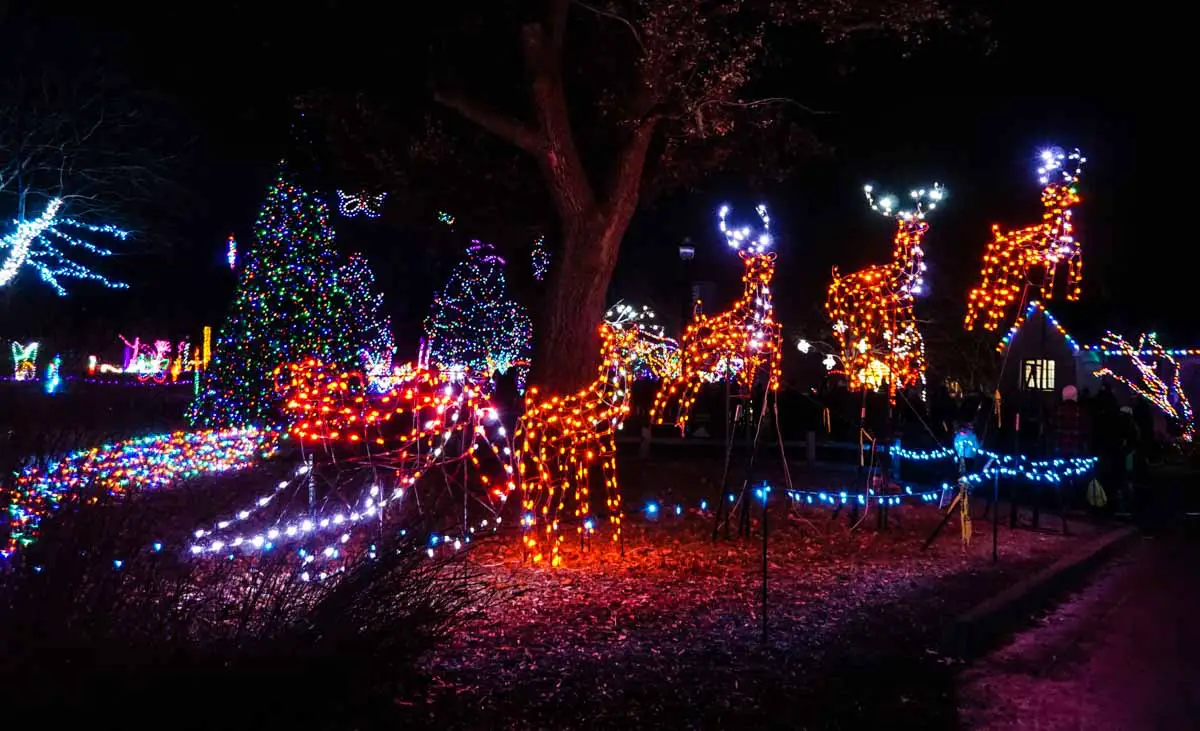 The Rink at Royal Oak Outdoor Ice Skating
A new outdoor skating rink opened Nov. 19 at Centennial Commons Park in Royal Oak. The 60-ft by 90-ft rink will be open to the public through Feb. 19.
To warm up off the ice, you can roast marshmallows over a fire, huddle around fire pits and heaters, sip hot chocolate, pop into the Royal Oak Public Library Warming Center, or visit one of the 50 local businesses — including restaurants, shops, and entertainment venues — within a short walk from the rink. Since the park is located in Royal Oak's social district, you can even go to a local bar and sip your to-go cocktail by the skating rink.
For information regarding hours, pricing, parking, and additional events visit The Rink at Royal Oak website.
Ford House Christmas Events
Throughout the holiday season, the grounds of the historic Edsel and Eleanor Ford estate in Grosse Pointe Shores will be decorated for a host of tours and holiday events that allow visitors to step back in time.
To purchase tickets for a Ford House Christmas and other holiday events visit the Ford House website.
Wayne County Lightfest
Beginning at Merriman Hollow Park in Westland, drive through 4.5 miles filled with more than 45 colorful, twinkling holiday light displays of 100,000 lights along Hines Drive in the Detroit area's Wayne County. The Wayne County Lightfest runs from late November through New Year's Eve. However, it is closed on Christmas.
For hours, admission, and more information, visit the Wayne County website. 
Meadow Brook Hall Holiday Walk & Winter Wonder Lights
The holiday season is a wonderful time to visit the historic Meadow Brook Hall in Rochester.
With the mansion decorated for the holidays, you'll see more than 50 Christmas trees — including a 10-ft tree made of 150 poinsettia plants — during the Holiday Walk, which runs Tuesday through Sunday from Nov. 25 through Dec. 23.
It takes about an hour to stroll through the estate's 110 rooms, where you'll also see twinkling holiday lights and flickering fireplaces.
On select Saturdays, families can meet Santa and his reindeer during the Holiday Walk. This year, Santa Saturdays fall on Dec. 3, 10, and 17.  
The Holiday Walk is a marvelous daytime event, but Meadow Brook Hall is also worth a visit after dark when the mansion is aglow in a dazzling holiday light display. The self-guided tour of the Winter Wonder Lights also features music and concessions. It runs Nov. 25 – 27, Dec. 1 – 4, Dec. 8 – 11, Dec. 15 – 23, and Dec. 27 – 30.
For more information and to purchase tickets for the Holiday Walk, Winter Wonder Lights, or the Starlight Stroll visit Meadow Brook Hall's website. 
Big Bright Light Show & Holiday Happenings in Rochester
If there is one Metro Detroit suburb that does Christmas like a small town in a Hallmark Channel movie, it is Rochester. In this Oakland County city, downtown businesses are aglow with one million bright and colorful holiday lights each night throughout the holiday season.
The Big Bright Light Show in Downtown Rochester kicks off on Nov. 21 with musical performances, visits from Santa and Mrs. Claus, and "Lagniappe" or local merchants providing a little extra to show appreciation to their customers.
For ideas of what to do while in Downtown Rochester during the Big Bright Light Show visit the Rochester DDA website. 
Canterbury Village Holiday Stroll
The Canterbury Village in Lake Orion transforms into a magical winter wonderland during the annual Holiday Stroll.
As you walk through Canterbury Village, you'll be dazzled by nearly a million twinkling lights, performances by professional carolers, and greetings from beloved holiday characters, including Frosty the Snowman, The Grinch, and Frozen's Olaf, Elsa, and Anna. This family-friendly holiday event features a 7-minute holiday light show choreographed to classic Christmas carols. Kids' sing-along caroling, s'mores, hot chocolate, visits with Santa, and an outdoor pub serving beer, cider, wine, and cocktails add to the festivities.
For more information about the Canterbury Village Holiday Stroll and to purchase tickets visit canterburyholidaystroll.com.
Magic of Lights at Pine Knob Music Theatre
Animated holiday light displays are aglow at Pine Knob Music Theatre in Clarkston for a 1.5-mile drive-thru light show from Nov. 18 through Dec. 31.
For more information and to purchase advance tickets for the Magic of Lights visit the Magic of Lights website.
Blake Farms Holiday Festivities
If you're looking for the ultimate Christmas wonderland for a Hallmark-worthy family gathering or date night, Blake Farms is the place to go this holiday season. At the family-owned Blake Farms in Armada, about an hour's drive northeast of Detroit, you can cut down your own Christmas tree, go ice skating, sip holiday cocktails, visit Santa, and shop for festive holiday gifts all in one place!
First, grab a cup of hot cider, then hop on the wagon for a ride out to Blake's 100-acre Christmas tree field. After you hunt for the perfect fir or spruce, you'll cut it down yourself. Don't worry — a complimentary saw will be provided and your tree will be safely hauled back and expertly shaken, baled, and drilled.
Then enjoy all the holiday festivities at the farm! You can glide around the outdoor skating rink, shop the holiday market, and get cozy sipping hard ciders and dining in an igloo at Blake's Tasting Room.
To learn more about all of the holiday festivities at Blake Farms, check out the Blake Farms website.
Explore this map to pinpoint these featured holiday events and attractions around Metro Detroit!
Where to Stay in Detroit During the Holiday Season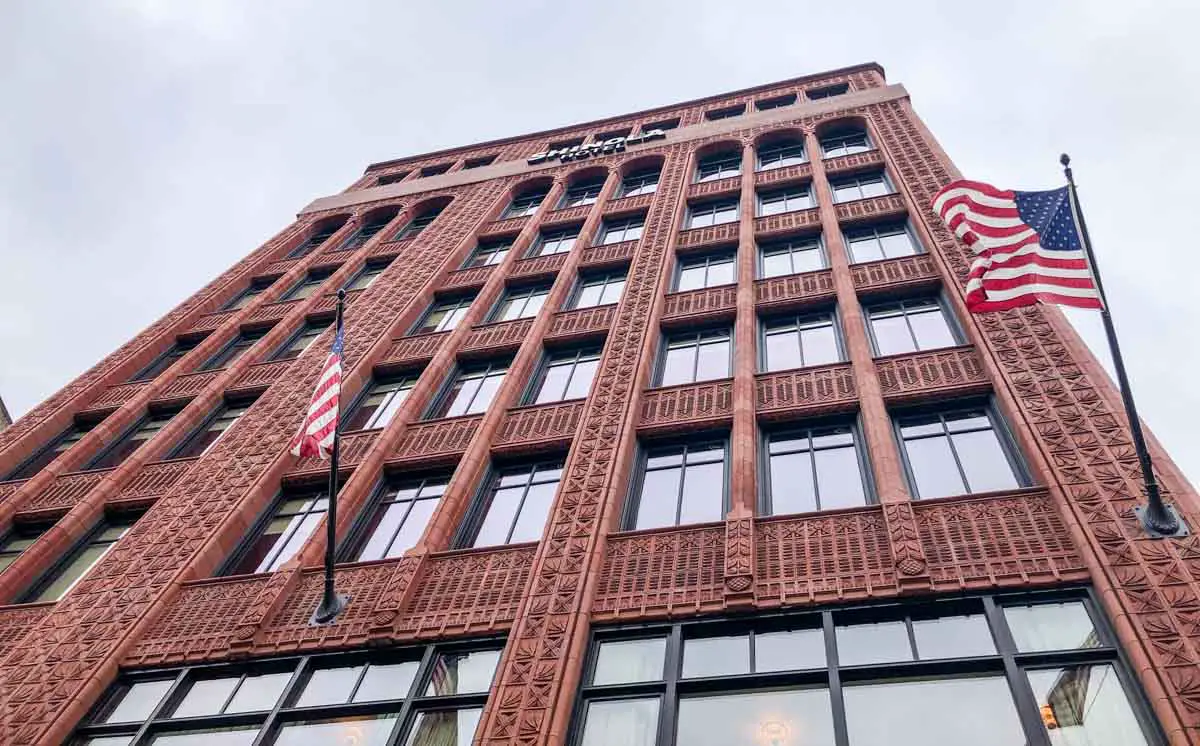 Whether you are visiting from out of town or are a local wishing to spend Christmas in Detroit, I recommend an overnight getaway at one of the city's downtown hotels. 
In December 2018, I used my Marriott Bonvoy rewards membership to nab a fantastic deal during the holiday season at the Courtyard by Marriott. Conveniently located near downtown's holiday attractions, I was just a short walk from Greektown in its white and blue holiday lights and garlands, too. 
If your holiday plans are centered around visiting Detroit's downtown holiday attractions, shopping, and dining, I also recommend staying at the Shinola Hotel or the boutique Detroit Foundation Hotel. Otherwise, you can find more Detroit accommodations by exploring the map below.

Take this Detroit Holiday Guide on the Go
I recommend downloading this guide to the Detroit area's holiday events and attractions. Not only will you be able to access this list of festive activities while on the go, but the downloadable version is also embedded with GPS coordinates to help you map your walking or driving route. GPSmyCity offers even more self-guided walking tours and GPS-embedded travel articles for Detroit.
In case you are wondering what GPSmyCity is and how to use the app, I've created this handy guide explaining why it's such a helpful resource for travelers.
Read More Detroit & Michigan Travel Posts
We have more local guides to Detroit and nearby destinations in Michigan including:
More Posts to Get You Into the Holiday Spirit
Save this post to your Detroit, Michigan, or Christmas board(s) on Pinterest!