If you are a student (or a parent of one) planning to study abroad, you've come to the right place! In this comprehensive guide for how to prepare for studying abroad, we'll discuss everything from selecting the best destination for your educational goals to creating a communication plan to keep in touch with loved ones back home.
Disclosure: This guide for how to prepare for studying abroad contains affiliate links. When you click on and make a purchase from one of these links, I may earn a commission.
---
15 Tips for Students Planning to Study Abroad
Studying abroad is an impactful — and sometimes even life-changing — experience. It's a wonderful opportunity to immerse yourself in a different culture than your own and to practice foreign language skills while earning academic credits toward your degree.
I say this from my own personal experience. During my college years at Central Michigan University, I spent a semester studying German language and living with a local family in Bielefeld, Germany.
Not only was my semester abroad the highlight of my college experience with many fond memories of the friendships I formed and trips I took around Europe, but it also shaped my worldview and inspired my career as a travel writer.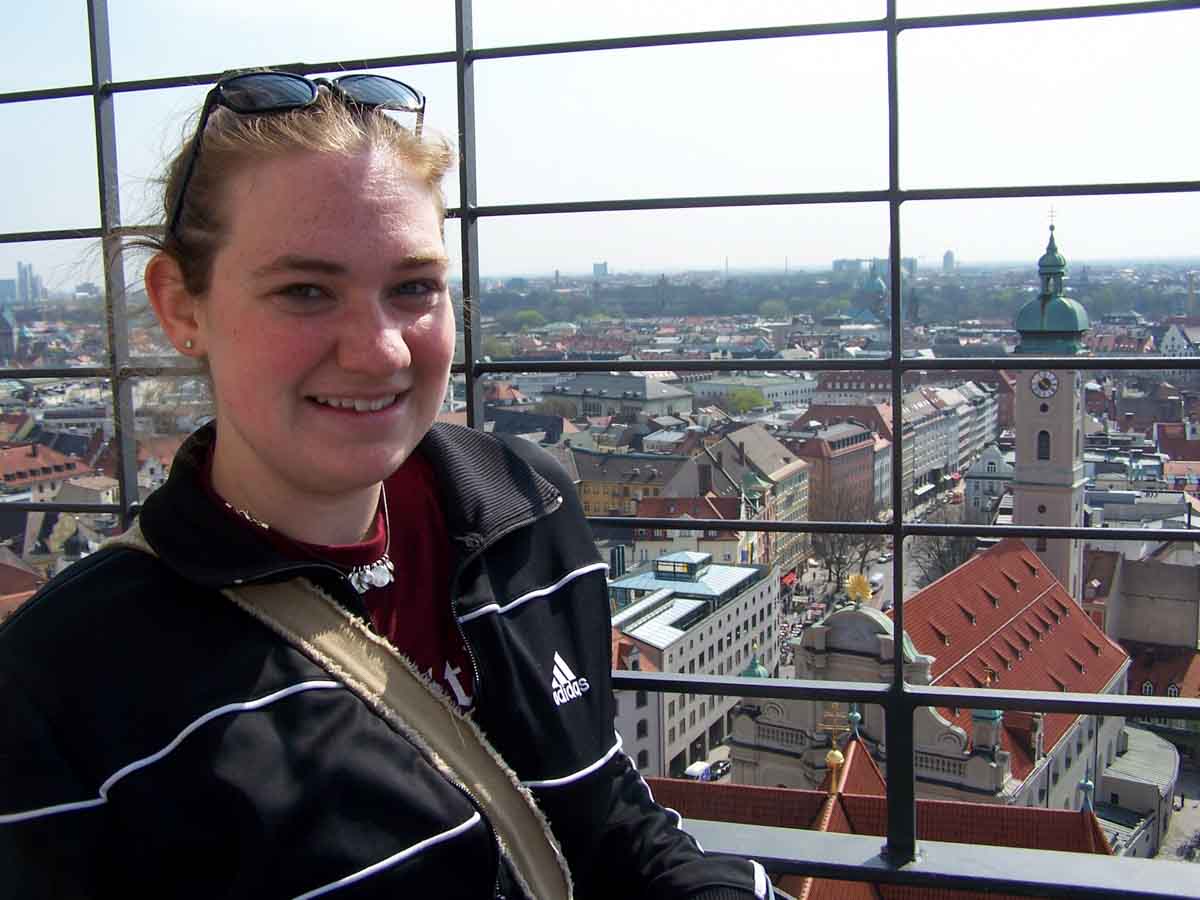 Though studying abroad is immensely rewarding, it isn't always easy. There may be cultural or language barriers to overcome. You may become homesick, missing your loved ones, your favorite comfort foods, or simply the familiarity of home. And, you may even struggle with the academic coursework as you adjust to being in a new country.
Fortunately, with academic tools, such as a writing assignment service, and the following 15 tips, you will be prepared to conquer the challenges and enjoy the unique experiences of studying abroad.
First, Choose Your Destination!
Before you apply to study abroad, you should research your options. As you decide where to study abroad, you might consider:
What are the academic and language requirements to study in that country?

Are you interested in learning a foreign language? Are you fluent in another language?
Is there a program in this country that fits your major, minor, or intended field of study?
How long do you want to study abroad? Short term? Summer? Semester? Academic year? A full degree program?
Can you transfer credits back to your university at home?
Is there financial aid, such as scholarships or grants, available?
What is the cost of living in this country?
For example, Hungary has a colorful culture and a conveniently centralized location, making it easy to get anywhere in Europe on weekends and breaks. It's a country known for beautiful architecture, relatively low prices, and offering classes in English at its universities.
Consider Studying Abroad During Tourist Off-Season
As you consider studying abroad, you may also want to take the timing of your study abroad program into consideration.
By studying abroad during a destination's slow tourism season, you will likely have a more authentic local experience.
Additionally, you'll find lower prices on flights and hotels this time of year. This could help you stick to your student budget or to afford trips on your weekends and school breaks.
Off-season for tourism at popular study abroad destinations:
Australia and New Zealand: June – August

Japan: August – December 

South Korea: December – March

USA and Canada: November – April

Western Europe (UK, Ireland, France, Spain, etc.): October – January
Gather Documents
Preparation for studying at a university in another country can take months or even a year.
As you prepare, you will need to gather the necessary documents, such as your passport, visa, and/or academic transcript. Additionally, you may need to translate documents or take qualifying exams.
Students from the US who don't already have a passport will need to apply in person at a passport acceptance facility, such as your local post office.
In addition to filling out the application, you will need to provide your birth certificate or other proof of citizenship, your driver's license or other photo ID(s), photocopies of both your proof of citizenship and photo ID, passport photos, and a fee of $130.
If you already have a passport, check that it expires more than six months after your return from abroad. If not, you will likely need to renew your passport to study abroad.
In addition to your passport, you may also need to apply for a visa. This depends on where and how long you'll be abroad.
For short programs in Europe, students from many countries — including the US, Canada, and Australia —may only need to register for ETIAS and pay a fee of €7.
However, you will need to apply for a student visa (or another type of visa) if the host country requires it or if your program is longer than allowed with a visitor's visa on arrival.
RELATED: Five International Travel Documents You May Need to See (and Taste) the World
Apply Early for Scholarships and Grants
If your ability to study abroad is contingent upon getting financial aid to cover or offset the tuition, room-and-board, and travel costs, then you should apply early in the process for scholarships and grants.
In fact, I recommend applying to scholarships before applying to foreign institutions or study-abroad programs.
For example, before I studied abroad in the spring semester of my sophomore year, I applied for a scholarship through my university during the spring semester of my freshman year.
Also, my husband, who came to the United States from Iraq to earn his master's degree, applied about a year in advance for his national scholarship.
Decide Where You'll Live
There are varying housing options for students studying abroad, but they differ by program.
Some study-abroad programs include an immersive homestay, where you'll live with a local family. This is a wonderful way to practice your language skills, experience cultural customs firsthand, and eat home-cooked meals in the local cuisine.
Other programs may offer dormitories or apartments for international students, offering opportunities to live with other students from different cultures around the world.
If you are arranging your study-abroad experience through your home university, you should discuss housing options with your study-abroad advisor. 
For those of you who are applying to a graduate program at a foreign university, you may need to find housing on your own. Some universities offer graduate student housing and international student housing for which you may qualify. Otherwise, plan to arrive ahead of the school year to search for an apartment or room to rent near campus.
Purchase Travel Insurance
Foreign universities may require international students to purchase a health insurance plan specifically for international students, but you should also consider purchasing travel insurance.
In addition to covering emergency medical care and transportation costs, travel insurance plans may also cover trip cancellations and interruptions, lost or damaged baggage, delayed baggage, or travel delays.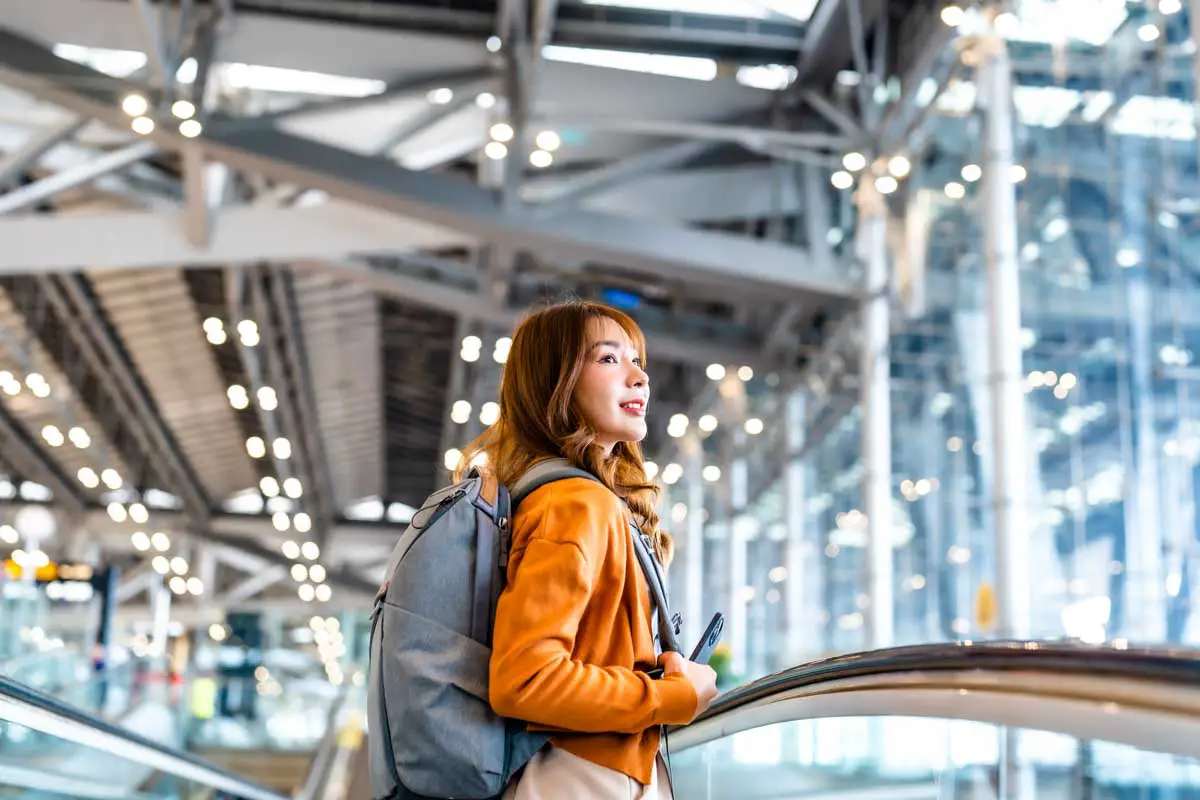 Book Your Flight
Once you have been accepted into a foreign university or study abroad program, use online flight aggregator tools — such as WayAway, Skyscanner, or Google Flights — to search for affordable airfare.
Also, the cost of tickets on the airline's website may vary depending on the day of the week and even the time of day. Therefore, you should set up Google Flights alerts to check prices from time to time.
To save more on your travel expenses, you might consider getting a WayAway Plus membership to earn up to 5% cash back on your flight.
If you plan to take weekend trips while studying abroad, you can also earn cash back on those flights and up to 20% cash back on hotels booked through WayAway.
RELATED: How to Save for a Europe Trip: 13 Money-Saving Tips for Your Dream European Vacation
Arrange Your Airport Transfer
Once you have your flight details in place, you'll want to sort out how to get from the airport to your university or accommodations. This may be arranged through your study abroad program. If it's not, you'll need to research ground transportation options.
The airport website is a great place to start your research. Typically, you can find out where to access public transit and taxis as well as taxi fares.
Another option is to book a private airport transfer. I recently used Welcome Pickups, which operates in 152 global destinations, to get from the airport to my hotel in Istanbul.
I recommend Welcome Pickups because it's a convenient and safe service. With a flat rate, there are no surprise fees or metered fares, and you can conveniently modify your reservation via the mobile app. Additionally, all of the drivers speak English, and they will text you pick-up instructions via WhatsApp.
Visit Your Doctor
In order to study abroad, you may be required to have a physical or have certain immunizations. While you are at your doctor's appointment, you may also want to ask your doctor for a prescription for any medications you regularly take.
Additionally, you should see which immunizations the Center for Disease Control and Prevention recommends for where you'll be studying and traveling.
For example, if you are planning to study in Paris, the CDC recommends having your routine and Covid-19 vaccinations up to date. It also recommends getting vaccinated against Hepatitis B and, if you plan to eat street food, Hepatitis A.
RELATED: Six Tips for Staying Healthy While Traveling
Learn About Your Destination's Culture & Language
Before you study abroad, you should learn about the culture and customs of the destination where you'll be living. A great place to begin your research is the Culture Smart! guidebook for the country where you'll be studying.
Also, you should be prepared to communicate in the local language. This doesn't mean that you need to be fluent in a second language, but it's helpful and polite to at least know basic phrases.
Even if you are a native English speaker heading to another English-speaking country, you may find regional differences in spellings, word choices, slang terms, or meanings of the same words.
If you are studying in a country where a language other than your own is spoken, you should download language tools onto your phone. Apps like Duolingo allow you to practice your language skills, while Google Translate is helpful for translating words while you are on the go.
Take Precautions for Your Safety
Among the steps American students should take before studying abroad is registering with the U.S. Department of State's Smart Traveler Enrollment Program (STEP).
Students enrolled in STEP will receive notifications from the nearest U.S. Embassy about safety conditions in the country.
Additionally, being registered in STEP helps the U.S. Embassy or Consulate contact you in case of emergencies.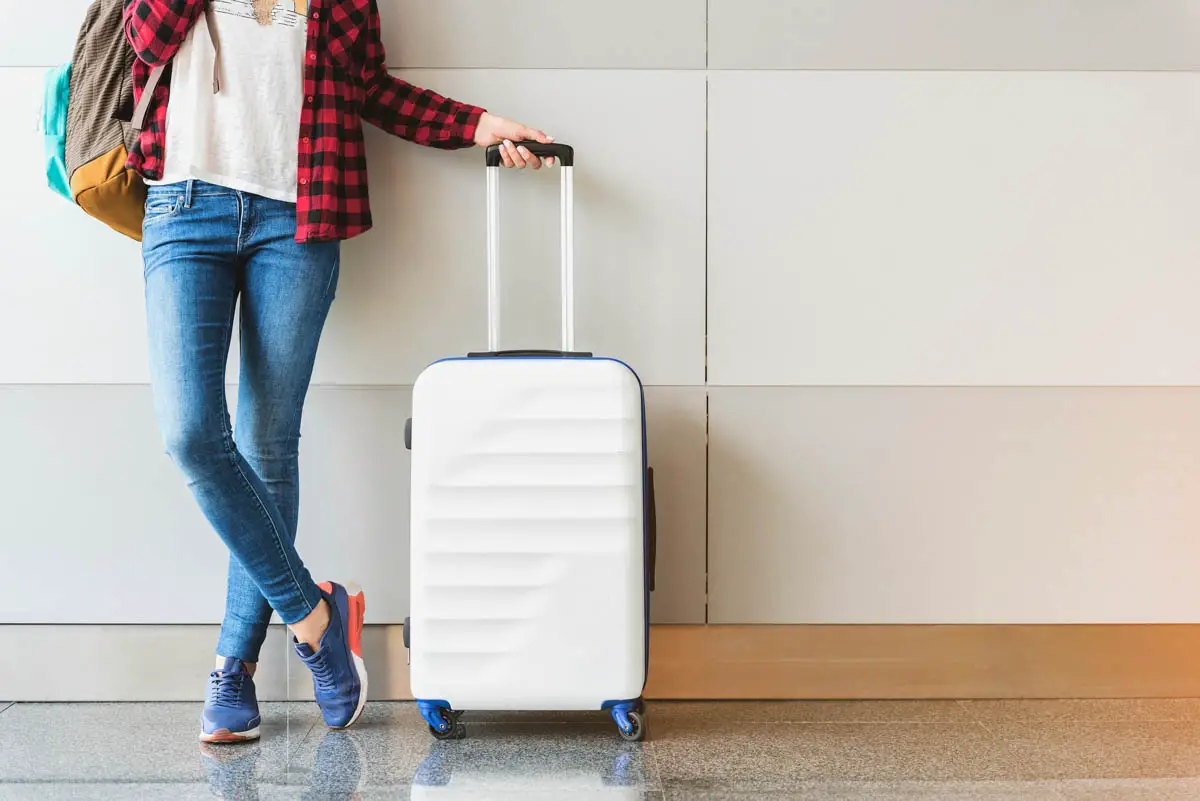 Pack Light
Packing to study abroad may seem daunting, but you can pack what you need in one suitcase and a backpack, which will double as your school bookbag and travel daypack. I recommend utilizing compression storage bags, packing cubes, and shoe bags to organize your luggage.
Clothing
Keep in mind that, unlike during short trips, you'll do laundry during your time abroad. Therefore, you only need to pack a travel capsule wardrobe, so you can mix and match pieces to create different outfits.
It's also important to bring clothing you can layer since you'll likely encounter changes in the weather while studying abroad.
RELATED: How to Pack the Best Women's Shoes to Wear in Europe [Summer Edition]
Toiletries
As for toiletries, I recommend packing only enough travel-sized toiletries to get you through your first few days. Once you have settled in, you can purchase shampoo and other personal care items there.
However, the exception is if there are specific items or brands you need or prefer that you won't easily find abroad. For example, tampons with applicators can be difficult to find in some countries, so you might want to pack enough for the whole time you'll be abroad.
Electronics
Due to voltage differences, I don't recommend bringing a hair dryer, curling iron, or flat iron. Instead, plan to purchase an inexpensive one there.
Though you should leave your hair appliances at home, you should still bring a plug adapter and voltage converter in order to charge your phone, camera, and laptop.
School Supplies
Don't forget to bring a couple pens in your carry-on in order to complete any necessary paperwork during your international flight! But, you should wait to purchase other school supplies when you arrive.
Bed & Bath Linens
Lastly, if a homestay is part of your study-abroad experience, you won't need to worry about bed linens and bath towels. On the other hand, if you are moving into a dormitory or apartment on your own, you will likely need to provide these items yourself.
Since these items are bulky, I recommend purchasing inexpensive bed and bath linens once you arrive or ordering them online in advance for delivery. At the end of your time abroad, you can gift them to another student or donate them to a local charity.
If you plan to travel around and stay in hostels during your time abroad, I recommend bringing a fast-drying travel towel (and a cheap pair of flip flops, too) for the showers.
Bring Gifts from Home
Especially if you are being hosted by a local family, you should bring gifts from home to show your gratitude to the people you meet.
You might pack a couple small tokens for friends you meet along the way, but most importantly, pack a "thank you" gift to present to your host family at the end of your stay.
These gifts should not be extravagant. Rather, select thoughtful gifts that are inexpensive, lightweight, and represent you or where you live.
Ideas of gifts to bring host families:
Soup mix or cookie mix for a traditional cookie from your home (i.e. chocolate chip cookies if you are American)
Unique foods from your home country or region, such as peanut butter (if you are American), Vegemite (if you are Australian), or maple syrup (if you are from Canada or New England)
Coffee or tea
Candies
Cookbook or recipe cards of regional specialities
Travel photography book of your home city, state/province, or country
Souvenirs such as keychains, mugs, playing cards, or a calendar from your hometown
T-shirt, hat, or other small gifts from your home university
If you forget to prepare this ahead of time, you can pick up souvenirs in an airport gift shop as you depart your home country.
Plan to Capture Memories
Studying abroad will be full of memories you won't want to forget! I recommend that you at least document your experience for yourself by journaling, taking photos, and/or shooting videos.
If you want to share your experience with family and friends back home, you can also start a dedicated social media channel, blog, or vlog to share your cultural insights, travels, and your own tips for studying abroad.
To prepare for capturing memories from studying abroad, make sure your phone has sufficient storage.
Also, if you are bringing a camera, make sure to bring extra memory cards and all the necessary cords and chargers. I also recommend packing an extra battery, any desired lenses, a microphone if you are planning to vlog, and a lightweight travel tripod.
RELATED: How to Make a Travel Video: 10 Tips for Beginners to Create Compelling Travel Videos
Make a Plan to Keep in Touch with Friends & Family
Finally, it's important to make a communication plan for keeping in touch with your parents and other loved ones back home. 
There are many apps to help you keep in touch, including:
WhatsApp — Free app from Meta for encrypted texting, voice calls, video chats, and audio messages.
Zoom — Great for pre-arranged group video chats!
Skype — Offers affordable international calling plans for voice and video calls. This is the best option for calling landlines in the US!
iMessage and FaceTime — Available only on iPhones, iPads, and other Apple devices for texting, voice calls, and video chats.
Facebook Messenger — Great option for video chats with up to 50 people! Plus, you can send text messages, but you must have a Facebook account.
Don't forget to share this information with your family and friends! Once you select the app(s) that work best for your needs, set up group chats for texting family and friends and/or schedule recurring video chats with your family.
Conclusion
Studying abroad can be an immensely rewarding educational experience. It's an opportunity to gain independence, cultural insights, foreign language skills, and unique travel experiences — all while earning academic credits!
However, studying abroad takes preparation. From researching programs and destinations to find the right fit for you to packing your suitcase, you can use this guide as you plan your own study-abroad experience.
In this post, I shared 15 tips for how to prepare for studying abroad. This advice was based on extensive research as well as my own experience spending a semester in Germany and my husband's more recent experience as an international graduate student in the US.
With the proper preparation, you can have an amazing — and perhaps even life-altering — experience studying abroad. Your adventure awaits!
Planning to study abroad? Save this post to your study abroad tips board on Pinterest to easily refer back to later!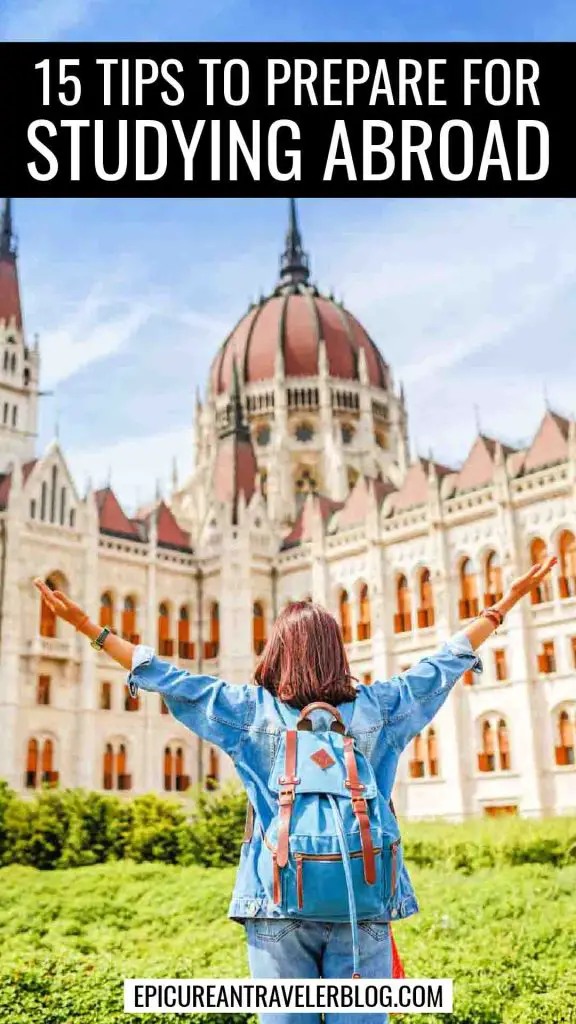 Editor's Note: Photo credit for lead photo (© JD8/Adobe Stock)