Meaty yet meatless, these balsamic-marinated grilled portobello mushroom burgers topped with a roasted red pepper aioli are paired with Reser's deli salads for a summertime meal even meat eaters will enjoy. Serve them as a vegetarian or vegan alternative at your next backyard barbecue, or grill them for a #MeatlessMonday dinner this summer.
Disclosure: This meatless grilling recipe is sponsored by Reser's Fine Foods. Also, this post contains some affiliate links. When you click on and/or make a purchase from one of these links, I may earn a small commission. As an Amazon Associate, I earn from qualifying purchases. Thank you for your continued support!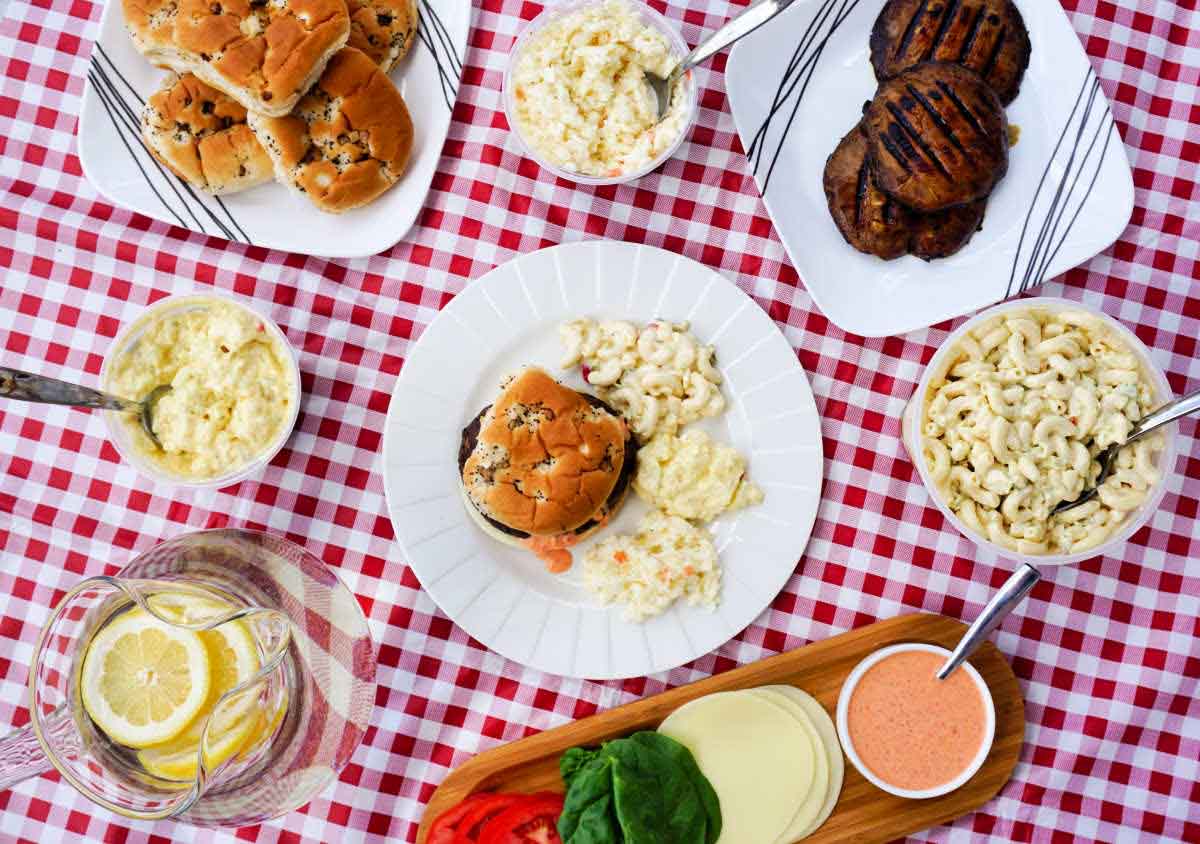 Why Grill Portobello Mushroom Burgers?
Portobello mushrooms are popular plant-based alternatives for grilling, but have you wondered why? Certainly, one reason is the portobello's meaty quality. Secondly, these large mushroom caps can measure 5 inches in diameter and have a rounded, flat top. Combined, these characteristics make portobello mushroom caps excellent burger-patty substitutes for vegetarians, vegans, and anyone looking for an easy Meatless Monday meal.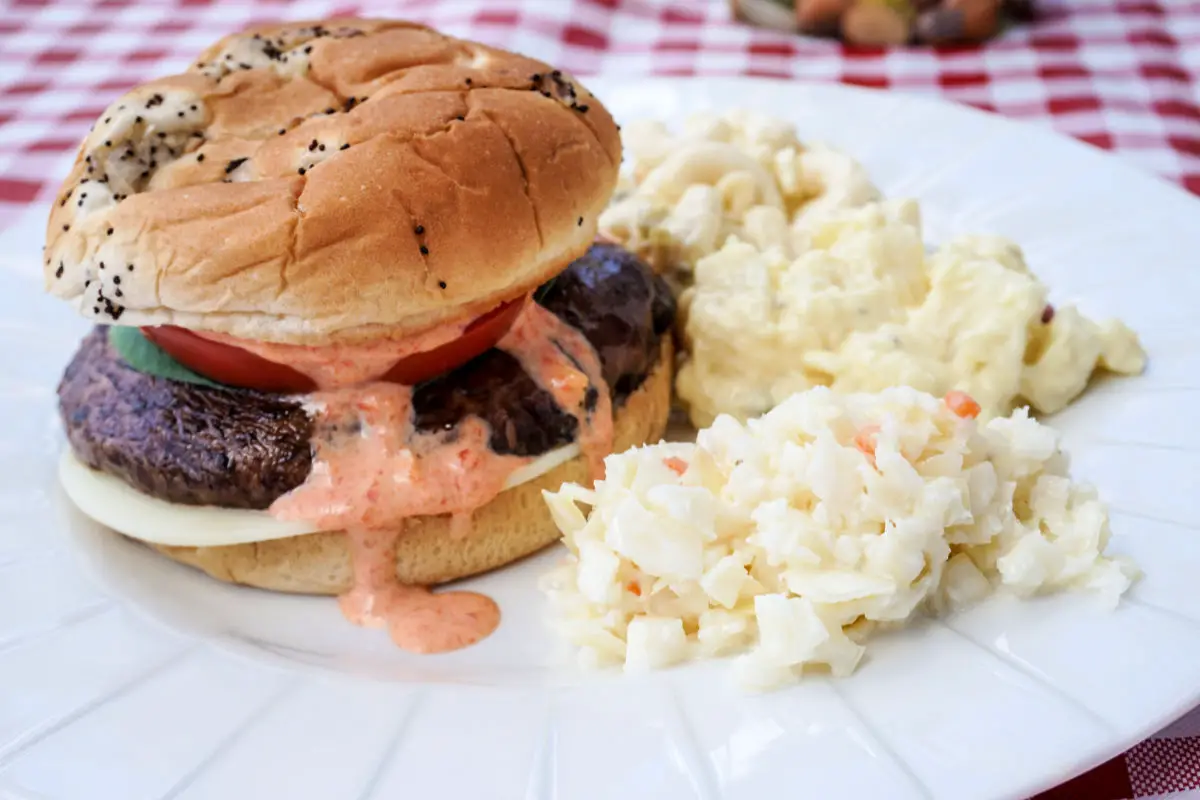 Like Grilling Beef, Infuse Flavor With A Marinade
On their own, portobello mushrooms taste a bit woody, but they can quickly soak up a marinade to take on another flavor. For this marinade, I used a simple mixture of equal parts balsamic vinegar and extra virgin olive oil. For the balsamic vinegar, I chose an 18-year aged balsamic from a local olive oil and vinegar shop in Grand Rapids, Michigan. If you don't have a gourmet olive oil and vinegar shop near you, you can order balsamic vinegar or find some high-quality balsamic vinegars at your local grocery store.
To marinate the portobellos, place them in a large mixing bowl, a zipper-topped plastic bag, or a glass food-storage container. Let them soak for 20-30 minutes, occasionally tossing or spooning the marinade over the mushroom caps.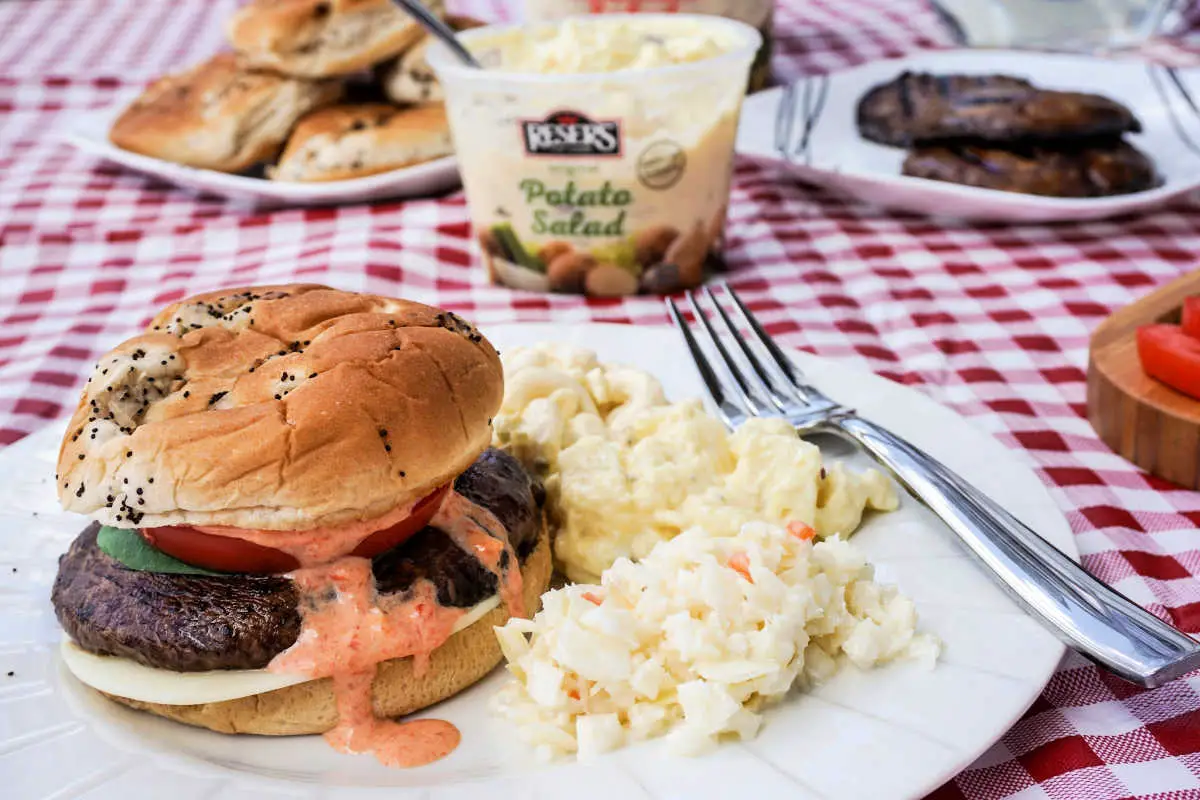 Complete Your Meatless Barbecue With Reser's Deli Salads
It wouldn't be a summer cookout without the sides! To complete your meatless barbecue, pair your portobello mushroom burgers with Reser's deli salads. Available in the deli section at many grocery stores throughout the United States are:
Reser's Macaroni Salad — a creamy deli salad of elbow macaroni, crisp celery, fresh red bell pepper, and crunchy sweet pickles in a slightly tart and sweet, mayonnaise-based dressing
Reser's Cole Slaw — this classic cabbage-based side has a sweet and zingy dressing
Reser's Potato Salad — based on Mildred Reser's recipe from the 1950s, this classic potato salad features diced Russets, chopped celery and onion, and sweet pickles in a mayonnaise dressing
If you like cole slaw, don't miss my easy slow-cooker recipe for honey BBQ chicken sandwiches topped with Reser's Stadium Cole Slaw. You'll also find even more Stadium Cole Slaw dishes created by Michigan food bloggers.
Where I live in Kalamazoo, Michigan, I shop for Reser's deli salads at Harding's Marketplace. In West Michigan, Meijer stores also carry a variety of Reser's deli salads, including the Stadium Cole Slaw. To find a retailer near you, visit the Reser's Fine Foods website.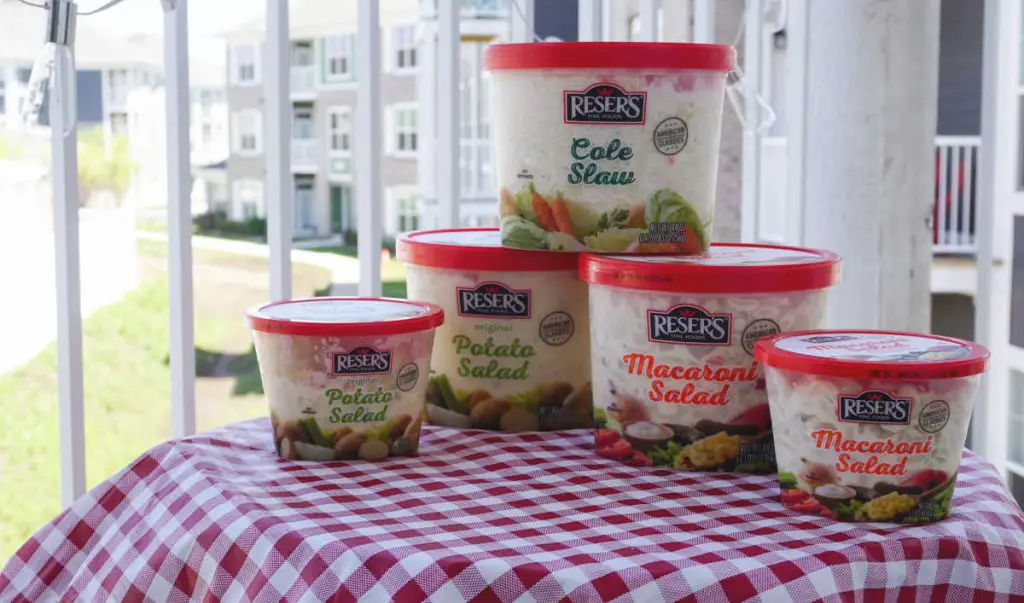 Portobello Mushroom Burgers With Roasted Red Pepper Aioli
For summer grilling or Meatless Monday dinner, these portobello mushroom burgers are a plant-based alternative even a meat eater will enjoy. Marinated in balsamic vinegar and topped with a roasted red pepper aioli, these portobello mushroom burgers are best served alongside Reser's potato, macaroni, and cole slaw deli salads.
Ingredients
Cooking Spray or Olive Oil
Portobello Mushroom Caps, 4
Provolone Cheese Slices, 4 (Optional)
Tomato Slices, 4
Spinach Leaves, 4
Buns, 4

For The Roasted Red Pepper Aioli:

Mayonnaise, 1 1/2 cup (To make a vegan version, substitute with vegan mayo)
Minced Garlic Cloves, 1/4 cup
Fresh Lemon Juice, 1/4 cup
Chopped Roasted Red Peppers, 1 cup
Fresh Flat Leaf Italian Parsley, 1/2 tbsp
Sea Salt, 1/2 tsp (more to taste)
Black Pepper, pinch (more to taste)

For The Marinade:

Balsamic Vinegar, 1/2 cup
Extra Virgin Olive Oil, 1/2 cup
Instructions
First make the aioli by placing all aioli ingredients in a high-powered blender or food processor. Cover and blend on a low or pulse setting until smooth. Pour into a mason jar or 4-cup glass food-storage container and refrigerate for at least 30 minutes.
Then pour balsamic vinegar and extra virgin olive oil into a bowl and whisk together to create the marinade.
Place mushroom caps in a large bowl, glass food-storage container, or zip-top plastic bag. Pour the marinade over the mushrooms and soak for 20-30 minutes at room temperature. Occasionally, gently toss or spoon the marinade over the mushrooms.
Heat an outdoor grill to medium heat and brush with olive oil or spray with a cooking spray to prevent the mushroom from sticking.
Place mushrooms on the grill and reserve leftover marinade for basting. Grill each side until tender, for about 5 -6 minutes, while frequently brushing marinade on top.
If desired, add cheese just before the mushrooms are finished cooking. Leave on the grill as it melts.
Warm buns for 10 seconds on high in microwave or on the grill until toasted.
Place portobello mushroom burger on bottom bun and top with spinach, tomato slice, and drizzle of roasted red pepper aioli.
https://www.epicureantravelerblog.com/portobello-mushroom-burgers/
Save this portobello mushroom burger recipe to Pinterest!