The perfect comfort food for summer gatherings, these honey BBQ chicken sandwiches combine shredded chicken breast smothered in sweet honey BBQ sauce with the new Reser's Stadium Cole Slaw — a mustardy ballpark-inspired slaw. It's all served in a fluffy brioche bun for convenient handheld snacking at backyard barbecues and rooftop parties. Cooked in your slow cooker, these flavor-packed sandwiches are just as easy to assemble for weeknight family dinners as feeding a crowd at your upcoming summer gathering.
Disclosure: This recipe is sponsored by Reser's Fine Foods, but, as always, all opinions are my own.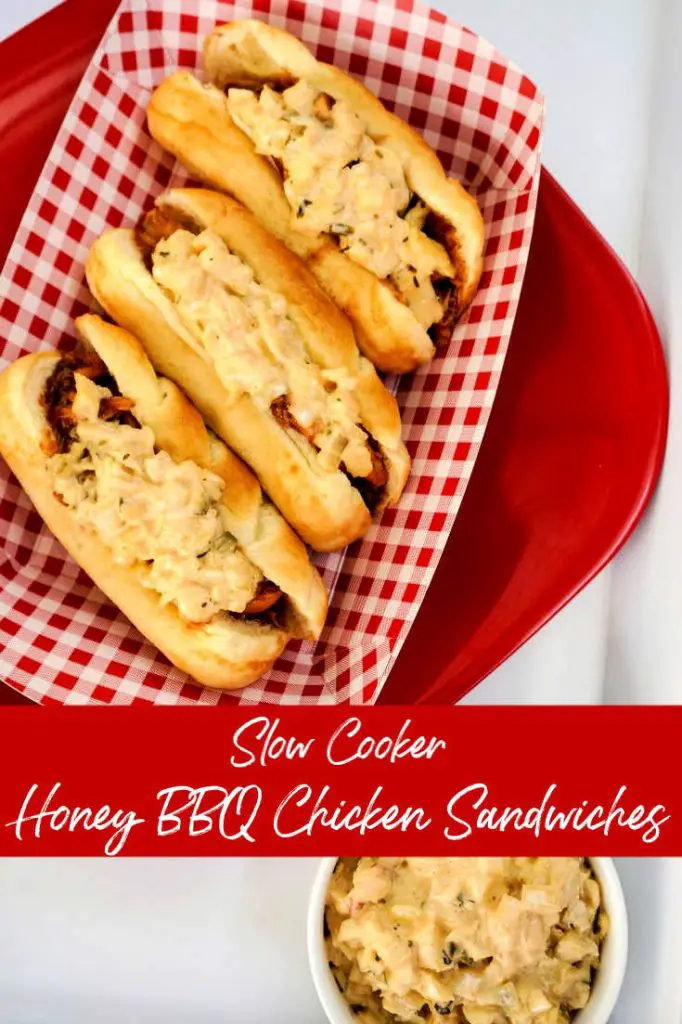 Pin now, eat slaw later!
Bringing Barbecue Flavors To Summer Comfort Food
When I think of summer, barbecuing immediately comes to mind. Burgers, hot dogs, brats — I'm ready for them all! My favorite part? The flavors of the condiments — particularly mustard and barbecue sauce.
In fact, my love of those two condiments inspired my idea for these honey BBQ chicken sandwiches. I figured if I like honey barbecue sauce and I like honey mustard, wouldn't I like a honey-barbecue sauce-mustard combo?
The answer is YES!
When I made this the first time in my Crock-Pot® (affiliate link), an enticing aroma filled my kitchen. It was smelling sooooo good as the slow cooker neared the end of its job. My mouth was watering in anticipation of my first bite!
And with that first bite, I noticed a delightful, sweet and tangy flavor from the honey barbecue sauce and a little zing from the Reser's Stadium Cole Slaw.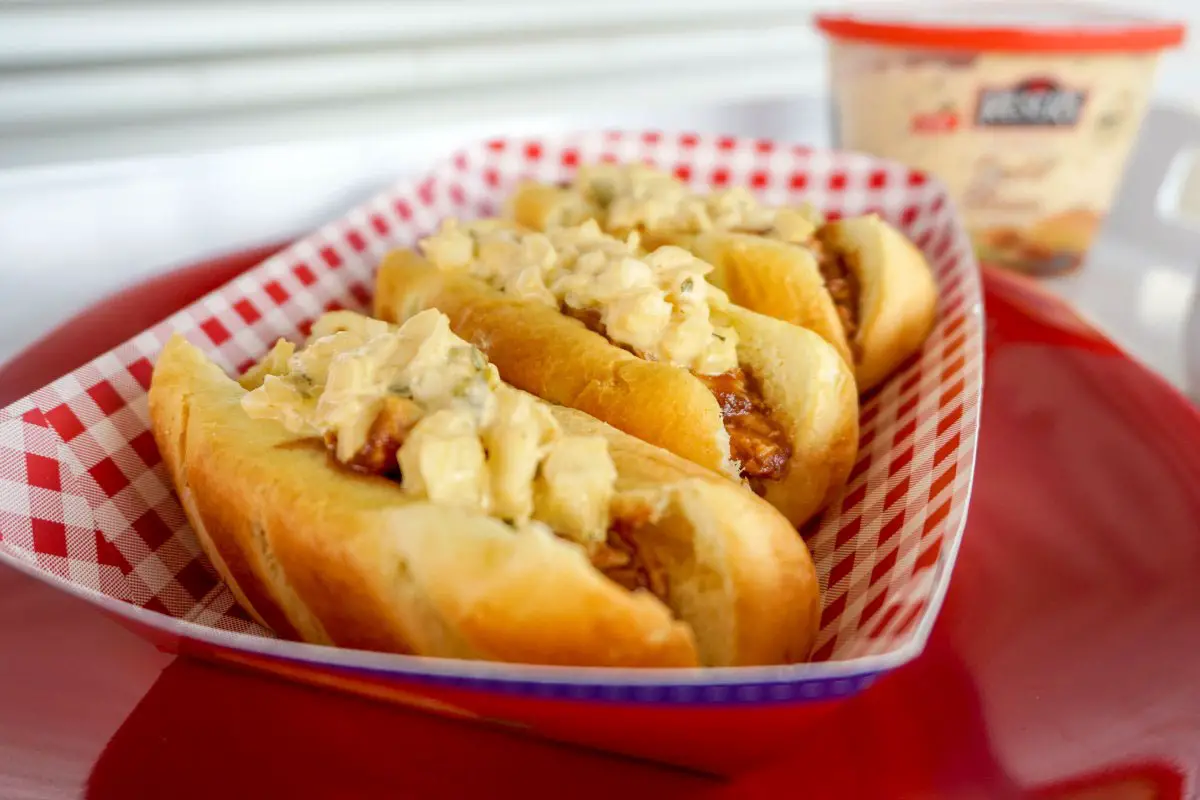 Adding A Unique Twist On An American Classic
Reser's new slaw really adds a different flavor to this BBQ chicken sandwich. Inspired by the ballpark, Reser's Stadium Cole Slaw is a mixture of cabbage, mayonnaise, mustard, onions, sweet and dill relish, ketchup, peppers, and a dash of hot sauce. It's the kind of slaw I want on top of a bratwurst! Spooned together onto a brioche bun, it was like taking a bite of Southern BBQ and Midwest summer grilling all in one. A truly All-American sammie just in time for Independence Day!
I also really like using the Reser's Stadium Cole Slaw for this recipe because it doesn't contain high fructose corn syrup, and there are no artificial colors or flavors. I felt confident serving these sandwiches to party guests knowing the ingredients are such high quality.
If you like the slaw, you have to try the Reser's potato salads, too. I can't decide which I like more — the southern style with egg or the deviled egg potato salad.
Sold in 15 oz. containers, they are so convenient for easy, grab-and-go before picnics, tailgates, summer road trips, backyard barbecues, and roof-top parties like I threw over the weekend!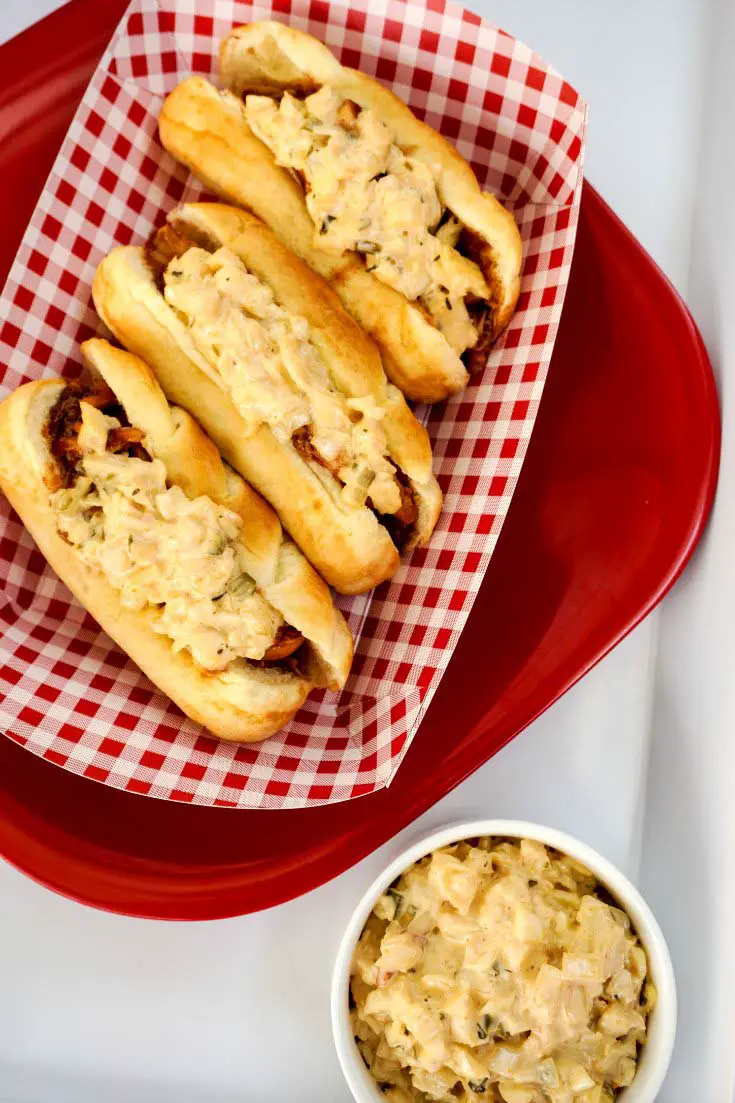 I'm sure you're now wondering where to buy Reser's deli salads. I find them in the deli section at my local Meijer store in Grand Rapids, Michigan. They are distributed nationwide, so check your grocer's deli section or plug your Zip code into the Reser's website to find where to purchase Reser's products in your area.
How To Make Honey BBQ Chicken Sandwiches
Not only do these sandwiches showcase my favorite flavors of summer barbecuing, I also wanted to keep the recipe simple and stress-free for summer entertaining. And no cooking is less stressful than slow cooking! I absolutely love using my Crock-Pot® (affiliate link), and I'm always looking for an excuse to cook with it. I mostly use my slow cooker throughout the winter to make soups and chilis. It's nice to have a reason to pull it out in the summer now, too!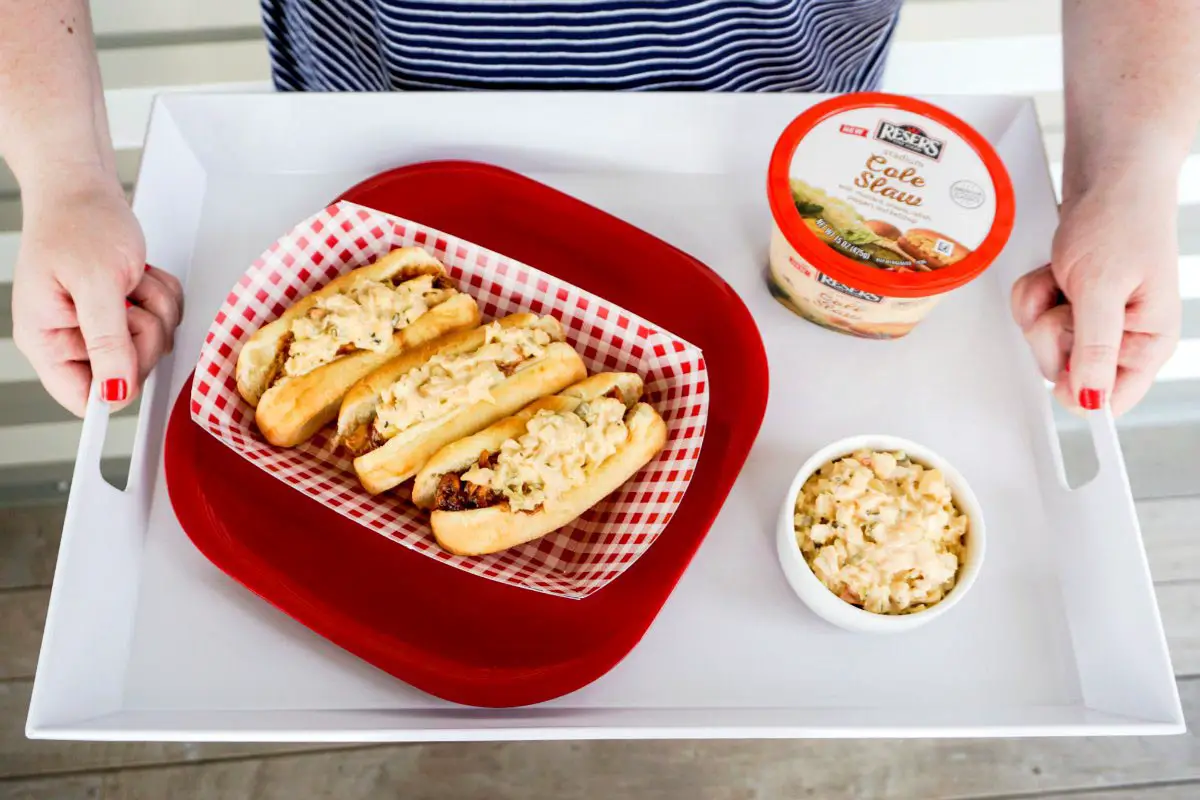 The following sections contain some affiliate links. The Epicurean Traveler is a participant in the Amazon Services LLC Associates Program, an affiliate advertising program designed to provide a means to earn fees by linking to Amazon.com and affiliated sites. When you click on a link and purchase an item, I may earn a small commission that helps to sustain this blog. I thank you in advance for your continued support!
To make this recipe, you'll need the following kitchen tools:
You'll also need the following ingredients:
Honey Barbecue Sauce, 1 cup — For keeping this recipe easy, I recommend you use your favorite brand's honey barbecue sauce. If you prefer, you can also make your own honey barbecue sauce.
Light Brown Sugar, ¼ cup
Worcestershire Sauce, 2 tbsp
Garlic Powder, 1 tsp
Onion Powder, 1 tsp
Red Pepper Flakes, 1 tsp
Boneless, Skinless Chicken Breast, 1½ lbs
Brioche Buns, 1 package (4-6 buns)
Reser's Stadium Cole Slaw, 15-oz. container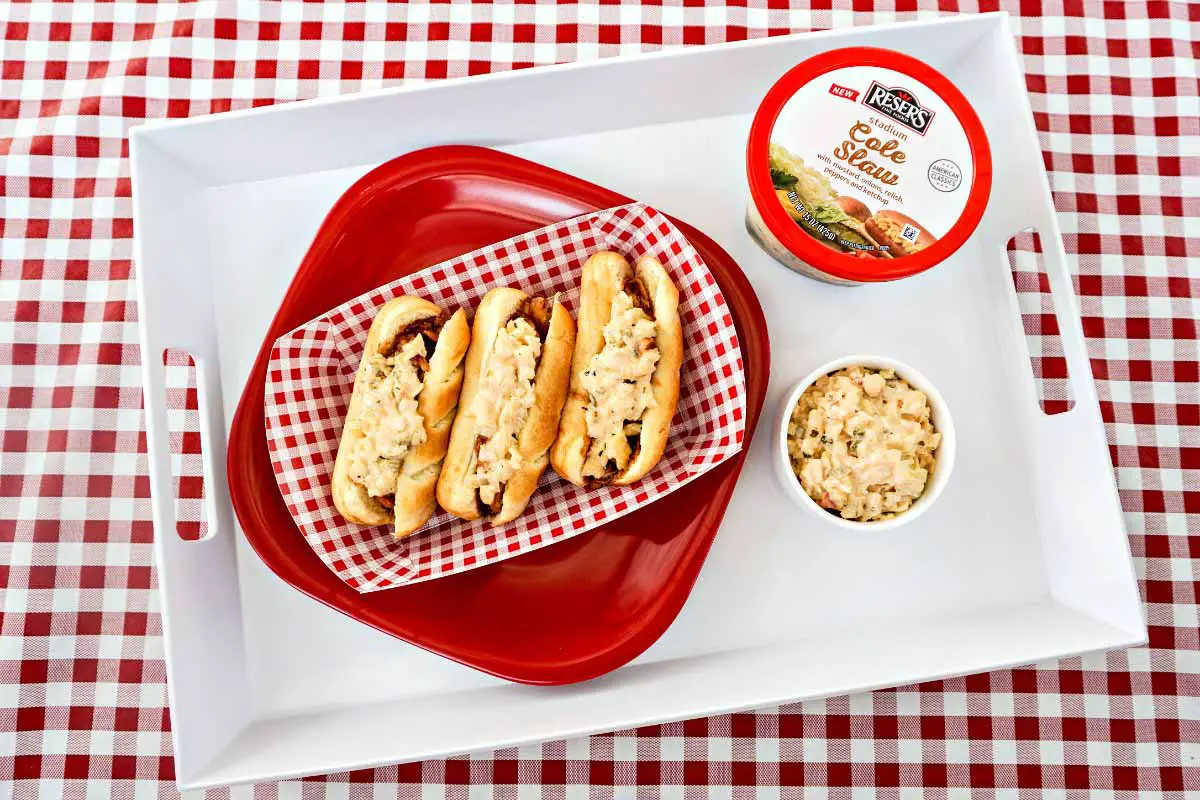 Instructions
The recipe for my honey BBQ chicken sandwiches is pretty easy to follow with less than 10 ingredients and about 15 minutes total prep time.
First, you'll combine all but the last three ingredients listed above in a mixing bowl, and gently whisk them together. Then place your chicken breasts into the slow cooker, and cover the chicken with the sauce mixture. This is where a silicone scraper comes in handy!
Then cover the slow cooker, and cook the chicken for four hours on low. If you need to speed up the cook time, you can cook the chicken for two hours on high.
After four hours, I used a fork to pull the breasts out of the slow cooker. Making sure they were fully cooked first, I then proceeded to shred the chicken using two forks on a cutting board. Then I just added the shredded chicken back into the slow cooker and stirred until the chicken was smothered in honey barbecue sauce.
To assemble your sandwich, I recommend either brioche hamburger buns or pretzel buns as your base. Just spoon the chicken onto the bun, add a dollop or two of slaw, and you are ready to serve.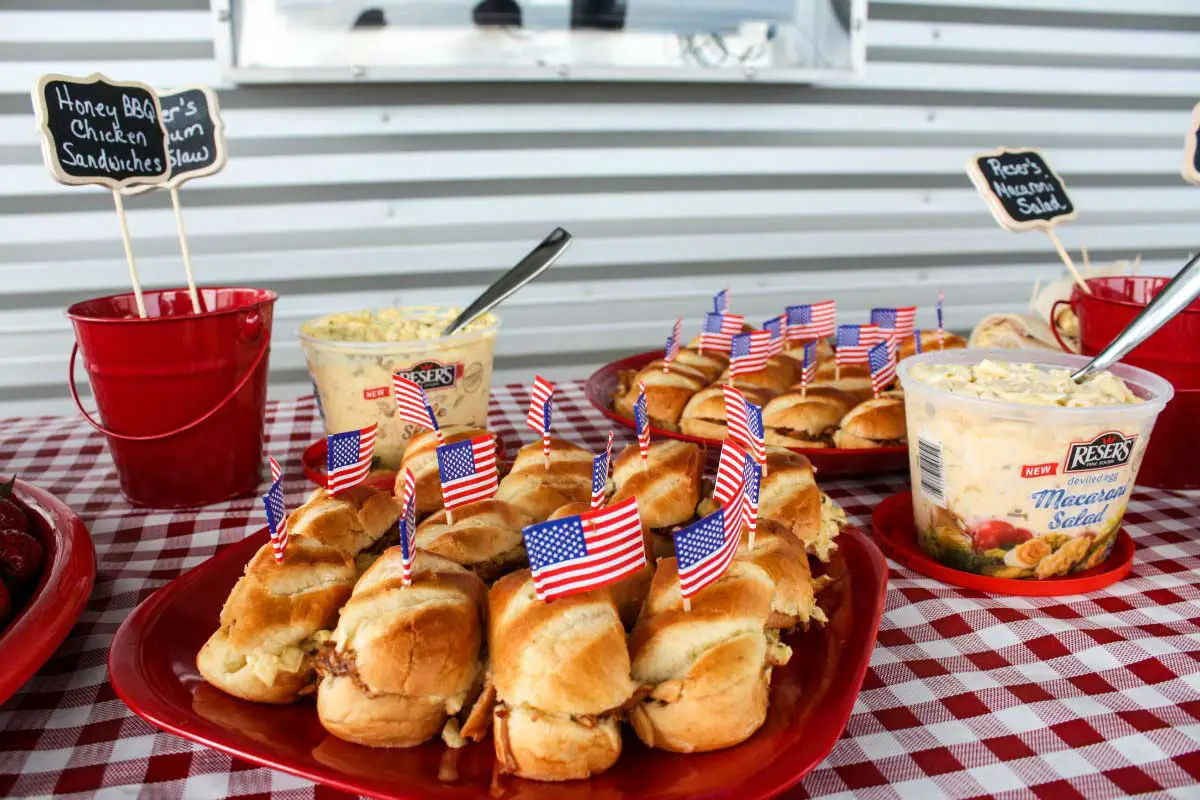 #SlawSocial Party Tips
Over the weekend, I made this recipe for a #SlawSocial I hosted on my rooftop. Since my guests were going to be sampling multiple dishes made by Grand Rapids food bloggers, I built the sandwiches on brioche rolls that are about the size of hot dog buns. I then cut them in half to make them a snack-able slider size. By the way, I posted a roundup of all the recipes for the delicious foods we tasted at the party. Each dish featured Reser's Stadium Cole Slaw in a unique way!
Getting back to this recipe, it yields about six sandwiches on hamburger buns. Therefore, I estimate it would be enough to make 10-12 sliders. If you are hosting a Fourth of July party, sliders might be the way to go!
Also, if you are making these honey BBQ chicken sandwiches for a party, it is easy to double or triple the recipe using the slow cooker. The day before my #SlawSocial, I made a double batch and a single batch later that night, and both cooked in four hours. I then reheated all three batches together the morning of the party for about two hours on high.
Lastly, though a standard store-bought bottle of barbecue sauce contains about 18 oz., which should be enough to double the recipe, it is really difficult to get all 18 oz. (or even 16 oz. for the two cups you need) out of the bottle. Save yourself some hassle, and purchase the larger bottle or have an extra on hand just in case!
Slow-Cooker Honey BBQ Chicken Sandwiches
Add a little zing to your comfort food this summer with these honey bbq chicken sandwiches topped with the new Reser's Stadium Cole Slaw!
Ingredients
1 cup Honey Barbecue Sauce
1/4 cup Light Brown Sugar
2 tbsp Worcestershire Sauce
1 tsp Garlic Powder
1 tsp Onion Powder
1 tsp Red Pepper Flakes
1.5 lbs Boneless, Skinless Chicken Breasts
1 container Reser's Stadium Cole Slaw
6 Hamburger-size Brioche Buns
Instructions
Combine honey barbecue sauce, light brown sugar, Worcestershire sauce, garlic powder, onion powder, and red pepper flakes in a large mixing bowl, gently whisking into a smooth mixture.
Place chicken breasts into slow cooker.
Pour mixture over chicken.
Turn slow-cooker on low, cover, and cook for four hours.
Turn slow-cooker on warm or off. Remove chicken from slow cooker and shred into thin strips.
Add chicken back to slow cooker and stir until chicken is smothered in sauce.
Spoon chicken onto bottom half of brioche bun, add a couple dollops of Reser's Stadium Cole Slaw, cover with top half of bun, and repeat.
Garnish with a decorative toothpick or skewer and enjoy!
https://www.epicureantravelerblog.com/honey-bbq-chicken-sandwiches/
Click on the image below to save this Honey BBQ Chicken Sandwiches recipe to Pinterest and refer back to it before your next summer gathering!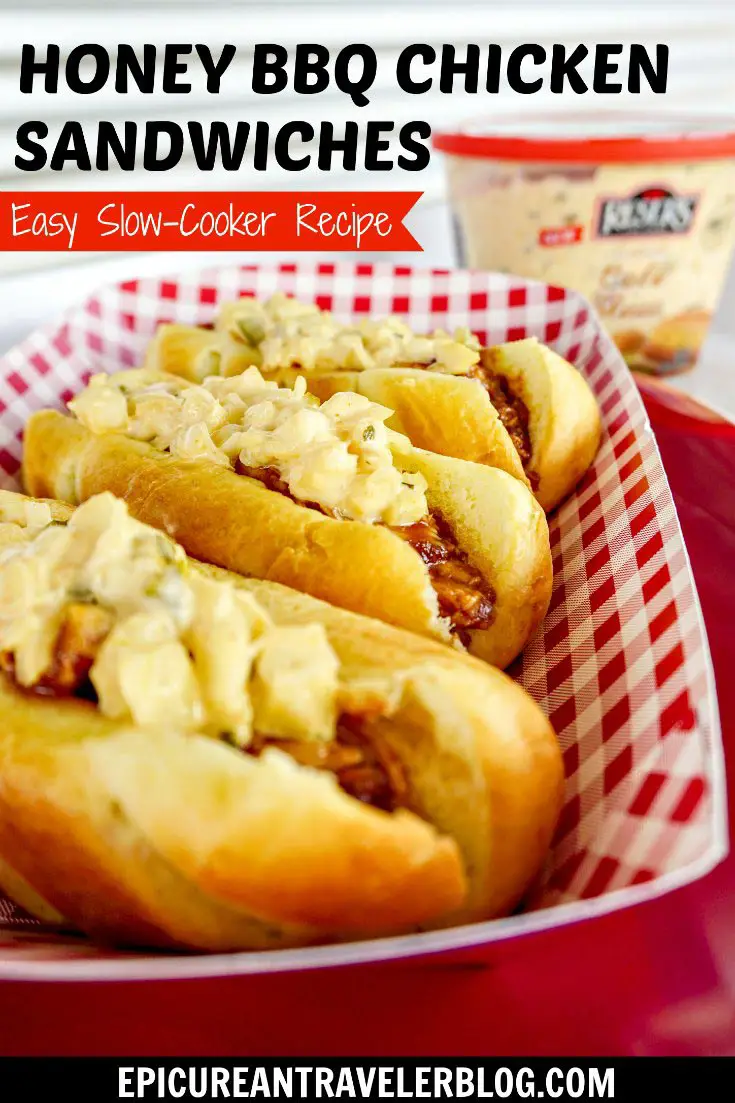 If you are making Honey BBQ Chicken Sandwiches, you could pair it with:
Spanish White Bean Salad — One of my go-to sides for barbecuing at home or taking a dish to pass at a summer gathering!
Peach Sangria — A sweet and fruity sangria for peach lovers! It's so refreshing on hot summer nights.
I'd love to hear from you, so please leave a comment below or reach out to me on social media. If you try this recipe, I'd love to see your photo! Please share it on Instagram with #SlawSocial and tag me, @michiganepicure. I'd also love to connect with you on Facebook, Twitter, and Pinterest.
What kind of celebrations and gatherings will you be going to this summer?