This apple bacon cheddar grilled cheese sandwich recipe puts a gourmet spin on a childhood favorite. With sourdough bread as its base, this fancy grilled cheese pairs well with a warm cup of carrot ginger soup.
Here in Michigan, I've loved the grown-up grilled cheese sandwiches I've eaten at Linear Restaurant in Grand Rapids and Arbor Brewing Company. Yet it was while traveling through Wisconsin that I had the most delicious grilled cheese at Decatur Dairy. So, I wanted to recreate that made-for-adults grilled cheese sandwich experience at home using Wisconsin cheddar.
Disclosure: This grilled cheese recipe includes some affiliate partner links. When you click on one of these links and make a purchase, I may earn a small commission. Also, as an Amazon Associate, I earn from qualifying purchases. Of course, this is at no extra cost to you, and I only recommend products I have or would use myself.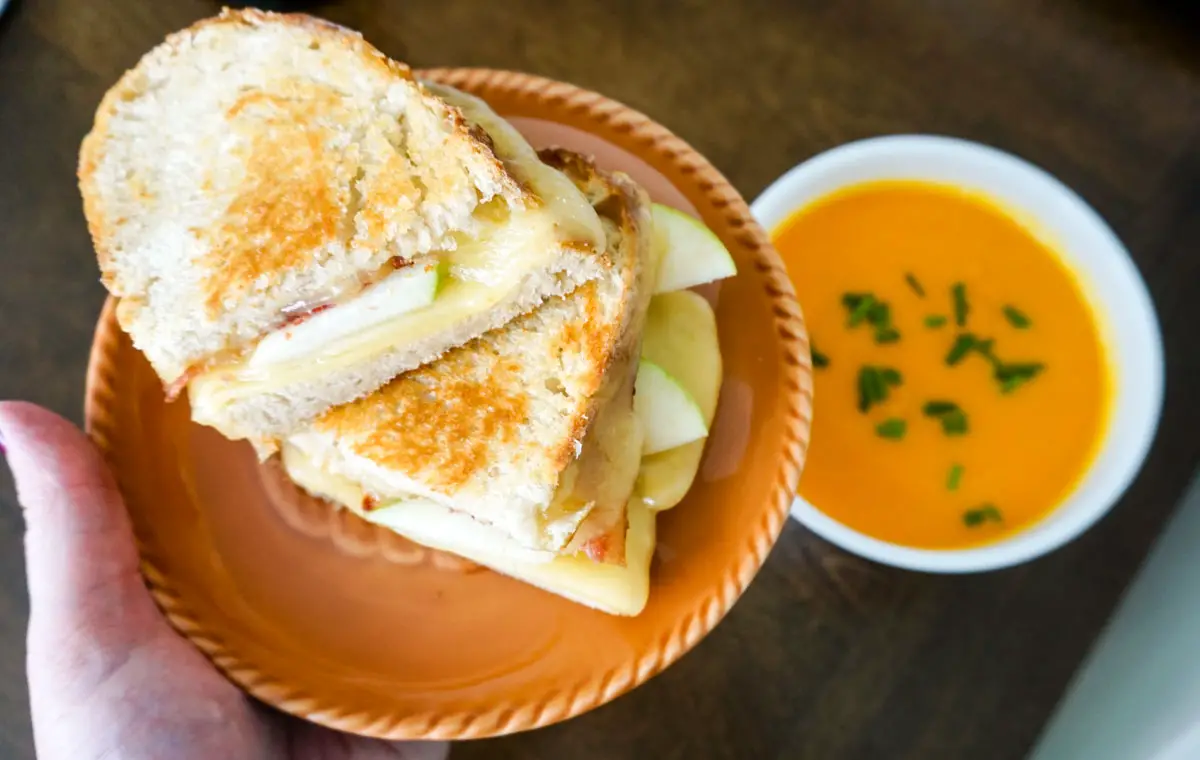 What do you need to make an apple bacon cheddar grilled cheese sandwich?
To make this delicious grilled cheese sandwich, you'll want to equip your kitchen with the following tools:
Cutting board for prepping ingredients and building your sandwich
Paring or utility knife to thinly slice the Granny Smith apple
Microwave-safe plate and paper towel, if cooking bacon in the microwave
Butter knife to spread dijon mustard and butter
Nonstick skillet for cooking your grilled cheese sandwich
Spatula to flip your grilled cheese midway through cooking
Best Nonstick Skillets For Making Apple Bacon Cheddar Grilled Cheese Sandwiches
Apple Bacon Cheddar Grilled Cheese Sandwich Recipe
Ingredients
2 Slices Sourdough Bread
1 Tablespoon Dijon Mustard, Divided
2-3 Slices Wisconsin Cheddar Cheese
4-5 Thin Slices Granny Smith Apple
3 Slices Cooked Bacon
2 Tablespoons Butter, Divided
Instructions
First, begin building your sandwich by spreading about 1 tablespoon butter on one side of a slice of bread.
Build your sandwich on top of the non-buttered side of that bread slice by spreading about 1/2 tablespoon dijon mustard and then placing cheddar, Granny Smith apple, and bacon slices on top.
Spread the remaining dijon mustard on the other bread slice and place it atop the sandwich, mustard-side down.
Then spread the remaining butter on top of the sandwich.
To grill your sandwich, heat a nonstick skillet over medium heat.
Once the skillet is warm, carefully place your sandwich in the skillet and cook until cheese is melting, about 2-3 minutes.
Flip the sandwich over and cook until each bread slice is golden and cheese is fully melted, about 1-2 minutes.
Serve with your favorite soup. I recommend pairing your gourmet grilled cheese with our carrot ginger soup.
https://www.epicureantravelerblog.com/apple-bacon-cheddar-grilled-cheese-sandwich-recipe/
Save this apple bacon cheddar grilled cheese sandwich recipe to Pinterest!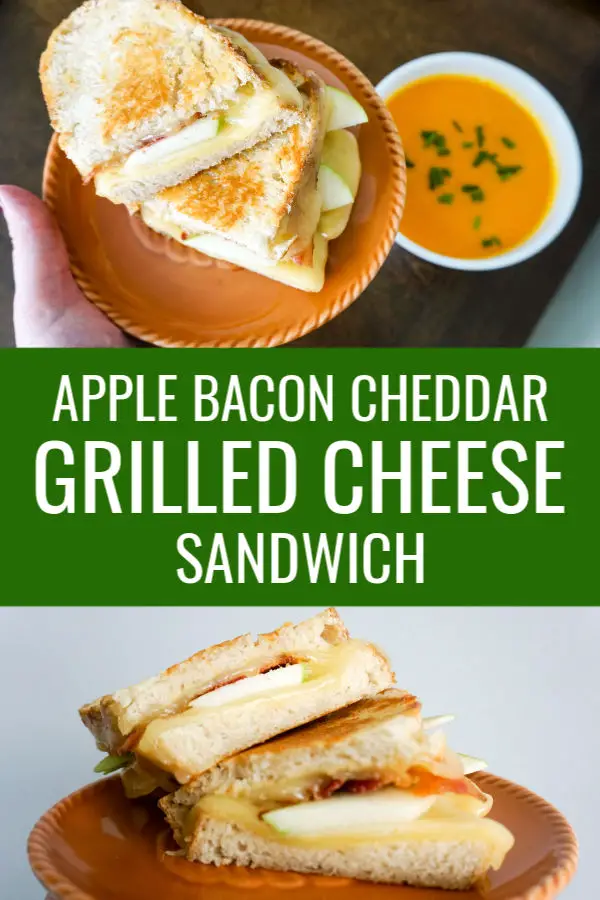 Check out more of our easy recipes:
Have you eaten an unforgettable grilled cheese sandwich? Tell us about it in the comments below!