In this carrot ginger soup, a subtle hint of ginger root combines with fresh carrots. Perfect for pairing with a sandwich, this soup is one you'll yearn for on a chilly fall or winter day.
Disclosure: This carrot ginger soup recipe post includes some affiliate partner links. When you click on one of these links and make a purchase, I may earn a small commission. Also, as an Amazon Associate, I earn from qualifying purchases. Of course, this is at no extra cost to you, and I only recommend products I have or would use myself.
Why make carrot ginger soup?
When fall rolls around, I crave all kinds of soup. I particularly love thick, hearty soups, and the purée of this carrot ginger soup totally hits the spot. Besides its smooth texture and delicious flavor, here are a couple more reasons to make carrot ginger soup this fall.
Carrots are fresh, local, and seasonal
Carrots – the main ingredient of this soup – originated in Asia, and China is the world's largest carrot producer today. However, did you know the United States is also one the five largest global producers of carrots?
Here in the United States, carrots are available year-round at grocery stores. You'll also usually find fresh and locally grown carrots at farmers' markets in the summer and fall.
Though California produces 85% of carrots in the United States, my home state of Michigan is also a large carrot producer. In fact, Michigan has the fourth largest acreage of carrots with the majority grown in Montcalm and Oceana counties in the western Lower Peninsula, according to Cultivate Michigan, a campaign to get Michigan institutions sourcing 20% of their food within the state by 2020.
Carrots also offer health benefits
Another reason to make carrot ginger soup this fall is for your health! Have you ever been told to eat your carrots to see better in the dark? Well, if your parents pulled that line on you during your childhood, they weren't just trying to trick you into eating vegetables. They actually had a point! In fact, carrots are considered one of the top 10 foods high in Vitamin A.
Orange carrots, which you'll use to make this soup, are rich in beta-carotene. During digestion, our bodies convert that beta-carotene into Vitamin A. And yes, Vitamin A is beneficial to eyesight! According to Healthline, nourishing our bodies with adequate Vitamin A may prevent night blindness and slow the decline in eyesight as we age. Just one cup of chopped carrots fulfills the recommended daily allowance of Vitamin A for men and women.
In addition to helping our eyesight, Vitamin A:
May reduce cancer risk
Supports immune system
Supports bone health
May reduce acne
Supports reproductive health
Promotes healthy development of fetus during pregnancy
Not only are carrots rich in beta-carotene, this veggie is also a source of vitamins C and K, potassium, and dietary fiber. So many nutrients in just one serving!
What do you need to make carrot ginger soup?
Now that you know why you should make carrot ginger soup this fall, let's discuss what you'll need to make it. Before trying this recipe, you'll want to make sure your kitchen is equipped with the following items.
Dutch oven or stock pot — I use this 5-quart nonstick chili stock pot for making all my stovetop chilis and soups.
Knife Block Set — I used a utility knife for chopping the carrots and onions and mincing the ginger root. You may prefer a paring knife or chef's knife for these tasks, so having a knife block set ensures you have the knife that works best for you.
Large Bowl
Blender — I love using my Vitamix blender to purée soups, and a high-quality upright blender will perform this task best.
Ingredients
3 tbsp unsalted butter
6 large carrots, peeled and thinly bias-sliced
2 cups yellow onion, chopped
1 tsp salt
1 tbsp ginger root, minced
2 cups chicken stock (or vegetable stock)
2 cups water
3 large orange zest strips
Chopped chives for garnish, as desired
Instructions
In Dutch oven or stock pot, melt butter over medium heat.
Once butter is melted, add carrots and onion. Cook, stirring occasionally, until onions soften and appear translucent, about 5-8 minutes. Meanwhile, sprinkle in salt.
Add stock, water, ginger, and orange zest strips.
Bring to a simmer, cover, and cook until carrots soften, about 20 minutes.
Remove orange zest
Using a ladle, scoop about 3 ounces of the mixture into a blender, and blend until smooth. Pour into a mixing bowl. Repeat process until all of the soup has been pureed.
If necessary, add more salt to taste.
Ladle into soup bowls to serve and garnish with chopped chives.
https://www.epicureantravelerblog.com/carrot-ginger-soup/
Save this carrot ginger soup recipe to Pinterest for later!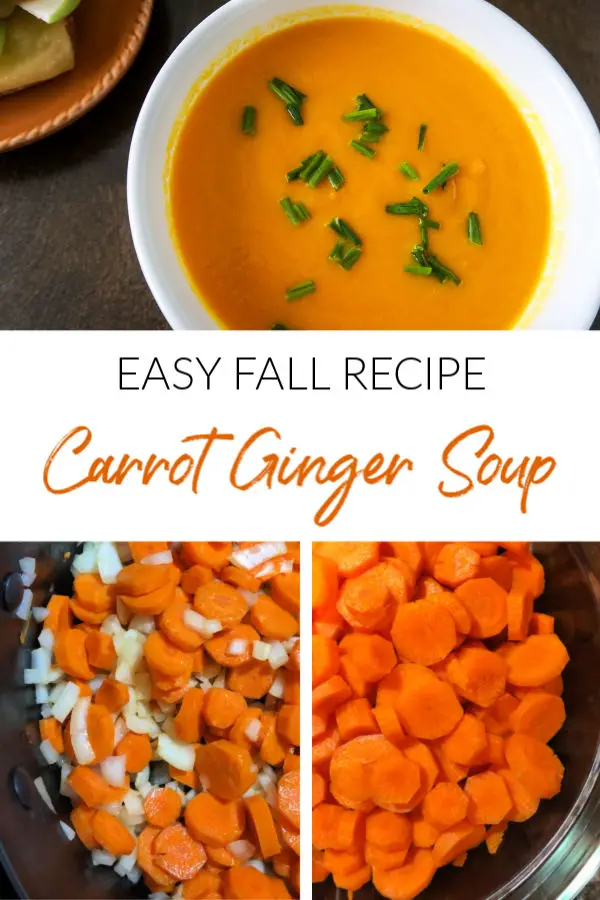 Since locally grown carrots are primarily harvested from summer into fall, early autumn seemed like the perfect time to make this carrot ginger soup. I paired it with a bacon, apple, and white cheddar grilled cheese for a delicious lunch of fall flavors.
Love easy recipes? Don't miss these:
Apple, Bacon & Cheddar Grilled Cheese Sandwich
Meatless Portobello Mushroom Burger
Slow-Cooker Honey BBQ Chicken Sandwiches
What kind of sandwich would you eat with this carrot ginger soup?
This carrot ginger soup recipe was modified from and inspired by Simply Recipes.