This post about the Lake Express contains affiliate links. You can read my full disclosure here.
Traveling from Michigan to Wisconsin, or vice versa? The Midwest states are neighbors, but they only border one another by land along northeastern Wisconsin and the western edge of Michigan's Upper Peninsula. Otherwise, Lake Michigan separates the Badger State from the Wolverine State, and your choices are to go around, over, or across the Great Lake.
Let's take a closer look at our options. You could fly. The flight would be short and likely expensive. Therefore, I would only recommend this option to business travelers for whom time is money and their company or client is covering their expenses. You could also travel via Amtrak train, but that could be a lengthy trip since you'll likely have to connect through Chicago. In the past, I've driven my own vehicle. Each time I also sat in Chicago traffic, and sometimes construction through Indiana significantly slowed down my trip. Shouldn't there be a more direct route to reach a neighboring state?
Traveling Between Michigan and Wisconsin Goes Faster With High-Speed Lake Express Ferry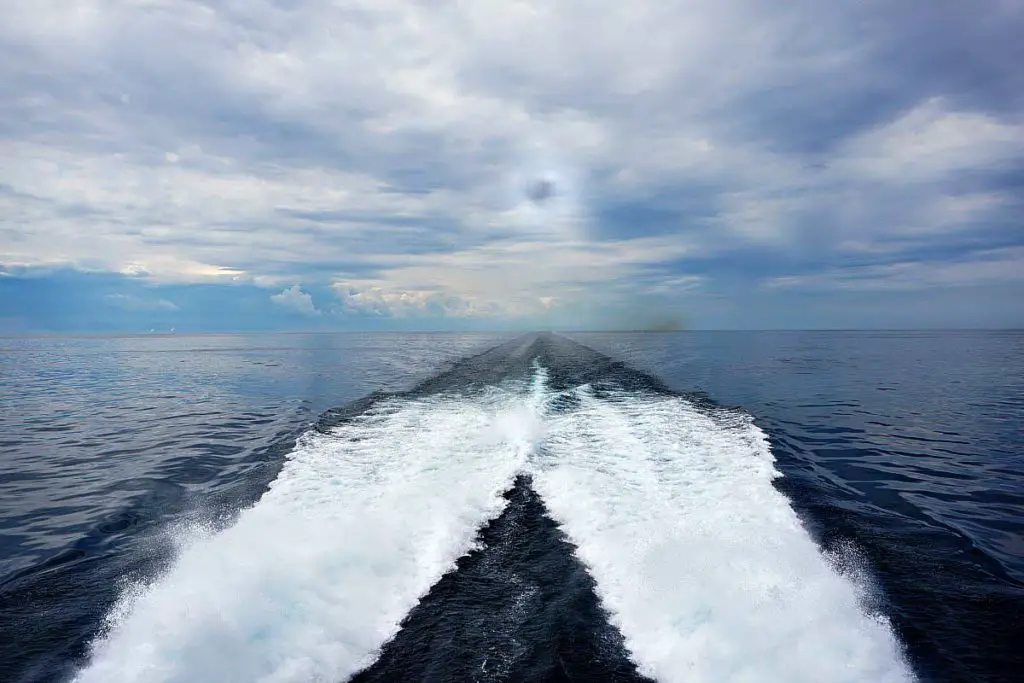 Rather than flying over or traveling by land around Lake Michigan, cross it by ferry! Traveling by ferry eliminates hours spent cramped in the car. Like train travel, you can sit, relax, and enjoy the ride, and you also can get up to stretch your legs. Plus, your trip will be shorter than by train and likely less expensive than flying.
There are two options for crossing Lake Michigan by ferry. Option 1 is the S.S. Badger, which runs between Ludington, Michigan, and Manitowoc, Wisconsin. If you want to learn more about taking the S.S. Badger, check out this blog post from Porteen Gear, another Grand Rapids-based travel blog. Option 2 is the Lake Express, the first high-speed ferry in the United States, which runs between Muskegon, Michigan, and Milwaukee.
Why Traveling By Lake Express Is The Best Option For Crossing Lake Michigan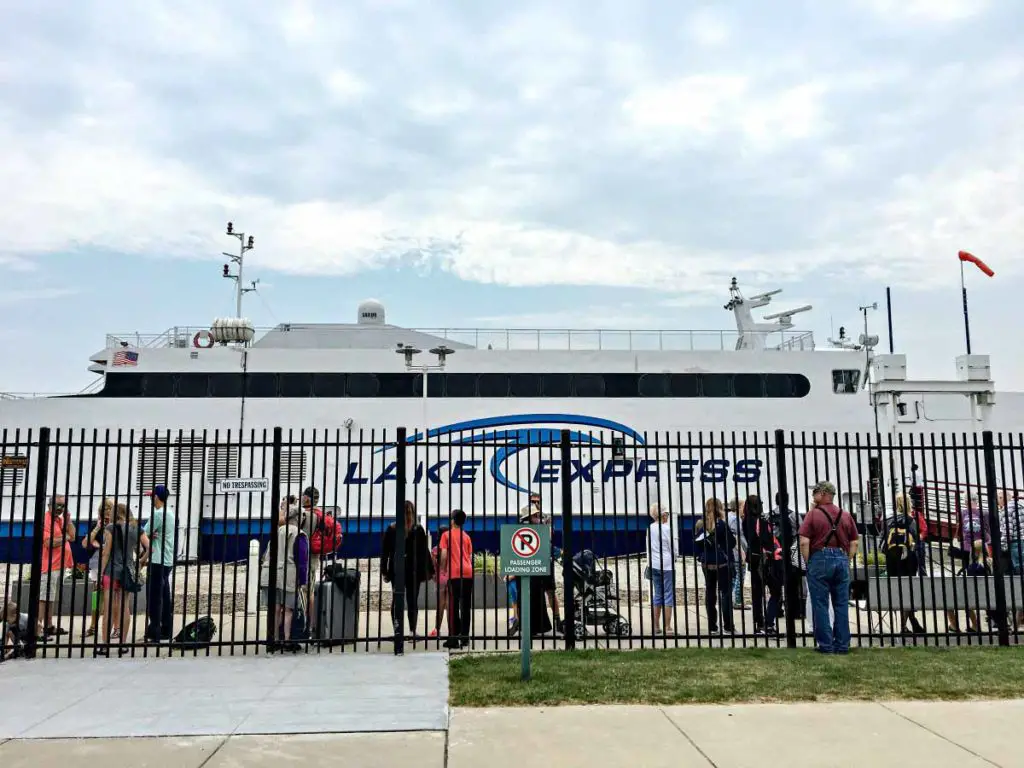 Convenient Location in Milwaukee, Ease of Parking At Both Terminals
If you are visiting Milwaukee from Michigan, taking the Lake Express is quite convenient. You can park your car for $5 per day, which you will need to pay for at a kiosk to print a receipt to place on your vehicle's dashboard. If your trip will take you beyond Milwaukee, you might consider purchasing a vehicle ticket to take your car on the ferry.
The ferry ride is a speedy 2.5 hours, and it docks right in Milwaukee on the Wisconsin side. At the port, you can rent a car from Enterprise or grab a taxi if you left your vehicle in the secure parking lot at the Muskegon terminal. After I picked up my luggage from the curbside delivery, I called a ride via Uber to my hotel, the Hilton Milwaukee City Center.
If you are arriving in Muskegon for a Michigan trip, I would suggest renting a car or bringing your own so you can explore West Michigan — Grand Rapids, Grand Haven, Holland, Saugatuck, Kalamazoo, or Ludington.
Cost Effective If You Plan To Stay In Milwaukee
For a Milwaukee city break from Michigan, there is no need for a car. If you are staying downtown, many restaurants, breweries, and attractions will be within walking distance of your hotel or Airbnb. Both Uber and Lyft operate in Milwaukee, too.
Without a car, you'll likely save $20+ per day in parking fees. So, yes, you will pay $91.50 for a one-way or $153 for a round-trip ferry ticket. However, for a long weekend trip, you might end up spending $50+ for parking, $9-13 in toll road fees through Indiana and Illinois each way, money on gas (amount depends on fuel efficiency of your vehicle and how much you plan to drive in Milwaukee), and additional milage on your vehicle.
I estimate driving from my Grand Rapids home to Milwaukee costs $175-200 round trip including three nights of self-parking at a downtown Milwaukee hotel. I'm the type of traveler who parks her car and then uses Uber/Lyft, cabs, public transportation, and her own two feet to get around a city. Therefore, it is just as cost-effective for me to take a $153 round-trip ferry, pay $15-20 to park my car for 3-4 days in Muskegon, use less than a half tank of gas driving round trip Grand Rapids to Muskegon, and pay about $20 in Uber fees to and from the ferry terminal.
For travelers not staying in the port city, the cost of taking the ferry would likely be higher than driving. That is because you will probably need to pay for a vehicle ticket or rent a car to get around. However, taking the ferry will likely still save you time, and time is money, right?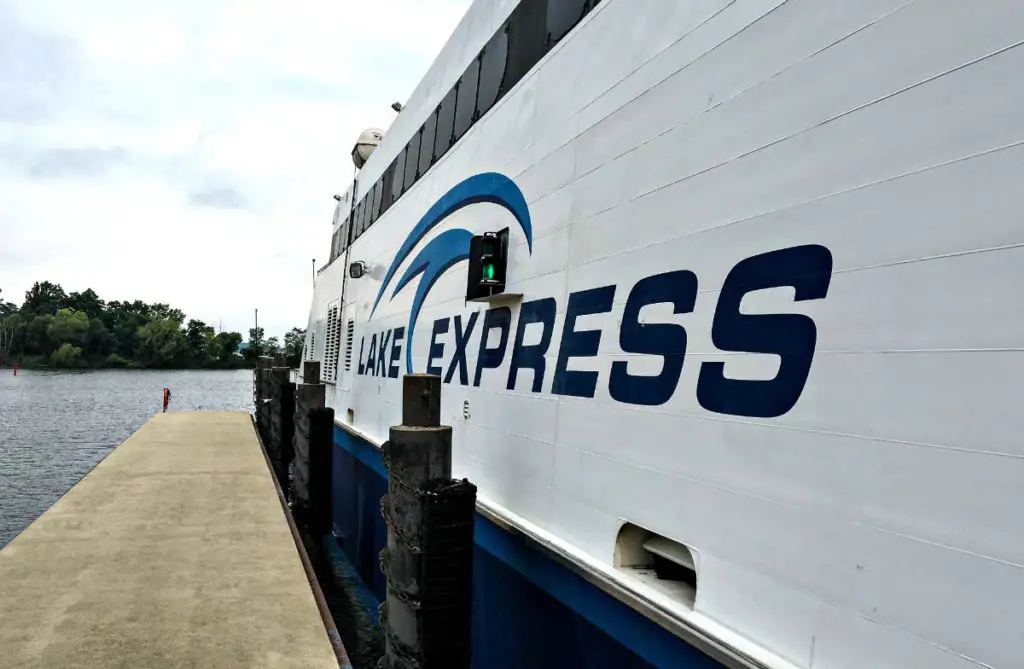 Forget The Stress Of Driving — The Lake Express Is A Relaxing Way To Travel
I love road trips, but driving, especially through large cities with high volumes of traffic (i.e. Chicago), causes my stress level to rise. With traveling on the Lake Express, I only have to drive 45 minutes from Grand Rapids to the Port of Muskegon. Then I board the ferry, grab a seat, and write a blog post or read a book.
Hungry? There is a snack counter serving breakfast and lunch/dinner meals. Feeling chilly? The snack bar also has coffee, hot chocolate, and tea. Thirsty? Beverages include wine and local craft beer from Michigan and Wisconsin. During my ferry trip, the craft beer selection included Bell's Oberon, Founders All Day IPA, New Glarus Spotted Cow, and Milwaukee Brewing Louie's Demise. Don't worry, nonalcoholic drinks are available, too.
In both the classic and premier cabins, a movie plays, and passengers can purchase the audio for $4. On a nice day, you can enjoy views of Lake Michigan from the sun deck. And, in the premier cabin, passengers have complimentary wi-fi and tables for workspace or dining.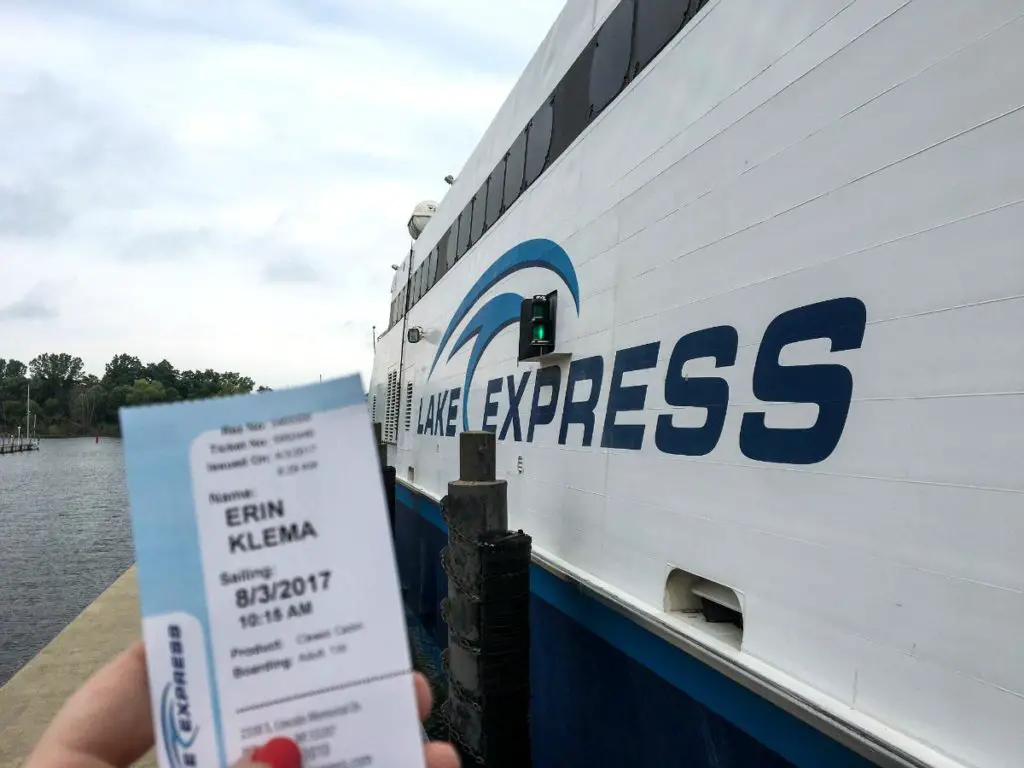 Things To Know About Traveling Via Lake Express

Location of Muskegon Terminal
1918 Lakeshore Dr, Muskegon, MI 49441
Location of Milwaukee Terminal
2330 S Lincoln Memorial Dr, Milwaukee, WI 53207
How to Book Your Ticket 
At the terminals
Call 1-866-914-1010
Cost of Passenger Ticket
Adult: $91.50 Classic Cabin one way | $153 Classic Cabin round trip | $113 Premier Cabin one way | $199 Premier Cabin round trip
Senior (65+): $83 Classic Cabin one way | $140 Classic Cabin round trip | $99 Premier Cabin one way | $171 Premier Cabin round trip
College Student/Active Military: $83 Classic Cabin one way | $140 Classic Cabin round trip
Children (5-17): $35 Classic Cabin one way | $58 Classic Cabin round trip
Infant/Toddler (0-4): Free
Cost of Vehicle Ticket
Automobile: $101 one way | $190 round trip
Automobile with 10-ft trailer: $211 one way | $402 round trip
Motorcycles: $49 one way | $98 round trip
Motorcycle sidecar: $29 one way | $58 round trip
Trike: $66 one way | $132 round trip
Bicycle: $7.50 one way | $15 round trip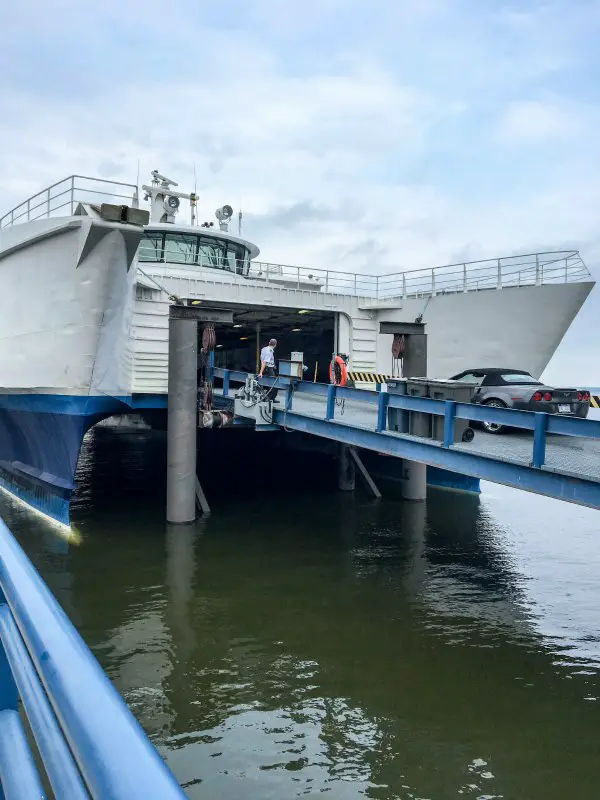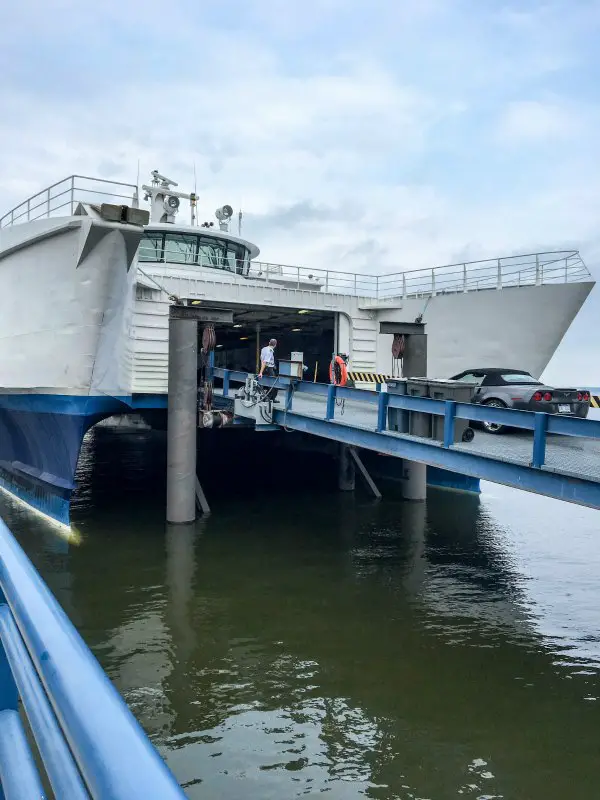 Luggage
For anyone bringing their vehicle on the ferry, there are no limits on luggage as it will stay in your vehicle. All other passengers may check their luggage, and Lake Express asks that passengers limit themselves to two bags per person. Backpacks, purses, briefcases, and other small bags may be brought on board, but you must be able to store it under your seat for safety reasons. There is no extra cost to check your bags.
Parking
Available at both terminals. In both Milwaukee and Muskegon, you pay $5/day at the time of parking your vehicle. You'll do this by using a kiosk. Have a credit card handy! Short-term parking of less than three hours is free.
Bring
Government-issued photo ID to get your boarding pass
Credit card to pay for parking
Cash for food/movie purchases
Light jacket or sweatshirt since it can be chilly on the lake and in the cabin with the air conditioning
Sunscreen if you plan to use the sun deck
Dramamine if you experience seasickness (this is also available at the terminal)
Ground Transportation
Enterprise Rent-a-Car has kiosks at both terminals
Taxis may be available
Uber/Lyft
Other Important Notes
The Lake Express is handicap accessible. Passengers with special needs will be assisted with boarding. Please call the Lake Express reservation staff if you have any special requests.
Pets, such as cats and dogs, are allowed to travel on the Lake Express. They will be in a kennel on the vehicle deck or inside your vehicle, but note that vehicle windows must be completely closed.
Minors must be accompanied by a parent/guardian.
Food and beverages are available for purchase on the vessel and at both terminals. Outside food is not permitted.
Lake Express recommends passengers check in at least 45 minutes before departure.
Check-in begins 90 minutes before departure and ends 15 minutes prior to departure.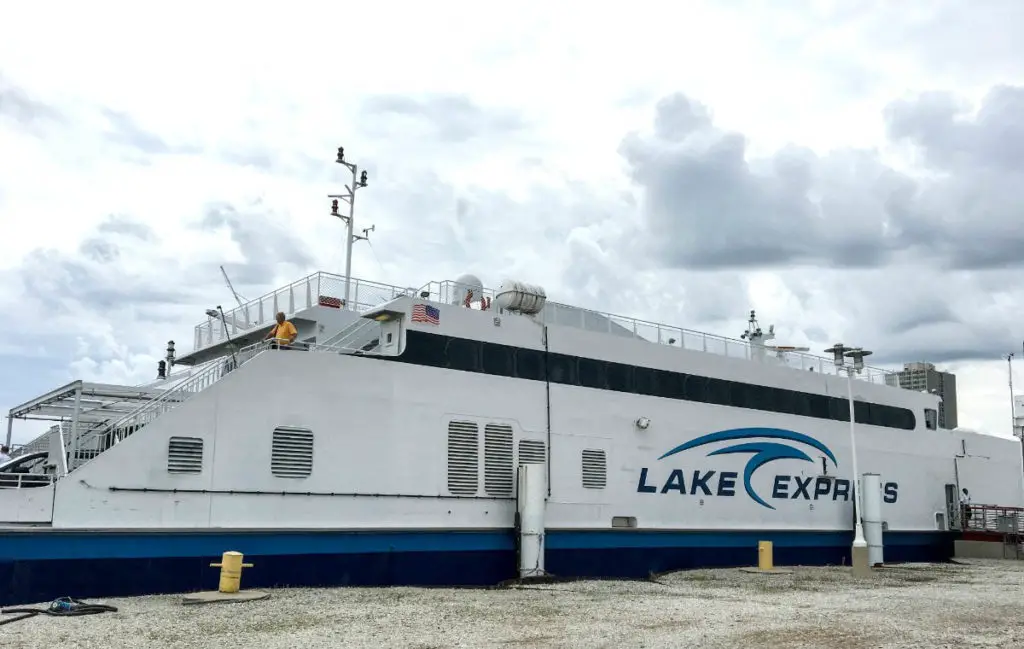 Taking the Lake Express to Wisconsin?
Taking the Lake Express to Michigan?
Save this post to Pinterest for later!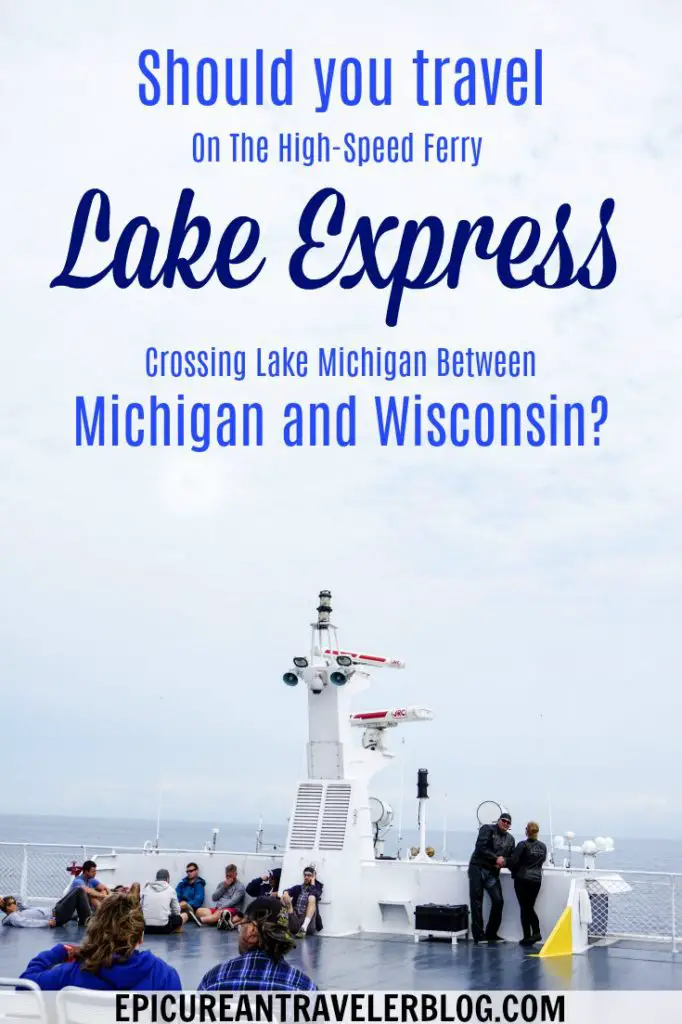 In full disclosure, I traveled to Milwaukee on my own dime, paying $91.50 for an adult classic cabin ticket and $20 to park my car for four days. Returning to Muskegon, my $113 adult premier cabin ticket was comped as part of a Beer Bloggers & Writers Conference post-excursion sponsored by Experience Grand Rapids.
The Lake Express ferry runs from late April through October. If I visit Milwaukee again during those months, I would definitely book myself a round-trip ticket. I might even splurge for the premier cabin to have wi-fi throughout the whole 2.5-hour ride.


Have you traveled via Lake Express or another ferry? How was your experience?