Disclosure: This shop has been compensated by Collective Bias, Inc. and its advertiser. All opinions are mine alone. Messaging below is intended for ages 21+ and is intended to be enjoyed responsibly, in moderation. #PureLife35pk #CollectiveBias

Summer is so close, I can almost taste it. What does summer taste like, you ask? Well, here in the American Midwest, summer tastes like tart Traverse City cherries, a crisp IPA with a hint of grapefruit, and deep-fried cheddar cheese curds served hot and fresh at our state fairs.
The Midwest truly shines in the summer tourism season. We have charming small towns and vibrant cities where creativity and entrepreneurship is revitalizing neighborhoods. We have rivers, parks, the Great Lakes — and all the recreational activities those natural beauties inspire.
Naturally, this region where American automakers set up shop is best explored by motor vehicle. Stretches of our highways pass through quaint towns worth exploring and offer scenic waterfront views. You'll find this along M-22 around the Michigan coastline and the Great River Road following the mighty Mississippi through Wisconsin and Minnesota.
What I love most about Midwest summers are our opportunities for culinary road trips. There are award-winning wineries, craft breweries galore, farm-to-table eateries, farm stands and markets full of fresh produce, and summer events like the National Cherry Festival and the Minnesota State Fair with all its foods served on a stick.
In this post, I'll share with you my suggestions for 10 fab-for-foodies destinations for your Midwest summer road trip. I'll also pass along my tips for what to pack in your cooler, so you can bring that Wisconsin cheese, Minnesota craft brew, or Michigan wine back home with you.
But first, let's talk about an essential item for your summer road trip — water.
Why Pack Water In Your Summer Road Trip Cooler?
I've found staying well hydrated when I'm traveling helps me to feel energized and alert. This is especially important when I'm driving long stretches of highway on a Midwest road trip. Since pit stops can sometimes be a lengthy distance apart, I always keep a bottle of water in the cup holder next to me. I also pack a few bottles in my cooler, which I can then access later when I pull into a rest area or gas station.
In addition to keeping me hydrated on the go, bottled water works well as a palate cleanser as I eat and drink my way through my trips. As a culinary travel blogger, I'm constantly dining out, taking food tours, sampling wines, and tasting craft beer flights. Carrying water with me ensures I have a palate cleanser handy so I can experience flavors as purely as possible.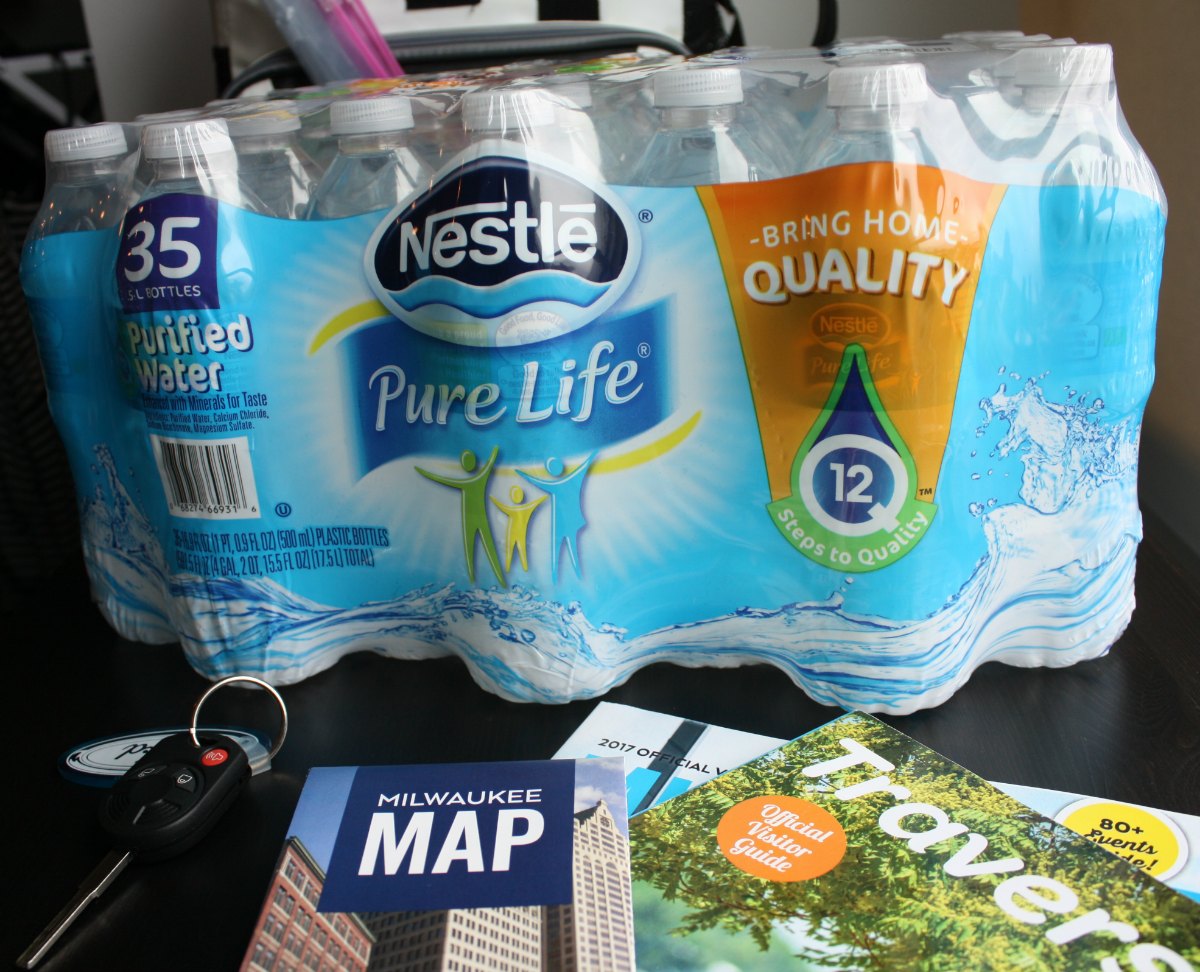 When I travel, I try to set a budget and stick to it. So, when I'm shopping before a trip, I really appreciate getting great value from the products I purchase. With the Nestlé® Pure Life® water 35-pack, we are getting three more bottles than the old 32-pack for the same price.
You can find a variety of Nestlé products, including the 24-pack, at Walmart online, but you'll want to shop in store for the 35-packs. I found the 35 packs in the water aisle at my local Walmart in Comstock Park, Michigan. If the 35-pack of Nestlé Pure Life is not available in your local Walmart, please ask a store manager about getting the product in your area.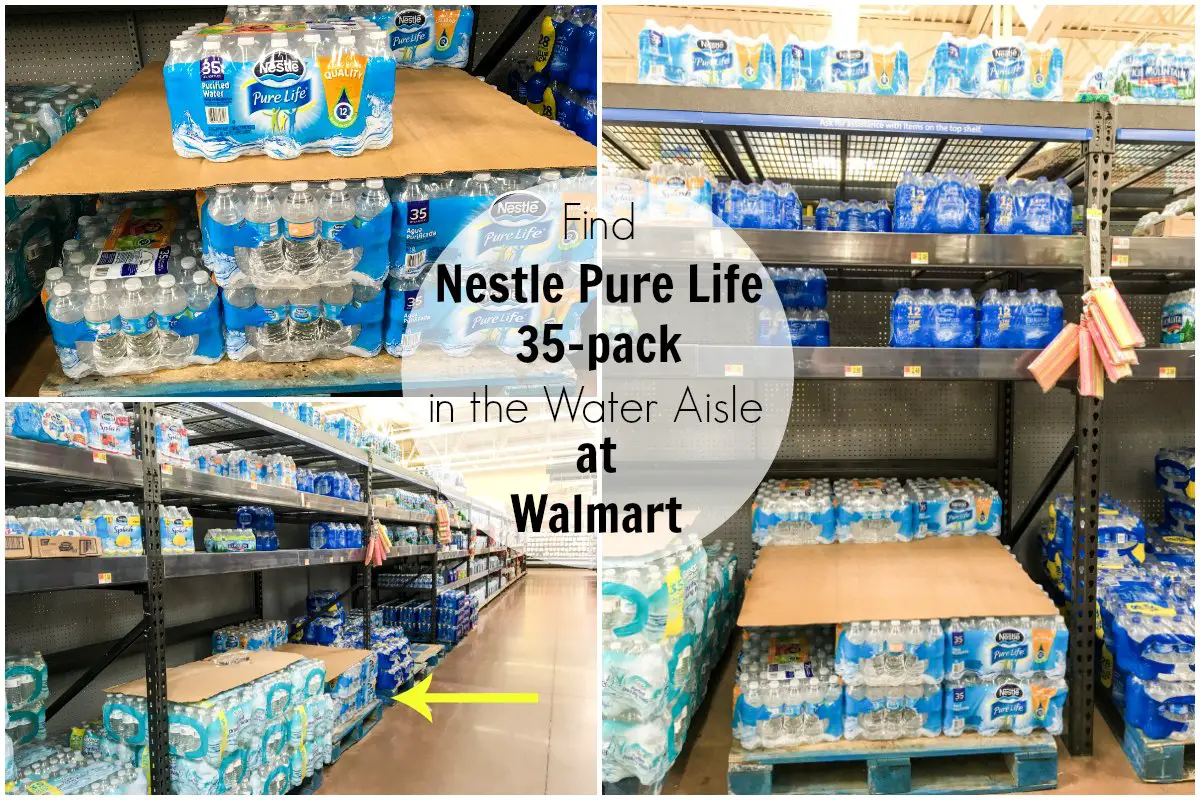 Pure Life is relaunching in mid-May and will have new packaging. So, be on the lookout for Nestlé's new look this month at a store near you!
How To Pack Your Cooler For Your Midwest Road Trip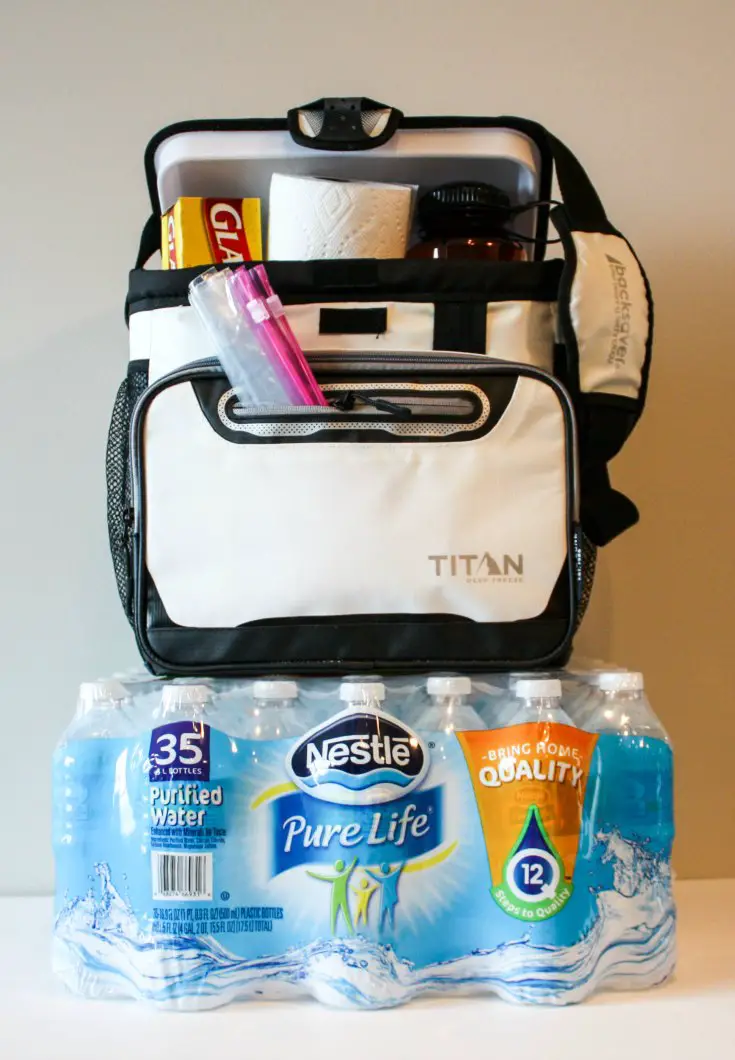 What Kind Of Cooler Do You Need?
First, let's talk about what kind of cooler you'll be taking on your trip. If you are going for a day trip, a small cooler like in the above photo will probably suffice. If you plan to travel for a few days or weeks, you'll definitely want a larger cooler — especially when traveling as a family or group.
Your cooler doesn't need to be fancy or expensive though. I took my Midwest Epicurean Adventure last May/June with an inexpensive Styrofoam cooler my mom picked up at her local grocery store. I came home with Wisconsin cheese, cheese curds, and New Glarus Spotted Cow — a craft beer exclusively distributed in Wisconsin — all perfectly cool and ready to be transferred to my refrigerator. This is a great option for travelers flying into the Midwest and then renting a car for their road trip.
If your cooler doesn't have pockets to store non-refrigerated items, then you'll also want to pack your dry goods into a separate bag. I usually just use one of my reusable grocery bags, but even a plastic grocery bag will do.
If you happen to be shopping for a new cooler for your upcoming trip, my recommendation is to invest in a cooler with wheels. Trust me, once it is loaded and you are lugging it to and from your car and hotel room, you'll be grateful for the wheels. If you load your cooler at home and plan to stop for ice at a gas station as you hit the road, keep in mind that the cooler will feel even heavier!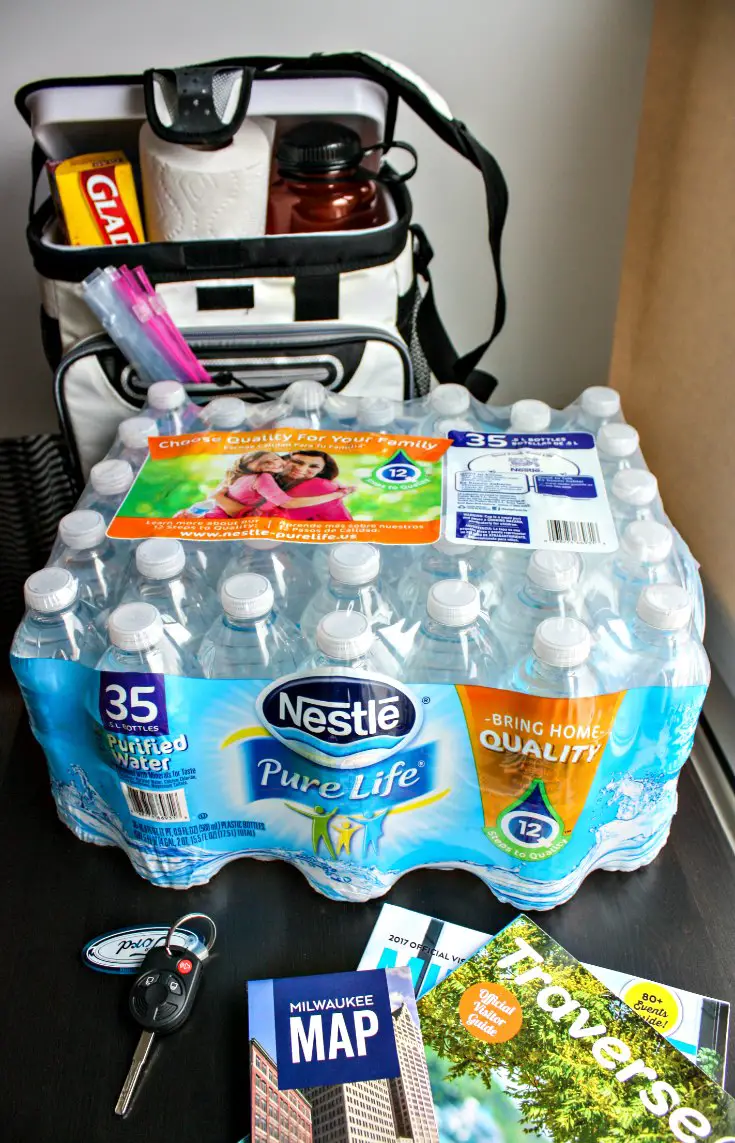 What Should You Pack In Your Cooler?
In The Cold Compartment:
Ice Packs — Great for day trips! It'll save you from having to buy a bag of ice.
Ice — Duh, right? For trips longer than a day, ice is the best way to go. Just remember to pour out the melted ice — AKA water — every so often and replenish with fresh ice. It's best for this to coincide with your stops to refuel your car.
Nestlé Pure Life — It keeps you hydrated on the go and works as a palate cleanser as you eat and drink around the Midwest!
Caffeinated Beverages — Sometimes long hours of driving call for a little extra fuel. 😉
Space — Don't overload your cooler! You'll want to save space for all your edible souvenirs.
In The Outside Pockets Or A Separate Bag:
Plastic Cling Wrap — If you travel through Wisconsin, you'll want to buy cheese. You'll also want to eat the cheese. Once you've opened the packaging, you can still keep your cheese fresh by wrapping it in plastic cling wrap and sealing it in a plastic baggie.
Plastic Zip-Close Baggies — Both the quart and gallon size will be helpful to have on hand. These are great for storing cheese, fruit, and veggies.
Plastic Food Storage Container — While most foods can be preserved with the aforementioned items, a slice of cherry pie from Cherry Republic in Northern Michigan is best protected in a solid container.
Paper Towel/Wet Wipes — If you stop for fresh fruit at a roadside farm stand, you may need one of these!
Bubble Wrap & Packing Tape — If you plan to buy wine, wrapping the bottle in bubble wrap prevents it from breaking. Wine likes to be stored somewhere cool and dark, so slip it right into your suitcase and take it into your hotel each night.
Travel Utensil Set or Disposable Plastic Utensils, Disposable Plates, Picnic Blanket — You never know when a scenic vista will inspire an impromptu picnic!
Water Bottle/Tumbler With Straw — I like to travel with my 32-oz. water bottle since it can hold two Pure Life bottles. If you find twisting the bottle cap off difficult or distracting while driving, then you might want to bring a plastic tumbler with a straw for easy sipping on the road.
Pro Tip: Purchase wine and beer chilled only when you plan to drink it that day. To best preserve your beer and wine, bring the bottles into your hotel room each night. Whenever possible park your car in the shade, too.
My 10 Must-Visit Culinary Destinations In The Midwest
Now that I've shared with you how to pack your cooler for your upcoming road trip, let's talk about the journey you and your taste buds can go on this summer. I've compiled 10 culinary destinations I've visited within the past year throughout the upper Midwest — Michigan, Minnesota, and Wisconsin.
Michigan
Detroit — In case you missed it, the Motor City is officially on the culinary map. Chefs have elevated the dining scene, which you'll see at restaurants like Selden Standard and Gold Cash Gold. The city is also home to craft distillers and breweries. Plan your visit for a Sunday morning to experience the farmer's market at Eastern Market, and then sip a cocktail at nearby Detroit City Distillery.
Grand Rapids — Our city earned the distinction of BeerCityUSA a few years ago, and our craft beer scene has been exploding ever since. You can explore more than 40 breweries on our local beer trail, but you probably came here for Founders. With its spacious patio with an outdoor bar and fire pits, Founders is a happening spot to grab a beer on summer nights. We have so much more to offer than beer with local distillers creating classy cocktails and our chefs honoring local ingredients. Be sure to check out the dining scene in mid-August for Restaurant Week Grand Rapids!
Traverse City — Located along the Grand Traverse Bay of Lake Michigan, this "Up North" destination is where Michigan wine lovers go. A day on the Old Mission Peninsula should start with pizza and craft beer at Jolly Pumpkin before an afternoon of winery hopping. Make sure to stop at the lighthouse, too! Craft breweries, distilleries, fudge shops, and some of the state's best ice cream at Moomer's can all be found in this lakeside city.
Minnesota
New Ulm — Located less than two hours driving time from Minneapolis, this small town really celebrates its German roots. You'll certainly experience that at Schell's Brewing Company, where you can take a tour of the second-oldest family-owned brewery in the United States. This charming town is also home to a winery, a cute downtown with fantastic local restaurants, and deep-fried German potato salad balls called "Herman Balls" served seasonally at Turner Hall.
Stillwater — One of the most picturesque small towns in the Midwest, Stillwater is only a 30-45 minute drive from the Twin Cities. In this riverside town, you'll find charming bed & breakfast lodging, Lift Bridge and Maple Island breweries, Friday and Saturday tours at Northern Vineyards Winery, and a delightful little cheese shop called The Wedge & Wheel in downtown. Perfect for a one- or two-night getaway!
The Twin Cities — Minneapolis is such a foodie destination it has a whole thoroughfare nicknamed "Eat Street." You'll find all kinds of culinary innovation at the Midtown Global Market and the FOOD Building. Want to experience the local food scene with a knowledgeable local guide? I highly recommend Twin Cities Food Tours. In St. Paul, Summit Brewing is king. Plan your Twin Cities visit during the Minnesota State Fair to try all kinds of wild and fried foods served on a stick and uniquely flavored craft beer. For a road trip, I recommend staying just outside the Twin Cities in Roseville — it's perfectly positioned to visit both cities and the State Fair!
Wisconsin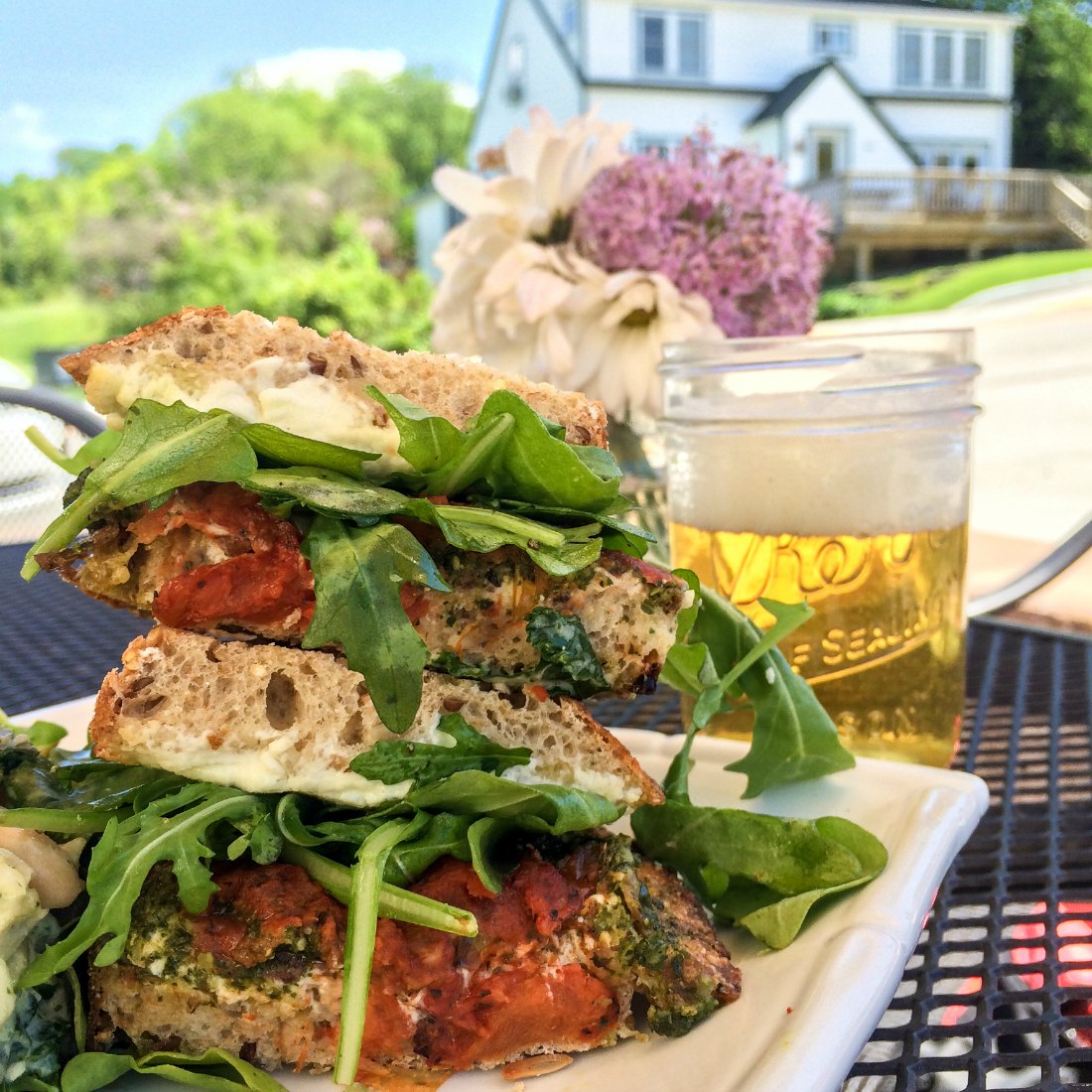 Summary
As you begin planning your summer travels, I hope you will consider the 10 Midwest destinations I shared in this post. Throughout the region you'll find culinary delights, unique food-based summer events, local wineries and distilleries, and so many craft breweries.
Wherever you end up road tripping this summer, don't forget to stock your cooler. I highly recommend preparing your cooler ahead of time to best preserve your edible souvenirs, and be sure to bring along plenty of bottled water to remain hydrated on the go. For a great value, you'll find Nestlé Pure Life water 35-packs for the same price as the old 32-packs in store at your local Walmart!
Save this post to Pinterest!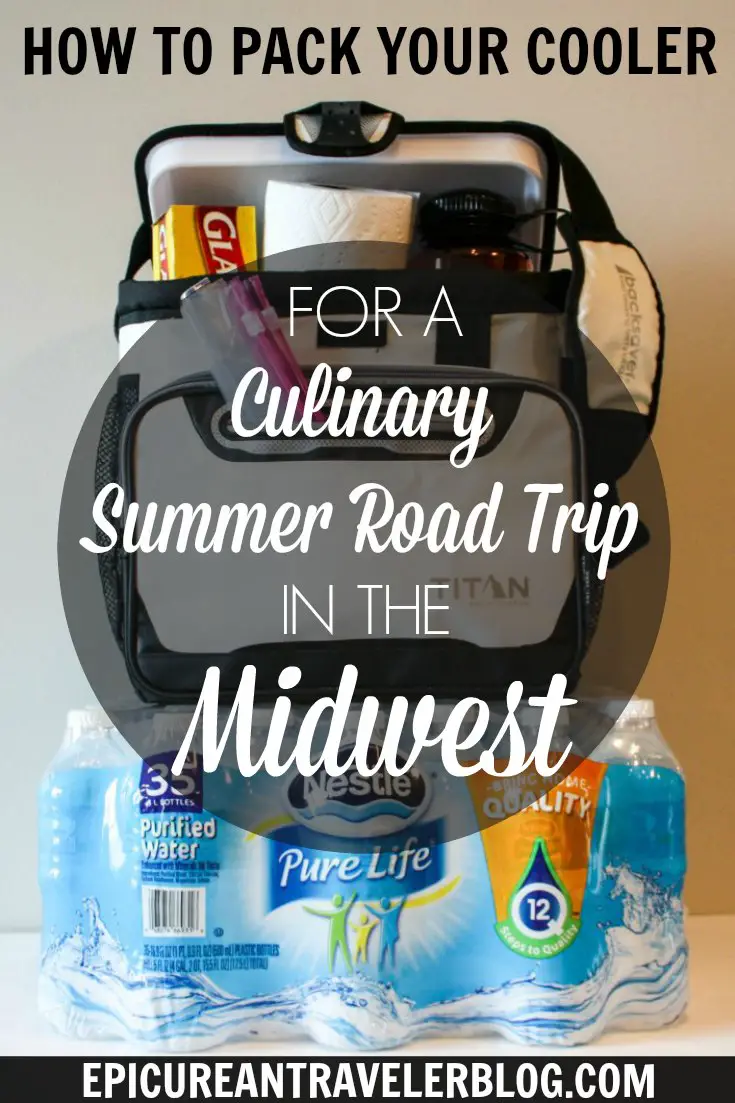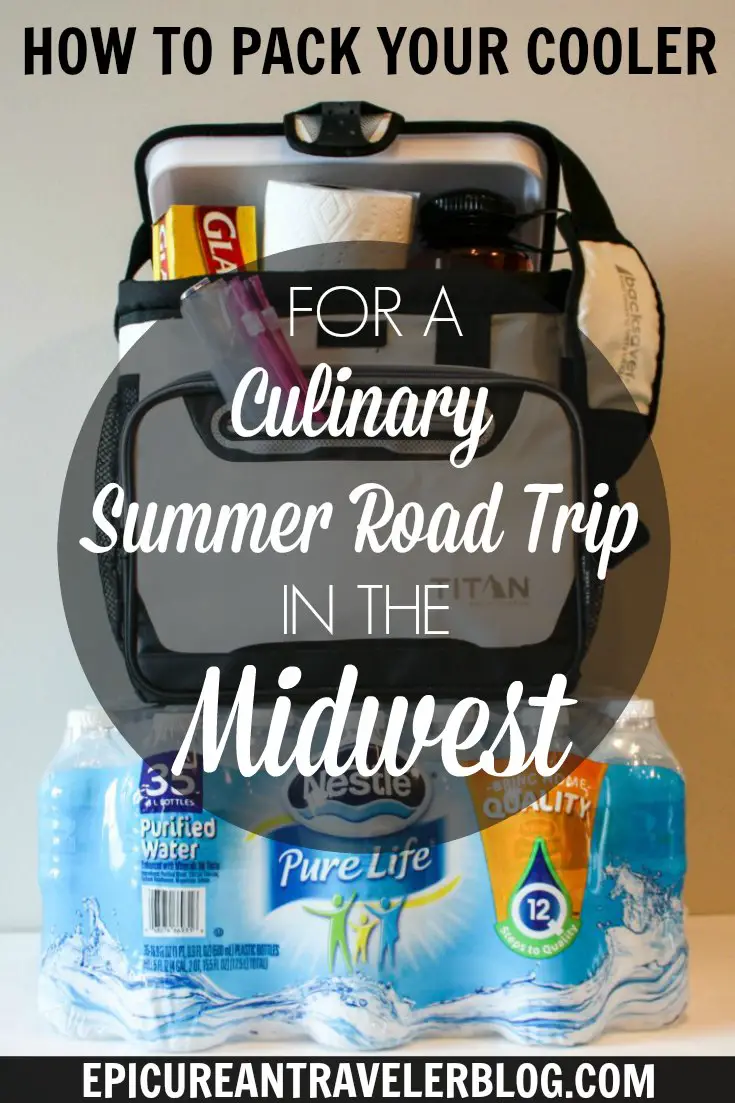 To which Midwest destination do you want to take a road trip?
Disclosure: This post is sponsored by Collective Bias and its advertiser. As always, all opinions are my own.
Save
Save
Save
Save
Save
Save
Save
Save
Save