I'd like to thank Twin Cities Food Tours for providing me a comped ticket, a value of $45, to take the Northeast Minneapolis tour for this post. I was not otherwise compensated for this post. As always, all opinions are my own.
When you visit a new destination, do you like to learn about the local history? Do you set off on foot to explore a neighborhood? Do you eat the local cuisine and want to find out where the local foodies dine?
If you answered affirmatively to any combination of those questions, taking a food tour with Twin Cities Food Tours should be on your itinerary when you visit Minneapolis or Saint Paul, Minnesota.
Here is why I chose Twin Cities Food Tours …
Did you know Minneapolis has so many restaurants on one of its main thoroughfares that Nicolette Avenue has been dubbed "Eat Street"? The Minnesota metropolis is also an incubator for culinary entrepreneurs. You'll see a lot of that innovation at the Food Building and Midtown Global Market. Plus, neighboring St. Paul plays host to the foodie heaven that is the Minnesota State Fair and its many foods on-a-stick each summer. Armed with all that knowledge, I knew I wanted to dive right into the local food scene.
I was visiting the Twin Cities for the travel blogging conference TBEX, and I had booked an extra day to explore Minneapolis on my own. With this limited time frame, I realized a food tour would be the best way to learn about the Minneapolis dining scene from a knowledgeable local and to taste a variety of delicious dishes. And all in one afternoon!
Like any other traveler, I turned to Google to search for possible tours. After researching my options, I found Twin Cities Food Tours had a five-star rating on TripAdvisor. They also offered a Friday afternoon tour that perfectly fit my schedule. And, the icing on the cake: The tour was of Northeast Minneapolis, and I was staying nearby at the geek-chic Commons Hotel.
Touring Northeast Minneapolis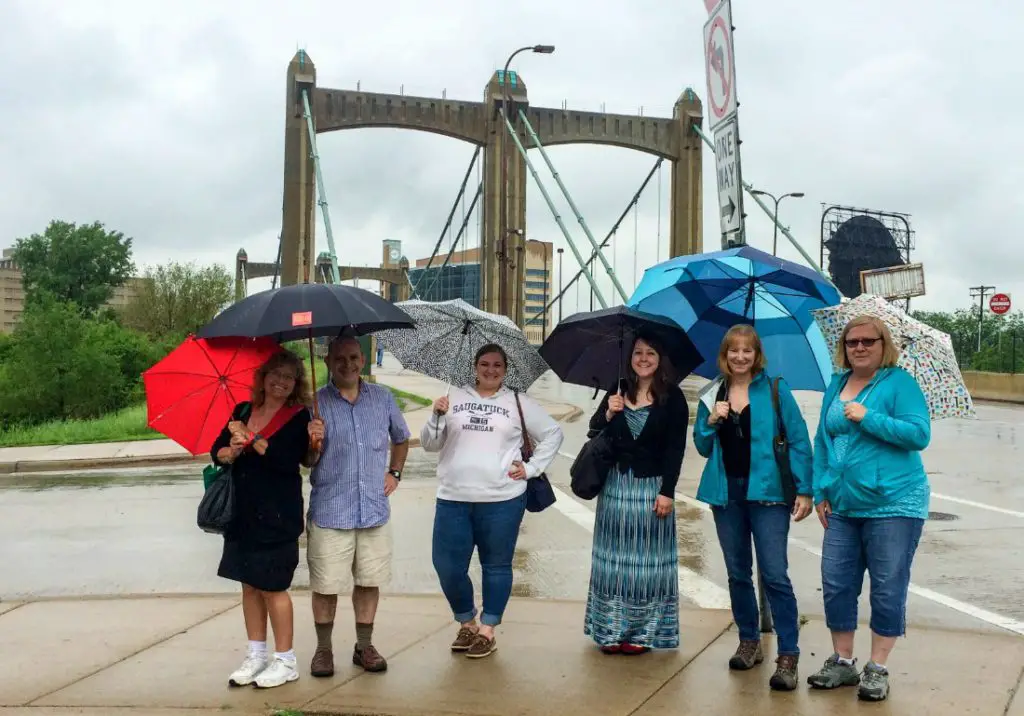 The day of my Northeast Minneapolis food tour was a drizzly spring day. Rain or shine, the Twin Cities Food Tours' Northeast Minneapolis route involves walking 1.5 miles to visit six local eateries.
Abby, of WanderLost Travels, and I grabbed our umbrellas, and we set off with our guide Becca and our tour group to eat our way around a neighborhood we'd come to learn was as rich in history as it was diverse in cuisine.
Tasting Eastern European Cuisine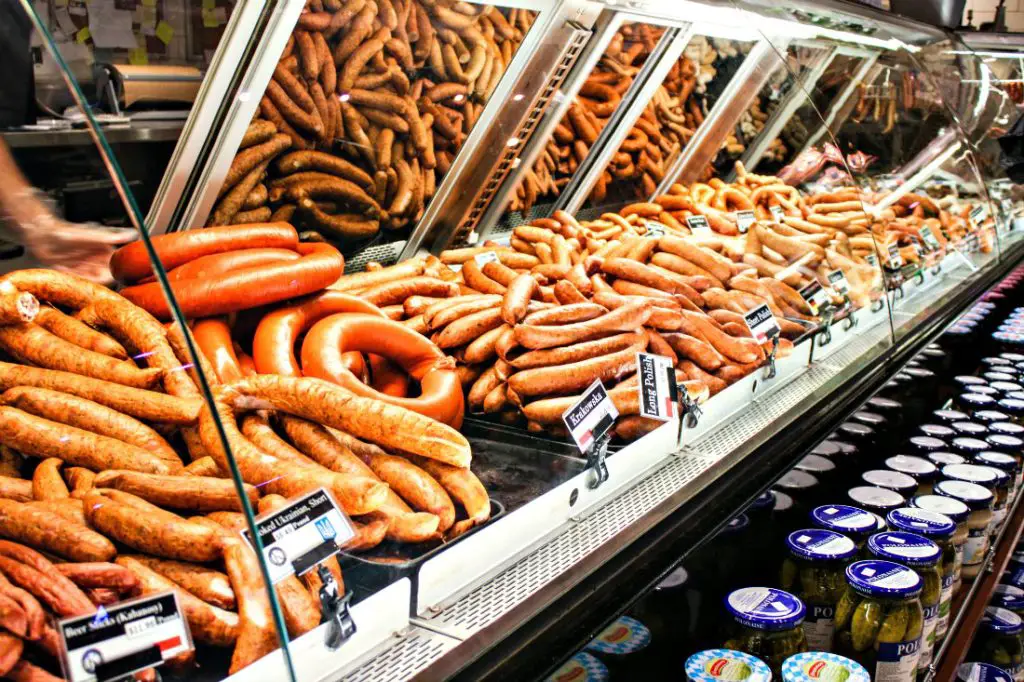 Considered a Minneapolis institution, Kramarczuk's has been serving smoked sausages, baked goods, and house-made Eastern European cuisine since 1954. So, it seemed a natural fit to start our ethnically diverse food tour.
After World War II ended, original owners Wasyl and Anna Kramarczuk left the Ukraine and settled in Minneapolis. Putting Wasyl's knowledge of sausage making together with Anna's cooking and baking skills, the couple created what is now a third-generation family-owned landmark eatery.
Borscht, goulash, and varenyky are a sampling of the ethnic Eastern European dishes available. During the tour, we tasted one of Kramarczuk's famous sausages. We also ate a cheese-and-potato-filled varenyky (also known as pierogi) and pickled red cabbage.
Tasting Gelato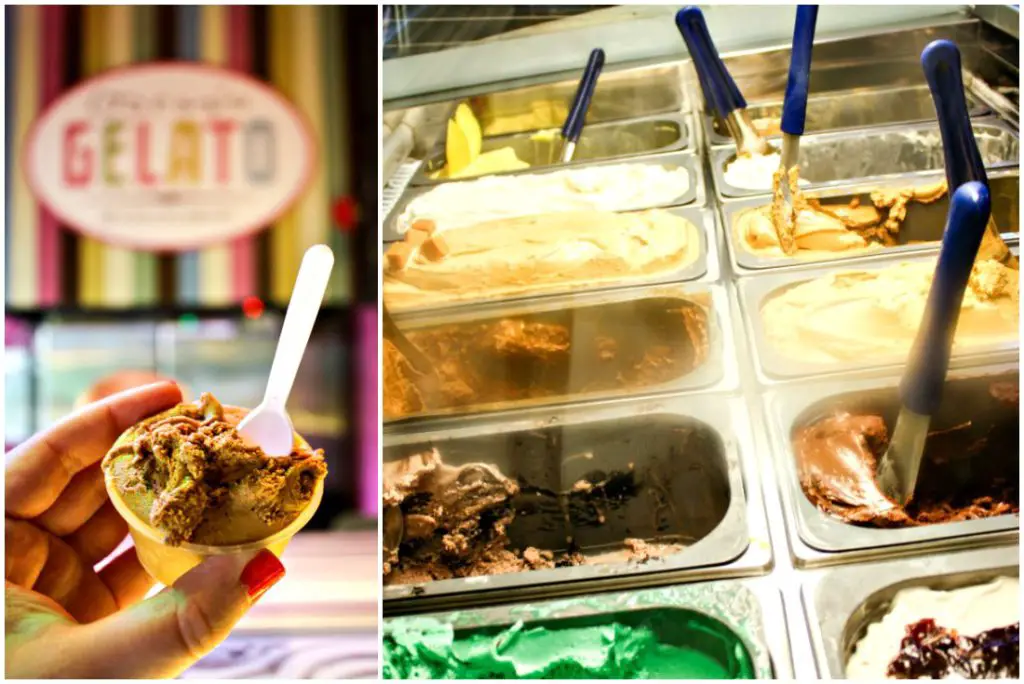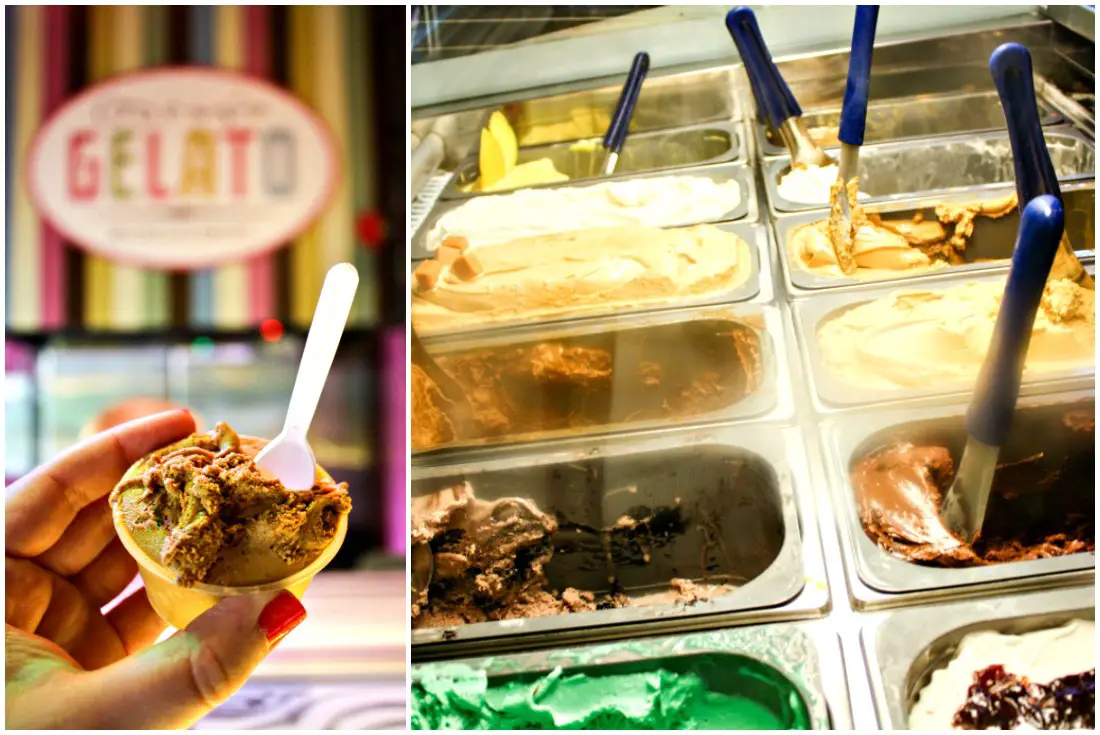 Our next stop was Oscar's Gelato Micro-Creamery at Wilde Cafe & Spirits, located along the Mississippi Riverfront. Our stop here was just long enough for our group to get a sample of a gelato flavor of our choice.
We took in the dozen flavors before us, and I selected a delicious salted caramel. Each flavor is made in a small batch by their dessert chef. If you want to keep up on the seasonal flavors, check out Oscar's Gelato's Facebook page. Browsing their page today, I discovered they are serving a Pumpkin Spice Latte gelato this fall.
Tasting Cheese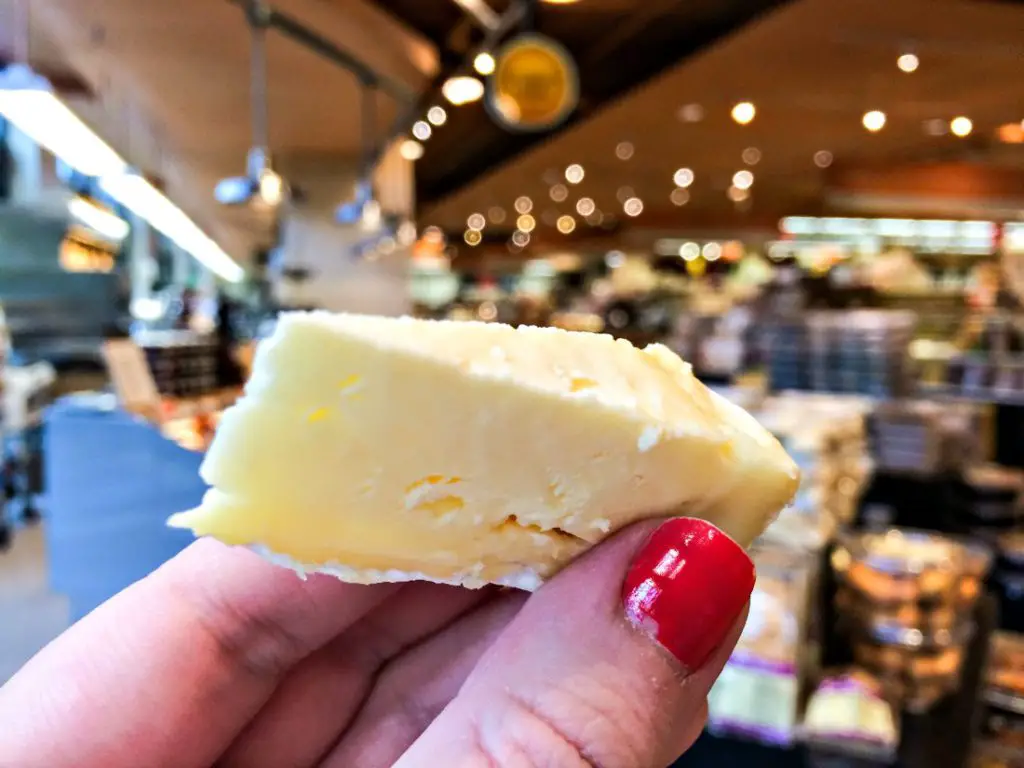 Ducking out of the rain at supermarket Lunds & Byerlys, we tasted three regional cheeses.
The first was hyperlocal Grazier's Edge from the Lone Grazer Creamery in Northeast Minneapolis. The mild, buttery cheese is made from Minnesota grass-fed cow's milk and washed with St. Paul-based 11 Wells Rye Whiskey.
Pictured above is another Minnesota-made cheese. From Alemar Cheese Company in Mankato, the Bent River Camembert is a soft, creamy cow's milk cheese. As a lover of Brie and soft cow's milk cheeses, this was my favorite of the three.
The third bite of cheesy heaven was Marieke Gouda, artisan raw-milk Dutch Gouda made about two hours away in Thorp, Wisconsin.
Tasting Neapolitan Pizza
Are we really surprised my favorite stop along the tour was Punch Pizza? I mean, have you read my welcome message on this blog? I could live on pizza. And, Neapolitan is king of the pizzas. It is the Holy Grail.
At Punch, you'll find authentic Neapolitan pizza, too. The thin pies are made with fresh crushed tomatoes, mozzarella di bufala, and olive oil. As you can see, Punch's pizza has that blistered crust from the wood-fired oven.
When you visit any Punch location around Minnesota, check out the oven. Each oven was hand-tiled by Punch's cooks using 50,000 hand-made glass tiles imported from the old country. Each of these elaborately designed ovens is named after a pizzeria the Punch staff loves in Naples, Italy.
During our visit, everything we ate was absolutely delicious. We started with the Punch salad of mixed greens, pine nuts, Parmesan cheese, and prosciutto in a balsamic vinaigrette. Then we had sea salt and rosemary focaccia bread. Of course, we had pizza, too! The Margherita is a classic, but you can't pass up the Borgata topped with sun-dried tomatoes, basil, eggplant, goat cheese, and Saracen olives.
I was really disappointed that I didn't make it back to Punch when I visited the Twin Cities again in August. I guess there is always next time, right?
Tasting Himalayan/South Asian Cuisine
For our next stop on the tour, Becca took us to Gorkha Palace. The restaurant serves authentic Indian, Nepali, and Tibetan cuisine.
One thing I learned is Gorkha Palace estimates 90 percent of its ingredients are organic. The restaurant also grinds its spices in house.
During our tour, we sampled the veggie pakora appetizer served with a mint chutney. Gorkha Palace's pakoras are cabbage, onion, and jalapeño dipped  in a chickpea batter and fried into a delicious, crispy fritter. So yummy!
We also had a Mo:Mo. What's a Mo:Mo? Essentially it's a dumpling. The steamed potstickers are filled with scallions, onions, cabbage, ginger, garlic, vegetable oil, and Himalayan spices. They are served with a tomato chutney and are utterly delicious.
I was pleasantly surprised by how much I enjoyed Gorkha Palace considering I've only recently discovered my interest in Indian cuisine.
Tasting Greek Desserts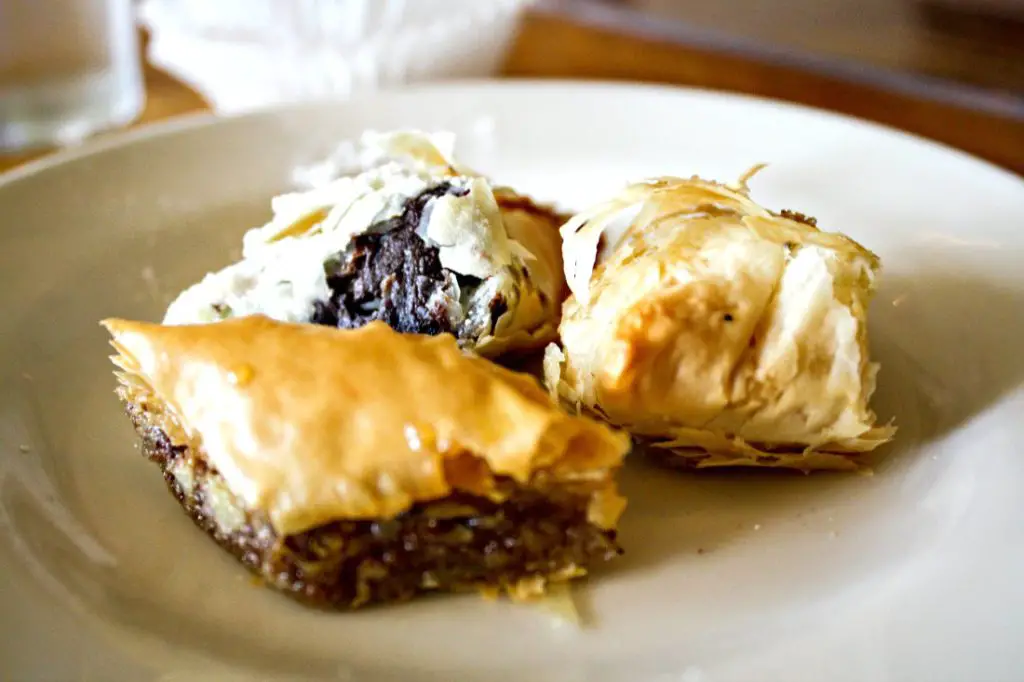 There's no sweeter way to end a food tour than with dessert. So, our Northeast Minneapolis food crawl — and you really may be crawling as the food coma sets in — ended at Gardens of Salonica.
Serving traditional and modern Greek cuisine for 25 years, Gardens of Salonica really seems like a bit of Greece has found its way to the Twin Cities. Another way the restaurant connects its diners with Greece is through overseas tours led by co-founder Anna Christoforides. Pretty cool, huh?
I especially like that the restaurant uses local, all-natural, and organic ingredients when available. But, let's talk about these desserts. Of course, baklava is a classic Greek dessert, and this was certainly one of the best I've eaten. And, I've been to Greece. The Boughatsa™ — literally a trademark dessert — is not to be missed. The lemon cream flavor was light and wonderful. The chocolate hazelnut is described as "better than brownies," and I wholeheartedly agree.
Things To Know Before Booking With Twin Cities Food Tours
Tours are offered seasonally at 11 a.m. Saturdays and 1 p.m. most Fridays and Saturdays. Be sure to check the website for schedule updates!
Tickets cost $45/adult.
Tours cap at 14 participants, so you'll enjoy an intimate group setting.
Wear your walking shoes! The tour is 1.5 miles with six stops that sometimes involve standing.
Dress for the elements! You'll be outside just as much as you are indoors on this tour.
Twin Cities Food Tours now offers a new route through Cathedral Hill in Saint Paul! This tour of one of the state capital's oldest neighborhoods costs $55 and includes 10 food tastings.
You can book your tour here by clicking on "Buy Tickets."
Save this to Pinterest for future reference!
Where have you taken a food tour? If you haven't yet, where would you like to go on a food tour? Tell me in a comment below!
Save
Save
Save
Save
Save
Save
Save
Save