It is known for foods on a stick, but the Minnesota State Fair has another culinary tradition those of us ages 21 and older can indulge in each summer. You betcha I'm talking about drinking the Minnesota State Fair specialty brews!
Disclosure: I'd like to thank the Roseville Visitors Association for inviting me to cover the 2016 Minnesota State Fair. My admission to the fair for two days (a $26 value) was comped, but I paid for the beers featured in this post. This post also contains some affiliate links. I may earn a small commission when you click on or make a purchase from one of these links. As an Amazon Associate, I earn from qualifying purchases. Of course, this is at no extra cost to you.
---
When is the Minnesota State Fair?
The Minnesota State Fair has been a time-honored tradition since 1859. Coined the Great Minnesota Get-Together, it is an annual event to showcase the state's agriculture, art, and industry.
In addition to the agricultural exhibits, nightly concerts performed by big-name acts at the Grandstand, family-friendly amusement rides and attractions, and the release of new, unique, and exclusive-to-the-fair foods and beverages attract record crowds year after year. In 2019, daily attendance hit record highs six times!
This end-of-summer extravaganza runs for 12 consecutive days ending on Labor Day, the first Monday in September, at the 322-acre Minnesota State Fairgrounds near the Twin Cities. The 2022 Minnesota State Fair runs from Aug. 25 through Sept. 5.
Your Guide to Tasting Minnesota State Fair Beers
Throughout the Minnesota State Fairgrounds, fair-goers stroll with a uniquely Minnesota craft beer in one hand and portable food dished up on a stick in the other during the Great Minnesota Get-Together each summer. Whether you are a craft-beer connoisseur or just enjoy tasting new brews, there are three things you must do at the annual Minnesota State Fair.
First, learn about Minnesota's craft beer scene.
Did you know Minnesota was home to 96 craft breweries and brewpubs as of August 2016?
I didn't until I visited the Minnesota Craft Brewers Guild's "Land of 10,000 Beers" exhibit inside the Agriculture Horticulture building during the 2016 Minnesota State Fair.
As someone interested in beer travel, this exhibit was great for finding a "brewcation" destination to visit on a future trip. A huge map of Minnesota pinpointed where each of the state's craft breweries and brewpubs could be found.
After reading about Minnesota's booming beer industry, it was time to taste it. The Minnesota Craft Brewers Guild offered beer flights consisting of four beers of a particular trait — dark, light, sweet, or hoppy — from around the state.
I selected a taste of Minnesota's dark beers including Sidhe Dark Moon Rising (brewery now closed), Great Waters Brown Trout Brown (brewery now closed), LynLake Sideburns Milk Stout (from Minneapolis), and Mankato Brewery's Leaf Raker Nut Brown Ale.
Then, drink beers you'll only find at the Minnesota State Fair!
Not only is the Minnesota State Fair teeming with local brews, but there are specialty craft beers available only at the Great Minnesota Get-Together.
At the 2022 Minnesota State Fair, 47 new beverages were debuted. Most of these new specialty drinks are craft beers. There is even a non-alcoholic IPA called All Day A-Fair! described as having apricot, melon, pear, and bread crust flavors and a clean, "pleasantly bitter" finish.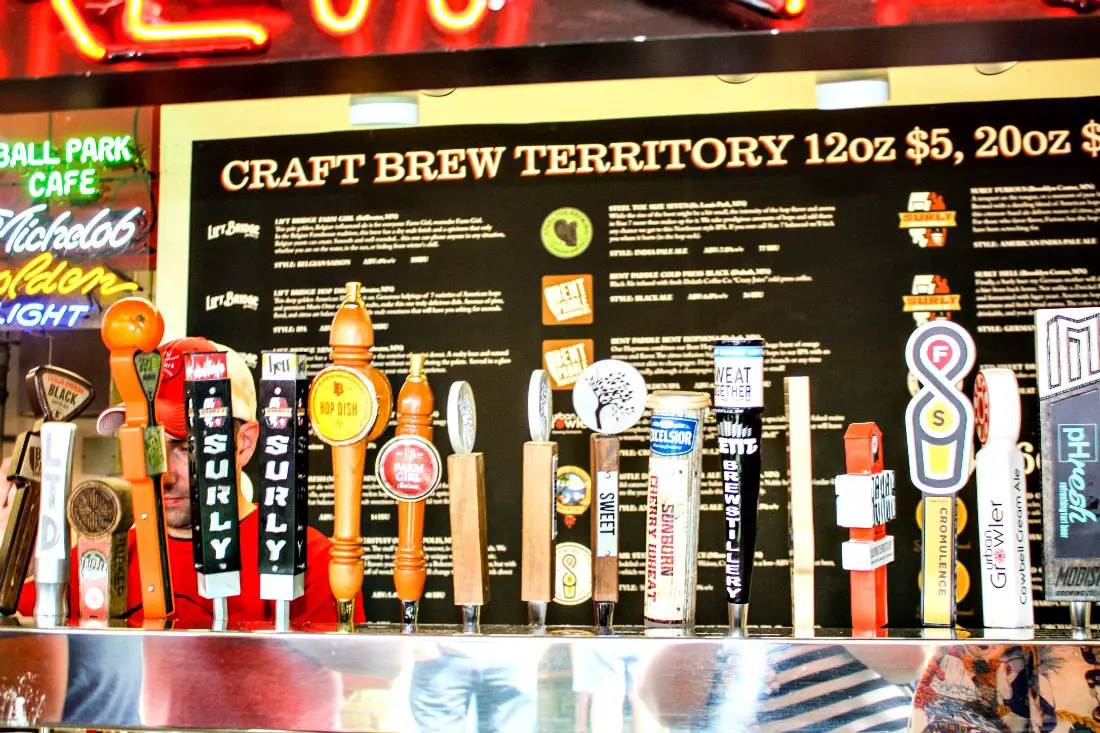 Each year Minnesota's creative beer brewers create unique beverages specifically for the state fair. In 2016, the fair featured 19 of these exclusive brews, and 11 were new to the fair that year.
Many of these beers and ciders were inspired by Minnesota State Fair foods such as funnel cake, doughnuts, s'mores, sweet corn, and chocolate chip cookies.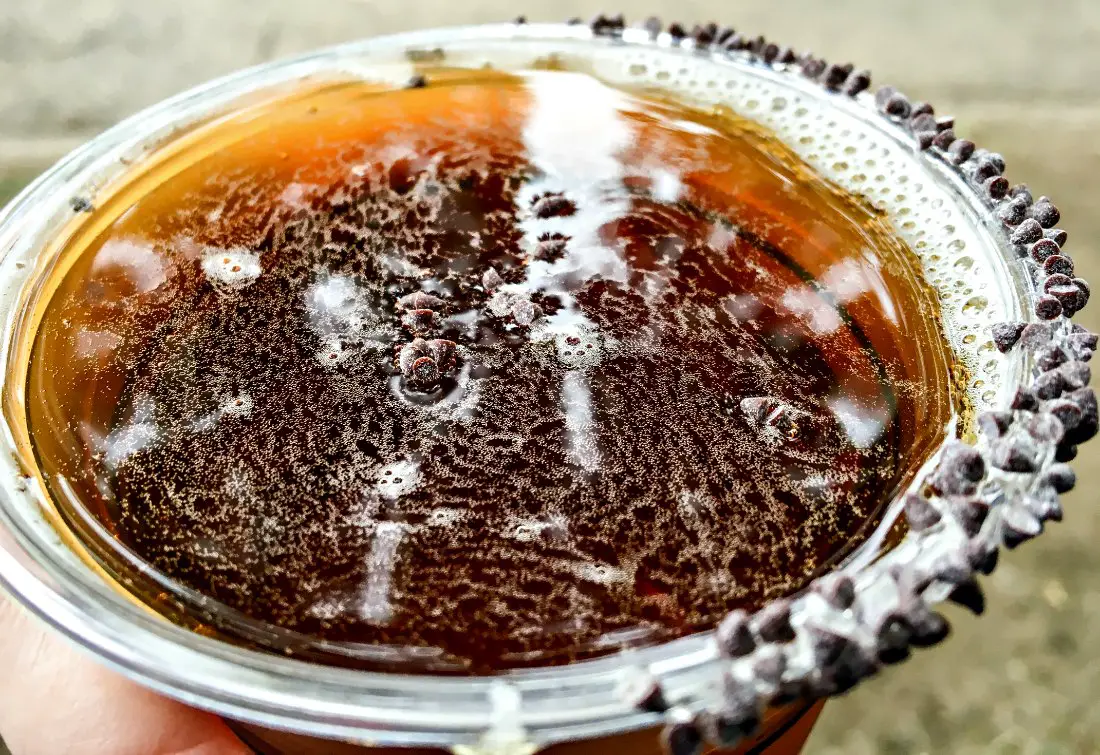 Combining two Minnesota State Fair culinary traditions – craft beer and chocolate chip cookies – was the new-in-2016 Chocolate Chip Cookie Beer. Brewed by Big Wood Brewery in White Bear Lake, this sweet and malty brew had subtle vanilla and chocolate hints. The rim dipped in mini semi-sweet chocolate chips was a fun touch! It is available again at the 2022 Minnesota State Fair at Andy's Grille on the south side of Carnes Avenue between Liggett and Nelson streets.
At the Minnesota State Fair, you can't miss the mouth-watering smell of mini donuts. Since I've also been to Stillwater, where the Lift Bridge Mini Donut Beer is brewed, I had to try it. The tan-colored beer actually reminded me of a doughnut's flavor. I enjoyed that the cup was rimmed with cinnamon sugar, adding to the enticingly sweet aroma. Min Donut is available at the 2022 Minnesota State Fair, and you'll find it at the Ball Park Cafe on the east side of Underwood Street between Dan Patch and Carnes avenues.
My favorite of the special Minnesota State Fair beverages in 2016 was the Caramel Apple Pi Cider. It was a cider-beer blend of apples and barley malts from Minneapolis brewpub the Freehouse. The caramel apple flavor tasted like I was sipping summer goodbye and welcoming crisp autumn air and cider mill visits with open arms.
Lastly, revel in the Minnesota State Fair kitsch.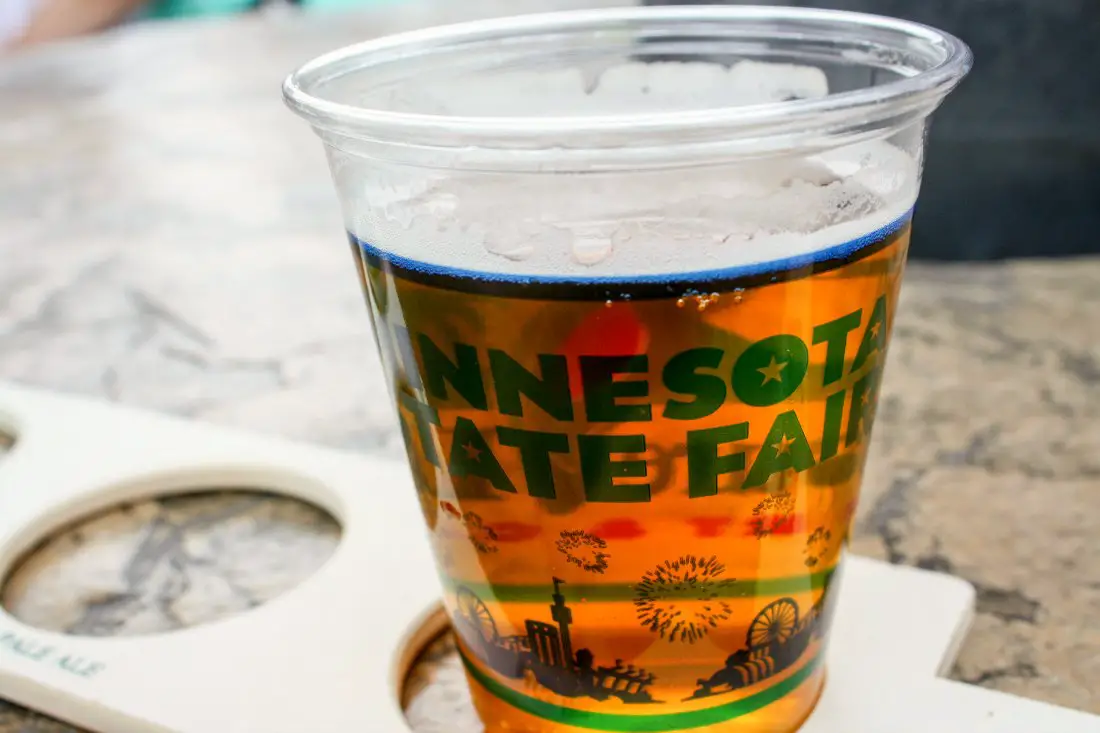 Though some beer purists will argue that the Minnesota State Fair's specialty beers have gotten too gimmicky since Lift Bridge introduced Mini Donut in 2013, I say revel in it. At an event where you can eat deep-fried cookie dough, Twinkies, candy bars, and even mac-n-cheese in past years on a stick, why not?
We don't always need to take our beverages so seriously, do we? But, if you fall into the beer-purist camp, there were new beers at the 2022 Minnesota State Fair for you, too.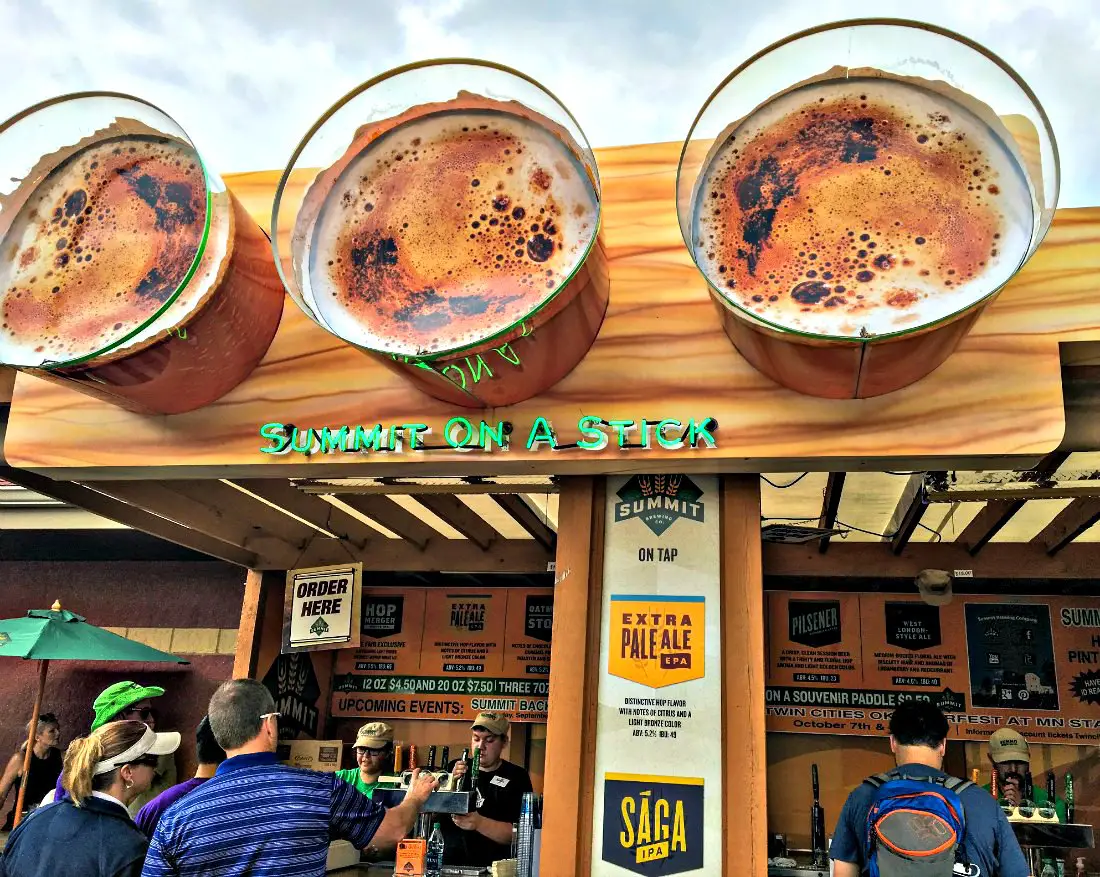 St. Paul's leading brewer, Summit Brewing Company, left the State-Fair gimmicks to how their beer was served at the 2016 Minnesota State Fair.
As I mentioned, food on a stick is HUGE. So, in addition to 12 and 20 oz. cups of the brewery's beers, you could also order a flight of Summit on a Stick. A paddle with three holes to hold beer featured Hop Merger White IPA, a new brew in 2016.
The hoppy, golden IPA featured a fruity and floral aroma and wheat, bread crust, and light cracker flavors. It was an easy sipper by the International Bazaar Stage, where I watched the most adorable kids performing Mexican folk dances.
Though the food still reigns king, I found drinking the specialty Minnesota State Fair beer is a reason to visit the largest state fair (by daily attendance). If you want to try some truly unique craft beers while at the fair, check out the list of this year's specialty brews and beverages.
You'll find more than 300 specialty beverages at the 2022 Minnesota State Fair! Of course, this includes non-beer adult beverages. So, if you're in the mood for a cool drink other than a Minnesota craft beer, you can sip a fruity wine or hard seltzer slushie to quench your thirst!
Save this post to your craft beer or Minnesota travel Pinterest boards to reference later!
Read More About Minnesota Travel Destinations


Editor's Note: This blog post was published in 2016 and most recently updated in August 2022.
 Which Minnesota State Fair beer would you drink?
Save
Save
Save
Save