Looking for a fun kayaking tour in Door County, Wisconsin? Door County Kayak Tours invited me on their guided Cave Point County Park kayak tour to review. Read on to see why I enjoyed this beginner-friendly kayaking tour into caves along the Lake Michigan shore! Plus, I share my tips for what to wear and bring on your kayaking excursion with Door County Kayak Tours.
Disclosure:  This post contains affiliate links. When you click on one of these links and make a purchase, I may earn a commission. This is at no extra cost to you, and I only recommend products and services I have or would use myself.
 Kayaking Lake Michigan With Door County Kayak Tours
Since naming kayaking to my 30 Before 30 challenge last year, I've discovered an enjoyment for leisurely kayaking down a river or around a small lake. So, when Door County Kayak Tours invited me to take their Cave Point kayaking tour and share my experience with you, I was pumped. Kayaking on a large, open body of water — like one of the Great Lakes — would be a new and thrilling adventure for me.
Naturally, I also felt slightly apprehensive. If you've met me, you know I'm not the most athletic or coordinated individual. I'm also a worrier, so I wondered …
Was I really ready to test my kayaking skills on Lake Michigan?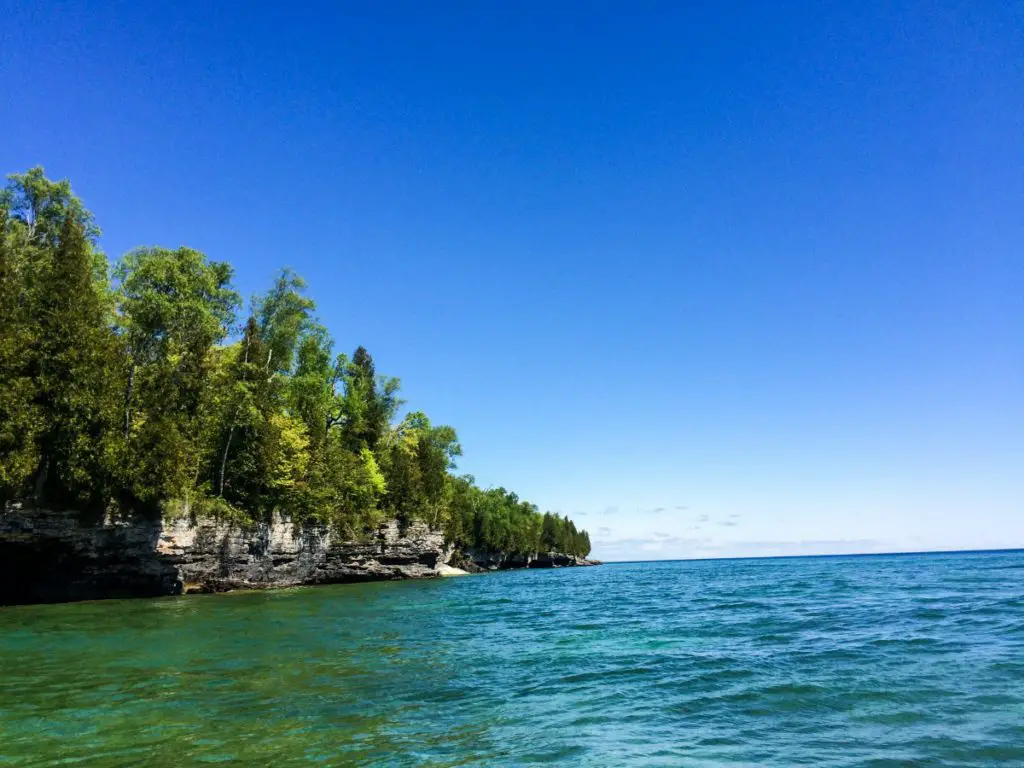 The short answer: Yes!
Door County Kayak Tours does three things that put me, a beginner kayaker, at ease:
Send two guides on the water with the group.
Use tandem kayaks, which are more stable (read: harder to tip) than single kayaks.
Teach the basics of paddling before hitting the water.
So, I arrived ready to paddle.
I had been messaging David Rack, owner of Door County Kayak Tours, on and off about my visit basically since his initial invitation. But, it wasn't until I was actually on my road trip that my Door County plans came together. Looking at the weather that first week of June, Dave decided a tour my first morning in Door County would be best.
This worked out perfectly for my schedule. It left me a full day to explore Door County's culinary scene. You can read all about the places I ate and drank here and about all the other places local foodies told me to eat and drink here.

Driving from my overnight pit-stop in Green Bay, I passed through scenic Sturgeon Bay on my way up the Door Peninsula to the meeting spot. There, I was pleasantly greeted by our tour guides, Lexington and Emma. Both are college students working what has to be one of the best summer jobs in the Midwest. I boarded the bus, signed a waiver, applied some sunscreen, and was anxious to get on the water.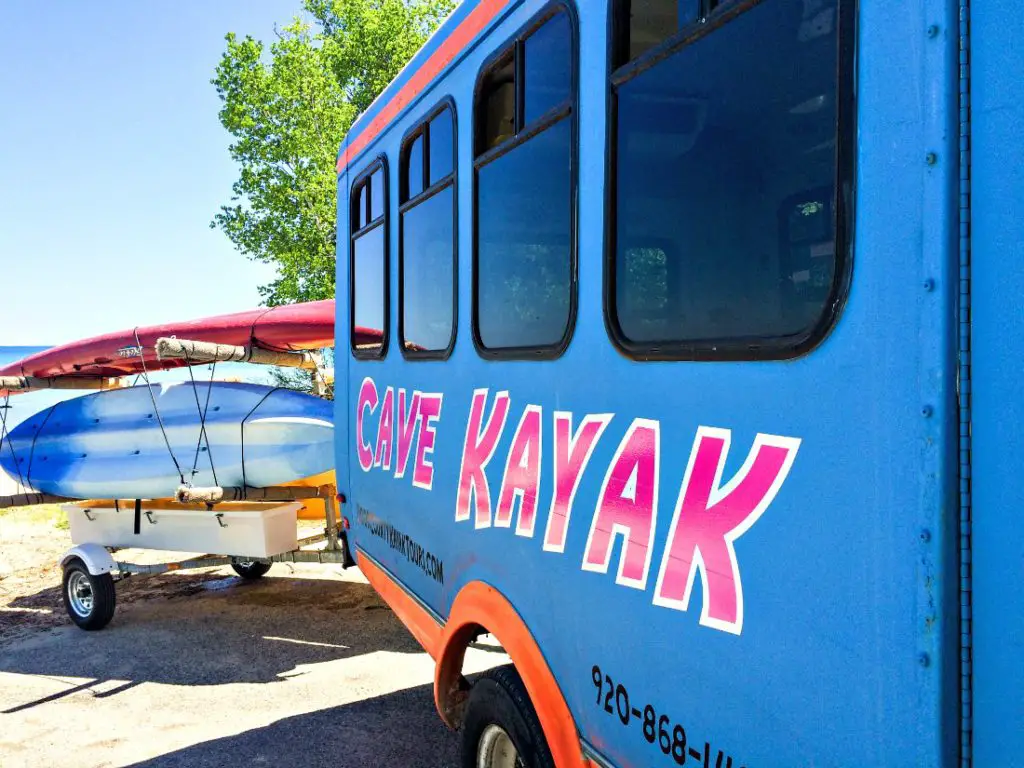 A kayak for two, please.
Our 10 a.m. tour group consisted mostly of twosomes — perfect for tandem kayaking. However, I was flying solo on my Midwest Epicurean Adventure through Wisconsin and Minnesota, so I had the option of a single kayak or kayaking with one of the guides. I opted to paddle with a guide, and looking back that was definitely a smart choice for me.
When you tandem kayak, the paddler in the rear handles most of the steering. Meanwhile, the front paddler sets the pace, and together you attempt to paddle in synchronization. The beauty of the tandem kayak is sharing the work.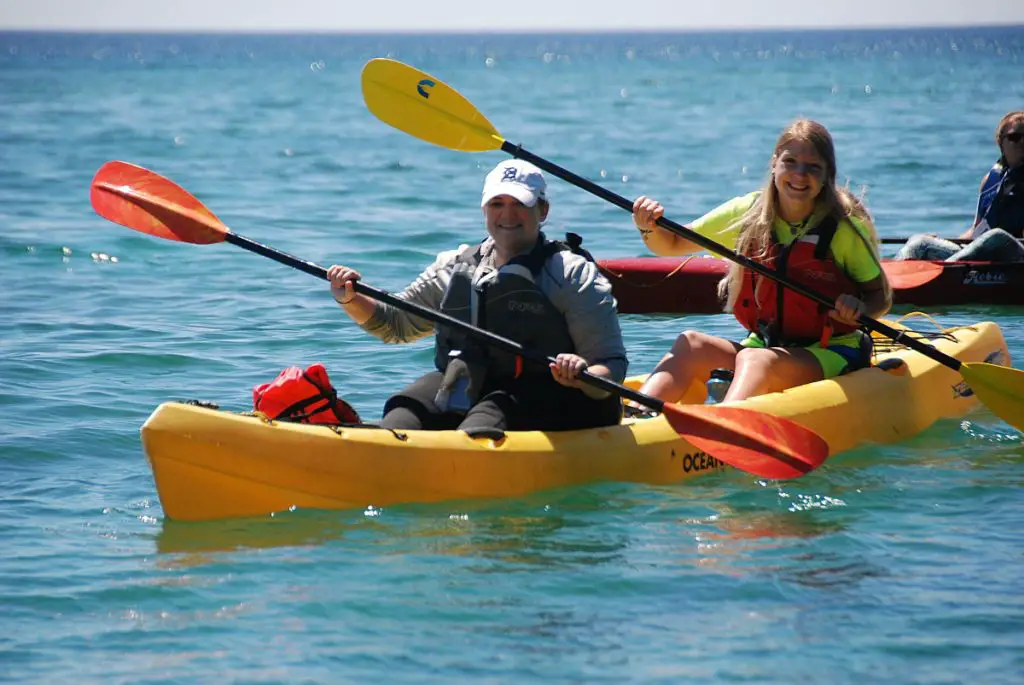 I don't know why it took me and Lexington so long to find our rhythm. Actually, it may have been all my photo breaks! But, once we hit our stride, we were really cruising along the shore.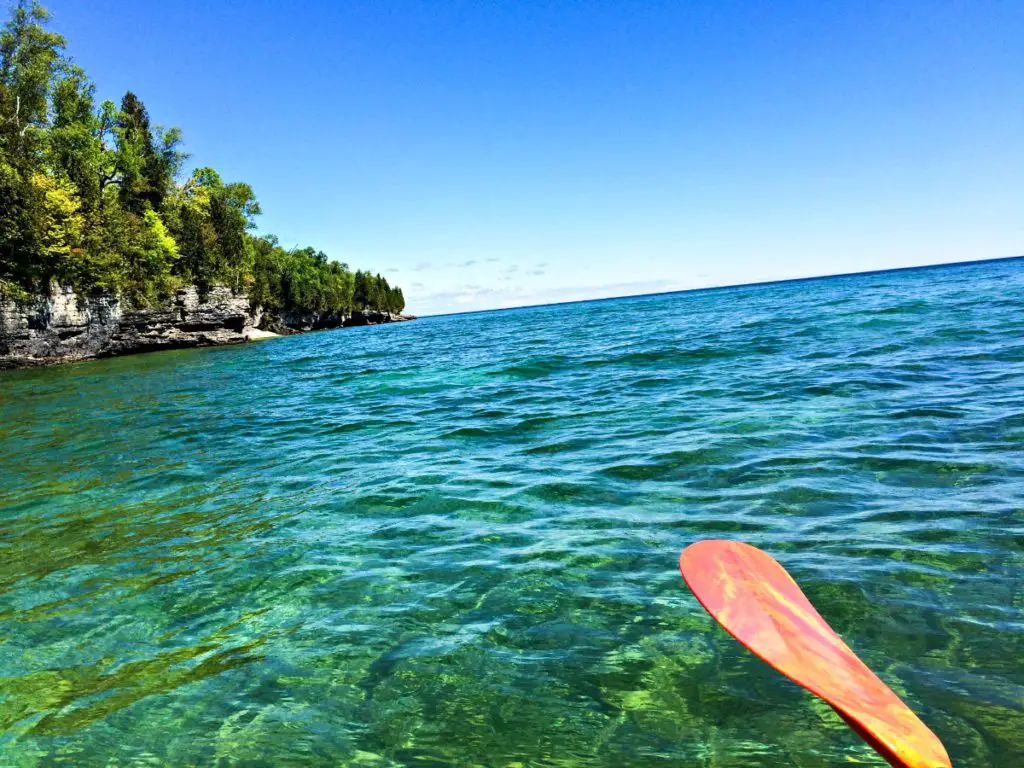 As the front paddler, I had an incredible view of the limestone bluffs, shoreline caves, and crystal-clear teal-blue water. Lexington and Emma occasionally pointed out interesting sights we may have missed on our own — like the stacked rocks along the Cave Point County Park beach.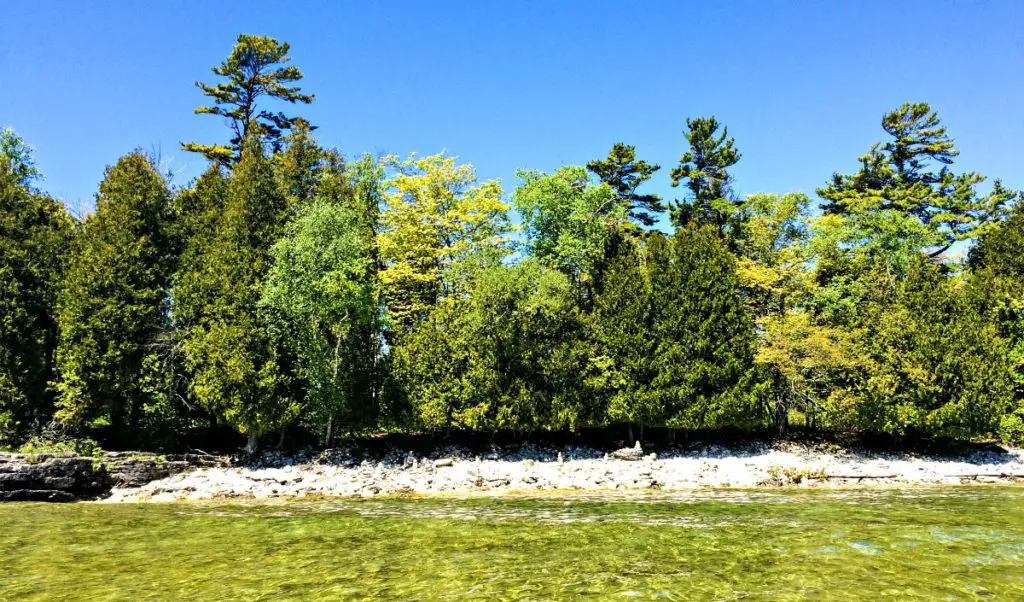 Then we explored caves by kayak!
After paddling along the Cave Point County Park shore, Lexington and Emma guided us into the Devil's Bathtub, where Door County Kayak Tours' staff go cliff jumping. Then we kayaked one by one into a cave!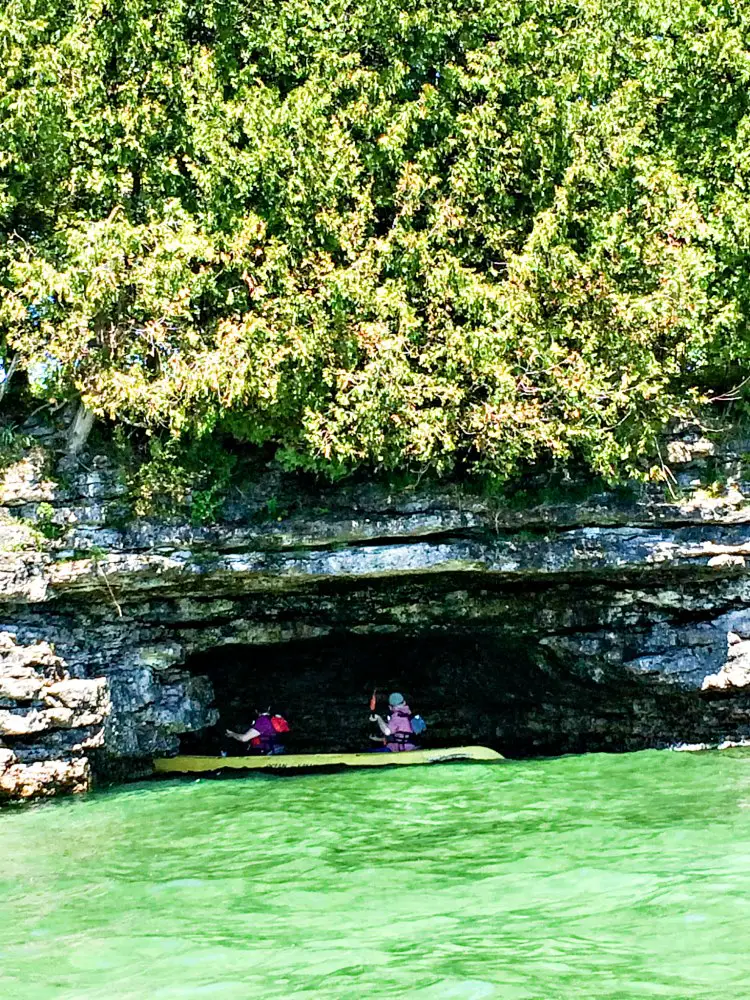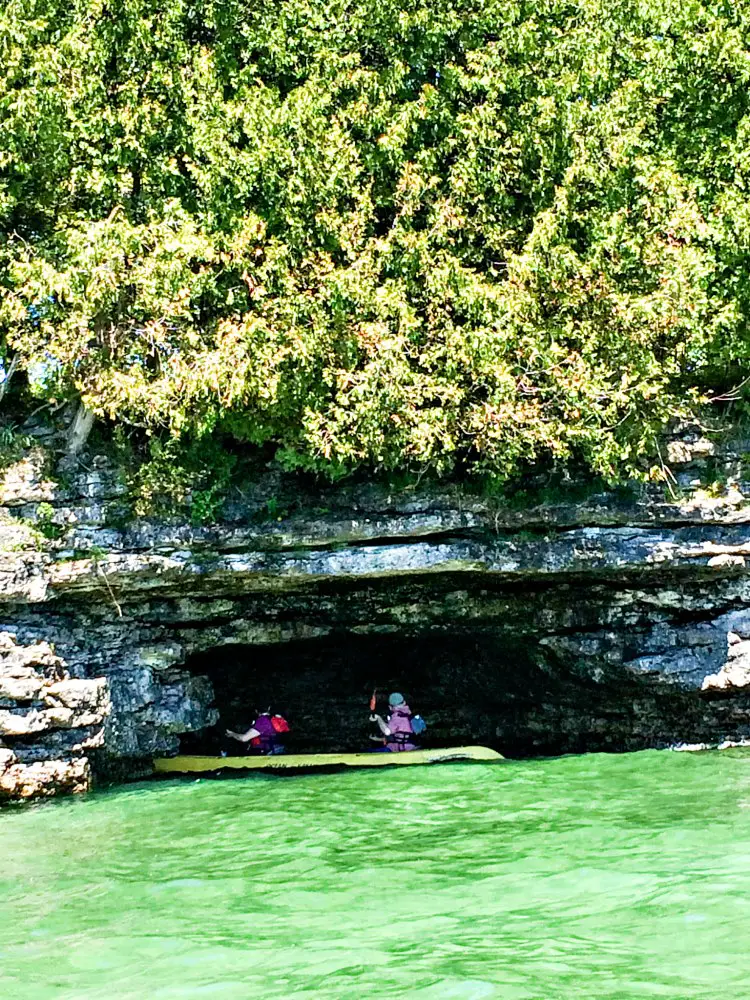 Kayaking into a thousand-year-old cave was truly unique. You can't see inside these caves from the shore, and watercraft larger than a kayak wouldn't be able to navigate inside.
After two hours paddling the shore, we returned to the launch site and boarded the bus back to the meeting point. The staff took care of loading the kayaks. Altogether the tour takes about three hours with two spent on the water.
Wondering what you should wear and bring kayaking?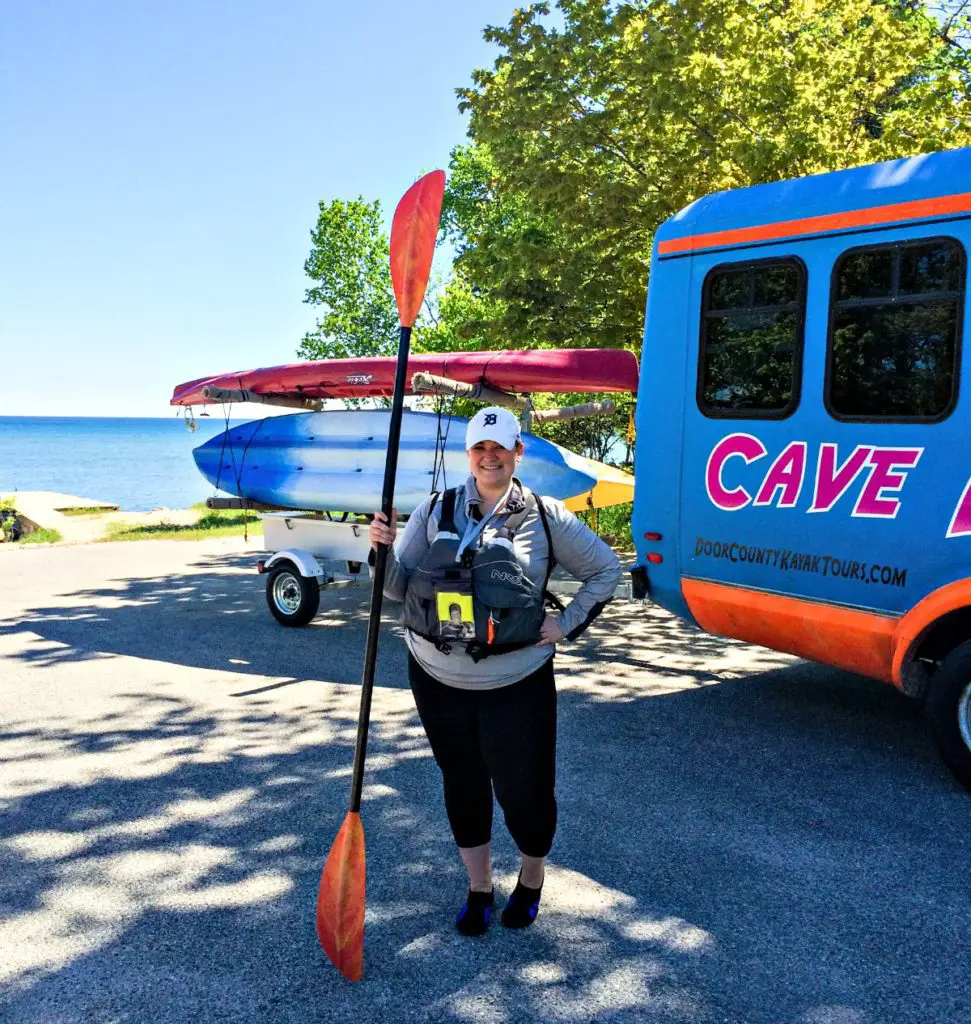 I've now kayaked four times, so I've learned through trial and error which clothing and gear work best on kayaking trips. So, here are my tips for what to wear and bring on your kayaking tour:
Life vest — This will be provided by Door County Kayak Tours.
Footwear — Sometimes when kayaking, you need to step into the water to get into and out of your kayak. Therefore, you should wear footwear that can get wet or kayak barefoot. Please note, you will have to walk from the bus to the launch point, so I wouldn't suggest going barefoot then. The guides will likely have a dry bag where you can store your shoes, but I prefer water shoes.
Swimsuit — Though you are unlikely to get drenched while kayaking, you will get wet. You might splash some water into your seat as you step into the kayak, and water will drip off your paddle. For women, a swimsuit bottom is a great base layer. Men might find swim trunks best for kayaking.
Dri-fit or light layers — I usually wear workout capris over my swimsuit bottoms whenever I kayak because they are made of fast-drying material. Since my cave tour started in the morning, I layered an Under Armour T-shirt with a lightweight workout jacket. Wear what is comfortable for you considering the temperature, but keep fast-drying clothing in mind when planning your outfit.
Sun protection — You'll get the sunshine's reflection off the water, so waterproof sunscreen is important. I wasn't about to lose my Kate Spade sunglasses to Lake Michigan, so I opted for a baseball cap. You might consider wearing a cheap pair of sunglasses or attaching a strap to your shades.
Waterproof phone pouch — You'll definitely want to take some photos of your cave kayak tour! I protected my phone in a waterproof pouch attached to a lanyard around my neck. I bought mine at Bed, Bath & Beyond, and it has a little flotation device, too.
Car key in a zippered baggie — You will obviously need to get back into your vehicle, but otherwise keep your personal belongings locked in your car. Pack a Ziplock bag to protect your car key's remote lock from water. If you don't have a zippered pocket or space in your waterproof phone pouch for your key, place it in the guide's dry bag.
Form of payment — I remember people filling out payment forms on the bus, so you might need to bring your payment with you. Rather than risking your entire wallet getting stolen, lost, or wet, just bring exactly what you need. You can also keep this in your waterproof pouch or in the zipped plastic bag with your car key. If you plan to tip the guides, you will have time to go back to your car after your tour.
A cautionary tale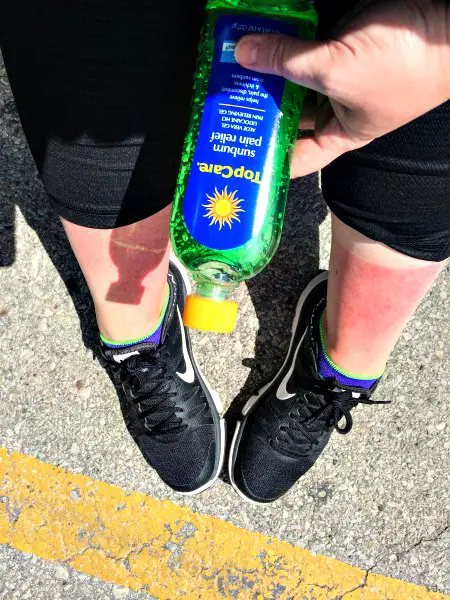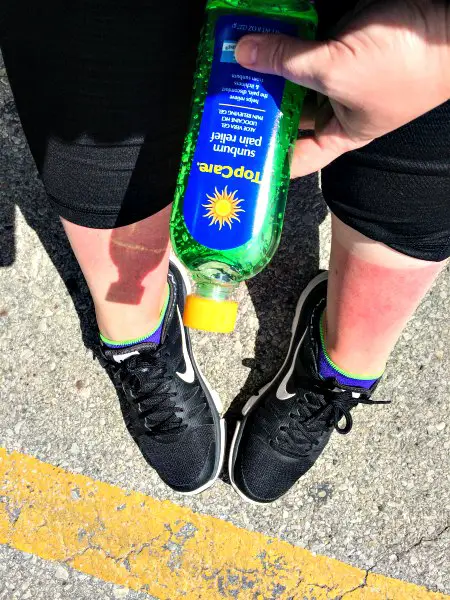 I have been sporting the most ridiculous tan line all summer thanks to forgetting to put sunscreen on my lower legs. I also hadn't packed aloe vera for this trip. That is a pale-skin fail if there ever was one. If you find yourself in a similar situation, the Piggly Wiggly in Sister Bay is where I tracked down this much-needed aloe.
You know what? I sport my lower-leg tan like a badge of honor. Every time I catch a glimpse of it, I remember the fun I had on my kayak tour. It was definitely worth my goofy reverse sock-line tan!
Book Your Door County Kayak Tour!
If you want to book a cave kayak tour or see which other tours are available, check out the Door County Kayak Tours website.
Read More About Wisconsin
Save this guide to kayaking in Door County to your Wisconsin, kayaking, or travel boards on Pinterest for future reference!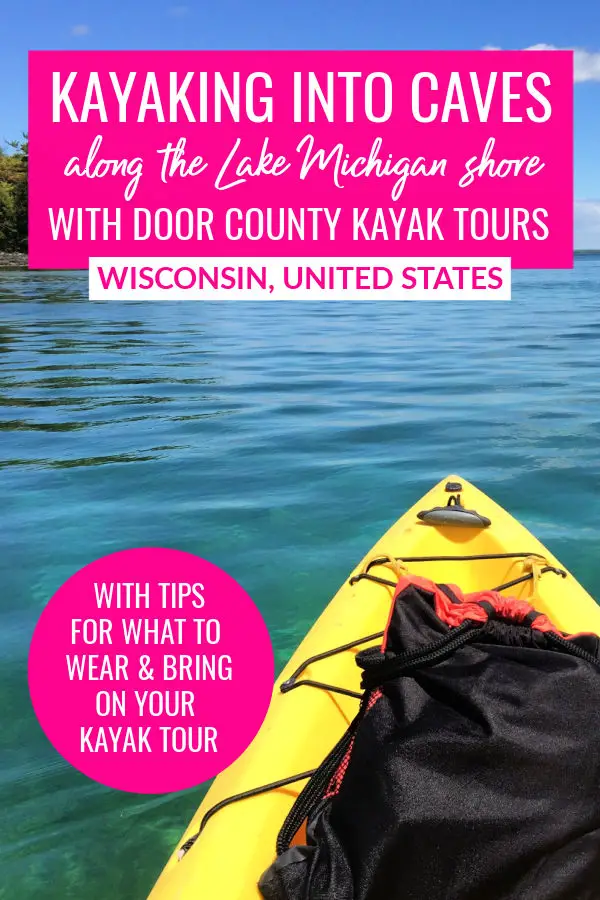 What's the most unique kayaking trip you've taken?
Tell me about it in a comment below!
Save
Save
Save