Dreaming of a romantic honeymoon in Costa Rica?
In this guest post, Costa Rica travel expert John Rabenau, co-founder of Costa Rica Escapes, shares how to plan your dream Costa Rica honeymoon.
With the following tips, you and your (future) spouse can soak in hot springs, hike over hanging bridges, and watch stunning sunsets together in this tropical paradise!
Disclosure: This guide to planning a Costa Rica honeymoon contains affiliate links. I may earn a commission if you click on and make a purchase from one of these partner links. 
---
Many newly married couples look to Costa Rica for their dream honeymoon. From its breathtaking mountains and rainforests to its stunning beaches, there are many romantic places in Costa Rica to consider when planning a honeymoon.
In 2021 alone, over 1.3 million tourists visited Costa Rica to enjoy its awe-inspiring landscapes, diverse activities, and beautiful sunsets. 
When it comes to planning a honeymoon in Costa Rica, you'll want to keep certain things in mind. Here are a few tips that can help make your dream honeymoon come true.
Research Costa Rica Honeymoon Destinations
Before planning your Costa Rica honeymoon itinerary, you'll want to research the most romantic places in Costa Rica.
Some of the best places to honeymoon in Costa Rica include Tamarindo, Arenal Volcano, and Manuel Antonio. Each destination offers something different and unique for couples looking to have a romantic experience.
For instance, Tamarindo is a beautiful seaside resort town and is perfect for couples looking to enjoy the beach and some strong, serious surf. It's home to leatherback turtles and the Marino Las Baulas National Park. With howler monkeys, parakeets, and large iguanas, Tamarindo is a beautiful place to explore wildlife.
But what if you want something more modern? What if you're looking for something more low-key and peaceful?
Consider researching different honeymoon destinations in Costa Rica until you find what's best for you and your partner.
Check Safety Precautions
In addition to researching the best Costa Rica honeymoon destinations, you'll want to ensure the cities where you're traveling are safe.
A good way to do this is to look at travel advisories for Costa Rica. While the country is relatively safe, the U.S. Department of State recommends exercising increased caution when traveling to certain areas in Costa Rica.
By researching travel advisories, you can plan your honeymoon and feel secure knowing you're traveling in safe areas.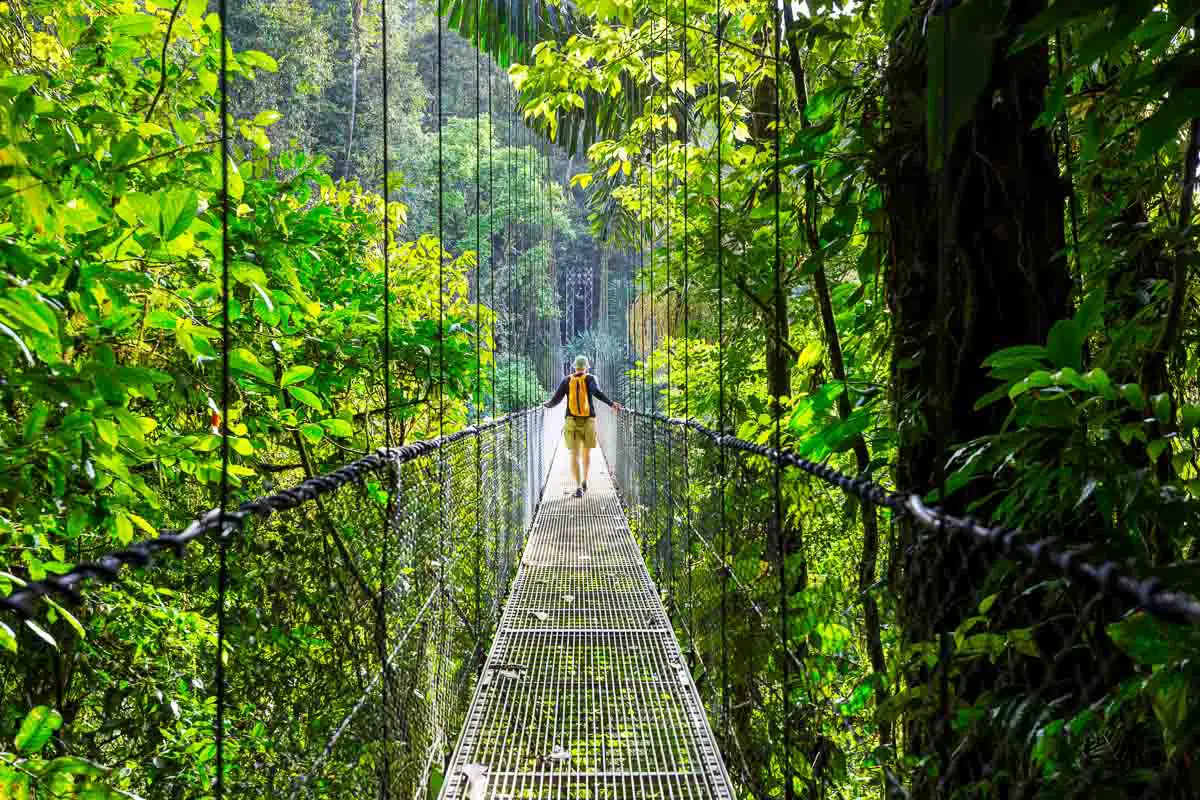 Choose Your Activities
Once you've chosen your destination, it's time to decide which activities you would like to do during your honeymoon. Make sure you research activities in advance and plan your budget accordingly!
You might consider booking the following activities for your Costa Rica honeymoon based on your and your partner's preferences.
Adventurous Activities in Costa Rica
Costa Rica offers plenty of thrilling outdoor activities, like:
Hiking
You and your spouse can hike at Arenal National Park, Braulio Carrillo National Park, Cahuita National Park, Carara National Park, Corcovado National Park, Manuel Antonio National Park, Poas Volcano National Park, Rincon de la Vieja Volcano National Park, Santa Rosa National Park, and/or Tenorio National Park.
During your hike, you can see animals unique to Costa Rica and get in some heart-pumping exercise while spending quality time with your better half.
Interested in hiking with a guide? Here are some of the top-rated guided hikes to book for your Costa Rica honeymoon:
Snorkeling
Snorkeling is a fun activity to try if you and your spouse want to get in the water and see animals in the ocean up close!
You can join a group of honeymooners or request a private session.
Consider booking one of these top-rated snorkeling excursions in Costa Rica:
Touring Volcanoes
A tour of Arenal Volcano is an adventurous and thrilling experience you and your partner won't forget!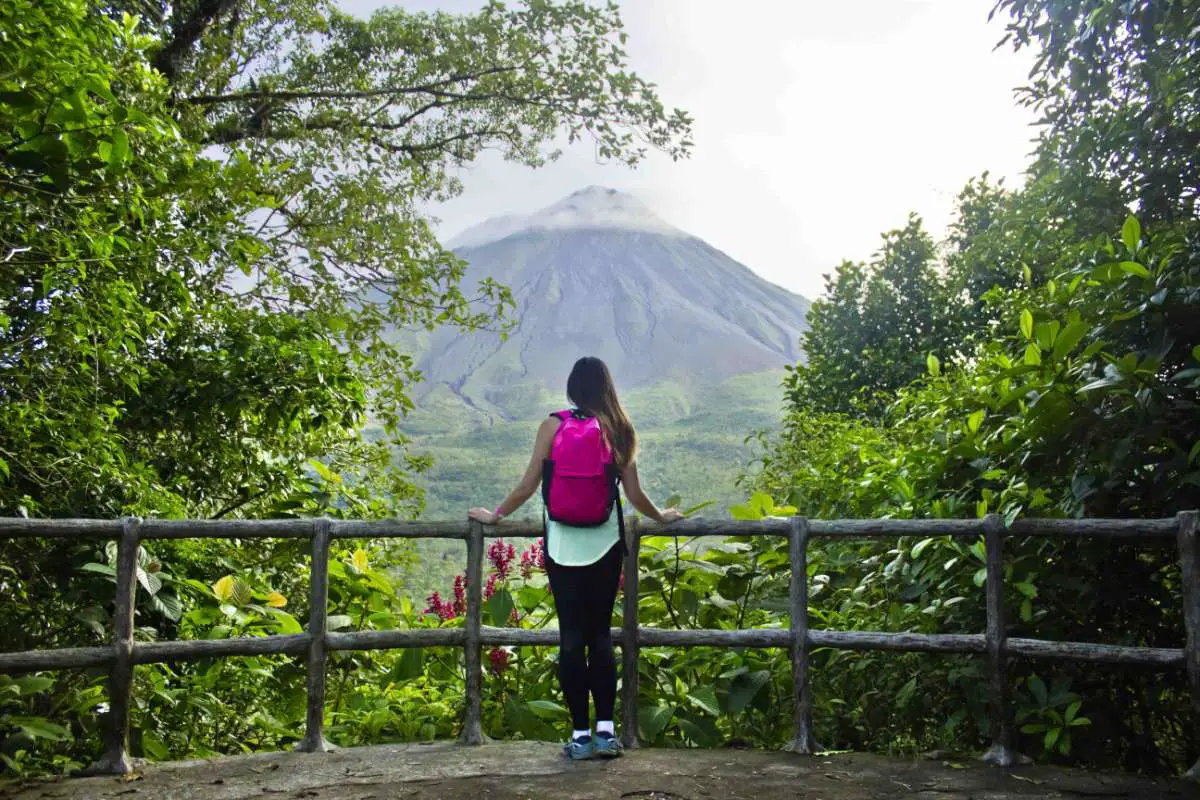 Relaxing Activities for Your Costa Rica Honeymoon
If you're looking for a more relaxed vacation, then consider:
Kayaking
This relaxing activity is a great way to get out on the water. All you have to do is steer yourself, and you can even use a double kayak so you can enjoy this activity with your spouse.
Consider booking one of these top-rated kayaking activities in Costa Rica:
Sunbathing
There is nothing more relaxing than spending time on the beach. With an umbrella, sunscreen, and your favorite swimwear, you and your spouse will love this peaceful time together on your honeymoon.
Soaking in Hot Springs
There are several hot springs throughout Costa Rica to check out. One evening may include this picturesque activity after a long day in the sun.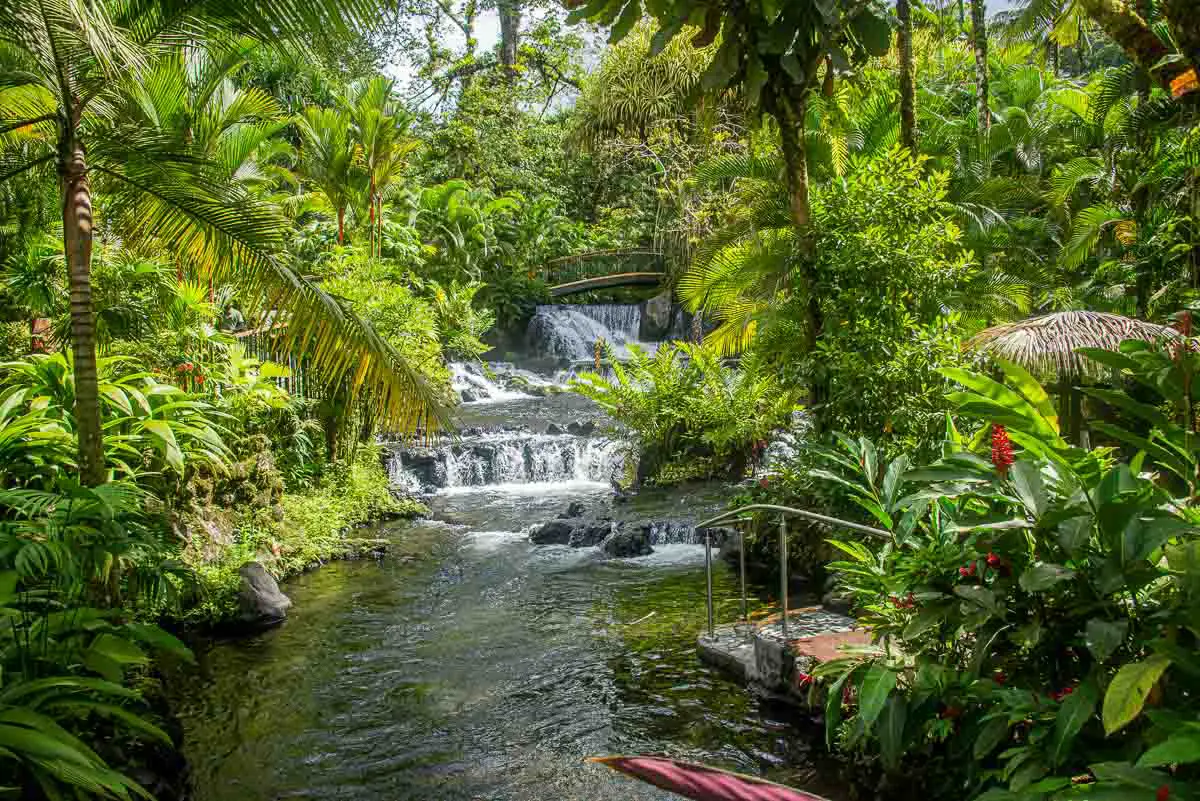 Romantic Activities for Honeymooning in Costa Rica
There are also a number of romantic activities in Costa Rica, including:
Dining
Enjoy a romantic dinner along the beach or in a quaint town in Costa Rica. You won't be disappointed with so much fresh and tasty food to choose from!
Restaurante Silvestre in San José is considered a top choice for fine dining in Costa Rica. It is the perfect restaurant for a quiet and romantic honeymoon dinner.
Sailing
If you've never sailed before, this activity will be thrilling and romantic for you and your new spouse. Enjoy intimate time on the gorgeous ocean!
Here are some of the top-rated sailing activities in Costa Rica:
Watching the Sunrise or Sunset
There are fewer activities more amorous than quietly watching the sun rise or set while sitting on the beach. You can pack a picnic breakfast or dinner and get swept up in the gorgeous sky together.
Talk to Your Partner
Of course, don't forget to talk to your partner about the type of honeymoon you both want!
You'll want to ensure both of you are comfortable with your plans and that your spouse-to-be doesn't feel too much pressure or responsibility. Discussing activities ahead of time will help ensure a smooth trip.
It's also important to discuss expectations as well. For instance, if your partner wants to swim off the coasts of Costa Rica, it's important to consider a few things. This includes researching the best beaches for swimming and bringing appropriate clothing as well as any safety gear you may need.
Once you've discussed all your plans and expectations with your future spouse, it's time to finalize your dream honeymoon!
You'll want to be sure to book flights early to get a head start, which brings us to our next tip for planning a dream honeymoon in Costa Rica.
Book Your Honeymoon Accommodations Early
Since Costa Rica is such a popular honeymoon destination, the best Costa Rica honeymoon resorts tend to fill up quickly.
Therefore, if you want to stay at one of the most romantic hotels in Costa Rica, you should make reservations as soon as possible to ensure you get the best deals and accommodations.
Once you have a better idea of where you'd like to go, start searching for the best hotels in that area. A good time to book would be at least six months in advance; this will help you get the best price and guarantee that your spot is reserved.
Additionally, make sure to look for deals, such as early booking discounts or all-inclusive honeymoon packages. These can save you a lot of money and ensure that you have a great honeymoon experience without breaking the bank!
RELATED POST: Dreams Las Mareas Costa Rica Resort Review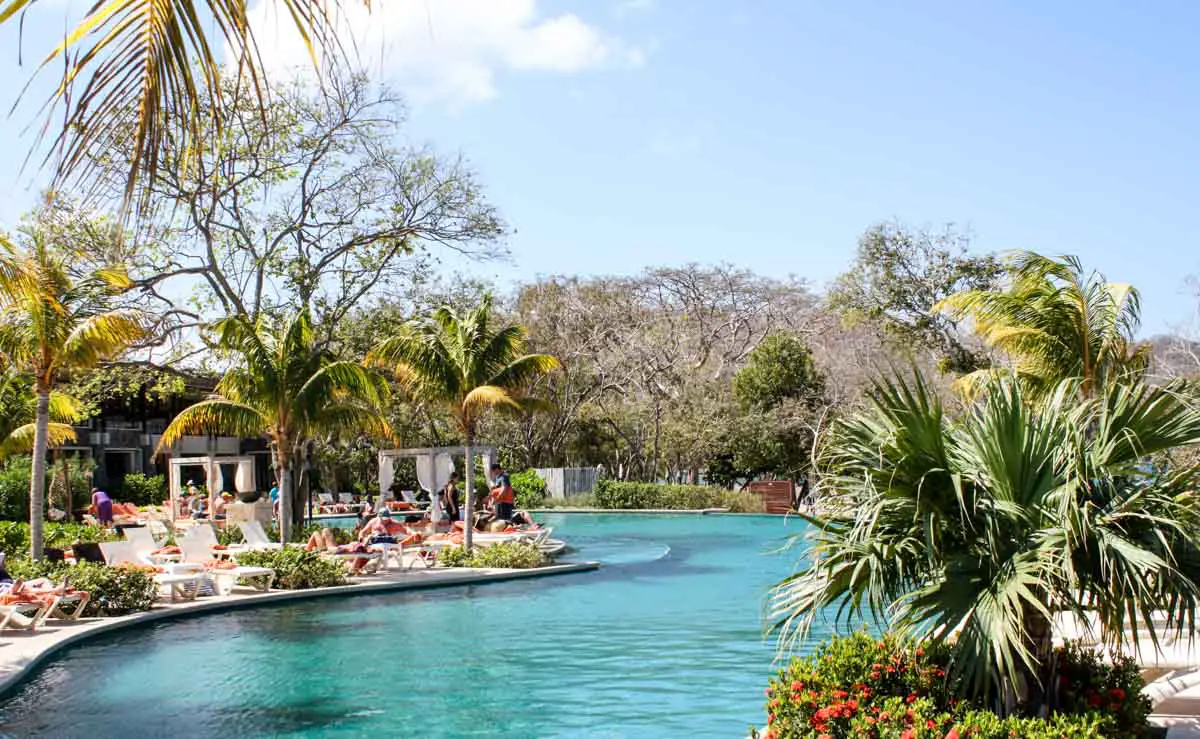 Plan Transportation for Your Honeymoon in Costa Rica
Buses are by far the cheapest way to get around Costa Rica, especially if you're traveling on a budget after throwing a wedding.
Additionally, buses are safer than other transportation options and can save you time by avoiding traffic. Plus, Costa Rica is known to have one of the best public transit systems in Latin America!
Travel Tip: You'll want to ensure you have coins and cash on hand to travel around.
However, if you're looking for something more private and luxurious, then consider renting a car or hiring a driver. This will give you greater flexibility and control over your itinerary, and it can often be more affordable than you'd think.
Drivers usually operate by driving single, large pool vans. Any cost will be split among all the passengers in the van, so you won't have to worry about paying a large sum for transportation.
Whether you choose to get around by car or bus, make sure that you plan out your ground transportation and purchase tickets ahead of time to avoid any last-minute hassles.
Of course, another great way to travel is simply to bike or walk around the country. This allows you to explore and take in the beautiful landscapes of Costa Rica from a different perspective!
Reserve Guided Tours and Permits in Advance
If you're looking for a unique and memorable honeymoon experience, then consider booking one or more tours.
Costa Rica is home to many incredible natural sites, such as Arenal Volcano, Tortuguero National Park, Cahuita National Park, Monteverde Cloud Forest Reserve, and Manuel Antonio National Park.
Visiting any of the aforementioned parks would make for a great honeymoon experience, so consider looking into guided tour packages.
Also, it's important to note, many of these parks require some form of reservation or permit from the local tourism board, and fees can vary depending on the park.
Therefore, you should make sure to research each park in advance and plan accordingly; this will help you save money and ensure that your trip runs smoothly.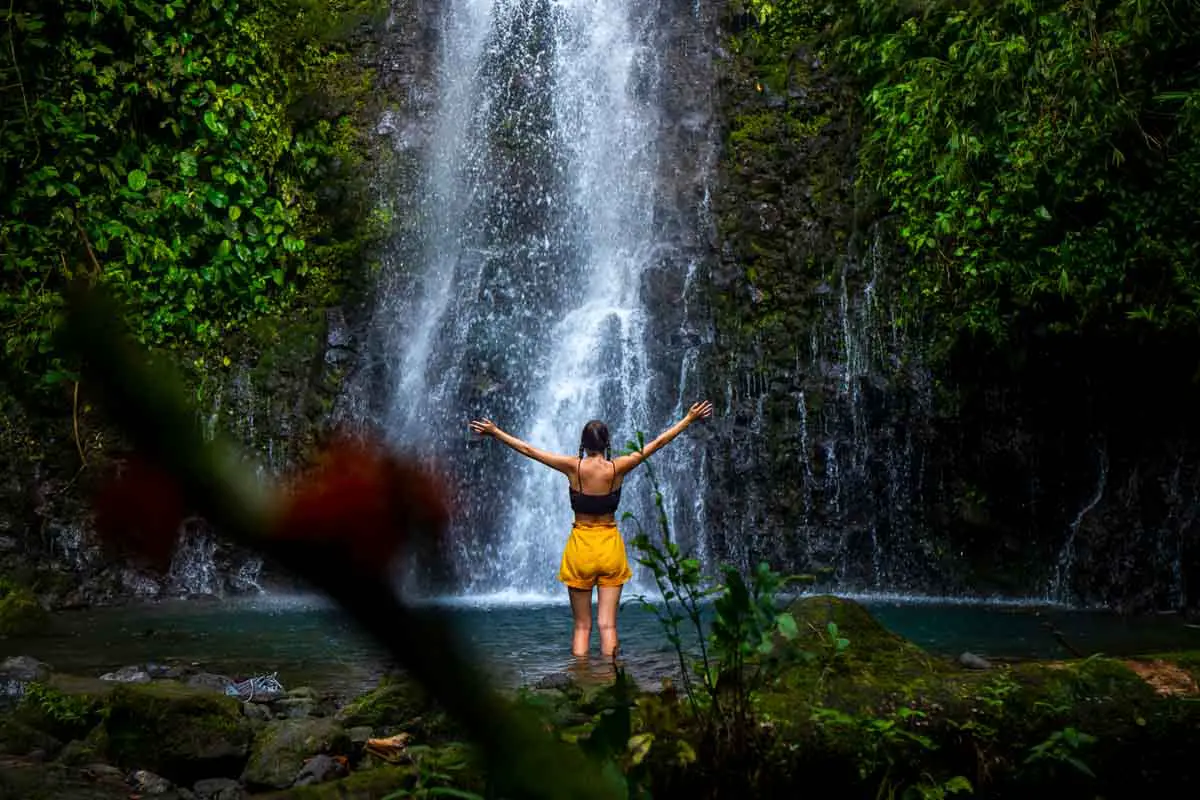 Plan Your Dream Honeymoon to Costa Rica Today!
Planning a dream honeymoon in Costa Rica doesn't need to be a daunting task. With careful research and preparation, it's definitely doable!
For a smooth honeymoon-planning experience, you might consider hiring a travel agent who understands the ins and outs of Costa Rica travel. Travel agents also often have prepared honeymoon itineraries.
Be sure to book flights early to save money on airfare and look for deals on the most romantic resorts in Costa Rica. Additionally, research activities in Costa Rica so you can plan out your budget accordingly.
Finally, remember to book any tours or permits you need in advance, as they may require planning and reservations.
With these tips, you're sure to have a perfect honeymoon in Costa Rica!
About the Guest Blogger
John Rabenau is the co-founder of Costa Rica Escapes. He spends his time between Turrialba, Costa Rica, and Park City, Utah. John brings a business degree and years of experience working for various organizations throughout North and Central America to his leadership at Costa Rica Escapes. Learn more about John and Costa Rica Escapes here!
Read More About Costa Rica