For you last-minute planners, I've got your Thanksgiving appetizer right here — spicy sweet potato bites!
Biting into this delicious finger food, you'll get a little sweetness from the potato, a little heat from the La Terra Fina Chunky Artichoke & Jalapeño dip, and just mmm, mmm, goodness from the applewood-smoked bacon.
With only three ingredients, these spicy and sweet bite-size snacks are also easy to prepare. That's perfect for entertaining on Thanksgiving since you already have plenty going on in the kitchen!
When you go grocery shopping this week, you'll just need to pick up a couple extra sweet potatoes, applewood-smoked bacon, and a container of La Terra Fina Artichoke & Jalapeño dip. All of La Terra Fina's dips and spreads are available at Meijer stores in Michigan. To find a retailer that carries La Terra Fina's products near you, check here.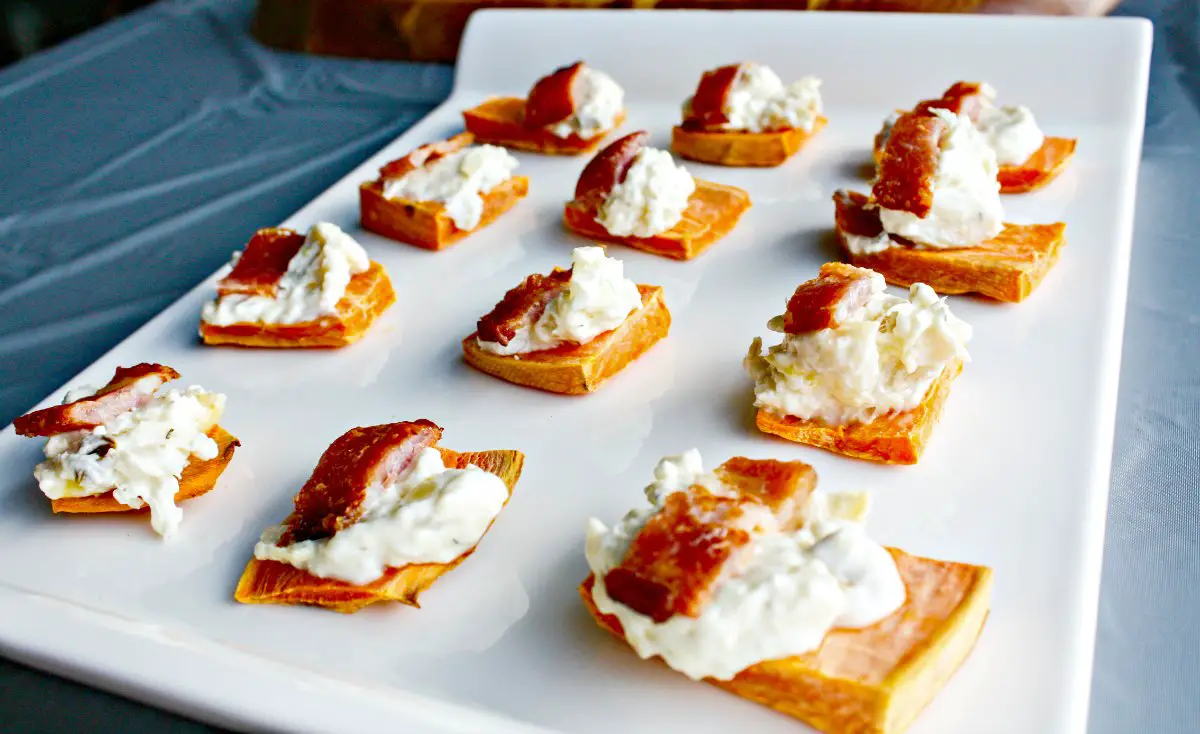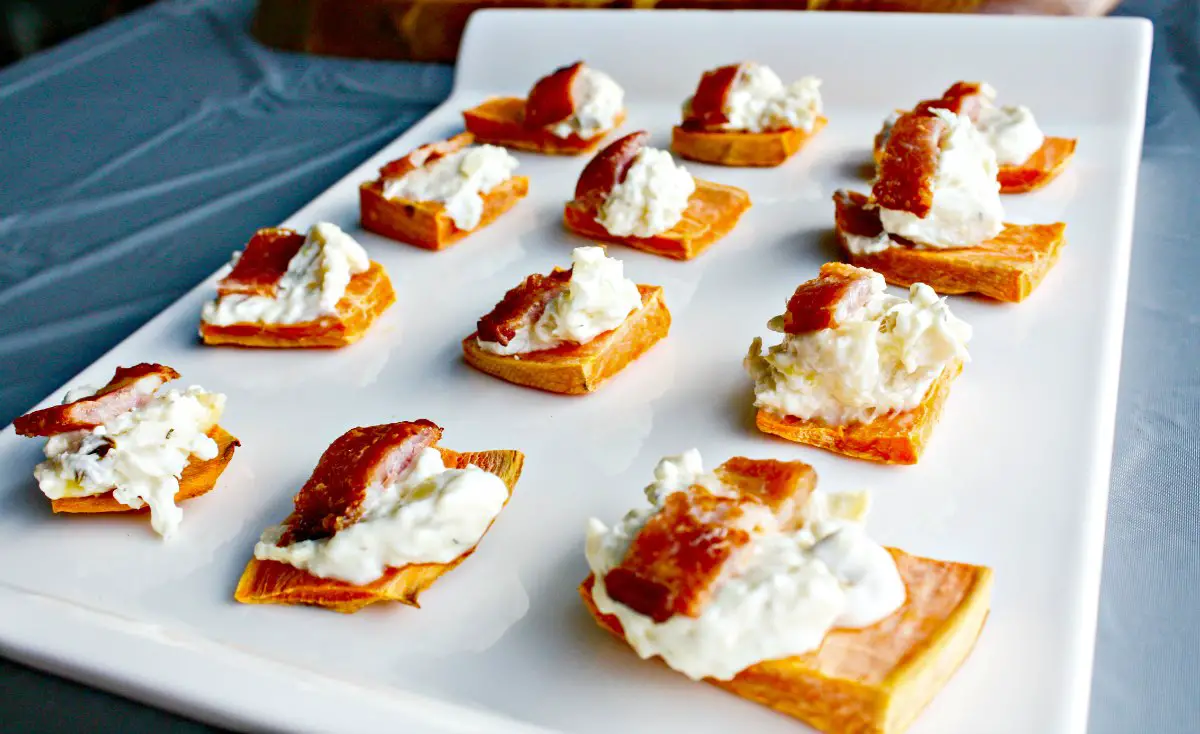 Not only are these tasty hors d'oeuvres fantastic for stress-free entertaining on Thanksgiving, they were a big hit with the lovely Grand Rapids bloggers I hosted last month at my La Terra Fina happy hour. I think they'd also be a great addition to your game-day spread or even as an afternoon snack.
Save this post to Pinterest for future reference!
Spicy Sweet Potato Bites With La Terra Fina Dip
These bite-size snacks are the perfect appetizer for entertaining your guests during the holidays or at your game-day watch party.
Recipe created by Rachel Lehmkuhle, of The Heated Skillet.
Ingredients
2 Medium Sweet Potatoes
1 Container of La Terra Fina Chunky Artichoke & Jalapeno Dip
6 Slices Applewood-Smoked Bacon
Instructions
Pre-heat oven to 400 degrees.
Cut the sweet potatoes length wise about a centimeter thick.
Then cut slabs into 1.5-by-1.5-inch bite-size squares.
Top with a spoonful of the Artichoke Jalopeno dip and set on a lined cookie sheet. Set aside.
Place bacon slices on another lined cookie sheet.
Set both trays in oven.
Cook bacon for 16 minutes and sweet potato bites for 20 minutes.
After removing the bacon from the oven, place the slices on paper towel to remove the excess grease.
Then, using kitchen shears, cut the bacon into one-inch pieces.
When the sweet potatoes have been removed from oven, place the cut bacon pieces onto each sweet potato bite.
https://www.epicureantravelerblog.com/spicy-sweet-potato-bites/
Disclosure: I'd like to thank La Terra Fina for sponsoring this post and Rachel Lehmkuhle, of The Heated Skillet, for creating such a delicious dish. Her food blog will be launching soon. In the meantime, add her on Instagram now!
How will you be entertaining your Thanksgiving guests before dinner this year?
Save
Save
Save
Save
Save
Save
Save