Editor's Note: Ollie Food + Spirits announced in July 2020 it is permanently closing its doors after nearly 10 years of serving seasonal fare, themed brunches, and craft beverages in Ypsilanti, Michigan. 
With a commitment to sourcing high-quality and local ingredients and its seasonal menu of mouthwatering New American cuisine, there is quite a bit to love at Ollie Food + Spirits in Ypsilanti, Michigan. But, it was the craft cocktails that had this foodie traveler swooning.
Yes, those cocktails certainly had me falling head over heels while visiting nearby Ann Arbor, a bonafide food lover's destination. Seriously, you'll see what I mean in my Ann Arbor weekend getaway guide for foodies. However, if my meal at Ollie Food + Spirits is any indication, Ypsilanti is carving out a name for itself in the culinary realm, too.
After dining at Ollie Food + Spirits, I'm thrilled to share this restaurant review with you. In full disclosure, my meal was hosted as part of a year-long partnership with Destination Ann Arbor and the women's travel network Wanderful. During our partnership, I've shared where to eat, drink, and explore in Ann Arbor and its surrounding communities in Washtenaw County, and you can click here to read those posts. Also, if you are interested in learning more about where to eat, things to do, and lodging in Ypsilanti, Ypsi Real is a great resource.
From Cafe To Craft Cocktail Hot Spot
Started in December 2010 as Cafe Ollie by Danielle and Mark Teachout, this Depot Town eatery became a beloved local spot. Fast-forward to 2017, and the restaurant relaunched as Ollie Food + Spirits with a focus on fresh, local, and seasonal food showcasing the "bounty of the Eastern Heartlands" and inventive craft cocktails. The menu features high-quality meats and cheeses, but vegan dishes make up about a third to half of the seasonal menu. With gluten-free options available too, it seems Ollie Food + Spirits has a little something for everyone.
Inventive Craft Cocktails At Ollie Food + Spirits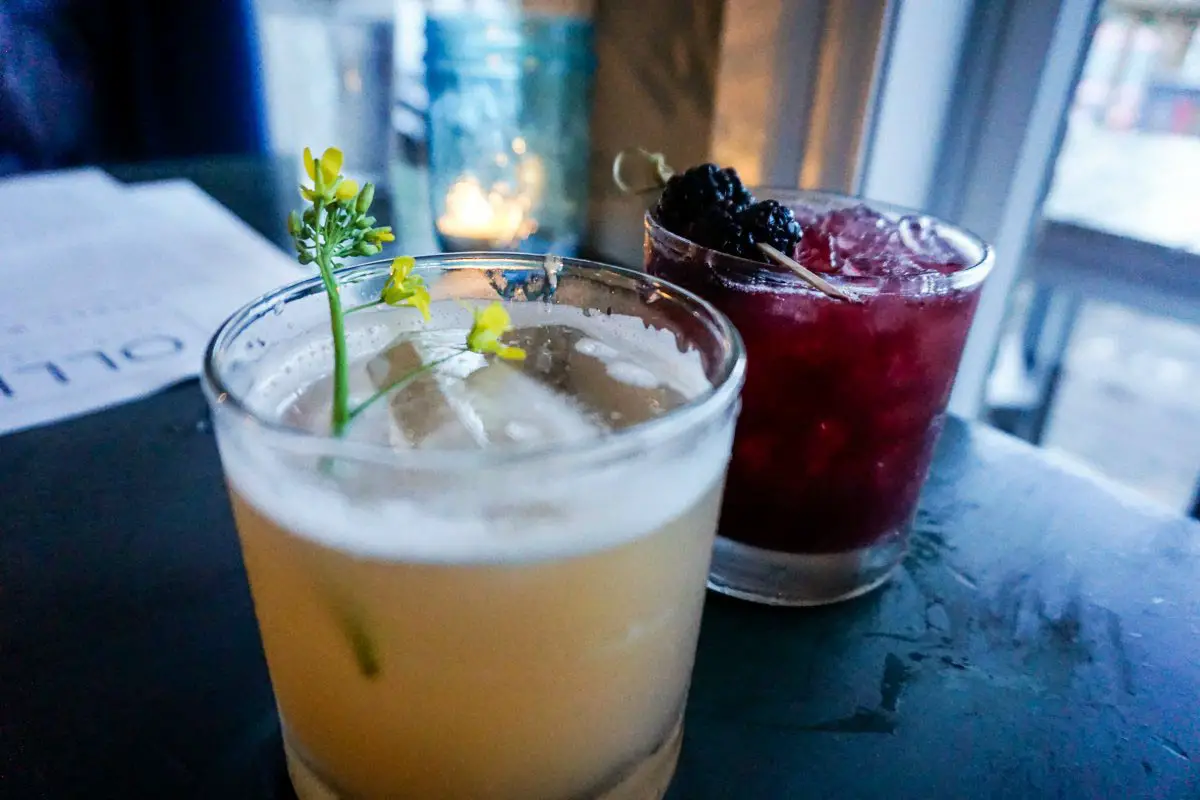 To begin our delicious meal, my dinner companion and I ordered two of Ollie Food + Spirits' specialty cocktails. When the Mind On My Money arrived at our table, I totally had order envy. This tasty cocktail was a magical mix of Michigan-made gin with flavors of fresh grapefruit and honey. Don't worry, I stopped feeling jealous after I tasted my own drink. The Postcard From Affair was a fabulous, fruity, vodka-based cocktail. With fresh muddled blackberries, this well-balanced beverage was also made with lemon, ginger, Bolivar Bitters, lemongrass, and wine-based aperitif Byrrh Grand QuinQuina. I'd happily drink either or both cocktails again. Anyone free for a boozy brunch this weekend?
Seasonal Menu Features Local Ingredients At Ollie Food + Spirits
Seated at the back of the restaurant, we sipped our cocktails as we mulled over the small plate options. Ultimately, we decided upon the tender hand-formed lamb meatballs. They were served with rose-scented yogurt and feta cheese from nearby Chelsea-based Fluffy Bottom Farms, spiced pistachios, and grilled spring pickles. So yummy!
Moving onto entrees, my dining partner enjoyed Helen's Chicken. This roasted chicken was rubbed in spring herbs. Served on the side was a small salad of greens, radishes, and Fluffy Bottom Farms feta in a paprika vinaigrette. To add to a delicious plate was a hazelnut biscuit with butter and honey.
I'm always a fan of risotto. Naturally, I couldn't pass up a chance to try Ollie Food + Spirits' mushroom + asparagus risotto. It was full of herbs, roasted Detroit Mushroom Company mushrooms, grilled asparagus, fried shallot, and spiced pistachios. Both vegan and gluten free, this spring risotto seemed light and fresh. Overall, I was very pleased with my dinner.
We had to end our tasty dinner on a sweet note, so we tried the dessert of the day. It was a unique blend of flavors combining rhubarb, caramel, and chocolate. From start to finish, I was impressed with the balanced flavors, fresh ingredients, and imagination showcased in these dishes and cocktails. Now, that I've dined here for dinner, I'm even more interested in trying Ollie Food + Spirits for brunch!
As someone who appreciates farm-to-table dining like I experienced at Ollie Food + Spirits, I'd love to know where you've had delicious restaurant meals made with local ingredients. Please tell me about your experience in a comment below, and follow me on Instagram to see where I'm dining next!
If you're looking for more of Michigan's foodie spots, don't miss these posts …
Where have you eaten a delicious farm-to-table meal?