This Lemon Pepper & Asiago Crostini recipe is sponsored by La Terra Fina. As always, all opinions are my own.
Today it's finally fall, but with temperatures in the 90s here in Grand Rapids, Michigan, it sure feels like summer is lingering a little longer. While I'm itching for cooler temperatures so I can wear my fall wardrobe, I do appreciate getting another weekend of grilling and outdoor parties. This weekend I'll be celebrating Oktoberfest with my friends, but last weekend we gathered on my downtown apartment building's rooftop to cheers to the official end of summer.
Celebrating The End Of Summer With La Terra Fina
You might recall that last year I hosted a party for Grand Rapids bloggers where I served appetizers featuring La Terra Fina dips. It was an intimate gathering full of good food and conversation. So, when La Terra Fina approached me to host my friends and fellow food bloggers to celebrate the end of summer this year, I was thrilled. For my End of Summer bash, I served a refreshing and sweet peach sangria. I'll be recreating it for a date night this weekend so I can share the recipe with you soon. Keep an eye out for that!
For the food, I really wanted to showcase how La Terra Fina's dips can easily be incorporated into delicious party appetizers. So, I invited my favorite local food bloggers to bring an appetizer made with a La Terra Fina dip. Their dishes were so creative and downright scrumptious. I filled my plate and would have gone back for second helpings if I wasn't in full-on hostess mode. I'll be sharing a roundup of all their recipes next week. Be sure to check back for that!
Making Build-Your-Own Crostini Keeps Entertaining Fun And Stress-Free
For my own dish, I really wanted to feature one of La Terra Fina's newer dips — Lemon Pepper & Asiago. It's three flavors I love all in one dip. Plus, it has artichokes in it! This dip is so delicious on its own, I decided to serve my Lemon Pepper & Asiago Crostini as a build-your-own concept at the party. That way my guests could try it, spread it on a crostini, or add all the accoutrements they wanted.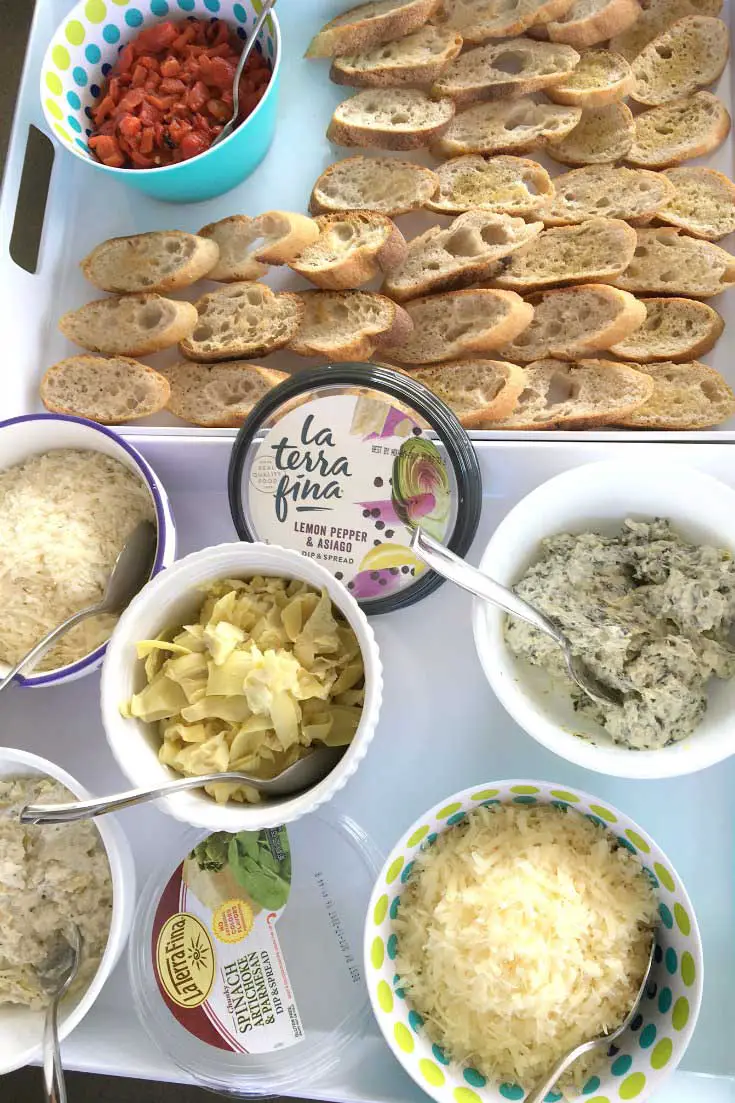 I picked up fresh French baguettes from a local bakery, Field & Fire, at the Downtown Market. Making the crostini was quite simple. I was even able to do it the night before and morning of the party. Having food prepped and done before guests arrive really makes entertaining less stressful, you know?
To make the toasted crostini for a build-your-own concept, all you need to do is cut the baguette into 1/4-1/2-inch slices, brush with olive oil, season with salt and pepper, and bake about 15 minutes at 350 degrees. Super easy!
All of La Terra Fina's dips can be served hot or cold. Since it was 85 degrees during the party, I decided not to heat the dips. I also served the Spinach Artichoke & Parmesan dip, and both tasted great spread across a crostini and topped with freshly shredded cheese. Among the toppings, we had roasted red pepper, artichoke hearts, Parmesan, and Asiago. I forgot to put out the capers, but these things happen when you're hosting a party, right? Regardless, it was a fun and interactive way for my guests to experience the dips!
How To Make Lemon Pepper & Asiago Crostini
The build-your-own concept was so much fun for our outdoor party. But, if you are serving appetizers closer to your kitchen, here is a way you can fully prepare a Lemon Pepper & Asiago Crostini using the La Terra Fina dip.
La Terra Fina Lemon Pepper & Asiago Crostini
Ingredients
1/2 French Baguette
1/4 cup Olive Oil
Salt & Pepper, To Taste
1 Container La Terra Fina Lemon Pepper & Asiago Dip and Spread
1/4 cup Shredded Asiago Cheese
1 Tbsp Capers
Instructions
Set out your container of La Terra Fina Lemon Pepper & Asiago Dip to bring to room temperature
Preheat oven to 350 degrees
Cut 12 1/2-inch slices of French baguette
Arrange the 12 baguette slices on a baking/cookie sheet
Use a pastry brush to lightly brush both sides of each slice with olive oil
Season with salt and pepper to taste
Place in oven and bake for 10-12 minutes
Remove from oven and spread roughly one 1 tbsp of La Terra Fina Lemon Pepper & Asiago dip onto each toasted baguette slice
Place back into oven for 5-8 minutes or until the dip is thoroughly heated throughout
Sprinkle with about 1 tsp Asiago cheese per crostini
Garnish with three capers
https://www.epicureantravelerblog.com/lemon-pepper-asiago-crostini/
Save This Recipe To Pinterest!
This appetizer is so tasty, I was eating it as I was making it and reheated the leftovers for lunch today. The crostini has this fantastic crunch, while the zesty dip get so creamy once it's heated. I love how the lemon flavor shines through. Topped with more cheese — because who doesn't love cheese? — and caper for a bit of saltiness, this crostini has it all.
To reheat, place three on a microwavable plate and heat for 45 seconds on 70% power. This causes the Asiago cheese to melt, and it may be even better this way! If you love melted cheese, you could even add that before the crostini goes back into the oven to heat the dip. I'd still garnish the capers at the end though.
Bon appétit!
As an Amazon affiliate partner, I may earn a small commission if you click on the above ad and make a purchase. This is, of course, at no extra cost to you and helps to sustain this blog.
What is your favorite party appetizer?