Planning to entertain guests this fall and need an easy and crowd-pleasing appetizer? Whether you are hosting football fans on game day or out-of-towners for the holidays, this stuffed sweet peppers appetizer with sharp cheddar and your favorite La Terra Fina dip quickly comes together for a delicious snack you and your guests will love!
Disclosure: I'd like to thank La Terra Fina for sponsoring this post. La Terra Fina provided the serving platter, party supplies, dips, and Meijer gift cards for this blog series. This post also contains affiliate links. When you click on one of these links, I may earn a commission. As always, all opinions shared in this post are my own.
---
Entertaining Made Easy with La Terra Fina Dips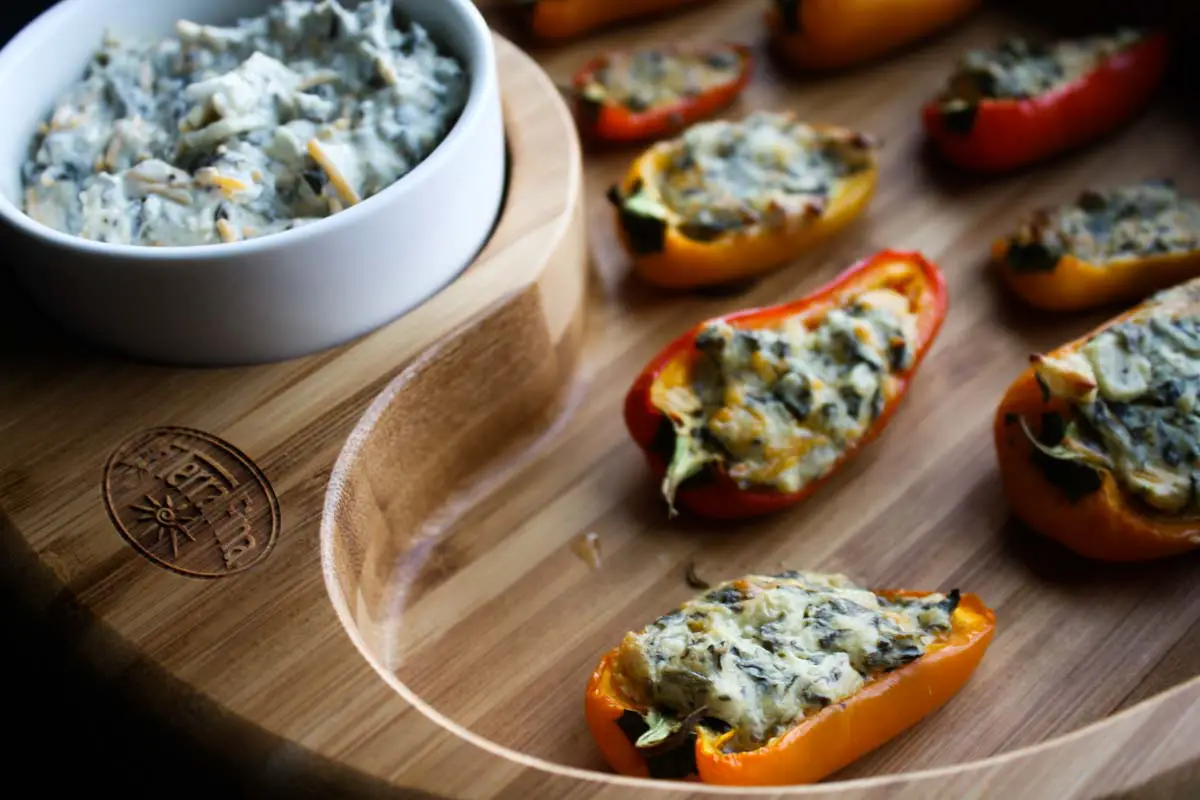 We're heading into that time of year when our social calendars are jam packed. Perhaps you are gathering for a casual game-day get-together next Sunday, or maybe you're hosting a swanky holiday soirée next month.
Just a couple weeks ago I threw my first event of the season — a happy hour of hors d'oeuvres and libations for local foodies at my Grand Rapids apartment. La Terra Fina had asked me to share an original dish featuring one of their dips for my guests to taste.
Of course, it's no secret that I love food. But, when it comes to cooking, I'm still very much a novice in the kitchen. Naturally, anything that can make cooking a delicious dish easier, I greatly appreciate.
Now, imagine all the other tasks that come with planning and hosting a successful event — inviting your guests, making them feel welcome, and all the set up and clean up.
If you've hosted a party, you know what I mean. It's fun to plan an event and to host your friends for a night of good food and conversation, but it's also a lot of work, right? So, I was thrilled that La Terra Fina's dips could so effortlessly be incorporated into tasty appetizers that are quick and easy to make.
Easy Appetizers Made with La Terra Fina Dips & Spreads
Each of the four appetizers I served had no more than four ingredients. And, each dish takes about 30 minutes to prep and cook.
These four simple-to-make, delicious-to-eat hors d'oeuvres were conceptualized by my friend Rachel Lehmkule, of The Heated Skillet.
You can find all of Rachel's recipes for the other three tasty dishes — each featuring a different La Terra Fina dip here: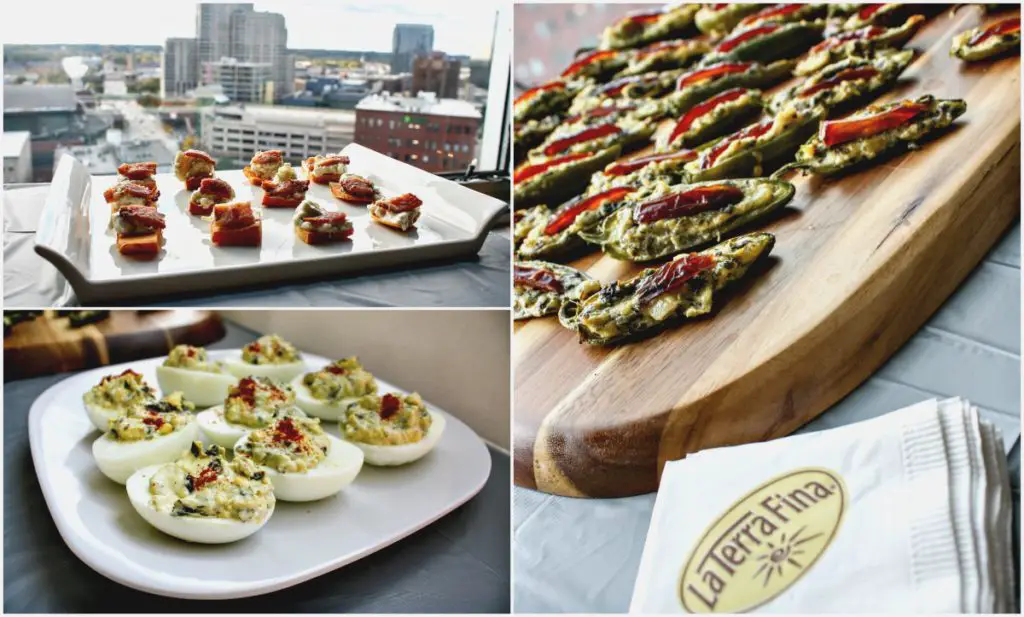 My party guests Maya, founder of a local Grand Rapids website, and Ashleigh, of Dash of Evans and InBooze, called the dishes "delicious." You can see Ashleigh's Instagram photos from the party here and here, and Maya posted this photo with my fantastic view of the Grand Rapids skyline.
How To Make Stuffed Sweet Peppers
What You'll Need: Tools & Ingredients
First, you'll need one mixing bowl, two spoons, a cutting board, and a cookie sheet. You may want to line your cookie sheet or baking pan with tin foil.
This easy recipe only requires three ingredients: mini sweet peppers, shredded sharp cheddar cheese, and the La Terra Fina dip of your choice.
I recommend using the Spinach Artichoke & Parmesan, the Spinach Artichoke & Parmesan made with Greek Yogurt, or the Spinach & Parmesan made with Greek Yogurt dips & spreads.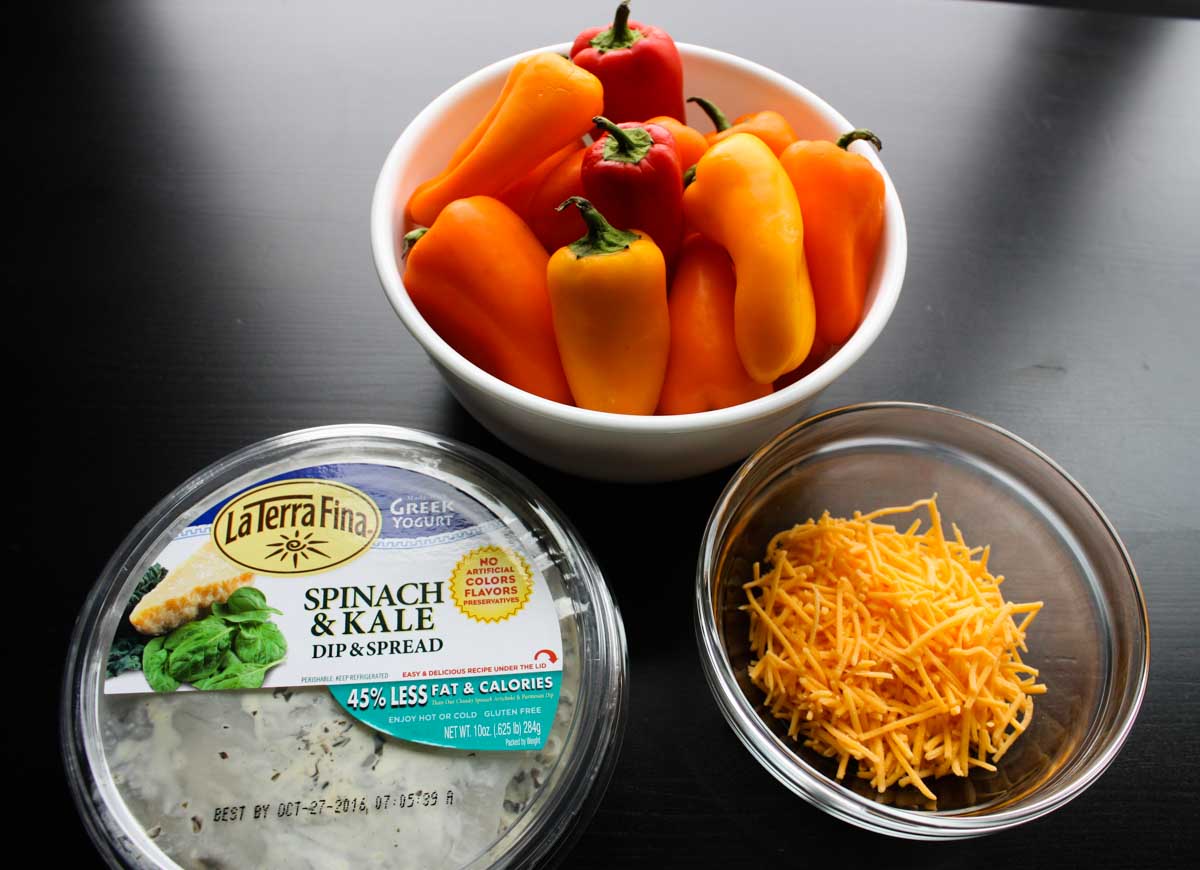 All of these ingredients are available at Meijer stores in Michigan. Since there are multiple Meijer locations within a 15-minute drive of downtown Grand Rapids, this was super convenient for me. You can click here to see where La Terra Fina dips are available near you!
My local Meijer store usually has 2-lb. bags of mini sweet peppers in the produce section. For the party, we used a whole bag of peppers. If you are making this recipe for an intimate gathering, 1 lb. of peppers and one container of dip should do.
Reminder: If you purchase La Terra Fina dips from Costco, the containers are usually larger. My recipe is based on the size you'll find at non-club grocery stores.
Instructions for Making Stuffed Sweet Peppers
To get started, preheat your oven to 400° Fahrenheit.
Rinse the peppers and let dry.
Then spoon the dip into the mixing bowl. Add about 1/2 to 2/3 cup of cheese to the mixture. If you like cheese, you can add more for an even cheesier filling! Then stir it together.
Now that you've mixed the filling together, cut the peppers lengthwise in half from the stem down to the tip. Then, using a teaspoon, scrape the seeds out of the pepper halves. You may want to do this over your kitchen sink, a bowl, or even the empty dip container.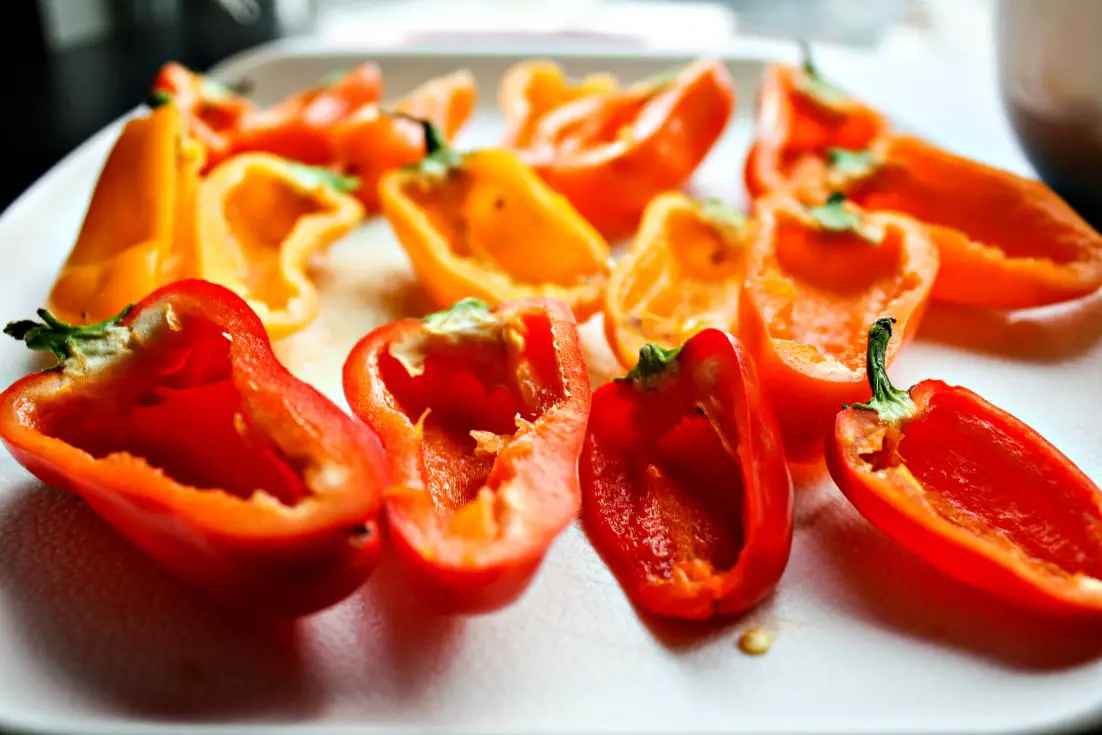 Next, you'll spoon the dip mixture into the pepper halves. Then place them on the cookie sheet.
Once all your peppers are stuffed, place them in the oven until the cheese has melted (about 20 minutes).
I absolutely loved these stuffed peppers. You get a little sweetness and crunch from the peppers, but the filling is cheesy and creamy. So delish!
After the party, I snacked on these for days! They reheat really well, too. I just put a plate of about six of them in the microwave for a minute on 70 percent power.
La Terra Fina Dip Stuffed Sweet Peppers Recipe
La Terra Fina Dip Stuffed Sweet Peppers
Ingredients
1 container La Terra Fina Dip & Spread
1 lb. assorted mini sweet peppers
8 oz. shredded sharp cheddar cheese
Instructions
Preheat oven at 400 degrees Fahrenheit.
Cut the sweet peppers down the center lengthwise in half.
Remove seeds from peppers by scraping out with a spoon and discard.
Mix 1 part cheese with 2 parts dip in a bowl. Add more cheese for a cheesier result!
Fill each sweet pepper half with the mixture and place on a lined cookie sheet.
Place in oven and bake until cheese has melted, approximately 20 minutes.
https://www.epicureantravelerblog.com/la-terra-fina-stuffed-sweet-peppers/
Get More Fall Recipes!
Save this post to your appetizer ideas or recipe board on Pinterest!
What kind of parties will you be hosting this fall?
Save
Save
Save
Save
Save
Save
Save
Save