Traveling through France to taste the local cuisine is a trip I've been dreaming of taking someday. Until then, I will have to settle for tasting French foods and drinks from the comfort of home. Naturally, I was delighted the French Food & Drink Federation sent me a box of gourmet goodies to taste.
How To Taste French Foods At Home
Until I can take that dream trip to eat and drink my way around France, tasting artisanal French food and beverage products at home is the best way to take my taste buds on that journey. The high-quality products in this French Food & Drink Federation box showcase a variety of the foods you could experience around France — from the Mediterranean coast to the southwestern orchards.
Pairing these products with a fresh baguette from your local bakery and Brie or Camembert cheese would round out a French-themed tasting board for a fun date night at home or party platter for your upcoming holiday entertaining.
Inside my box of French food and beverage:
FAVOLS Apricot Almond & Orange Pastry-Inspired Jam
Fruit-forward and delicate, this pastry-inspired jam tasted of apricot, almond, and orange flavors. Whether served at breakfast or afternoon tea, this would pair deliciously with pastries. Traditional tea-time scones, butter croissants, or toasted English muffins would all pair well. During holiday entertaining, this jam would also add a touch of sweetness to a savory cheese and charcuterie board.
Carambar & Co Caramels
Originally created as a mistake recipe in 1954, these Carambar caramel candies have become a significant part of French heritage. They're just the right amount chewy with a sweet caramel flavor. And, I have to say — what a tasty mistake! Carambar Caramel reminds me of Tootsie Rolls — a childhood sweet I loved to unwrap. However, these classic French caramels have an extra surprise I would have loved as a child — jokes inside the wrapper! Beloved both in France and abroad, 2,000 Carambar candies are eaten each minute. I can easily see why. I'd pair these caramels with a hot apple cider or fresh honeycrisp apple slices this fall.
Elixia French Artisan Lemonade
With no artificial flavors, colors, or preservatives, the Elixia lemonade is made with water from the Jura Mountains, pure cane sugar, citric acid, and natural flavors. Light and carbonated with a subtle lemon flavor, this refreshing beverage is like a sip of summer.
Hénaff Pork Liver Confit with Black Pepper
Made only from fresh French pork, pork livers, cognac, salt, black pepper, and spices, this rich and creamy Hénaff pork liver confit has no artificial colors or preservatives. For fans of liver wurst, spreading this confit on a crostini would be a tasty snack.
Les Anis de Flavigny Violet Mints
As someone who loathes the flavor of black licorice and star anise, I feared the worst before tasting these mints. Yet, I was pleasantly surprised. The violet mints are delicately flavored with a delightful sweetness and refreshing floral aroma. Made in France since 1591, les Anis de Flavigny mints come in a variety of flavors. Now, having tried the violet mint, I have to agree with the brand. Indeed, les Anis de Flavigny mints are a very good candy!
Les Mouettes d' Arvor Sardines in Olive Oil
In the United States, tinned fish isn't considered the culinary delicacy it is in Europe. What a shame that is! These les Mouettes d' Arvor sardines packaged in olive oil were delicious eaten straight from the tin. Paired with a chilled glass of white wine, Brie or another soft cheese, fresh baguette slices, and red grapes — you can have an indoor picnic this winter.
Save this post to Pinterest for later!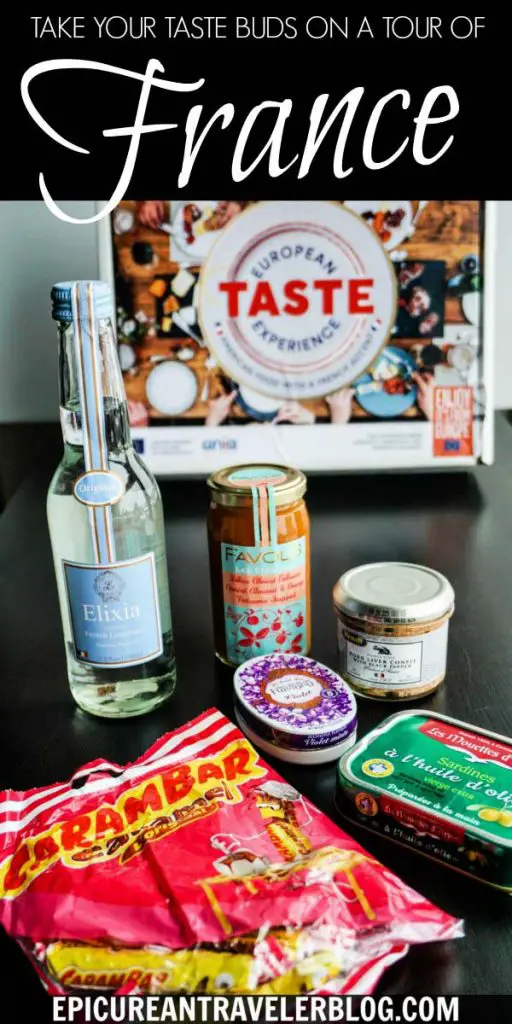 What is your favorite French food or beverage?