When summer gets scorching hot, it's time to cool off! While you could ride out the summer heat in the air conditioning, where is the fun in that? I've got five ideas that will get you outside to enjoy the summer sunshine while still keeping cool in the high temperatures of July and August.
Disclosure: Working with Turkey Hill Dairy, I'm happy to share with you five cool ways to beat the heat this summer!
My Favorite Idea: Eat A Scoop Of All Natural Ice Cream
Ice cream will forever be my favorite summer treat, especially when it's served in a sugar cone. Back home in Dearborn, Michigan, I like to enjoy my scoop on our backyard deck under the shade of the patio umbrella. On my last visit to my hometown, I tried Turkey Hill's All Natural Ice Cream in two flavors. Both the Black Cherry Fudge and the Belgian Style Chocolate were incredibly rich and creamy. They go really well with fresh cherries from our local fruit market, too!
Why I Love Turkey Hill's All Natural Ice Cream For Summer Snacking
What I love about Turkey Hill's All Natural Ice Cream is it's made with the simplest ingredients — milk, cream, sugar, and natural flavors. That means Turkey Hill's All Natural Ice Creams contain no artificial colors, no artificial flavoring, and no stabilizers. The Turkey Hill All Natural Homemade Vanilla flavor has only four ingredients! 
This All Natural line has 20 ice cream varieties including classics like the super creamy Belgian Style Chocolate and fruit-based favorites like Mango, Blueberry, and Blackberry Swirl. When I was recently grocery shopping at Kroger in Dearborn I noticed about a dozen flavors. One of which was my current obsession for all desserts — Salted Caramel. Also stocked was Vanilla Bean and Chocolate — perfect for split households or indecisive ice cream eaters. 😉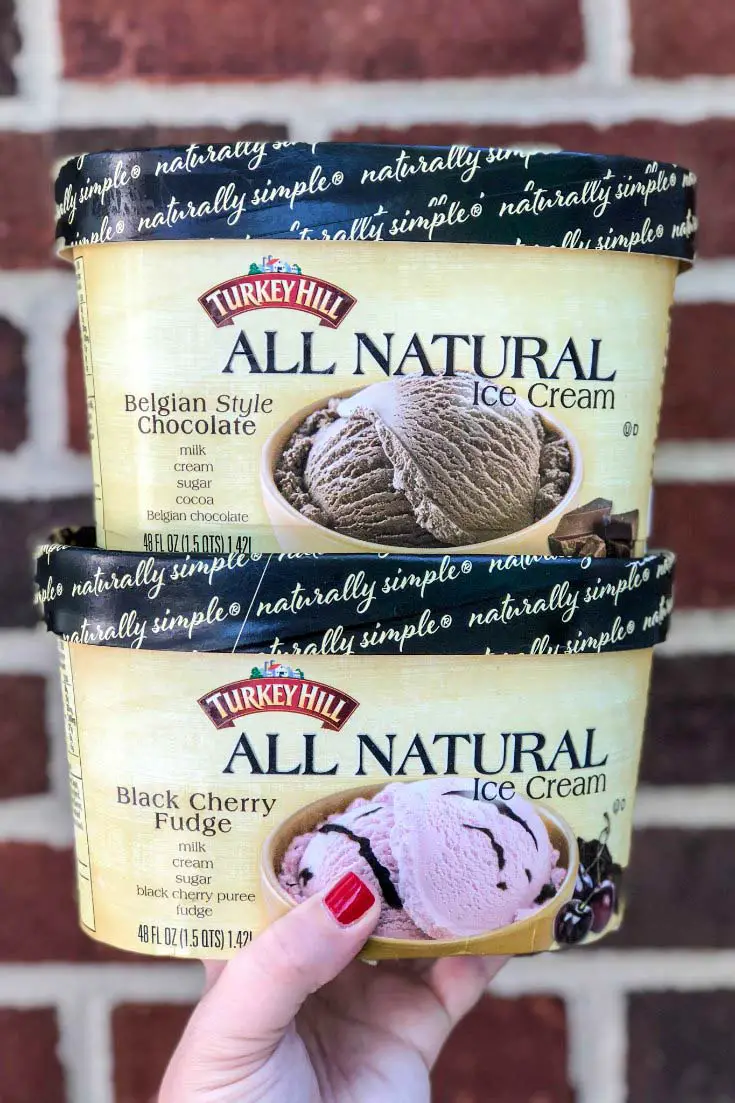 With this All Natural Ice Cream line, Turkey Hill is getting back to its roots. In 1931 Armor Frey started Turkey Hill Dairy, selling milk to his friends and neighbors in Lancaster County, Pennsylvania. A few years later, Frey used the extra milk to make ice cream. Growing from a modest dairy farm to one of the nation's leading producers of ice cream and iced tea, today Turkey Hill products are available in 49 states and a dozen countries around the world.
For more information about Turkey Hill ice creams, visit the dairy online at TurkeyHill.com, on Facebook, or on Twitter. You can find where Turkey Hill All Natural Ice Cream is sold near you by using the Turkey Hill store locator.
Check Out Turkey Hill Ice Cream On The Good Mooed Tour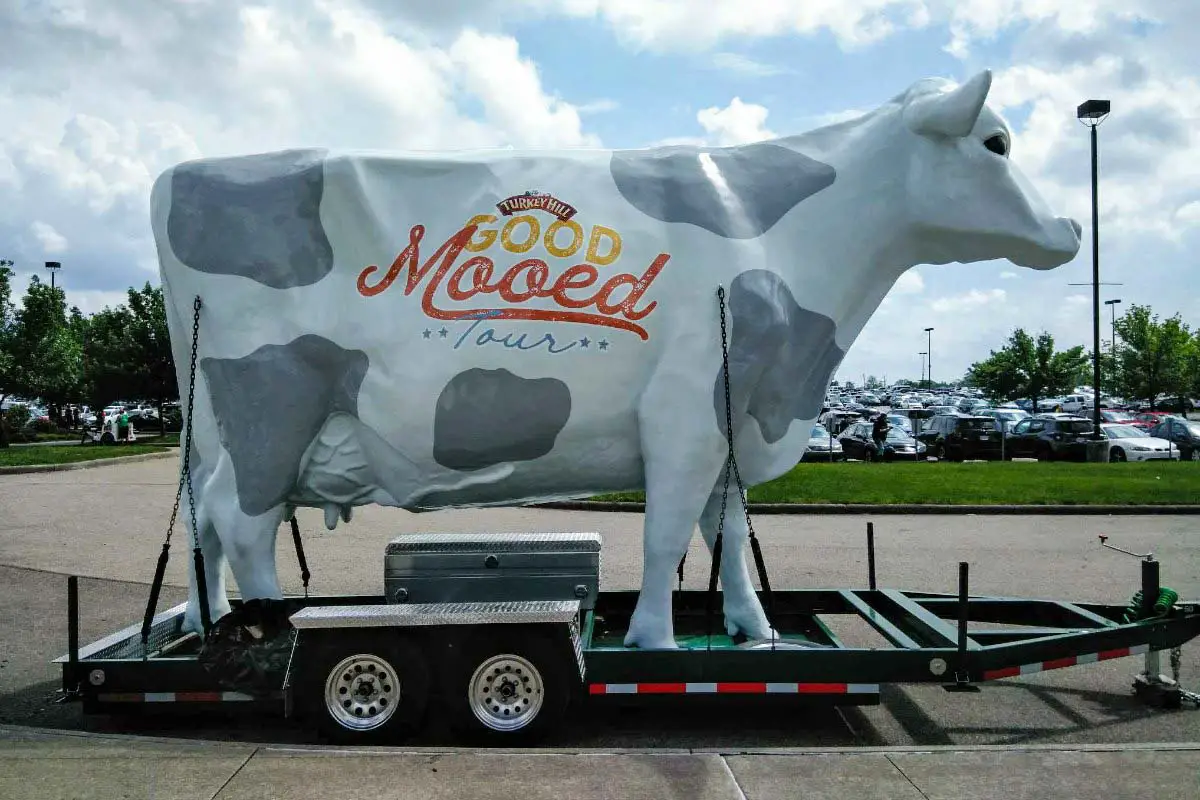 Photo courtesy of Turkey Hill Dairy
This summer you can enjoy free Turkey Hill ice cream and snap a selfie with the cow pictured above at one of the Good Mooed Tour events throughout the Midwest. Check this schedule to see when the Good Mooed Tour is coming to a city near you!
Four More Ways To Cool Down This Summer
Hit The Beach
Here in the Midwest, we are lucky to have the Great Lakes and many inland lakes where we can have a beach day. Make sure you pack a cooler with refreshing snacks and beverages, and don't forget any of these beach essentials!
Take A Dip
On a hot day, there is nothing like hanging at a pool. If you don't have your own pool, check to see if your local health and fitness center offers a day pass to use its pool. Some hotels also offer day passes to use their pools. You could also book a staycation to relax poolside for a couple days.
Kayak Or Float Downstream
If you live near a river, there is a good chance you can rent kayaks to paddle or inner tubes to float down the river. This is such a fun and affordable way to be on the water!
Vacation Somewhere Cooler
A couple weeks ago my family vacationed in Switzerland. We enjoyed plenty of summer weather, but we also visited Jungfraujoch – The Top of Europe. How often do you get to touch snow in July in the Northern Hemisphere? Consider destinations further north or in the mountains for a respite from the heat!
Save this post to your summer board on Pinterest!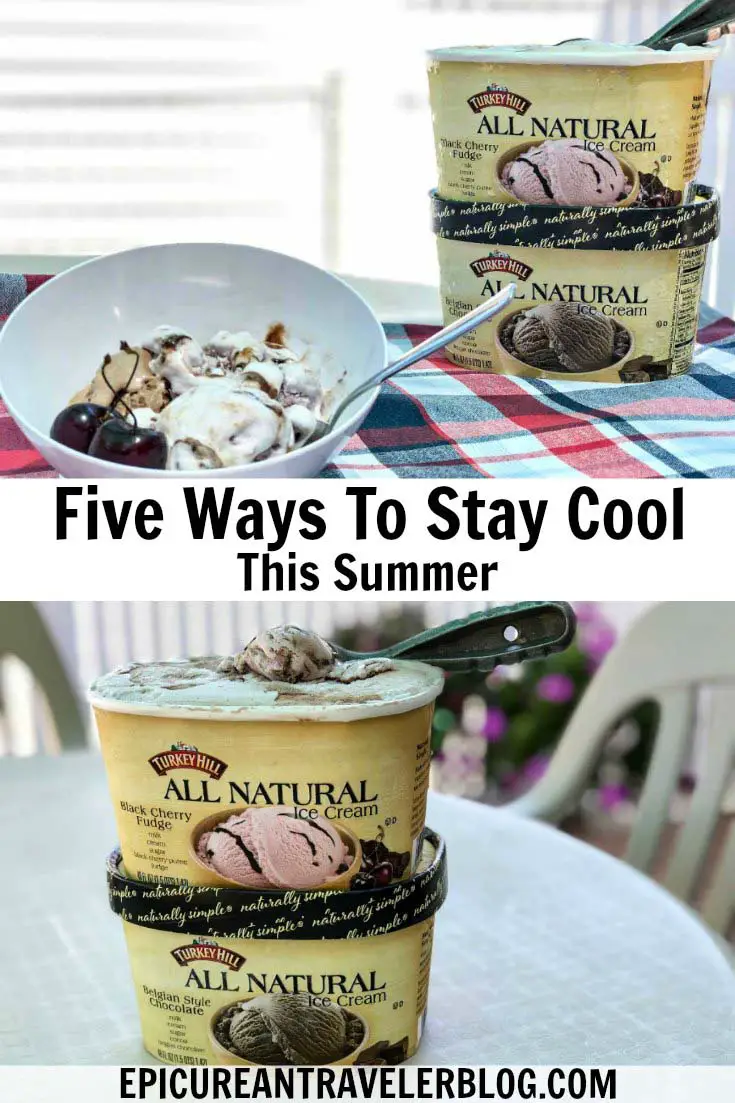 With these five ideas I hope you will be enjoying all the fun summer offers while keeping cool in this heat!
How are you keeping cool this summer?