Happy Anniversary, dear readers! Can you believe it has been one year since we launched?
It feels like just yesterday I was sitting in front of the Christmas tree at my mom's house with a glass of La Crema Pinot Noir. Hunched over my laptop, I was designing the home page of this blog and wondering where 2015 would take me.
It turns out, 2015 would remind me why I am proud of my lovely home state, Michigan, with day trips spent in Holland, Saugatuck, Rockford, and at the Sleeping Bear Dunes.
Yet this year also took me on a quest to experience new places and activities. I visited places where a passport is required, other languages are spoken, other cultures were experienced, and new foods were tasted. It took me to my first blogging conference — and then to two more. I returned places where I once lived and reunited with old friends. Of course, 2015 also took me to these 12 fantastically foodie-friendly destinations …
Disclosure: This round up of where I traveled in 2015 contains some affiliate links. As an Amazon Associate, The Epicurean Traveler earns from qualifying purchases. When you click on one of these affiliate links, make a purchase, or book a hotel, I may earn a small commission that helps sustain this blog. I only share products I'd use myself and hotels where I have or would stay. Thank you for your continued support!
Miami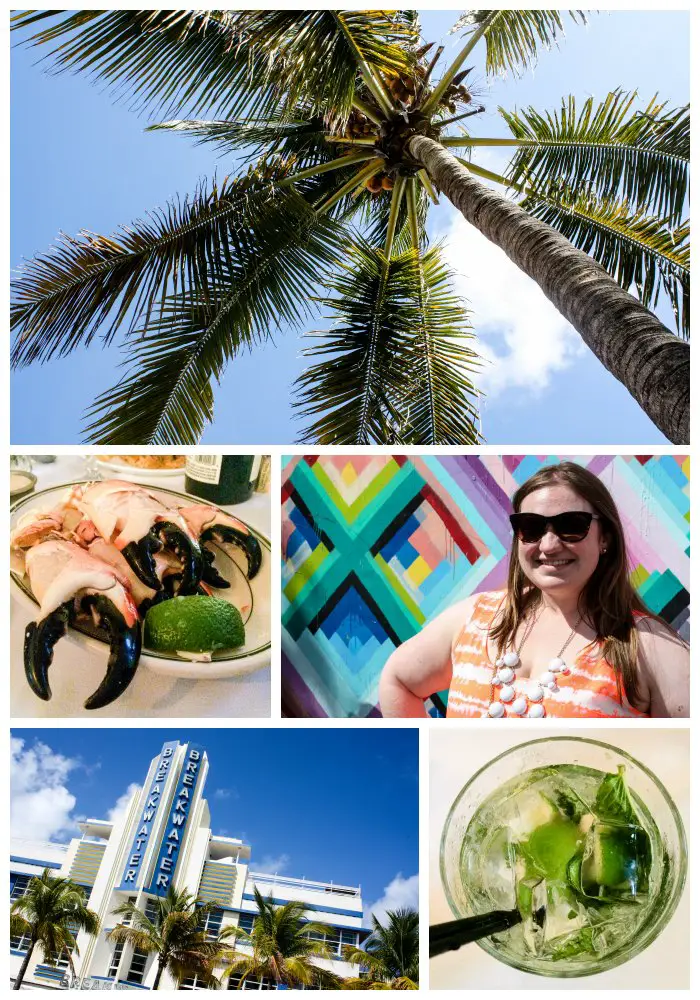 Clockwise from top: Palm tree in South Beach, Me at Wynwood Walls, Mojito at Joe's Stone Crab, Art Deco Hotel Breakwater in Miami Beach Architectural District, Stone-crab claws at Joe's Stone Crab
After checking into the modern and luxurious Grand Beach Hotel Surfside, I kicked off this relaxing family vacation by sipping my first of many mojitos and dining on fresh stone crab claws and the infamous key lime pie at Joe's Stone Crab with my dad, sister and cousin. It was the first of many indulgently delicious meals. We celebrated my birthday with seafood risotto and Tenuta di Trinoro Le Cupole — a Tuscan Bordeaux blend — in the lush garden patio of Casa Tua. We got adventurous, trying the grilled octopus at the Delano. Of course, I also had to track down a Cuban sandwich.
When I wasn't eating, you would probably have found me and my sister sipping mojitos at our hotel's adult-only oasis, a rooftop pool that overlooks the Atlantic Ocean. Coming from a bone-chilling winter in Michigan, I wanted to soak in as much of Miami's sunshine as possible. Therefore, all my touristy activities were outdoors. My dad and I took a fascinating walking tour of the Miami Beach Architectural District's art deco hotels. I explored the colorful murals and art galleries of Wynwood Walls with my friends Greg and Carl. And, with Dad begrudgingly in tow, my sister and I shopped the designer stores of the Bal Harbour Shops, an upscale open-air mall.
Click here to read all of my Miami posts 
Boston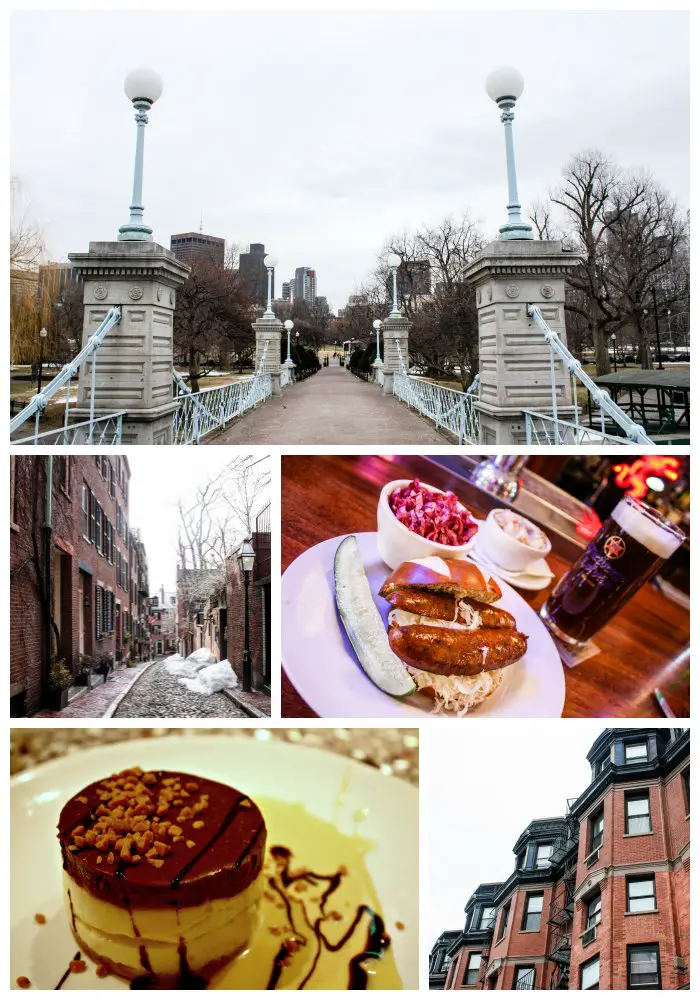 Boston Public Garden, Bratwurst and German beer at Jacob Wirth, Back Bay brownstones, Boston Cream Pie at Legal Sea Foods, Acorn Street in Beacon Hill

In March, I also flew to Boston for my first blogging conference — the Women in Travel Summit, the first and only travel blogger summit for and by women. Imagine 300 women, who all love to travel, convening in a city full of history, art, culture and damn good food. Yes, I had found my tribe at WITS. These traveling women are my people. Since meeting these ladies in Boston, I have guest blogged, volunteered abroad, brunched, reconnected at another travel blogging conference, and formed genuine friendships with these women.
When I wasn't feverishly jotting notes during press trip panels and motivating speeches or peacefully slumbering in my extremely comfortable king bed at the Revere Hotel Boston Common, I was out exploring.
As I explained in this post, it's impossible to see all that Boston offers in a long weekend, but I gave it a go. I looked at Paul Revere's silversmith wares and perused the Claude Monet and Vincent van Gogh paintings at the Museum of Fine Arts, Boston. I toured Boston's many movie and TV sights, and I took in modern art and harbor views at the Institute of Contemporary Art. I strolled through Boston Common, Boston Public Garden, Back Bay, and Beacon Hill.
On the foodie side, I watched the process of making organic dark chocolate on a Taza Chocolate Factory tour and saw water, yeast, barley and hops become bottled beers during a Harpoon brewery tour. I ate lobster ravioli in vodka sauce in the North End, clam chowder and Boston cream pie at Legal Sea Foods, and drank a Sam Adams beer in view of the cemetery where Samuel Adams is buried. I also caught up with my high school theater buddy Beth over drinks.
Click here to read all of my Boston posts
Detroit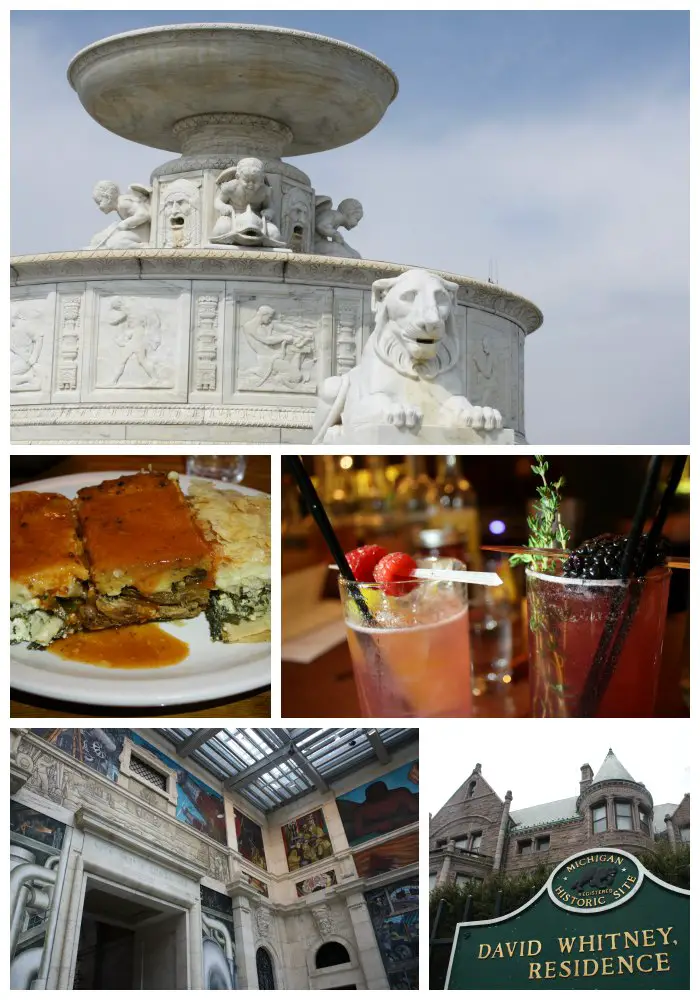 James Scott Memorial Fountain at Belle Isle, Detroit City Distillery cocktails, The Whitney, Rivera Court at Detroit Institute of Arts, Pegasus Taverna vegetarian trio
When I turned 29, I vowed to explore Detroit as part of my 30 before 30 bucket list. I got straight to work on that, celebrating my birthday eating burgers at Mercury Burger & Bar and drinking a smoked bourbon cocktail at the Sugar House in Corktown.
From celebrating Detroit Tigers Opening Day downtown to visiting the Christmas tree at Campus Martius Park, 2015 was a fun year of seeing the Motor City as a travel destination. The year included shopping at Eastern Market, sipping sophisticated cocktails at Detroit City Distillery and the Whitney's Ghost Bar, perusing the Diego Rivera and Frida Kahlo special exhibit at the Detroit Institute of Arts, visiting the Belle Isle aquarium and conservatory, learning the history of Hamtramck on a walking tour, and fowling.
In 2015, I served as a @bestfooddetroit Community Leader, sharing Detroit's best restaurants, dishes and drinks with the local foodie community on Instagram. I even met up with the Best Food founders for a savory brunch at Dime Store.
The city has recently garnered press for its booming food scene. In 2015, I dined at some of my favorite Detroit restaurants and tried new ones. I shared pizza and small plates at Ottava Via, ate my first chicken and waffles at New Center Eatery, devoured a Miami Vice and burrito at Los Galanes in Mexicantown, tried my first Kremnut from Krema, had a burger smothered in 1000 island at Gold Cash Gold, and reveled in my perennial favorite vegetarian pastitsio at Greektown's Pegasus Taverna.
Click here to read of all my Detroit posts
Lexington, Kentucky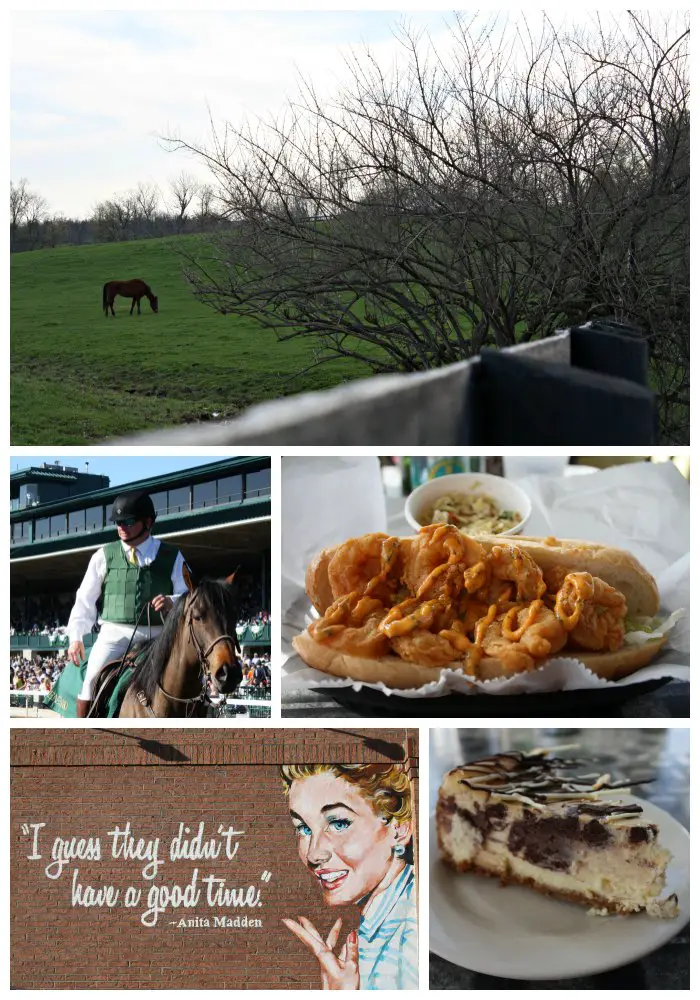 Horse grazes in pasture, Windy Corner Market shrimp po'boy and cheesecake, Saul Good mural, Keeneland horse racing

In April I went to visit April, my cousin who lives in Lexington, Kentucky. Usually when I visit April, she takes me to a bourbon distillery. Unfortunately, that didn't fit the schedule this time around. Instead we spent a day at Keeneland, where I was invited to photograph the horse races and winners alongside a professional race track photographer. As I said in this guest post on Annie Anywhere, more so than the horse racing, people watching was the main attraction. I had never seen so many pastel colors and so much seersucker on adults in my life!
My cousin also took me back to my favorite restaurant in town, the Windy Corner Market, where I ate a delicious shrimp po'boy and slice of heavenly cheesecake. We also ate pizza at Joe Bologna's, an Italian restaurant in an 1890s' Victorian Gothic church. And, we drank local craft beers at Ethereal Brewing, which has a taproom in an old, dormant bourbon distillery.
Click here to read all of my Kentucky posts 
Nashville
Ryman Auditorium, Jack's Bar-B-Que, HUSK cocktail, Hatch Show Print, Loretta Lynn's boots
From Lexington, I drove south for two nights in Nashville. The first night was spent eating an incredible vegetarian dish at Etch, rocking out to the Decemberists at the Ryman Auditorium, and honky tonking at Robert's Western World.
The next day was full of country music, bourbon, and Southern food. I toured the Ryman Auditorium, the Country Music Hall of Fame and Museum, RCA Studio B (and pretended to play Elvis's piano) and Hatch Show Print. I drank Belle Meade bourbon at Barlines, the contemporary honky tonk inside the gorgeous Omni Hotel, and infused moonshine at Bootleggers Inn. For lunch, I ate a Tennessee pork shoulder sandwich with all the fixin's at Jack's Bar-B-Que. Later I topped off the day at Chef Sean Brock's Husk with a simply amazing Southern — and vegetarian — dinner served by the best bartender I encountered in my 2015 travels.
Click here to read all my Nashville posts
Riviera Maya, Mexico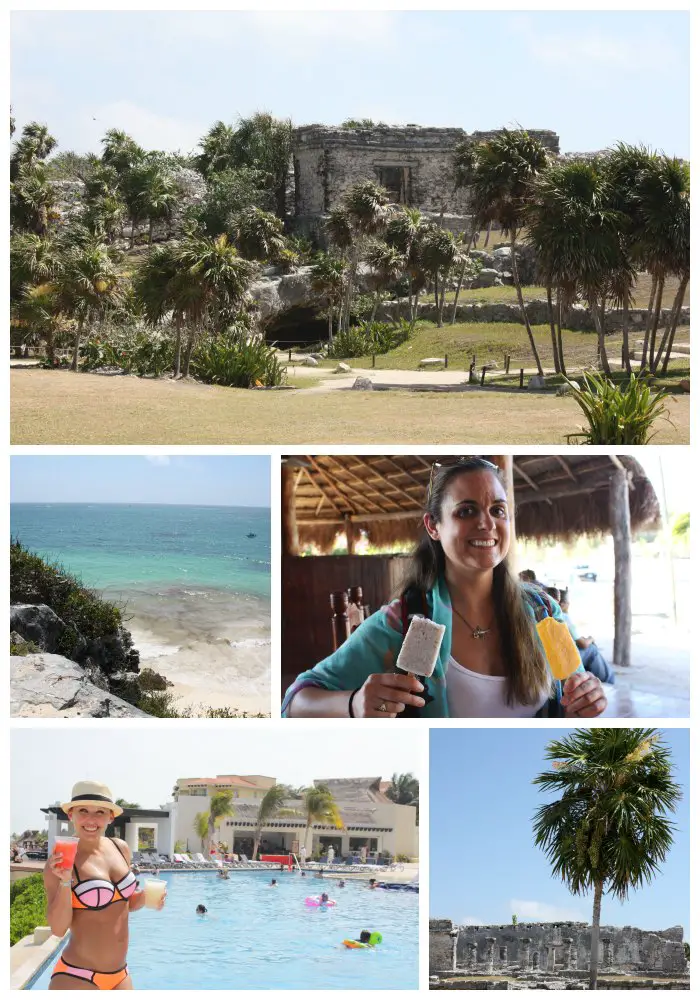 Mayan ruins of Tulum, Jessica double fists organic popsicles, Tulum Mayan ruins, Elisabeth double fists frozen birthday cocktails at Hotel Marina El Cid Spa & Beach Resort, Caribbean Sea
In late April, I celebrated my friend Elisabeth's birthday at the all-inclusive El Cid Spa & Beach Resort. Our fabulous girls' getaway was full of relaxing days spent lounging poolside with tropical cocktails in our hands. I read, I drank, I swam, I ate guacamole, and I got majorly sunburned. We tore ourselves away from the infinity pool just long enough to take an exciting excursion to the Tulum and Cobá Mayan ruins, an authentic Yucatan lunch, and a cenote swim.
Click here to read all of my Mexico posts 
Chicago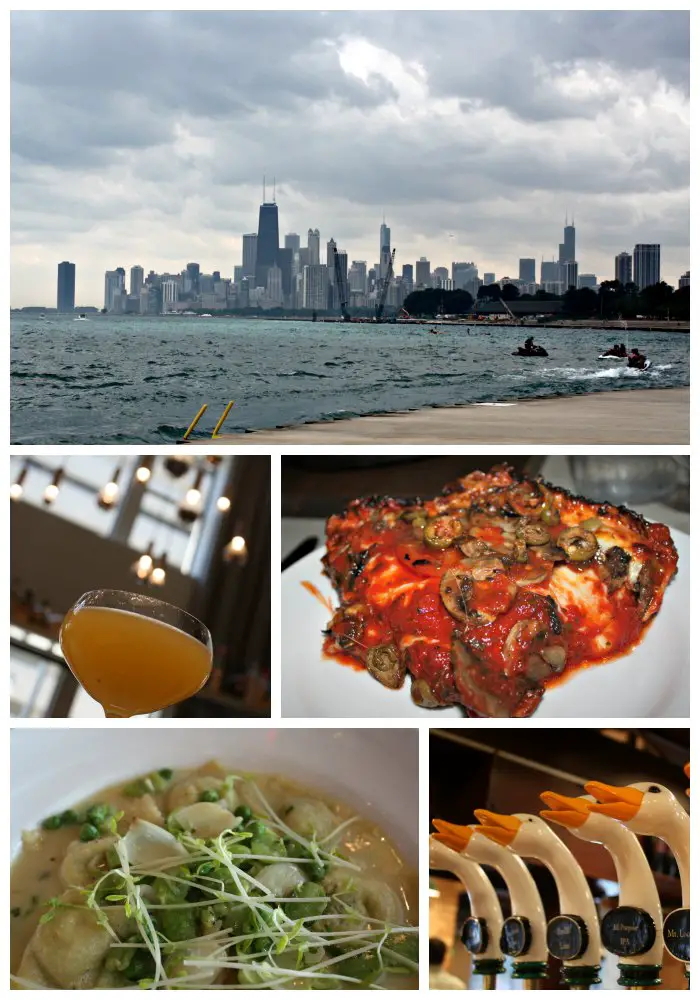 Lake Michigan waterfront, Pequod's deep dish pizza, Goose Island Clybourn, Piccolo Songo Due artichoke ravioli, Mimosa at Virgin Hotel
I visited the Windy City twice in 2015. The first visit — in July — was part of #MyMidwestSummer. I ate and drank my way around Chicago as I caught up with high school and college buddies. I ate artichoke ravioli at Piccolo Songo's now-closed River North location, deep dish pizza at Pequod's, and one of the best burgers in Chicago at DryHop Brewers. I drank flights of Goose Island beer, classy cocktails at Drumbar, tropical punches at Three Dots and a Dash, and a serious Bloody Mary at DryHop.
I returned in November for the food-blogging conference BlogHer Food. Again, I ate and drank my way around the city. I sipped a craft beer in the game room of the Chicago Athletic Association Hotel. I spent a night eating Mexican food and drinking red wine in Lakeview. I ate delicious fish tacos washed down with a Lagunitas Pils at Shaw's Crab House. I reunited with with fellow Peru volunteers for brunch at Miss Ricky's, and our waitress adored us so much she gave us a massive slice of chocolate cake — complete with a chocolate knife!
Click here to read all of my Chicago posts
Peru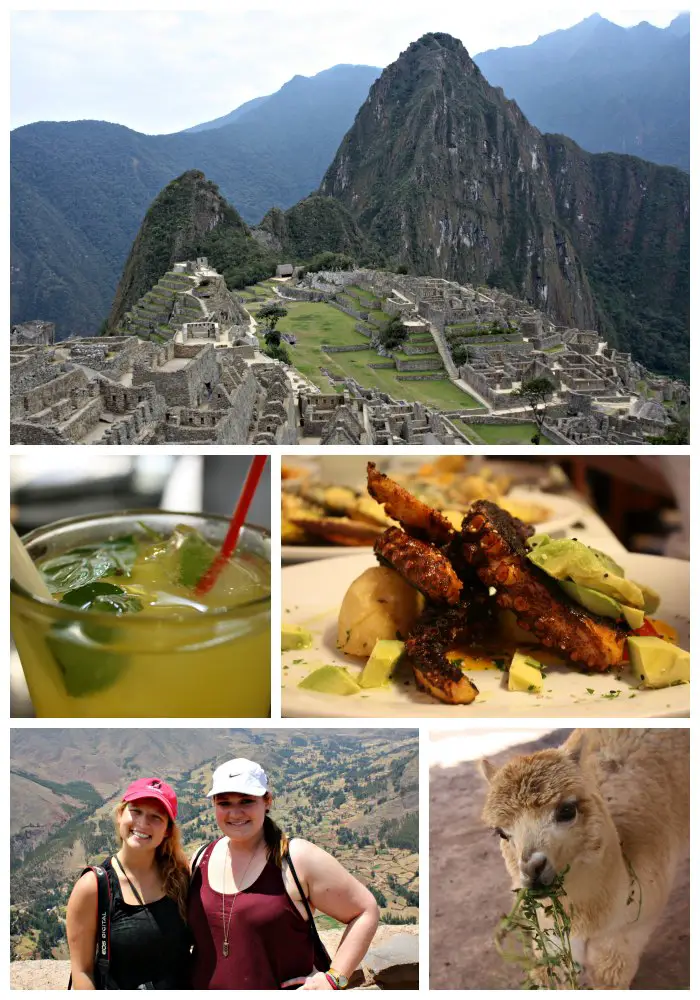 Machu Picchu, Octopus at Canta Rana in Lima's Barranco neighborhood, Llama, Písac Inca ruins with Hanna, Passion fruit chilcano
Late August marked the onset of my three-week Peruvian adventure with Wanderful, Unearth the World, and Contiki. I volunteered — assisting in youth English classes and getting schooled in soccer by the local kids — at the Light and Leadership Initiative in Huaycán, a rural community in the outskirts of Lima. After four days in the dusty desert-like climate, our Wanderful/Unearth the World group took a day trip to Chosica and Chaclacayo and then explored the museums, art, parks and cuisine of Lima, the culinary capital of South America. We even spent a day tasting all sorts of foods and local craft beer at the Mistura food festival.
In Lima I also met up with my Contiki group for the Inca Panorama tour. I saw volcanoes and a monastery in Arequipa. I ziplined and soaked in a hot spring. I saw the mighty condor fly through Colca Canyon. I fed llamas and posed for photos in traditional Peruvian dress with an alpaca. I boated Lake Titicaca. I danced with Taquileños — the locals on Taquile Island. I biked down an Andean mountain, stopping at Incan ruins along the way. I drank cocktails at the Museo del Pisco and my fair share of Pisco Sours and Chilcanos. I salsa danced in Cusco. I visited Machu Picchu, the lost city of the Incas. It was a trip of a lifetime, but not without some drawbacks.
Throughout the trip I ate all kinds of food, including ceviche, octopus, squid, Amazonian fusion, alpaca, pumpkin and quinoa soups, Italian-Peruvian fusion, and even guinea pig. It was an adventure for me and my taste buds!
Click here to read all of my Peru posts 
New York City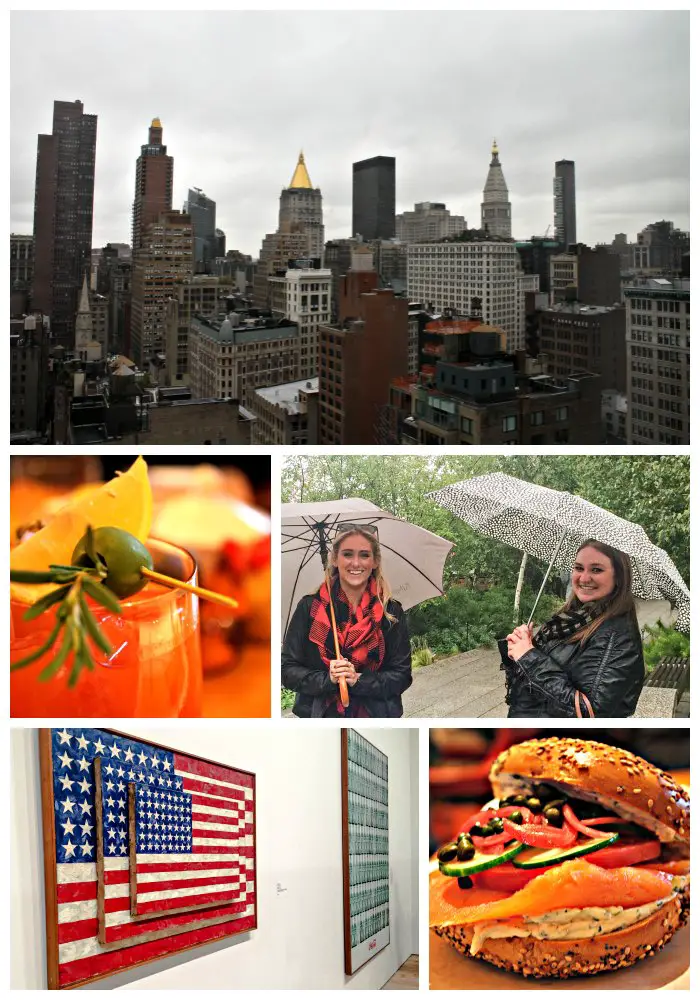 Manhattan skyline from Eventi Hotel, High Line with my sister, Bagel and lox at the Standard Grill, Jasper Johns "Three Flags" at Whitney Museum of American Art, Bloody Mary at the Standard Grill
Though the cold, rainy weather put a damper on the outdoor activities I had planned for my family's weekend in Manhattan, I at least ate some amazing food. We also explored the Meatpacking District, a neighborhood where I hadn't spent much time in all my previous visits.
The modern and posh Eventi Hotel, a Kimpton property on Sixth Ave at 29th St in Chelsea, was home for the weekend. From my room, I had a killer view of the Empire State Building. I only wish I could have made it to one of the hotel's complimentary wine hours. Cheers to that, right?
In the Meatpacking District, I walked the High Line, toured the Whitney Museum of American Art, brunched at the Standard Grill, and even spotted a naked man in a window of the Standard Hotel. Apparently, the hotel is a well-known exhibitionist spot, and I can now personally attest to witnessing that. You never know what you'll see in New York City!
In addition to the delicious Bloody Mary brunch at the Standard Grill, my family and I ate and drank well over the weekend. We started with an incredible Italian feast at Il Mulino in Greenwich Village. Then we followed that up the next night with fresh seafood at Estiatorio Milos, an upscale Greek restaurant in the Theater District. My sister and I fell in love with a new wine bar, and we spent some quality time at our favorite bar in her neighborhood. Then we ended our weekend with a Turkish brunch at Antique Garage, Soho shopping, and lattes from Maman.
Click here to read more of my New York City posts 
Northern Virginia + Washington, D.C. Wine Country
Greenhill Winery & Vineyards, 50 West Vineyards with my D.C. friends, Wine tasting at 50 West, 50 West Vineyards, Union Street Public House crab cake sandwich
October was a busy month, taking me to NYC, DC, a friend's wedding in Michigan, and the next two destinations on this list. For as busy as October was, this trip surprisingly wasn't. When I visit the Washington, D.C. area, I just don't feel like I need to do everything. I lived there for 3.5 years, so I've done a fair amount of the touristy activities already. Mostly though, I know it's a destination I'll continue to visit since I have a group of friends I adore there. As you can see from the photos, this weekend was less about seeing D.C. and more about drinking wine with them.
Saturday I spent freezing in the stands of a Georgetown University football game. Then on Sunday I stood around a Chrysalis Vineyards' tasting table, shivering as I sipped wines, noting the tannins, dryness and flavors I was experiencing. At 50 West, we enjoyed the view, and at Greenhill Winery & Vineyards, we enjoyed the bubbly. Through it all, my friends were right there, shivering by my side.
Click here to see all my Washington, DC posts
Hollywood + Fort Lauderdale, Florida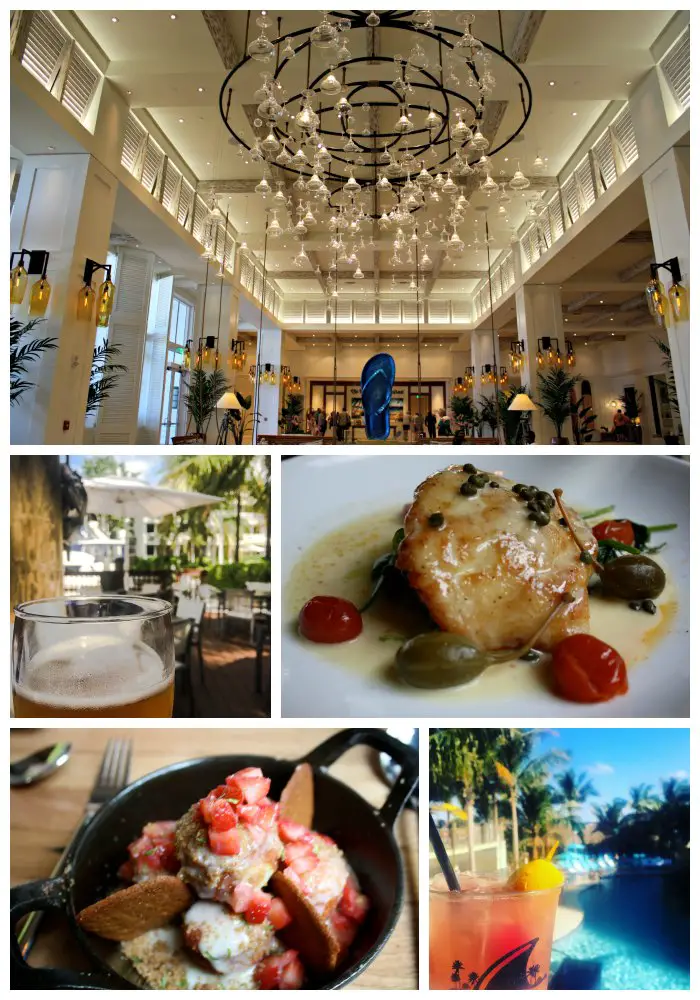 Margaritaville Hollywood Beach Resort, Boatyard grouper piccata, Malibu Bay Breeze at LandShark Bar & Grill, Boatyard key lime pie doughnut holes, Funky Buddha Floridian Hefeweizen at Hilton Fort Lauderdale Marina's poolside bar
After chilly weekends in NYC and DC, I ended October in warm-and-humid Florida, but it wasn't always sunny. I stayed at the Hilton Fort Lauderdale Marina for TBEX North America, a massive travel blogging conference held at the Greater Fort Lauderdale/Broward County Convention Center. During the conference, I toured South Florida's best breweries. I also met the Minions from Universal Studios. I took a selfie with a baby gator at the Museum of Science and Discovery. I dined at the recently reopened Boatyard and shared sangria with my fellow travel bloggers at Latin restaurant the Chimney House.
I also met up with my cousin Jeni for a delicious seafood dinner at 15th Street Fisheries. After the conference I spent some time with my cousins, checking out the new Margaritaville Hollywood Beach Resort. It's very coastal chic!
Click here to read all of my Fort Lauderdale posts
West Palm Beach, Florida
JFK mural, Me at Lake Worth beach, Palm Beach, Lake Worth beach, Fear and Loathing in West Palm cocktail at The Alchemist Gastropub & Bar
After TBEX ended, I shuttled up the Atlantic coast to the West Palm Beach area for a fun weekend with my friends Greg and Carl, who I'd last seen at Miami's Wynwood Walls. We spent Saturday pedaling SkyBike bicycles over the Intracoastal Waterway, past gorgeous homes, to the beach, along a street lined with designer stores, past mega yachts, and through downtown West Palm Beach.
The guys also introduced me to two fabulous foodie spots. Carl took me out for literary-themed craft cocktails at the Alchemist Gastropub, where I drank a Fear and Loathing in West Palm. For lunch, Greg took us to C Street Cafe and Coffee Bar, where I ate a delicious Cajun spiced chicken sandwich.
Click here to read all of my Florida posts
What were your most epicurean adventures of 2015? Where will 2016 take you?